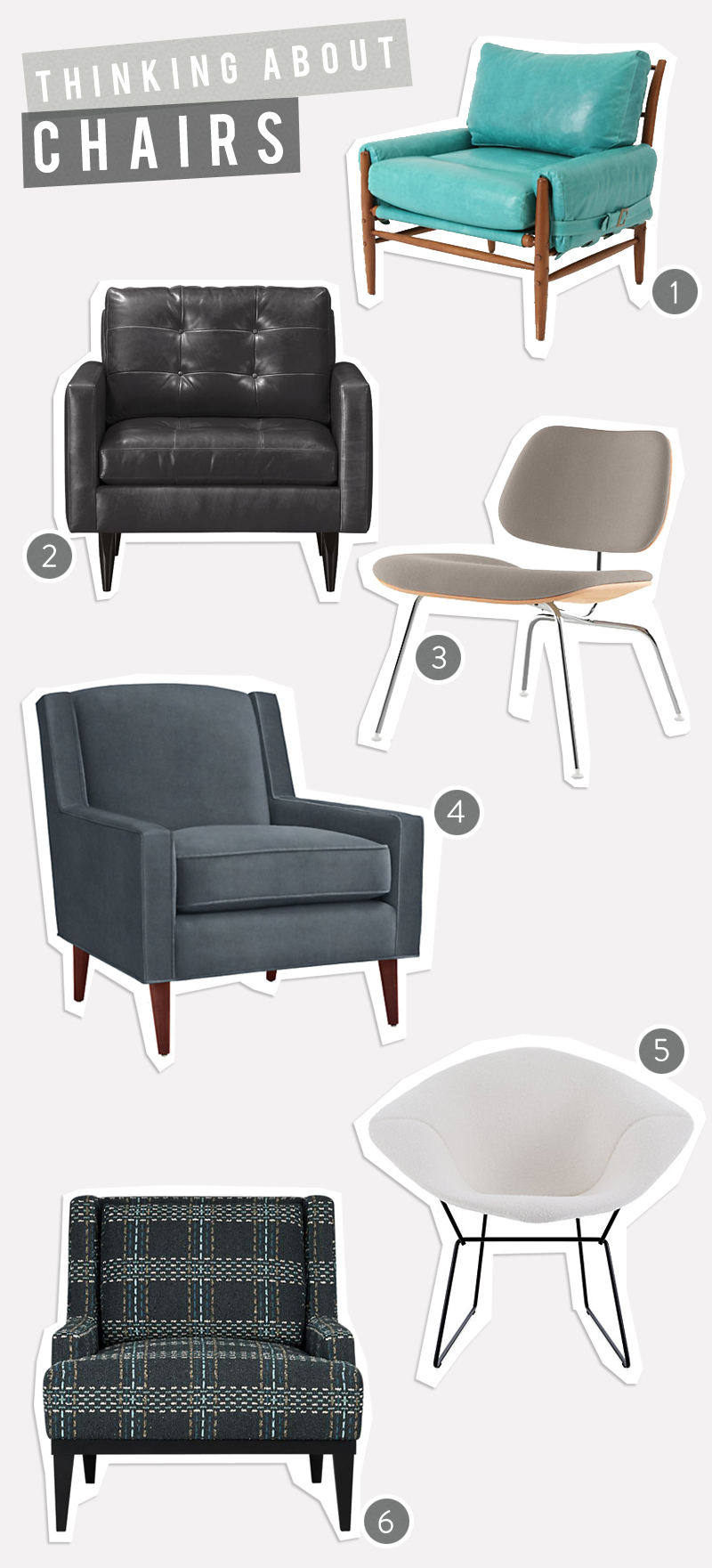 Well this post is a follow up to my sofa post from last week. I'm still thinking about new furniture options for our living room. Our current arm chair is in even worse shape then the sofa. It's saggy, stained and sorry-ass-lookin'. The chair, like our sofa, also came from Room and Board, but unlike the sofa, was purchased in the default-off-the-rack fabric and it hasn't held up well. Not only is it a light khaki color, but it's a fabric that just doesn't clean up! I've tried fabric cleaners, steam vacuums, and magic tricks, but the stains just spread. It's a mess, and a total embarrassment. I cover the seat with a blanket. SERIOUSLY SO GROSS.
So duh, it's been decided, we should probably get a new chair too.
I would prefer to get something with low or narrow arms, or heck, just go straight-up armless. The chair will make it's home in the corner of the living room and I want it to be the type of piece that doesn't take up a lot of room visually but is still comfortable to lounge in and watch TV, because we LOVE TV.
Here are a few of my fav options:
Some of these chairs are insanely out of our budget but I had to post them. Even though they are way expensive they are still mighty fine looking.
Some of these chairs are NOT super comfy for lounging like the Eames chair, but I was thinking that it might be a good fit if we do decide to go for the chaise sectional sofa. If we choose to go sectional stylez we would need something that was smaller scale seating for the corner of the room to balance out the size of the sofa.
I love the Anthropologie chair but I don't think it would fit very well with what I've got going on. I think it's totally amazing though, so I had to include it in this post.
I'm all about the shape of the crate and barrel chair but wish it had more fabric options, don't know if I'm ready to go all in on the plaid yet.
The West Elm chair is super sweet and a bit feminine but in all of the photos it looks lumpy, and this worries me. No lumpy chairs for me please. I always say (whatever scoops), if you can't get it looking good for your catalog shots, it must not be that good.
So tell me what you think? I'm still thinking that we'd go with the Reese sofa, the jury is still out on the specific color but it will most likely be something in a dark gray. Anyone have any experience with any of these lovely chairs? Lemme know what ya think!