Hey, wow! I never expected it to be nearly a year in between posts. Shit. How fucked up was that last year? What an absolute major bummer quarantine was. I felt like before covid I was in such a groove with the blog, and then it turned quickly turned into not being able to give any effs about anything and just surviving day-to-day. That sounds dark, but that year was dark! My kids did distance learning from March 2020 to June of 2021. They went back to school 8 weeks ago. I was pretty deeply depressed for most of the winter. It was hard to do most things; as I'm sure you all experienced in your own ways.
Anywho, on the up and up! It's nearly the end of October. I have been enjoying transitioning my house back to a house and away from being everyone's everything – school, office, shelter, entertainment, social hub. You should see me; I've been cleaning closets, reorganizing, making beds daily. I'm just a veritable whirlwind of order and cleanliness. Jokes aside, I needed to get the house back to being a house before I could even think about coming back to the blog and sharing again.
I did do a few projects here and there over the last 18 months – it just didn't feel like sharing them was the right thing to do at the time. Now that I'm feeling more settled I thought it might be a good time to begin to catch you all up. I'm going to title this series "The Lost Year" and then share projects I've done around home and the cabin – most of them at the cabin.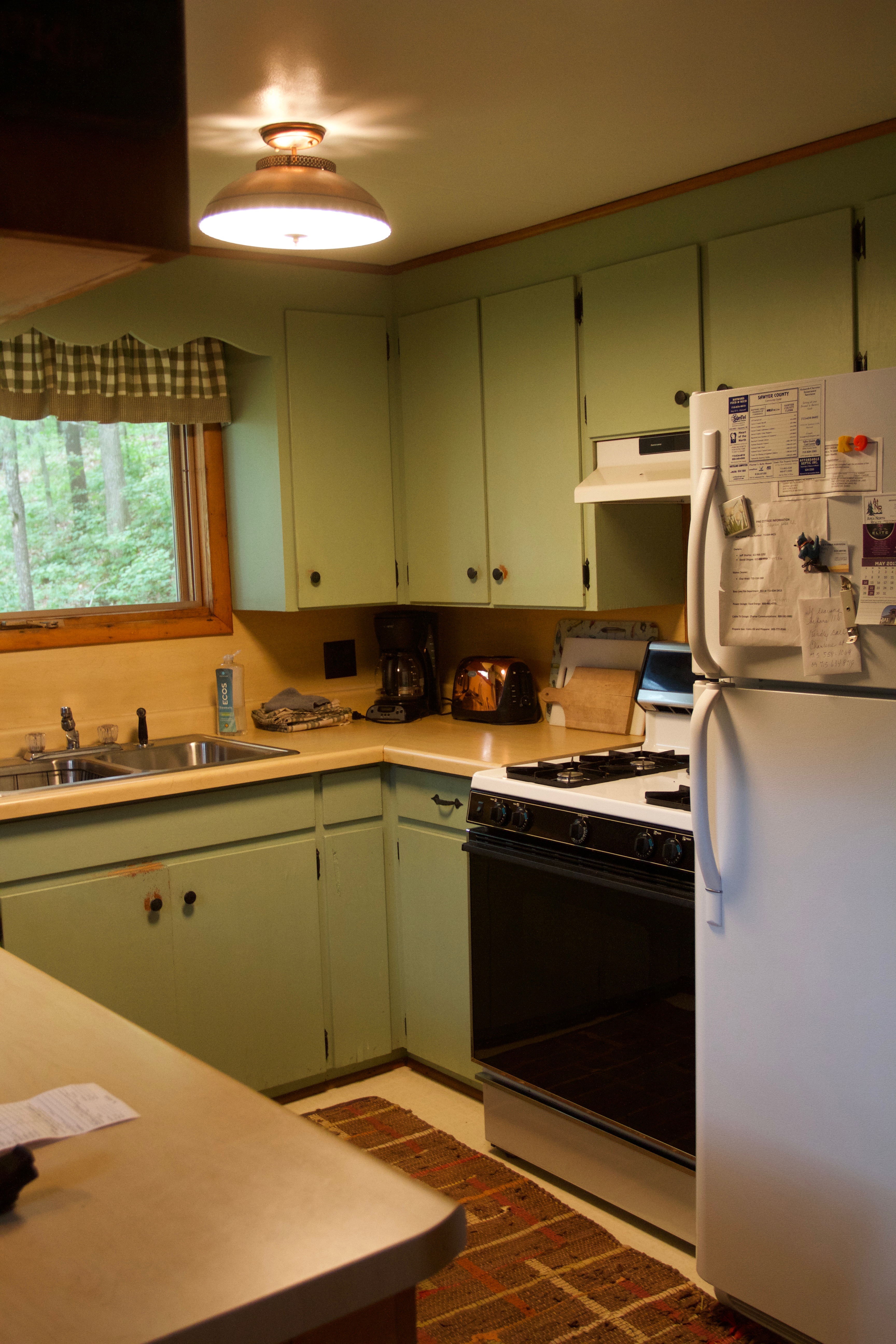 The first project I'm sharing is what I think is close to the final iteration of the cabin kitchen! To catch you up to speed, the cabin kitchen started out as a very basic kitchen that had been showing some wear and tear. The cabinets are all built from standard lumber with simple plywood doors and drawers. It all starts summer 2017 soon after moving in. My Ma and I removed the upper cabinets that blocked the view from the lake. I updated the floors and painted before snow hit the ground the first winter, that update went a long way. The VCT floor tiles were a great solution for updating the kitchen and I was able to cover the linoleum directly – although these pics were snapped without the floors being washed last April and it shows – sorrizzle. There was no dishwasher and a lack of drawers, so summer 18′ was when I got brave and began disassembling cabinets, reassembling a bank of drawers and snuck in a small but mighty 18″ panel dishwasher. Pre-Covid we upgraded our range and hood because the old stove gave out the Wednesday before Thanksgiving. After living at the cabin for the first 7 months of quarantine we decided that the last thing that needed to be upgraded was the fridge. We wanted a counter depth fridge with a freezer on the bottom.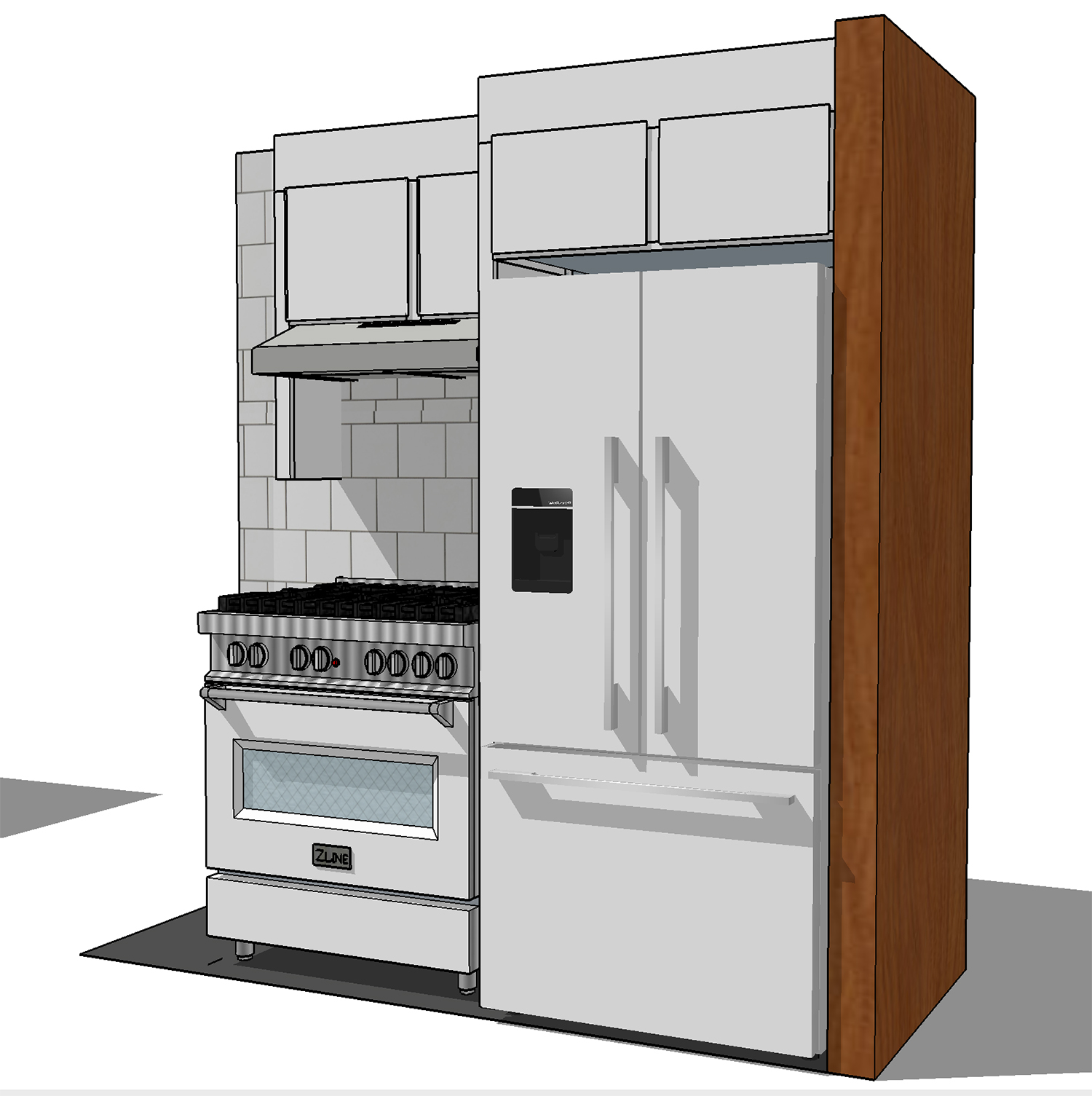 We ordered a Fisher & Paykel fridge in spring 2020 and waited for it to arrive. Because our old fridge was so small, we knew that a cabinet re-work would be in the cards if we were to get a new refrigerator. Like I mentioned before, I had messed around with building and removing these cabinet boxes made of standard lumber sizes and door fronts made of plywood. I used my BFF, sketchup to work out every detail of how I would attack this project and created a lumber list for ordering ahead of time for curbside pick up. Fast forward to fall 2020 and the refrigerator is soon to be delivered!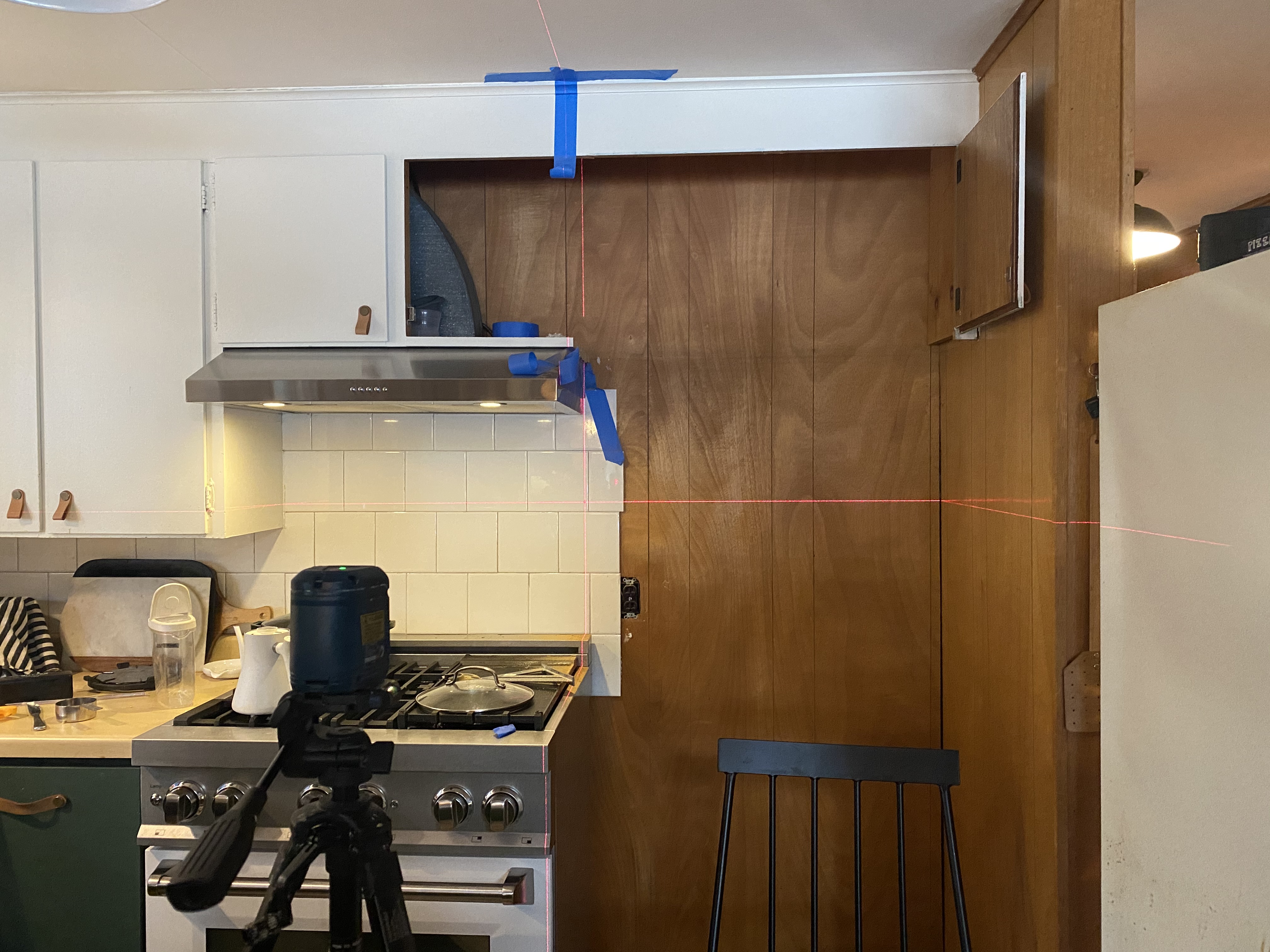 I was not joking around about disassembling the cabinets! The cabinet boxes are built with the cabin wall as the back and side wall, so you can't just remove an entire cabinet box – the cabinets need to be chopped and adjusted while on the wall. I invested in a few more tools for this project. I purchased a dewalt oscillating tool, a circular saw that I fucking love and is not terrifying, a guide for the saw so I can make perfect straight cuts, and a jig to create perfect pocket holes for all of my joints.


Here I am making soup and building a kitchen? I guess that's what I did. Care for a little saw dust anyone? You can get an idea how I had to build the cabinets for reassembly using the side and the back of the wall as sides for the cabinet boxes.
Also can I make a quick note here. I obviously know that it is not ideal to have your hot stove next to your cold refrigerator, but we don't have the luxury of other options in this kitchen. This is the way it has to be. I put a 1- 1/2″ solid plywood panel between the range in the fridge – previously they sat side by side! We also do most of our cooking using the left burners and use the right burners for a slow and low griddle top most of the time.

Now onto building the cabinet front. In my slippers of course because nothing matters anymore. You can see that the framing is off the shelf 1×2's cut to size. The pocket holes created a super tight fit, I'm a carpenter, don't I talk like one?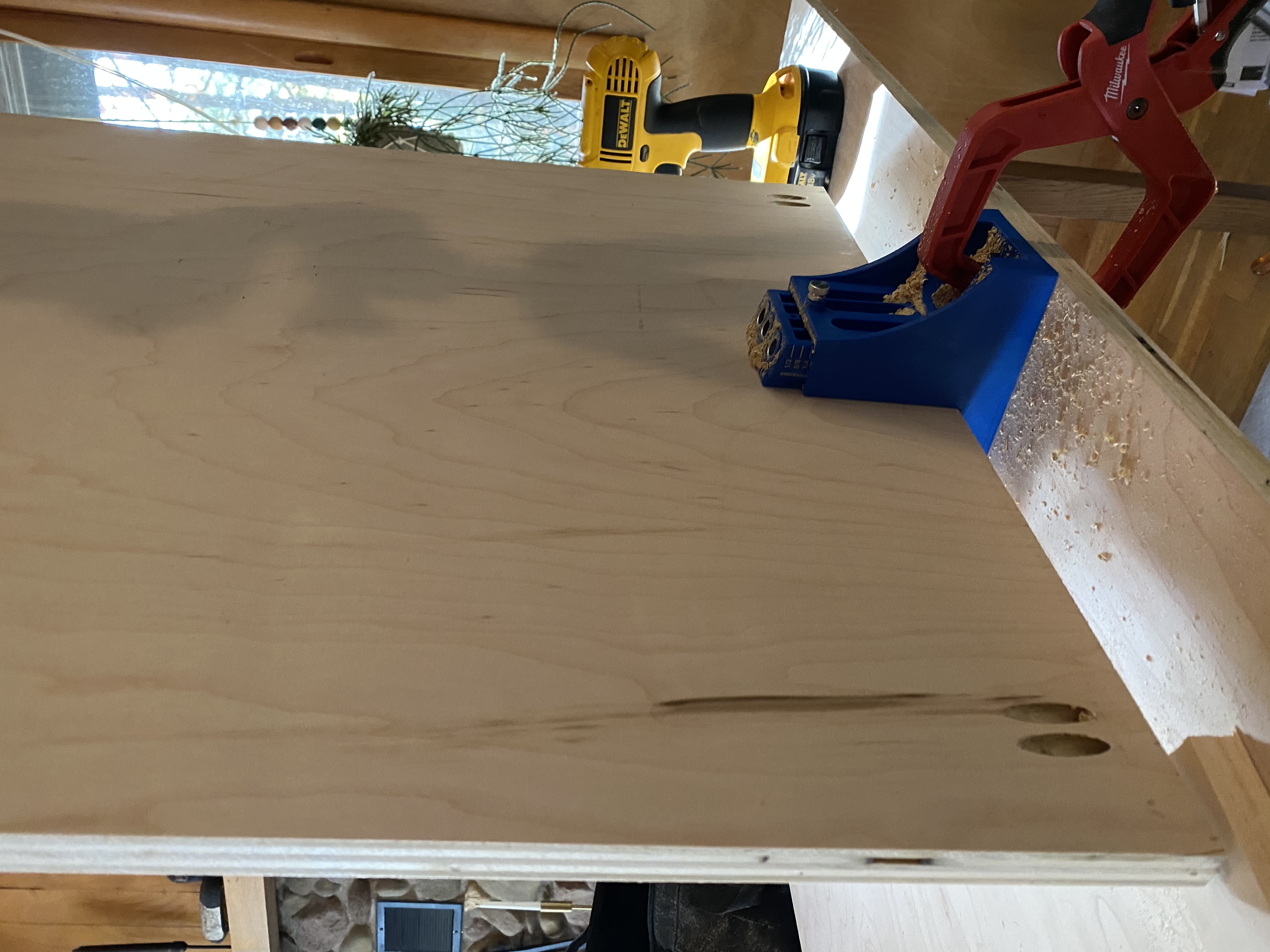 Oh! Cool hack that I do not have a single photo of but I'm gonna tell you about it anyways. I bought a bunch of 2″ sheets of rigid foam – like you'd use for insulation and I set them out flat on my dining room table top. It made the perfect work table because it was long and roomy and I felt like the foam was insurance that I wouldn't ruin anything. I was able to use my circular saw for long cuts and the foam gave protected the table from harm by the saw or otherwise. There was a lot of saw dust in my dining room, but nothing a little shop vac couldn't fix. Highly recommend.


The framing is done! Anyone care for some frozen pizza? Heggies only, accept no substitutes. The cabinets directly over the stoves dimension became slightly narrower, so I had to make 4 sets of doors for all the cabinet fronts. No pictures of that of course, but I built them using 3/8″ plywood sandwiched together, the second piece of plywood is about an half inch smaller (w & h wise) than the first piece – it creates a lip on the door. For hinges I reused what I had, but eventually I'd like to replace all the hinges ala young house love with some sort of interior hinges, but for now I'm fine with just painting them white and calling it a day.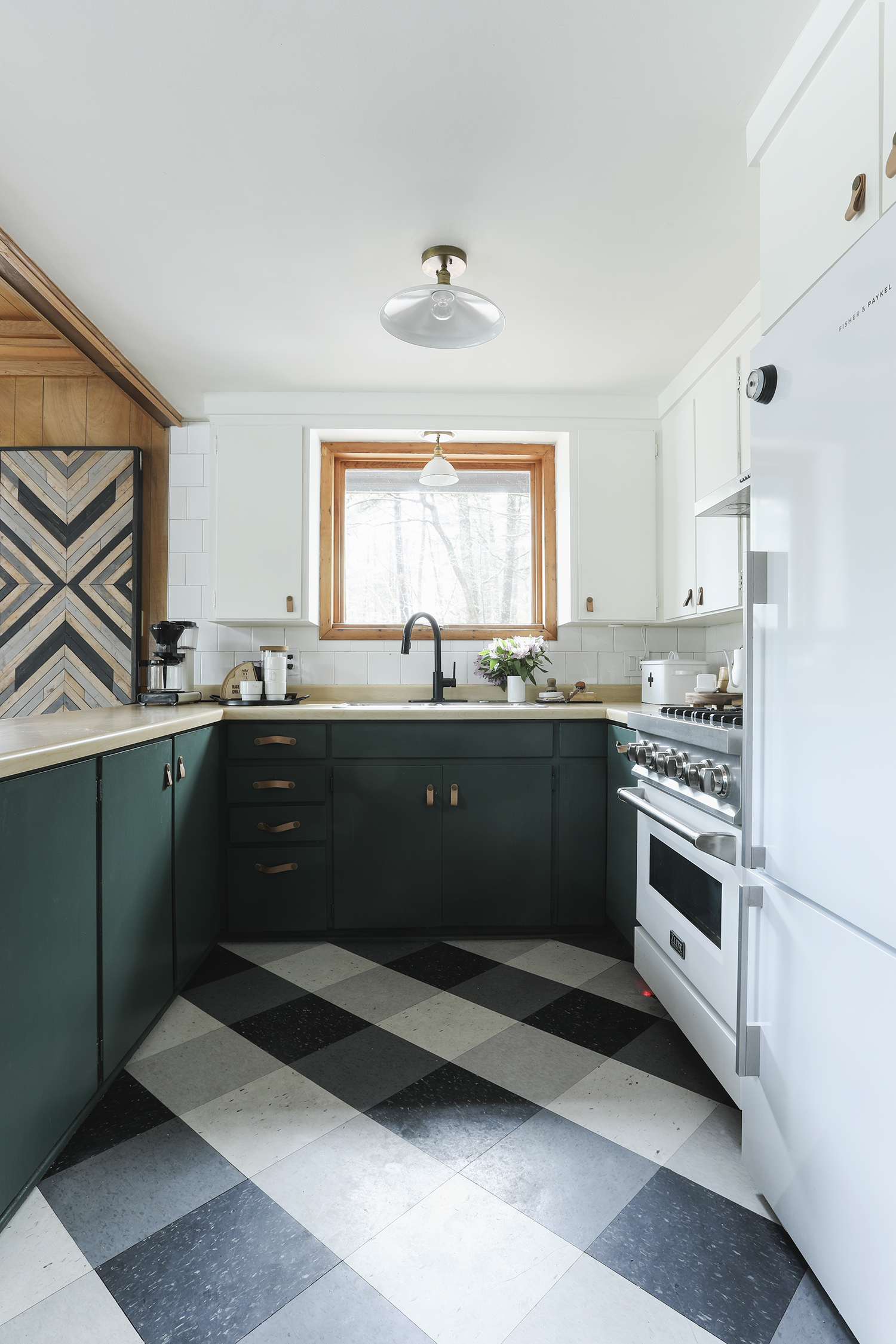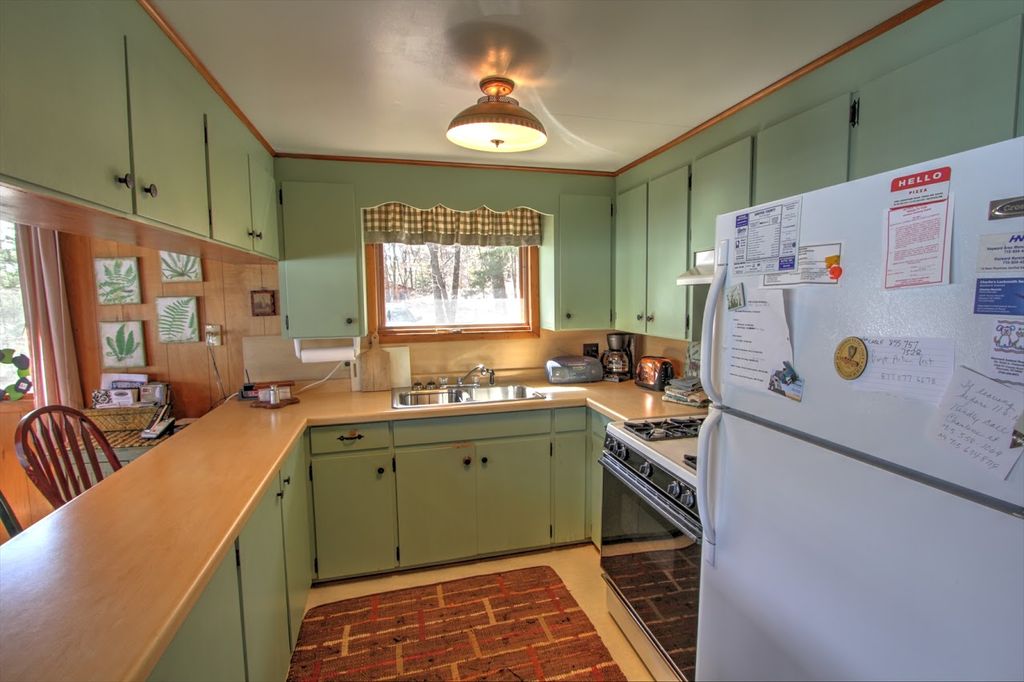 Not such a bad 4 year transformation. Small but mighty – this kitchen is so functional – we enjoy cooking here so much more than we do at home. It doesn't need to be big to work well.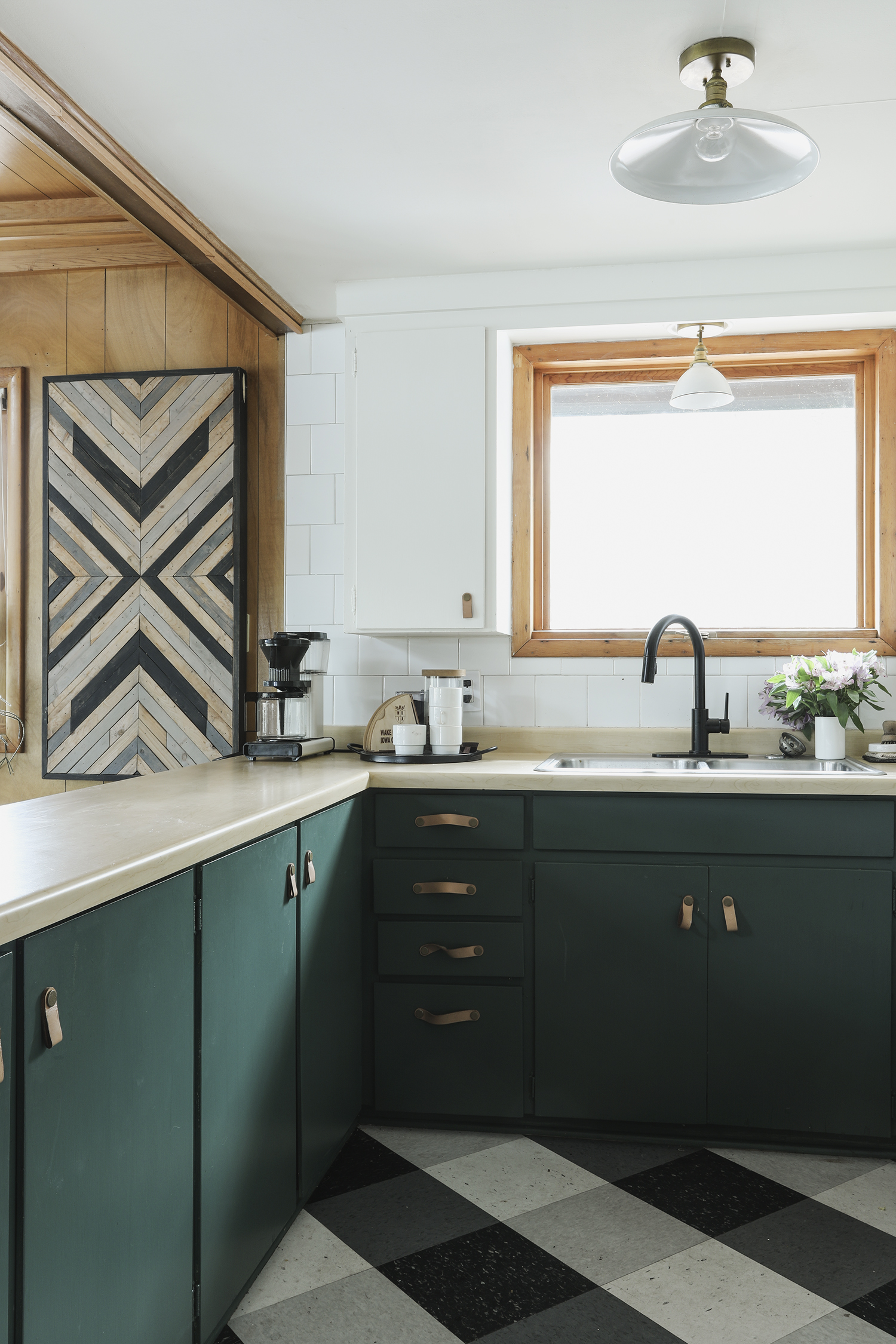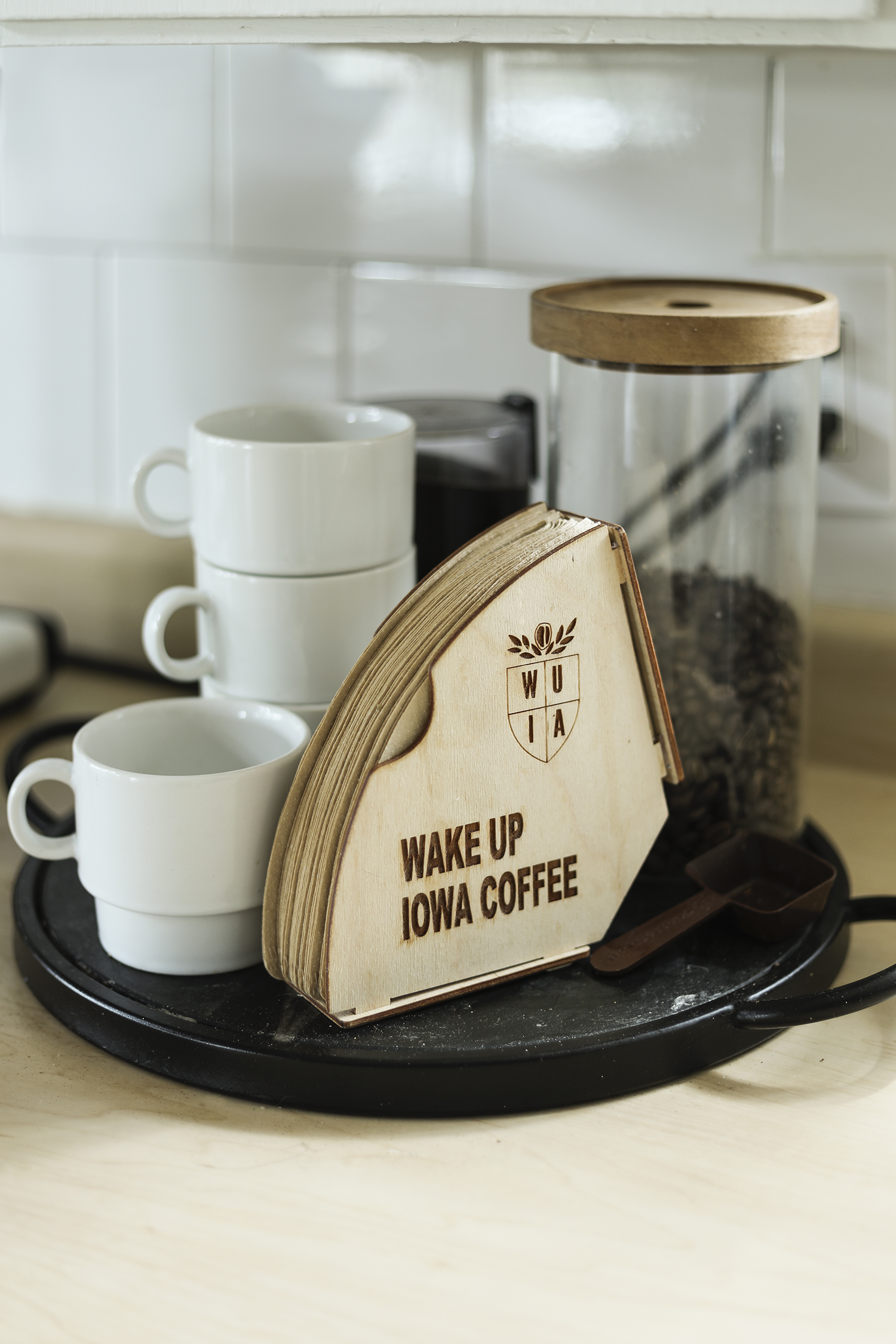 Shout outs to our quarantine life saver – bags of freshly roasted coffee were sent to us every month thanks to a subscription from our dear pals at Wake Up Iowa – and we upgraded and got a sick coffee pot that makes the perfect bean brew.

Next up on "the lost year" photos from our guest room makeover project at the cab – stay tuned.
And just a little housekeeping note that I'd like to get out to all the true DCHH heads. I've never considered myself an influencer – this blog has always been a project diary for me. Over the last year I've done some examining of how I want the blog and my social media accounts to go from here on out. I'll be doing the majority of my sharing here on the blog – home related, personal and otherwise. I'll be using my IG mainly for sharing new blog posts – I'll also send out weekly updates when new blog post occur from my email newsletter so that you don't miss a beat. I'm looking forward to focusing my time here on this blog that I love!
Cabin Kitchen Archive