Mad shout outs to my guys (Chris and Sarah) over at Good Bones Vintage Co. They've been sponsoring the blog for the last few months. Not only was it super sweet of them to sponsor the blog, but they really came through by having an awesome online vintage store full of super cool, well curated finds.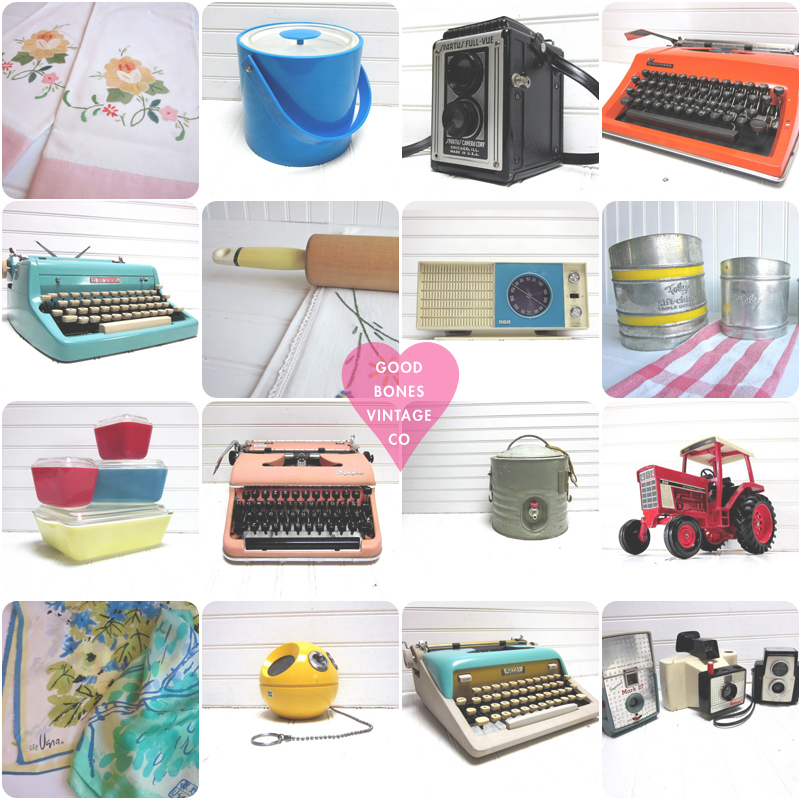 These guys recognized that we were all trying to start off in this big bad internet world and that maybe a little "I scratch your back, you scratch mine" action wouldn't be such a bad idea. So… I thought it would be appropriate to pass a little lovin' back their way too. Not only do these two have an awesome shop, but they're also really cool people.
In a very short time they've been quite successful with their cool vintage shop and I can't feel anything less than inspired by their story.
It all started last year when they were hunting for vintage finds for their April farmhouse themed wedding. During the months leading up to their wedding, they hunted, gathered, and picked themselves silly finding just the right tchotchke's and decor for the service and reception. They sniffed out vintage Ball Jars to drink out of, mix and match shabby chic china for dinner, vintage suitcases to hold the programs, old school Coleman coolers to hold the adult beverages, and a vintage Royal Typewriter for their guests to type messages. Needless to say, wedding planning spilled over into real life and by July they were up and running as Good Bones Vintage Co.
Isn't that the sweetest guys? Life inspires some crazy things.
Now they are a full fledged business. They started off by specializing in colorful vintage typewriters. They'd find typewriters while out on picks, Chris would fix up the ones that needed it and sell them via Etsy to locations all over the world. Their shop now includes all sorts of housewares, linens and bobbles. If you haven't yet, you should really check out their shop. Chris and Sarah were kind enough to offer all you readers 15% off through the end of the month. Pretty rad huh? Just enter the code SCOOPS15 (ha!) as you check out.
Chris and Sarah are branching out even further, they've just recently started working with a Mid Century/Retro/Danish Modern Furniture shop called Furnish Me Vintage. They've been selling Furnish Me Vintage cool vintage furniture they'd find while out on picks and recently it's evolved into a full fledged partnership. You can find their website here.
I'm really thrilled that these guys decided to sponsor this little blog, and I can only hope to evolve as quickly as they have over the last year.
Congrats on a successful first year Chris and Sarah (and Good Bones Vintage Co.)!!!