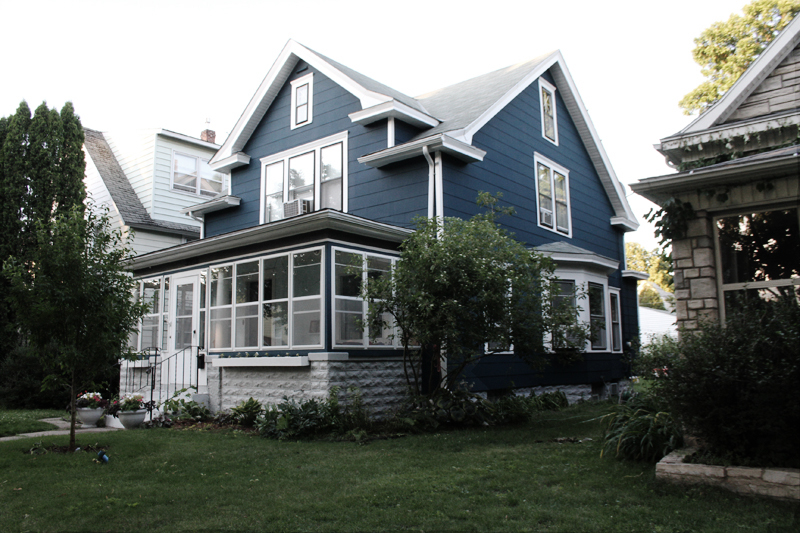 Yeah! I'm so excited to share our new (old) blue house. I totally love it. It all turned out okay in the end but oh man was it a stressful process. From start to finish with rain delays it was just shy of 3 weeks, much, much longer than we thought it would.
Anyway, I really, really seriously love how it turned out. The old asbestos 12″ x 24″ siding looks new and modern. You can barely tell it's old. That is seriously the best part because I HATED that siding when it was white. The new blue color is the second best part. We went with Benjamin Moore's "Twilight" a dark teal blue paint color. It's the greatest. When the sun is directly on we have a blue house and in the shade it can almost look black. There's a lot of dimension and depth to it. L.O.V.E.

Did you know that gardens really pay the price when it comes to exterior house painting. Every living plant in the yard (front & back) has been totally beaten to shreds. The only thing that was left unharmed was the veggie garden, thankfully. You know I don't mind too much, I love an excuse to visit the old flower store.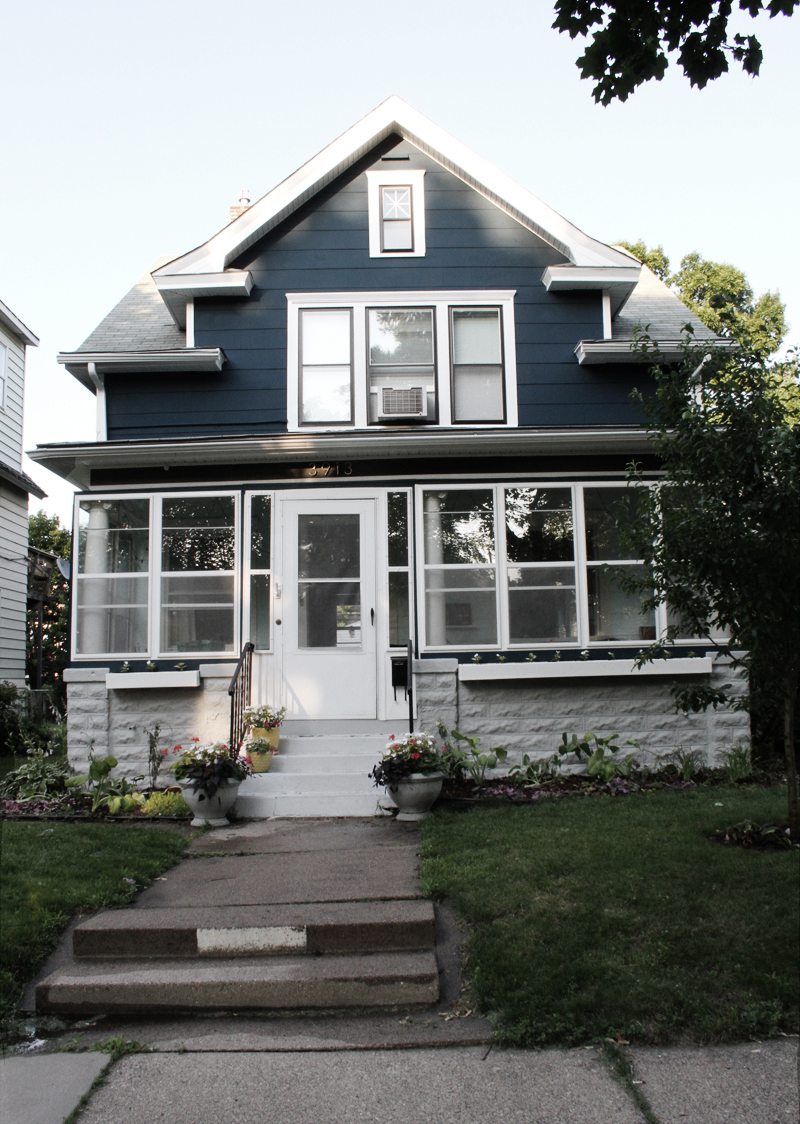 The curb appeal is much improved! We are still debating on what to do about the front door. It comes down to two options. One being to replace the door with a new storm door and paint it yellow, and the other is to stain a new wood porch door a golden/orangey color. We'll see which wins.
We also gotta do something about the walk up and the concrete steps but neither of those projects are happening this summer.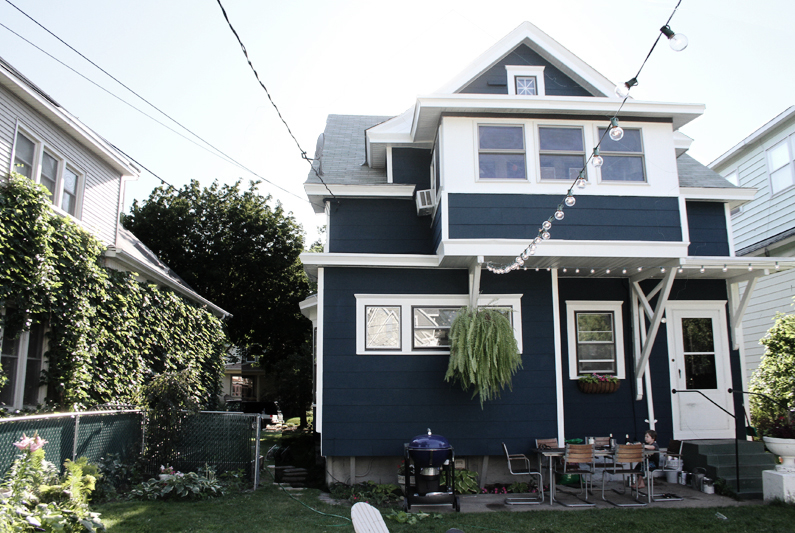 I wasn't expecting it, but the back is totally the best looking part of the whole house now! The corner boards pop and highlight the architecture. I don't think it would look nearly as good if we didn't add the corner boards. The back upstairs porch also looks great now that it is a different color from the rest of the house. We really do love it.
P.S. The back steps aren't staying green, don't worry, I'll paint 'em.
And for those who were wondering, here is the color break down.
&#9660 Main House Color: Benjamin Moore – Twilight
&#9660 Trim: Sherwin Williams – West Highland White
&#9660 Storm Windows: Sherwin Williams – Seal Skin
&#9660 Foundation: Sherwin Williams – Ellie Gray
We had the entire house painted attic to foundation including all the window sashes (which were sanded and reglazed), the soffit, fascia, porch, storm windows, foundation, gutters, down spouts, trim, corner boards, foundation stone and the frieze.
Mad shout outs to Pugly Pixel! Thanks for the cool CSS Label Tutorial.