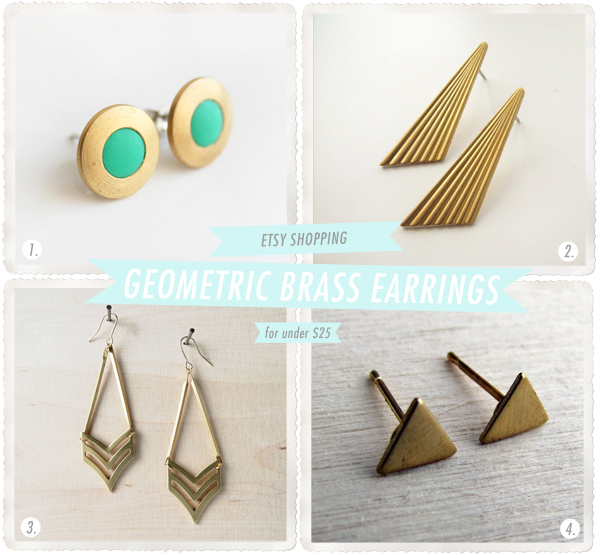 I don't know about you, but I am an earrings girl through and through. I don't wear any other jewelry besides my weddin' ring. When I find a good pair of earrings I stick with 'em, and I wear them daily for months, morning noon and night. Recently I lost three single earrings in the span of a week (insert major bummer emoticon here). I have been on the hunt for THEE pair and am have a hard time finding them.
I'm a total sucker for geometric shapes and patterns and have had a hankering for some simple brass earrings for a while. I thought I'd wrap it all together and put it an Etsy Finds post for you (and me). I recently purchased the simple studs pictured in the upper left hand corner. They are great looking, but a little heavy and I'm still not sure they are the ones. Why does finding the perfect pair of earrings have to be so hard?
What do you think of my finds? Do you have a favorite Etsy shop for everyday jewelry? Please share if ya do!
1. Brass Circle with Turquoise Green from Vivid by Esther – $19.00 + $2.95 (for shipping)
2. Angeliki Triangle Earrings from Geodora Designs – $22.00 + $4.50 (for shipping)
3. Geometric Earrings Spring Jewlery from Curious Creatures – $25.00 + $4.50 (for shipping) P.S. Lots of other great planter's here to fit any budget.
4. Simple Geometric Triangle Posts from Little Sixty Jewlery – $9.00 + FREE! (for shipping)