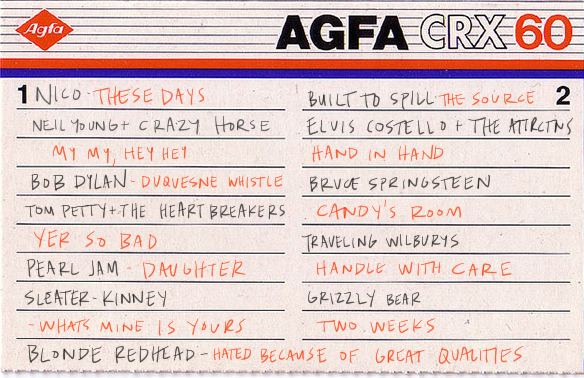 Hey E'rbody!
Man, that cold that I had last week has really gotten me out of the blogging rhythm. Not only that, Finn's new preschool schedule in conjunction with having a fourth kid in the house on Monday's has put a wrench in my day-to-day life. I'm usually pretty good about keeping a notebook of ongoing lists and ideas for future posts as well as keeping up with projects that are in process but I seriously have nothing right now. Don't know if any of you blogger friends experience this from time to time but my motivation and inspiration is going through a major drought right now. I have got to get myself on a regime, but maybe after this week. For now I'm focused on Jeff's bday, it's coming up at the end of this week and I feel like it's going to take all my free time getting that business together.
Anyway, a good mix tape always gets me moving in a positive direction. I put this one together, it's full of some tracks from some of my favorite fall records including Sleater-Kinney – The Woods, Nico – Chelsea Girl, and Blond Redhead – Melody of Certain Damage (babes make good fall jams). I also included a track from the new Bob Dylan record, an oldie but goodie from PJ (aka Pearl Jam) and few other little nuggets that have been finding themselves on my record player lately. It feels fall-y in here already.
Hope you enjoy, and I hope to be around more often. Breaks whether planned or not are always good for my state of mind.
Mucho Love,
Scoops
Continue after the jump for my Spotify playlist!