Do you have that one space in your house that has never really changed since you've moved in?, cause I do! Our entry way is beyond blah, and we've barely touched it since buying our house because…
I HAVE NO IDEA WHAT TO DO WITH IT!!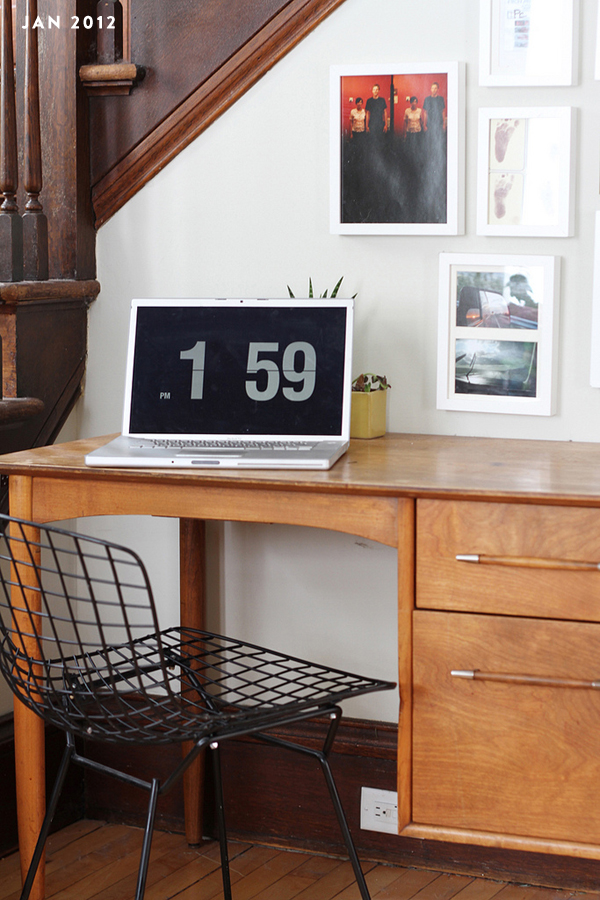 We moved in (March 2010) and since then we've painted, added a desk, tossed a ridiculous (and super ugly) oversized pillow on the radiator/built-in-bench, and hung bunting over the long, weird window.
Overall it's not completely horrible, but its' not great either. I'm just so afraid of it!
I have no clue how to approach that long, horizontal window on the north wall; do I leave it naked?, do I keep the "bunting thingy"?, do I try and hang curtains?
I have no idea!
What about that bench/radiator cover built-in; do I add cushion?, would that be weird?, maybe just a bunch of pillows?, or nothing at all?
I seriously have no clue!
What about that sconce, it's original to the house but looks really sad and old and is only hanging on by a thread; do I buy something new?, do I go chandelier?, super modern?, minimalist??
I just don't know!

Henceforth I am committing myself to coming up with a "vision" for this weird space and sticking to it. The deadline: Summer! By this time Juneish I will no longer have an entry way that is non-functional and non-prettyful. It will be rad and cool and something I can be proud of.
You hear entry way, you've been warned!