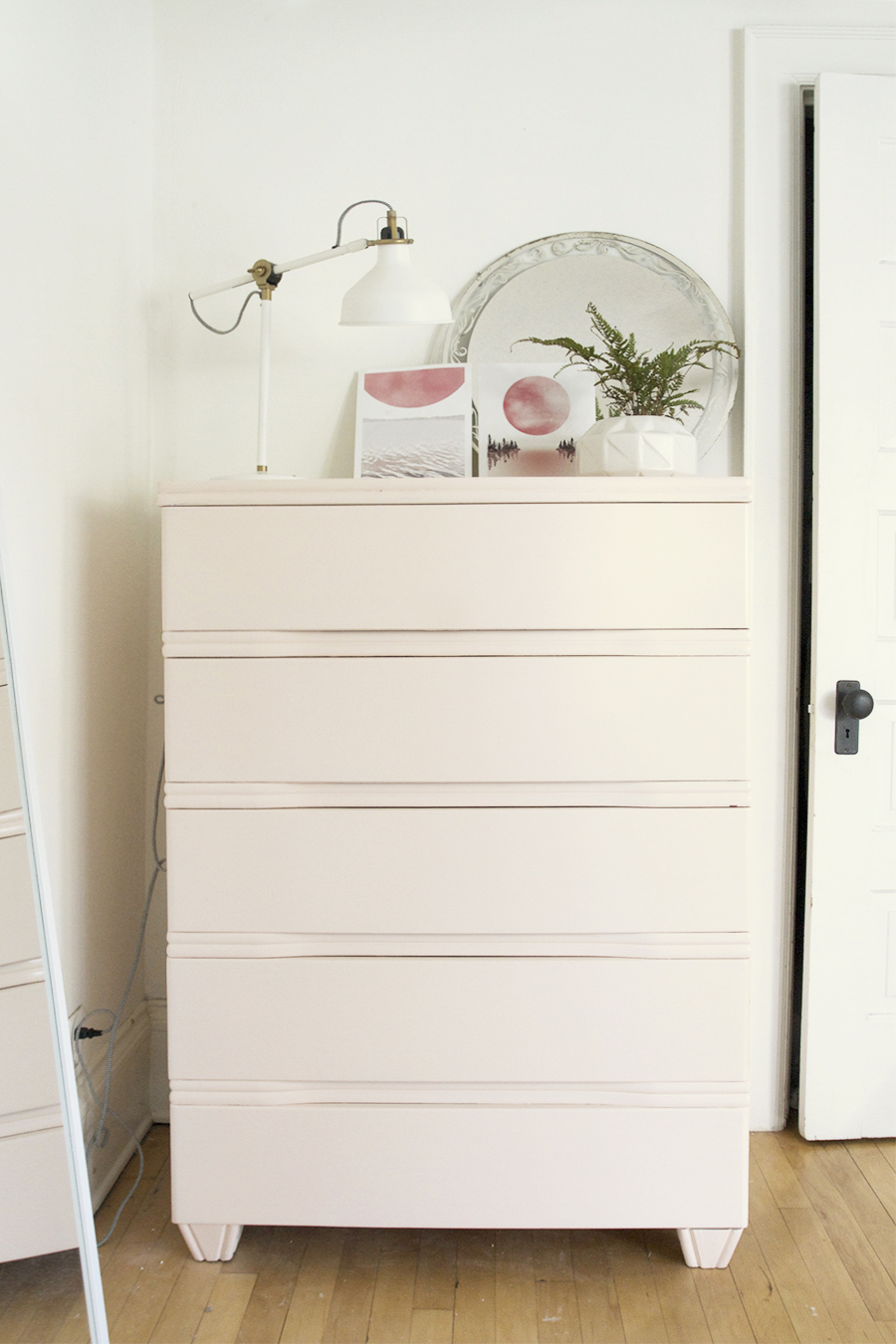 Well Guys, I'm making some progress in the bedroom. Like I mentioned last week, I'm taking the bedroom makeover pretty slow right now, I want to make sure that I am living in the space and making the right decisions about it before committing to big purchases or making bad design choices. I am really happy with how things are coming and I am very happy with this new addition.
This dresser was a hand me down from my Aunt, it had seen better days and needed a bit of love. I got to town sanding it (after testing for lead of course) and over the courser of a few weeks I was able to make it pretty again. I love the simple lines of this piece, the details of the rails especially – in between the drawers they curve in slightly and have my heart. I'm pretty sure the dresser is made of maple and even has cedar lined drawers. I'm sure it was a nice piece of furniture it's heyday.
I could've painted it white, but I thought this was my chance to add something kind of sweet and awesome to our room. I painted the dresser in the best shade of light pink/peach with slight grey undertones – Benjamin Moore's Peach Cloud in the Satin Impervo. The Satin Impervo is an oil based paint. I would always recommend an oil based paint when painting furniture because it doesn't dry as fast and levels out beautifully. Leveling out means that you don't see brush strokes as prominently as if you were to use latex. It applies wonderfully – like butta – like, I kind of love painting with it just for fun. Of course it's a bit more complicated to clean up, you need to use mineral spirits and make sure to dispose of the paint properly. To make things a bit easier, if I'm in the middle of a painting project and I have to take a break I'll just toss my brush in a jar of mineral spirits which keeps it from drying out. Once I'm ready to paint again, I just have to quickly wipe the brush down with a paper towel when I'm ready to go. Anyway, in my opinion, furniture painting calls for oil based paint.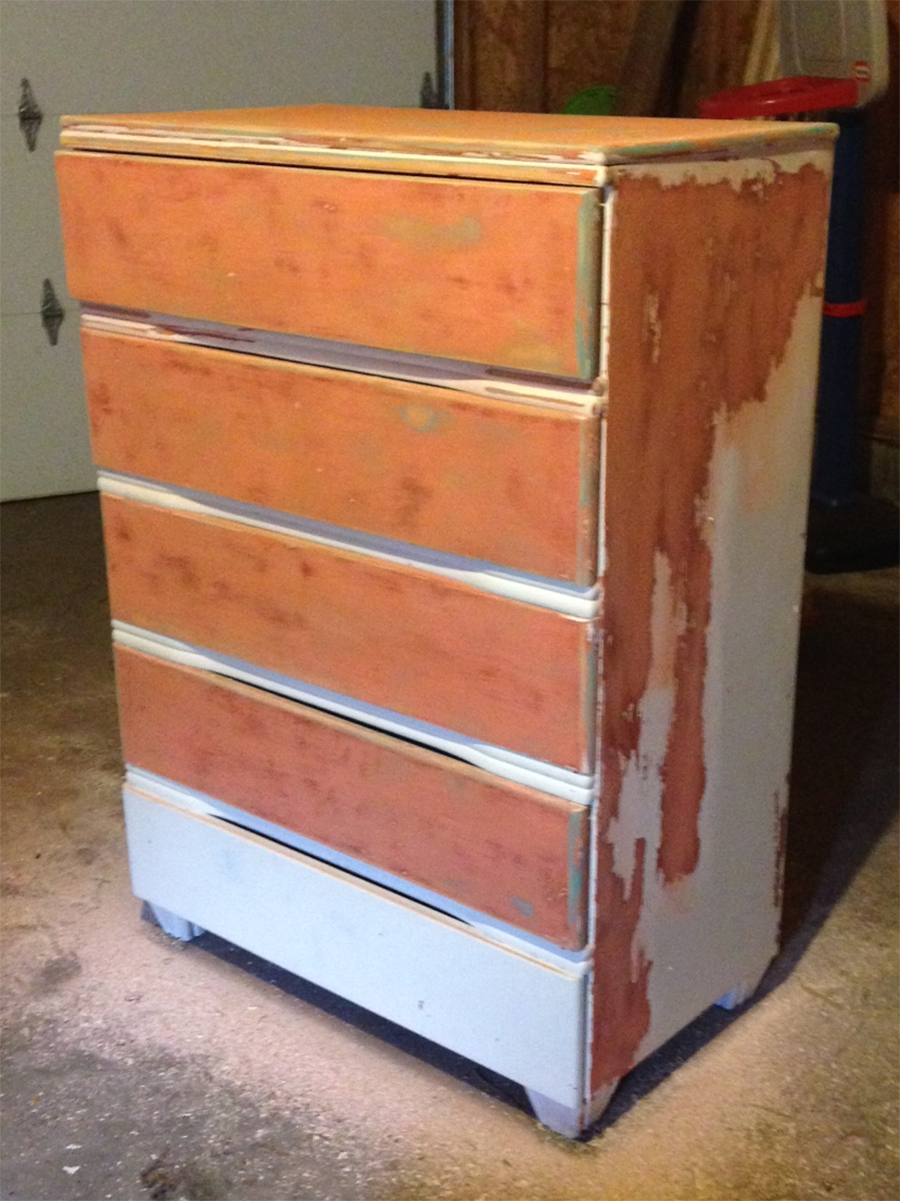 The obligatory before pic. Woof.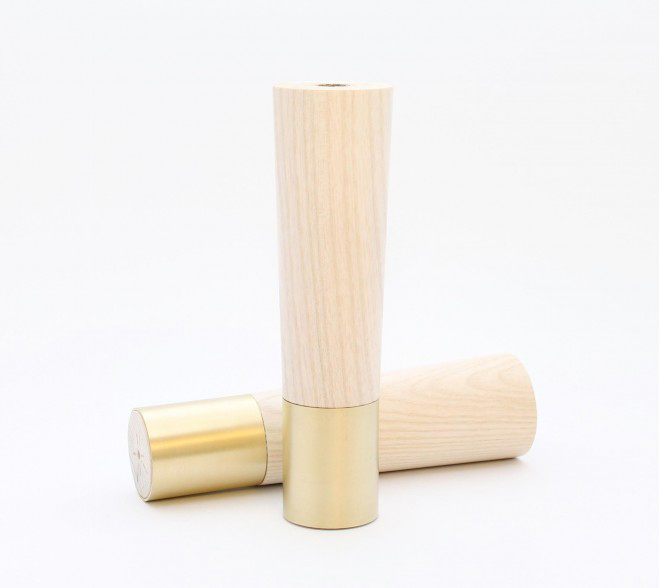 I'm still considering adding these legs to the dresser from prettypegs.com. The legs are broken on the back side of this dresser and they wobble a bit.

I've painted furniture a lot in my day. A long time ago when Jeff and I got our first place I painted a whole set of shabby old bedroom furniture white. We were just out of college and didn't have any money. There was no Twin Cities Ikea back then, and I wanted to use a color to pull the bedroom together. I decided to paint all of the furniture. My folks' neighbor just happens to be a pro painter – he is a wise old chain smoking sage wizard and guided me through my first furniture painting project. I still follow his lessons anytime I take on projects like this, and I thought I'd share with you guys.
Tips on Painting Vintage Furniture:
Test for Lead
Pick up a
Lead Test Kit
at your local hardware store before starting your project. If there's lead, you should probably look for a different piece of furniture to paint
or
proceed with extreme caution, do a bit of research and try out one of these
lead stripping kits
Sand or Strip the paint
Determine the quality of the paint job that is there, if it's in really rough shape it would be best to strip the piece of furniture. If it just needs a bit of help, sand the layers down using a heavy grit paper until smooth to the touch.
Patch holes and imperfections using bondo
Bondo is a two part filler that long been used to fix auto body repairs. It works great patching holes in furniture too. Use it especially if there are holes from hardware you want to fill in. After patching dings and holes you'll have to sand down the excess dried bondo until the surface is smooth. Bondo dries pink, and is good for furniture you plan on painting not staining.
Use a
Tack Cloth
to Clean up small dust particles after sanding
If you want your paint job to be smooth and blemish free make sure to use a tack cloth immediately prior to painting surfaces. It's tacky (duh) and dust particles stick to it like glue.
Use a good brush
I use a professional grade 2″ tapered brush for my furniture painting projects. A good brush is a good investment in your DIY tool belt.
Prime with Oil Based Primer
This is a good thing to do even if you decide to use latex paint. Latex paint does not adhere to oil based paint, so if the paint that was previously on your furniture was oil based the water based latex will bead up and not go on smoothly. However, latex paint does adhere well to oil based primer, using the oil based primer insures you'll get it right because it works well covering both oil based and latex paint, and your fresh paint will adhere to it no matter what you're using.
Sand with fine grit sand paper (220) between paint layers
Good sanding is key to nice smooth surface. Use a high grit sandpaper and don't forget to wipe down after with tack cloth. Use it after the primer layer too!
Paint with Oil based paints
Like I said above, I think oil based paints are best for furniture surfaces because they have a long drying time, allowing more workable time during the application. Also, it levels beautifully and reduces the amount of visible brush strokes.
*Don't sand your final coat!