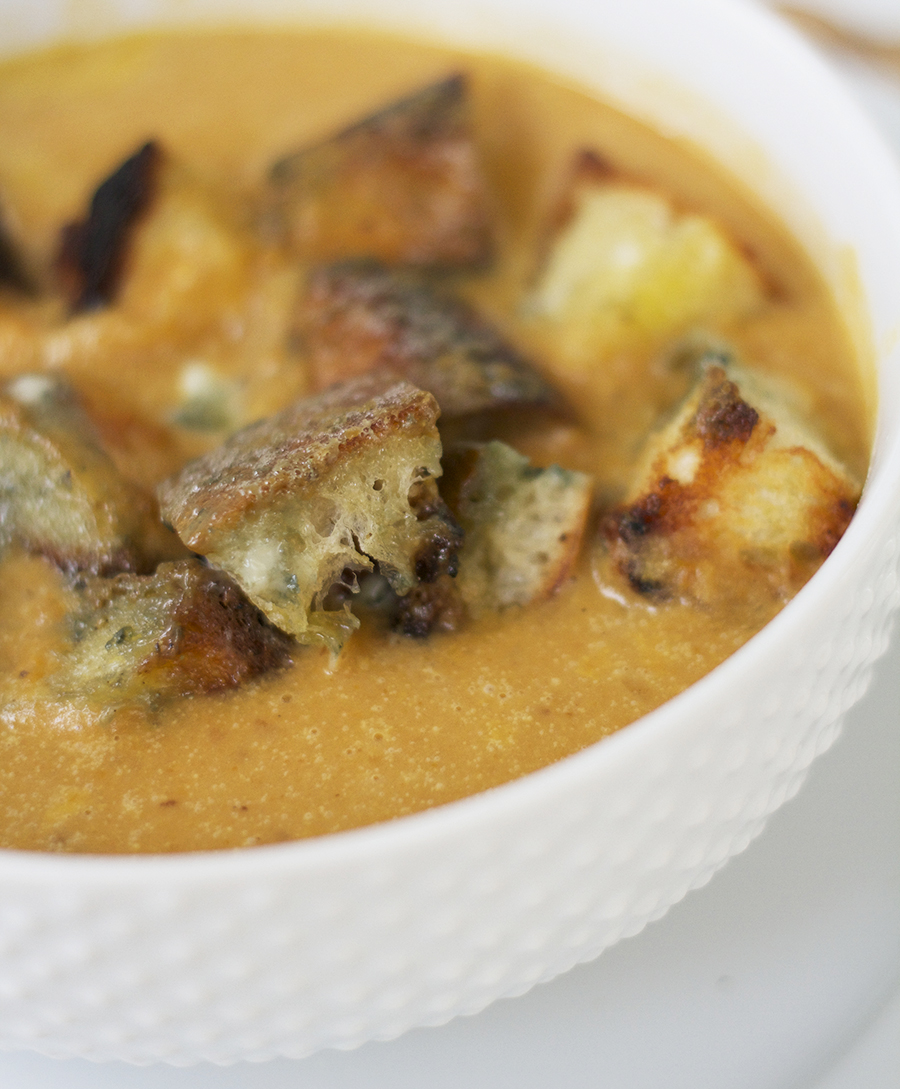 Hi. Make this.
That's right guys, I'm back with another recipe, sorry. I know, I know, there have been a lot of food posts lately, but give me a break. I'm in a crazy nesting way, squirreling away and canning stuff for the winter. Our fridge is full to the brim with the last of the CSA winter veggies, it would be a waste not to use 'em all up.
Considering I have about a bizzillion jillion sweet potatoes, I was really happy to find this delicious recipe. There is a thin line between sweet potato soup and baby food, the key is to make it spicy. Babies happen to hate spicy stuff, so adding cayenne pepper will make it totally palatable for grown people. Put some bleu cheese croutons on top and your six year old will go eat dinner in the other room, cause your soup is just so stinky and delicious. Seriously, can you really go wrong with bleu cheese croutons? Nope. I'm making this again next week. Believe that.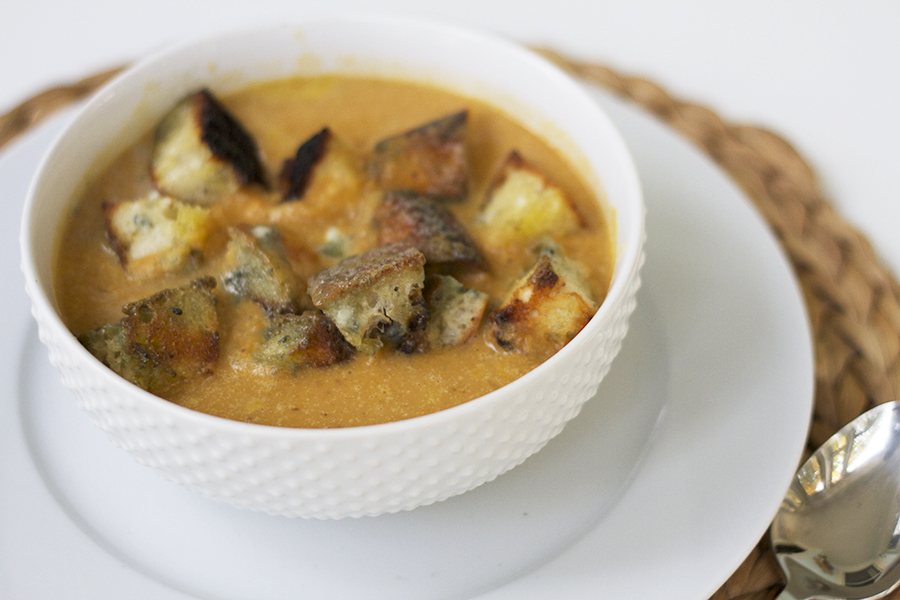 Sweet Potato Bisque with Bleu Cheese CroutonsRecipe from Driftless Organics


Ingredients:
▼ 4 medium sweet potatoes, peeled & cut into 1" chunks
▼ ⅛ – ¼ tsp cayenne pepper
▼ 1 tbsp olive
▼ 2 tbsp butter
▼ 1 large onion, diced
▼ 2 cloves garlic, minced
▼ 1 tsp dried thyme
▼ 6 cup chicken or vegetable stock
▼ 1 cup half & half
▼ Freshly grated pepper & nutmeg
▼ 1 cup stale French bread, cubed
▼ 2 tbsp olive
▼ 1⁄4 c. crumbled blue cheese


Preheat oven to 400 degrees. Toss sweet potatoes with oil, salt, & cayenne & spread on a baking sheet (line with parchment or tinfoil for easy clean up) & roast for 40- 45 minutes, until soft & caramelizing on the edges (use convection if you've got it, but it won't take as long). Meanwhile, heat butter in a heavy-bottomed soup pot & sauté onions until translucent. Add garlic & thyme & sauté until golden. Add roasted sweet potatoes & stock & bring to a boil. Lower heat & simmer for about 10 minutes. Remove from heat & puree soup with an immersion blender or food processor in batches until smooth. Return to low heat, add half & half, stirring frequently, until it returns to a gentle simmer – do not allow it to boil. Add freshly grated pepper & nutmeg to taste, cover & keep warm while you make croutons. Heat oil in a skillet & add cubed bread. Stir until starting to brown. Turn off heat & sprinkle with blue cheese. Cover for a minute to melt cheese. Ladle soup into bowls & carefully place some hot cheesy croutons on top.