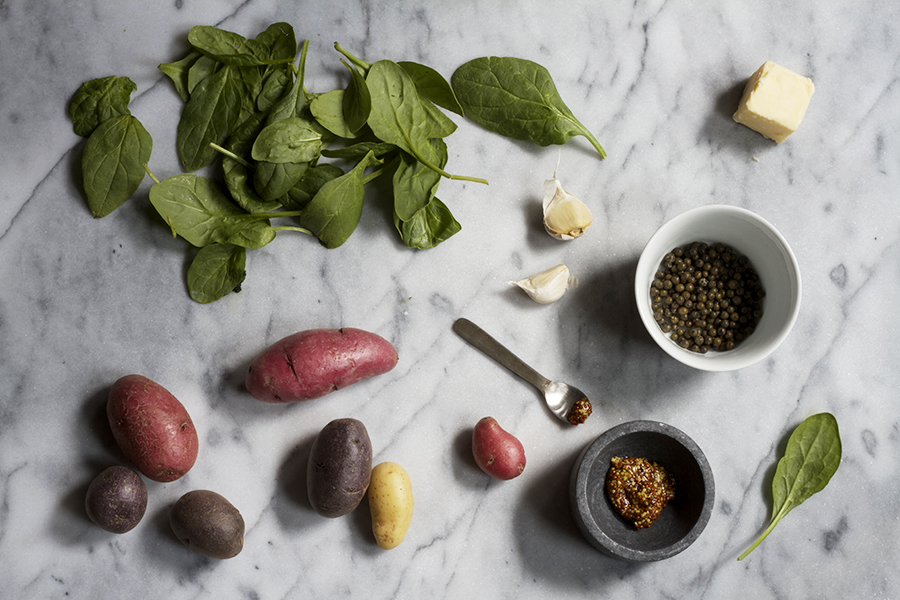 This post goes out to all the homebound parents of small kids out there. You guys know what it's like to feel stuck at home with kids, doing kid stuff all the time. Kids are cool and all, but come on, lets be real — sometimes they just need to go away. Date nights out on the town can be few and far between when you're dependent on babysitters or grandparents helping out. Date nights at home are a good substitute that can be even better than the real thing.
We're big fans of mixing up a few cocktails and making late night meals on the weekends after our kids have gone to bed. It gives us a chance to catch up after a long week, just the two of us. Recently I was approached by Blue Apron to try out a few of their pre-portioned meals for two, and I immediately thought this might be the perfect dinner for one of our in-home hang seshes.

Blue Apron delivers step-by-step recipes and fresh ingredients to customers nationwide. The experience of opening a Blue Apron box is reminiscent of opening a CSA box straight from the farm, and each week the refrigerated box is different. The ingredients are farm-fresh seasonal, and sourced straight from the purveyors, all with recipes designed by chefs.
I loved the convenience of using Blue Apron. All the menu cards and details were delivered right to my doorstep, along with pre-portioned ingredients that are perfectly measured to the recipe so there's no waste leftover. All you need to make these delish meals is a little bit of olive oil, salt and pepper. Plus their plans are totally flexible so if you need to skip a week or opt out for a bit, no problem.
I love trying new things when it comes to eating out, so I was excited about the prospect of having meals that I might have not normally tried preparing before. What I really enjoyed though was someone taking over meal planning for me. Cooking new recipes was much more enjoyable with all the guess work taken out of it, and not having to go grocery shopping for hard-to-find ingredients was tyte.
I really like to cook, but I can get really get stuck in a rut preparing the same meals over and over again for weeks on end. Even our date night meals are generally the same, so getting this Blue Apron box was a great opportunity to be exposed to some new recipes and cooking techniques. It was kind of like a mini-cooking school experience in a box.
Blue Apron offers two types of plan, a family plan and a plan for two. Since my kids are basically the pickiest eaters in the entire world — and because they weren't invited to date night, duh — we ordered up three meals from the two-person plan. Considering the cost of a date night out of the house, this is a really affordable option; meals actually come in under $10 per person. Not only that, I really appreciate that all the meals are between 500-700 calories.
So do you have an in-home-date-night on the horizon, or maybe just a busy schedule that is keeping you from planning meals? Blue Apron's got you covered. The first 25 readers will receive two free meals on their first Blue Apron order! Woohoo!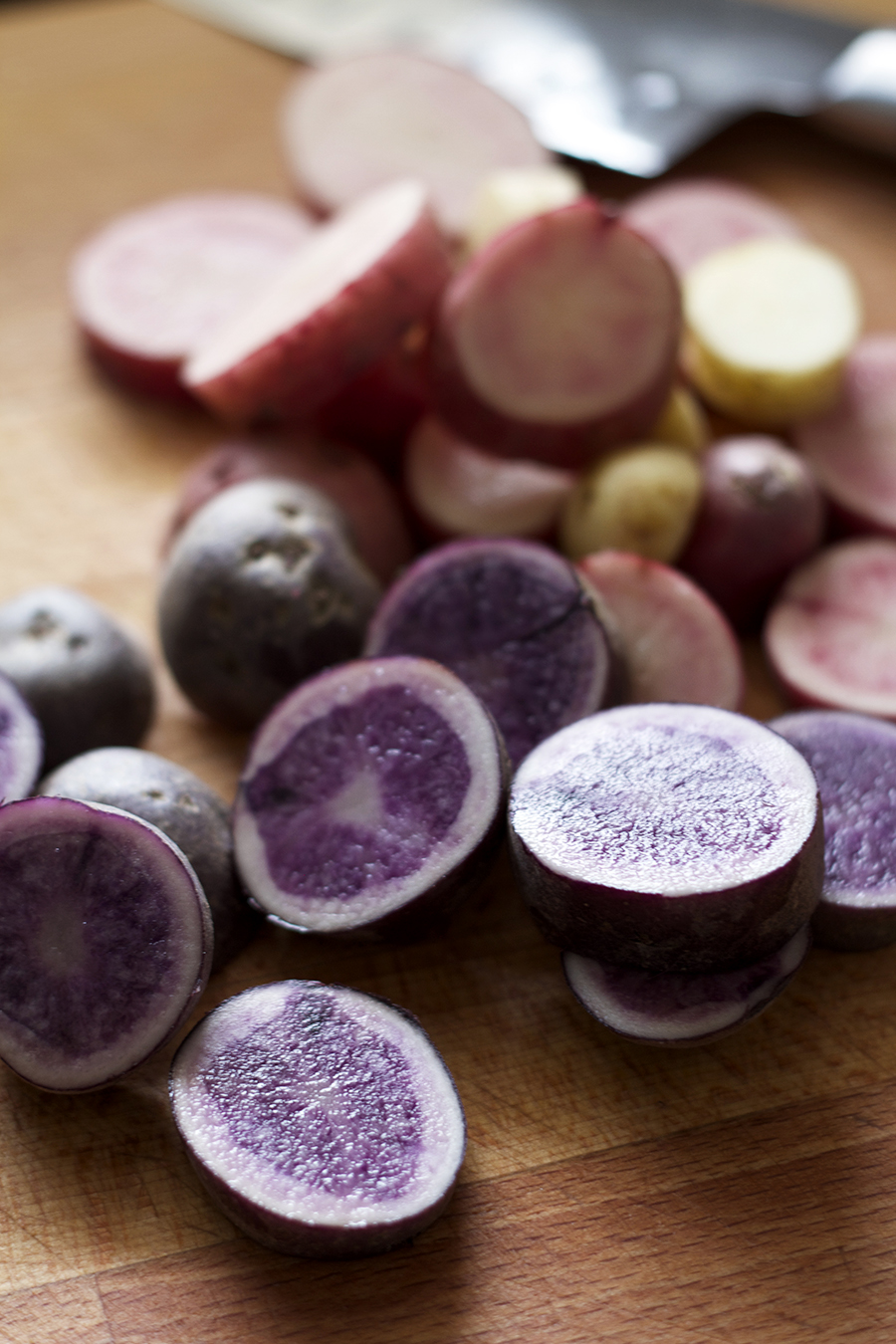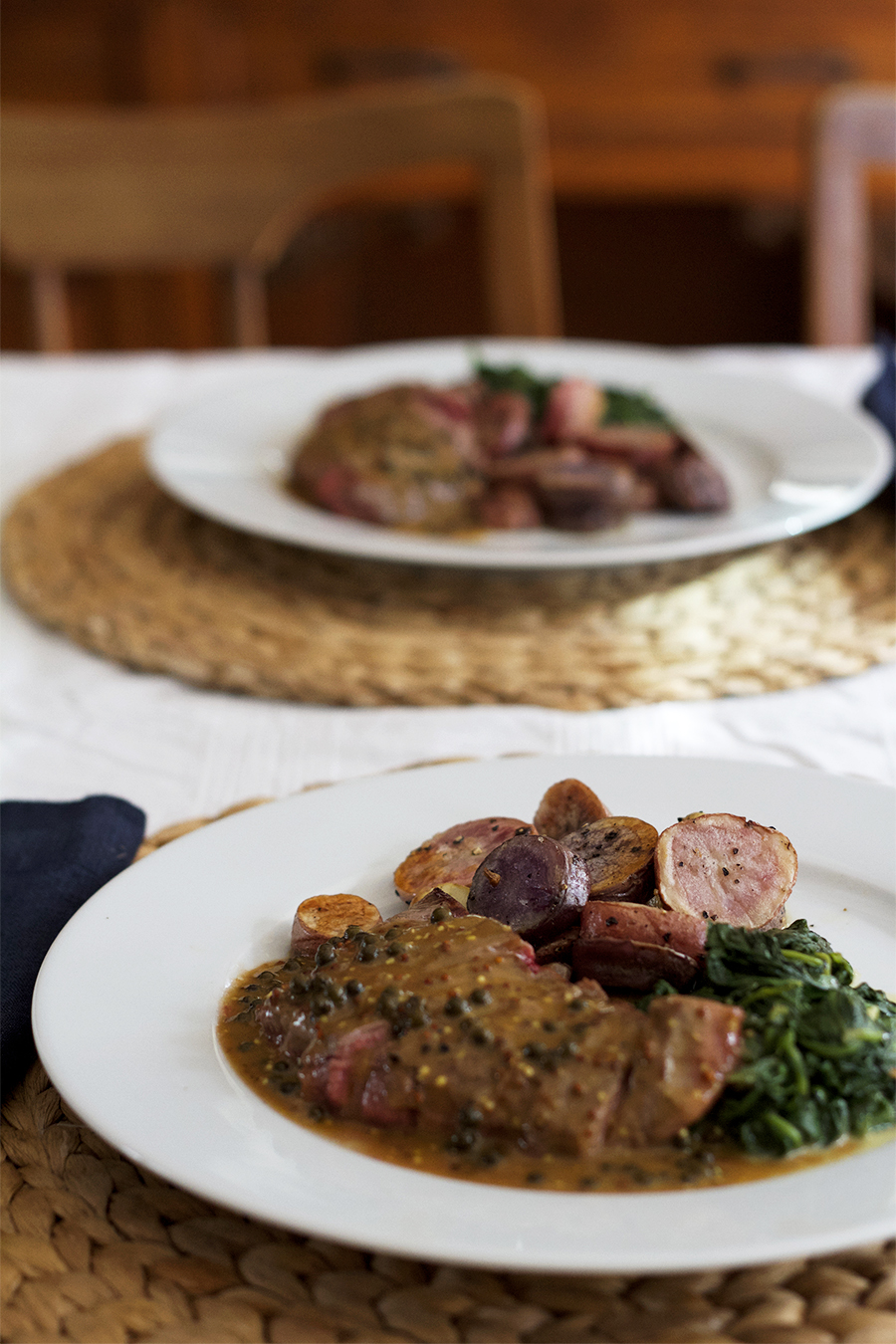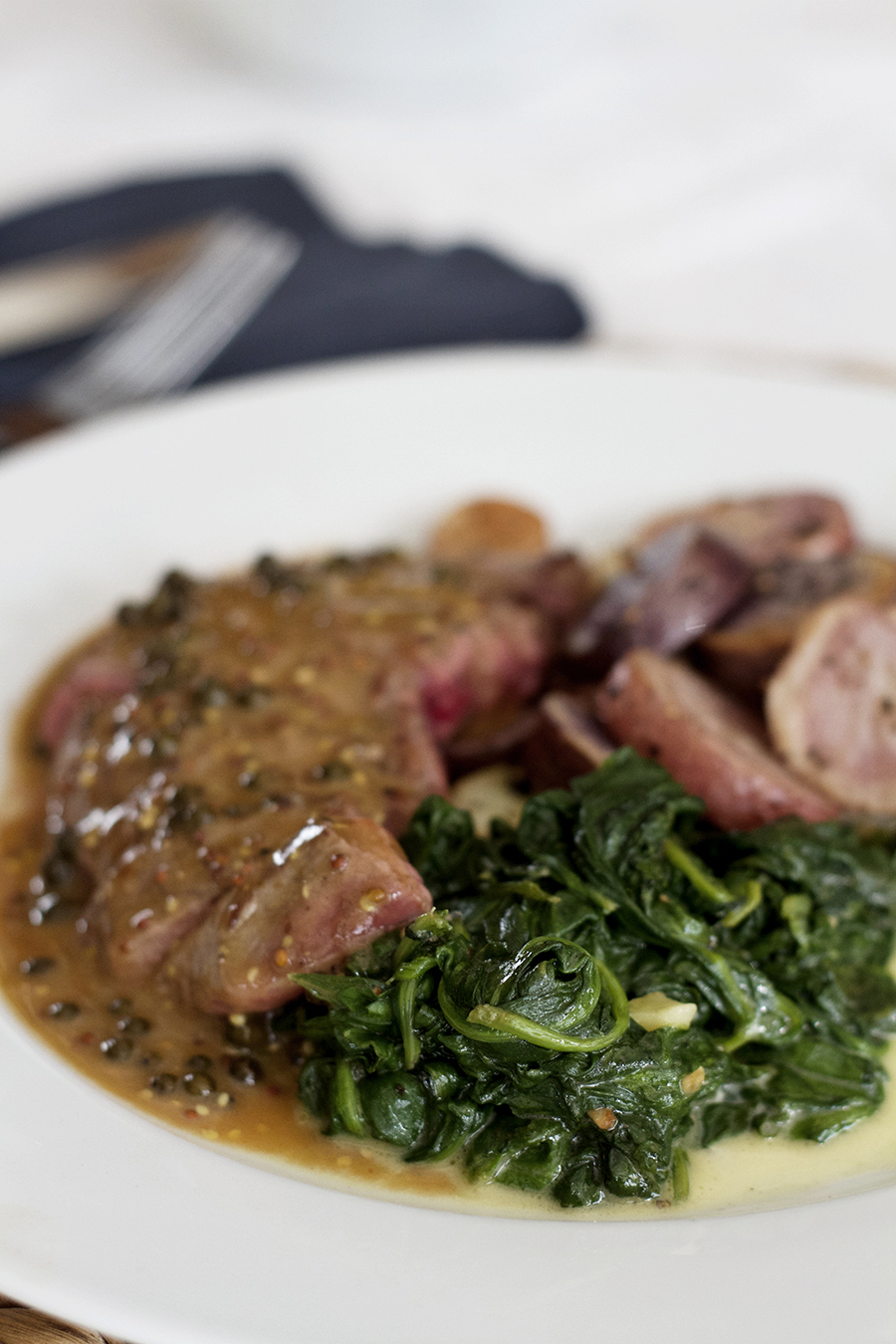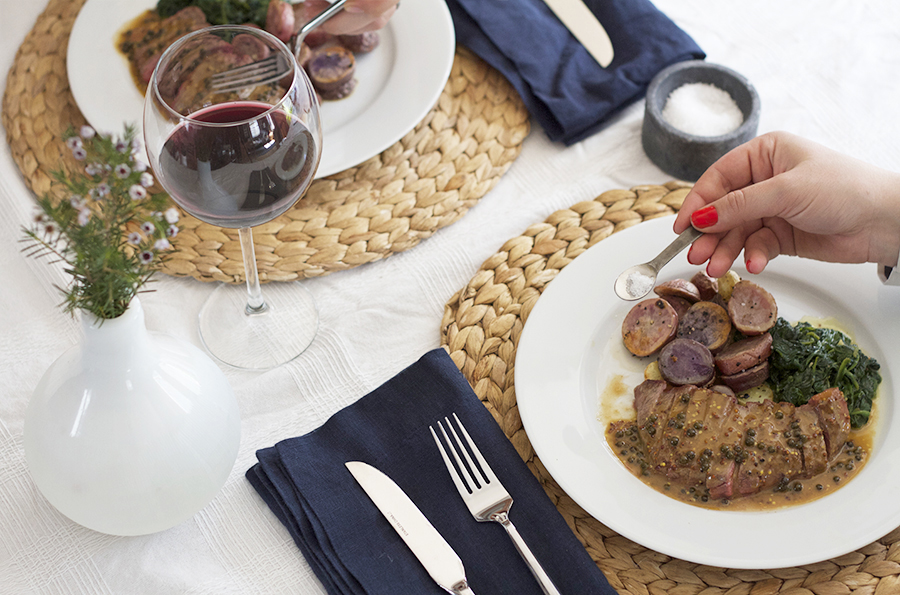 For our date night we cooked up some flank steak with peppercorns, creamed spinach and fingerling potatoes.   Saturday afternoon we prepared some turkey pita sandwiches with a side salad and it made the perfect spring time lunch. Both were super good.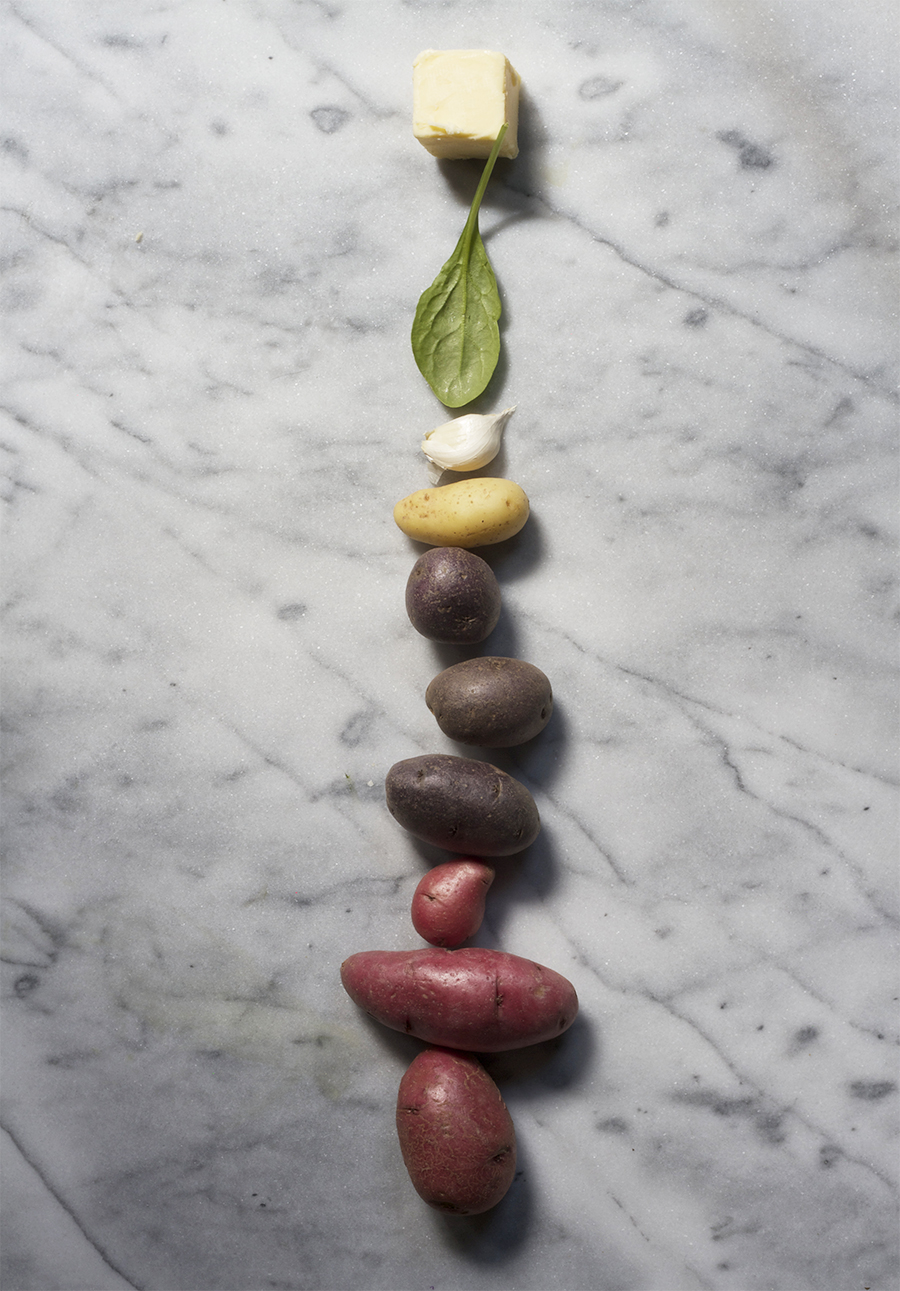 This post has been sponsored by
Blue Apron
. All images, content and opinions are my own. Thank you for supporting the brands that help to support the original content that fuels this blog!