TGIF, dudez! This is probably one of the last CSA recipes of the season and it's a good one, maybe even the best. You just have to make it!
Things about it that rule, the dressing is so tyte and delicious, I would even make a little more of it next time and add even more sriracha. The sweetheart cabbage is a fantastic compliment to the kale adding the perfect snap of bitterness. You know how good cabbage is for you, right? It is full of vitamin K and anthocyanins that help with mental function (which I need a lot of) improving your defense against Alzheimer's disease, and dementia. I love cabbage and even make my own kraut (i'm a whole lot of german), I eat a little every day, cause this girl's gotta poop (tmi, sorry)! Chick peas are totally the best and provide tons of fiber – 2 cups give you a wholes day worth. Isn't it pretty? If this salad were a lady it would be a total babe, just look how beautiful it is! A total winner, and you should make it!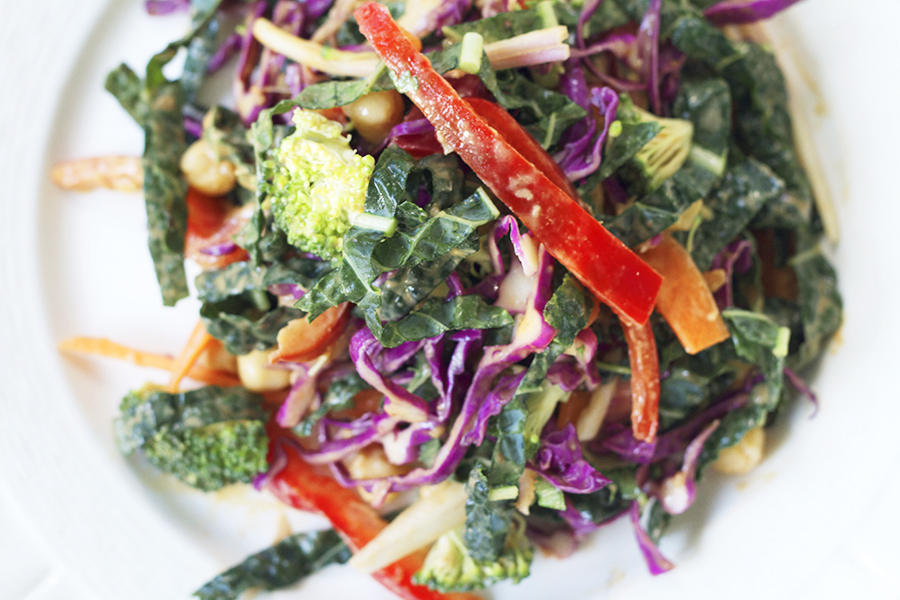 Kale, Broccoli & Cabbage Thai SaladRecipe from Driftless Organics


Ingredients:
▼ ½ head of sweetheart cabbage, thinly sliced
▼ 1 bunch of kale, thinly sliced
▼ 1 red shallot, chopped
▼ 1 cup bell pepper, thinly sliced
▼ 2 carrots, peeled and thinly sliced
▼ 1/2 head or broccoli, chopped up into bite sized pieces
▼ 1 tbsp cilantro, chopped
▼ 1 (15 oz) can chickpeas, rinsed and drained
Thai Dressing
▼ ¼ cup peanut butter
▼ juice of 2 limes (about 4 tbsps)
▼ 2 tbsp Bragg's Liquid Aminos (or Tamari or good soy sauce)
▼ 2 tbsp water
▼ ½ tbsp toasted sesame oil
▼ 1 tbsp maple syrup or honey
▼ 1 tsp sriracha (or lots more)
▼ 1 tsp fresh grated ginger
▼ 1 tsp garlic


Combine all dressing ingredients into a jar and stir or shake until smooth. Make sure all your veggies are chopped into bite-size pieces and toss into a large bowl to combine. Toss in chickpeas and top with dressing. Mix until all ingredients are well coated and serve immediately.