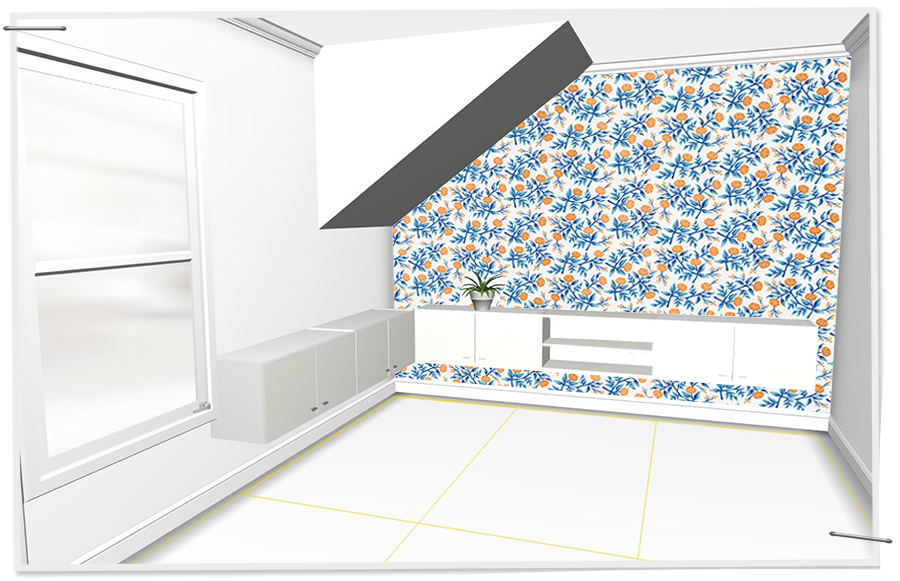 Okay guys, so if you didn't know this about me, I love surprises but I totally suck at keeping secrets. I thought I was going to be some sort of awesome blogger and build suspense around this whole wallpaper thing, but who am I kidding. I'm too excited about it to keep it a secret. So if you couldn't tell by the image above, we decided to go with the Rifle Paper Copper Peonies wallpaper, yes it's totally not like my usual steeze, but man, I can't stop thinking about. Not gonna lie, I went back and forth, it was actually a really hard decision and took me and Waffledoppledingdangdo (aka Jeff, my husband) and I a lot of focused brain power to come to a decision. Eventually it started to seem more and more apparent that the rifle paper was the one, even though it's totally unlike us to go this route. We are excited to see it up on the walls. Can't thank you dudez enough for your feedback on wallpapers. It was all a lot of information to consider but def helped steer us (me) in the right direction. I'm still going to hold on to the Woods wallpaper though, maybe we'll use it in the basement renovation going down early next year.
Okay, can I stop for just a second? I'm going to take a minute to mention that it is only the 2nd week of the school year and the whole fam is already coming down with really dumb colds. My brain is about a million miles away from my actual skull space, so sorry if sound totally looney in this post. I blame the cold medicine.
Alright, so now that I got that PSA out the way, lets talk about my other plan. Since our bedroom is divided into two sections, the bed/sleeping area and the dressing/changing area, I thought it would be best to utilize the space as efficiently as possible on the sleeping side. The space isn't huge and having floor space to move around the bed is essential. Narrow floating furniture would really allow for storage without overpowering the space. After much brainstorming I started to consider adding a fauxdenza to the corner of the room similar to what I did last spring in the sunroom, (which is located directly off of our bedroom, FYI).
Anyway, I like the idea of a crisp white modern piece of furniture juxtaposing (yeah, I went to art school, we say that stuff there) itself against the new beautiful modern-grandma-chic wallpaper. Our plan would be to finish the top of the fauxdenza with lightly stained wood, just like we did in the sunroom and then arrange a collection of white ceramic pieces, plants and other such business. Also, did you happen to notice that I left a space without doors in the middle of the cabinets? That space would be for shelving and books. We really liked having our books around us in the bedroom before (see here) but we didn't need to have all the books out on display. Maybe we'd just have a few of our favorites hanging out in this area being all pretty and styled and shiz.
My major beef with this plan is that I'm afraid of it reading as an explosion of low hanging swedish kitchen cabinetry. I am super afraid that my new adult bedroom would look cheap. I really want it to look fresh and minimal-ish, and clean, and grown up. I'm just not certain the fauxdenza is the best way to achieve this, although for now I am really liking the idea of it. I'm going to let it simmer for awhile, I dunno what do you think? Can I pull off having a piece of "furniture" like this in my bedroom?
Guys! If you guys ever need to plan a kitchen or a fauxdenza, you gotta try the Ikea kitchen planner tool. It is one of my favorite things on the interwebz, I only wish they had it available to use with all Ikea pieces. That would be awesome. It gives you a parts list and everything, all you have to do is go to the store, give yer list to the ikea kitchen guys and they'll send the order down to the stock room. So tyte.

Here's the fauxdenza from a few more angles. The top view is looking in from the hallway door, the bottom view is looking in from the sunrooom. Please let me know if this is a crazy cool idea or just a crazy dumb idea, you guys.