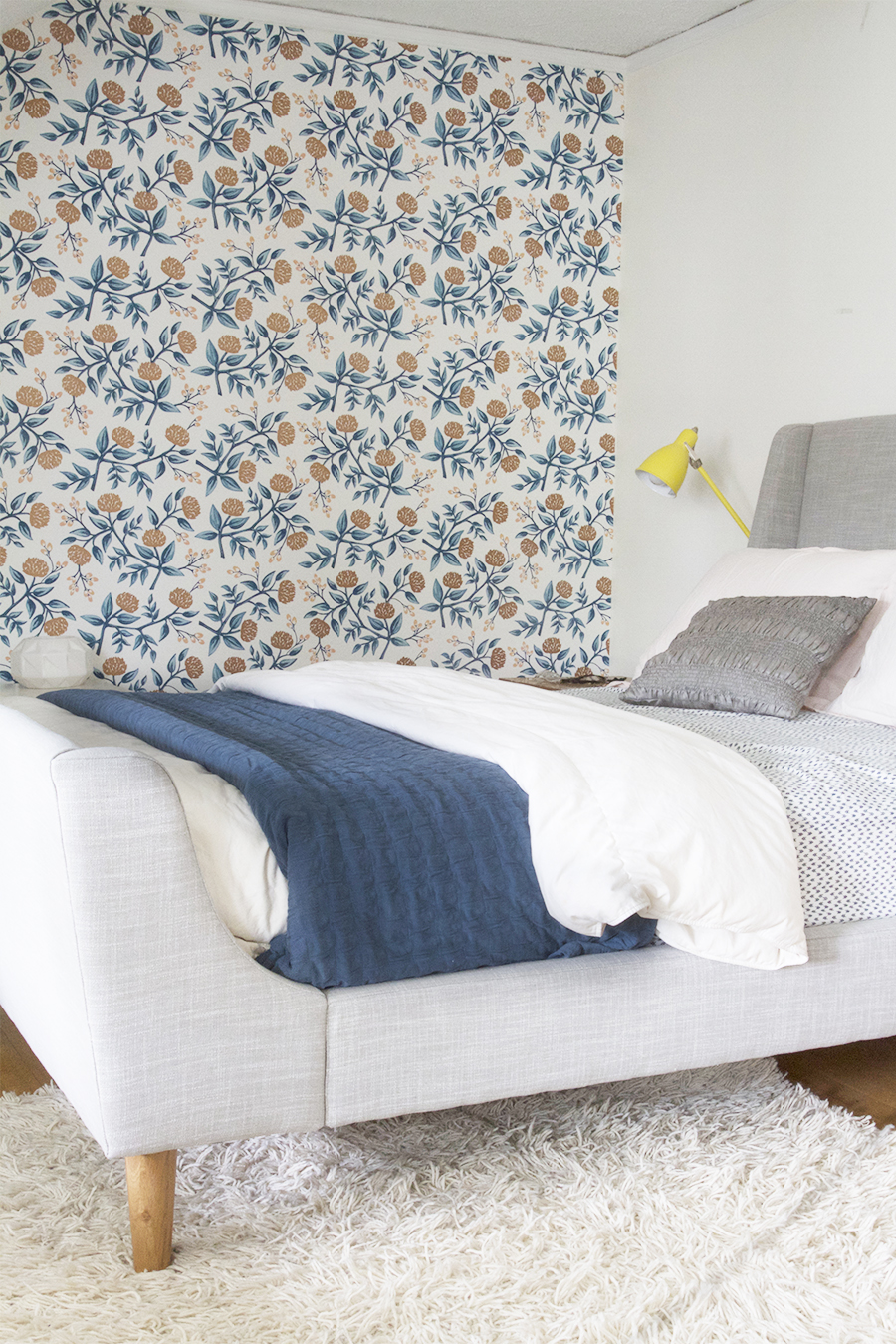 Heya! Welcome to the post wherein I blabber about minute details of my bedroom for a very long period of time. Ready? Here goes.
I dunno about you, but when I put together spaces in my home, everything is extremely thought out. I find that it really helps to have a detailed plan from the jump, and every element should be as functional to the space as possible while looking super fly. I start with the big decisions and than whittle my way down. Basically one decision leads to the next, to the next, and so, on until everything falls into place. I nag my husband and my girlfriends constantly about my options and ideas to reassure myself I am on the right track. There is a lot of self doubt involved in this process, it's how I roll.
I hope you don't mind that I go back and forth in real time on the blog showing you guys my sometimes crazy detailed thought process. I still see this blog as a diary of some-sorts, so if things take a long time and I change my mind, then so be it. I'll blog about it. I hope you guys don't hate me for sharing all the mundane stuff too.
Remember, a few weeks ago I was gung-ho on a wrap around fauxdenza? Well now (after much thought) I have come to the conclusion that I need to start with the big design choices before I start figuring out the secondary stuff. I get overly eager to just do things sometimes, which on occasion is a benefit, but in this situation I need to take it slow. I now realize that sticking cabinets on my walls is not always the best decision. The bed needs to come first because, it's just more important to the room, I mean it is a "bed"room after all. I'd hate to invest in semi-built-in-cabinets and then not have it jive (yeah what, I said that) in the space. After much consideration we made a decision and ordered a real-deal-grown-ass-person bed.
When Waff (aka Jeff Allen) and I began looking for a bed we wanted to find something upholstered in a light neutral fabric. Although I like platform beds we had decided we didn't want something low to the ground, and narrowed our search to beds that included both a headboard and low footboards with clean modern lines. We felt squeezed financially on almost all the beds that fit our criteria though. Most of what we saw ranged from $1500 – $1800 bucks, and although I'm sure the price is totally worth it, we really didn't want to shell out that kinda dough.
I had noticed the upholstered sleigh bed at West Elm a long time ago, way before I started the bedroom project. I had even pointed it out to Jeff, and he agreed he liked it, but we figured that there was no way his 6′ 4″ body would fit in it comfortably. The footboard is a little higher than most, and he wouldn't be able to let his dogs dangle. So, I just stopped thinking about it. But now that we were actually in the market for a new bed it popped up on my radar once again. If only I could chop a few inches of his body everything would be perfect. Long story short, we could not chop up Jeff and the bed needed a closer look. We made a stop into West Elm and I made him lay down in the bed, in the store, in public. I'm pretty sure he hated me for it, but whatever. He almost fit in it! We were looking at the full sized model and figured that since we had a queen, which was 6″ longer than a full bed we might be in luck. The price was so good, we just had to see if it worked. We went ahead and ordered the bed directly from the store, we saved $100 on delivery and I signed up for the West Elm store card saving us another 10%. We basically got the bed for $825 before tax, which seemed like a pretty sweet price to us.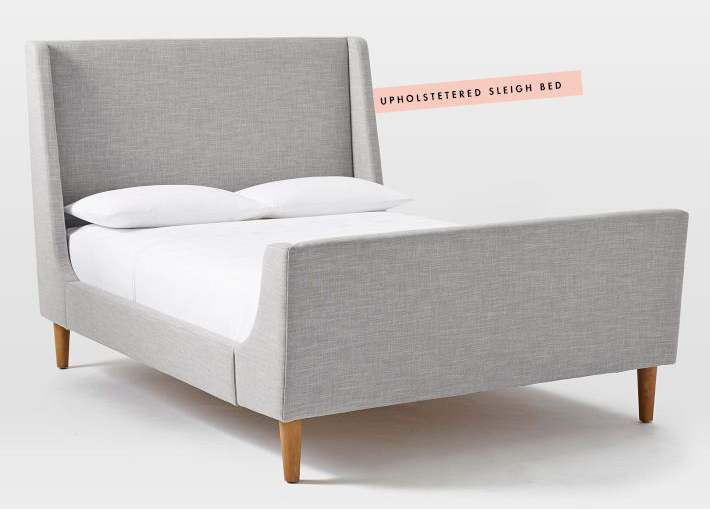 Guys, we totally love this bed! We have been going to bed at like 8:30 because this bed is sweet and comfy. Our mattress is finally adequately supported, and the platinum grey upholstered headboard and footboard just make it feel like you are so tucked in. We are really happy with the choice we made, and it makes the room look god damn adult. I'm honestly a bit uncomfortable with how grownup we are getting.

In case you're new around here, this (above) is the position we have always had the bed in, perpendicular to the long wall. We never really considered anything else because we had the corner of the room eaten up with the angled wall that was hiding that tank, remember? Now that's gone, and the corner is squared off so there are more possibilities for furniture layout in this room. More possibilities means more driving myself crazy, naturally.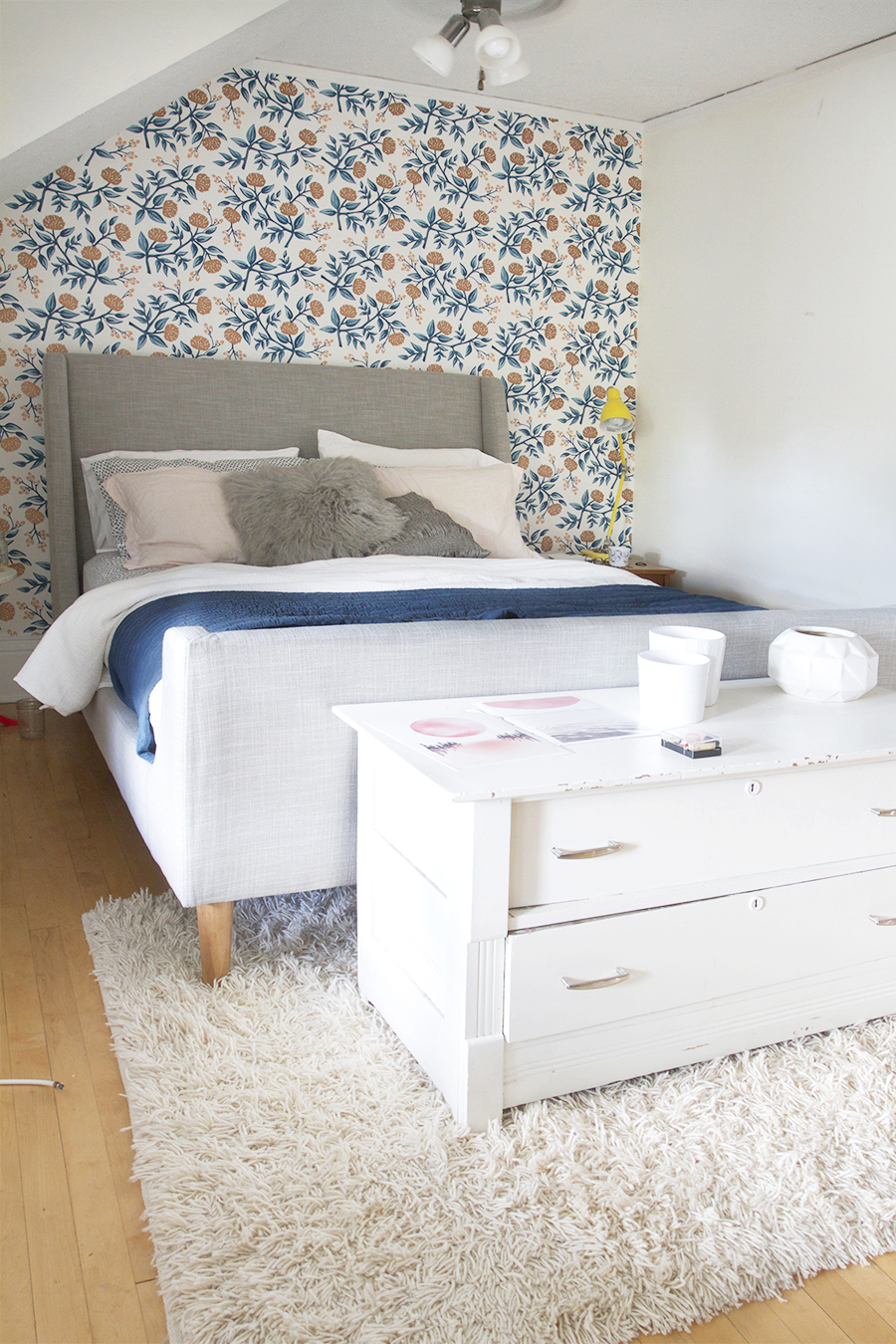 I've reached this phase of my bedroom project where I just have to pause for awhile and figure out how the space is going to function the best for us. I mentioned this in my last post about the floor plan, but I don't think I emphasized how much we are really, really taking this slow. Right now things are stuck as we try and figure out what goes where. A few of you asked or suggested in the comments that I turn the bed on a 90º angle putting it centered on the newly wallpapered wall. This was also my first instinct, and it's exactly what I did after wallpapering. That was a few weeks ago, my bed was just a mattress and box spring then, strategically placed on a broken frame and some books as to prevent it from sinking into itself. After sleeping with the bed on that wall for one night we decided that it just didn't feel right. It puts the head of the bed in the darkest part of the room, and this makes waking up in the morning so difficult. Then there is the problem with the entire bedroom seeming like a bowling alley. When the bed runs parallel to the length of the room, everything else begins to seem really far away. We put the bed back in it's original po-zish (aka position) the next morning agreeing that it just wasn't for us.
Fast forward to a few weeks later and here we are with a new bed. The new bed frame adds a few inches to the length of the bed and elongates it (dur), and we decided to give the wallpapered wall layout another whirl. I have to admit, it all makes a lot more sense with the new bed. I like that everything is nice, orderly, and centered when you enter the room. From the doorway you see the entire bed instead of just the side of it. There is still bad stuff though. The bed is still positioned on the darker side of the room. We don't like that much. Also, if we were to keep the bed in this new position we would encounter some new design hurdles. I'd have to find a piece of furniture to put at the end of the bed, without something there the bed doesn't feel long enough for the space. That old dresser pictured above is just there to illustrate furniture placement. We'd also have to come up with a creative solution for our TV because we are TV addicts! I am 100% certain that there is a way to include our beloved TV in this layout, it just needs to be discovered. Please note that the yellow lamp or the side tables won't be staying in the room. I'd like to have wall sconces for both sides of the bed and matching night stands. I've got more on all that stuff coming in another post.
We like having the bed positioned to the perpendicular wall too (the orig way). If we were to do this I think it would be best to get some narrow piece of furniture on the wallpapered wall whether it be the fauxdenza or some other sort of credenza/buffety/dressery type thing. When positioned on this wall the bed faces east and we can see the sun come up right out through the sunroom windows. This really helps us get up and moving in the morning. I know it's not the most inviting thing to walk into a bedroom and only see the side of a bed, and it's not fun having to walk around the bed in the middle of the night when I you have to use the restroom, ya know? Seeing daylight out the windows in the morning is really nice though. What are we to do?
Obviously, I'm undecided on this issue. I think we'll literally sleep on it for a few days and see how the room feels to us with the bed on the other wall. I'm also going to be nagging my friends for input and advice. I'm a huge believer in designing a space slowly so that you can see how it functions best for you. Sometimes living with something (or a certain layout) for years makes it really hard to see it in a new way without feeling strange. Wish us luck!