Yo. Finally I can say the bedroom is done! We now have a real grown up space that feels awesome to hang out in whether we are lazily waking up on a weekend morning or watching zombie shows at the end of the day. We love it. It took a looooong time, I know. That's because it cost dough (aka cheddar, aka lettuce, aka stacks, aka skrilla, aka money) and projects had to be spread out so that we weren't ever spending too much of our budget at one time. Get it? Jeff trusted me and let me go with the way more feminine wallpaper, but I think he actually likes it now. I'm pretty sure he'd say the pink dresser could take a hike, but that's not going to happen any time soon. Anyways, it's light peach Jeff, not pink, and thank you for just letting me go with it.
The space used to feel so dark (admittedly the black wall didn't help, dur), I always thought it was just a room that moonlighted as a cave, but guess what, it's not! Since lightening everything up, adding the wallpaper, accenting with light woods and furniture everything feels very bright and not remotely like a cave.
I took a hint from our recently made-over sunroom (connected to our bedroom). It's a room that like the bedroom is light and bright but also full of color. When I was decorating it last spring I couldn't resist a saturated coral rug and it looked so good against a sofa I had upholstered in dark blue. Following the sunrooms lead, I used that same color palette in the bedroom but just toned it down and used more muted version of colors. Instead of coral I went blush, and used blue sparingly in different shades found mostly in the wallpaper and bedding. I painted a lot of stuff white, used a lot of light unfinished wood and peppered in black accents. My style is slowly maturing and evolving. My love of midcentury everything is waning, I still admire it, but prefer it in small doses. I still love color, but have begun to used it as an accent instead of a rooms primary focus. A few years ago I would've never considered an upholstered sleigh bed and would've jumped at a modern platform bed in a heart beat. I am beyond inspired and semi obsessed with Scandinavian design and aesthetic. My favorite inspirational blog is My Scandinavian Home, a daily dose of amazing – that influence is showing though. Basically I'm refined as fuck now.
Anyway, here it is! I'll source items throughout the reveal, you'll see links below each of the images and I'll share a few before photos as well. Let's start with some photos of the tank found in the corner of the bedroom wall behind the paneling – it's the thing that got this whole project rolling. Remember what it looked like before?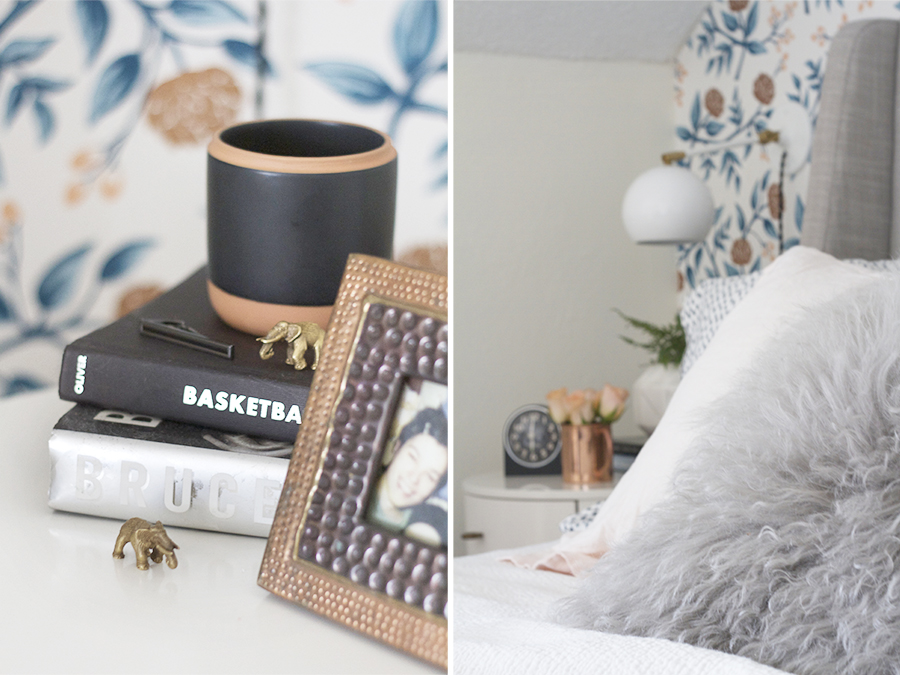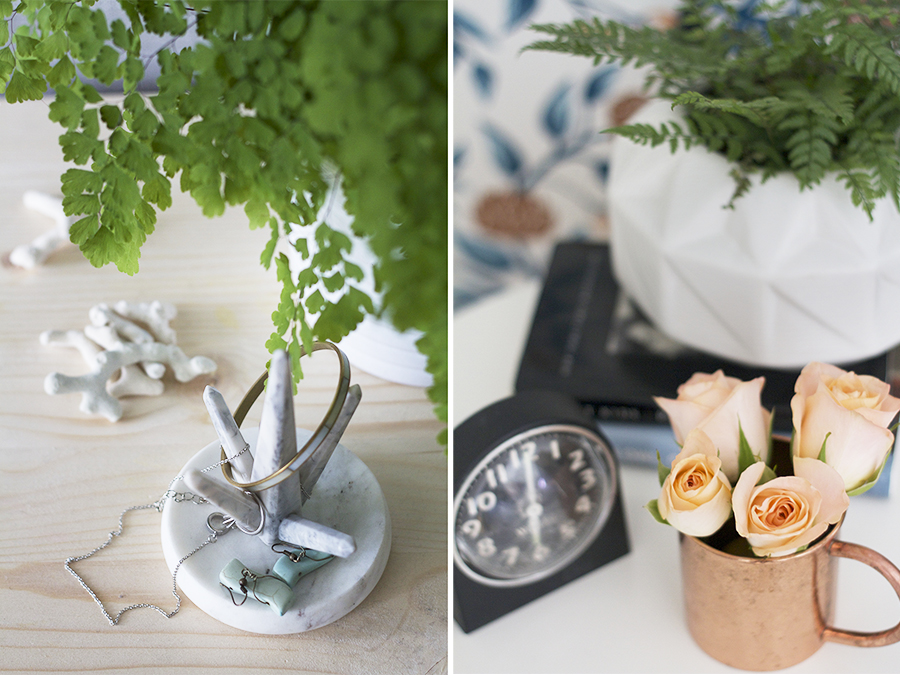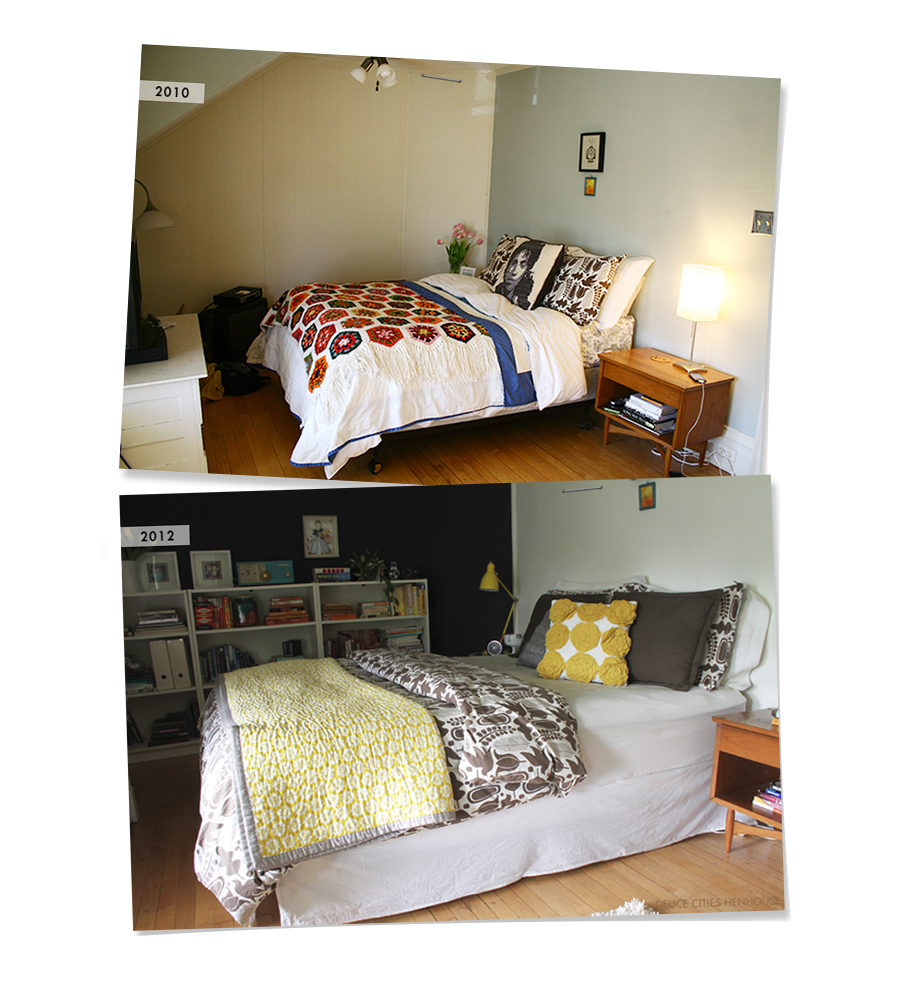 Let's talk about that credenza-y thing at the foot of the bed. It's been used all over our house, at our loft it was in the entry way used as a catch-all, at our rental house it was a buffet in the kitchen, and for the last five years it's been disguised as a dresser in our bedroom. I decided I'd give it a makeover. After years of love and abuse it had a leg that was about to fall off and it sagged in the middle. I painted the whole thing white, replaced the top with a slab of wood, added new legs including in the middle to prevent sagging and hid a flat screen tv inside the top of it. Guess what those drawers hide, my favorite tools – I like to keep them close. For more on the dresser makeover check out this post.

As I was finishing up the bedroom I was left with a bit of problem. There was no more money to spend and we didn't have any large artwork to hang on our big blank white wall. I did the most affordable thing I could think of. I ordered up the ever-popular engineer print for a couple of bucks. The image is a lake scene from our favorite cabin getaway, it was also used as part of my friends wedding invitations. I had the image blown up and printed 3′ x 4′. If you aren't familiar with engineer prints they come on light weight paper and are printed in black and white. I needed more color than that, I took a spray bottle and watercolor paint, masked off a few areas on the print and sprayed on some color. Lastly, I had some scrap wood in my garage that I used to trim out the piece, which helped it lay nicely on the wall. I used some large bullnose clips (painted white of course) to hang the print on the walls. Temporary tolerable wall art for less than 25 bucks! We can keep it around until we're really ready to invest in a large piece of artwork.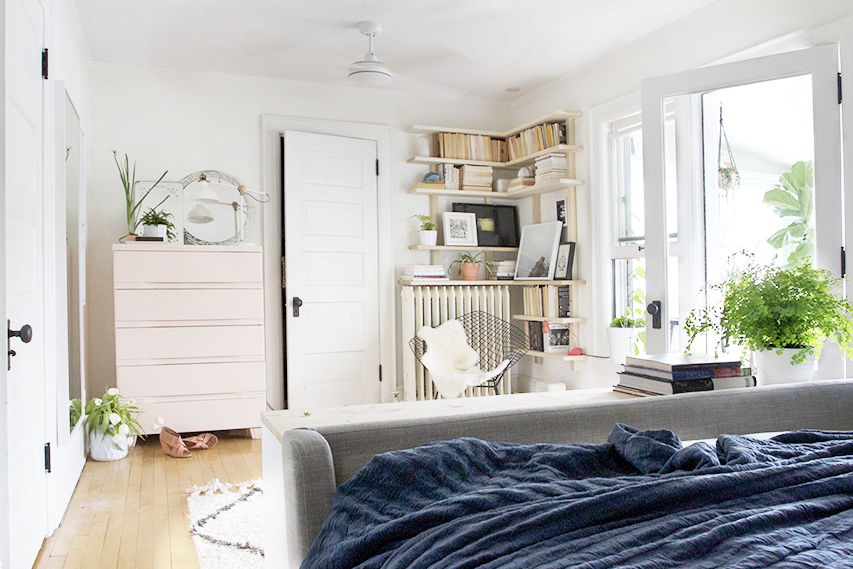 +++ sources +++
Dresser – Vintage | Bertoia Chair – Vintage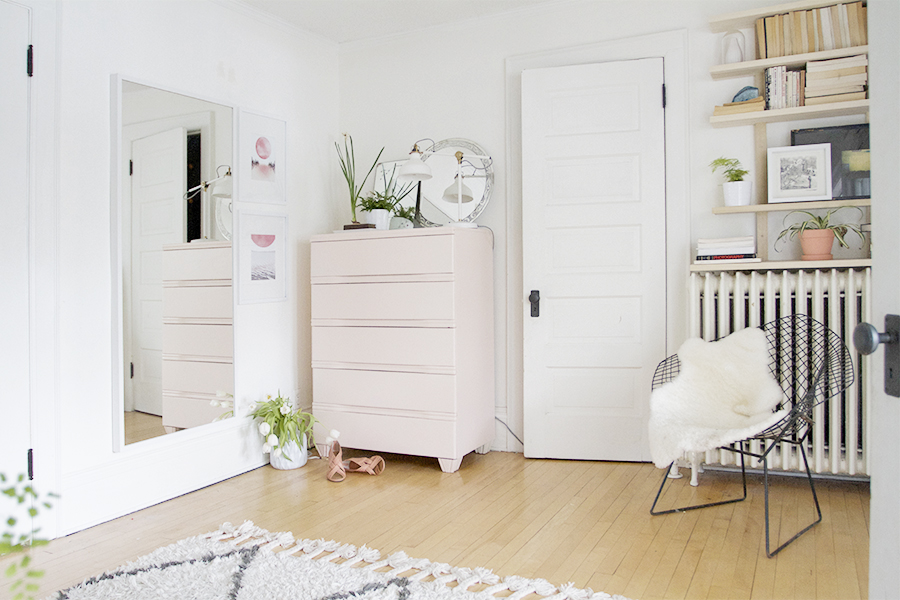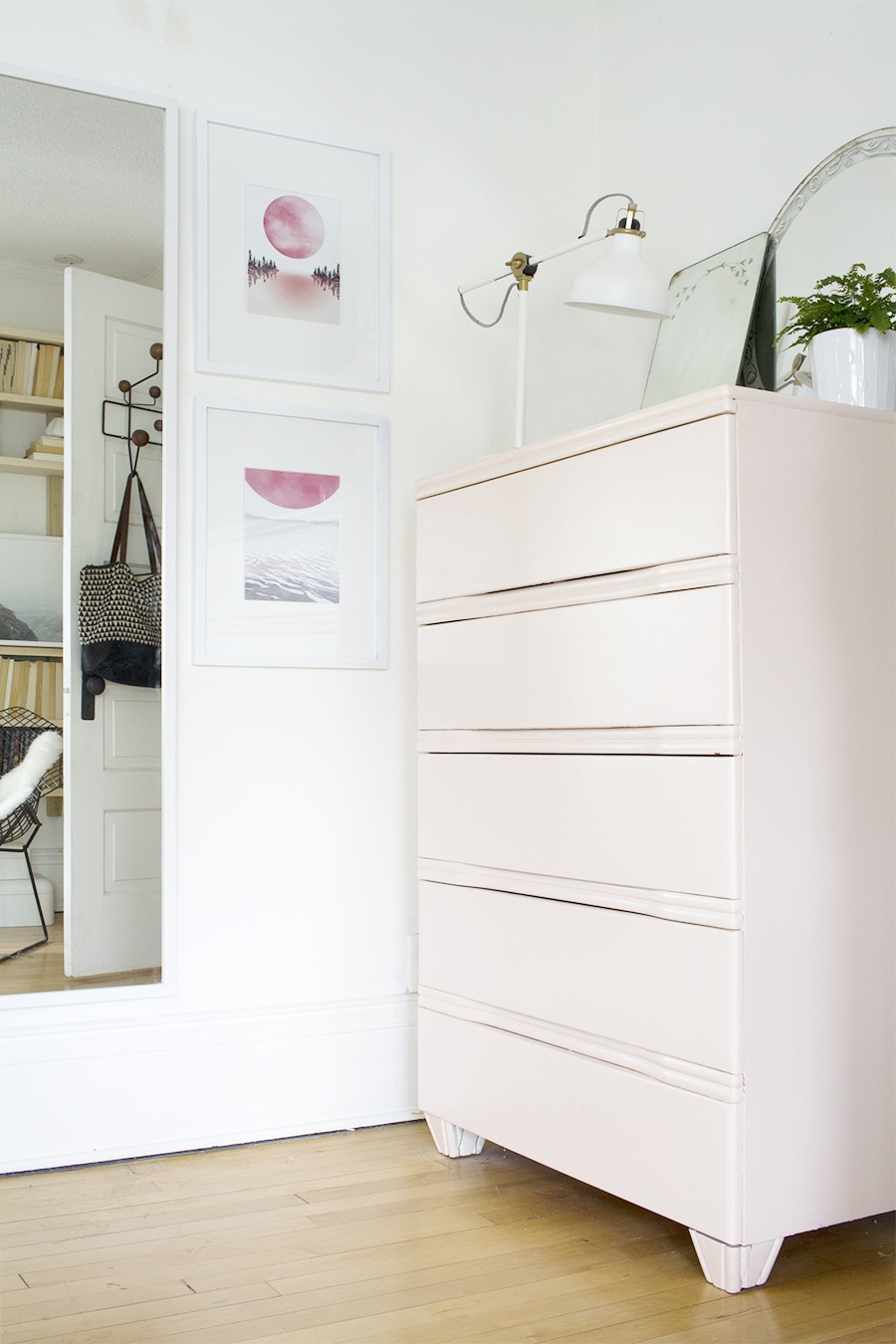 When my Aunt gave me this hand-me-down dresser it had seen better days. I loved the lines of it and could see it had potential. I spent some time sanding down the paint and then repainted it in Benjamin Moore 'Peach Cloud', I used the satin Impervo oil finish so that it would stand up to daily use. I really am pleased with how it turned out. More on that project over here.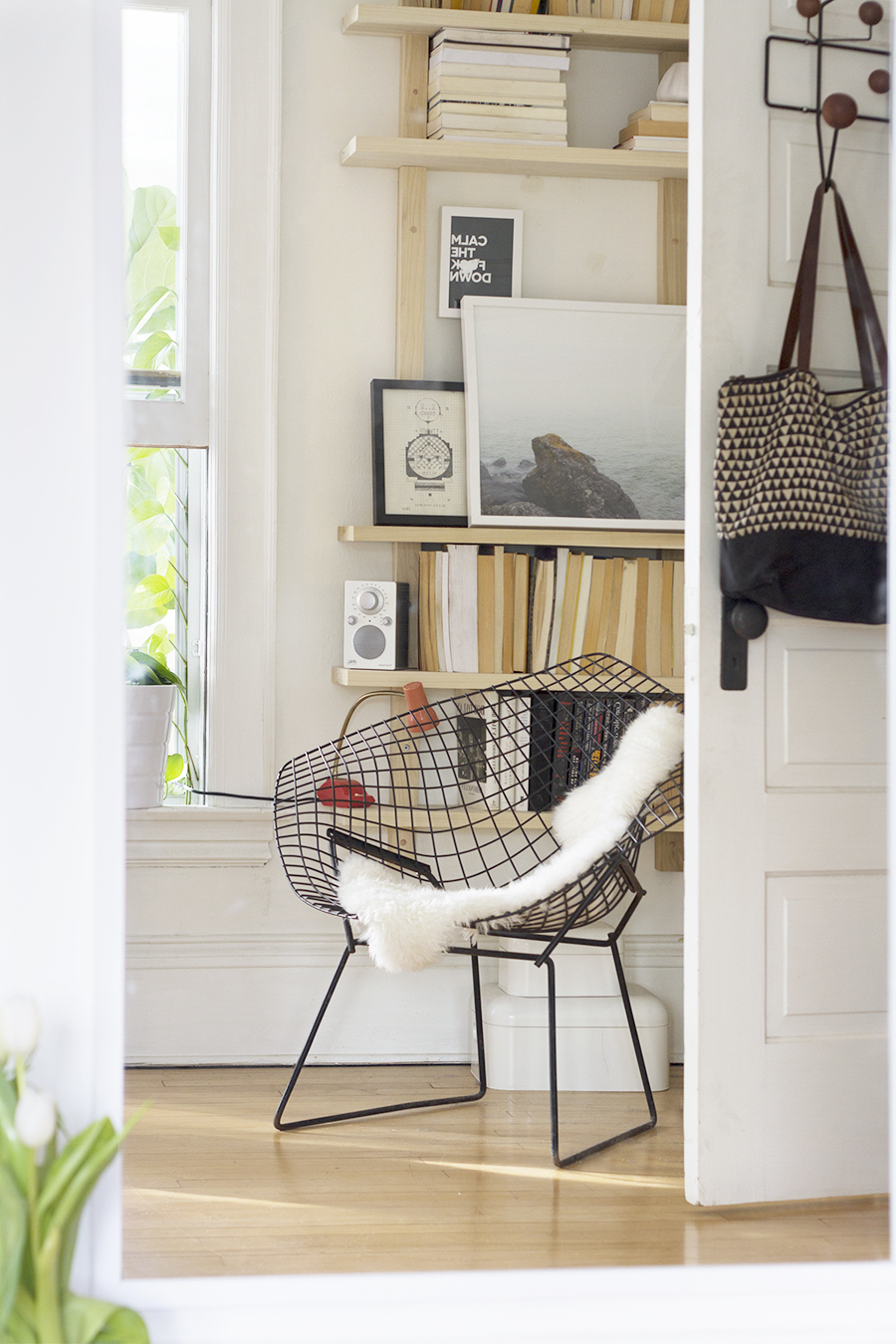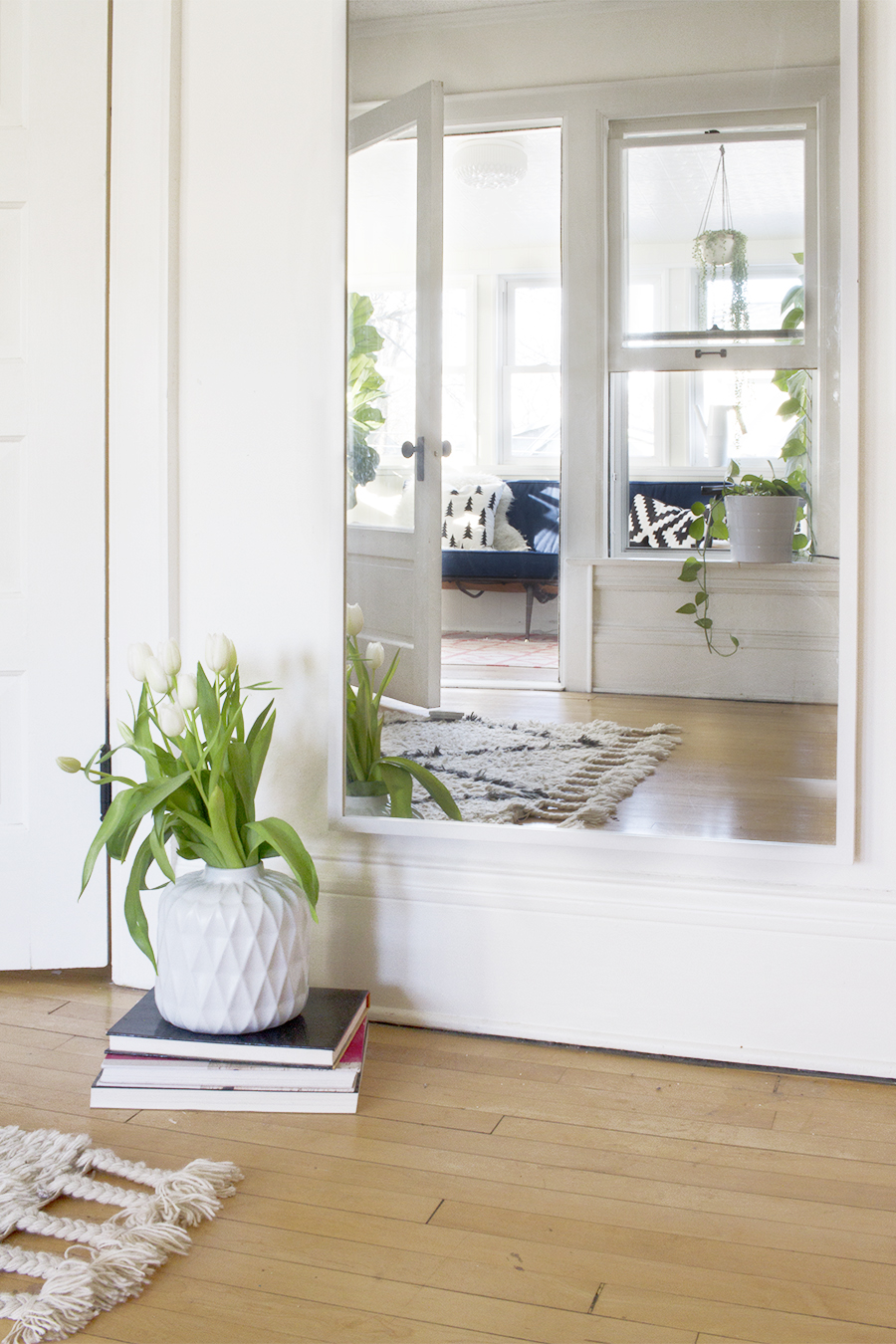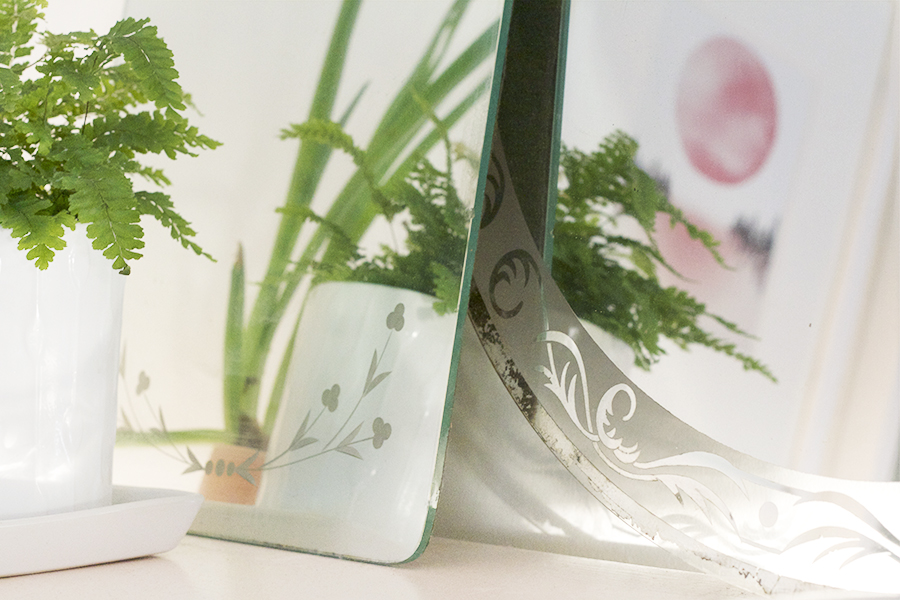 These vintage mirrors were discovered up in our attic, they look to me to be about the age of the house. It makes me happy to have them be apart of our bedroom and I'm glad they get to see the light-of-day again.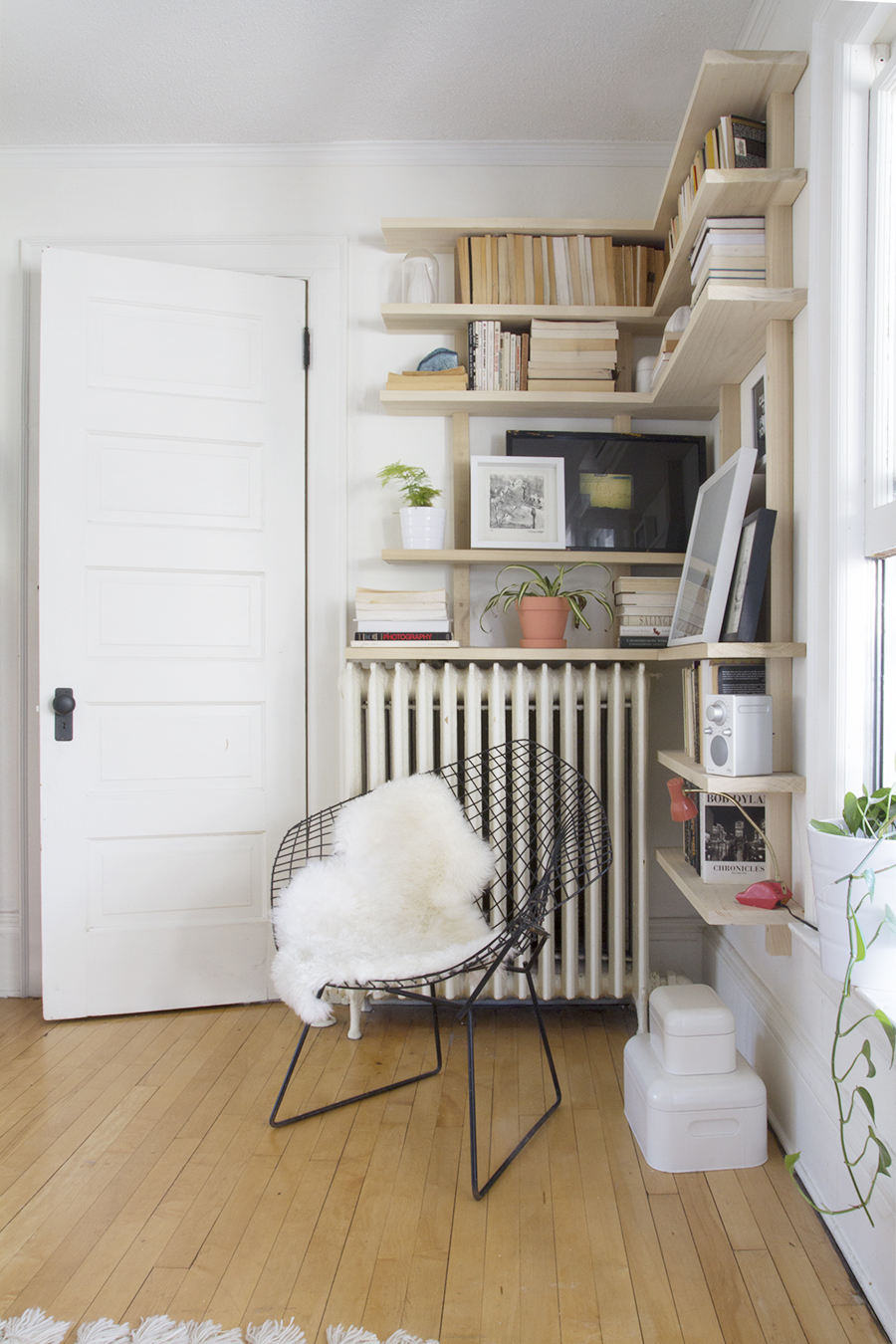 Guys, I'm not gonna hide it. I'm pretty god damned proud of this bookshelf I built with my own two hands. I really love it, I love it in the bedroom, I love what it does for the space, and I love having one of our favorite collections integrated into our personal space. The details on the corner shelving project over here.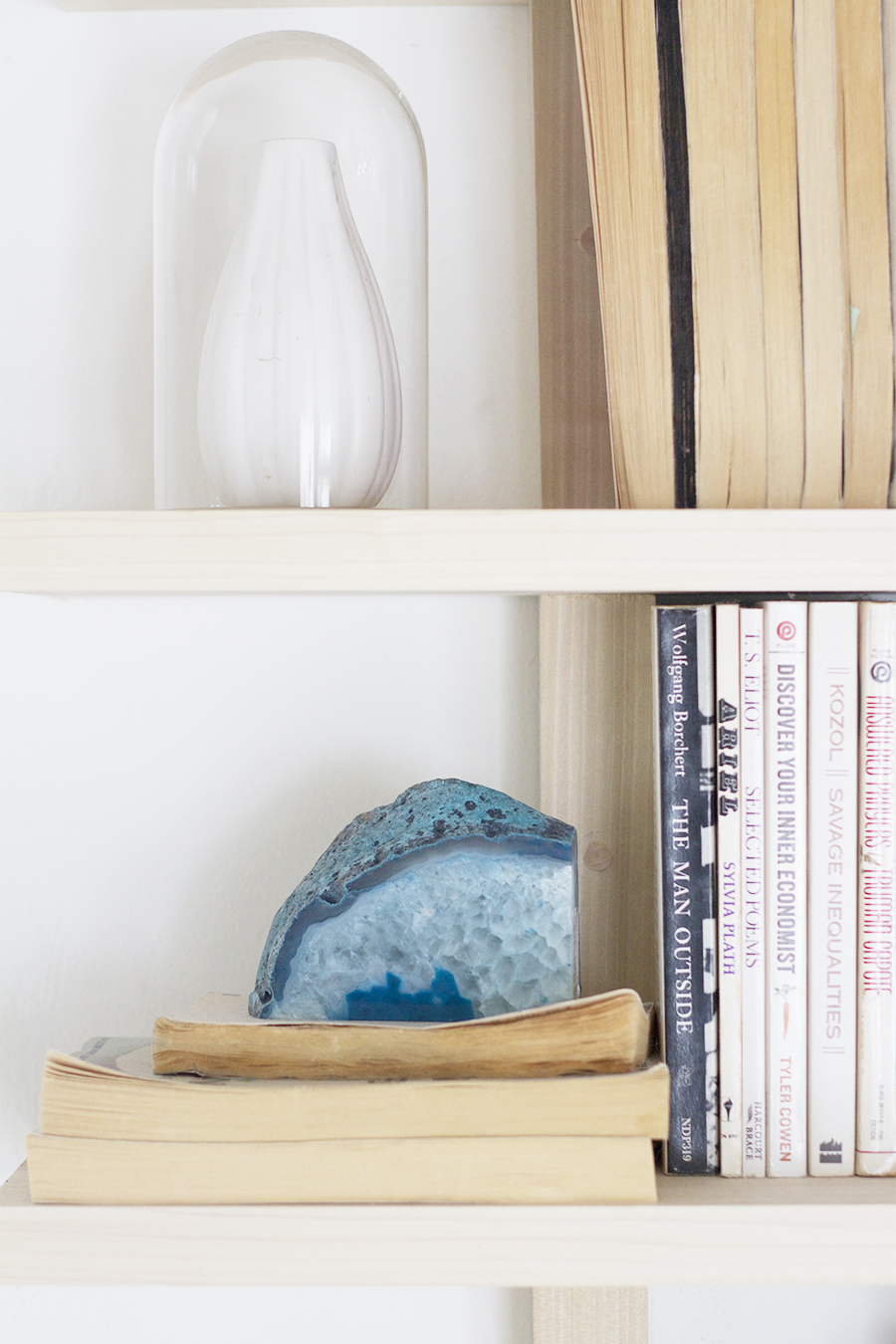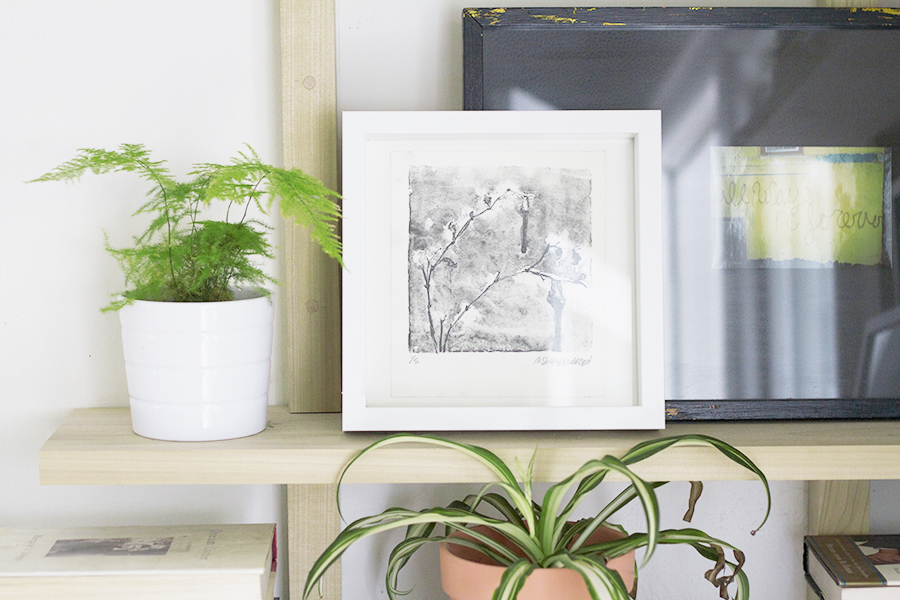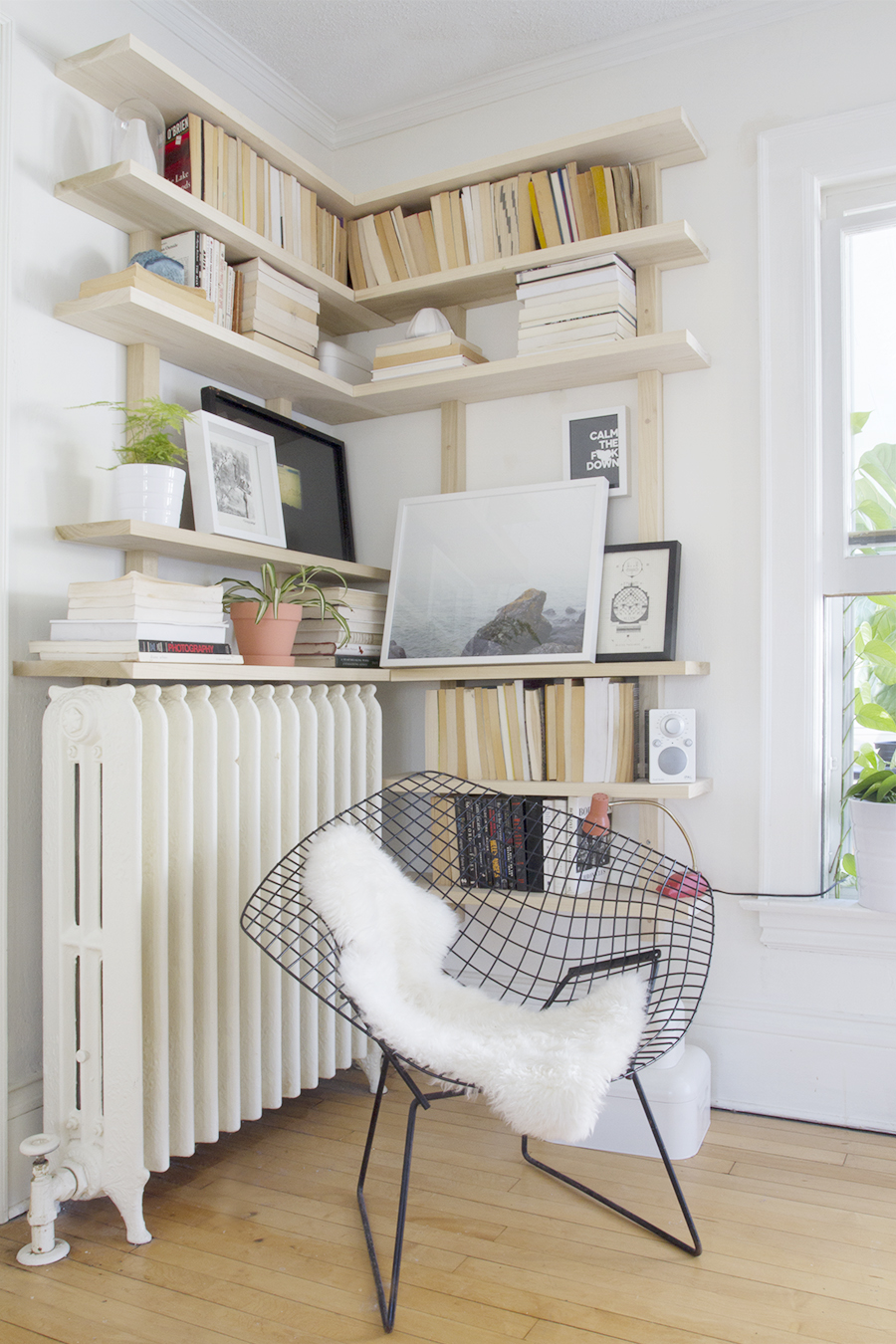 Thanks again to my pal Colz for helping style the bedroom and being the voice of reason. We work well together and she always makes photos of our house turn out so much better than I could've ever done on my own.