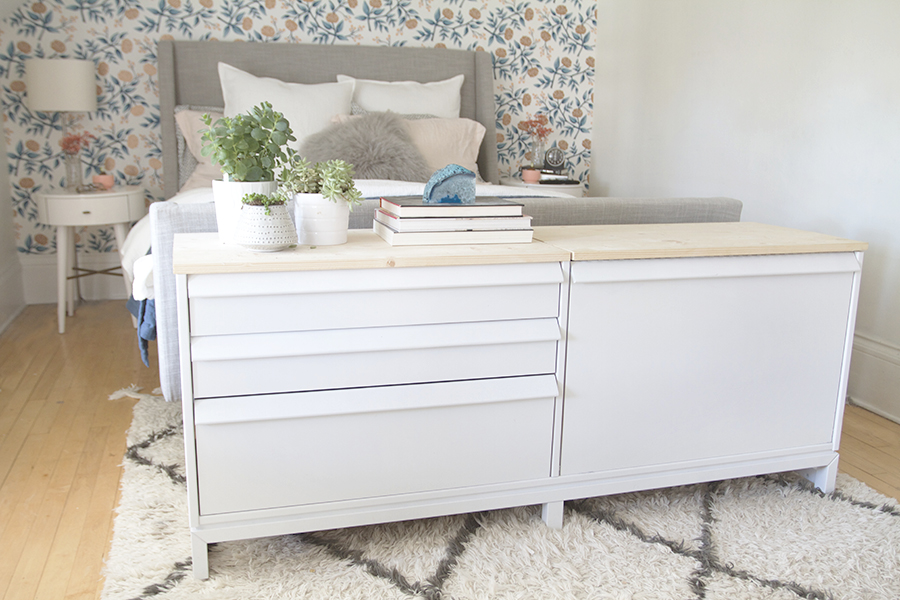 Remember back when I was debating moving the bed a few weeks ago? I'm sure you guys are just on the edge of your seat waiting to see what we decided to do. Well, after living with it for a few weeks we decided to go ahead and move the bed to the wallpapered wall. You guys were right, I really love it this way.
There were pros and cons for moving the bed, one of the biggest cons was where to put the tv. This was a big issue for us because we L O V E our tv. We're addicted and we're not afraid to shout it to the world. We watch a few shows almost every night before bed, so we just needed to have a tv. Our bedroom is long and narrow so putting the tv on the far wall opposite the bed would've been strange. The tv would've been so far away that I'm not sure we could've seen the picture clearly or heard the tv from that side of the room. There was also the option of hanging the tv on the wall next to the bed, this wasn't ideal because we'd have to crane our necks to watch our very important shows. Plus it would be the first thing you saw when you entered the room and it would scream, "look at me I'm a big ugly dumb life sucking black box hanging on your wall". There would've needed be some sort of cover contraption built for the tv so that it could be tucked away when it wasn't being watched.
Then there was the long shot option. This option involved some eye rolling from friends and family.
With the bed in the new position we needed to have something at the foot of the bed because the room is so long and narrow. Having a piece of furniture in this space elongated the bed and connected it to the other end of the room, dubbed the 'dressing area'. Whether it was a bench or small chest of drawers, something needed to rest at the end of the bed to have the room all make sense spatially. Get it?
So why not take our old credenzay-buffet-style chest of drawers, paint it white, remove the top, chop off the legs, add a new better top on hinges, and hide our tv inside of it!
Jealous?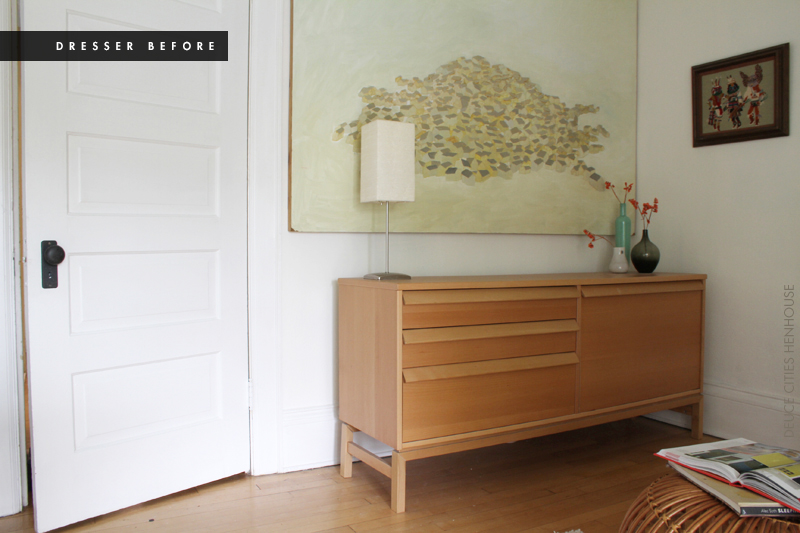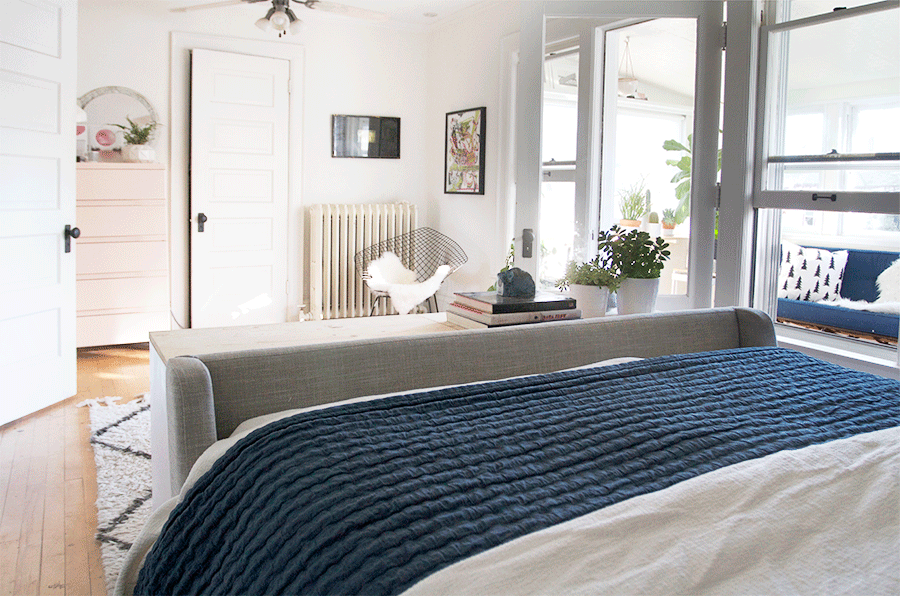 This was a hard project, I thought about scrapping it a half dozen times. However, I had a few things going in my favor, I didn't really care about this piece of furniture too much. It was an old piece from Ikea, it was all fiber board and was sagging in the middle, plus one of the legs was on the verge of falling off. It had seen better days and the risk of ruining it didn't weigh heavy on my mind.
The main challenge of altering Ikea furniture is that for the most part you aren't dealing with solid wood, 90% of any piece of furniture is going to be veneered MDF which doesn't even remotely perform the same way hardwood furniture does. You can't just screw things together, you need special anchors to lock the furniture together. That was a challenge. After removing the top, I was able to stabilize the whole piece using standard drywall anchors and screws although I'm sure it's not the most sturdy way to go about it. Then I chopped the legs off, they were made of solid wood and it was easy to cut them evenly using a jig I made on my compound miter saw. I used the remnant leg pieces to create two new legs that I attached in the center of the piece. No more sagging frame!
The next hurdle was painting that thing. If you're familiar with ikea furniture most of it is veneered. You can't just paint it, it needs to be primed and then painted. So, with that in mind I decided to go to my go to Rust-oleum universal paint in satin white. I used the same thing to paint my outdoor furniture last spring and it held up great over the summer, no chips or blisters. So I figured it would probably work well on this ikea furniture too. It did! A few coats later and I had a nice even white finish on my credenza.
I needed a sturdy piece of wood to use for the top, I was after all planning on attaching a tv to it, particle board just wasn't going to cut it. I was able to find a piece of solid pine at the Home Depot. I had used the same wood on the fauxdenza top in the sunroom. I had the wood cut in half so that I could insert a piano hinge attaching the pine board to the interior of the cabinet. Then I added a right and a left locking lid support allowing the top to swing upwards and be secured in place.
Installing the hinge and lid support was so hard. I almost lost it, pretty sure I cried. Because I wanted the top to have a half inch lip it couldn't swing up at a perfect 90º angle. It was highly frustrating. I did a lot of trial and error until I found the sweet spot. Then after my hard earned success with the piano hinge came the task of installing the locking lid supports which happened to be just as difficult and ape-shit-inducing as the hinge. I'm sure there is some super slick way to do this, but I have no idea what it is. I couldn't get the supports to line up evenly, they would open perfectly and then I would try and close the top up and everything would shift dramatically. Again, I worked the old trial and error method until I found the magic spot. Sorry I don't have any helpful tips on this, but if you have helpful tips for me, please share.
The last piece of the puzzle was the tv. Our bedroom tv was really old and archaic. It's had a flat screen but its 24″ screen with bezel was gargantuan and I think it protruded from the wall a good 10″. We spent a little cash and bought a new 28″ smart tv with a sleek 2″ profile. Since we're comcast free, we don't have to worry about clunky cable boxes or outlets. This super smart tv hooks us up with all the netflix, hulus and amazons that we need. I just plugged that baby into an outlet and it was good to go. We ran a cord right under our bed to the wall outlet so it's all pretty seamless.
Overall I'm really happy with how this all works. There may be a few adjustments made down the road. I would consider getting a soft close lid support so that I didn't have to worry about the lid crashing closed too quickly. Maybe someday I would replace the piano hinge with a fancy piece of hardware that accounts for the half inch lip, there has to be something like this that exists. There is also the tv mount, it's at a good height right now, but ideally it could pop up a few inches. We could always replace our static tv mount with something that could articulate. I also worry that the pine top being too soft and will warping over time. The way I see it though, all of those things can be altered if need be. For now, I'm happy that it all appears to be working just as I had planned.