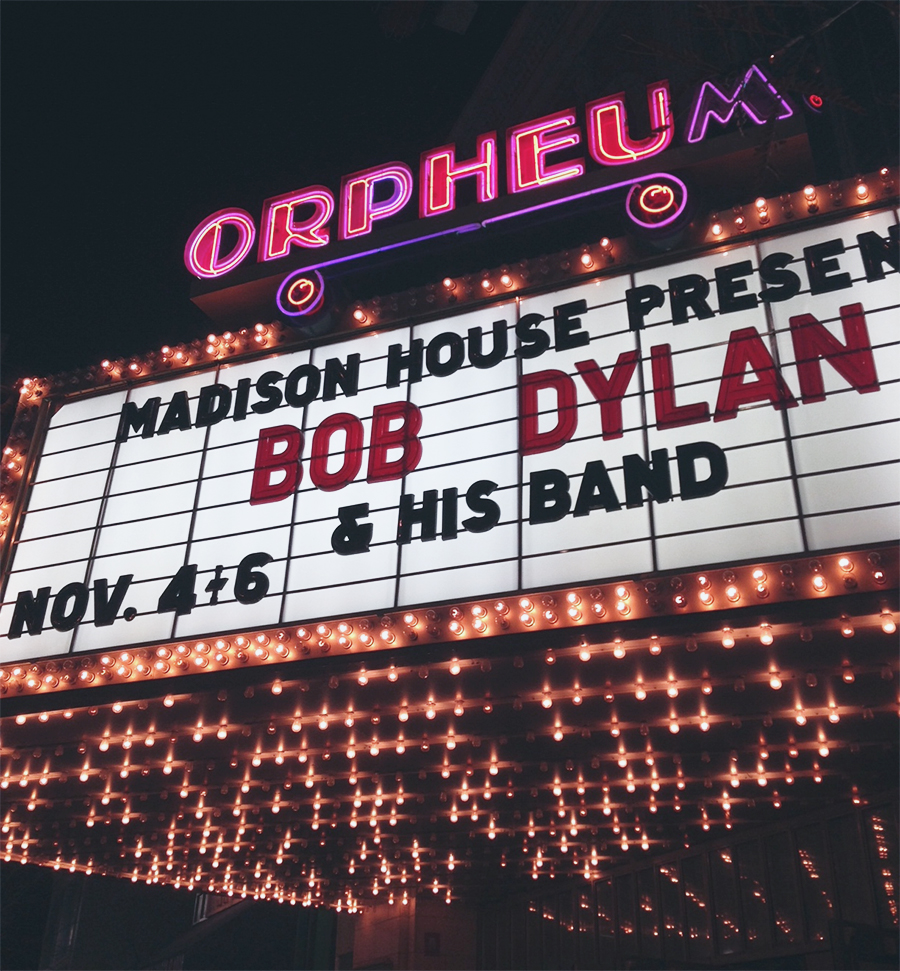 Wut up buddies? Last week I got the opportunity to see one of my favorites, Bob Dylan, perform at the Orpheum Theater in Minneapolis for a three night stint. If you're not familiar with the Orpheum it's a small intimate 2,600 capacity venue. To have the opportunity to see Bob in Minneapolis, in such a small venue was not to be missed.
I go to Bob Dylan shows with my dad exclusively. It's just this little father daughter bonding thing that has become a part of our lives. The first time I saw Bob was at the Des Moines State Fair August 10, 2001 with Jeff, I was hooked. The second show in Fargo North Dakota, and almost all of them after were with my dad. I was 19 at the time of the Fargo show and he let me drink beers with him in the back of the station wagon before watching Bob play outdoors on a minor league baseball field while the sun set. It was at the 2004 show in Rochester MN that I was introduced to my first bloody beer while 'tail gating' in a Mayo clinic parking ramp. We got up close to the stage when the fair-weather-fans ran for cover because of the rain, got to see another memorable show, and coincidentally the bloody beer is now one of my favorite weekend beverages. We've also become very familiar with Bob Dylan's band, the songs played on tour, Bob's harmonica playing, and the subtle nuances between each show. We get and adore Bob's oddities. Something as subtle as a funny pose or ad-libbed "woow" will get us reminiscing for hours after the show. We understand that the experience comes from the audience and the venue as much as from the music and band, and sometimes everything comes together perfectly for a very memorable night. That's what keeps us coming back, not wanting to miss out on those perfect nights where everything is just right.
Not everyone gets a kick out of old Bob, he's an acquired taste live, but if you like him, you really like him. The Minneapolis shows were going to be my 11th 12th and 13th shows, and I'm hopeful there will be more. Bob's on a never ending tour, which started back in 1988, because of that there has only ever been a year or two that have floated by without us seeing him. Lets hope old Bob keeps on kicking.
Going to shows is an important past time that Jeff and I as well as our friends and family share with us. It's an extracurricular activity that we prioritize on our list of things to do. I'm sure there could have been another vacation to be had in lieu of all the shows, but seeing the bands is what makes us happy.
There are a few bands on a short list that I would go see night after night. On the top of the list is Bruce Springsteen, and I have seen him multiple nights in a row, he's amazing and being apart of one of his shows is one of the best experiences ever! We've dubbed it "Inclusion Rock".
Bob Dylan obviously makes it on the list, although the set lists didn't change at the recent shows in Minneapolis, I think I'd do it again.
Patti Smith is my idol, I've only seen her twice but if she went on tour I would follow her around and see her everywhere she went. I love her.
The most recent addition to this list is Pearl Jam. For the last two years I have been a card carrying member of the Pearl Jam Ten Club (Peej's Fan Club) hoping there would be a time when I could actually see the band. Just a few weeks ago I got to see Pearl Jam for the first time. Although we had some sweet tickets, Jeff was able to interview Jeff Ament (the bass player) for Rolling Stone, (see here and here) and we were able to get some back stage passes out of the deal. I felt like I was skipping right past GO not paying my fan-dues. I'll admit it wasn't fair that I got to go back stage (or even be in the pit) on the first time through, but it was awesome. To be clear, I would go see Pearl Jam again and again even if I had to sit up on the last seat of the second floor.
I'm curious to know what you guys are into? Music is such a big part of my life, I don't talk about it a lot on the blog, but I'm wondering if there is a band that you would see more than once? For all you local folks, I know Garth Brooks is in town and so many people are seeing him night after night, are you one of those people? I kinda wish I would've gotten tickets just to see what all the fuss is about – I have a tiny place in my heart for country music.
All this show seeing and late nights has left me burning the candle at both ends. This girl is sick sober and sorry and I've spent the last few days in bed battling a massive cold. Hoping to be cured by the weekend, I have big plans in the works…