A few weeks ago I picked up a couple of Bryant chairs from the Threshold collection at Target. Do they seem familiar to you at all? I kind of think they are a total knock off of the Loll Designs Lollygagger line, which is a little dissful of Target, especially since Loll is also a Minnesota local brand.
I totally adore Loll furniture though and would love to have a set of my own someday, but for $440 a chair, that someday is a long ways away. When I saw the Bryant chair at Target I knew it would be the perfect chair to get me through now and someday – I couldn't resist the $118 price tag (on sale) and I was able to look way past the brown facade.

You might have noticed the new chairs in the photos that I took for the drill giveaway last week. By the way, the BLACK+DECKER drill giveaway is still open, so you should check the website and leave a comment on my post if you haven't already.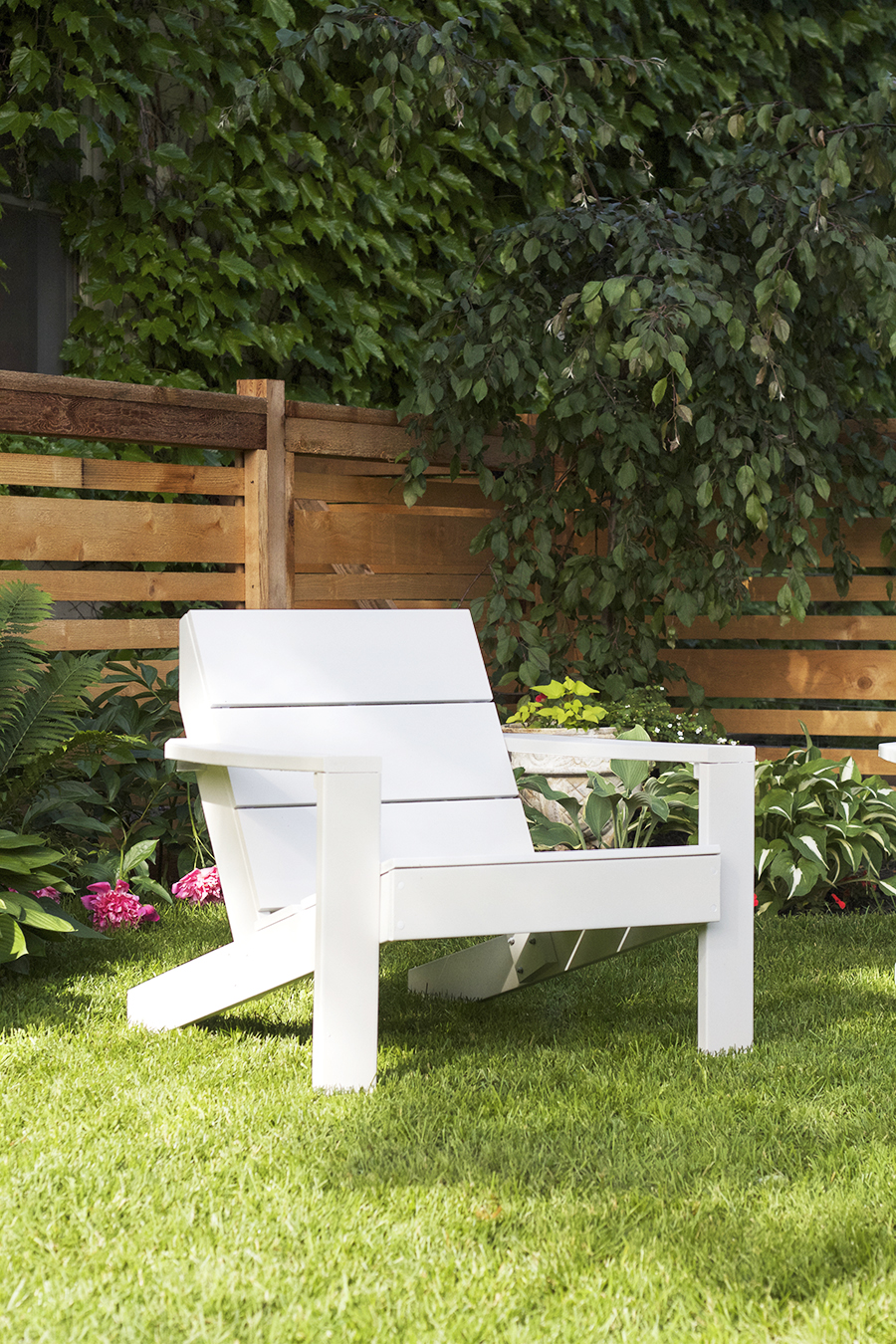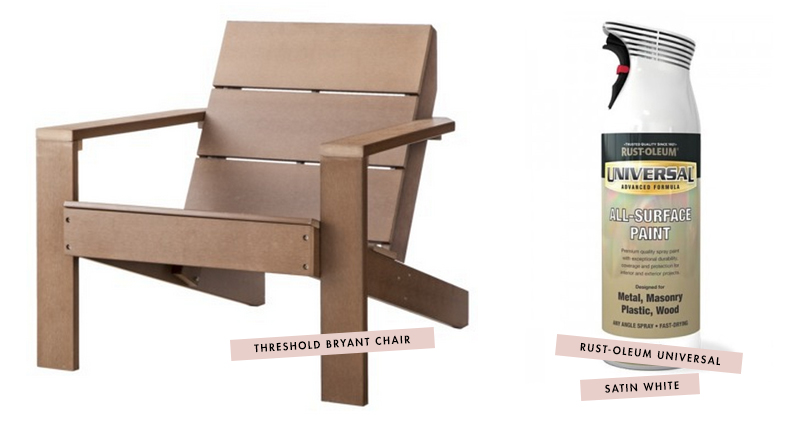 Anyways, I was totally not feeling the off-the-shelf brown that the Bryant chairs are stocked in, but I was definitely loving the style of them. I knew a painting project was in my future if I really wanted to achieve that true modern look. After debating between black and white, I took a deep breath an decided I would spray paint them white.
I was a little nervous because I have not had the best luck with spray paint, its gets messy, and I get overly eager and often end up with drip marks. I was determined to spray paint the proper way and make these chairs really nice, giving thin even coats and allowing sufficient drying in between. I was a little hesitant to dive right in with any old spray paint as the adirondack chairs are made of all-weather polystyrene as opposed to wood. Lucky for me, my go to spray paint brand, Rust-oleum, has the Universal product which is designed for use on wood, plastic, metal, wood, concrete and even vinyl. I figured that polystyrene just had to be covered. I turned my garage into a spray booth, disassembling and spraying the chairs, and within a matter of days I had two perfectly sprayed white chairs. I love them.
I'm not gonna lie, it took a lot of paint to get the perfect finish on these chairs, seven cans total (for both) to be exact. At eight bucks a can, that's not cheap, but it was totally worth it to me to have evenly painted white chairs for our backyard.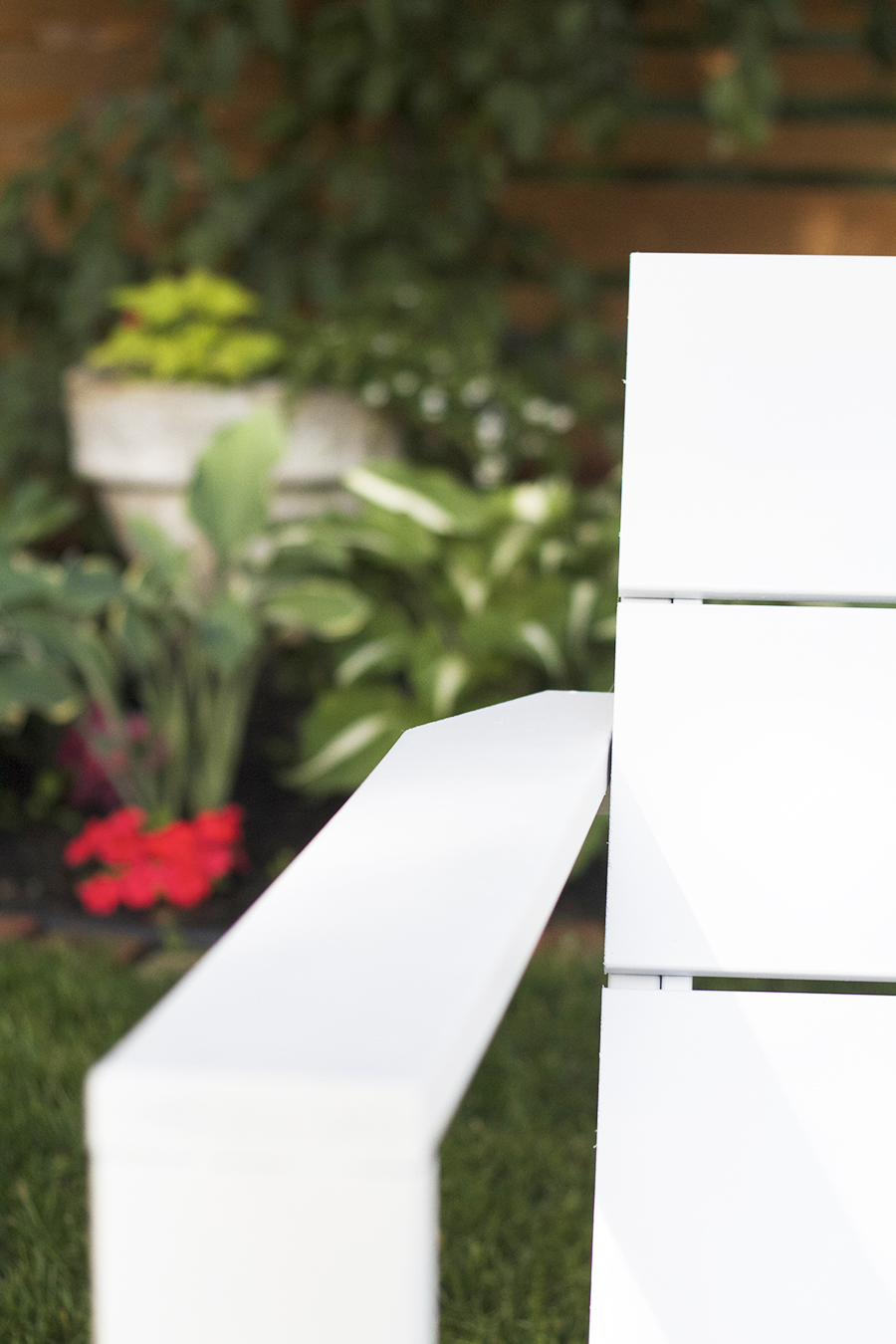 The Threshold Bryant collection at Target is pretty solid. There are lots of cool pieces that are nicely priced, including a picnic table that is reminiscent of the table that Scout Regalia produces, although not as nice. I'll be waiting for an end-of-season sale and most likely be making purchases on foot rests and maybe even a side table too.