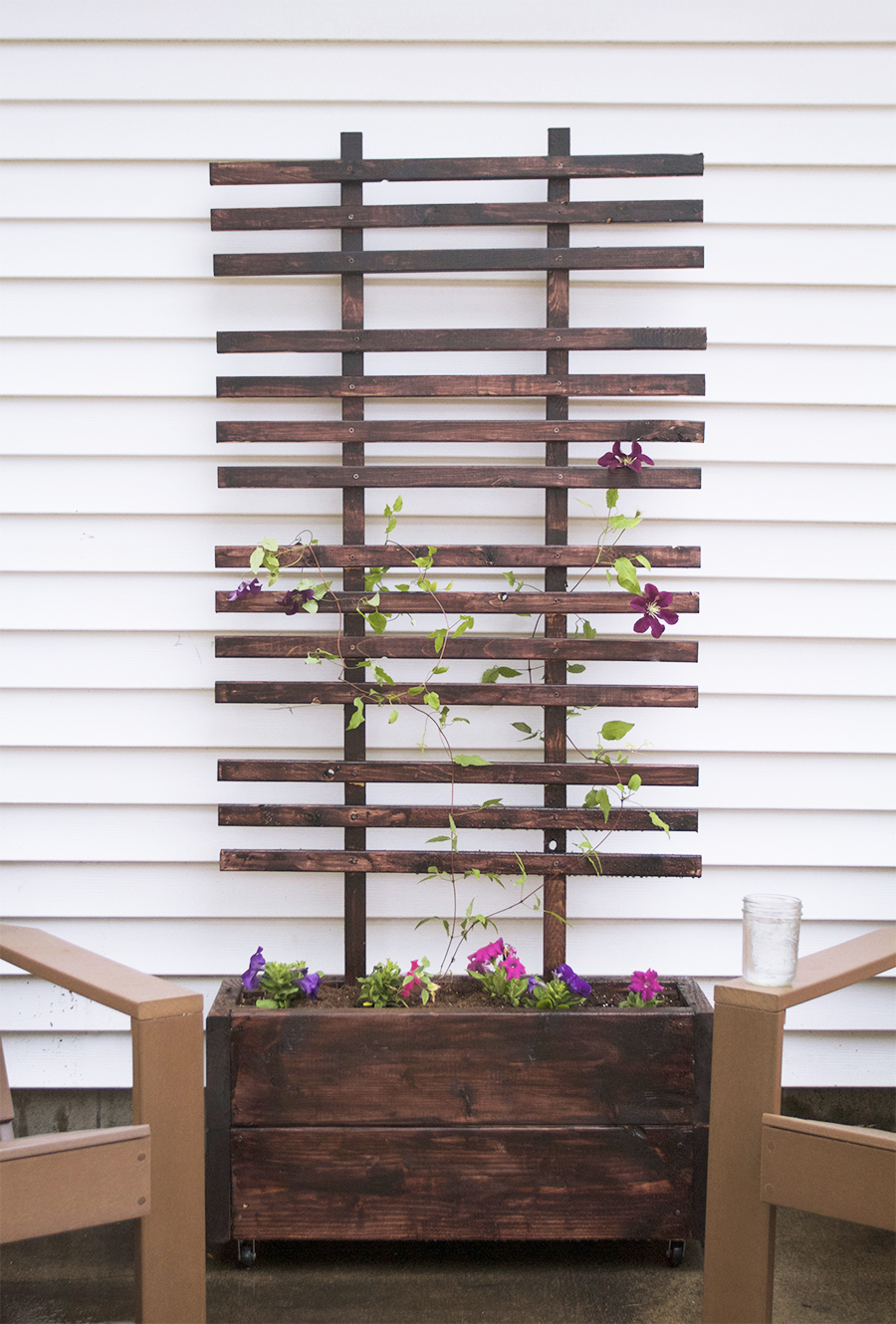 Hey Guys! It's Monday. I know, sometimes Monday's are the worst, but I'm hoping that this post will bring a cool vibe to the beginning of yer weeks. Today I've got a really awesome DIY to share with you and a super sweet BLACK+DECKER AutoSense cordless drill giveaway!
I spent the afternoon yesterday building a trellis-planter-box combo for our backyard. Some of you know that I've been trying to pretty up the concrete pad that we recently enclosed when we installed our new fence. The kids play back there all the time – which is fantastic – but the space needs a little softening up. I thought a planter box with trellis would be a good solution as it would help add height and greenery without taking up valuable play space. It's also on casters so it can be moved easily if needed. Word up to thinking ahead!
(Supplies for Trellis & Planter Box)
5
– 2″ x 8″ x 32″ Douglas Fir Boards
4
– 2″ x 8″ x 10.25″ Douglas Fir Boards
14
– 1″ x 2″ x 32′ Strips
2
– 1″ x 2″ x 64″ Strips
4
-2″ x 2″ x 12″ Strip
1
Box 1-1/4″ Screws
1
Box 2-1/4″ Screws
A set of 4 Rubber Casters
BLACK+DECKER

AutoSense Lithium Drill
Drill Bits
Stain
Attach the four 12″ post to each of the corners. Drill pilot holes through the bottom of the long board and into the posts, then attach with a 2-1/4″ screw.
Begin to attach the boards, start by drilling pilot holes through the board into the post behind it, then attach with a 2-1/4″ screw.
Use the remainder of your 2 x 8 x 32″ boards and your 2 x 8 x 10.25″ boards, attaching the shorter borders on the side and the longer boards to the front and back.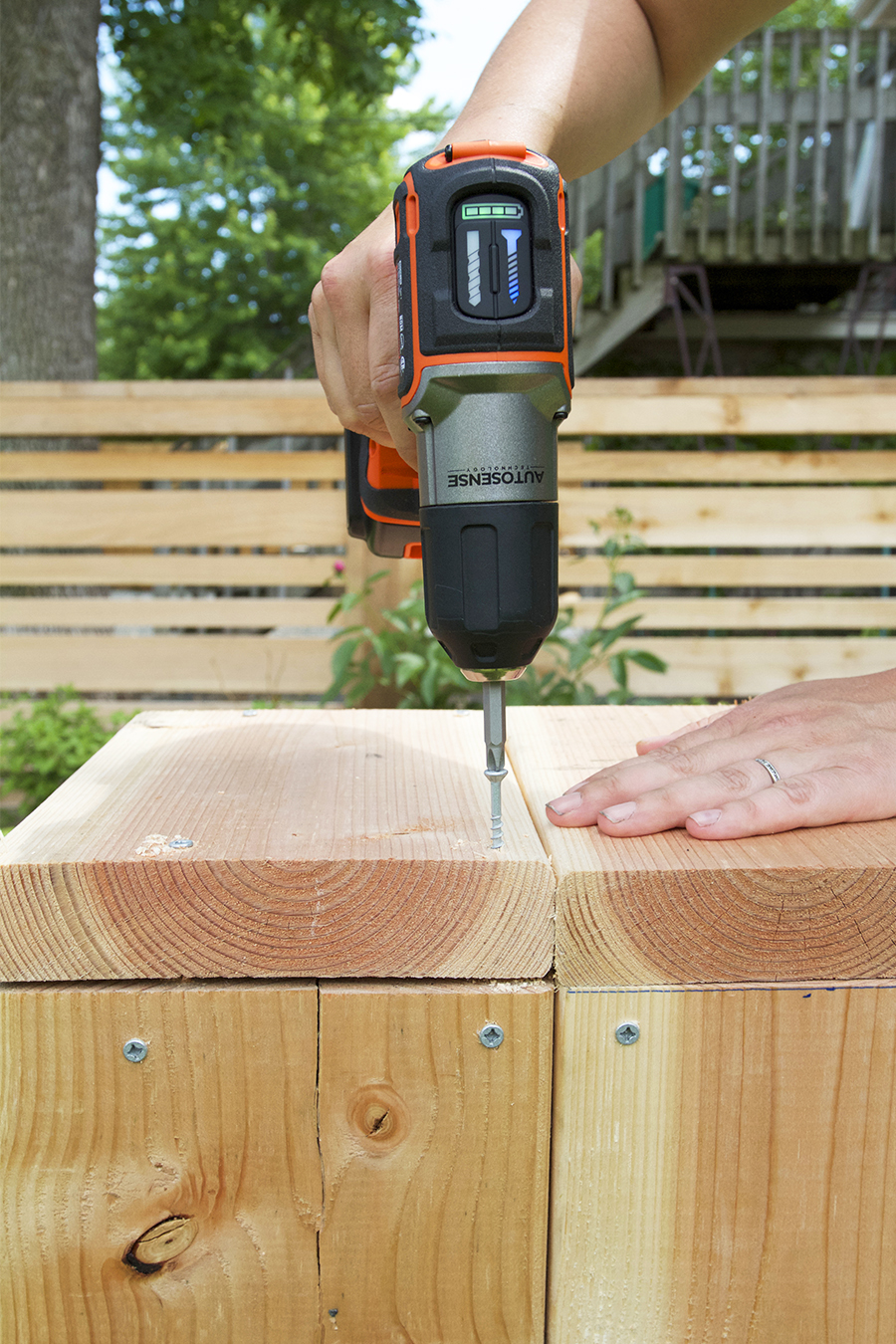 This BLACK+DECKER Lithium Drill made the job really easy because you don't have to set anything! This project requires a lot of drill bit-changing – which would normally be a pain in the butt – but the Lithium Cordless Drill with AutoSense makes it easier. It has two modes, drill and drive. In drive mode, a microprocessor continuously measures the tool's performance. As the screw enters the material there is a rapid change in its torque profile. The microprocessor analyzes the rate of change and stops most screws flush with the material within three milliseconds. Basically you don't have to constantly switch from drill mode to setting the torque, all you have to do is push a button.
I've stripped a lot of screws in my day trying to figure out the right torque to use for a specific project, this drill takes the worry out of all that business.

See how fast that was? This planter box is built, on to the trellis!



Jamz: "Dream Team" from Lazerbeak – used with permission.
For the trellis you will be using your two 1 x 2 x 64″ pieces of lumber as well as your twelve 1 x 2 x 32″ pieces. It would be smart to consider using a jig for your spacing. I used a leftover piece of 2 x 2 for the smaller spacing and a piece of lumber cut to a width of 3.75″ for the larger space. You can see in the above video how I attached the pieces of wood and how easy it was to do with the BLACK+DECKER drill.
It should be noted that I spaced by longer wood pieces 8.5″ inside of the 32″ pieces. I also started the pattern 2″ from the top of the trellis. The pattern consisted of 4 groups of boards (2 groups of 3 and 2 groups of 4) all spaced with with the 3.75″ jig. Each individual group of boards was then spaced using the 2 x 2″ jig.
You can be creative here and don't have to follow my pattern to a T. Do you!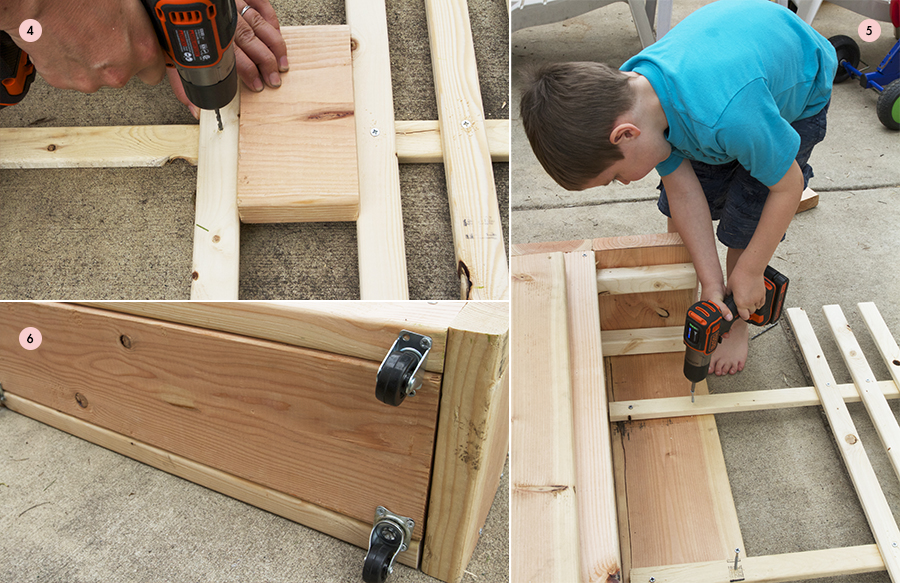 Here's an example of how my jig worked. It helped to evenly and consistently space the trellis boards without having to measure every time.
Attach the trellis 8″ into the planter box using 4 screws to increase the stability. It was easy to do this with the trellis tipped on the side. We also removed one of the front pieces of lumber from our planter box while we attached the trellis. This drill is so light weight and easy to use, Finn was able to use the
BLACK+DECKER

cordless drill
like a bawse.
I would highly recommend adding some casters to the bottom of your planter box, although it's not required. The casters will allow you to easily move your new and very heavy planter box. Also, if you wanna be a real good gardener make sure to add some drainage holes to the bottom of the planter box.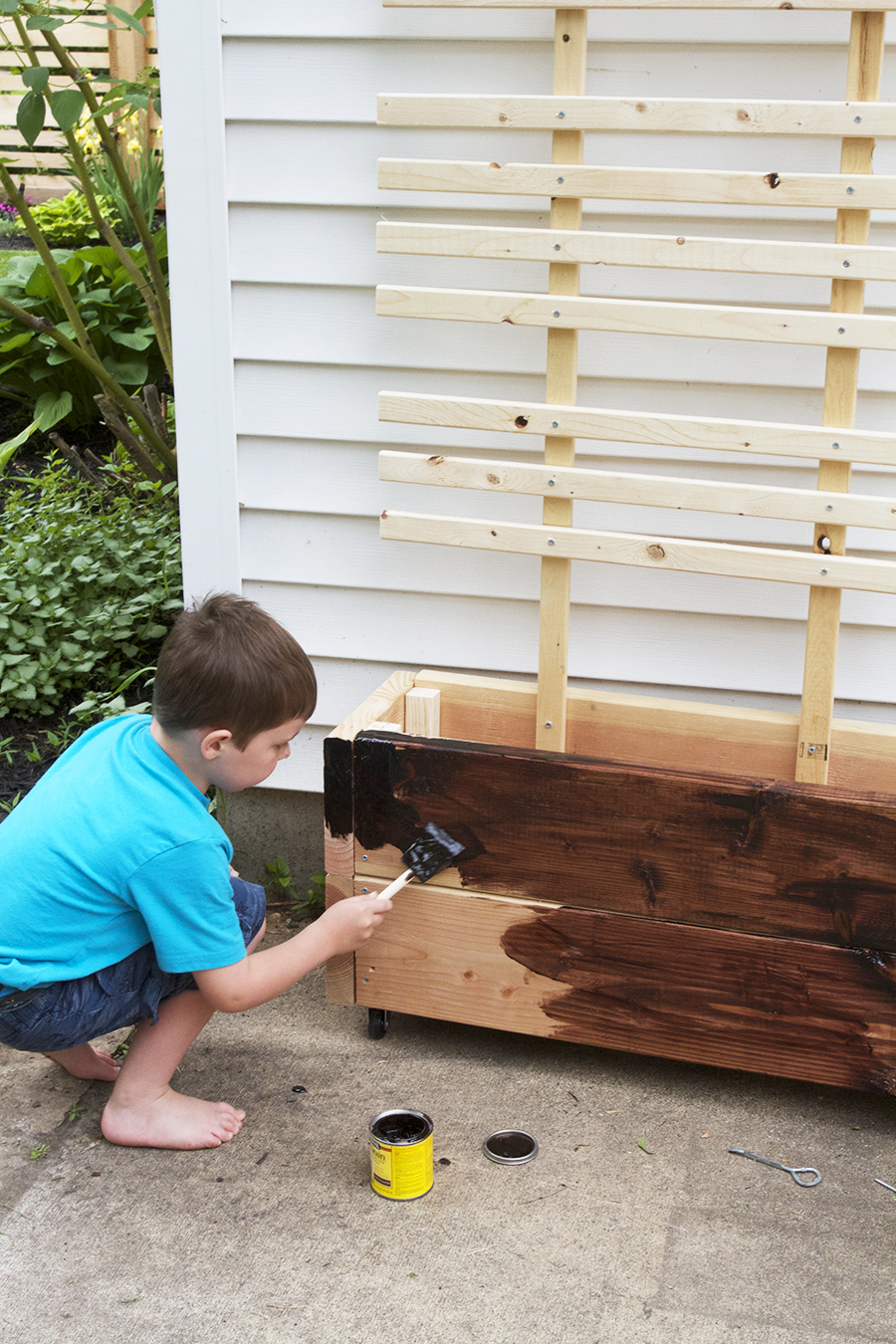 I wanted our box to contrast the white siding of our garage so Finn and I went to town and stained it using Minwax Gel stain in Brazillian Redwood. We didn't use the highest quality lumber for this job, and I figured a good staining would make it look a bit more fancy. This was my first time staining anything! It's practice for the fence-staining project coming later this summer ;)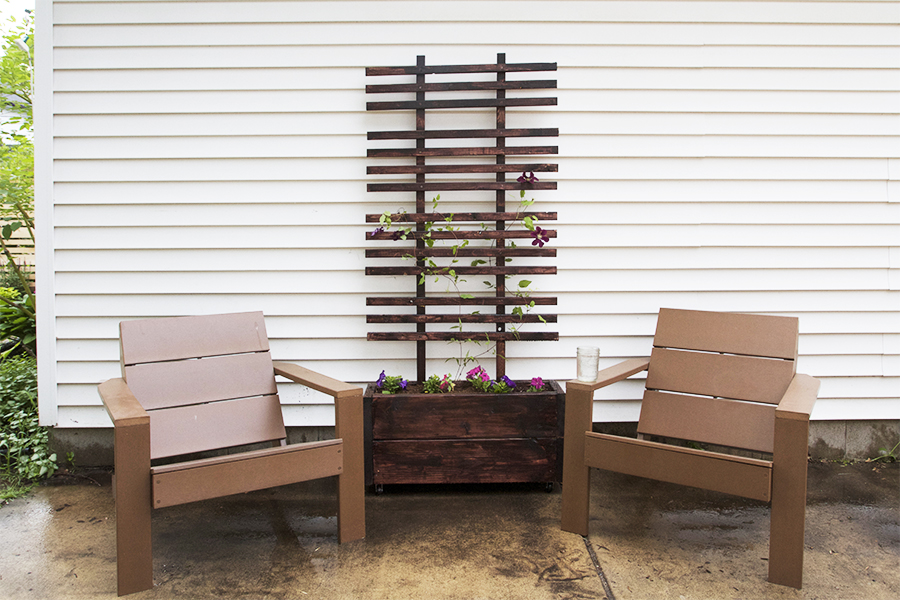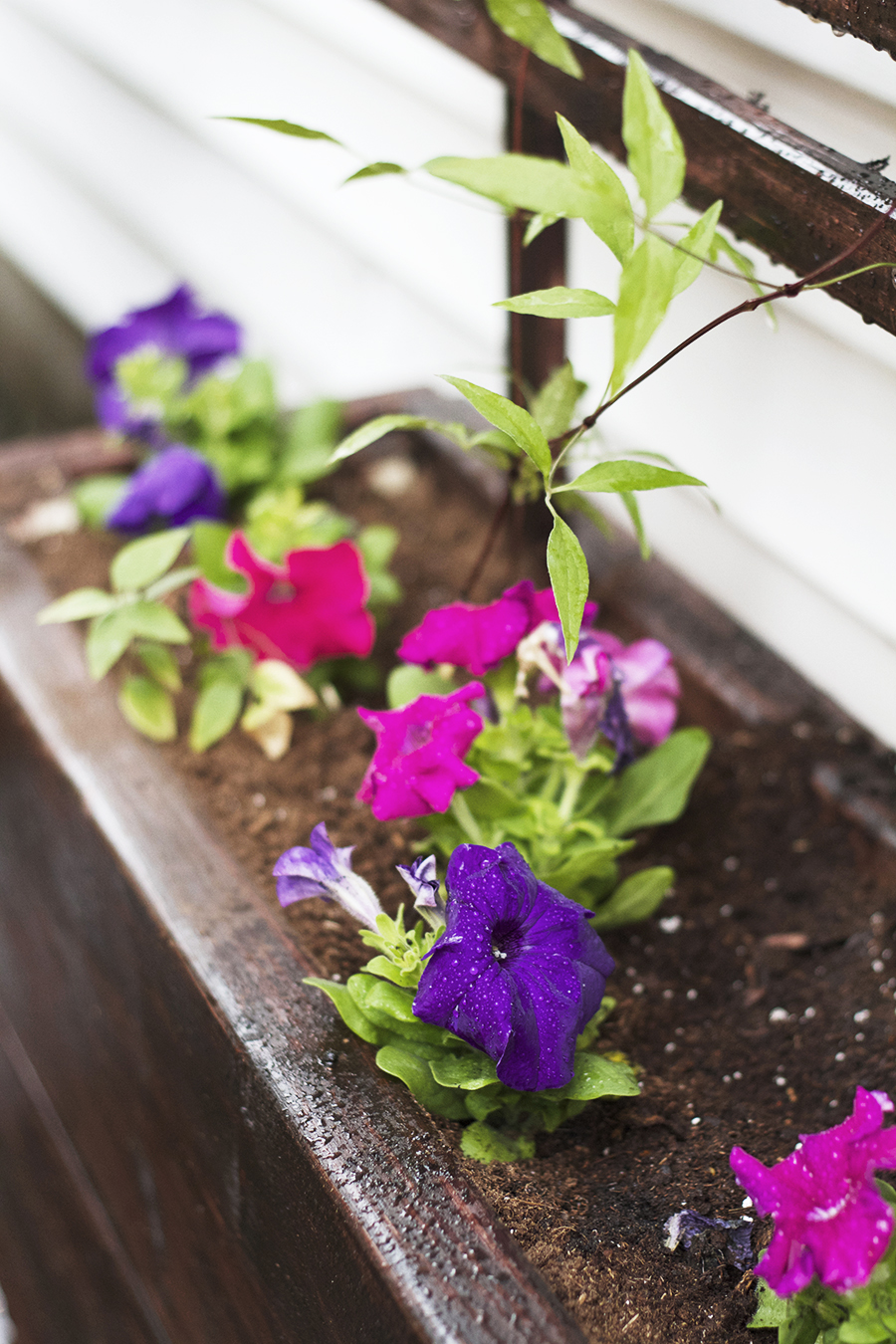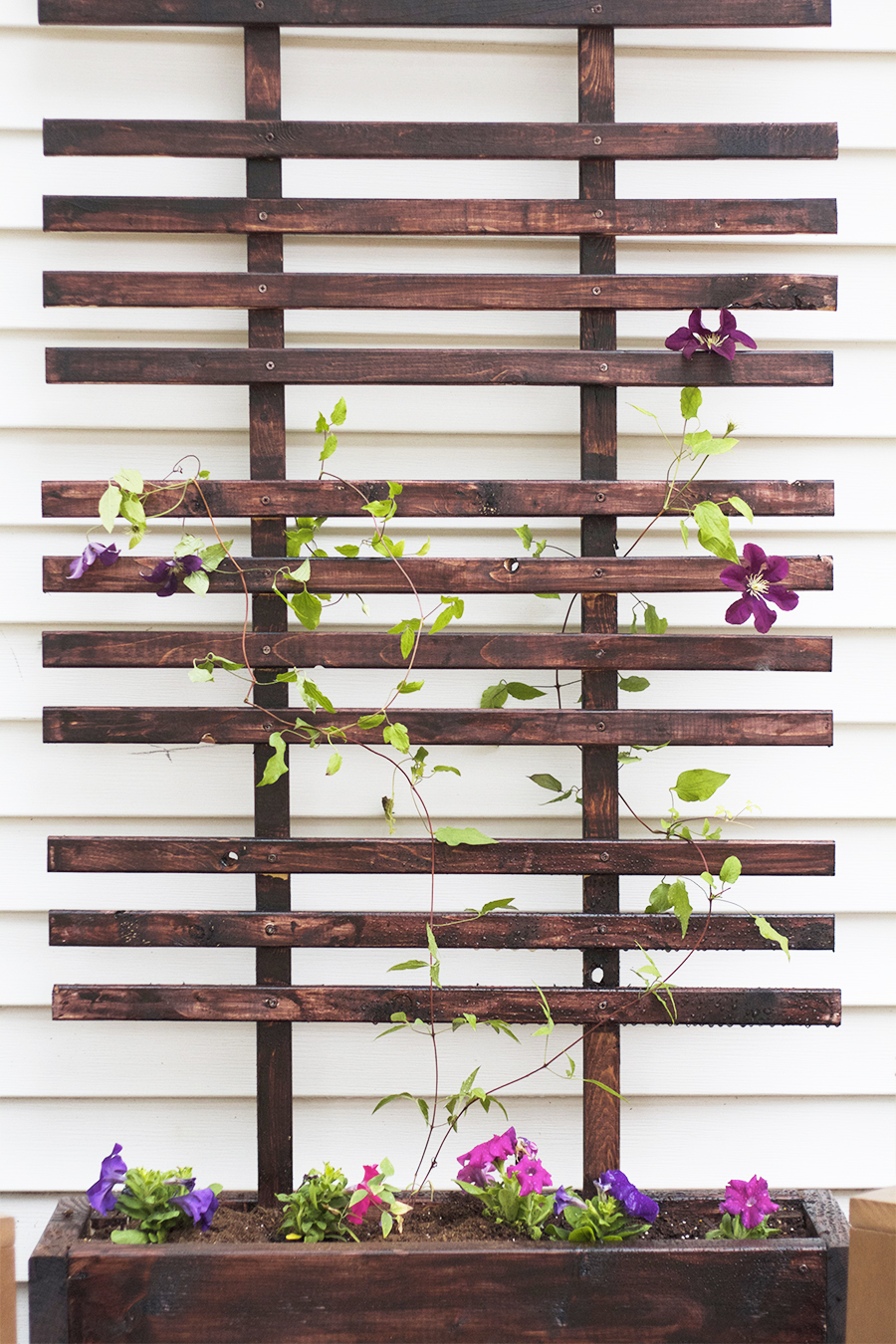 I planted a Clematis, but am not sure how it will do over the summer or the winter. If it doesn't make it I'll try an annual seed next time. I'm also going to make another one of these flower boxes so I have two flanking the white wall of the play zone.
The Budget & Source List
▽ 2 – 2″ x 8″ x 10′ Douglas Fir Boards – $11.52
▽ 6 – 1″ x 2″ x 8′ Poplar Strips – $4.66
▽ 1 -2″ x 2″ x 8′ Poplar Strip – $1.42
▽ 1 Box 1-1/4″ Screws – $7.98
▽ 1 Box 2-1/4″ Screws – $6.99
▽ A set of 4 Rubber Casters – $9.96
▽ Stain – $6.99

Total = $49.52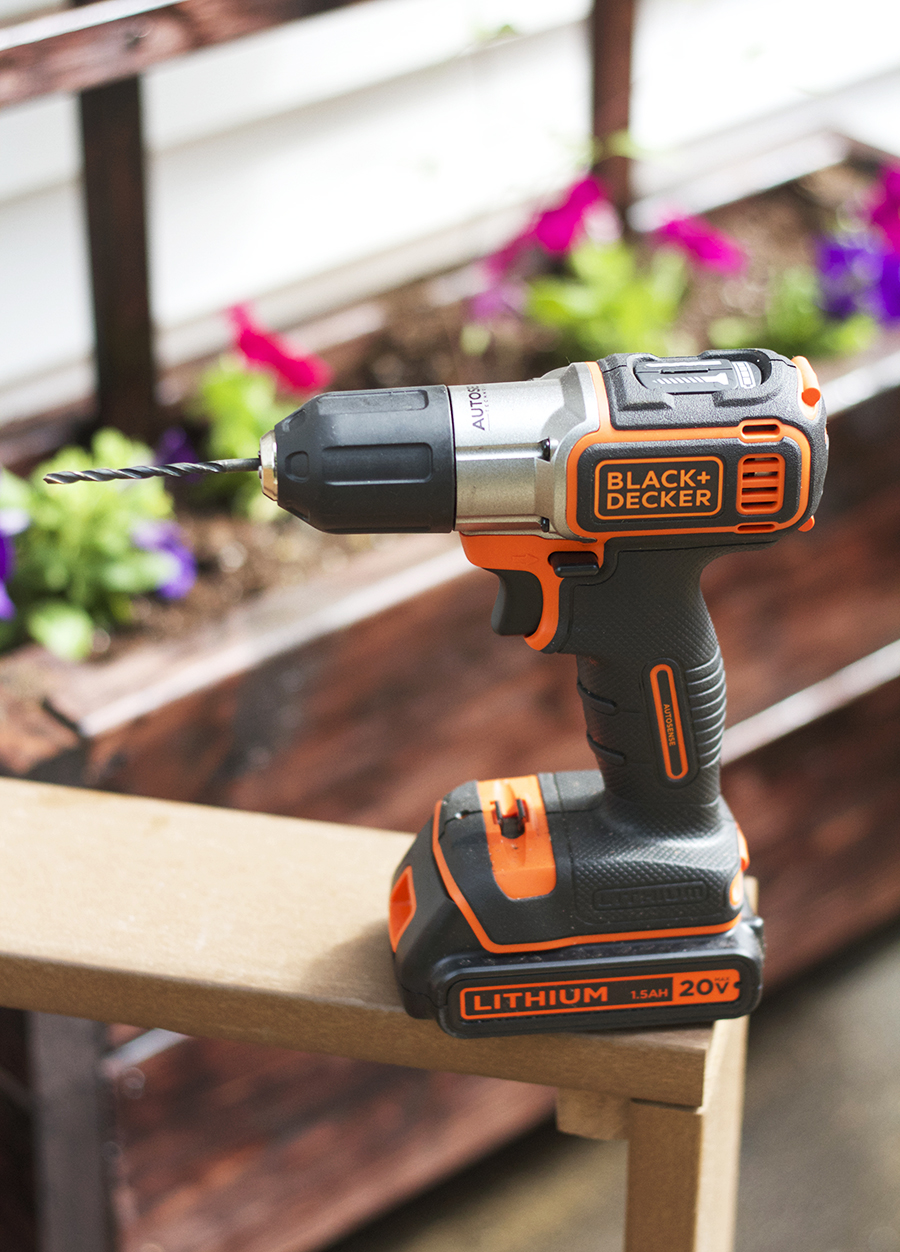 How do I enter?
The cool folks at BLACK+DECKER want you to have one too! All you have to do is visit the BLACK+DECKER site. Leave a comment (by Wednesday, June 25 – 5pm CST), telling me your favorite feature of the AutoSense Drill and how that feature would help you tackle your next project and make your drilling life easier! I'll randomly choose one of you, and then blamo, you'll have a cool new drill.
The giveaway is now closed. Congratulations to Marlys who says that having this drill will save her a lot of swearing. Swearing is always fun though, right?