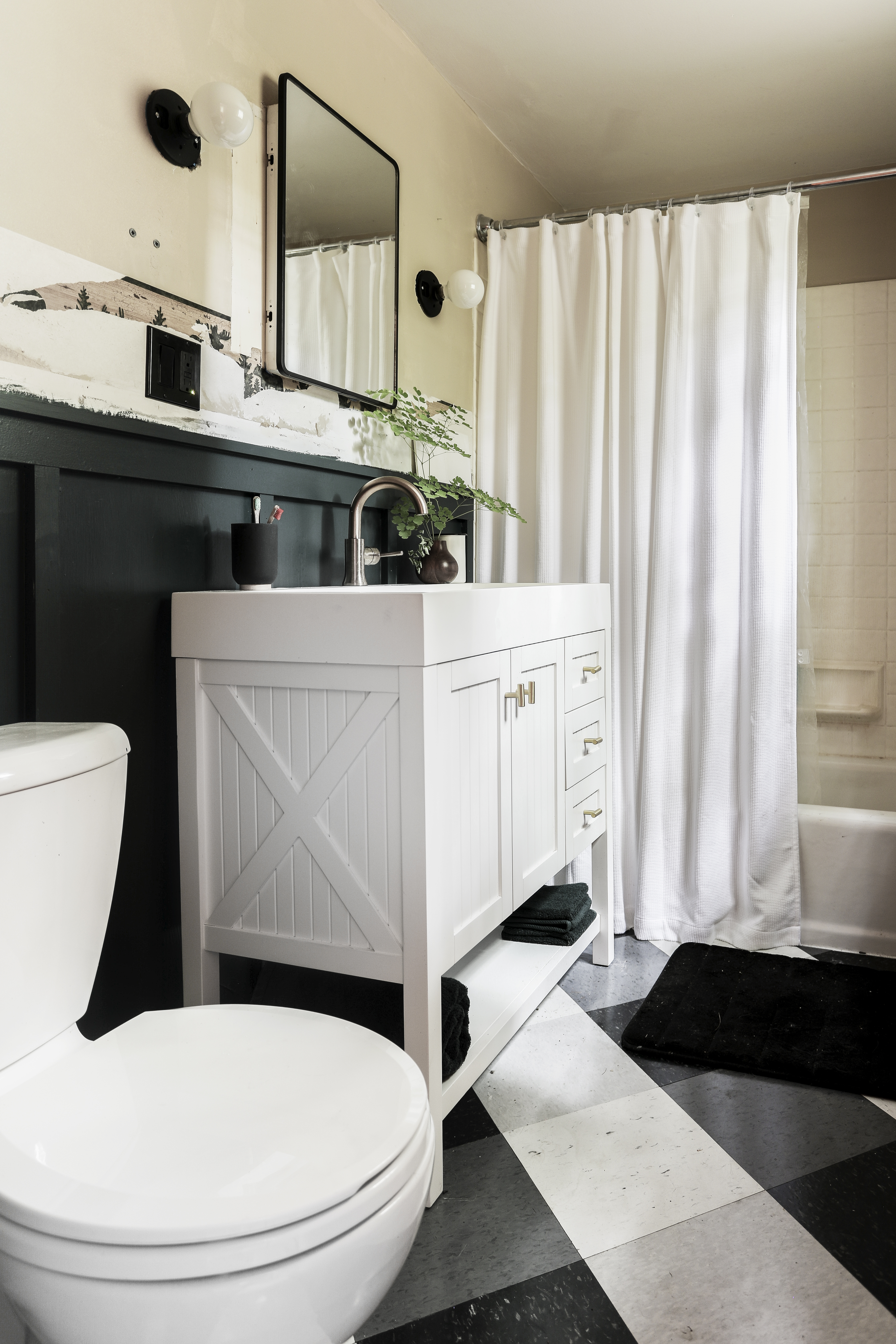 Hey-a! Friends. I got a project done on time! I had planned on using August to demo and redo phase 1 of our cabin bathroom and I actually did it! Normally I try and save this sort of inside project for the winter months, BUT because phase two involves a lot of tiling and I prefer to do my tiling outside (especially since we don't have a garage) I needed to get phase done this summer so I could start phase 2 in the fall before the snow hit – which I'm sure will be happening before November. You need water to run a tile saw, and I prefer my water unfrozen.
I gave this project a lot of thought before diving in. Design wise, I wanted to give reference to our upstairs bathroom half bath (that I had worked on over last fall and early winter). As always I was designing with a tight budget, I'm planning on doing everything for less than 2k, so I had to get creative with ways to cut costs when I could. If my math skills are still working, most of the budget is going to go towards the vanity, faucet and shower trim, which leaves me just a little bit for the fun stuff. This bathroom needed to be functional first and foremost, not-disgusting being a close second. It's not a large room at all, just your basic toilet, sink, tub set up. The current sink/cabinet combo was not doing us any favors. It was still full of the old owners crap and I wanted a fresh start. I needed to find a vanity that was less deep (to allow for more floor space). The vanity needed to be visually light, I didn't want it to feel to massive or heavy and I wanted it to have some negative space so it didn't feel like a giant box, like the old one did. I wanted there to be drawers and a shelf, and the one I found had drawers, A CABINET and a shelf – so I felt pretty fancy about that. The shelf was a must-have feature so that I could have a space to stock fresh towels for our guests, and maybe I'd squeeze in a small basket so I can stash spare teepee. Although, now that I have a cabinet, the toilet paper might find it's home in there. Vanity drawers were a must too, I was sick of having bandaid landslides anytime I'd open up the medicine cabinet.
I had re-done the floors two years prior. The kitchen floors lead into the bathroom and I did them all at once. They are industrial VCT tiles laid out in a diagonal buff-check pattern. I'm fine with them staying for now, they're cute and will hold up to water. Eventually we can install a tile floor and it won't take that much to pull up the existing and lay down new – that's for like phase 5 though.
The walls needed to be demo'd. The bottom 4 feet of the room was covered in a vinyl-particle board combo. It was gross and I was scared what I'd find behind it, but it had to go.
Lastly – there was lighting. The bathroom backs up to a giant hill so it doesn't get a ton of natural light through it's one window, and the one overhead light wasn't cutting it. I wanted to add two sconces on each side of the mirror and an outlet for whatever you use to style your hair with when you're at the cabin.
Anyways, let me walk you through it.
The Plan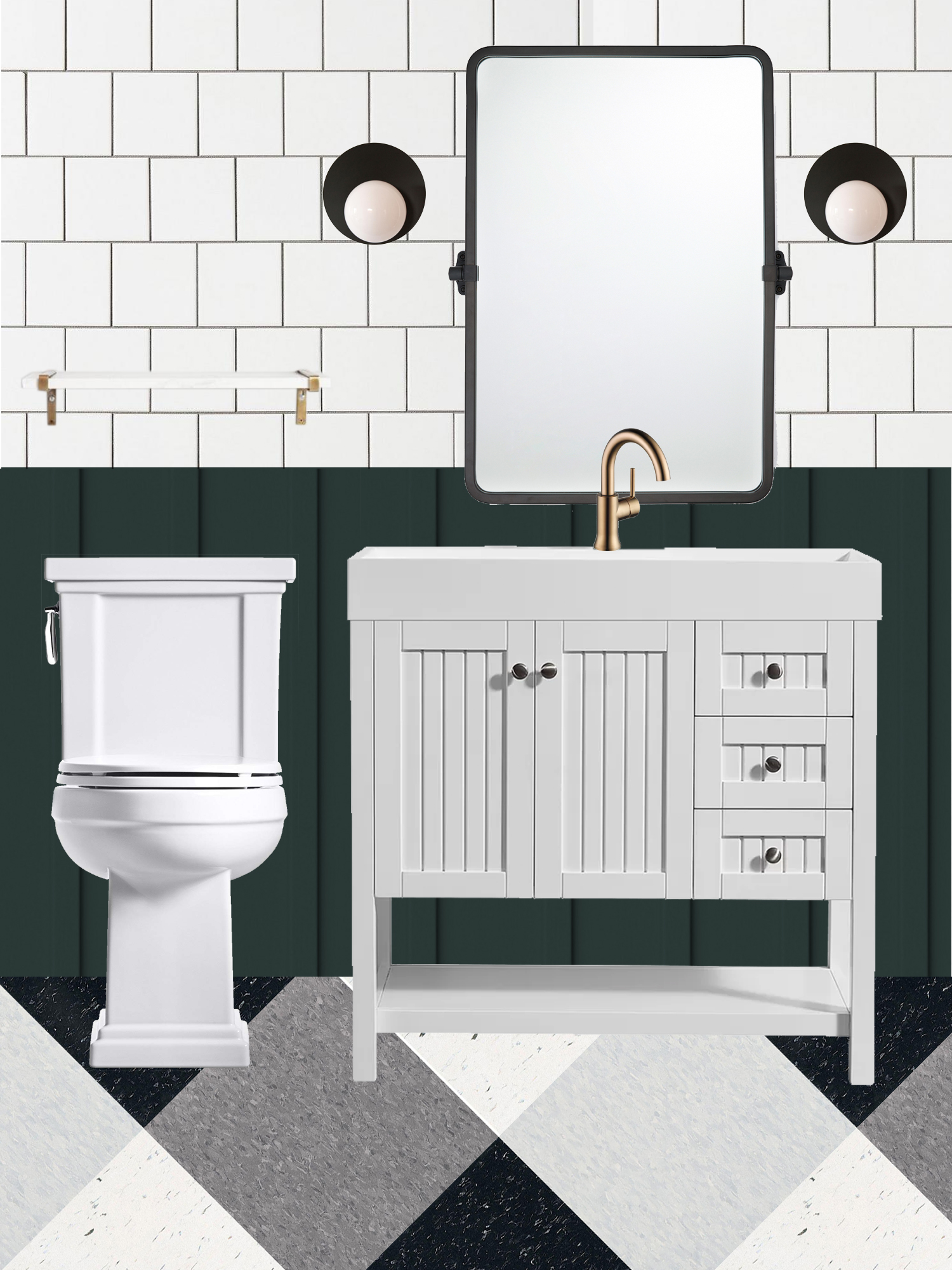 Ya always need a plan. This was mine. I just put other elements that I had used throughout the cabin on blast. This included the VCT flooring, square tile set in a running bond pattern, Salamander Green from Ben Moore, DIY sconces, and some brass. Voilla. The plan. The new toilet will have to be for phase 3.
Before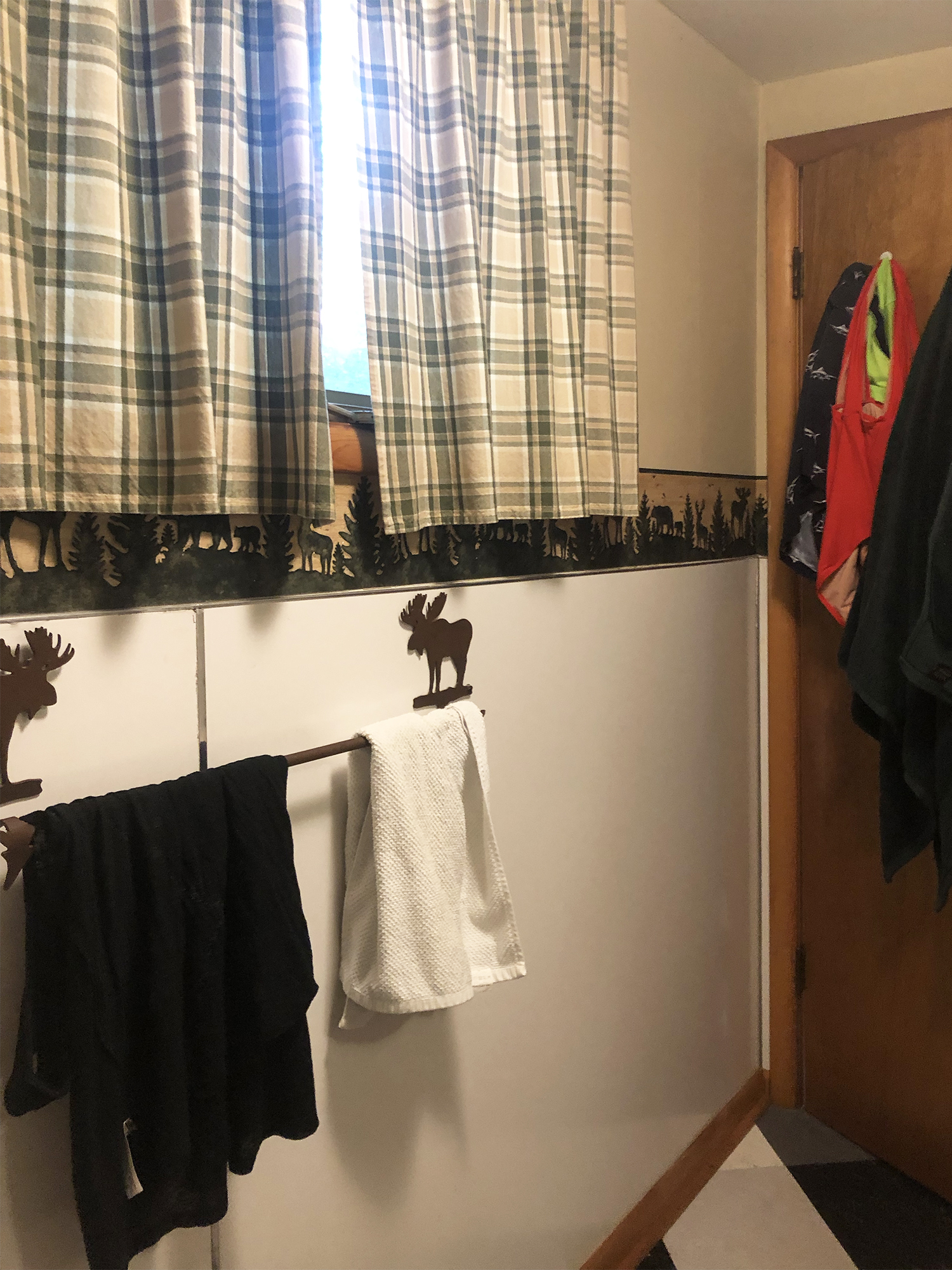 The Process
Remove Vinyl Wainscoting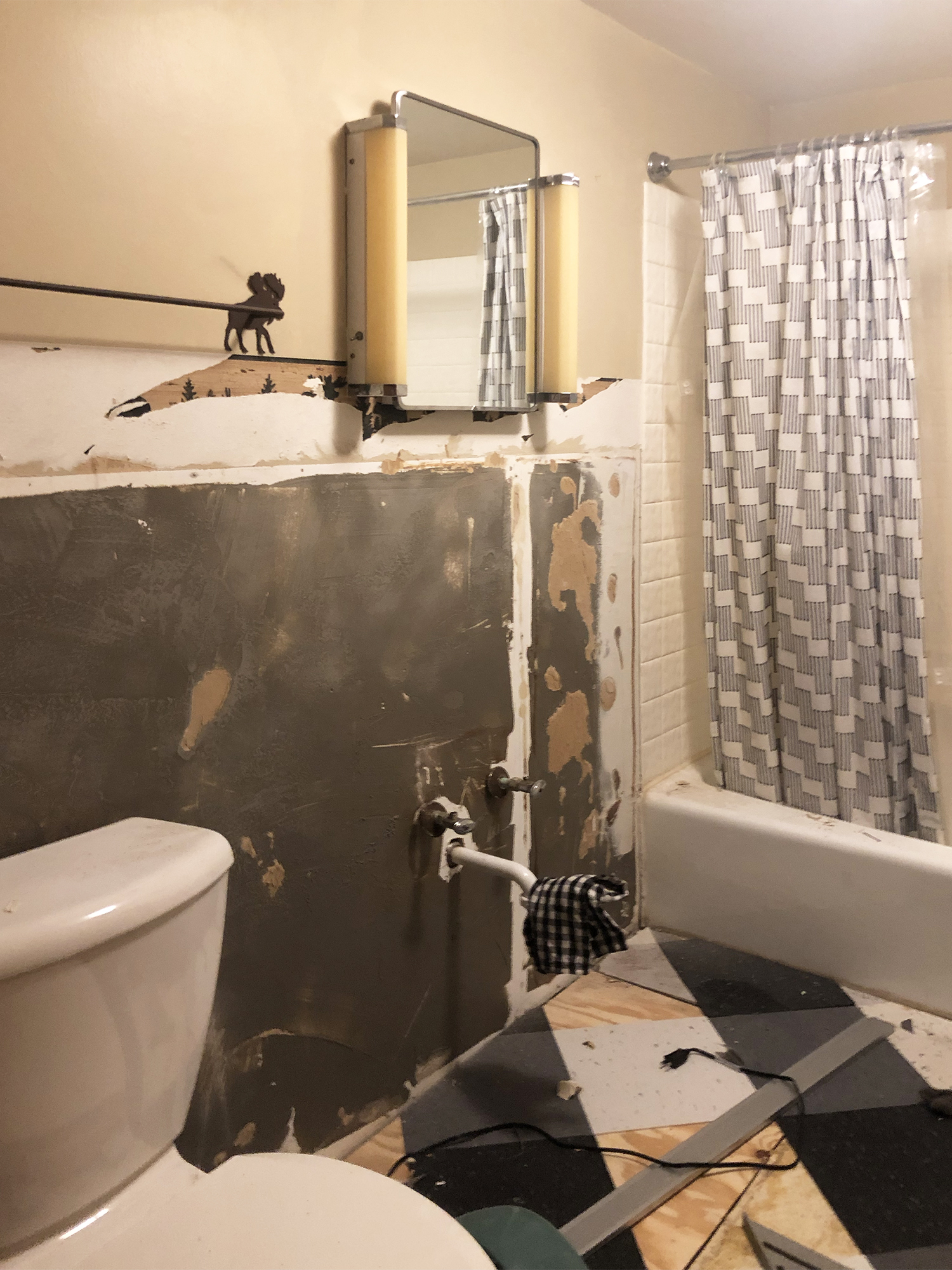 I mentioned the plastic/vinyl/particle board wainscotting above. Take a look at the before photos so you can really get a feel for it. I'm guessing it was there because someone was concerned about the drywall getting wet? I guess. There was just regular old drywall behind it, so I don't really understand why you wouldn't just keep it the way it was, but whatever. I used a handheld
oscillating saw
to trim around the plumbing. A small and medium size pry bar and some elbow grease took care of the rest of it.
Repair Damaged Wallboard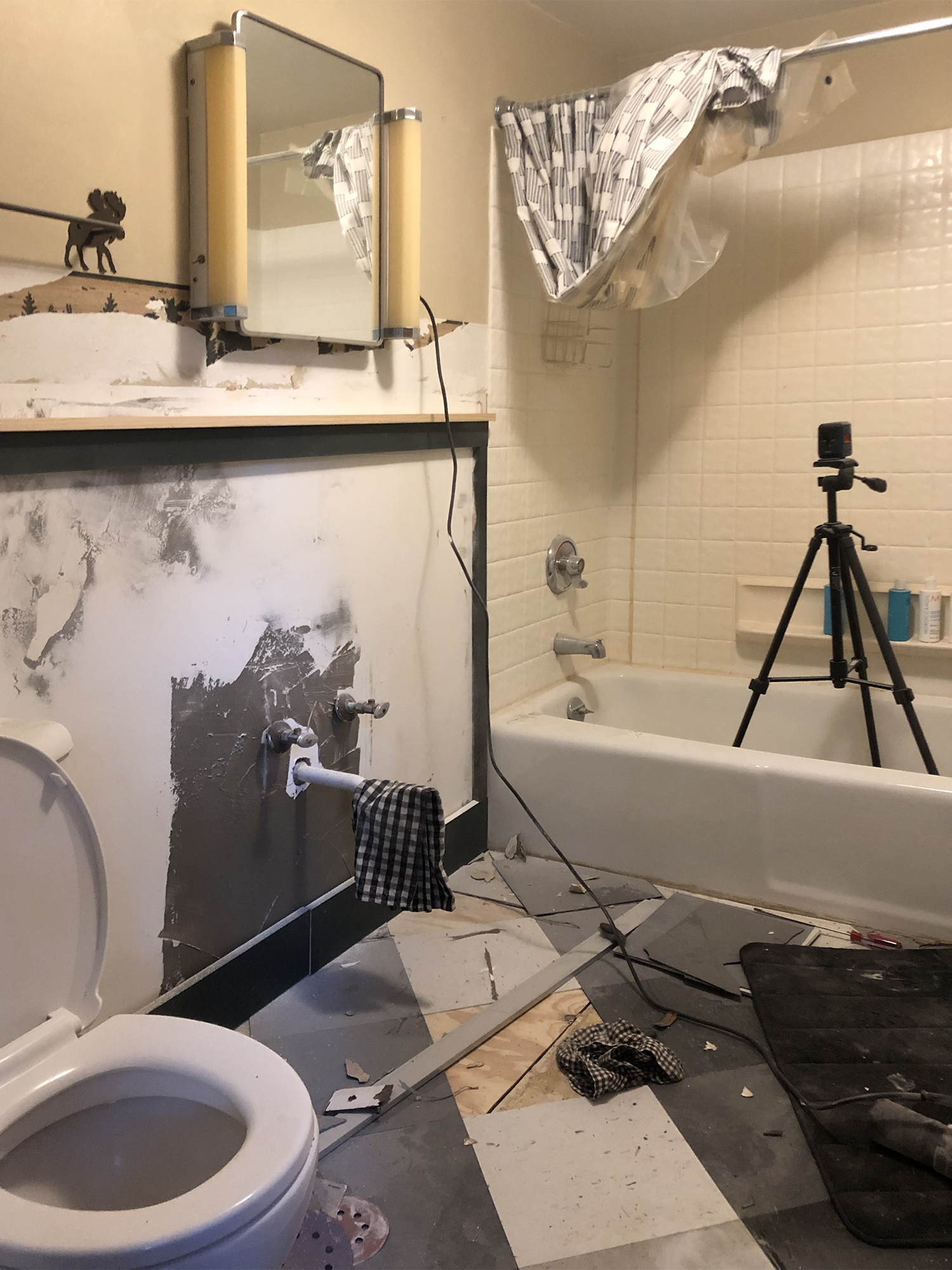 When the wainscotting was demo'd there was a lot of adhesive that needed to be removed the walls needed to be patched and skim coated a few times. To remove the adhesive I used the same oscillating tool again with a flat saw on it (technical term) and used that to get under the adhesive and pop it out. It worked really well for the job. Once that was done I sanded the whole area with 60 grit sandpaper and then got ready to do my first layer of skim coat. This is my second time skim coating and I found that basic joint compound does a fine job on drywall. Just remember – plan on doing multiple thin layers. I hate sanding any sort of wall material – it makes my skin crawl, so I asked the internet if I could use my orbital sander instead of doing it by hand, and to my surprise, I read a forum where a guy said he used an orbital sander all the time with 220 grit paper. The trick was to always keep it moving. So I tried it and it worked. I kicked dust up everywhere, but I was done in like five minutes. The bathroom is right next to the front door so I threw that thing wide open and turned on a fan and I was able to get a lot of the dust outside! I did all the detail sanding with a hand sander but that orbital sander saved me big time.
Dusty Scoops Proof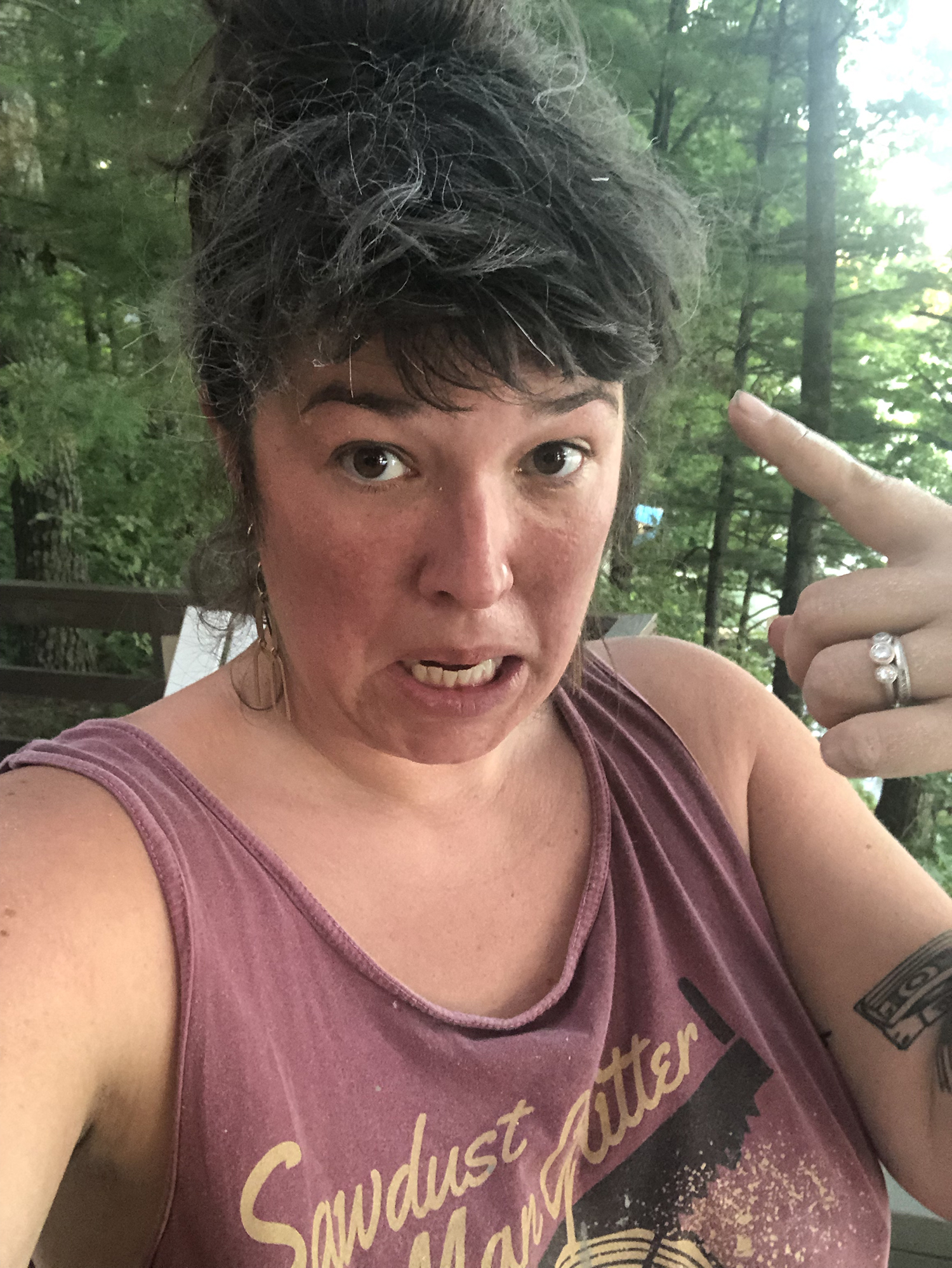 This is me all dusty after sanding.
Install Board and Batten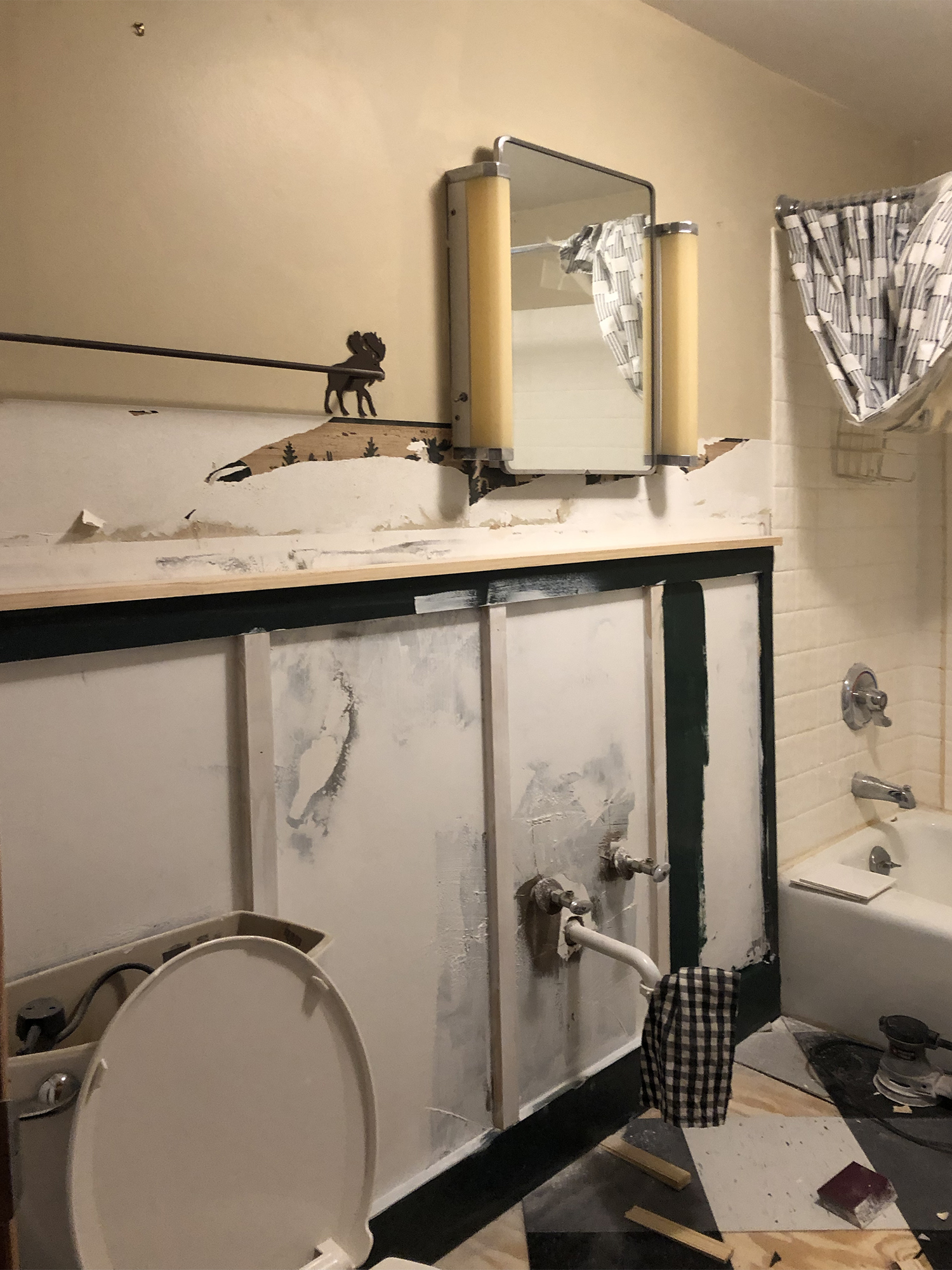 Now is when I get to start putting it back together. Demo actually terrifies me. I'm always worried that I'm opening a can of worms – I hate not knowing what's lurking behind stuff. I was happy to be moving on to the make it better stage of phase 1. Board and batten is really easy to do if you have a miter saw and a nail gun. The exterior of our cabin is all board and batten and I really like bringing that element back inside, plus it looks kewl. I am providing yas with a diagram down below so that you can see how I used basic pine boards from the home depot and then just cut those babies to size. It's a great job for a beginner, and I highly recommend you try it if it's something you'd like in your home. Oh also, you might notice that I didn't skim coat or sand behind the vanity because no one will ever see it.
Caulk, Prime, Paint Repeat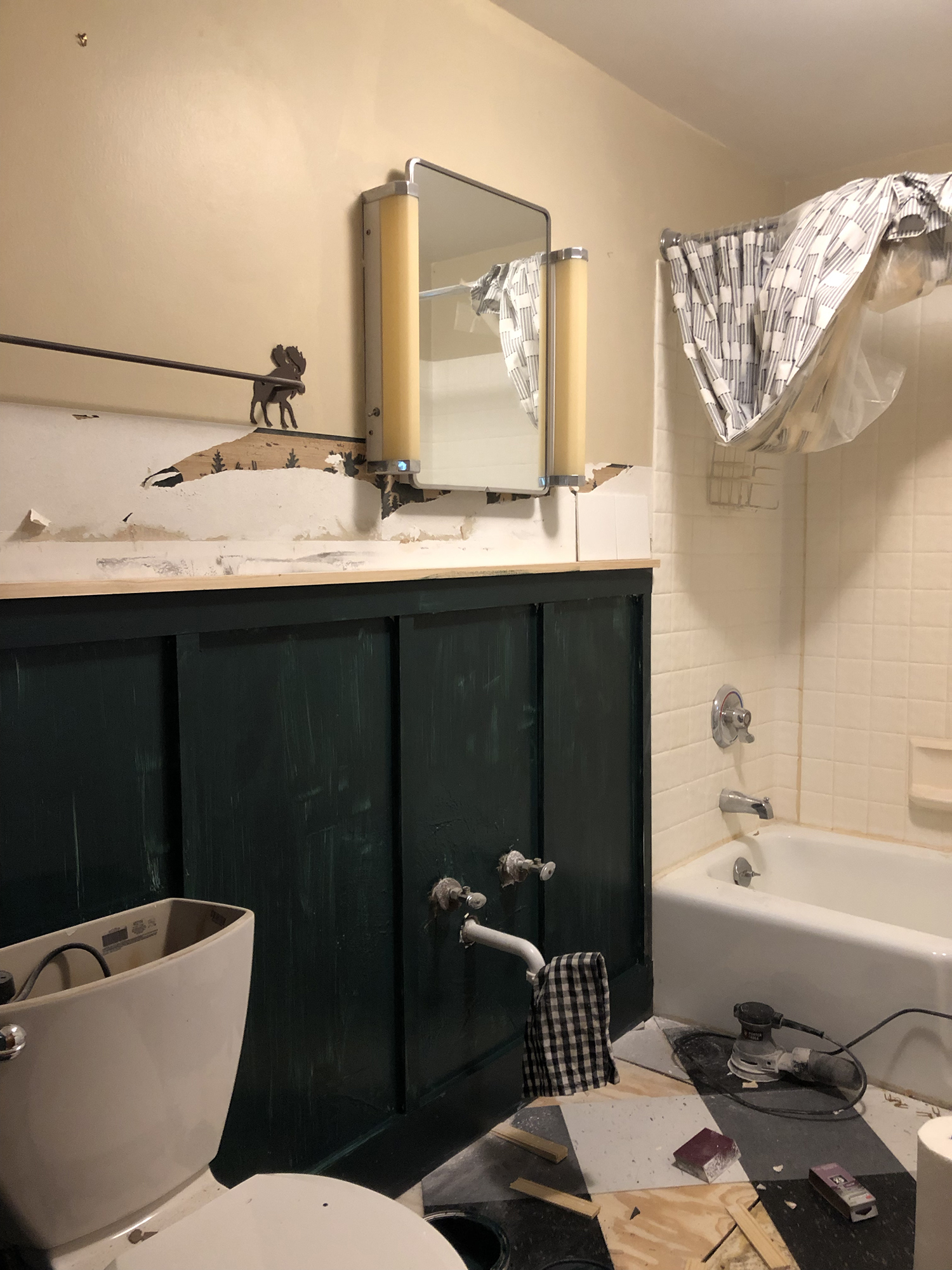 Once the b&b is installed you'll want to prime all of the wood and the walls. You don't want to paint directly onto unfinished drywall or joint compound ever. After the priming is done I caulk, and when I say caulk, I mean caulk every last seam. It takes a little bit, but is also so satisfying. It really gives the b&b a finished look. Lastly paint – at least two coats if not three. On the large panels I have my brush strokes go vertically as to mimic the board of the board and batten, get it? Cause I didn't actually use any wood for the board part, just the drywall, and batten. It's really just a batten job ;)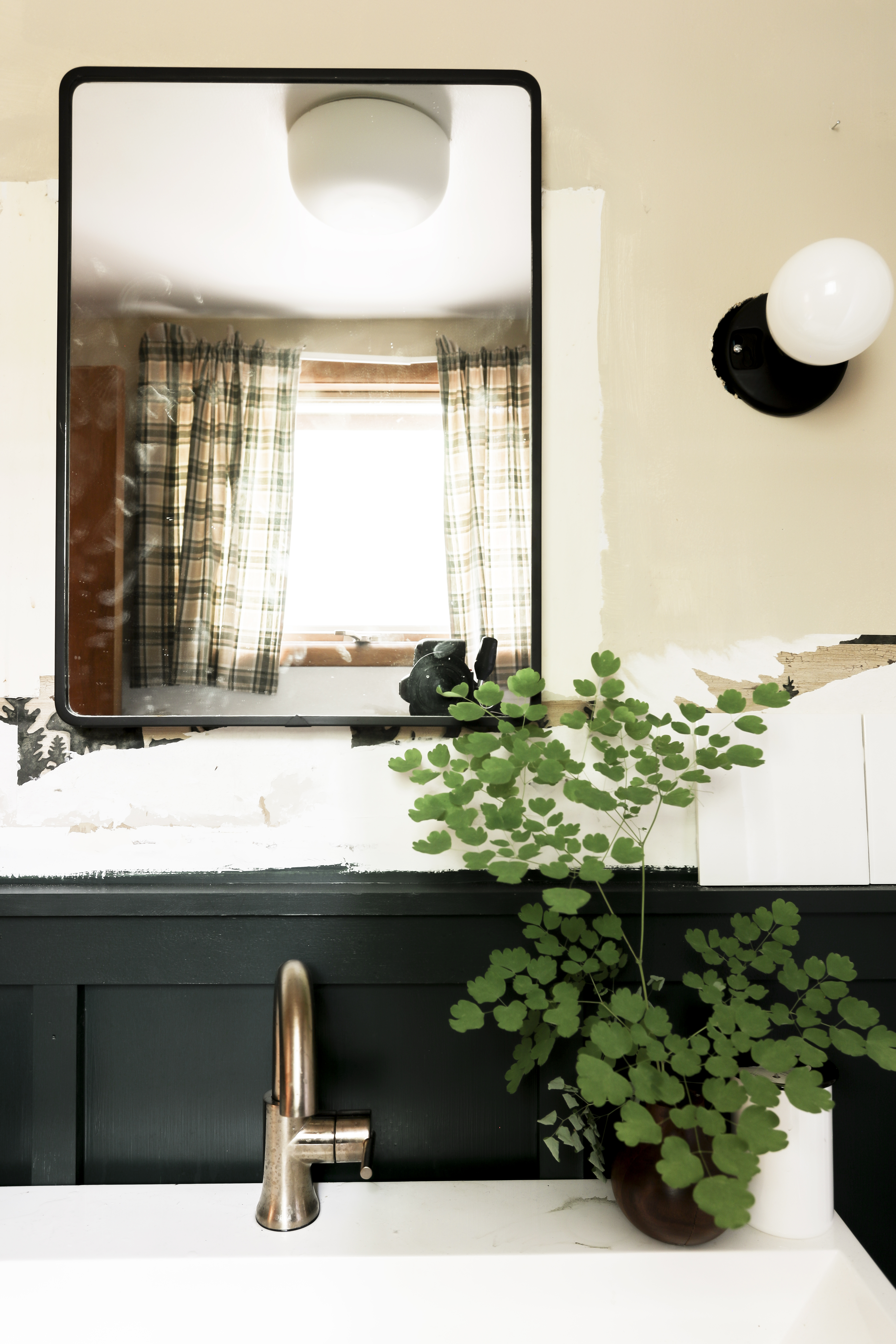 Painted Medicine Cabinet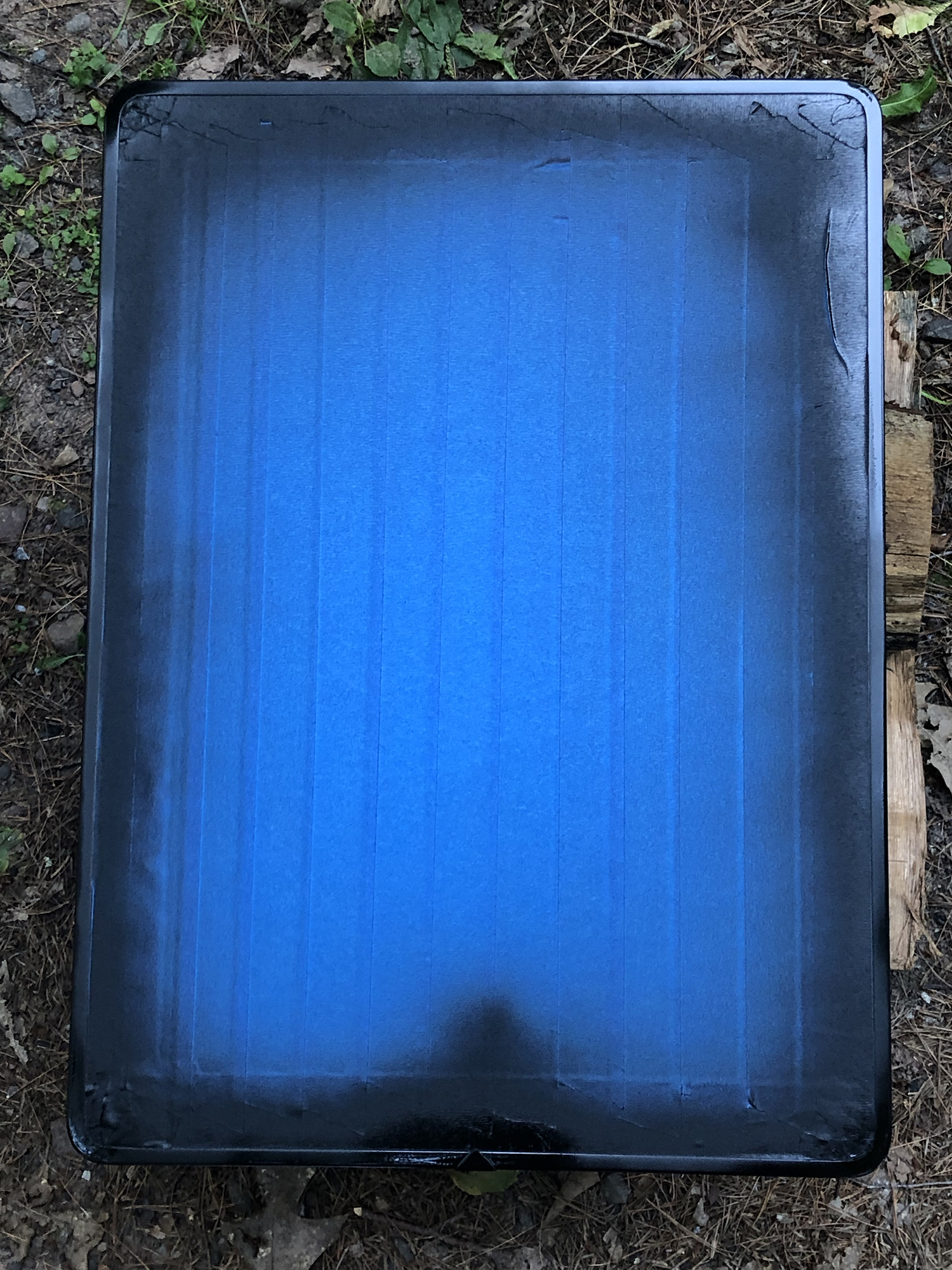 I had really wanted to get a new mirror, but I just couldn't bring myself to spend 400 bucks on a mirror when I had a perfectly good medicine cabinet and the budget was so teeny tiny. I decided I'd give spray painting the bezel of the medicine cabinet a try, and to my surprise it actually turned out pretty good. Plus, I still get to use the storage provided by the medicine cabinet. I need to come up with a solution for the holes that are around the perimeter of the cabinet. My friend
Ash, at the Gold Hive
recommended trying some sort of joint compound and joint tape installation that would encapsulate the exterior of the medicine cab making it look built in and custom. Sounds kind of crazy, but also not so bad. Still taking considerations so if you have an idea, leave it in the comments please!
Patched Flooring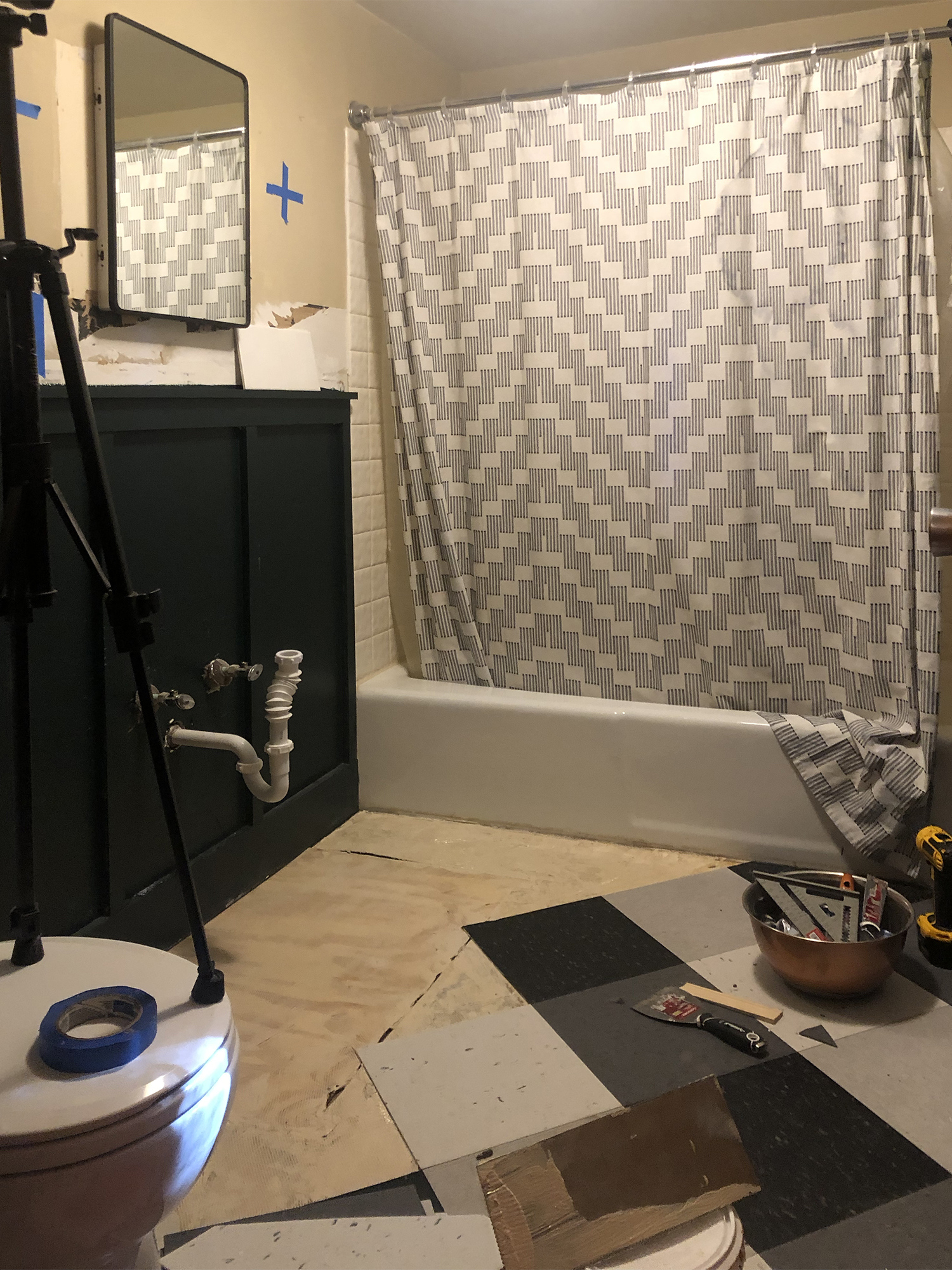 When I removed the old cabinet and sink I found that the flooring (which I anticipated) and a layer of subfloor (which I did not anticipate) needed to be patched and repaired. I popped in a piece of 5/8″ plywood and then dry fit new tile before laying it all into place.
Electric for New Lighting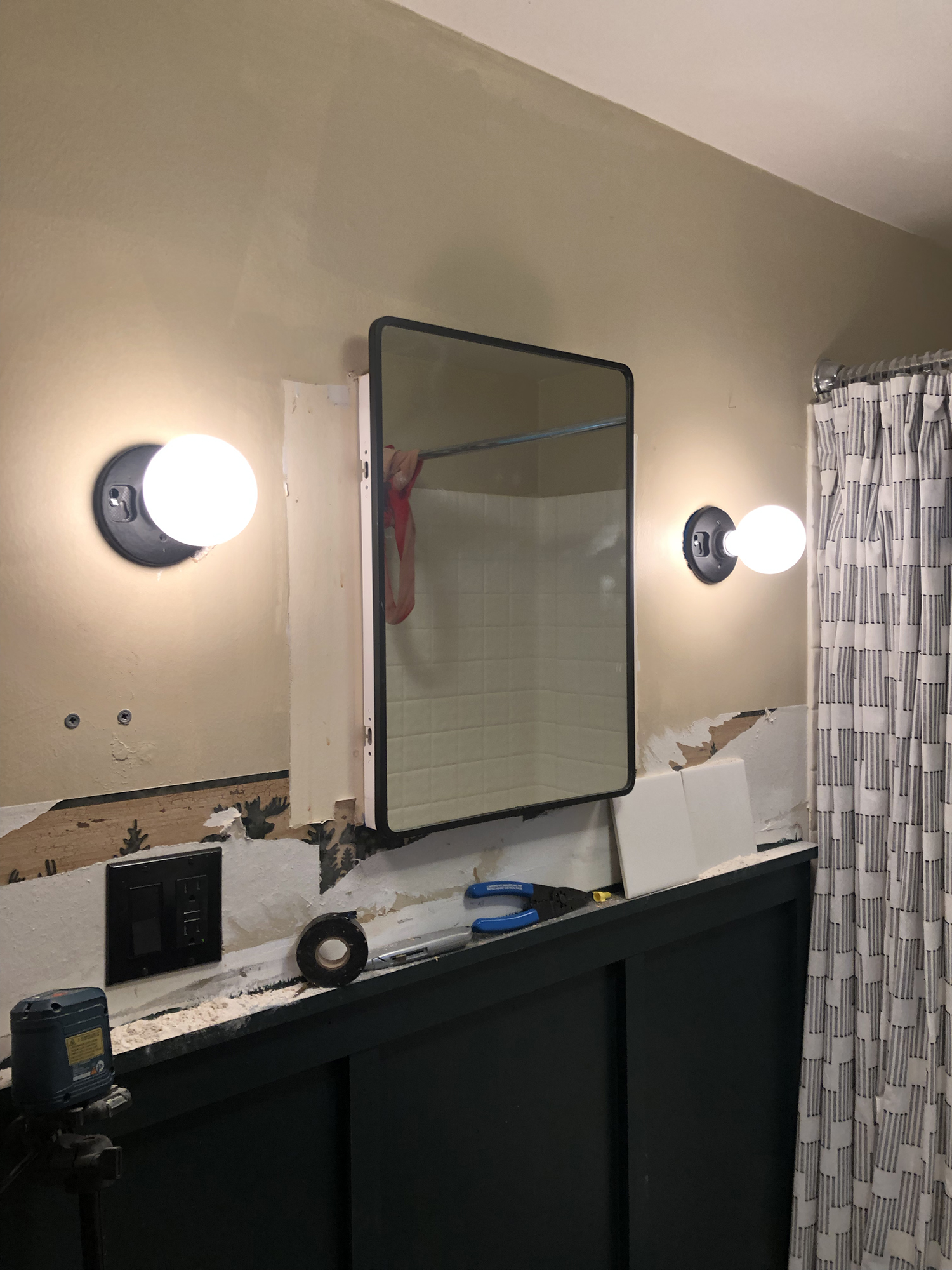 I haven't done a ton of electrical work in my day, even though I like to build my own light fixtures I only install them, I don't like, cut holes in walls typically. I really hated the idea of calling an electrician when I was 99% confident in what I had to do, so I just did it, and it worked, and I'm 100% sure I got it right – don't do electrical unless you're 100% sure you know what you're doing. Jeff needs to start paying me for this shit. PS. Those sconces aren't staying. I just grabbed them when I was at the hardware store. They are those basic ceramic bodies, and I painted them matte black just so I could live with them. I imagine the final sconce design to be a uncovered bulb though, so it will kinda be like this – just a little nicer.
Installed Vanity and Faucet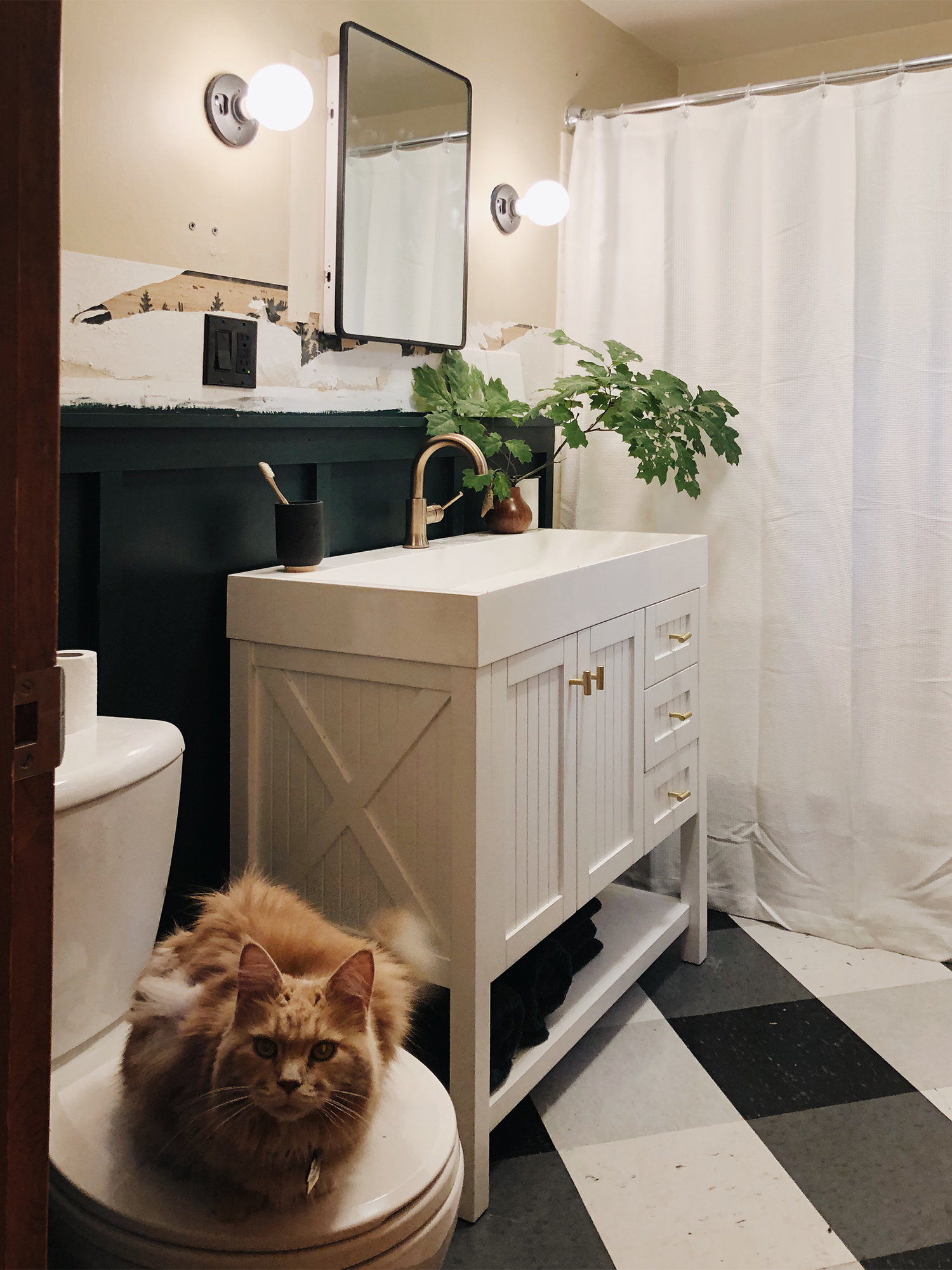 Lastly, I installed the vanity and faucet which I had already done 3 other times. When we would have guests up for the weekend I'd install the sink so they could brush their teeth and wash their hands, and when they headed home, I'd disconnect it and get back to work. This is the final installation. I'm kinda surprised that I landed on the barn door 'X' style vanity, but in the end it was the right price, the right style for the cabin, it had the right bit of modern elements, and had all the storage I was hoping for.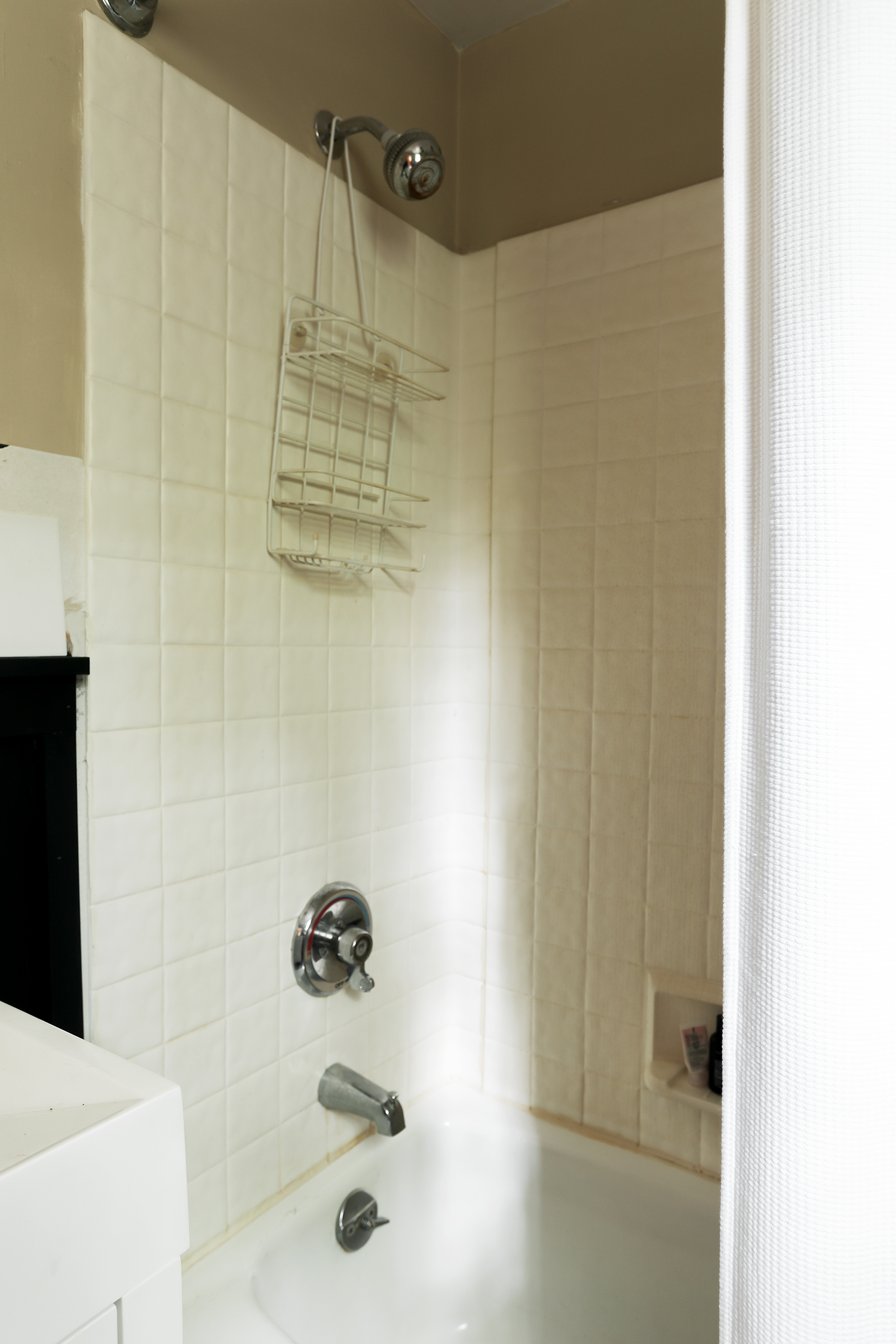 Next up comes phase 2. I'll dive into that on another post, but let's just say it involves a plastic tub surround and some nasty shower fixtures.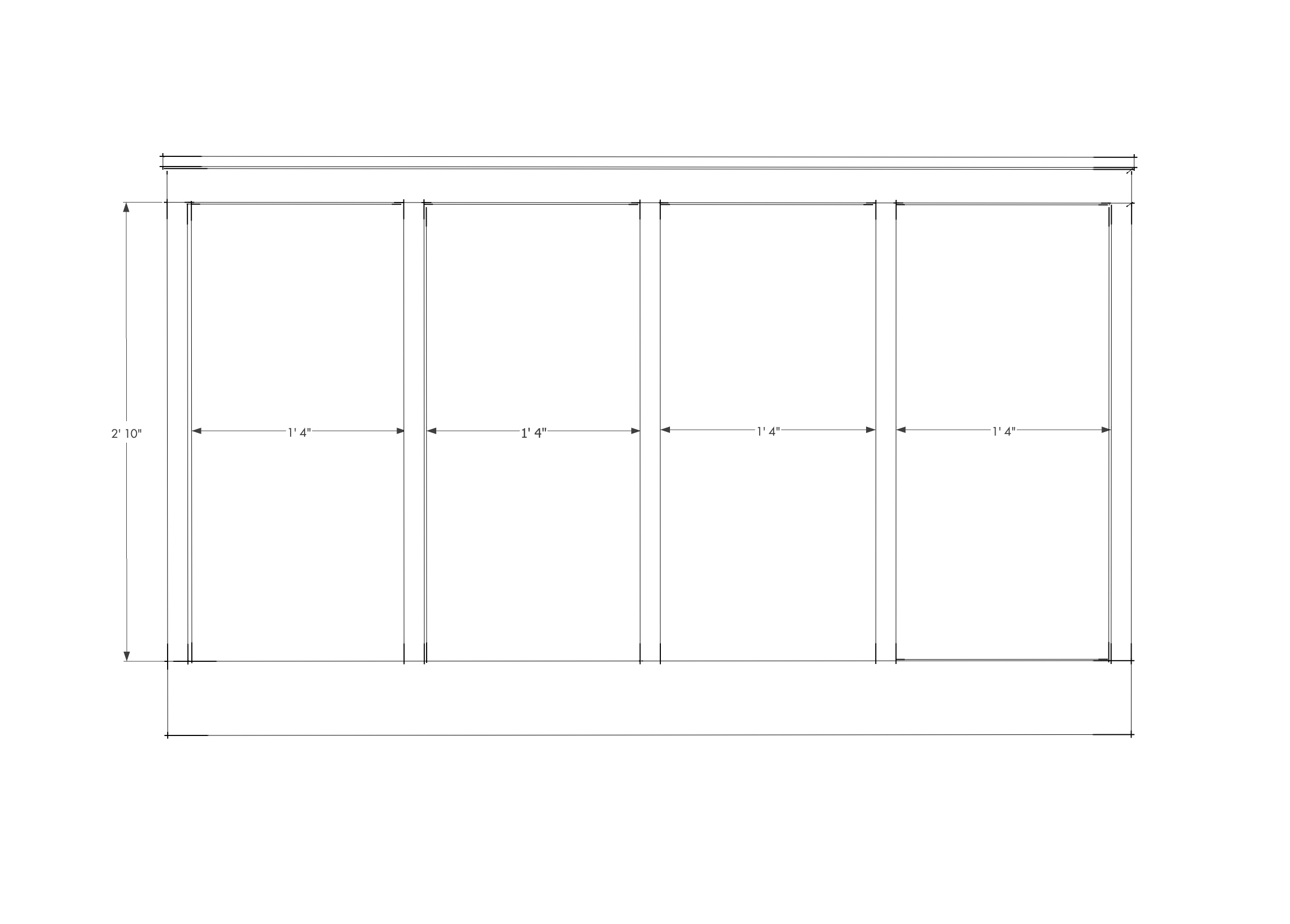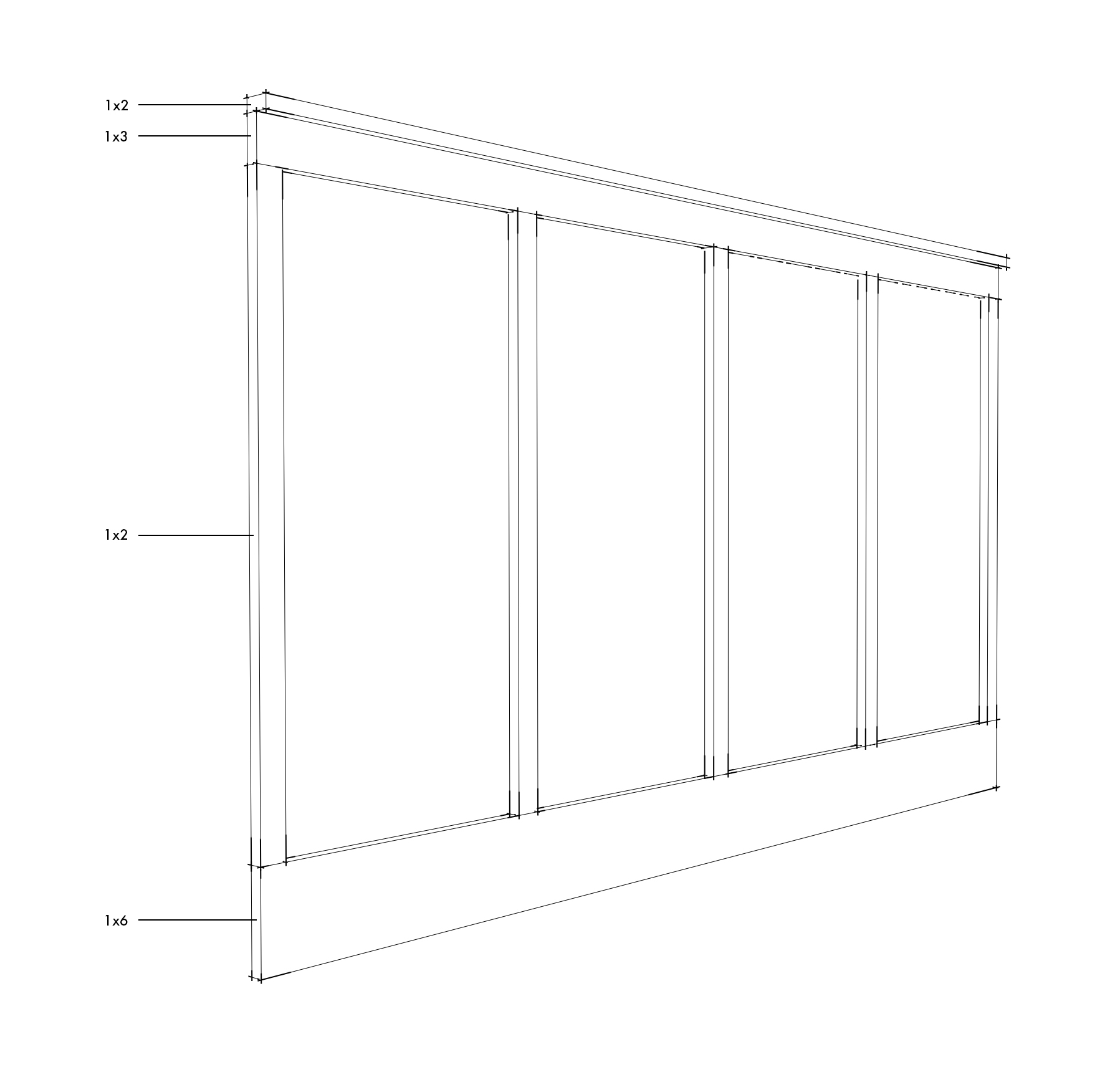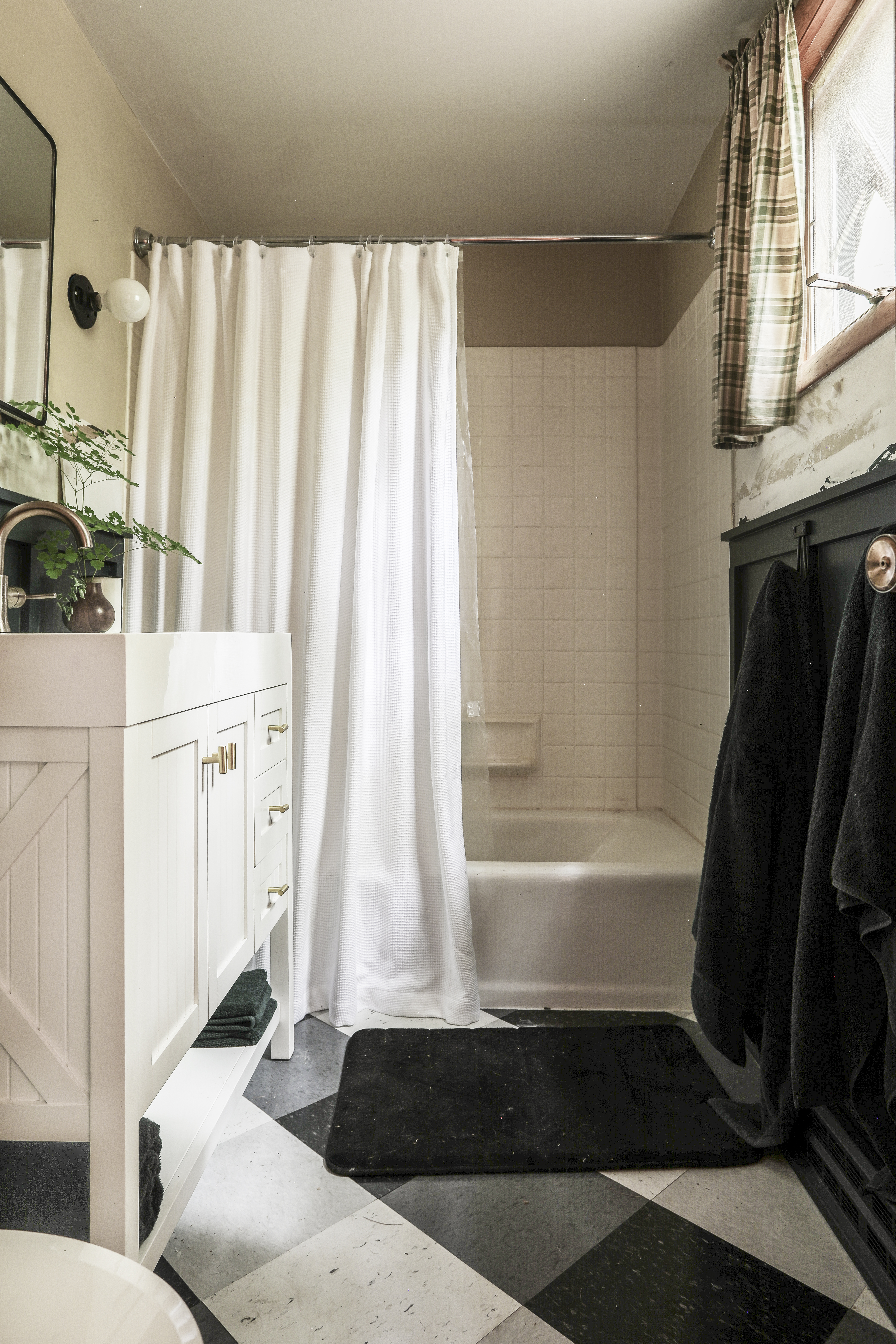 Squint and you can see it.