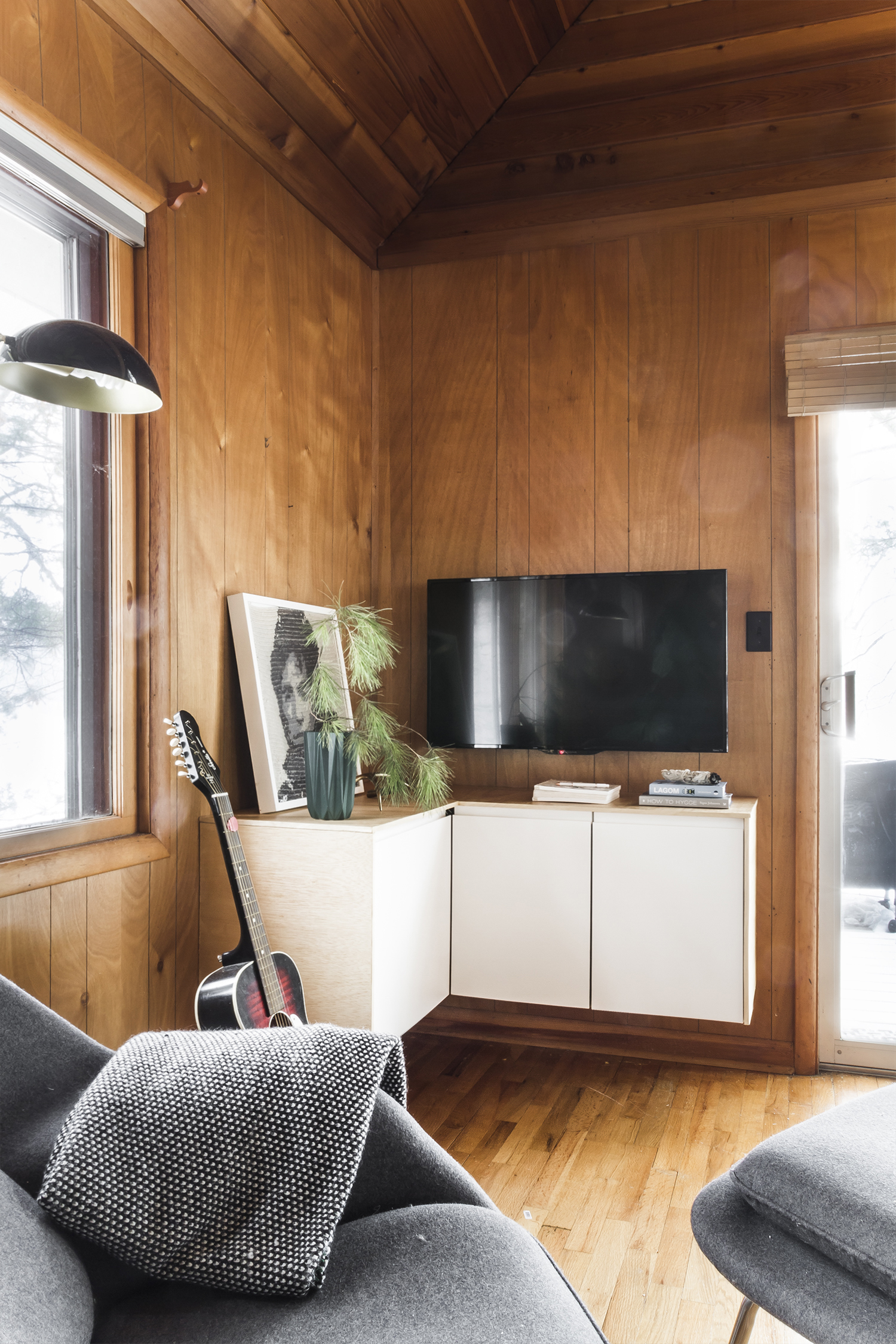 It's so hard having so many windows and glass sliding doors in this cabin, I mean where am I supposed to put our tv? It's a real problem.
No matter how much of an eye sore the tv is, we can't survive without it, and because this is just a cabin we don't have a rec room, or family room, or finished basement to watch tv in. We have to find a spot for it in the main living area. We have this stnnnnnng view here (see below), and it would be so dumb not to have the furniture laid out in a way that made us stare at it all day.
After giving the view the priority (I guess if I have to) there was only one space the tv would live, shoved in the corner.

Have you guys seen corner tv media cabinets? They are dumb and ugly (just check this google image search for more proof). Just, no.
After much consideration I decided the best solution for this stupid space was to float some Ikea cabinets in the corner. This is a good answer to my problem for a lot of reasons, would you like to know more? For one, it gives us a spot to hide our routers and modems and other tech stuff. It floats above the baseboard so visually it is not taking up an entire corner of the room. The shape of credenza mimics the shape of the "L" sofa – repeating elements is always a thumbs up. Lastly, the wood top allows me to have one more place to add a few books, a vase or two and for all intensive purposes besides just being pretty, camouflage that black box as best I can.
Because we aren't constantly watching tv when we're at the cab, unless of course we're rounding third on drunk o'clock, and it's late, and we're watching all the music vids on youtube. It also shall be noted that the kids aren't allowed to watch tv in the living room. They have to watch their TV in the dimly lit unfinished basement (think that 70's show). To get to the point, it was best to have the tv be as hidden away as possible when we were not watching Nirvana vids at 2am (see animated gif above) because most of the time we weren't doing that.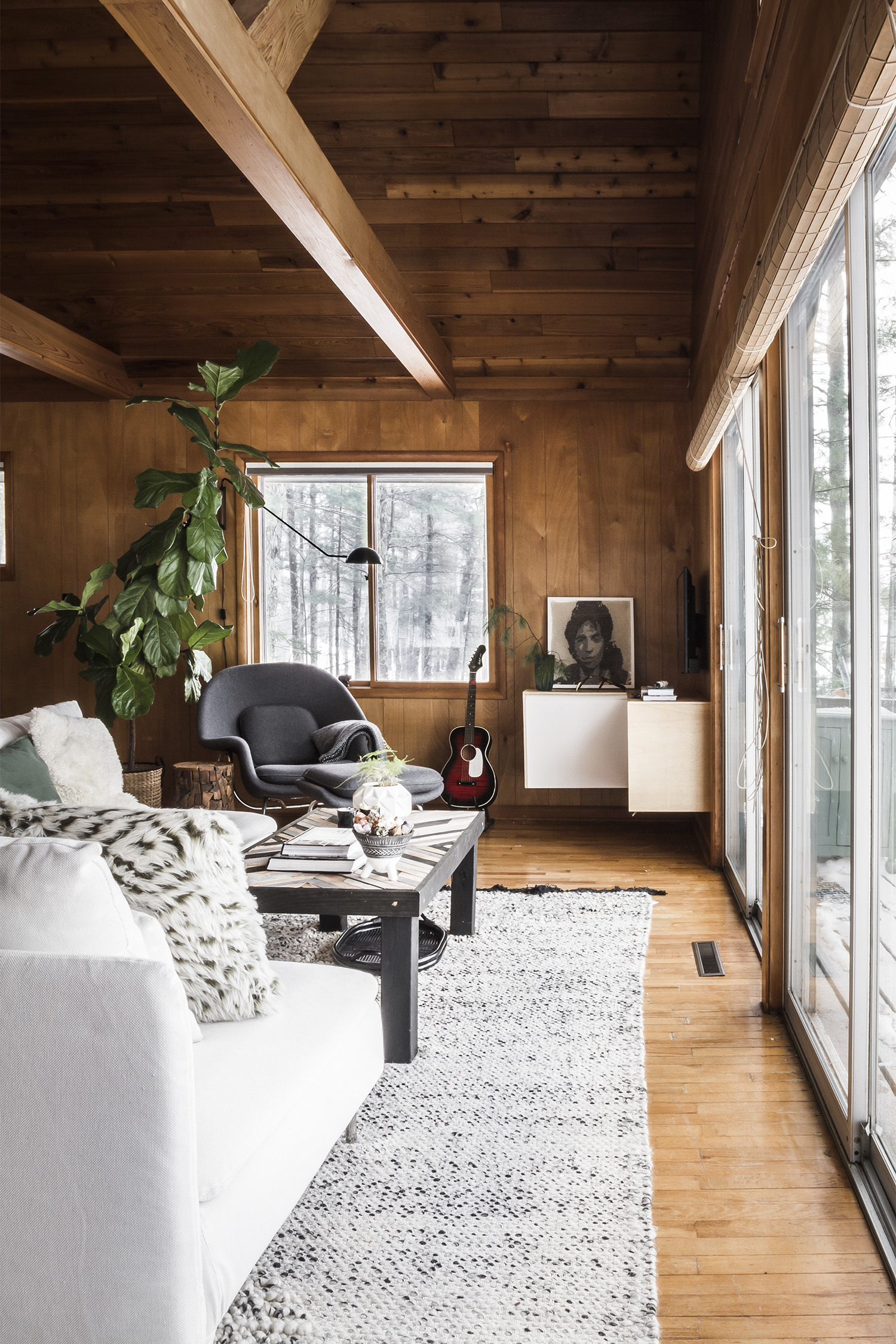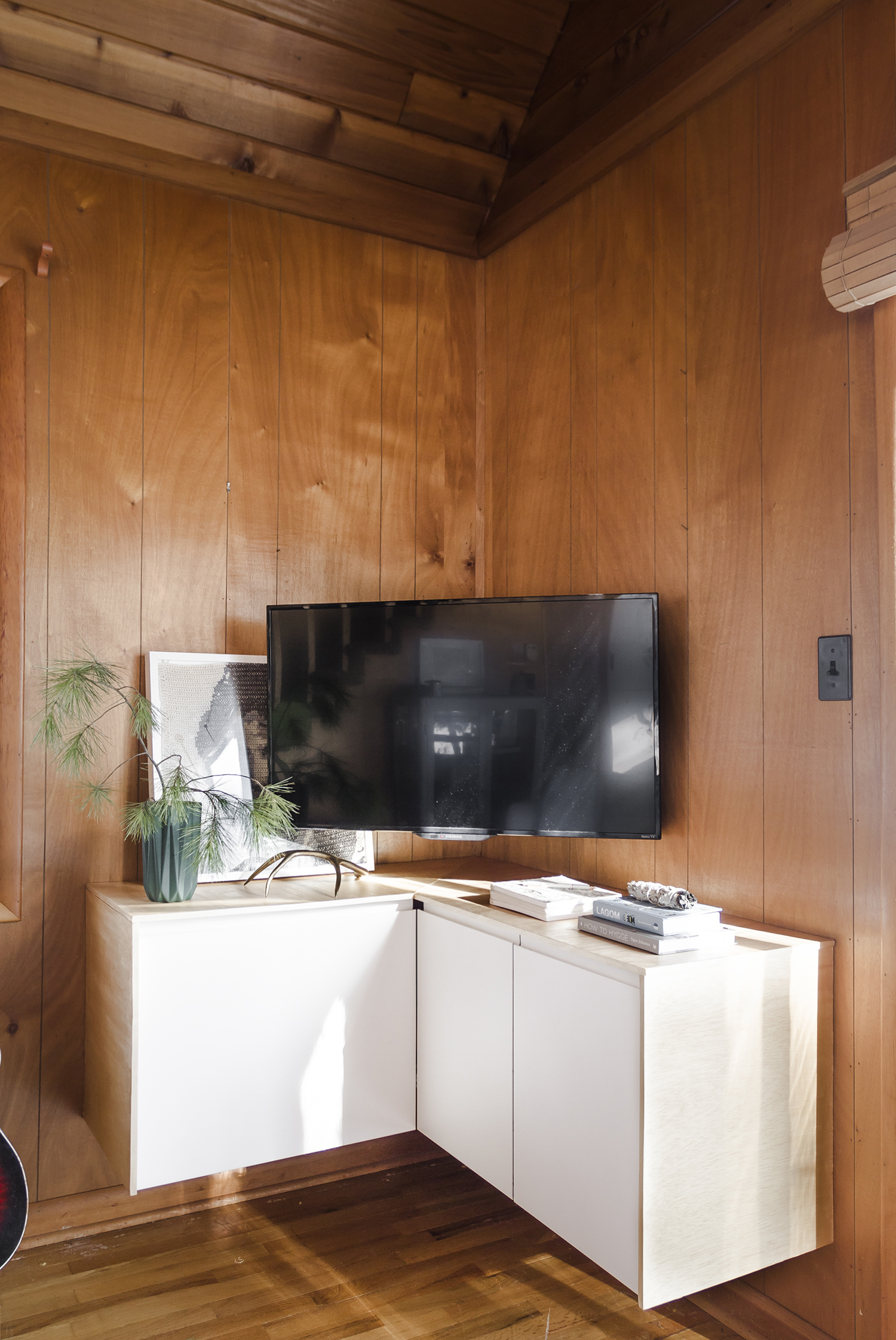 I didn't provide you guys with a step by step because Ikea basically does that in their instructions. If you've never installed Ikea cabinets before it's very simple. Hang the suspension rail on both adjoining walls (make sure it's level) and then hang the cabinets on the rail. Have shims on hand if your walls aren't plumb (which is likely).
I love these new Voxtrop doors from Ikea. Don't they look so fancy with their integrated handles and matte finish? There simple and understated and don't bring any unwanted attention to that corner.
The most difficult part of the entire assembly is cutting wood top and sides. I used three pieces of plywood 2′ x 4′ sheets. I had some dudes at Home Depot cut each board to the depth of the cabinets + and inch for overhang. The boards come together in the back corner at a 45º angle which I cut in advance on my miter saw at home. At the cabin, I marked where I needed cuts, and used my circular saw with a clamped straight edge to make them perfectly. The side panels and top are connected with small 1″ screws. I assembled the whole thing by myself, and bar clamps were essential for attaching the the plywood side panels to the cabinet. Lastly, I did a new thing for me and finished the edges with iron on wood veneer! It worked great, and was so simple I feel dumb for not doing it on all of my other plywood top projects.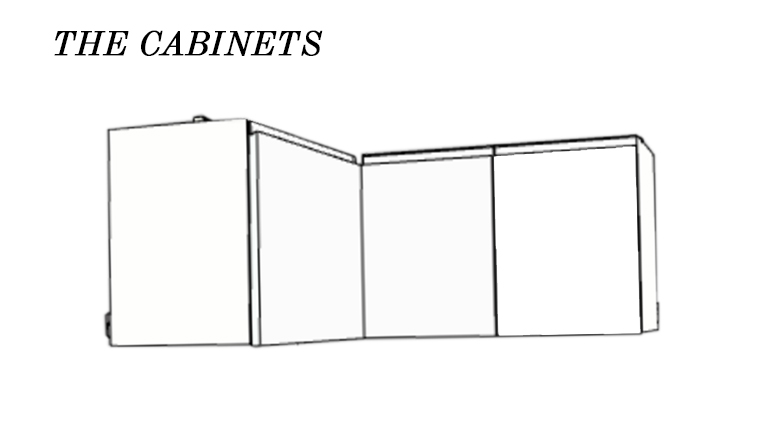 // Supply List //
From Ikea
From The Home Depot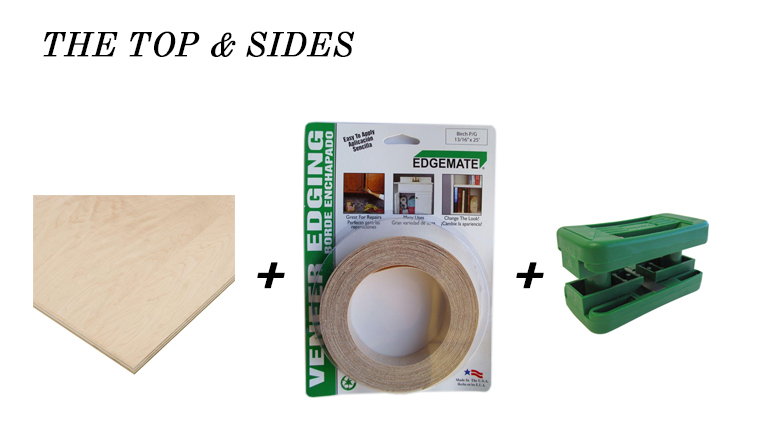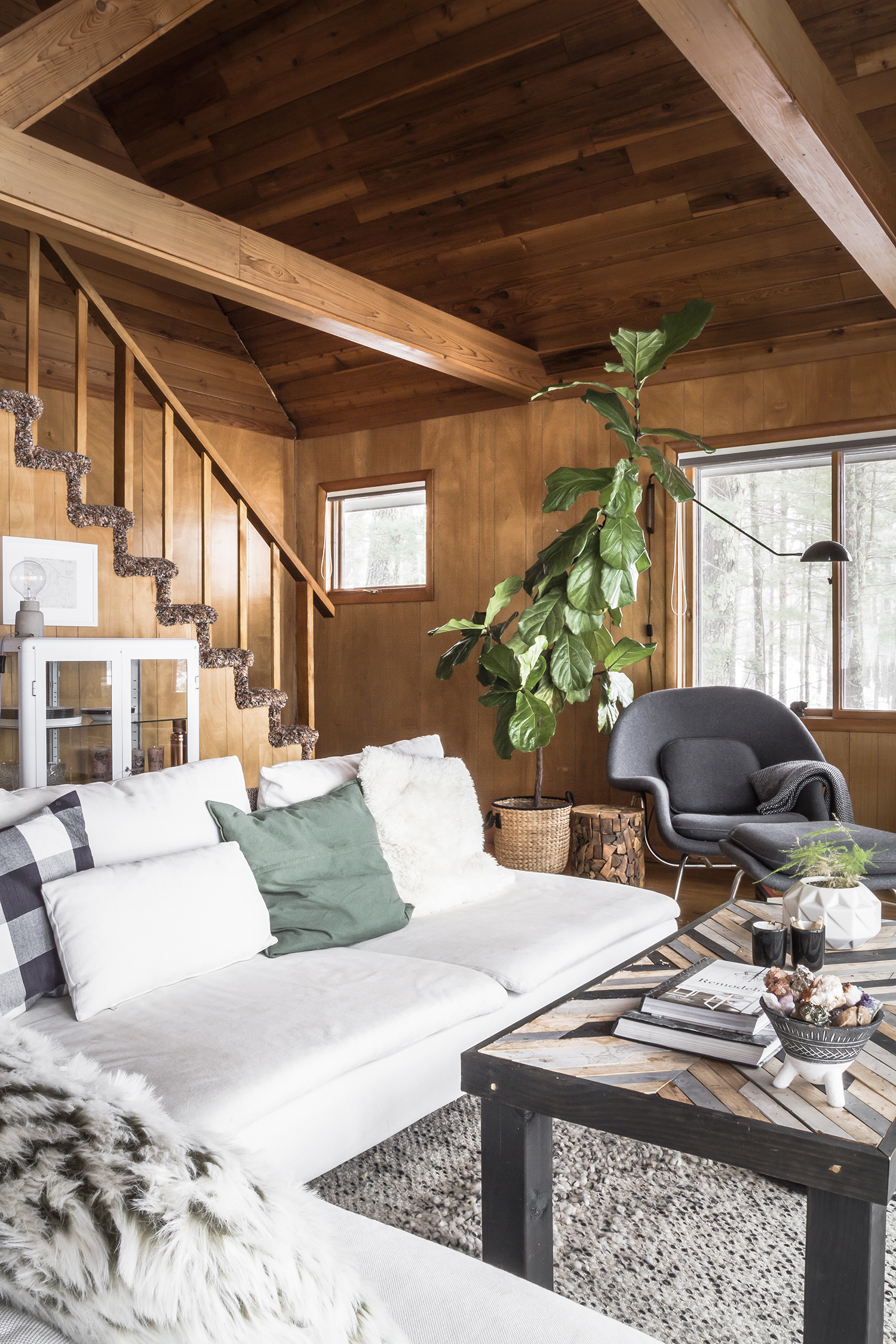 Anyways, I hope that this gives some inspiration to any of you dealing with the corner tv conondrum. And yes, that is a crocheted Bruce Springsteen face. See yas soon!