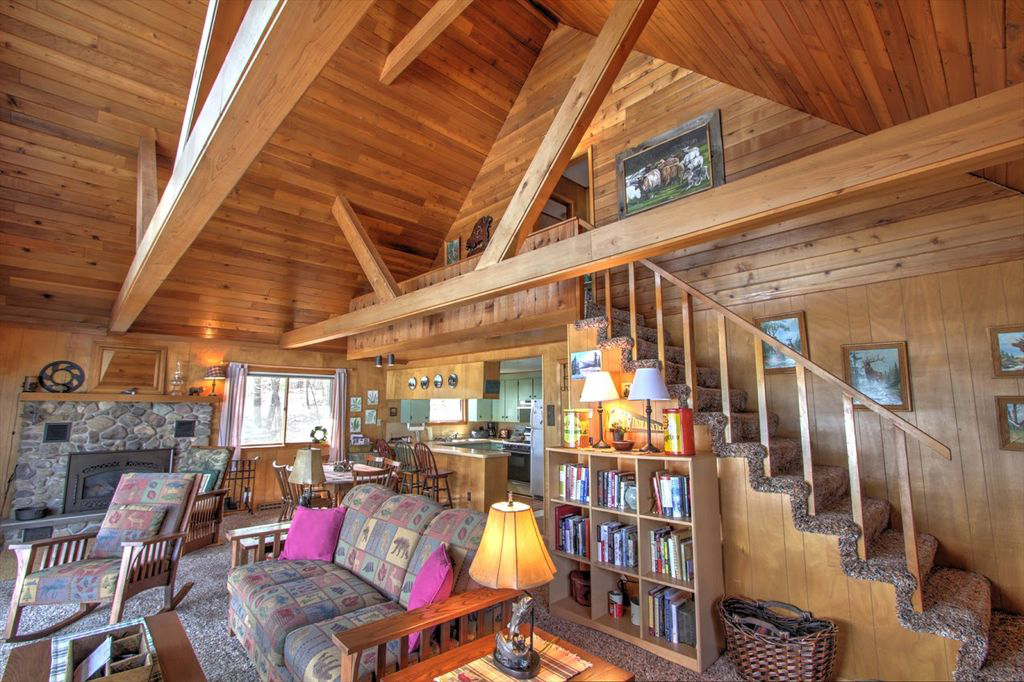 Having the cabin has taught me a few things about design. It can be done in stages and having a plan is a really good thing. When we took ownership of the cabin we knew that we needed to make it our own, and fast. Jeff especially has a hard time seeing the big picture, and he had his hesitations when it came to buying this particular cabin. He put a lot of trust in me seeing the bigger picture for it. To refresh your memory, let's go on a trip down memory lane, shall we?
This is exactly how the cabin looked when we purchased it because we bought it with all the furniture. That was part of the deal, and let me just say buying a place furnished wasn't an incentive. Lucky for us, our cabin also came with a large clean basement, so we immediately started moving furniture and items down to the basement and that became a sorting place for us to figure out what we had, and remove what we didn't need. To get us started, we used most of the furniture to set up a space for the kids to hang out in the basement. Over time we have donated or found homes on craigslist and facebook marketplace for almost all the furniture. We still have a few stragglers down in the basement, but hopefully with time that stuff will find a new life too. Anyways, this is a lot of words just to say that we wanted to make the cabin our own immediately and we didn't have a lot of cash on hand to furnish it.
The most important tool we had was our plan. I had used sketchup to come up with an overall look and feel for the space. We just needed to fill in the missing items with inexpensive furniture pieces so that we could feel comfortable and have guests in our new space. So what did we do? We looked for items that fit the bill at some of my favorite places.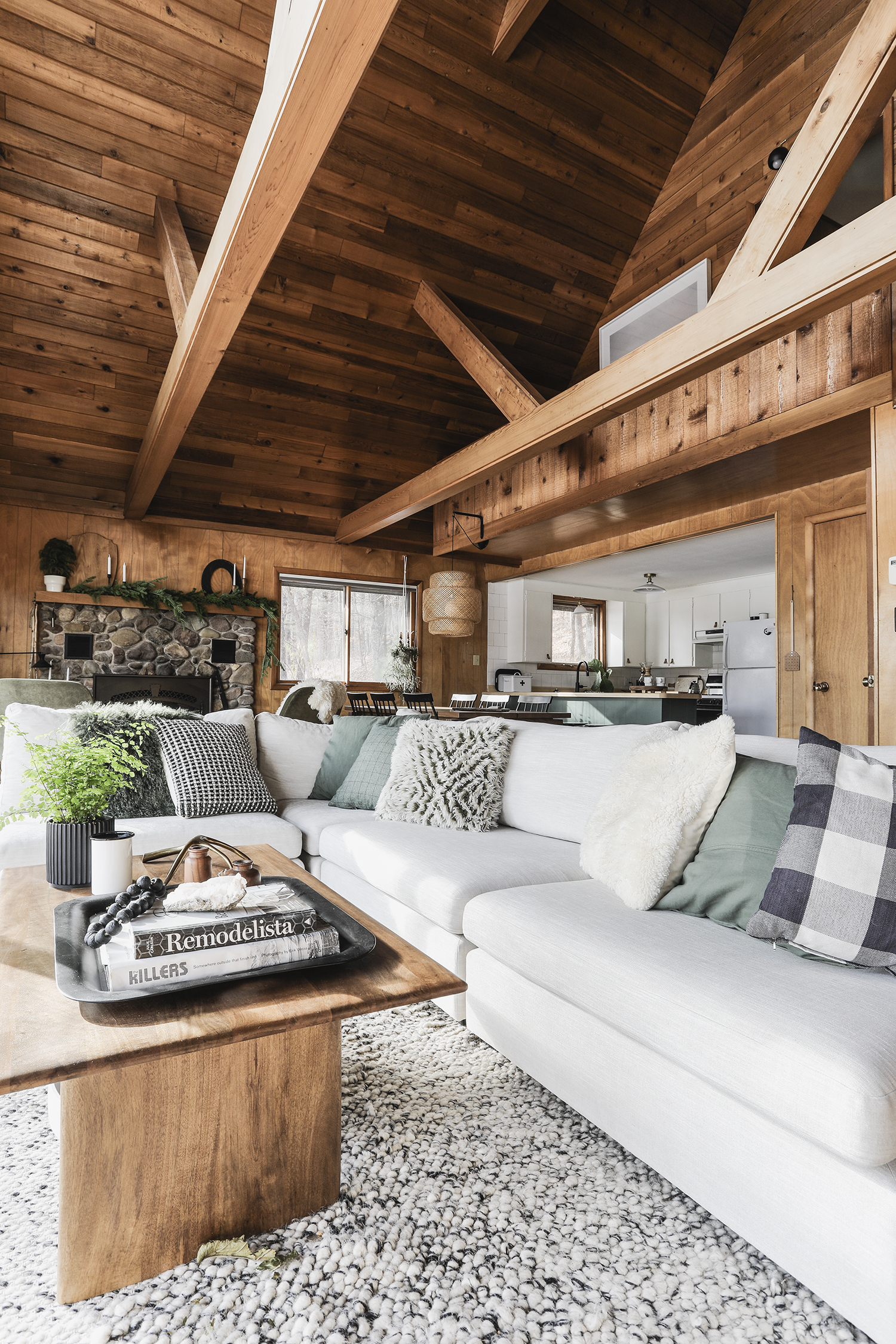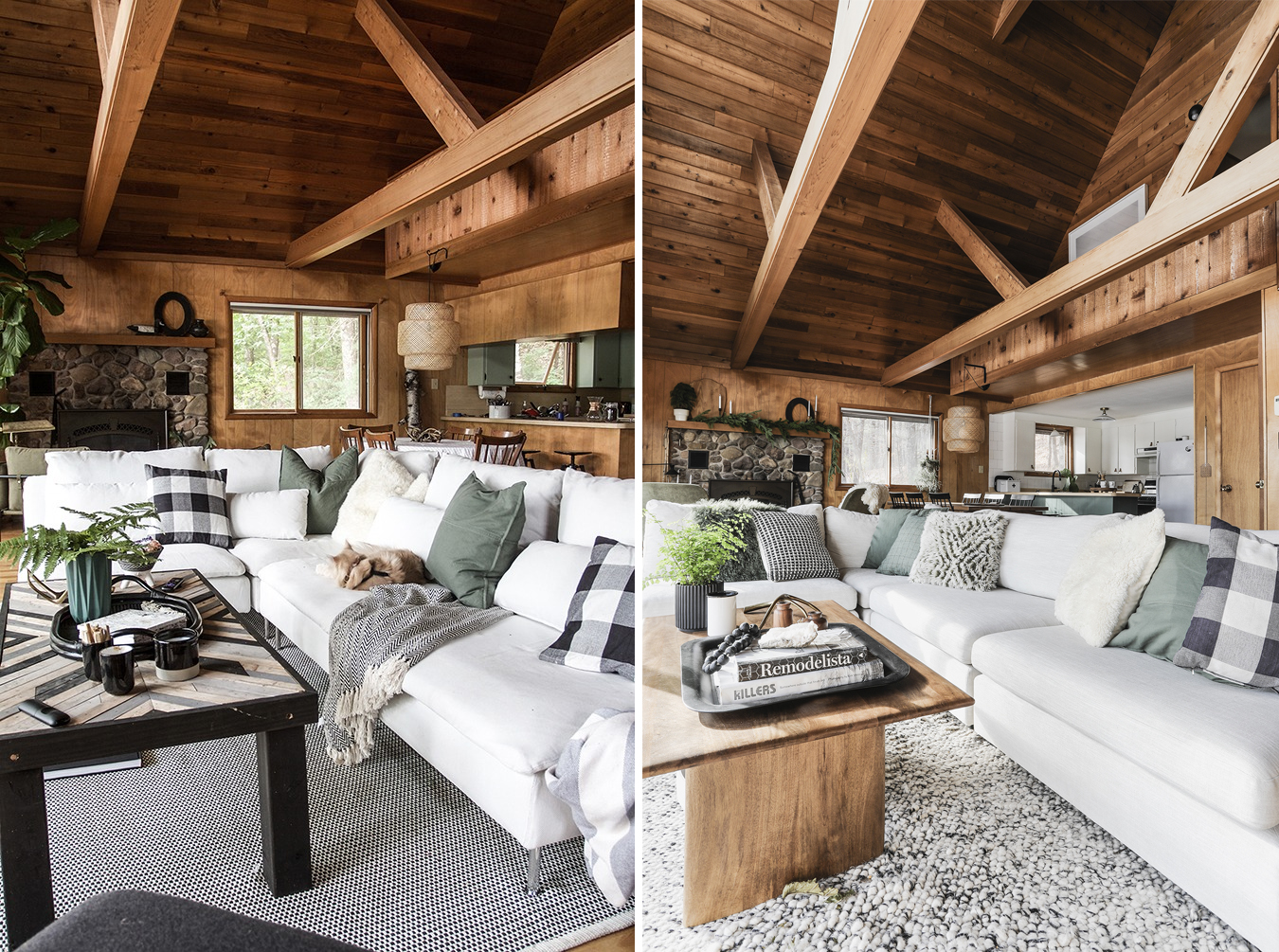 Sofa
Ikea is obviously known for inexpensive furniture, and that is where we found our first sofa. It was modern, deep, and a good spot for family and friends to hang. When it was stained to a point that it was looking literally worse for wear, we replaced the cushion covers with new linen covers from comfort works. If you go on craigslist you can find an overwhelming amount of Ikea sofas – slipcover replacement companies like comfort works are a great option for refreshing a used sofa. When were ready to upgrade this year we followed our original plan. A white sofa with durable fabric was important to us, cue the Gaba modular sectional. Big chunks of white do so much for this wood clad space. A sofa that you could sink into was even more important and having it be modular with a low profile was top on the list. We love how much a higher quality sofa finishes the space. The old ikea sofa was good, and looked fresh with the slip covers, but the new sofa is hands down better all around. It's easier to clean, cozier, and the kids love lounging on the back of it. We are reusing the Ikea sofa in the basement now, and plan to keep it around once we finish the basement bunk/family room.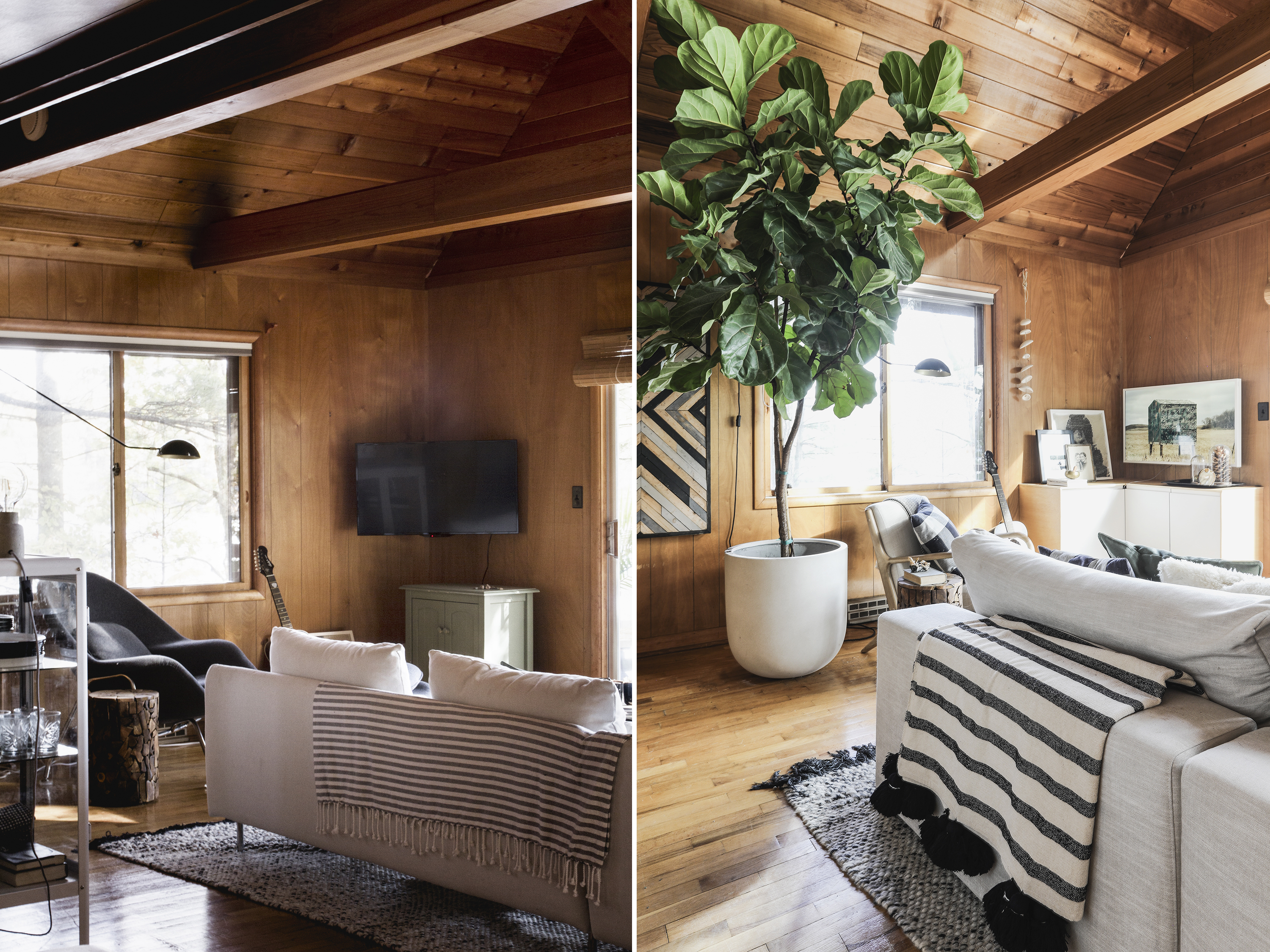 Lounge Chair
I wanted a deep lounge chair for the corner of cabin – I had a womb chair in mind, but for $900+ for a knock-off was too rich for my blood. So I crossed my fingers and started looking on craigslist. It didn't take long, and I found a brand new chair that was being sold because it was oversized for the sellers living room. It cost me $400. I was able to follow my plan without spending tons of dough. The chair was super cozy, and all of our guests wanted to start their mornings with their coffee in that chair! The downside was its size and color. After living in the space for two years the color of the chair stood out to me always – sometimes reading more blue than grey, and the size didn't feel right for the space. We opted instead to bring the womb chair home and use it in our house and replace it with a smaller, upholstered bentwood chair in a neutral toned fabric. This size seems more appropriate for the space, and although it was not in the original plan, still fits the look and vibe of the space. We paired it with a soft green footstool so that we would still have a place that was perfect for a morning cup of coffee.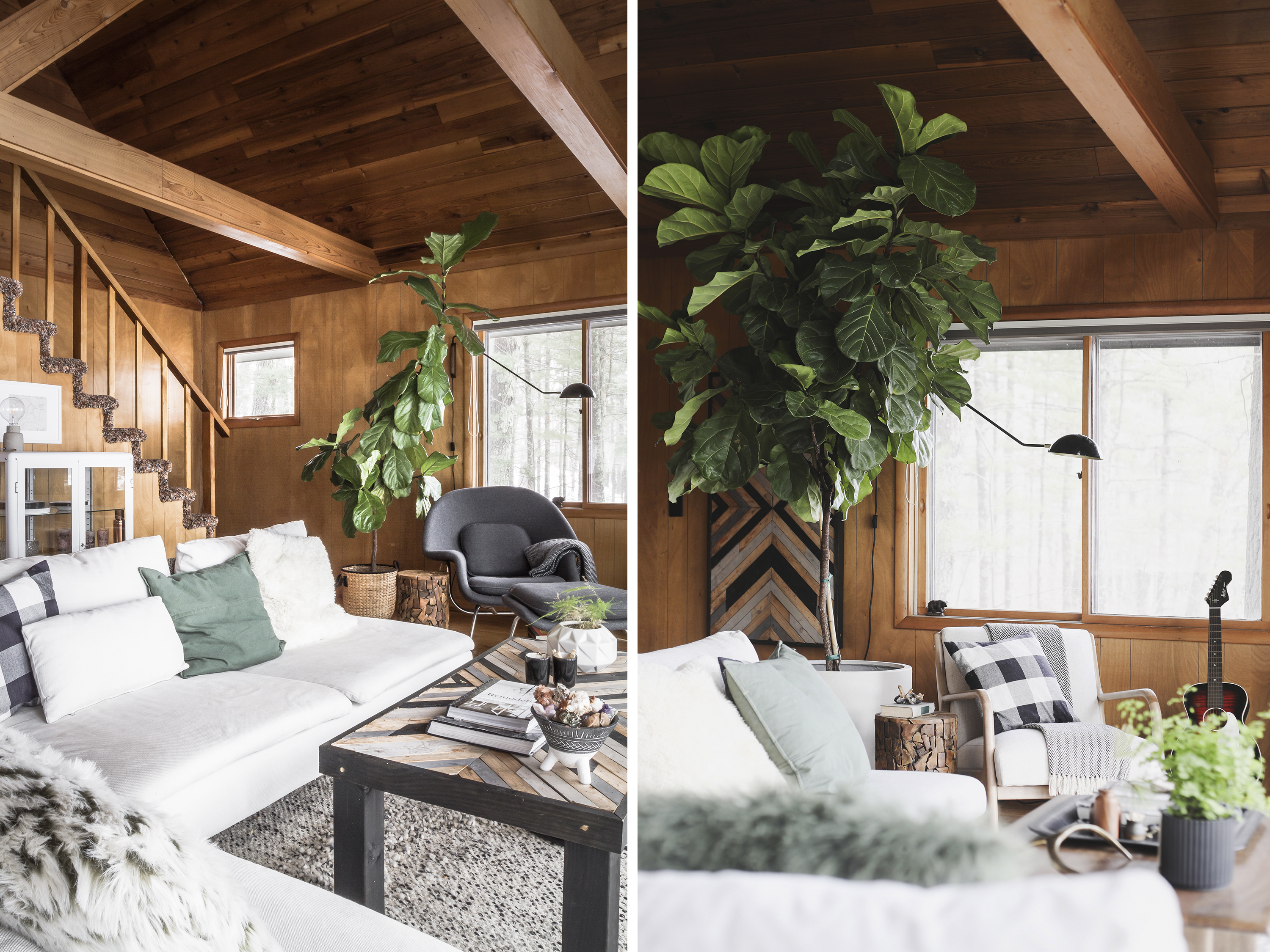 Coffee Table
Before we purchased the cabin I had just finished making a coffee table for our outdoor patio in Minneapolis. The table turned out better than I expected and I didn't really want it to sit out in the weather, so bringing it to the cabin to use as a coffee table ended up being the perfect home for it. The downside to the table was its size and chunky legs. I considered switching out the legs for something more slim and refined, but the top still would have been too large for the space. Instead I decided to hang the handmade geometric top on the wall as art and we recently replaced the table with a modern wood table that was smaller in scale. The new coffee table is such a nice piece of furniture with a super smooth matte finish, and I like the architectural element it adds with its two big chunky legs.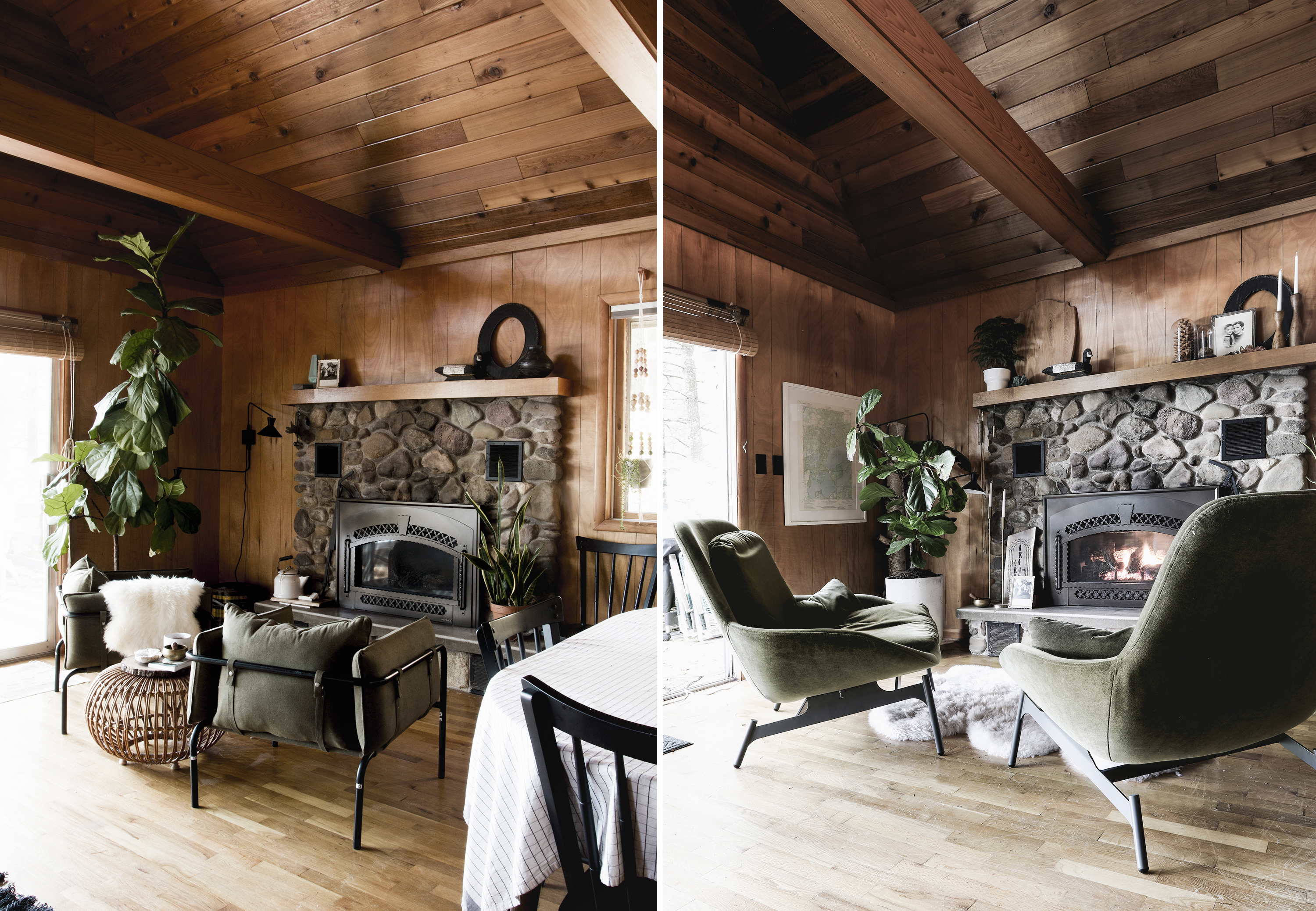 Chairs for In Front of the Fireplace
The two army green camp chairs that we placed in front of the fireplace where more of a splurge. I know when I bought them they were on sale, but I think I still spent more than I had wanted to. They had the look though, and I felt like the look was worth the cost. It retails for $349 per chair, but if memory serves me correctly I think I grabbed them for $279. Unfortunately these chairs were not what we wanted to sink into when sitting in front of the fire. The buttons were constantly unsnapping too, which drove me crazy until I decided to super glue the snaps – which worked! Even with the snaps figured out they still weren't what we were looking for when it came down to comfort. I was tipped off to a big end of summer sale at our local bludot outlet and was able to snag these two green velvet field chairs for less than the price of one. We spend so much time in front of the fireplace now and that green velvet is so cozy and warm. We can't believe we had been missing out on such a prime spot hang spot for the last two years.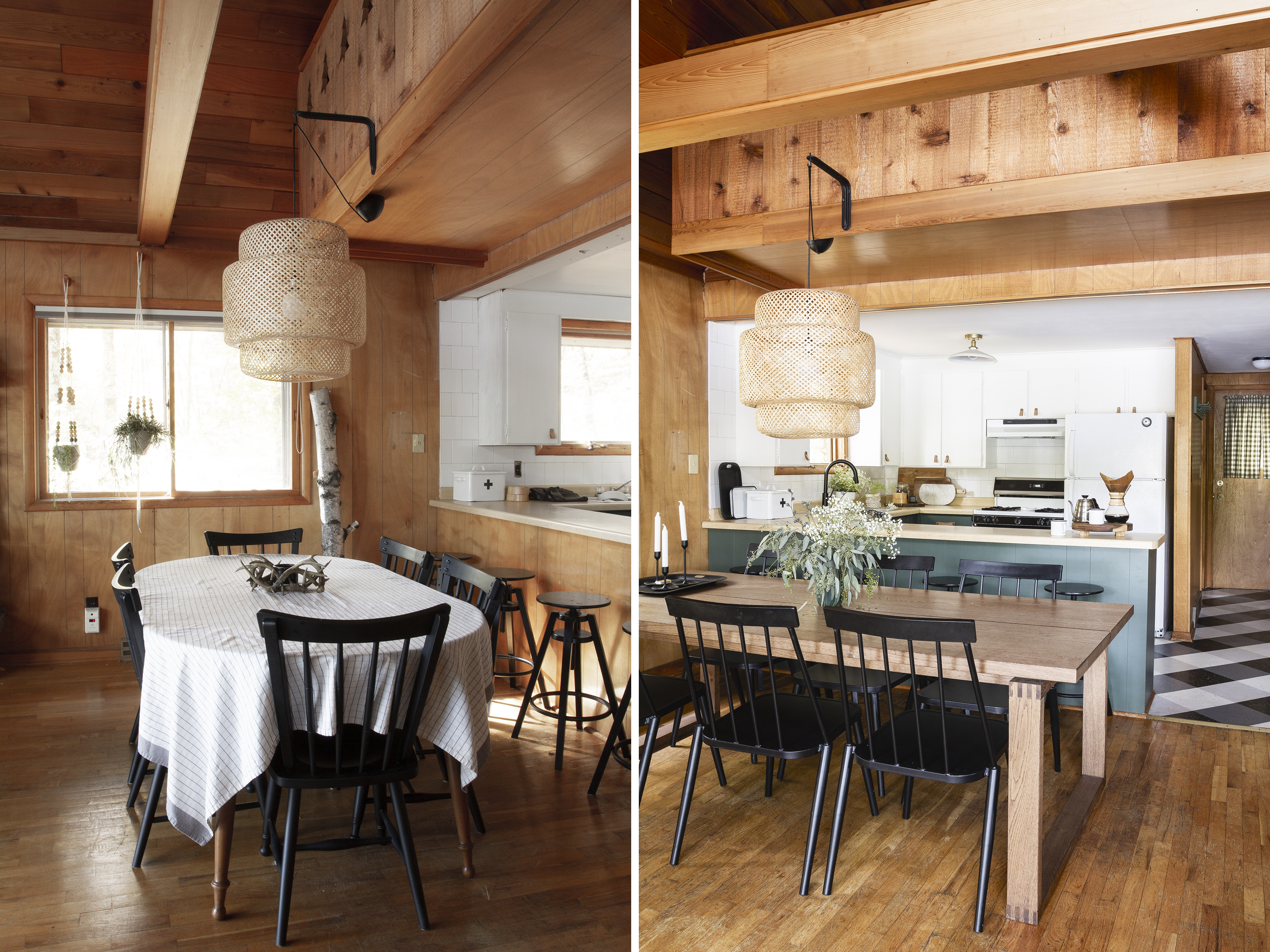 Dining Room Table & Chairs
The dining room table came about 9 months after we had closed on the cabin. We used the table that had come with the cabin, even though it was soooo creaky and old. It worked until it didn't and that was all we needed out of it. Our current table is from Ikea, and it's solid. I think the table weighs a few hundred pounds, that's how sturdy it is. I like that it's heavy duty and can put up with a lot of daily use without being too precious. Will it be our forever table? Hard to say, but for now it does the job!
Dining Room Chairs:
The cabin chairs that we inherited had good lines. I spent the end of the first summer painting them all black to give them a more modern-windsor chair look. I also spent the next 9 months constantly repairing them. They were at the end of their journey, and the bottoms of the chairs were often splitting apart. I even ended up on surprised and on the floor once or twice. When we were able to invest in new chairs I opted for less expensive stackable metal outdoor windsor chairs. Often times outdoor chairs are less expensive than indoor – keep that in mind if you are looking for looks without the price. The downside for these particular chairs is that they are metal, which can mean a cold impression on a warm butt. I like to throw a sheepskin pad on all of them to help the transition ;)

These photos aren't supposed to look shockingly dissimilar to you. I'm trying to show ya that if there is a look you're after, and you have a plan, you can make it happen on a budget!
With so much pressure coming at us from IG and the like to have the prettiest spaces ever as soon as humanly possible, I just wanted to reiterate that it doesn't need to be done all at once, and it doesn't need to be done with all new furniture!
The plan can be flexible but stick to the core design. For us, we wanted a lot of white accents to balance the heaviness of the wood walls inside the cabin. We wanted minimal clean lines. We wanted a color theme of greens, whites and blacks. And we wanted a textural theme of soft sheepskin, wools, wood and linen. If you can identify the things you want and the story of a space, all you have to do is make purchases with those guidelines in mind and the space will begin to come together. This doesn't take into consideration scale, which is something I always suggest you draw out before purchasing anything. If you don't use sketchup or a similar digital tool, graph paper always works! Layout your room on graph paper and cut out potential furniture items to scale and place on your graph paper room. Make sure you understand what size furniture makes the most sense for your space.
Lastly, please try and reuse, repurpose or buy used as much as possible – we will be reusing almost all of our furniture from our cabin living room for our future basement family room, and a ton of what we originally purchased was bought second hand. If you decided to get rid of furniture or are looking to find a great deal, try craigslist, facebook marketplace, your local facebook buy nothing group, ebay, or etsy.
Cabin Archive