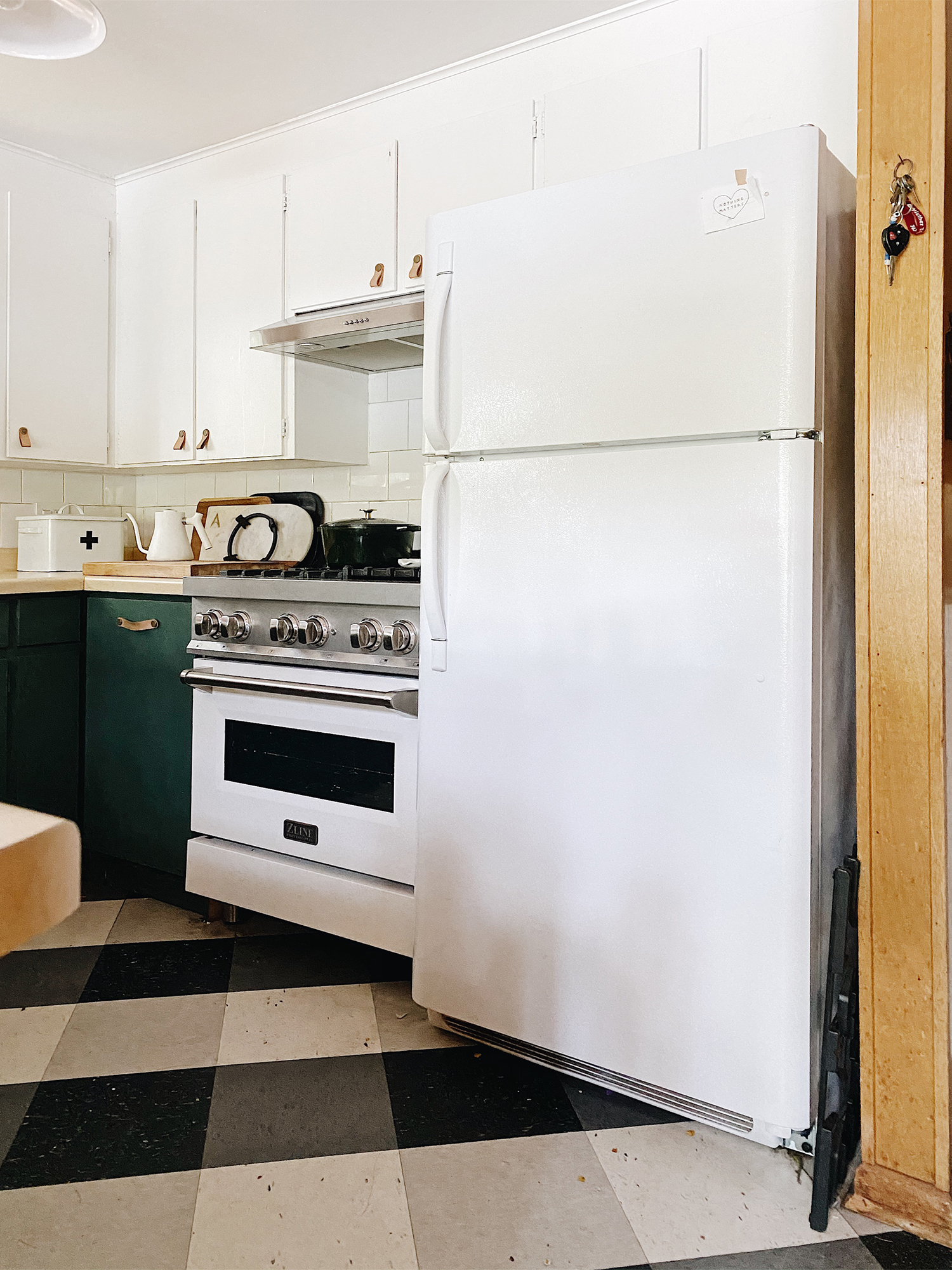 We've basically been living at our cabin for the last six months, so we've got to know how it functions pretty well. One of the things that really tends to grind our gears is the refrigerator! Not only are drawers constantly cracking and breaking, but shelves fall too – and sometimes those shelves are holding bottles of champ, and I just can't risk having those bottles break. All jokes aside, it really does function poorly. The door swings into the kitchen in just a way that it makes it impassible if someone needed to get through. The freezer is on top so that means you have to lean over or even get on your knees if you're looking for something way in the back of the refrigerator. Plus, it's just small. It doesn't hold a ton of stuff and that's especially hard when we're having guests up and they bring food to share as well.
The obvious solution would be to get a new fridge, but I'm afraid it's just not that easy. I love this weird little kitchen, it's very efficient given how small it is, but there are some downsides. All of the cabinetry is basically one piece of plywood, the cabinet boxes are not individual boxes built independently of each other or the wall(s). Instead they are one solid unit made up of a front frame, a bottom board and then typically the ceiling or floor is the base/top (depending on if they are upper or lowers) and the actual kitchen wall is the back of the cupboard.

All of those words to say that when it comes to replacing the fridge, we need to find something that fits the space exactly because it's not easy to adjust the cabinetry to accept a new size of anything! For instance you might remember that time I built a cabinet box in place of the panel dishwasher, or the time I built a set of four drawers in the hole a cabinet used to be?
After looking at every single refrigerator on the internet, the only fridge that fits the fridge hole is a unit that would end up being nearly exactly the same as the one we had.
We didn't want that.
So, our next best option is to find a fridge that nearly fits the hole, has all the bells and whistles that we desire, and then retrofit the existing cabinets to our liking – which is way easier said then done.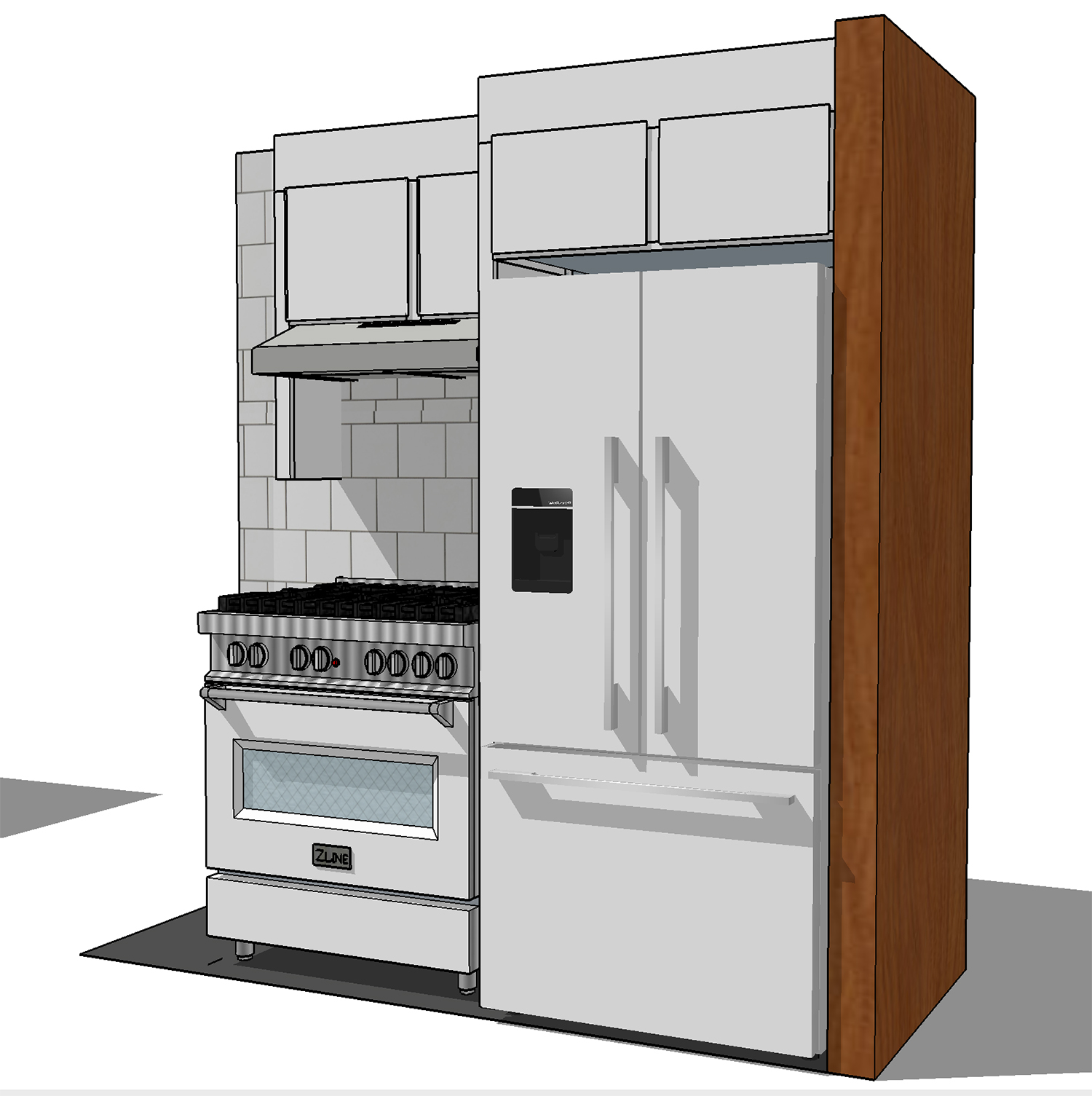 This is where my BFF sketchup comes in and reassures me that if I follow the plans set forth it will all work out. The fridge that we would like to replace the existing refrigerator with is a Fisher & Paykel 32″ french door refrigerator. It fits the width of our tiny space perfectly, but height is where I run into trouble with the cabinets. This refrigerator is 67″ high, and the existing hole height is 65″. OF COURSE IT IS!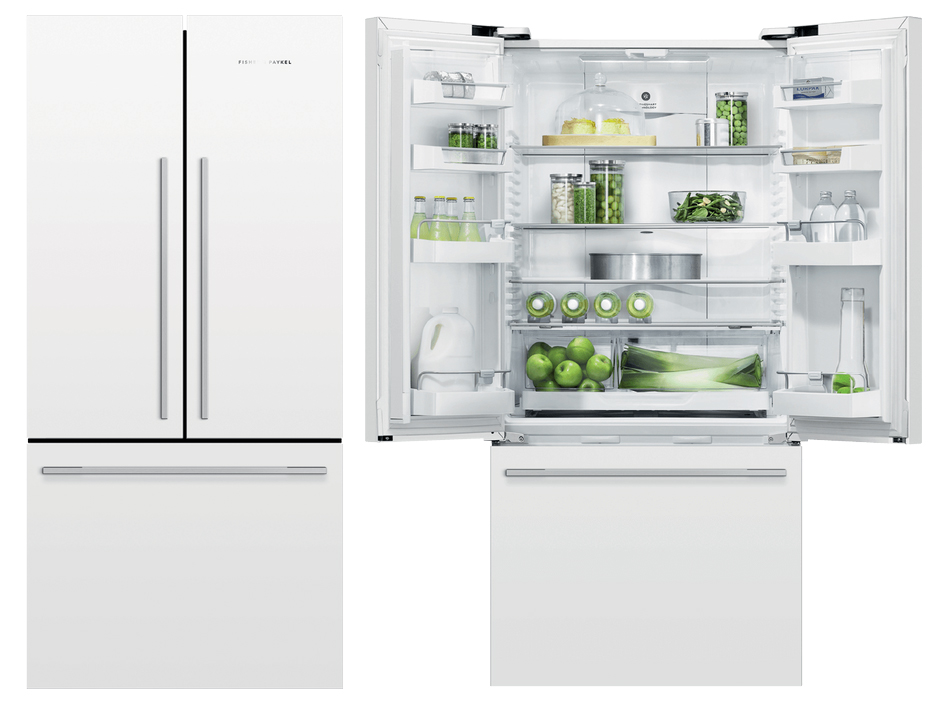 The way I see it, I have two options. Remove, shorten and replace two inches of the existing upper cabinetry which would then involve patching tile, replace duct work and reinstalling the hood vent OR I could just cut the base of the cabinet (in place mind you) and raise the height of the right set of cabinets just a few inches, then build out the cabinet so that it encloses the refrigerator. This seems easier to me in a whole lot of ways, so I think it's what I'm going to do. Visually, I don't think it looks too terrible to have cabinets at two different heights, especially when everything is white and has the look of a built in, which I think will look nice.
It took for me to write this post to finally pull the trigger, commit to this design, and order this refrigerator after sitting on this concept since March. I ordered it from Build.com (not sponsored) which I have used a few times before for cabin deliveries and I'm always very pleased. Most place (ie Lowe's, Best Buy etc) don't have rural delivery options, so this is really great. The downside is that they also don't offer hook up or haul away, BUT for this item, it's something we can figure out. We plan on moving the old refrigerator to the basement so that we can have overflow space for our guests! That just takes muscle and a good set of knees.
Stay tuned for an update in 2-6 weeks!