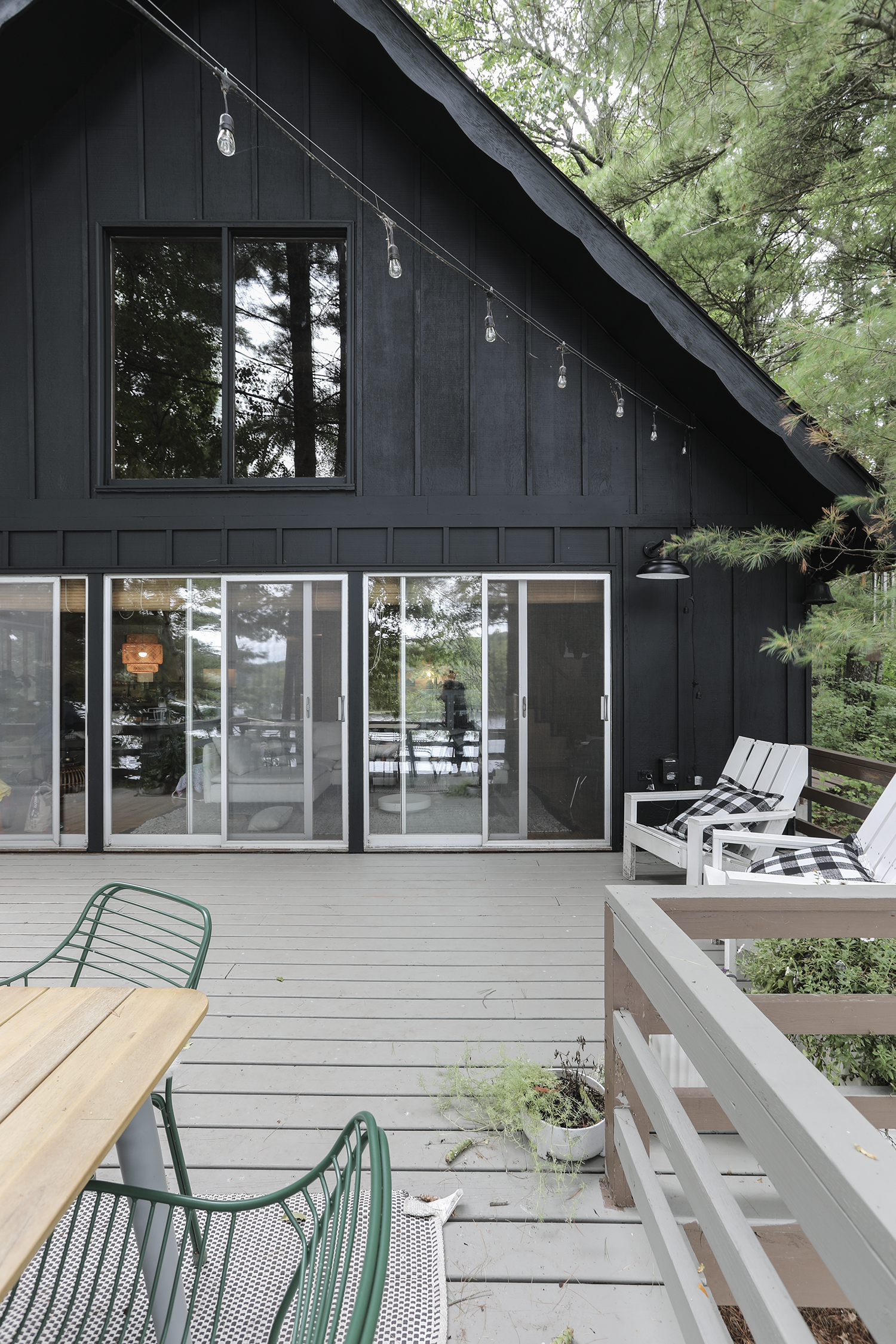 Last week marked the third year that Jeff and I have been cabin people! I thought it would be the perfect time to look back and see what's been happening during the last three years. Sometimes I don't realize it, but it's been a lot. We've really made this cabin our own, and I'm so happy to see how far it's come.
I will try to link to projects as they come up throughout this post, if I'm missing something feel free to ask! You can find every cabin post right here too, if you'd like to dig into the archive.
For those of you who are new around here, let me bring you up to speed. In the spring of 2017, Jeff and I realized that having a cabin on a lake was something that we really wanted in our lives. We scrimped, saved, and budgeted – before we knew it, we were on the hunt. I'm so thankful we took inventory of what was important to us, and figured out a way to make it happen.
For us to afford a cabin we had to make some concessions. The big compromises that we made here were that it was in need of a lot TLC, there is no garage, and it's on a small lake. On the bright side, it had a lot of character it just needed to be dusted off, it was on two acres of land, and it had great views because of its proximity to the water.
Okay, let's begin. I hope you folks are ready for an image heavy before and after photo fest!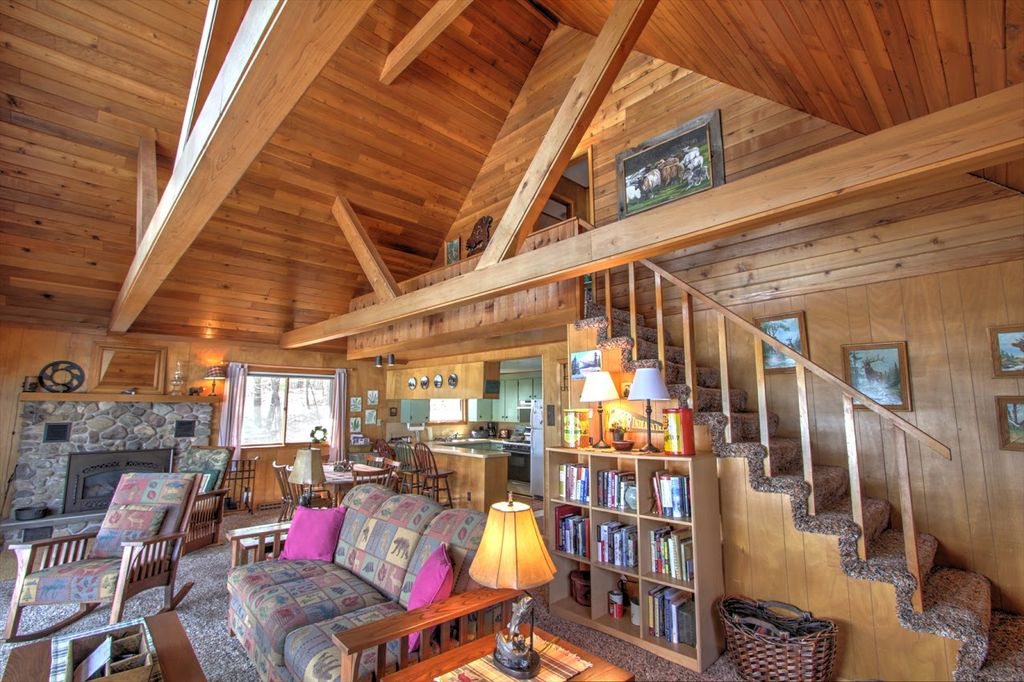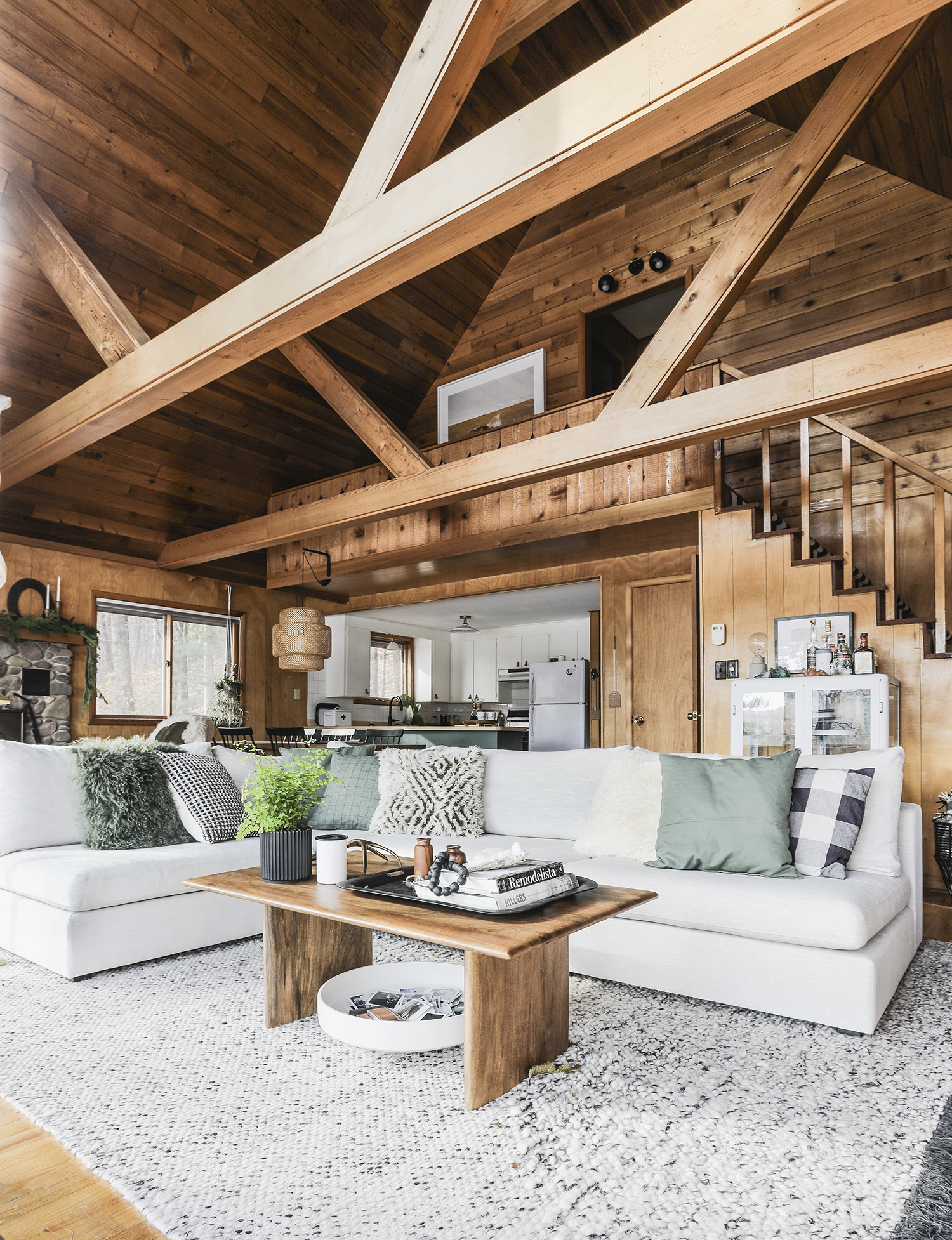 We bought the cabin fully furnished so this is how it actually looked when we took ownership! Buying the cabin furnished was not an incentive to us, but it was a negotiating point for the seller. The cabin had been a rental and they just wanted it off their plate.
Just last month we finally got rid of the last of the furnishings – it has been a lot to take on the weight of someone else's stuff. When we moved in, we basically moved all furnishings to the basement and have been slowly picking away at selling, giving away, recycling, and removing them from the property.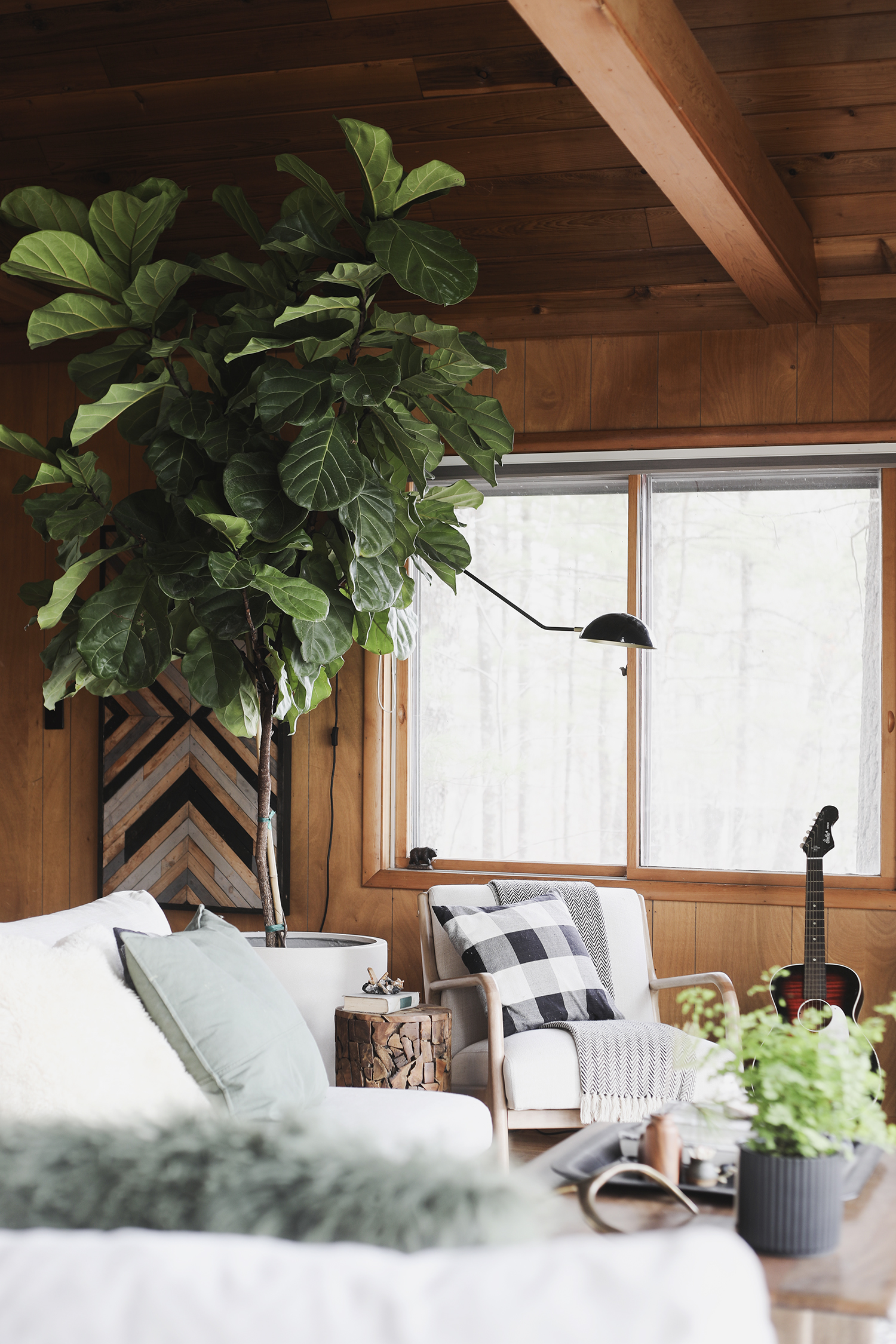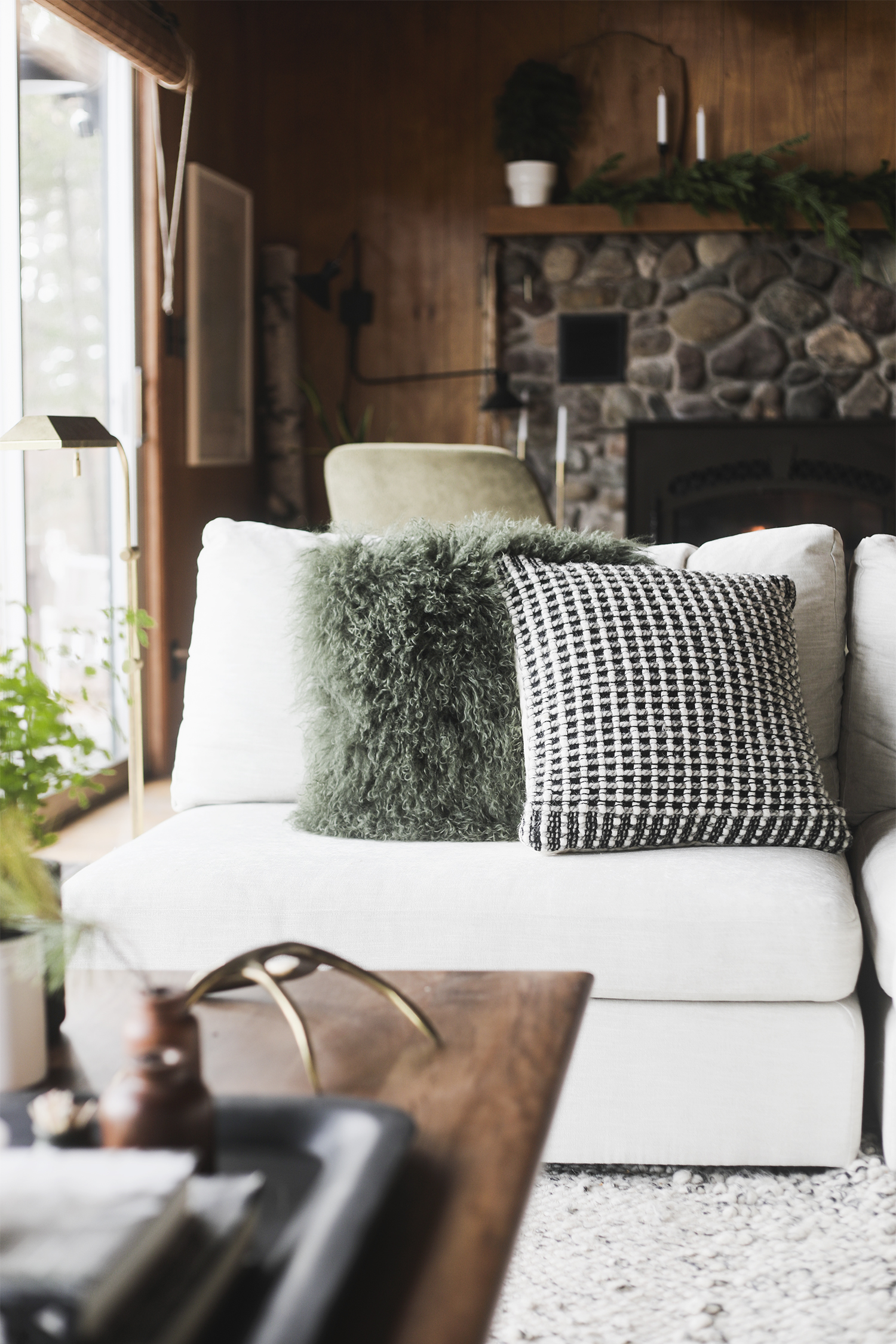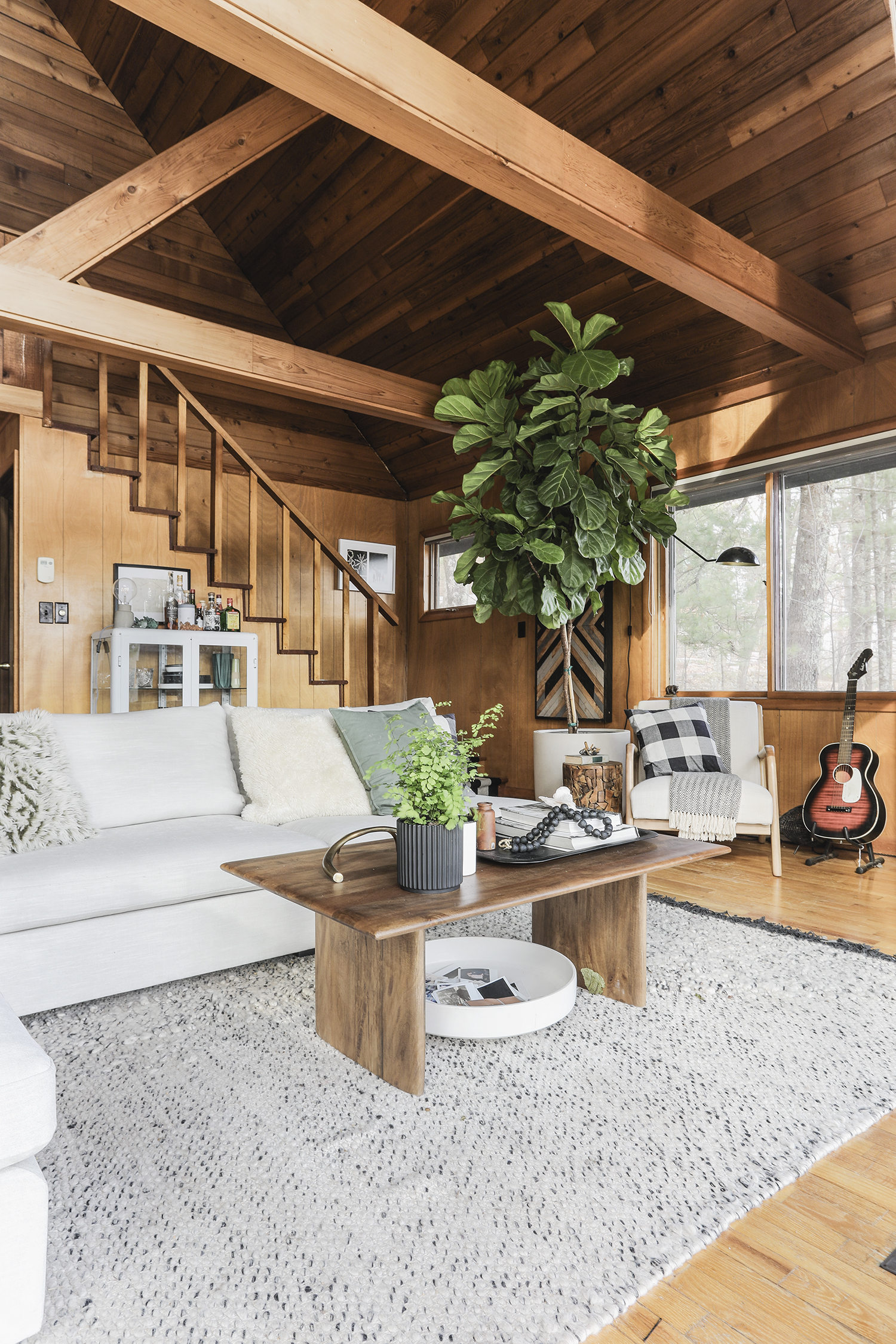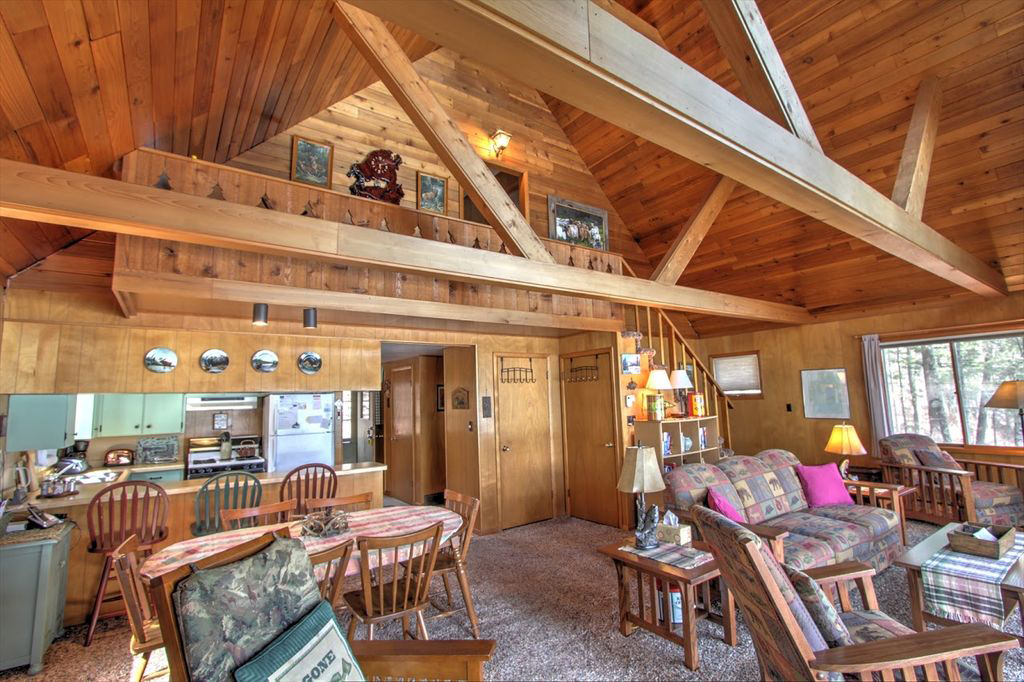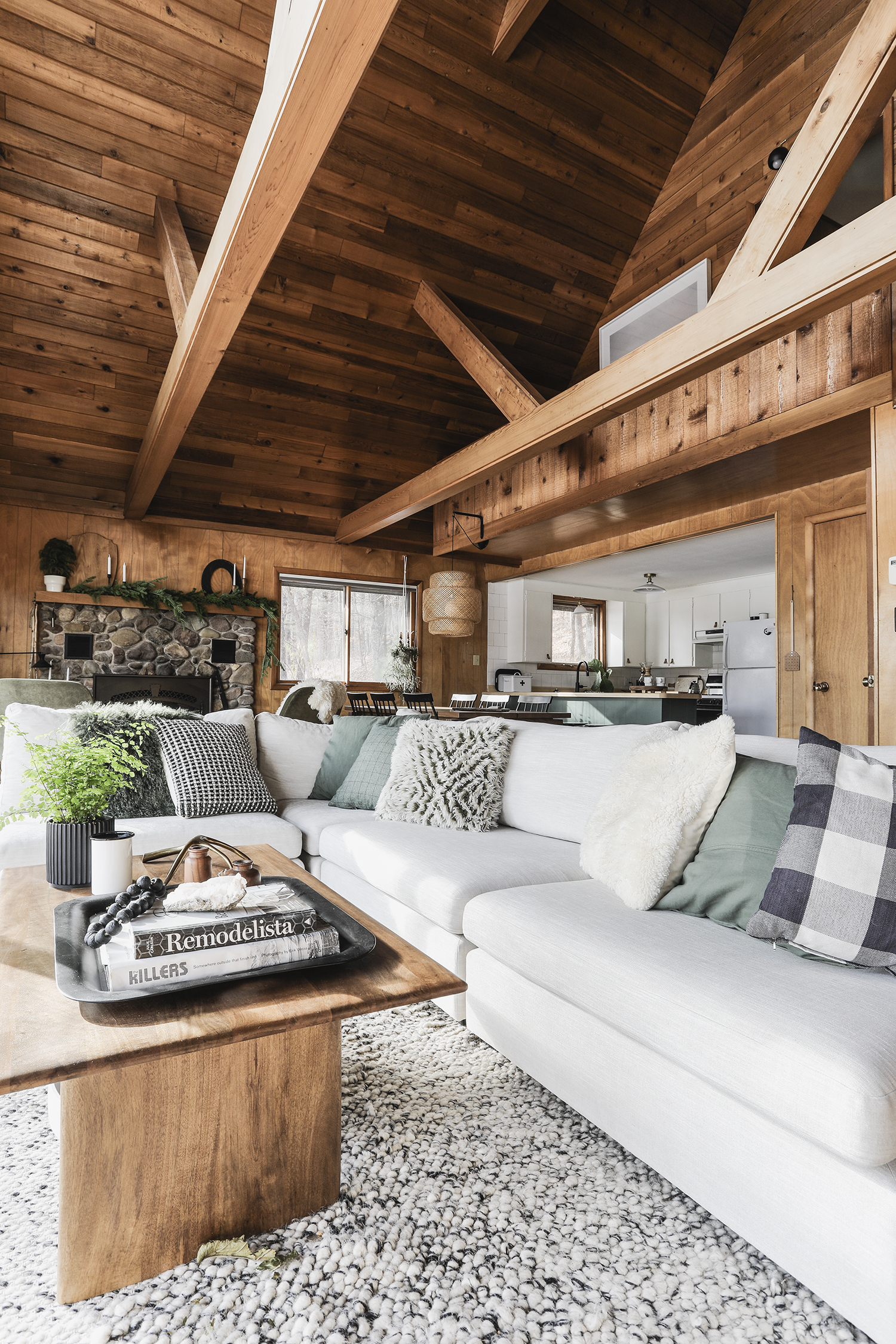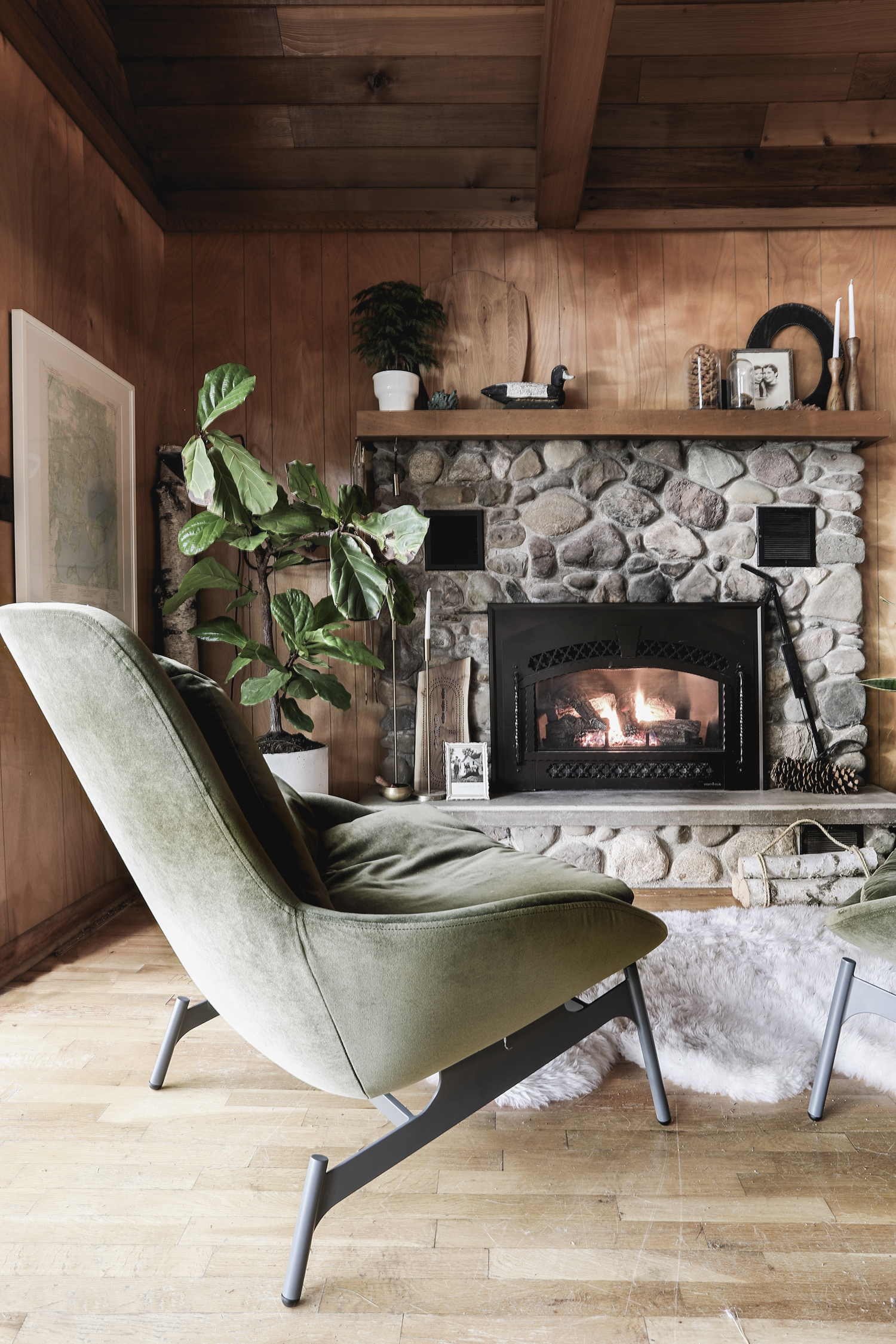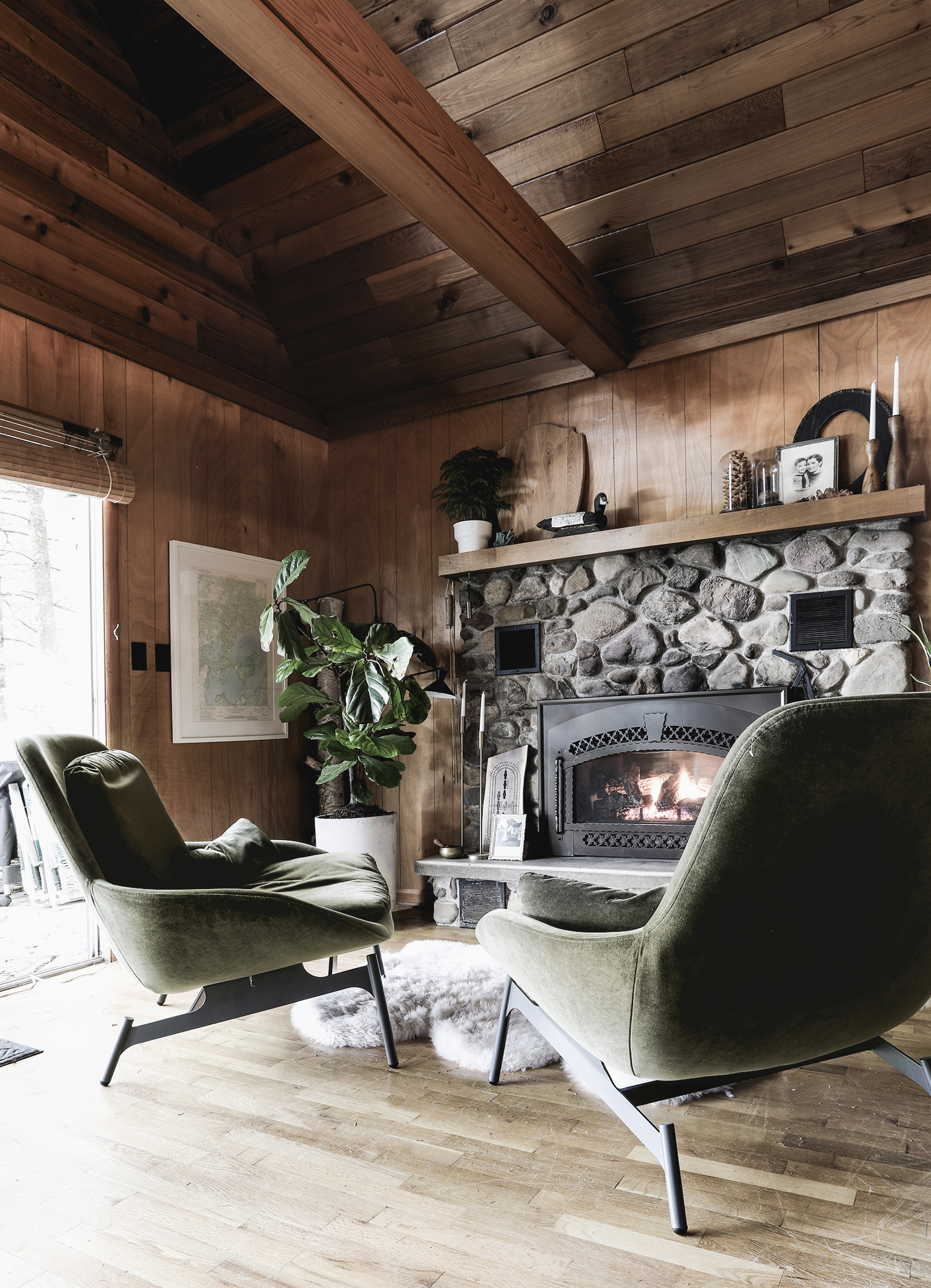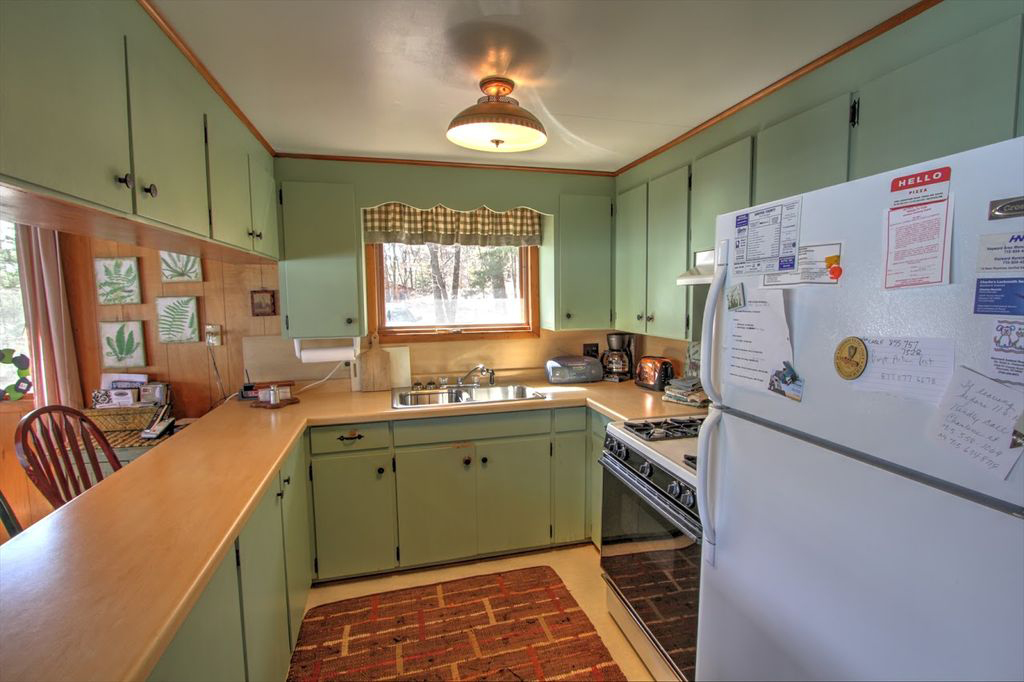 We love our little efficient cabin kitchen, and we feel like we've made the most of it. To start we removed a row of upper cabinets that were blocking the view of the lake (and the rest of the living space). I painted the remaining cabinets, built some drawers where a cupboard had been, installed a hidden dishwasher and most recently upgraded our range.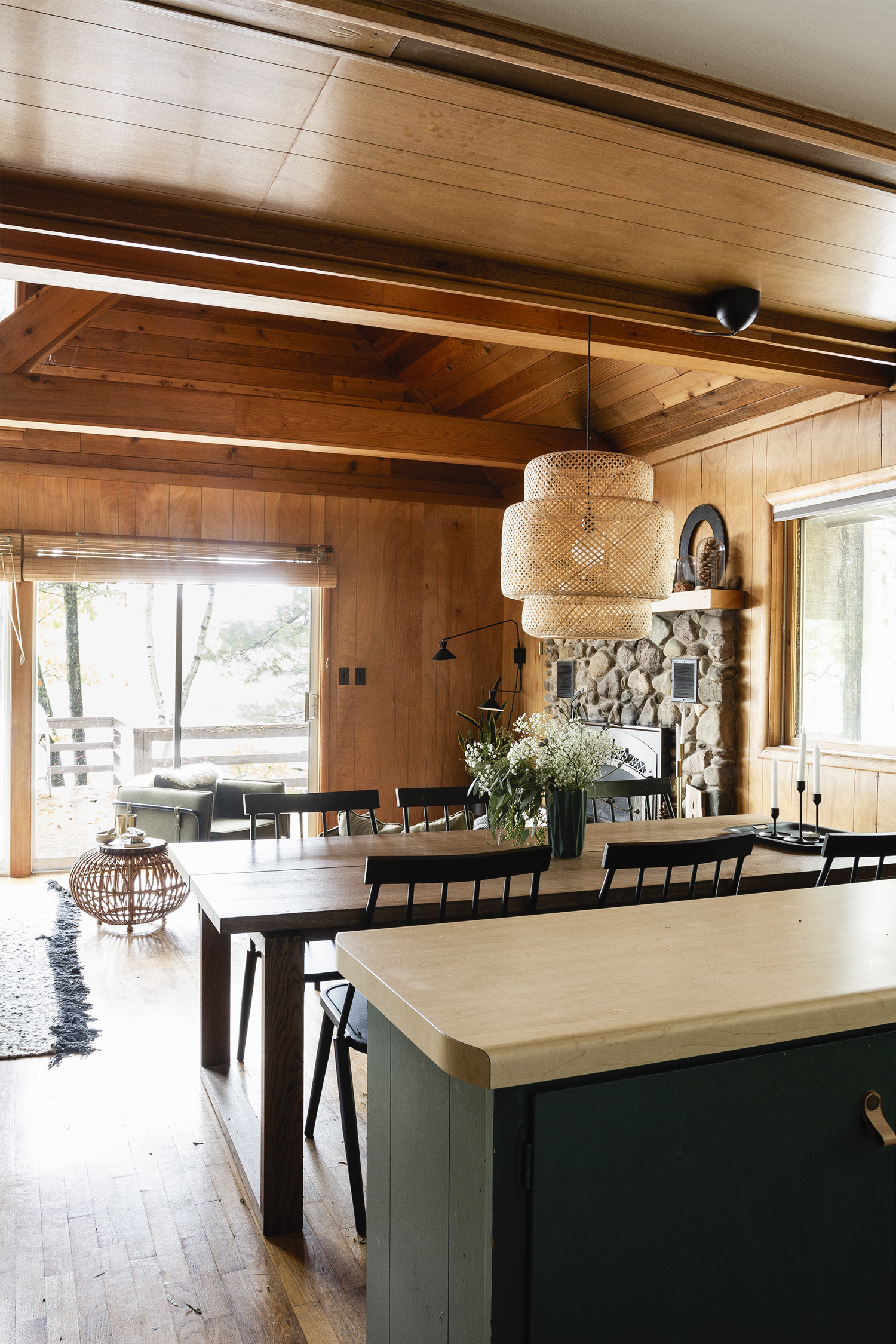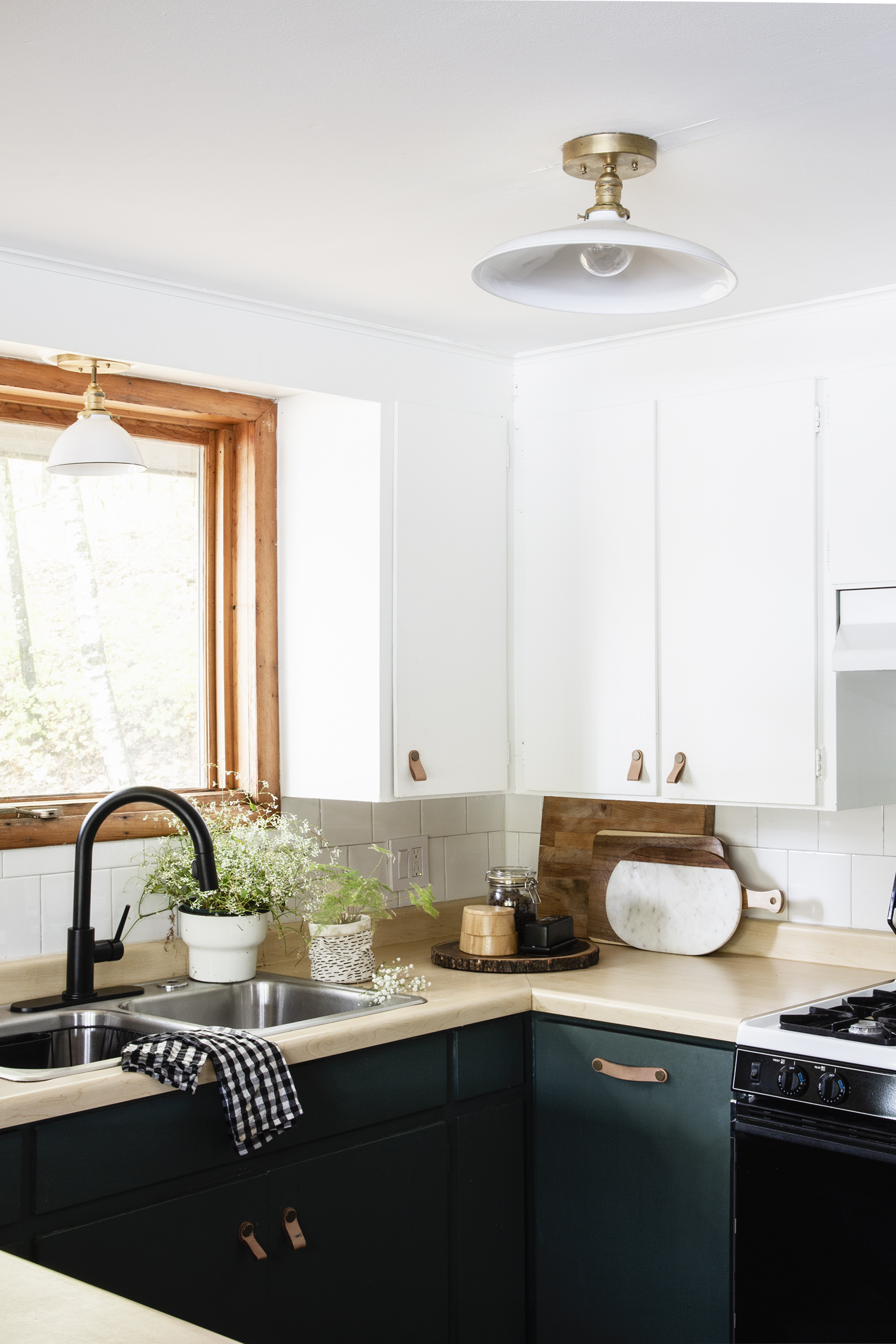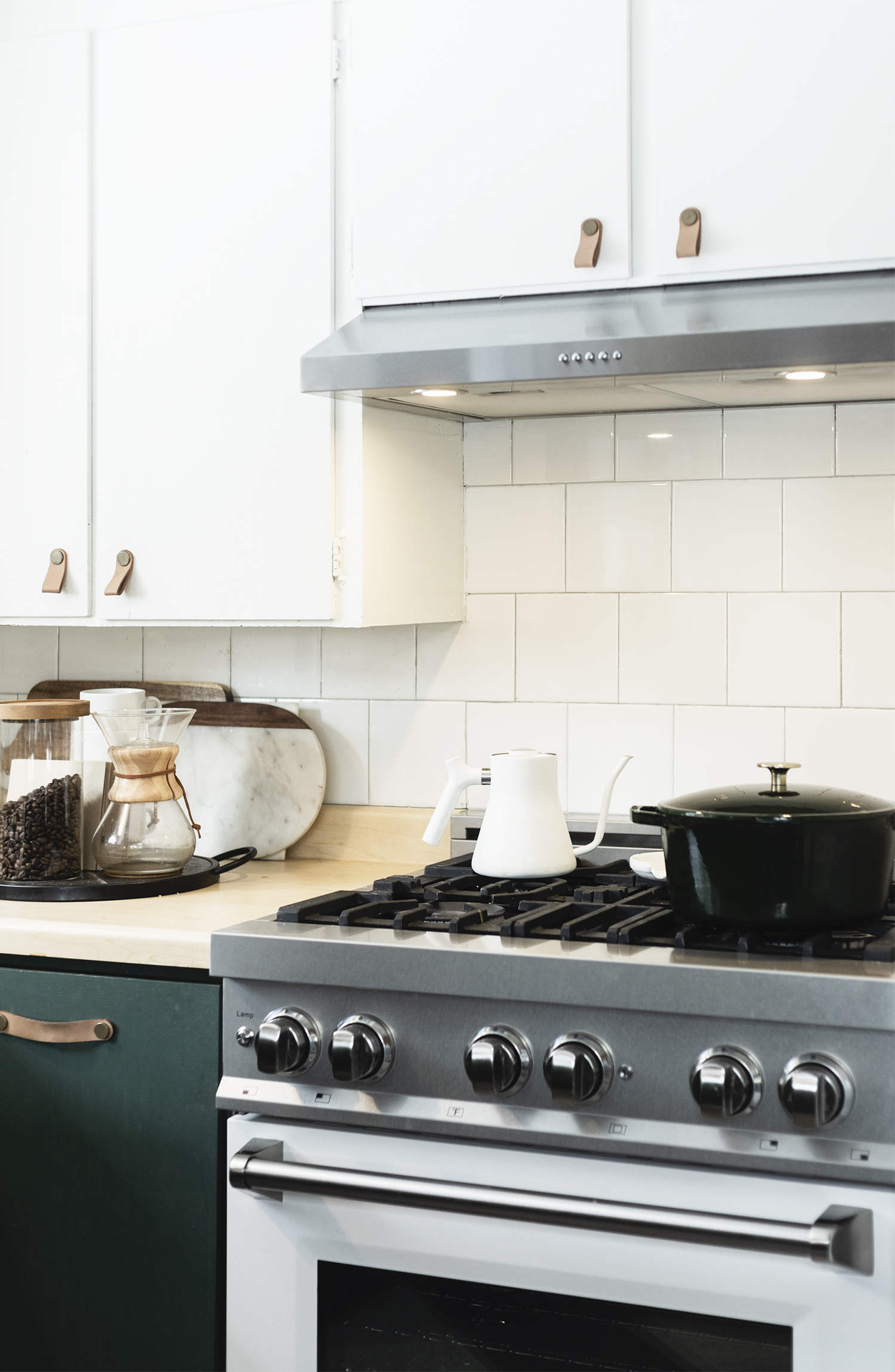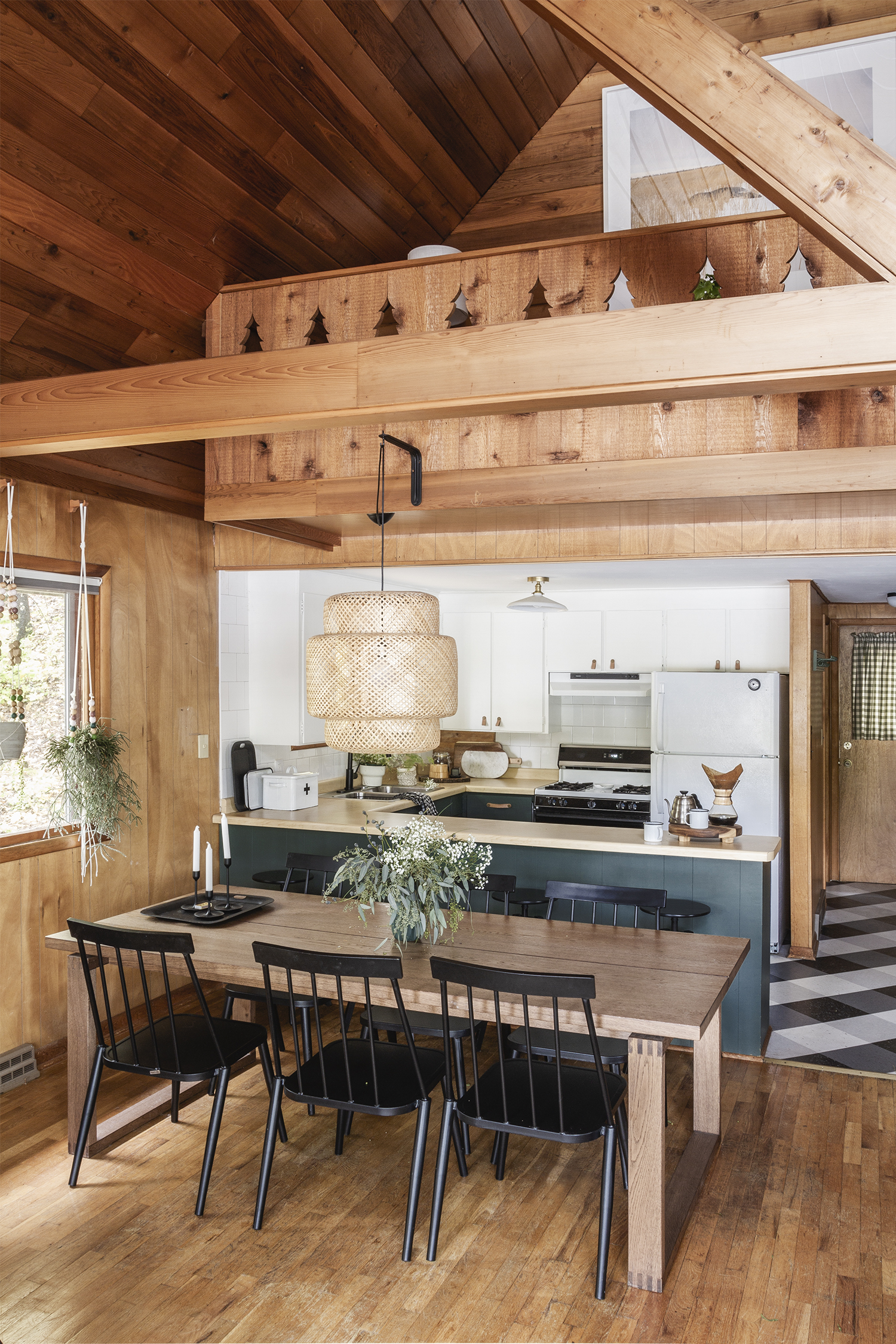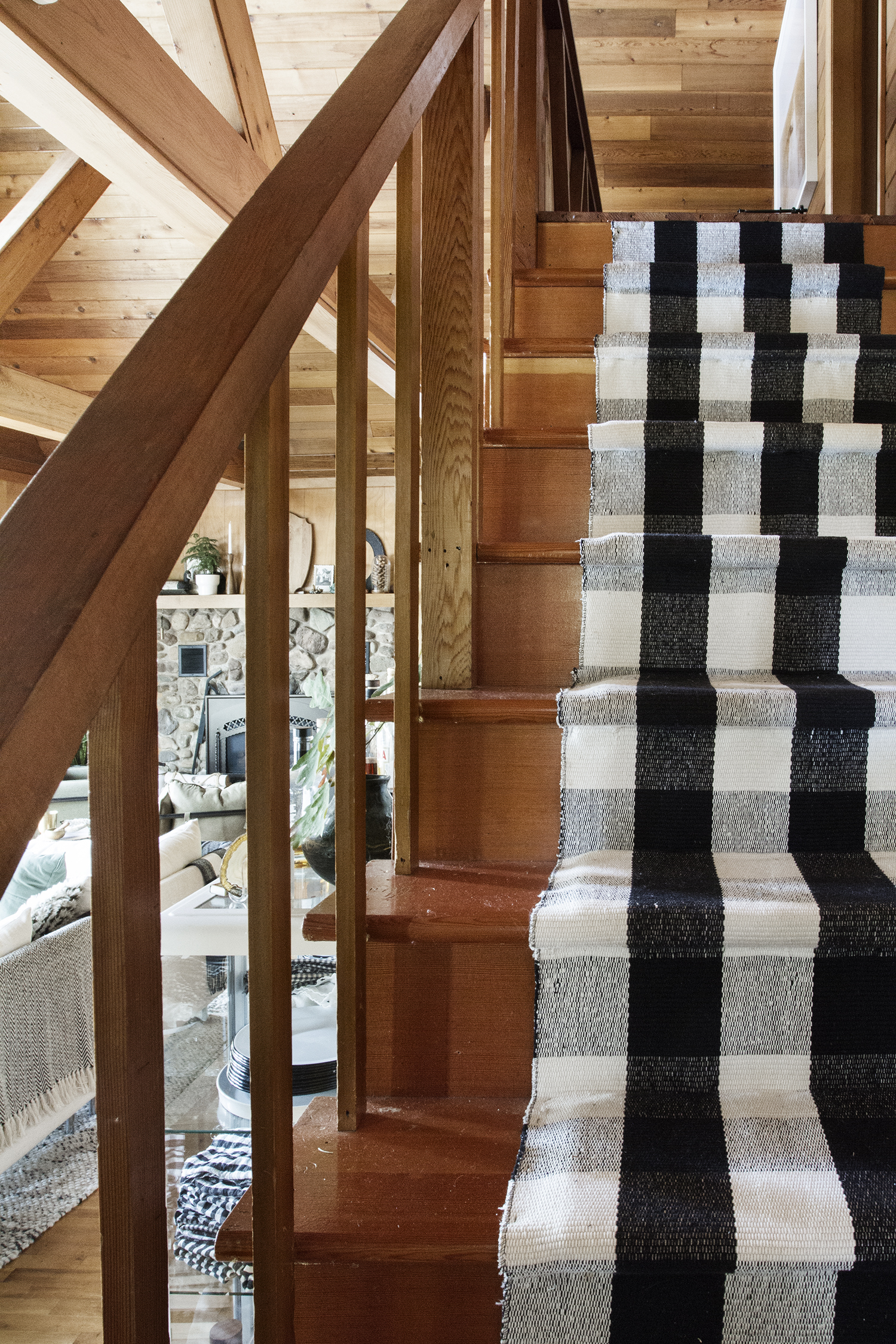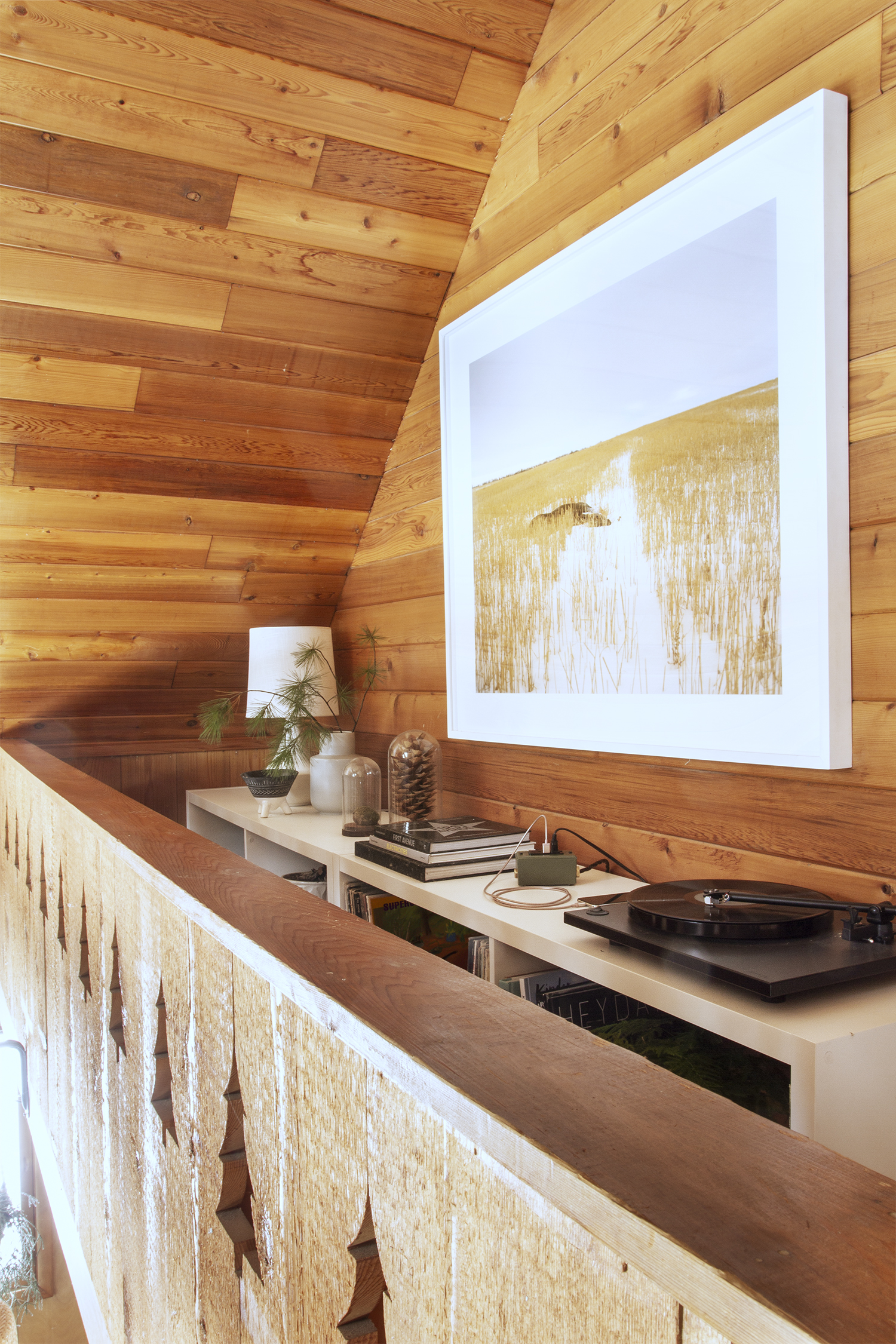 We made the most of every useable space, including our small lofted area above the stairs, which we turned into a space for a record player and small cabin record collection.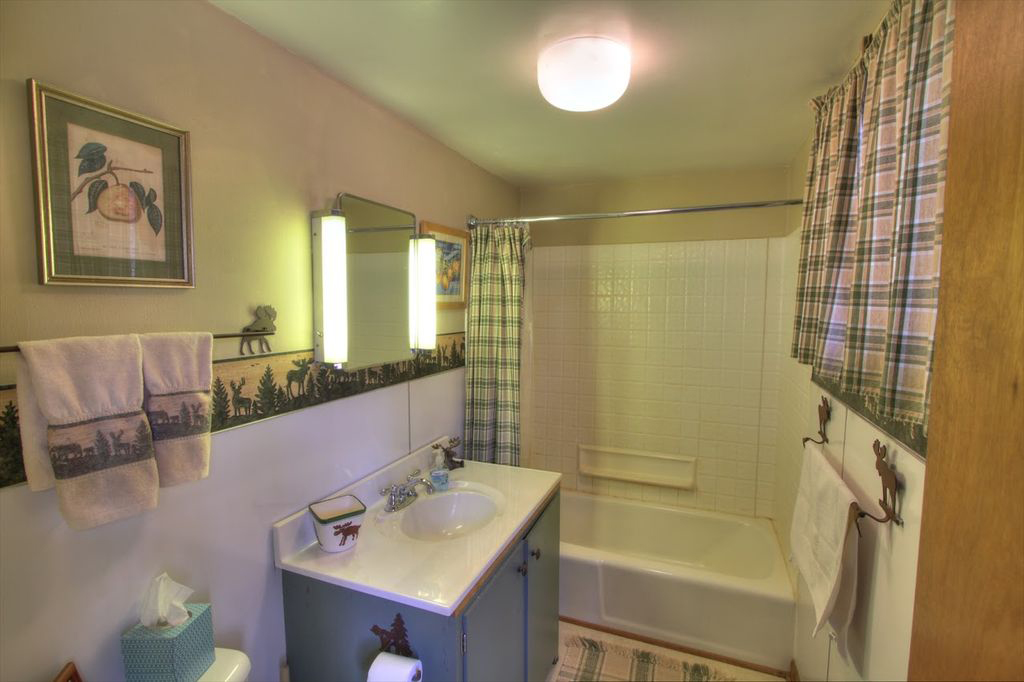 The most recent big project that I took on over last winter, was a complete overhaul of the main floor bathroom. This is a highly used space being that it's the only full bathroom and it serves our guests as a changing room during the summer. Even though it's small, it's super efficient. There is loads of space for towel storage, and lots of hooks to hang your swimsuits on.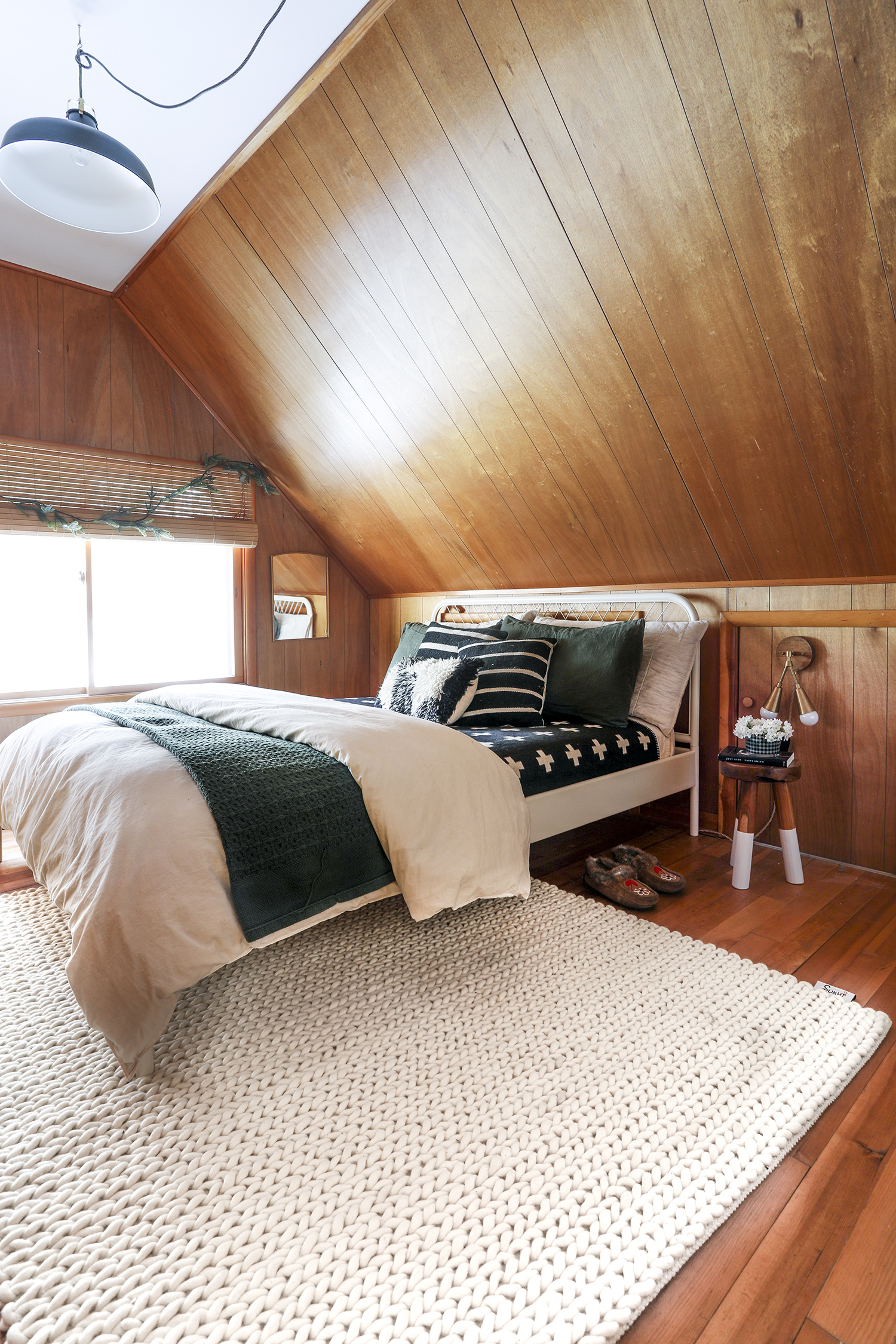 Both bedrooms on the second floor are identical. They are divided by a half bath that is nestled in the middle of the a-frame style roof line. Most of what's been done here is cosmetic. We exchanged the beds for new queen size beds, loaded them up with tons of cozy bedding and called it a day.
I'd really like to add large dormers behind the beds so we can make the most of the unused space behind the knee wall. That's a someday plan – but I really look forward to when that day comes.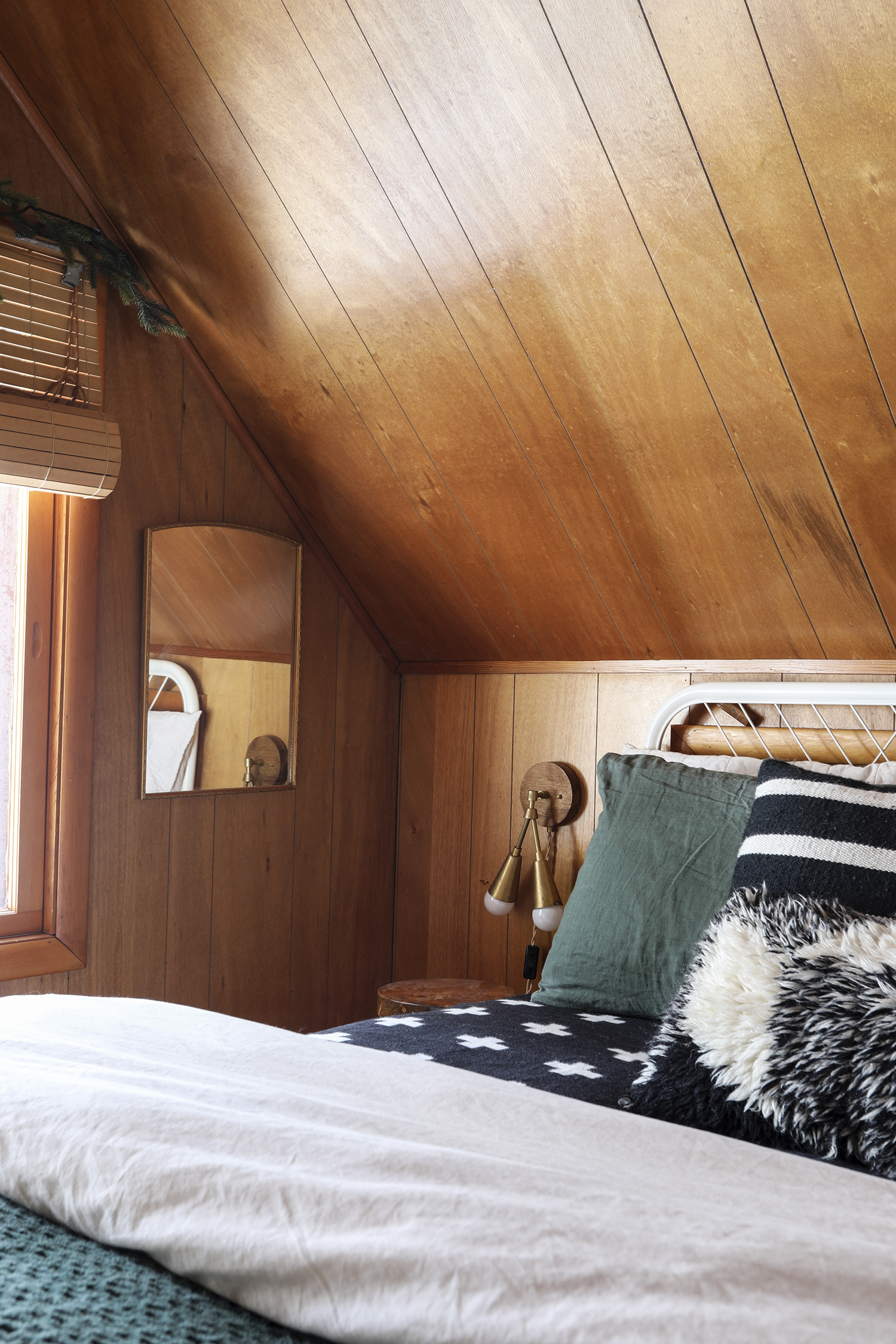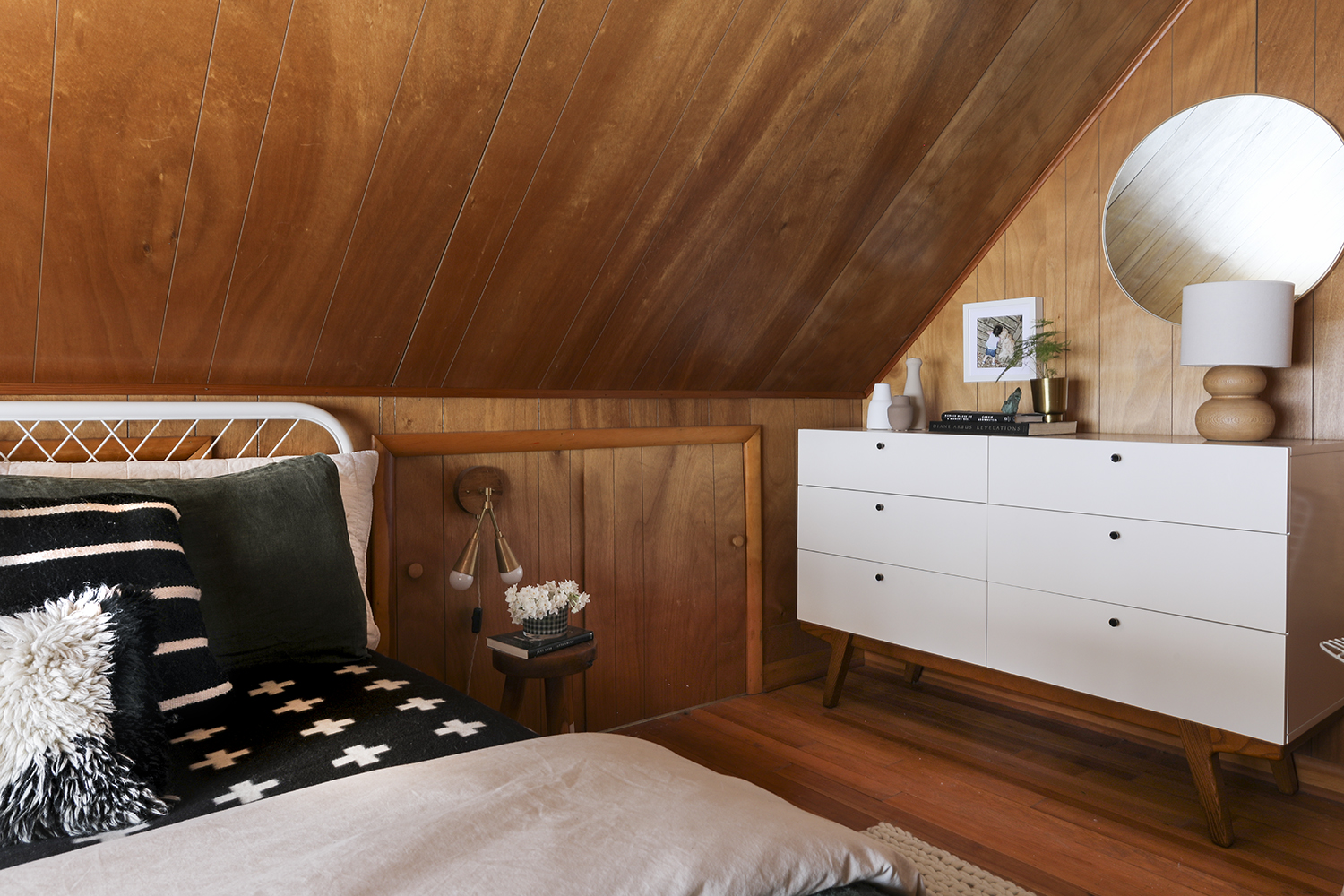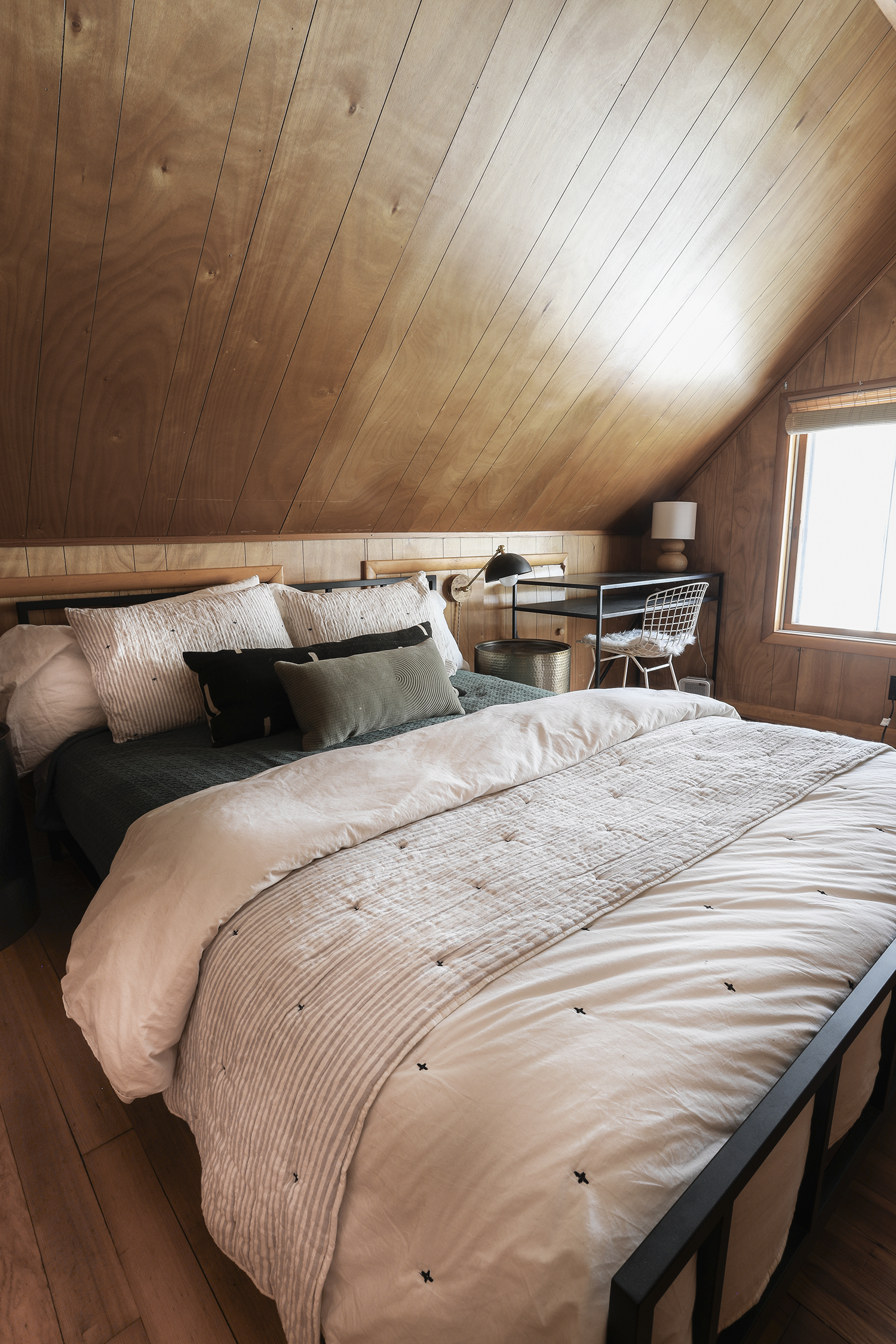 The guest room doubles as Jeff's office, used a ton during quarantine.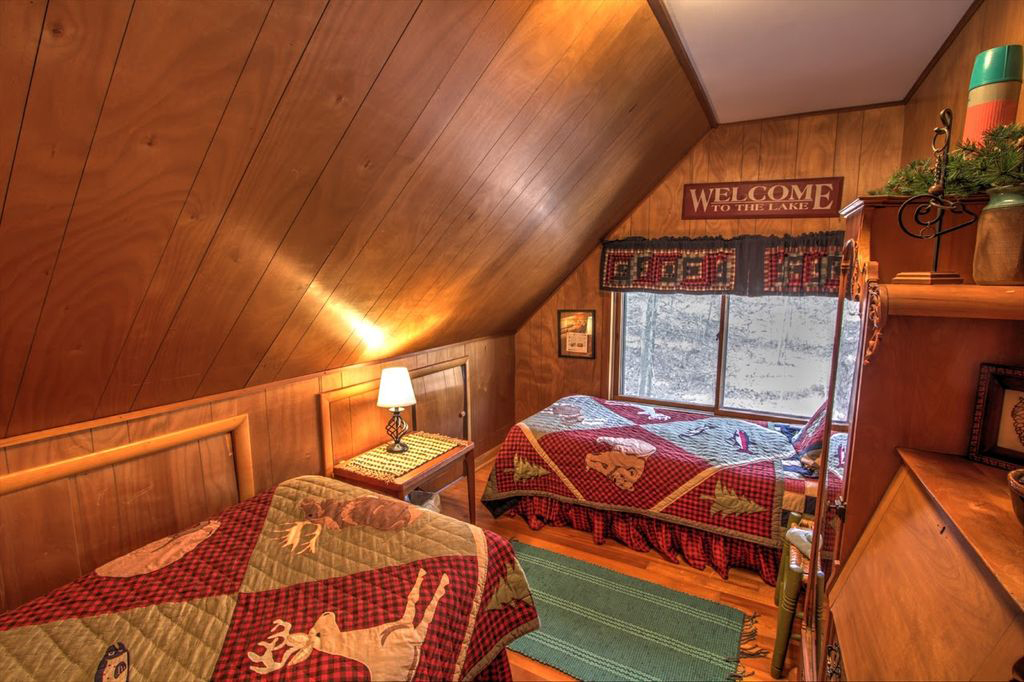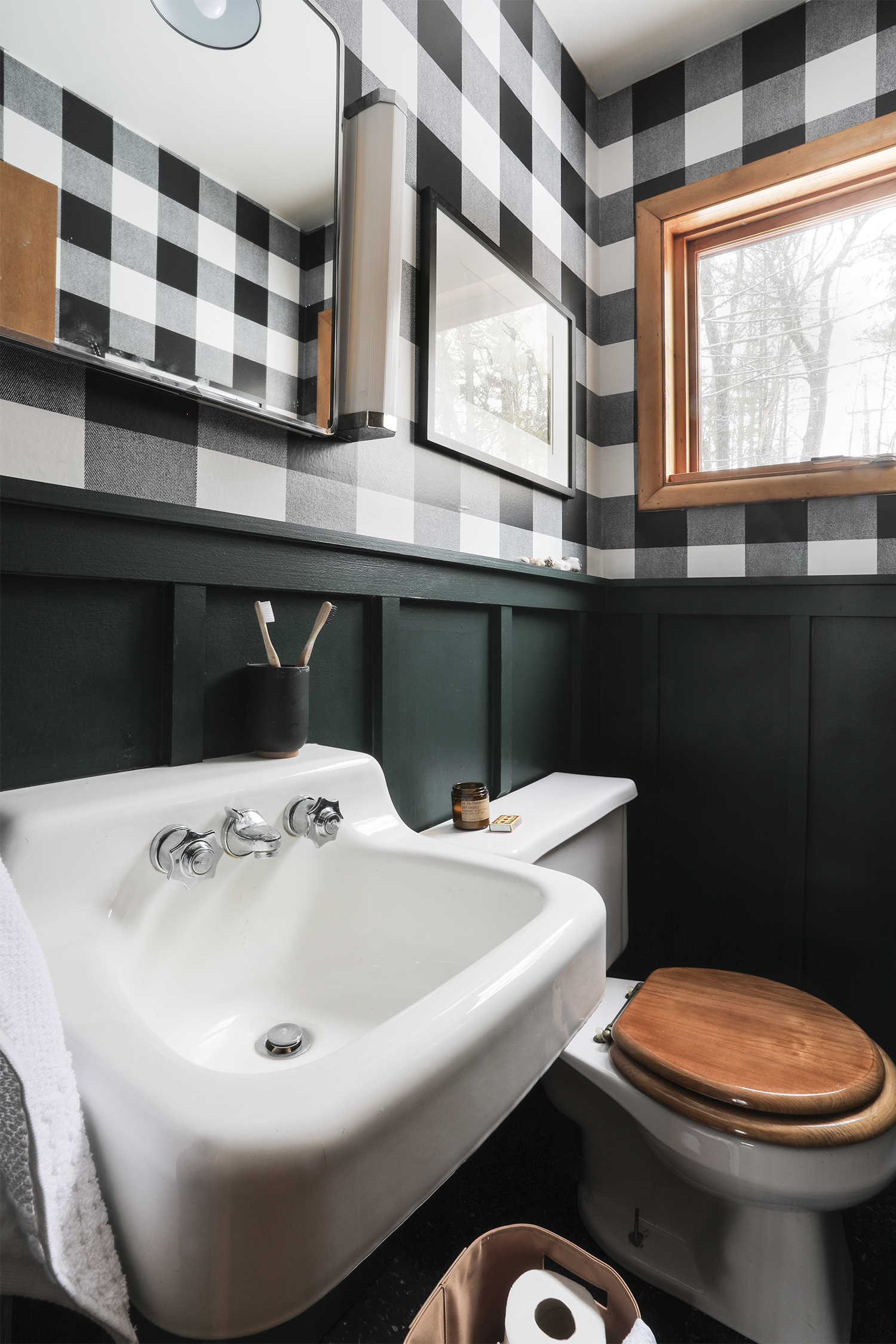 This is the upstairs half bath that sits right between both second floor bathrooms. It's simple and sweet, and I'm thankful we found a place with a bathroom near the bedrooms. Just as we did in the main floor bath, we tried to make this as accommodating to our guests as possible. Hooks are such a great help for people hanging their clothes in between swimming sessions on the lake.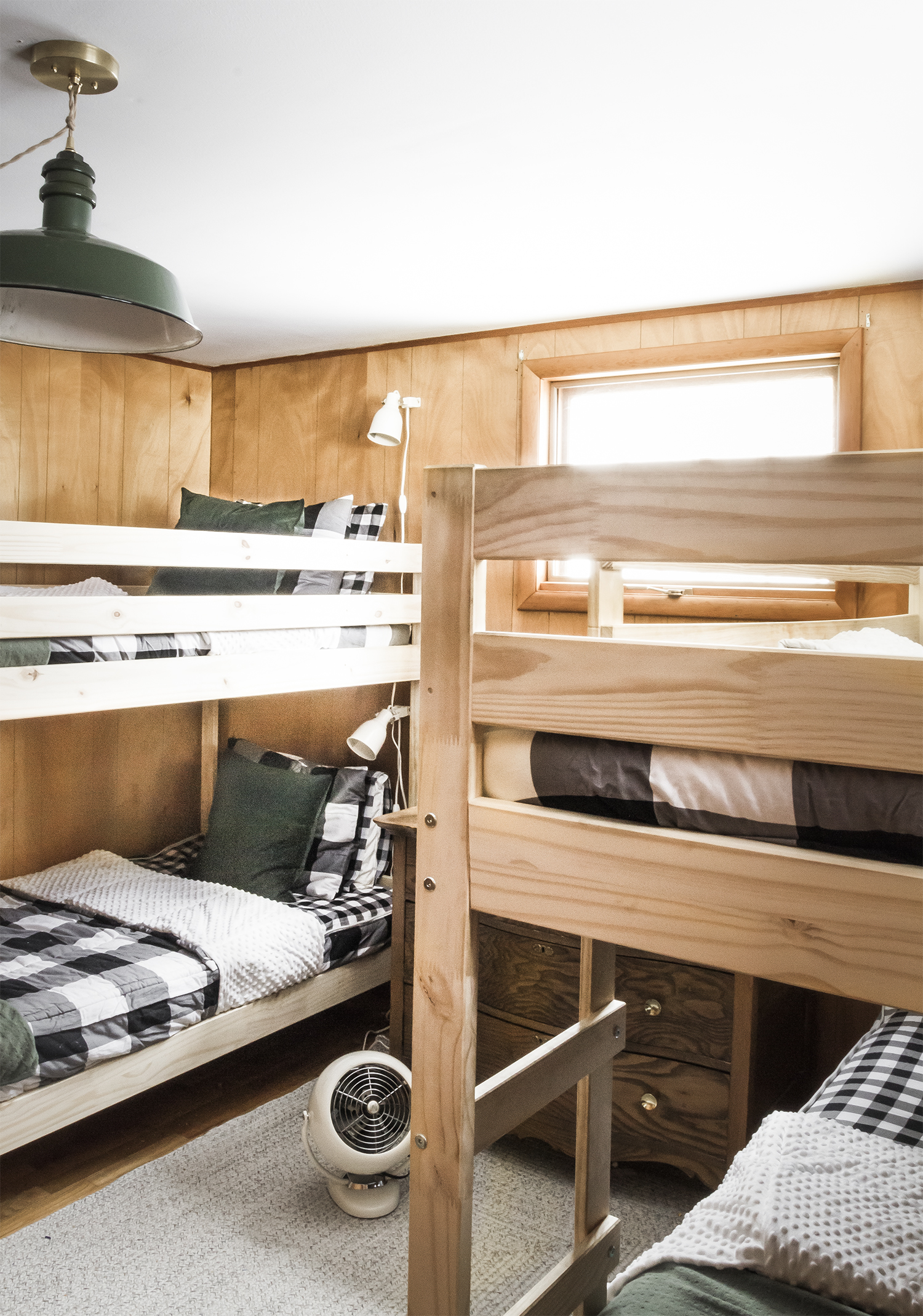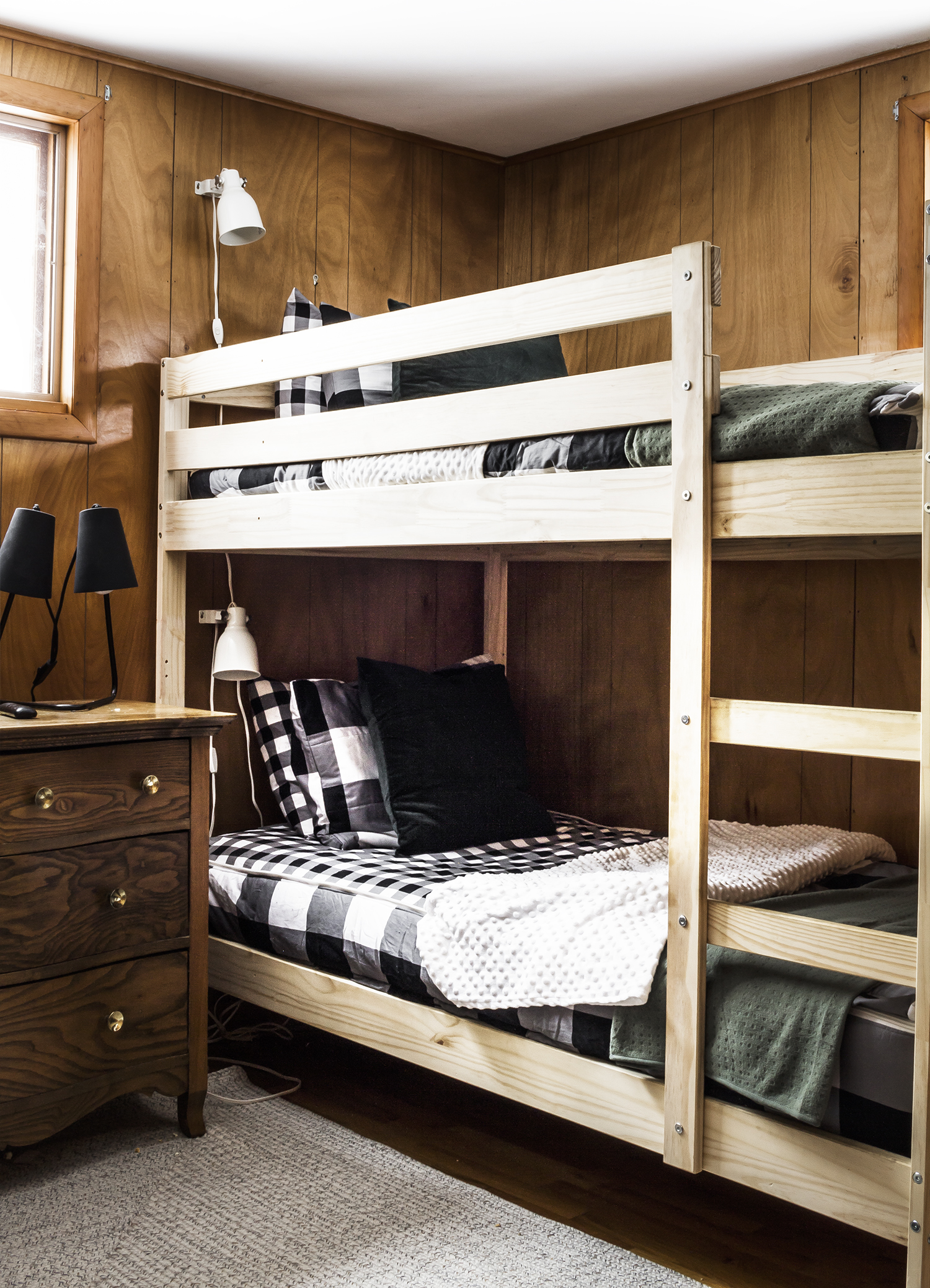 The bunkroom previously was the master bedroom. Eventually I'd like to turn it back into a bedroom but that won't happen until we we build out the basement and transform it into a bunkroom / rec-room! For now it is the bunk room, and it does a great job of being one! We swapped out the bed for two bunk beds. With the addition of the bunkroom we can now fit at least 2 families comfortably and have been even known to pull out a cot or two to squeeze one more into this space!

The outdoor spaces at the cabin are equally as important as the interior spaces and we've put a lot of time into making a little magic outside of the cabin. Whether it's summer or winter we spend a lot of time outdoors. We sled down the driveway, go ice fishing and have bonfires all winter long. It's the only way we stay sane! In the summer we boat, swim, eat all our meals outside and have bonfires!
We painted the cabin black last year, and I am still working on staining the deck – it might take me three summers before I get it all done. Don't even ask me! It's the worst job and I dread it. We built out our dock turning it into a "dock-deck" and now the kids can jump into the lake on repeat and the adults can lounge on the chairs and soak up the sun.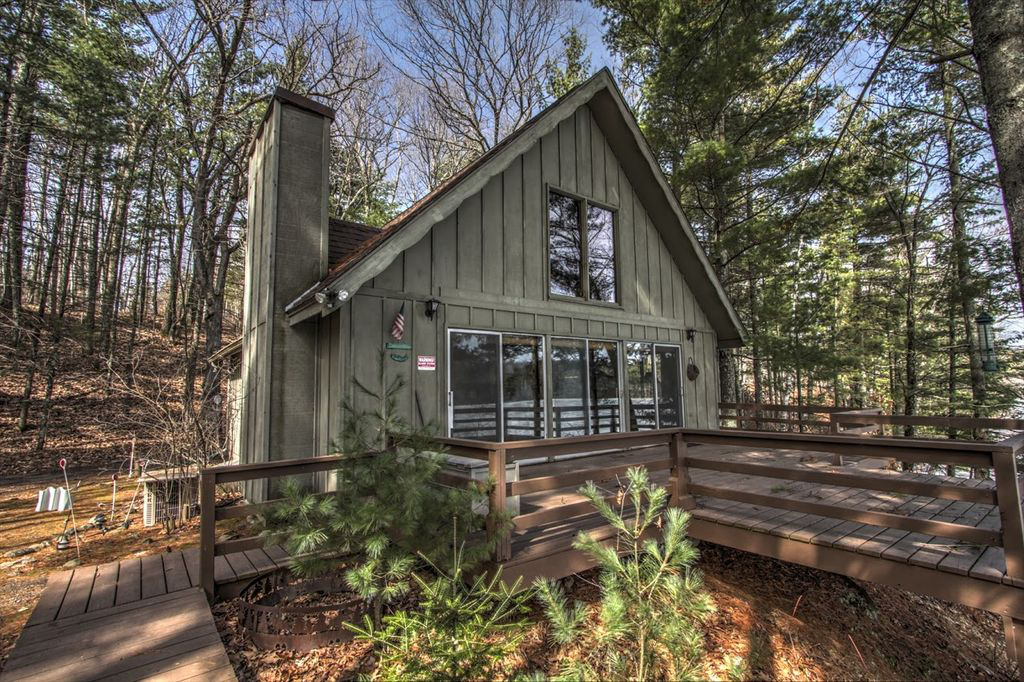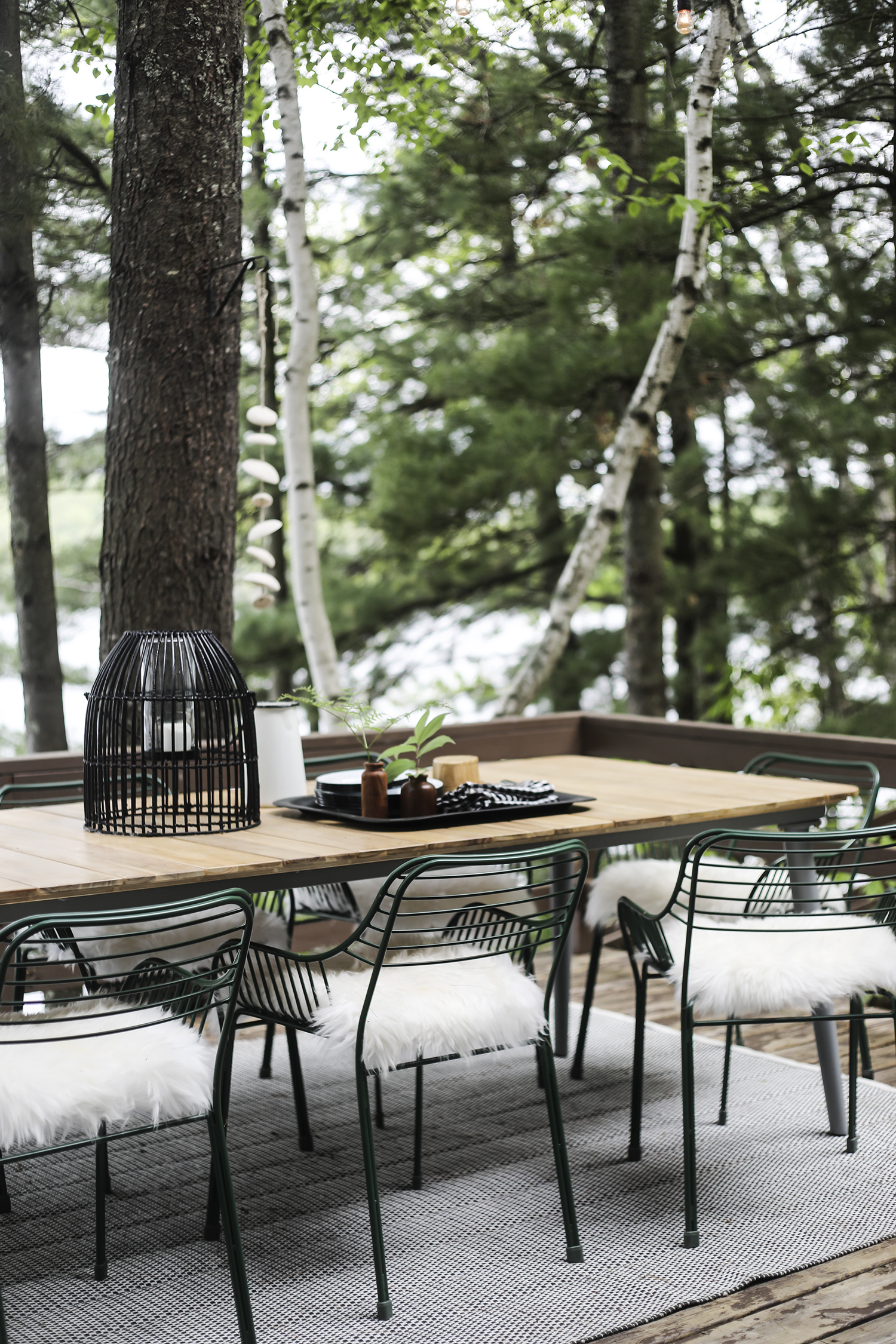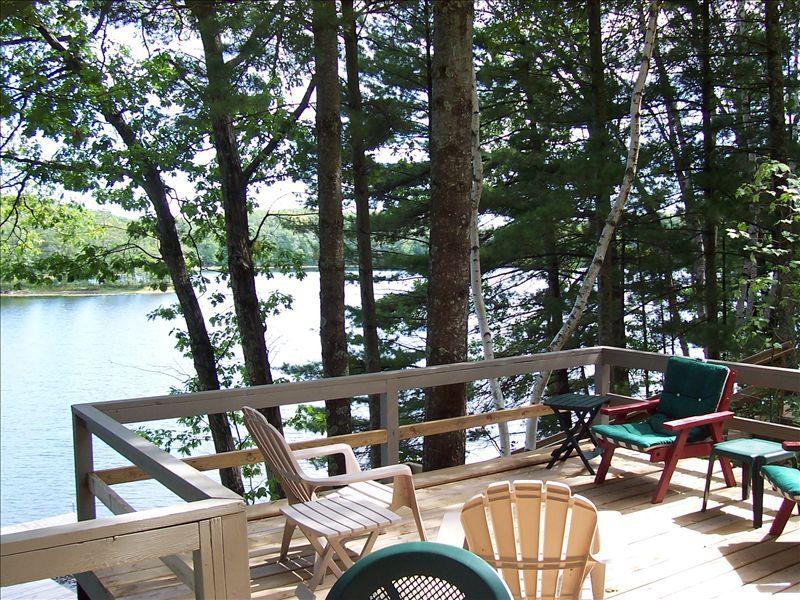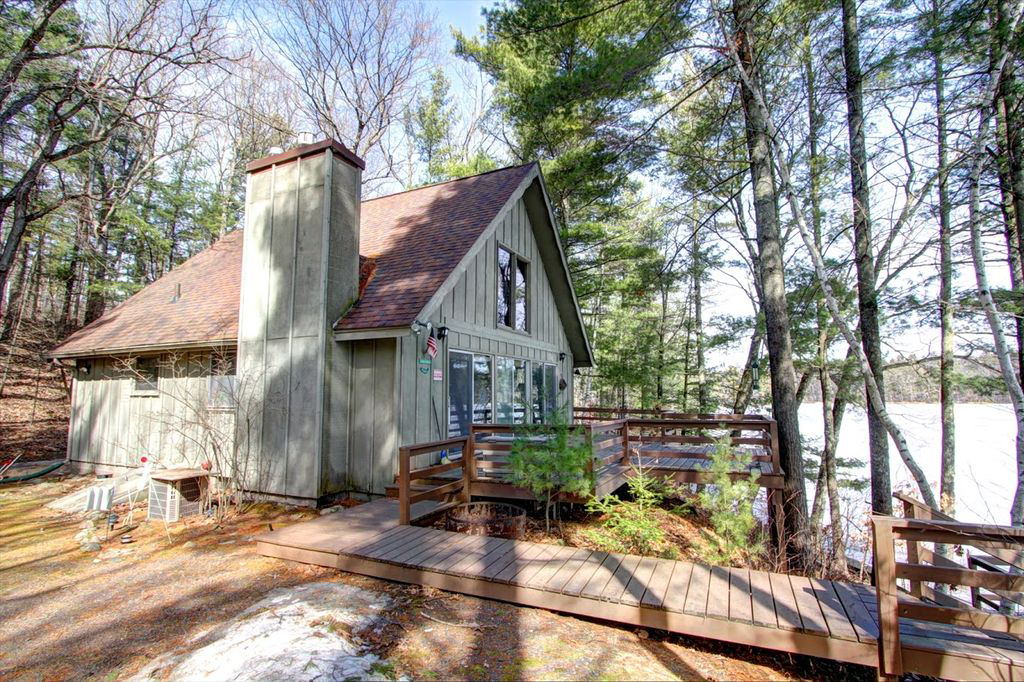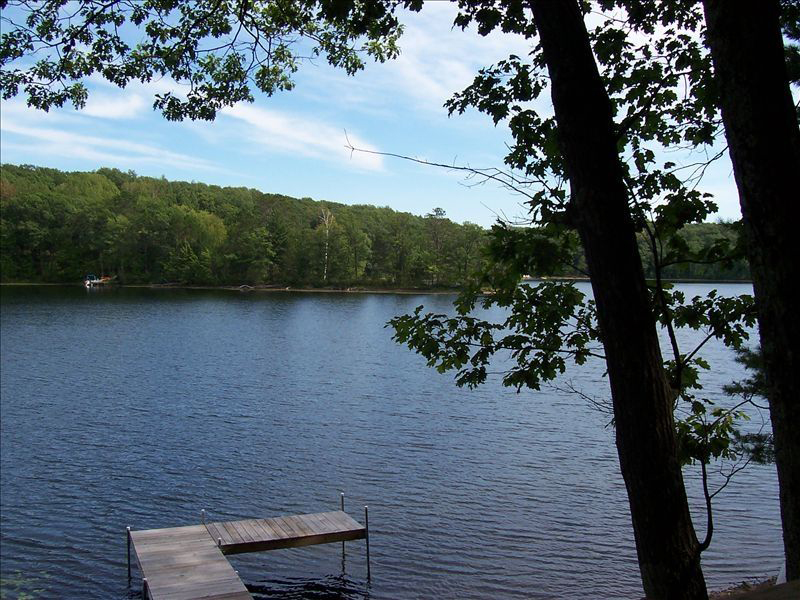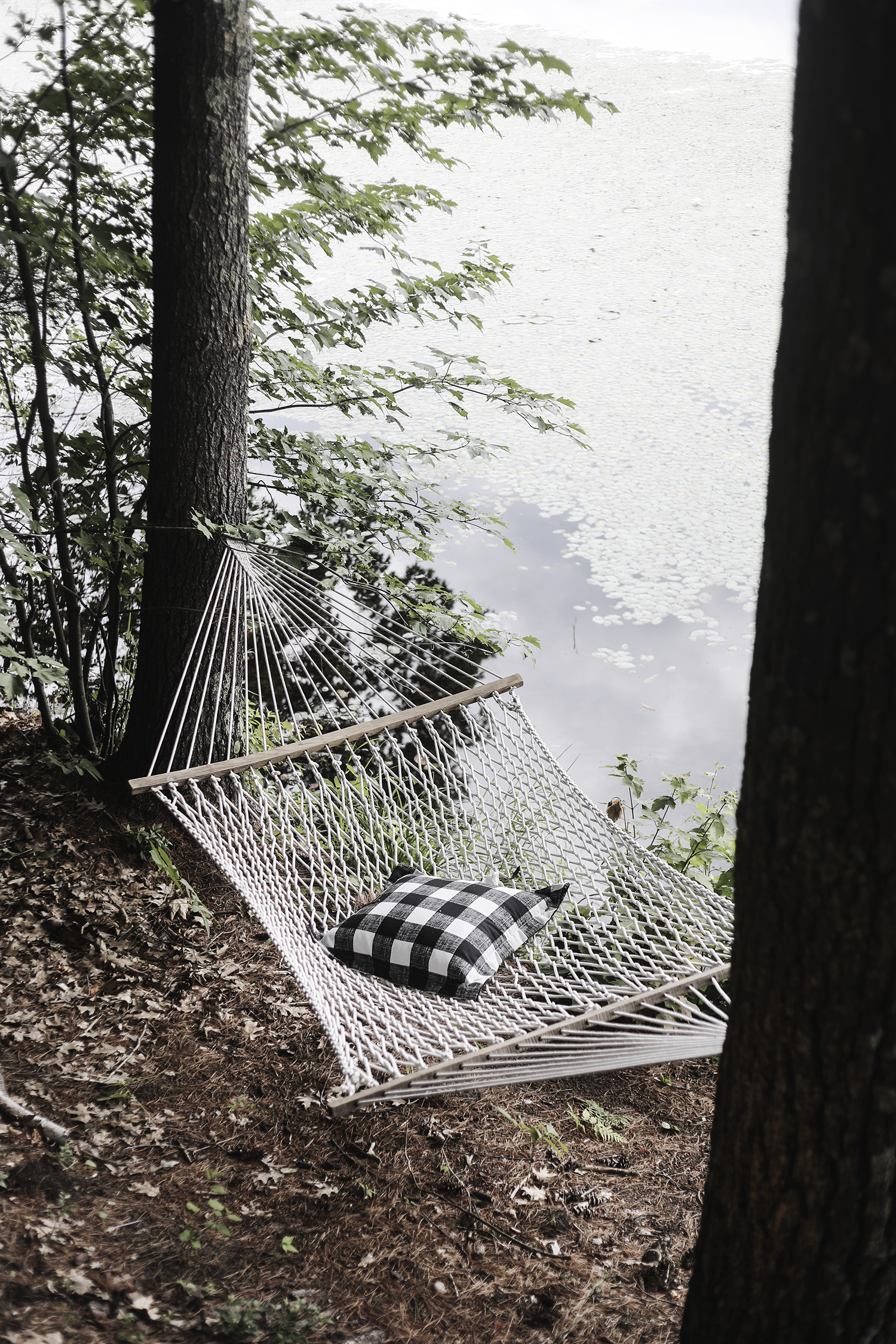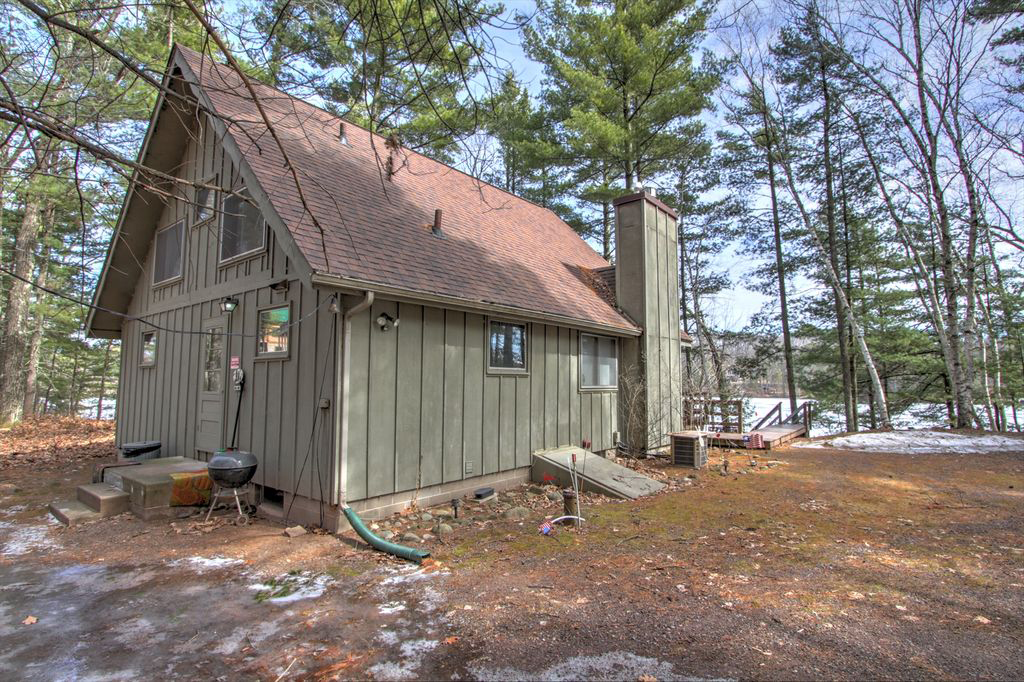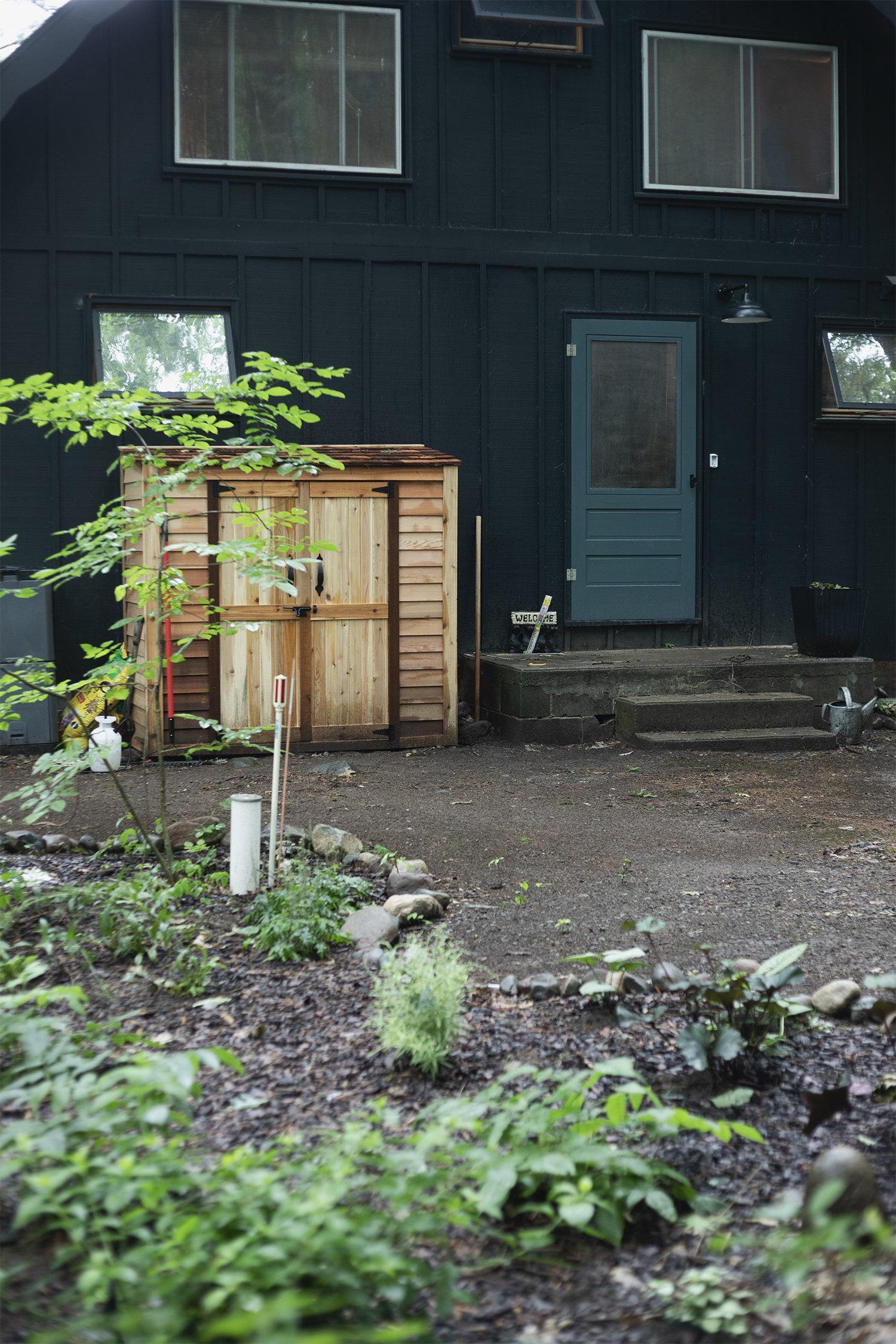 That about wraps it up. If you have any question feel free to ask and I'll do my best to answer them. You can check out the Cabin Tour page for a list of sources as well! Thanks for being here.