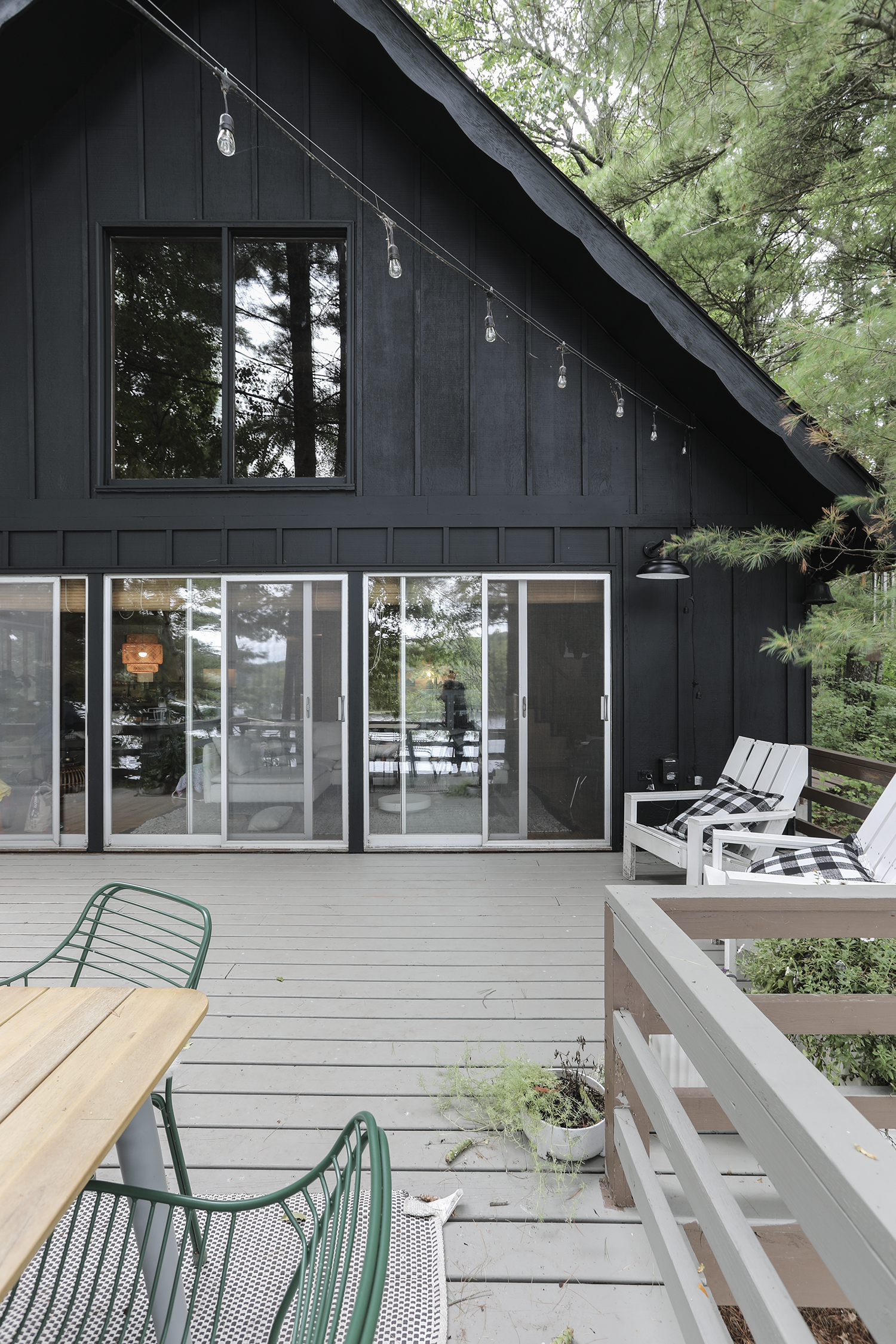 Hey-O! I'm back, fine people of the internet! Hope you have all had an amazing wonderful summer. We sure a nice one. School started yesterday, and I'm excited to get back to a more regular schedule of projects, taking photographs and blogging. I have to admit, I'm a little overwhelmed by all the possibilities of what to do next that I just had to decide on one thing and JUST DO IT. I have managed to work on projects this summer and take
some
photographs, it's the whole blogging thing that I didn't seem to have the time or space to focus on. Now I'm playing catch up and want to get you all up to speed on what's been going on.
Today I'm sharing the cabin's new dark lewk (that's cool to say still, right?)! As it seems to be with all trades people in northern Wisconsin, nothing happens when they say it's going to happen. The cabin was supposed to be painted in June, and here we are in September still waiting for a few punch list items for our contractors to complete before it's really done, done. For instance, we are still waiting on the front door AND if you have a keen eye, you may be able to spot a few places that the painter forgot to remove the painters tape from. I just couldn't wait anymore, and wanted to fill yas in on where we were at.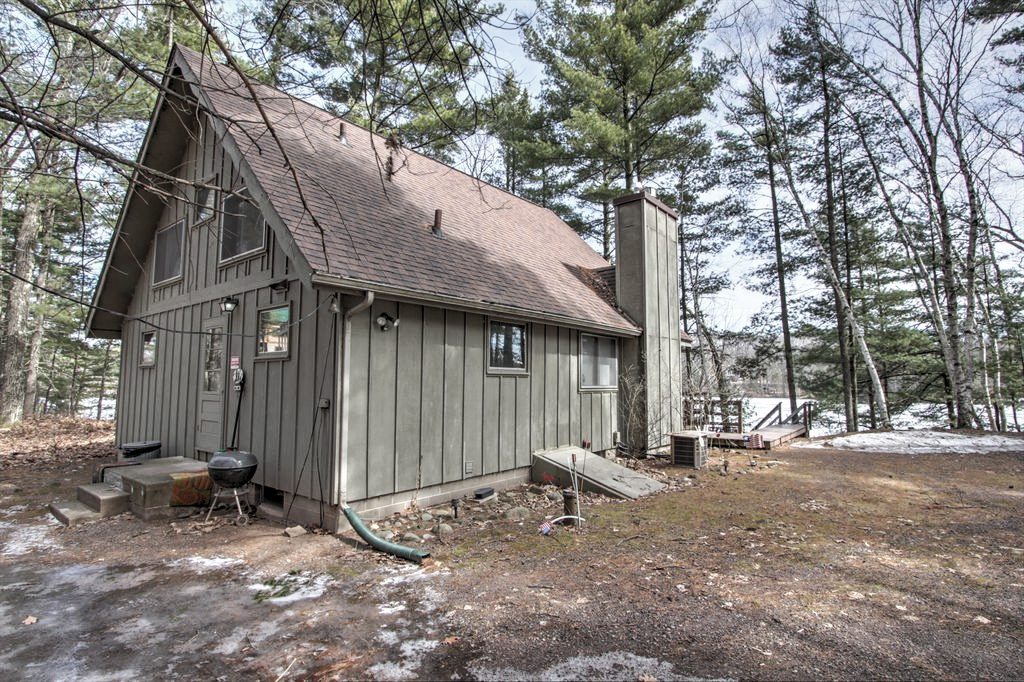 You'll have to forgive the fact that I'm still staining the GD deck. It's a beast and I need to get it done be for the first flurries start to fall. I know what I'll be doing the next few visits to the cabin. Like I mentioned above, we are missing the front screen door. As a kindness for being tardy on the painting job, our contractor offered to do a special paint treatment to our wood storm door. He was very amped up about it, so I decided to go with the flow on this one. He wanted to do a high gloss finish on the door and needed to take it to a spray booth to have the finish turn out just right. Also, our front door has seen better days. The veneer is chipping off, and since we're not in the market to buy a new door at this time, I think I'll go ahead and try to replace and then stain the veneer. I'll fill you in on that in an upcoming post if it all goes well. Once the deck is completely stained, and both doors are installed and repaired I'll share even more photos! They'll probably be winter scenes too – Ha!
Believe it or not, I actually learned a few things from this experience about what I think you should look for if you're ready to hire a painter.
Find someone who is willing to do the prep work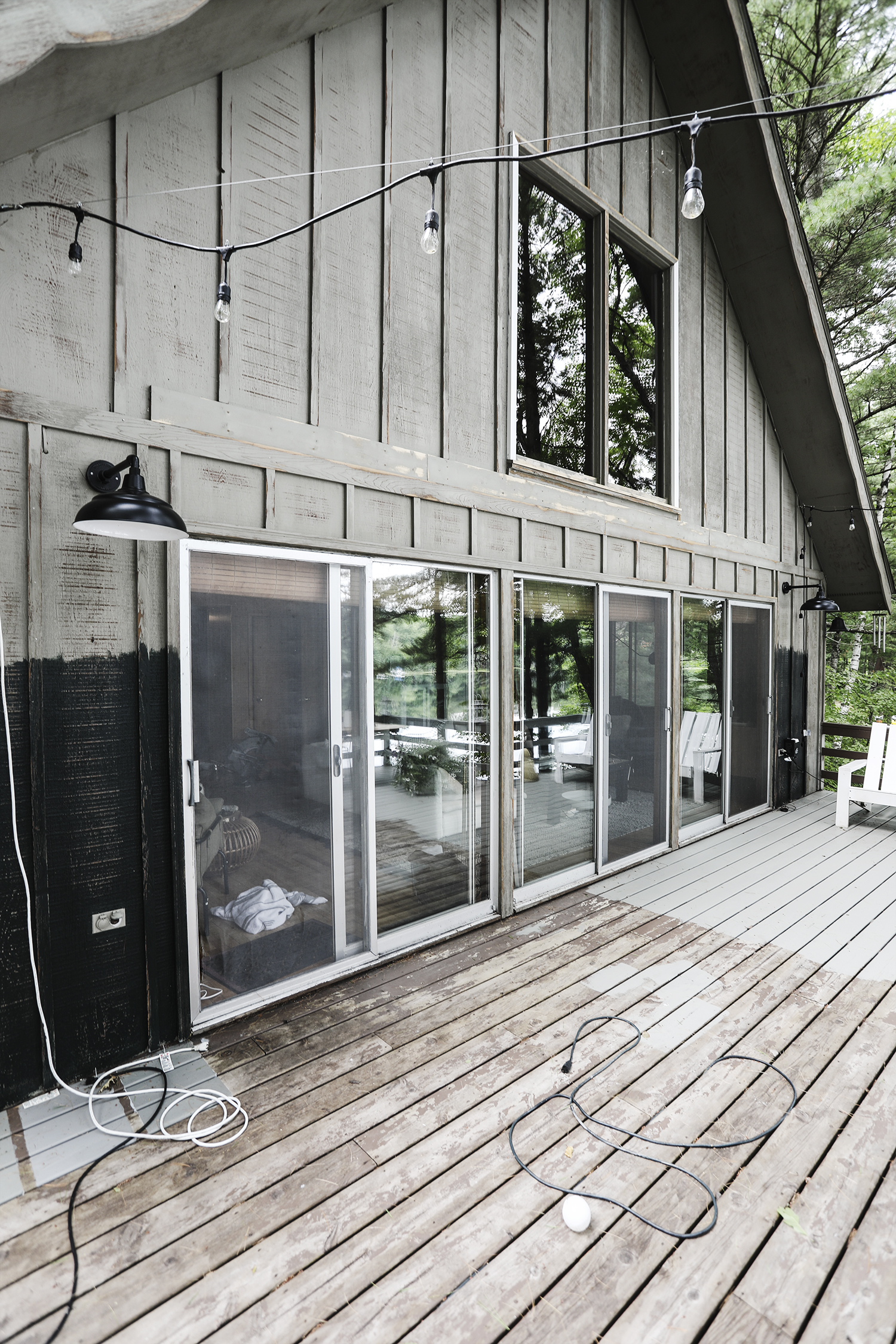 Our painter was very enthusiastic about his prep work, like the nitty gritty stuff that no one really wants to do. A few weeks before he painted he came over after we had a few dry days and sanded the entire cabin with an orbital sander connected to a HEPA vacuum. He also caulked, filled holes and repaired rotted surfaces that would be susceptible to mildew and water with a heavy duty epoxy. He followed up the sanding with a thorough washing and then allowed the cabin time to dry out before beginning with the painting. Sanding and prepping the surface is a crucial part of a good paint job – the paint needs a good foundation to adhere to.
Does your painter have a carpenter they work closely with?
It's not necessary, but I would highly recommend asking your painter if they have a carpenter on our their team. Our painter had his carpenter replace some rotted trim around one of the cabin windows. The carpenter also replaced wood batten strips that butted up against water-prone concrete steps with PVC to prevent future rot. At our home in Minneapolis, our paint contractor had a carpenter to install new corner board for us prior to painting. Random carpentry jobs and house painting go hand in hand, so make sure that your painter has someone to help with those small details.
P.S. Our painter's go-to carpenter was a woman!
Invest in Good Paint and Primer
I learned this lesson the hard way. When we had our home in Minneapolis painted, the painter used low-grade paint. I believe it was the Ben exterior paint by benjamin moore. I didn't do my research, and I wish I had. The dark blue paint color we choose has not held up well to the sun and has faded immensely over the last 6 years. There were immediate signs that our painters did not do a quality job, like when they decided to try
squeezing in our paint job 20 minutes before a downpour
, or when their ladders left marks on the siding that the painters never evened out. After the first rain post painting our house looked like the paint color was leaking tint. All bad signs! Trust your gut when you feel like you're not being treated fairly. We were naive and didn't speak up. I regret that now.
In contrast to our house, the cabin was painted with two coats of a well reviewed high-end paint, Benjamin Moore Aura. The B.Moore Aura paint has such a lush finish. I'm obsessed. The finish is nearly as good as the paint color. Before the paint even touched the cabin it was coated in a heavy duty tinted primer (XIM Peel bond mixed with the Aura tinted paint), the primer was sprayed on and then followed up with a roller coat while it was still wet. Every brand of paint has a cheaper option. You get what you pay for.
Be Patient
Contractors go at their own pace, they are often juggling a handful of jobs at one time and your isn't always going to be top priority. Our painter was also painting a 10 bedroom cabin in another part of the state, and obviously that was his priority because that was the job that paid more. Not only that, it was a very wet summer, the weather windows available were few and far between. I was disappointed that we were low man on the totem pole, but in the end was so happy that we went with a contractor who really knew his stuff. I'm hopeful that the cabin will look as great years from now as it does today.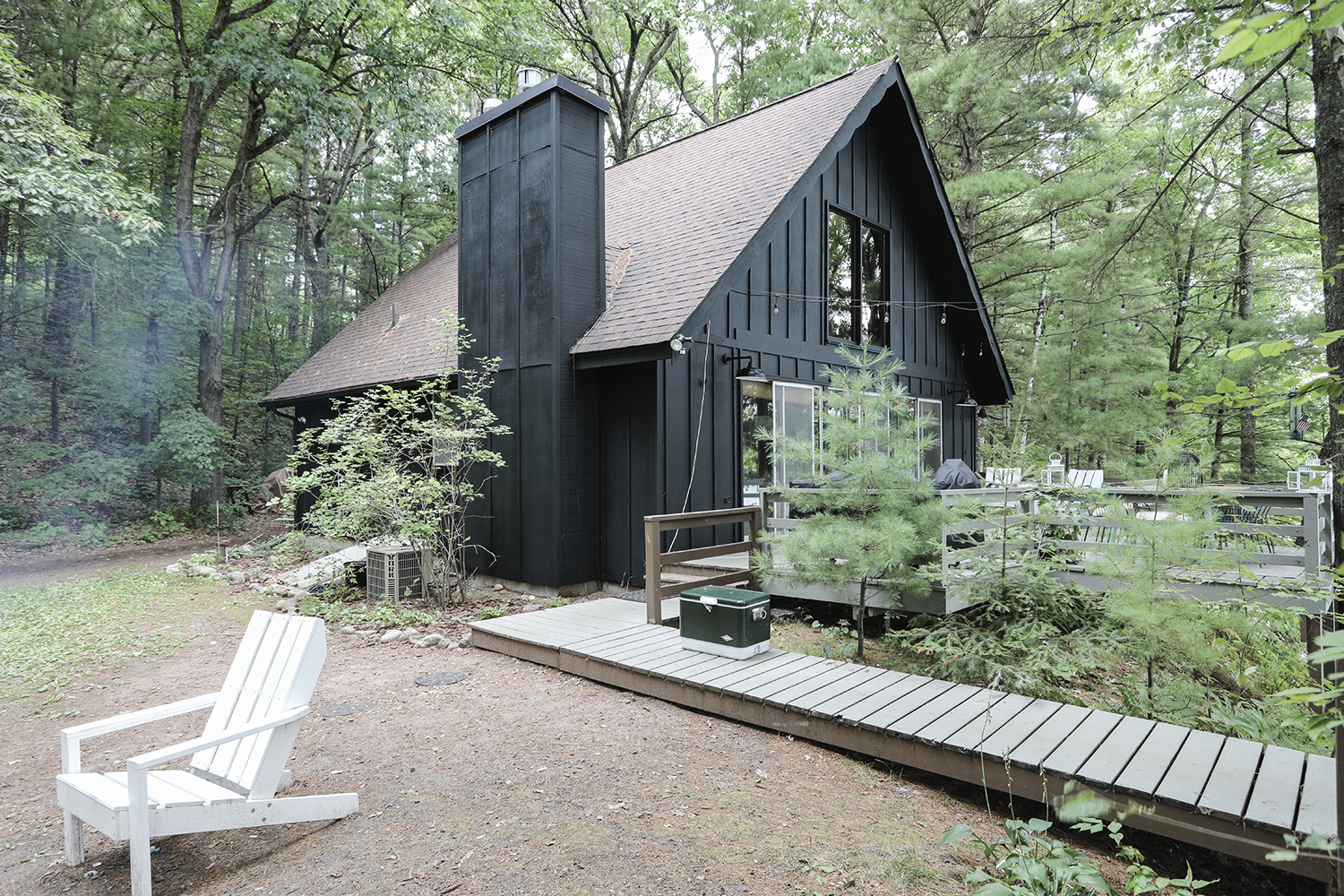 Remember when you guys
weighed in on paint color
? I really struggled with the choice. In the end, I wanted it to be darker than greener and I went with Dark Knight from Benjamin Moore. It looks like a dark forest green in the sunlight, and in the shade is a perfect tone of black.
I'm still debating as to whether or not I paint the aluminum sliding doors matte black on the exterior side. We've already invested in quite a bit of money restoring the glass in the doors. The vapor seals on each door were broken so the windows were fogged from the inside before we had the glass replace (see photo). I have this soft spot for these sliders because they are original to the cabin and they have cool 60s wood and aluminum door hardware. I worry about painting them because they are in such a high traffic area, I would hate for them to chip, but at the same time, I feel like they kind of scream for attention as they sit.
We also plan on adding two triangular windows on either side of the square window. We are in the middle of the woods, so the cabin doesn't get a ton of light, and we all agree it could use a little more.
Total cost of the new paint including carpentry and prep work was $4500. Let me know if you have questions and I'll try my best to answer them.