I want to spend a good chunk of the summer focused on updating the exterior of our Wisconsin cabin. I've got big plans, and at the top of the list is a new paint job. Since the day we looked at it, we talked about eventually painting it black. I like the grey-green color that the board and batten is stained now, but it has already faded in the two summers we have been here. It needed to be freshened up, and for us it was the perfect opportunity to take it to a darker place.
There is something so striking about seeing a dark cabin next to a back drop of lush green trees and evergreens. It's so simple and basic, but also sophisticated and kinda epic, I wanted that for our cabin but with a green twist. Green has become such a theme for us at the cabin, it's become the common thread that pulls the whole place together. I really wanted to continue with the repetition of green hues, and find a deep black with a green undertone – or should I say, find a dark green that is nearly black.
Have I mentioned that WestWisco house painters are rare and elusive, and usually have their calendars pushed out an entire year? I had no idea. If you want to pick up a trade in the north woods, you'll be in high demand if you're a painter. After reaching out to multiple painters in the area and being rejected over and over, we were able to find a really capable painter and we are on his calendar for early June!! He was very knowledgeable and thorough, and I'm feeling like the cabin will be in good hands. He is going to be using Benjamin Moore Aura exterior paint, but before he even touches a paint can, he's going to sand, caulk and repair some of the mildew-y areas on the siding. Then he will prime and paint two coats of the BM Aura. Super stoked about the entire vibe we are getting from this company.
I'm considering a few different paint colors. See below.
The Contenders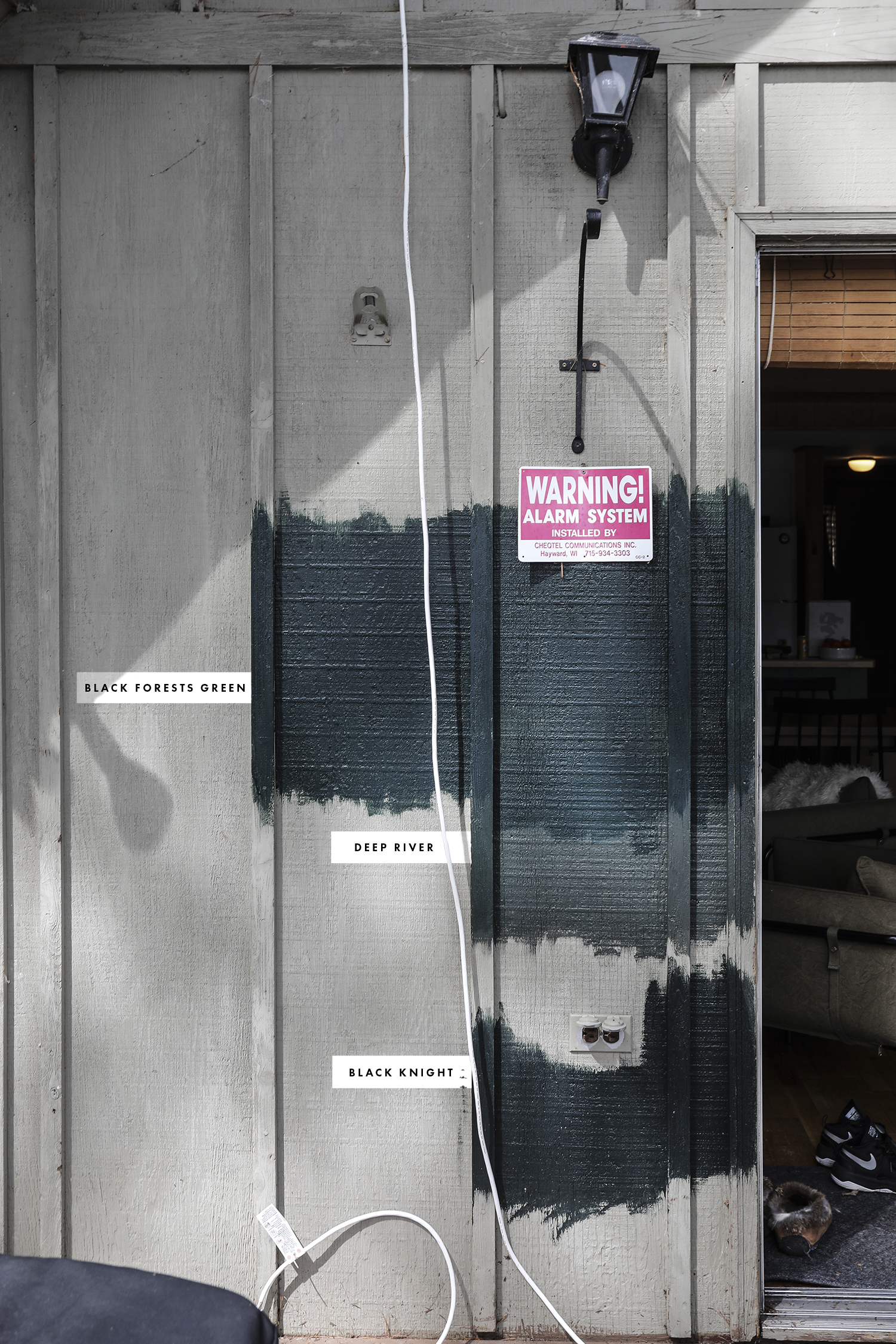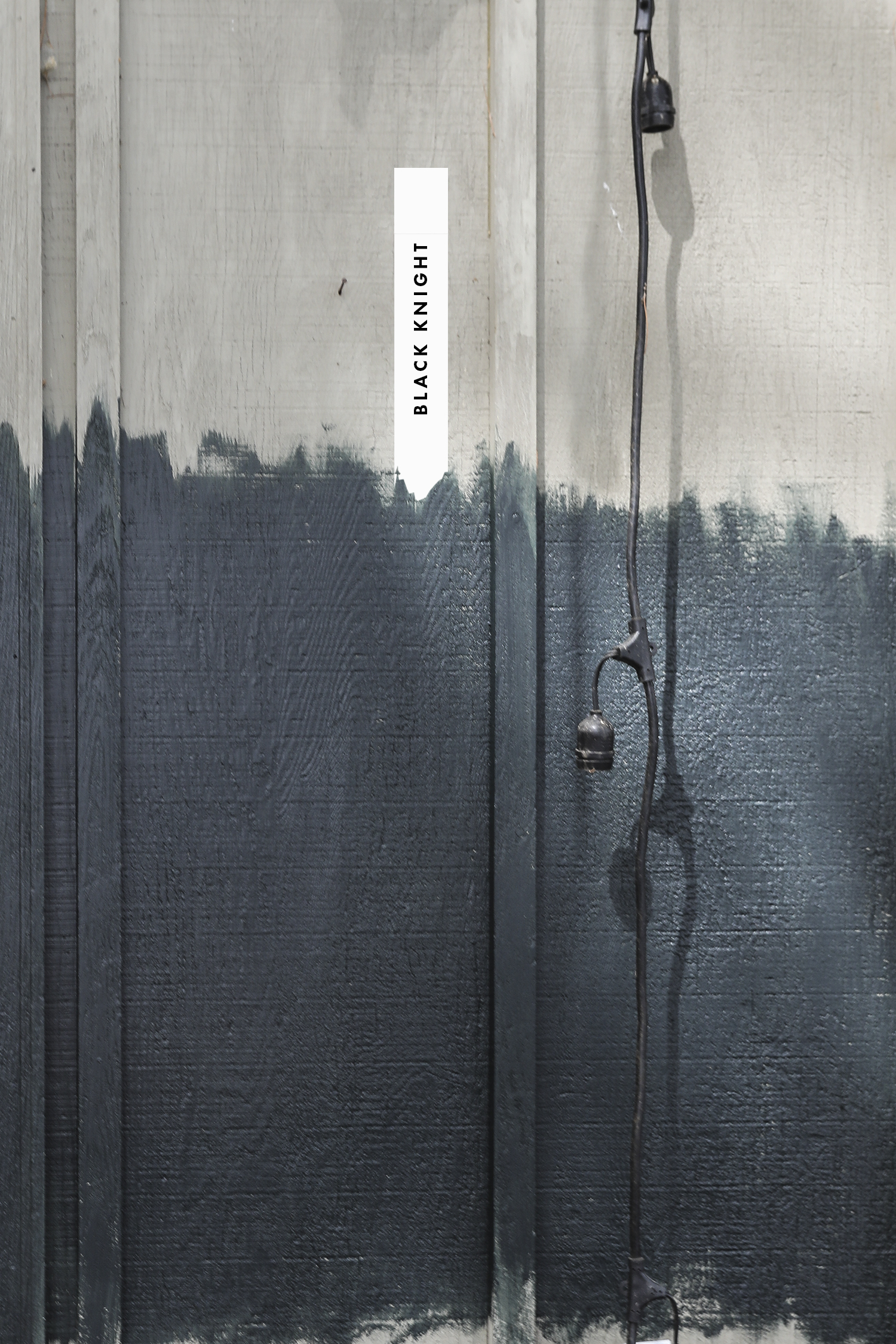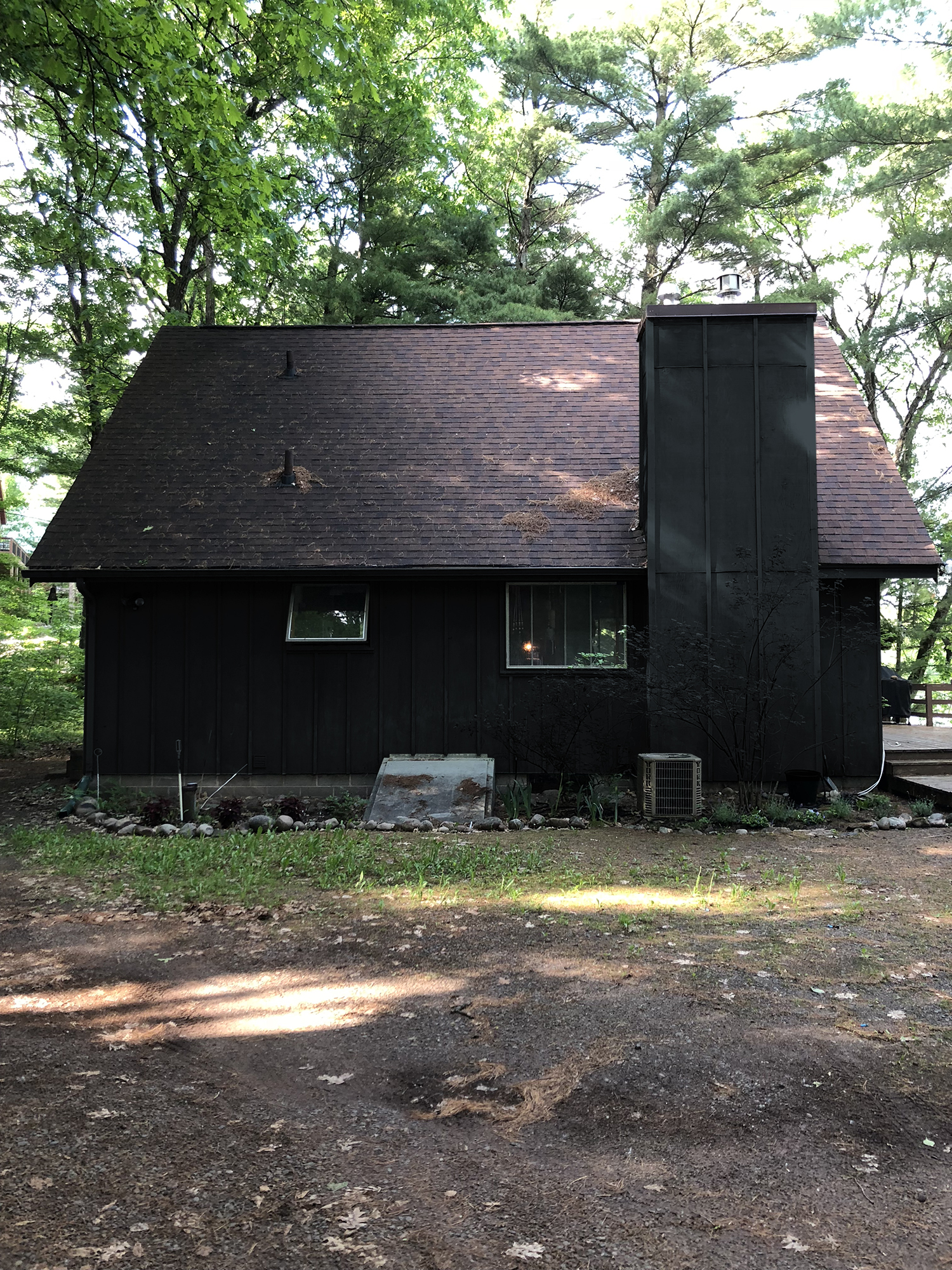 Black Forest Green
So, I really like this but I am concerned that it will read as green first and black second, and I want a color that reads as green, but then also black. Does that make sense? I do like it, and have not fully counted it out yet. Please weigh in.
Black Deep River
This color is super pretty, and I would totally consider it iiiiiffffffff I didn't want something that was more black. Not dark enough.
Black Knight
This is the color that I am leaning towards but I do have some concerns. I worry that it will read more blue than green as it does have some cooler undertones to it. What do you think?
I am also planning on sanding and staining the multi-level deck. I am already thinking I might be kinda crazy but it's going to be a really big job, but I already started sanding and am feeling pretty committed to the process at this point. No matter what color I choose for the cabin, I know that I want a solid stain grey with a red undertone to it to compliment the dark green siding and tie-in the reddish roof shingles – which I am in no rush to change.
We'll also be adding a new patio set to the deck which will really start to make it feel like a cohesive outdoor/indoor space in the summertime.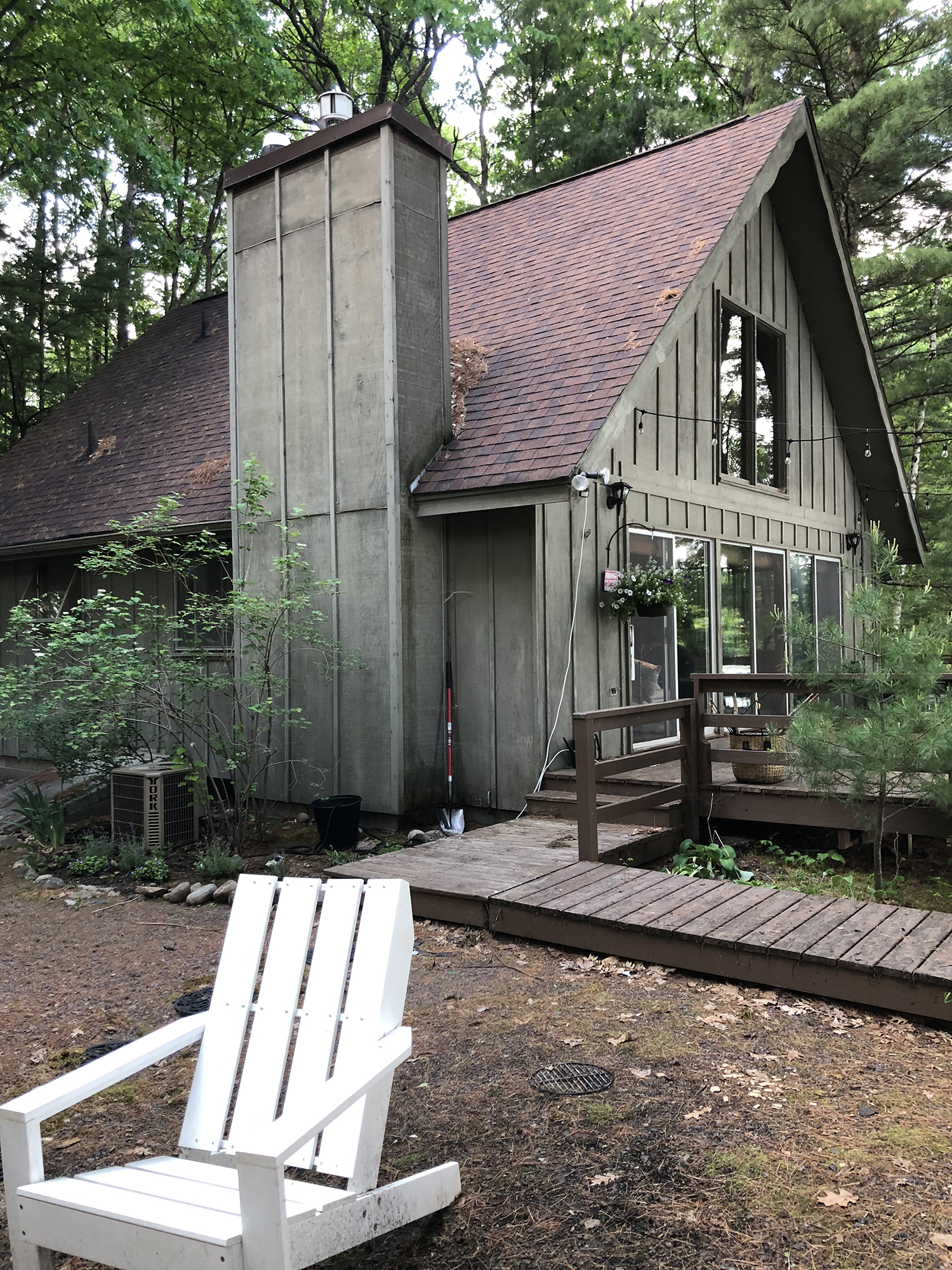 Check out my mock up and compare our current and future cabin. What do you think? I think an update could be good for this old place.
*Update 05.02.19
Wow. Team! You really came out with some good comments, so much so that I felt like I needed to round out this post. Choosing exterior paint colors is always tricky, isn't it? I'm lucky that I don't have to worry about any trim with this cabin, or then you'd really be in for a long post.
I feel like I know exactly what I want, but choosing the color is so tricky because paint changes, and it costs a crap ton of money to paint a building. It's not one of those things that you can just re-do, so yeah, I tend to overthink it.
What I want is a black or nearly black color that looks green in the sunlight, and like a dark muted black or nearly black in the shade. Imagine sitting out by the fire and looking at the cabin, and all of a sudden the cabin you thought was black is really green because you just happened to catch in the right light at the right time of day – that's what I want. I want it to be a chameleon, but I don't want it change into a super saturated gem-y kelly green in the sunlight. I want the green undertones to lean to to the cooler side, but I don't want them to be too teal – I kinda just want them to skirt the line between warm and cool. Is that possible? I dunno. For reference, the majority of the day our cabin is in the shade because it's in the woods and it's on the west side of the lake. We get sun in the morning when the sun rises and mid day when it's nearly directly overhead.
Welcome to my crazy obsessive brain.
Inspiration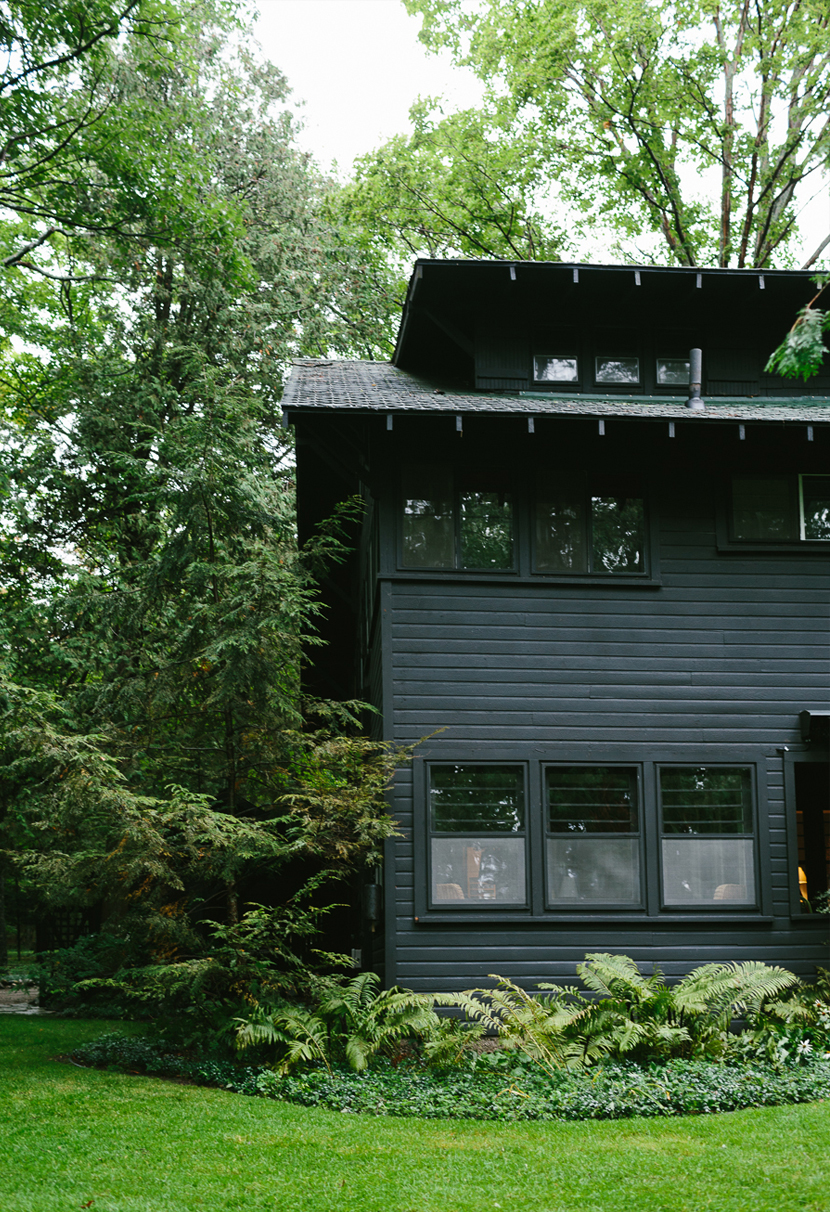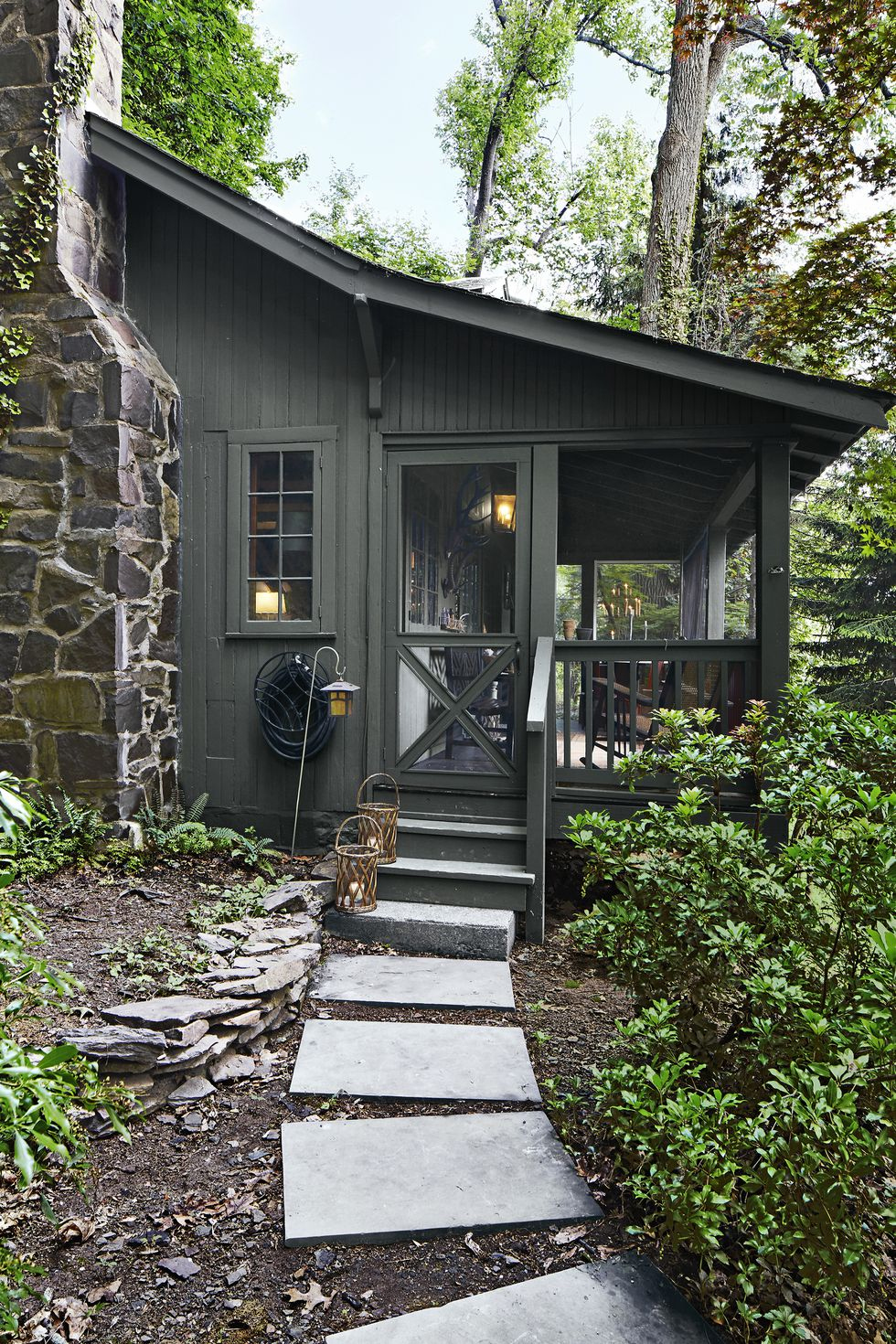 I hope that these photos help to illustrate how each of these paint colors might look on the house. The top is actually Black Forest Green, it's so pretty and it's definitely green but it can also read as black. The middle is probably my favorite of the three, it's black but yet also green. It's black first though, and then green as an afterthought, which is exactly what I was wanting. The bottom is still a beautiful color, but I think I just want to be a little bit bolder at the cabin.
In the Shade vs. In the Sun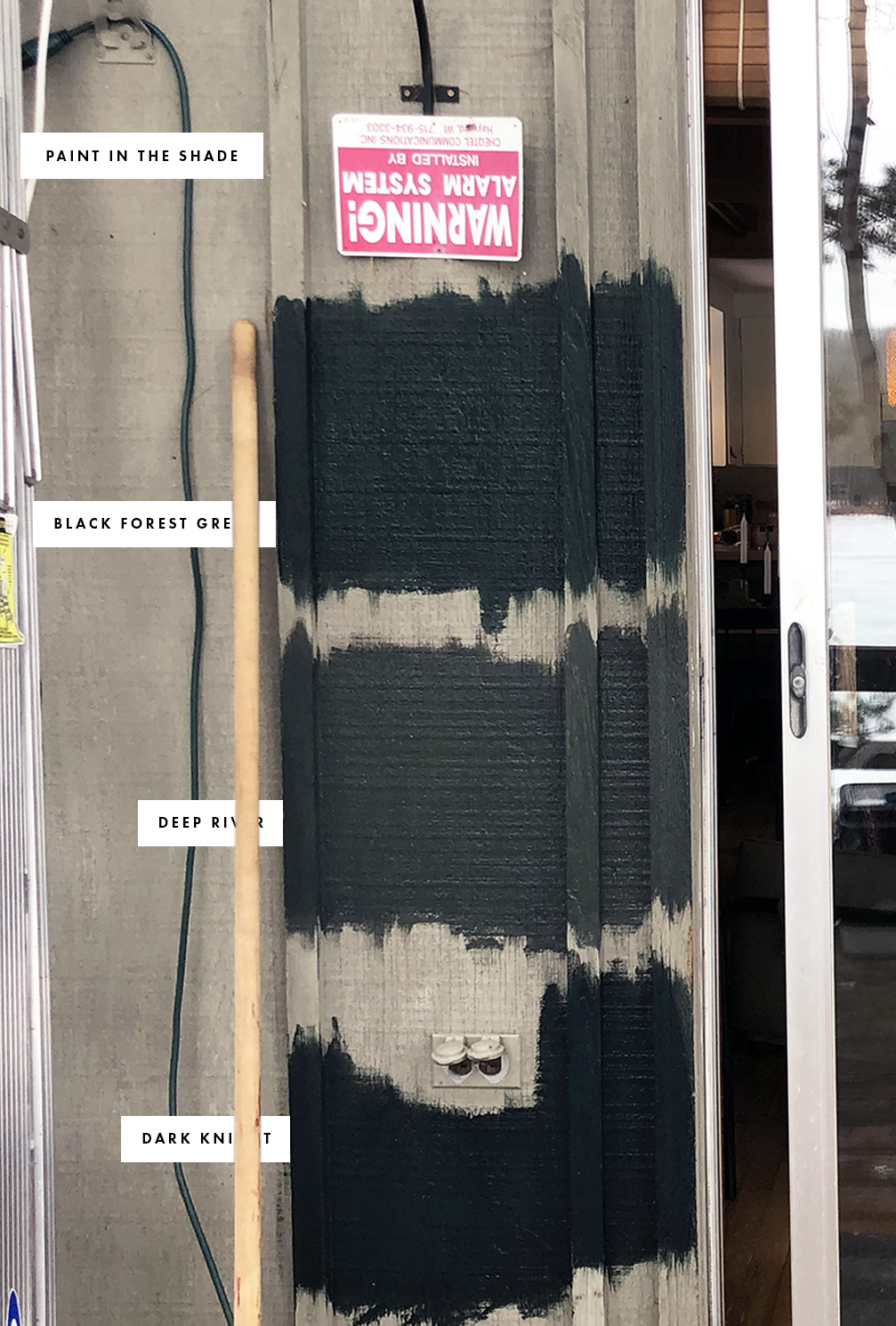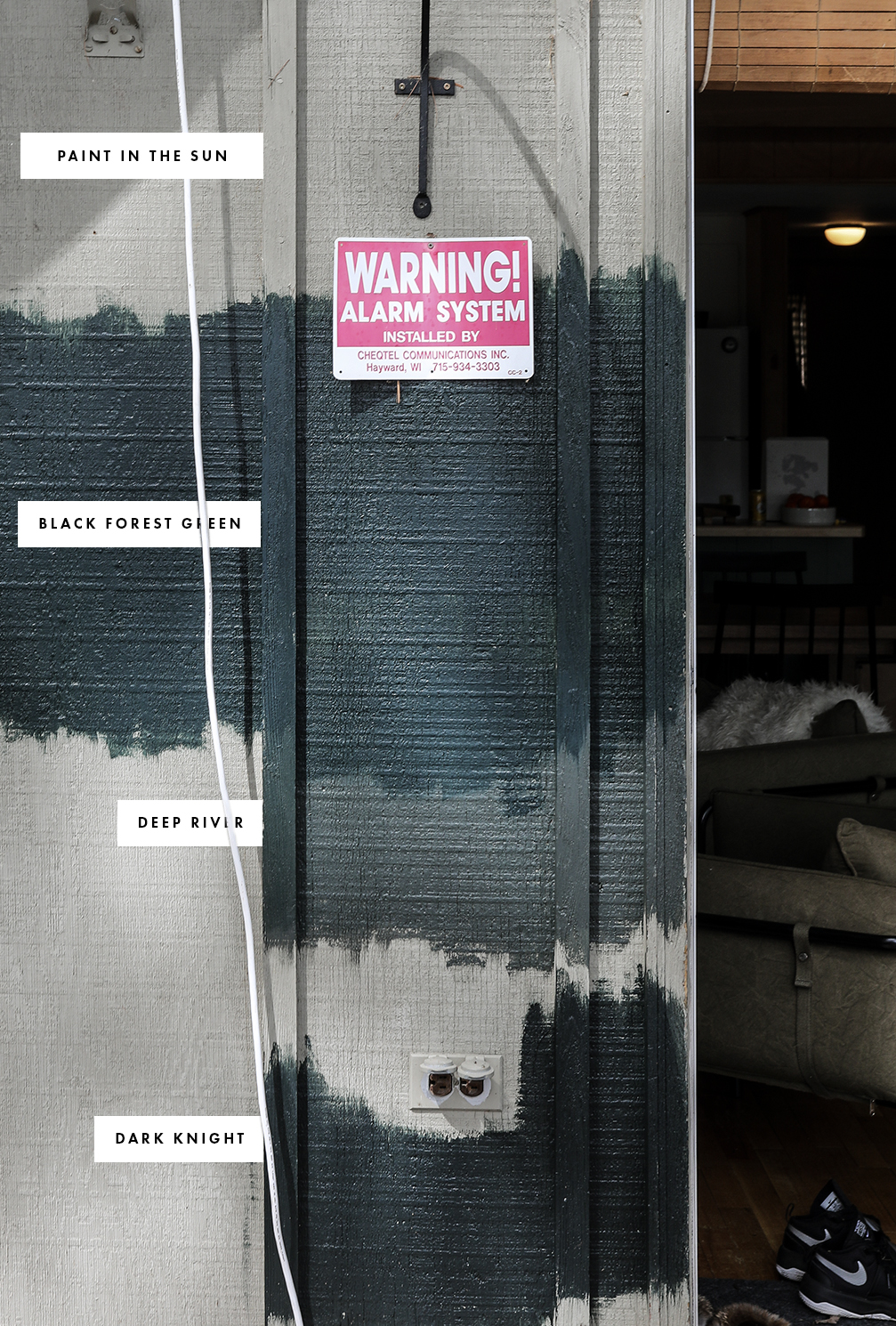 I could pick a color so easily if it wasn't for the difference between the sun and shade. In the shade I'm split between the Black Forest Green and the Black Knight, the Black Forest Green is perfectly both black and green and The Black Knight is black, but is it too black? In the sun I worry about the Black Forest Green being too intense and too saturated, and is the Black Knight green enough?
Approximating Color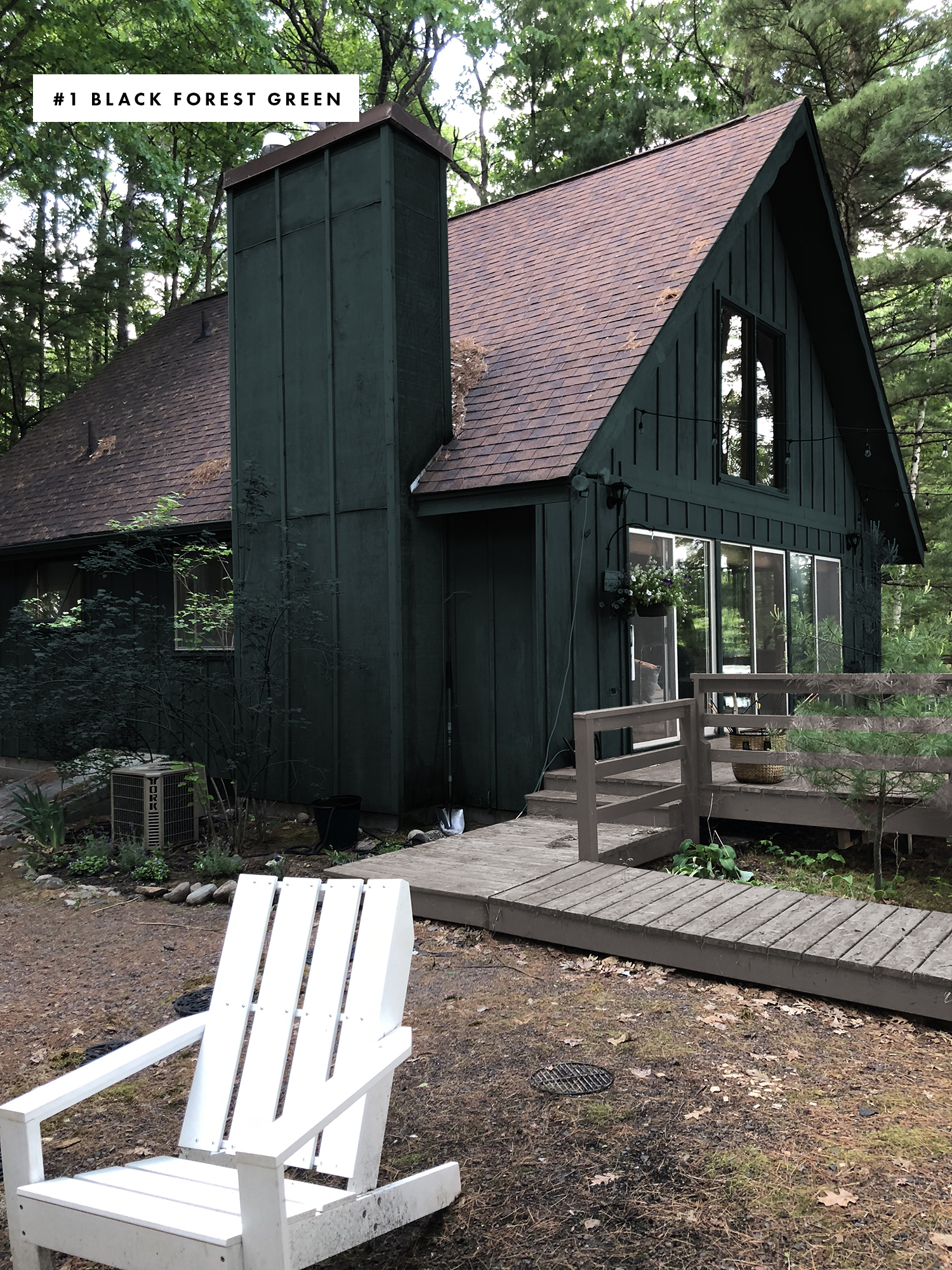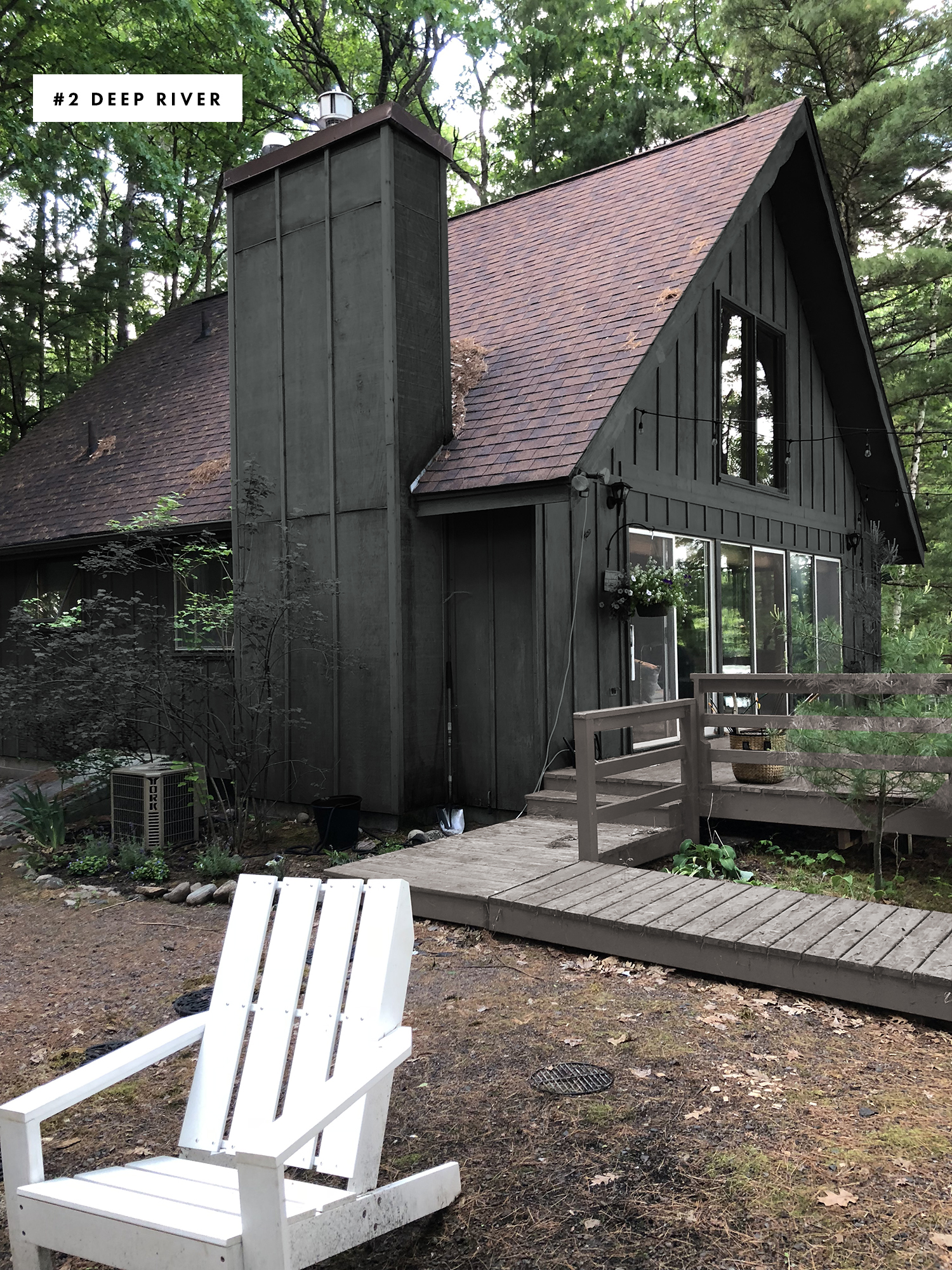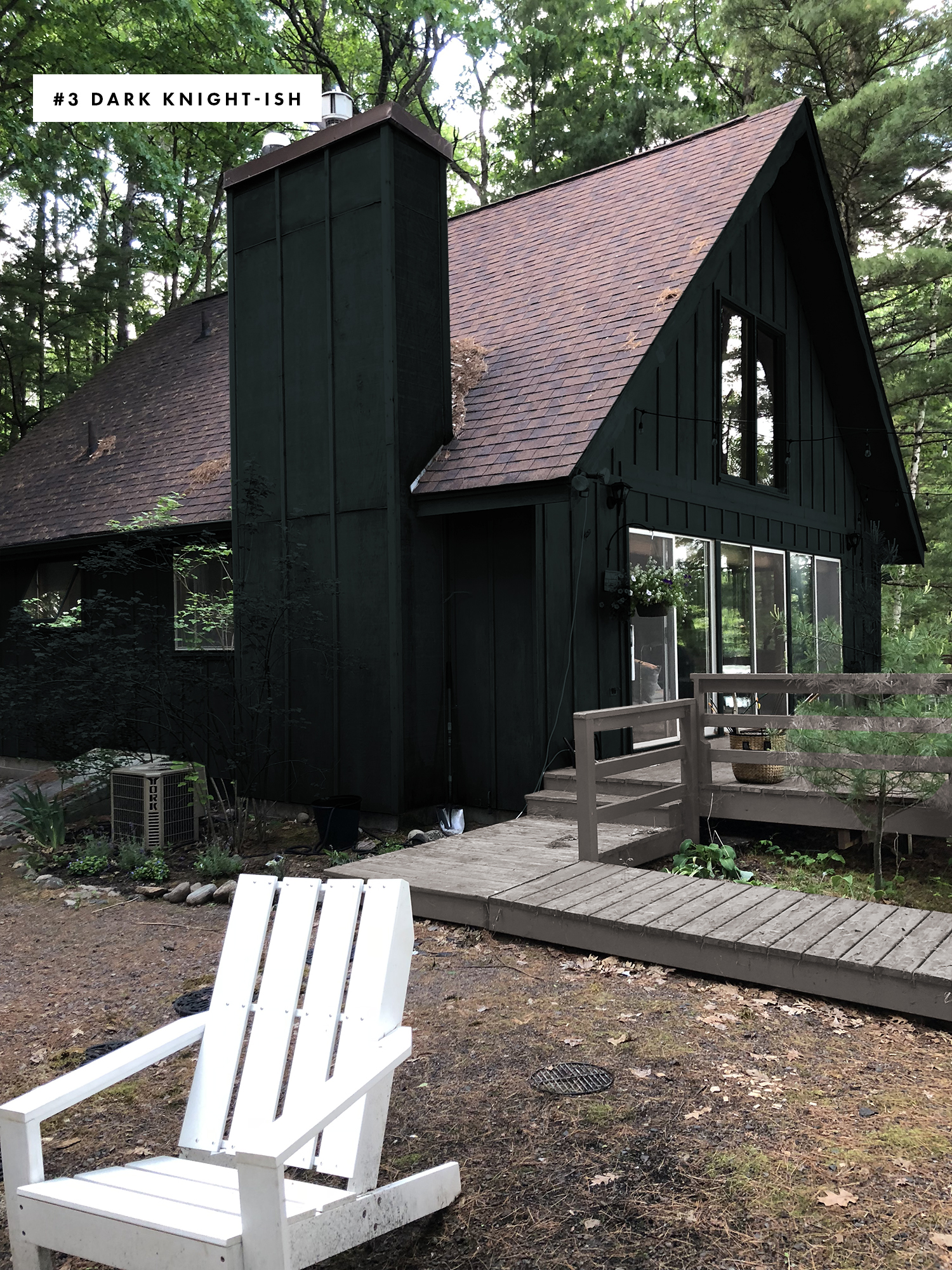 Here's my photoshopped version of each color on the cabin. You can get a sense of both highlight and shadow in each image. So very confused, but at least I'm narrowing it down to just a few options, right?
If you feel like it, I'd love to know which you guys think is the prettiest! Seriously, you can sway me. Just leave a comment, #1, #2 or #3?