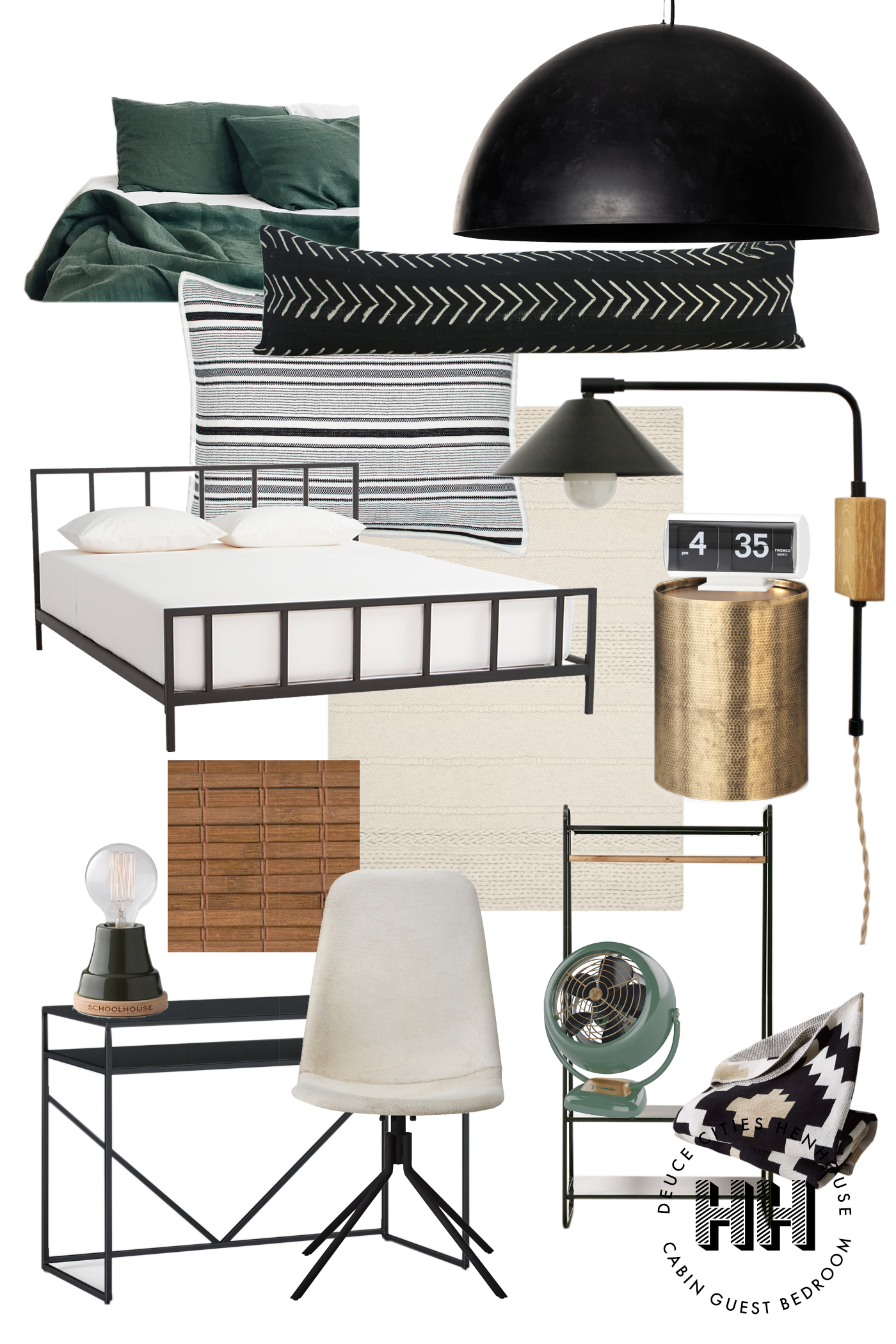 The Look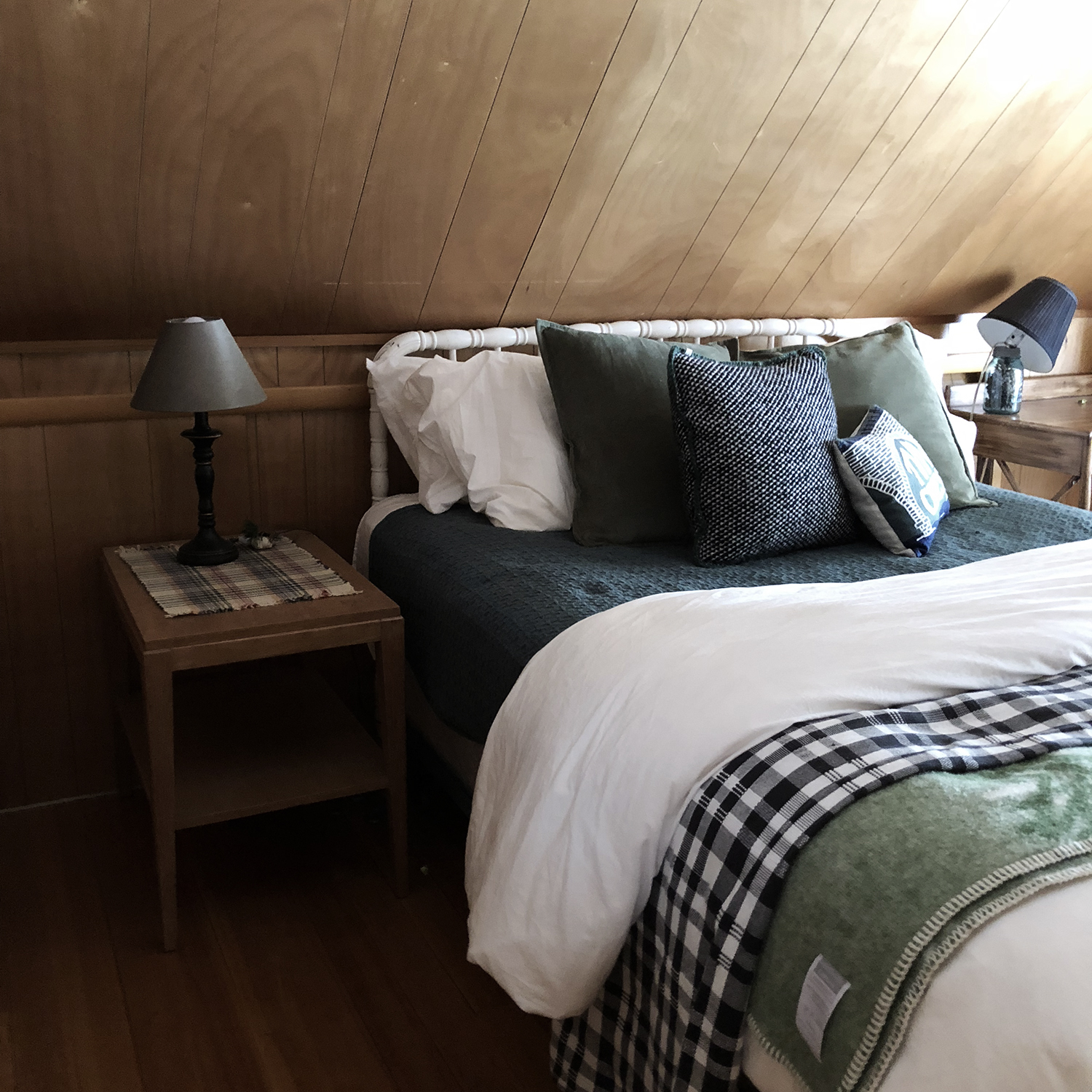 As you can imagine or maybe have experienced, it's hard to furnish an entire cabin. Your basically starting at square one, and a lot of what we have at the cabin has been stuff I've been socking away in hopes of one day having a cabin. The room that really took the brunt of my alley-garbage-day-finds was the guest bedroom. Everything in that room except for the the clothing rack (which we love b-tee-dub), and the sheets are either from the garbage, something that has been donated to me, or something that I have hoarded.
Surprise! It's hard to make a look feel really intentional when it's just a hodge podge of stuff you are trying to make work.
After many attempts at coming up with a cohesive look for our cabin guest bedroom, I finally think I've got it. I'm not planning on going on some crazy shopping spree or anything, but I am going to 100% stick to this board and purchase elements of this room slowly over time. I've found that coming up with a design, and then working the plan is the best way to go. I'm not good at shopping on the fly, I need to see how everything comes together and spend some time editing and refining. I started this moodboard last week and I have been slowly playing with it, moving things around, swapping out beds until I finally knew that I had landed on something that would work both design-wise and for our long term budge.

So, in case you are new here, we have a cabin in Wisconsin and I've been fixing it up over the last year and a half. There are three bedrooms, a large main floor bedroom that we use as a bunkroom, and then two small, second floor bedrooms that are very "cute" and "cozy." They are just big enough to fit a queen size bed, and there isn't a whole lot of room for much else. The biggest design dilemma for me has been finding a headboard or bed that will accomodate the short knee wall. The wall is 38″ tall, and the metal black bed I found comes in right at 33″. It's going to be the perfect fit. I need to double check that the entire length won't be too long with the footboard, but I'm feeling pretty good that this bed will be the perfect size for this room. The new bed will allow for us to get rid of the box spring and lower the overall height of the bed + mattress. Because of the roof line, keeping the overall height of the bed and mattress as minimal as possible makes the room feel larger and not as cramped.
We have the green linen pillowcases in our "master" cabin bedroom and I love them so much. I would love to purchase the 3-piece set from the guest room – or get the set and then steal them for our room.
Jeff (the husband) often works remotely from the cabin, and in the current situation I have him squished in the corner with a rickety old desk and chair that I found in the alley and hauled up to Wisconsin. I would really like to upgrade his working conditions so that he is more comfortable in the space. The desk pictured above is both affordable and the size is spot-on for the space. The matte black will be a repeated finish in the furniture, and throughout the cabin, creating cohesion in the space. That desk chair would be a splurge but if you're working from a corner in the cabin for 10 hours a day, it seems like you should have a comfortable place to rest yer butt and yer back.
I am way excited to get back to the cabin so I can double check all my measurements and get at it!