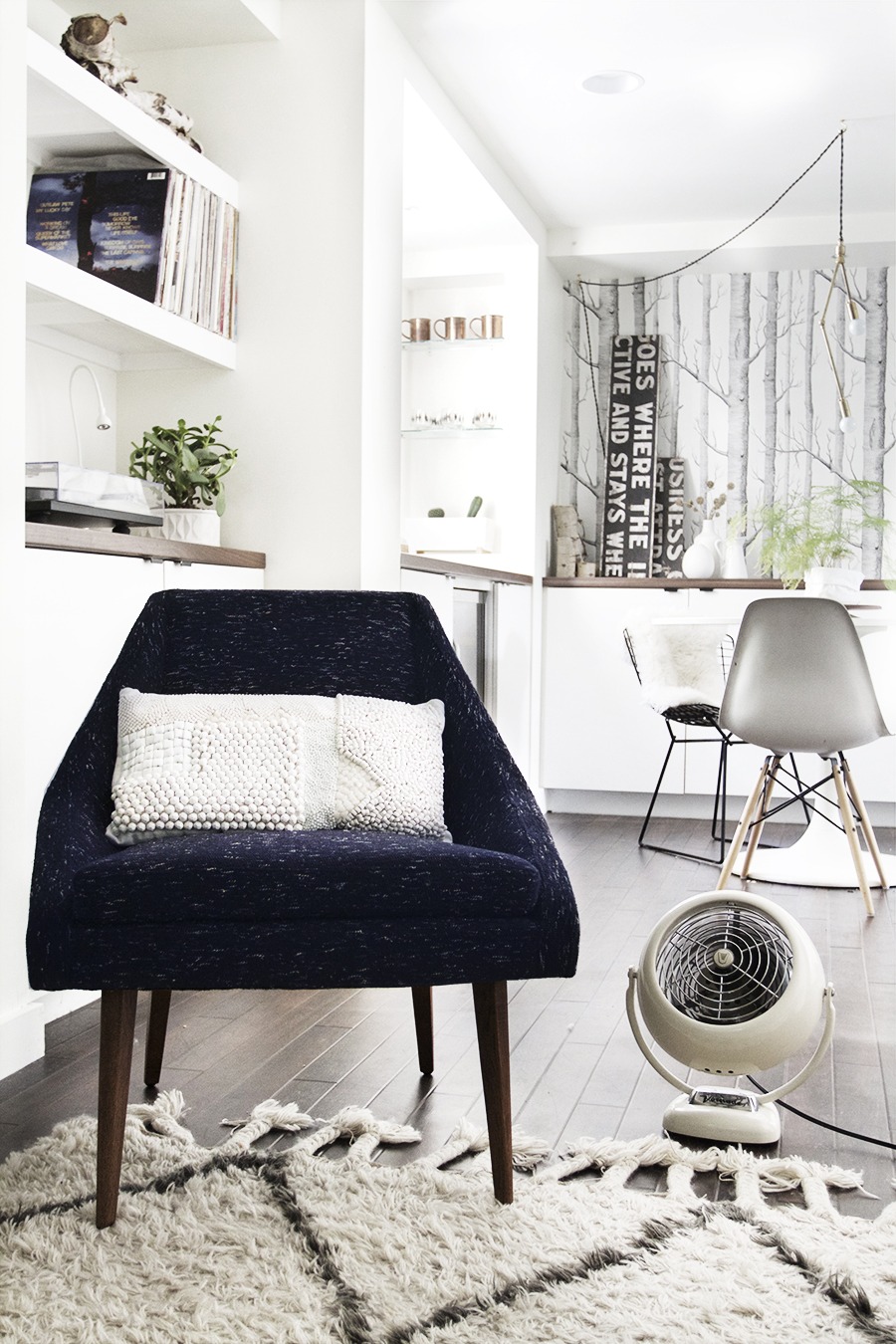 Friends! We decided to celebrate the basements first birthday by giving it a new side chair — just what every one year old basement wants! Honestly, it didn't go down like that. It was my intention to have a mid-century orange swivel chair reupholstered in a dark blue (that was about a year ago). However, doing something like that takes initiative and action, and it was obvious that we (I) were not showing one sign of follow through. Clicking internet buttons is just way easier. So, it was decided that purchasing a side chair would be better than waiting to see how long it would do to do the former. We are lazy jerks.
We were in need of something that offered comfortable seating, had a narrow profile (since we were limited on space), was affordable, and armless would be best. After eying all the chairs all over the internet, I became smitten with the bludot Field chair. As things that are well designed often are, it was WAY out of the price range. Lucky for us, West Elm has a chair with very similar lines for a fraction of the cost.
I'm pretty excited about the chair, it does a lot for the space. It adds the slightest bit of color, which was needed badly. I love all the black and white, but I like it even better with a little blue. The speckled indigo fabric did it for me, and I'm already getting real good at pushing buttons and swiping screens, so that there can be dark blue pillows and throws to compliment the chair. The chair also helps to break up the long narrowness of the space. Furnishing a 28′ x 12′ has been a tricky design dilemma, so I'm way for things that help to break up the longnessesosities. Oh, and it offers a place to sit, so super functional – sitting is a function!
Also, that little fan rules. We ordered it from Amazon at the beginning of the summer to help keep us cool on the front porch, since then we've ordered the large one as well and now they both keep us chill in the basement where we have no A/C. Highly recco.
Anyways, because I look at the internet a lot, I thought I'd post a few of my fav blue chairs that came up while I was searching for the basement's b-day gift.