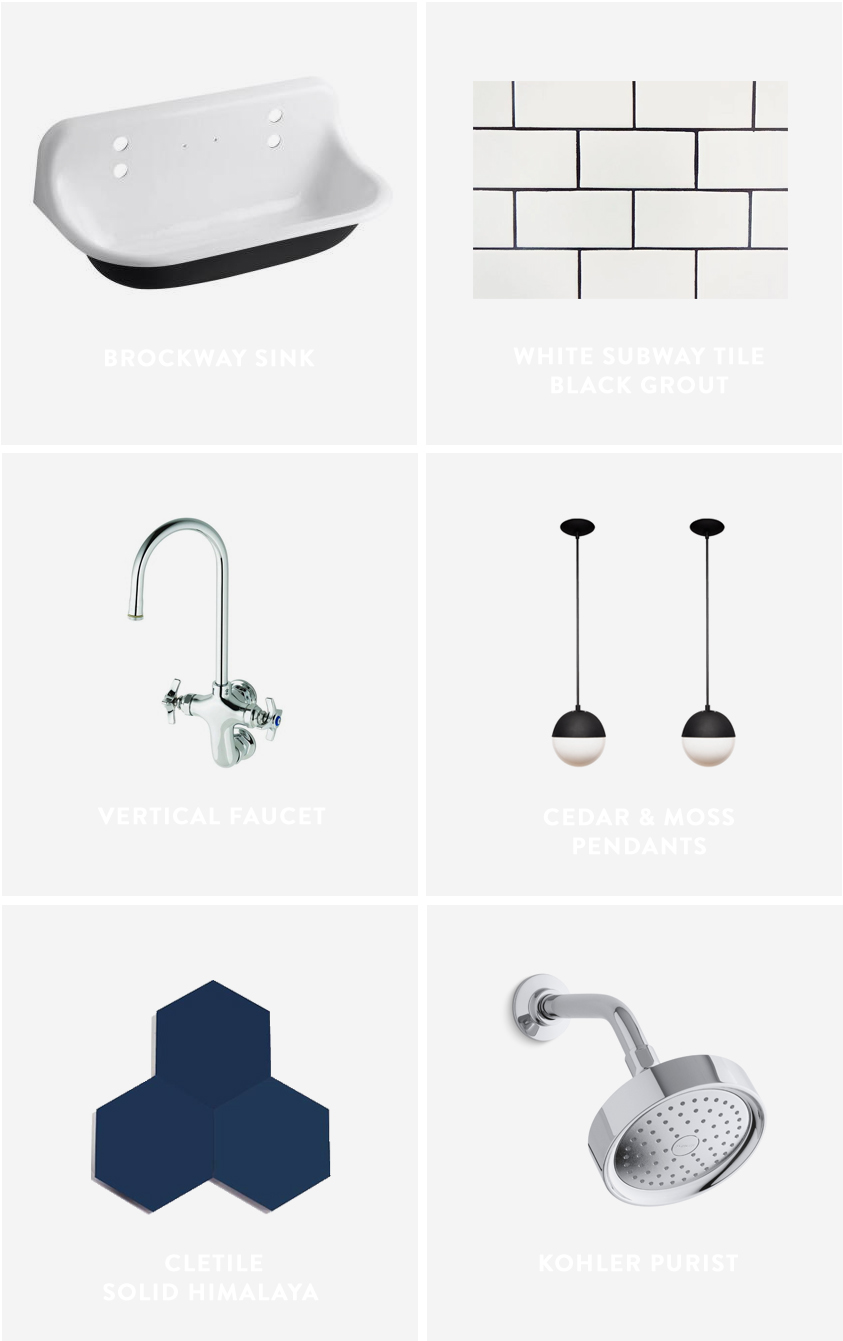 Hey Team, How's it going? Welp, here I am, still talking about my dang basement bathroom again. I'm sorry, I'm that jerk that just can't follow through. Now I'm ready though, I'm really seriously ready.
My plan is slightly different than the last time around. Before I was committed to black matte penny tile on the floor, and this 2.0 version includes some dark blue flooring options. I just sat down last night and pounded out a solid budget, and we're going to see this bathroom through this time! Please allow me to refresh your memory… Last year we had the basement remodeled, and by that I mean completely gutted and rebuilt. There had always been a bathroom in the basement but it was tiny and gross, and nothing you would actually take a shower in (believe me, we didn't). Our main focus was just the basement last year, our budget only stretched so far. Our basement plans however did include having the plumbing roughed in, the bathroom framing done, dry wall installed, concrete shower pan laid, electric run, exhaust fan inserted, and cement board in the shower. Right now it functions as a large dark toilet room.
So you know where I am going with this. I am ready to get the ball rolling on the tiling (so much tiling), sink, faucet and shower head install, and constructing built-in storage. As soon as I whip out all the stuff we can have this bathroom functioning as our guest bath/boys' bathroom. Guest bath because we don't have a powder room on the main floor, and boys' bathroom because someday I'd like have to have the 2nd floor bathroom be a dedicated adults only zone.
There are a few design things in the bathroom that I know will happen, for one, we will be installing a Kohler Brockway sink with two faucets. I had my worker dudes rough in the plumbing and add lots of framing and supports within the walls to hold the weight of that babe-of-a cast iron sink. All the detail stuff is there, I just need the sink. Kohler makes them new, which is great as a fall back, but I'd love to run into a vintage version so that I could save a little scratch. I could see this taking down our 4k budget by at least 10%-15%, so it would be super great if we could magically find one. I've been hunting the local salvage shop every month this summer and haven't found it yet. So if you know where I could find one, throw a gal a bone!
Other things I know about: I will be hanging two pendant lights on either side of the sink. It will be way too pretty to be a boys bathroom, but pretty enough for the guests who might have to use it. I'll either purchase them direct from Rejuvenation, or maybe I'll try and make my own pendant wonderfulnesses.
Lastly, there will be subway tile! I went back and forth on this, but now that I am beginning to lock in what may be the most wonderful blue floor ever, a simple subway tile with black grout seems like it would be a nice compliment. Yeah guys, the floors. So I am thinking real hard about tiling the floors with a dark navy concrete hexagon tile! Oh my gad, couldn't it be the best? I want more dark blue in the basement and I think the bathroom floor could be the perfect spot for it.
The question is, can I handle installing cement tile? I'm a little scared, but I've been scared of doing stuff before and I've managed to come out on top. I think I can do this. The hexagon cement tile is from cletile.com. It is polished and sealed before they ship it, so the finish will hold up better during the install. It still needs to be sealed in the end, but I like the security blanket of having the tiles come with some protection before they are handed off to me. I'll have to make all the cuts with a tile saw, which is fine – I've got some pals that can lend me theirs! But I have no idea how they handle being cut, do they chip easily, will it take me all the cuts to get it right? Tell me if there are there things I should know about before sending all my money through the wires of the internet to a tile company far far away to receive a special tile that I have never used before? If anyone out there has experience with cement (aka encaustic tiles), please let me know. I'd love to be told a thing or two.
The project right now is hinging on what I decide for the floor tile, once I fully commit, I can order the tile, wait 8-10 weeks and then begin the install. See it's just so easy (not really). After that I can knock out the subway tile on the walls, find and install that sink, learn to be a plumber, build shelving, and wire up lighting.