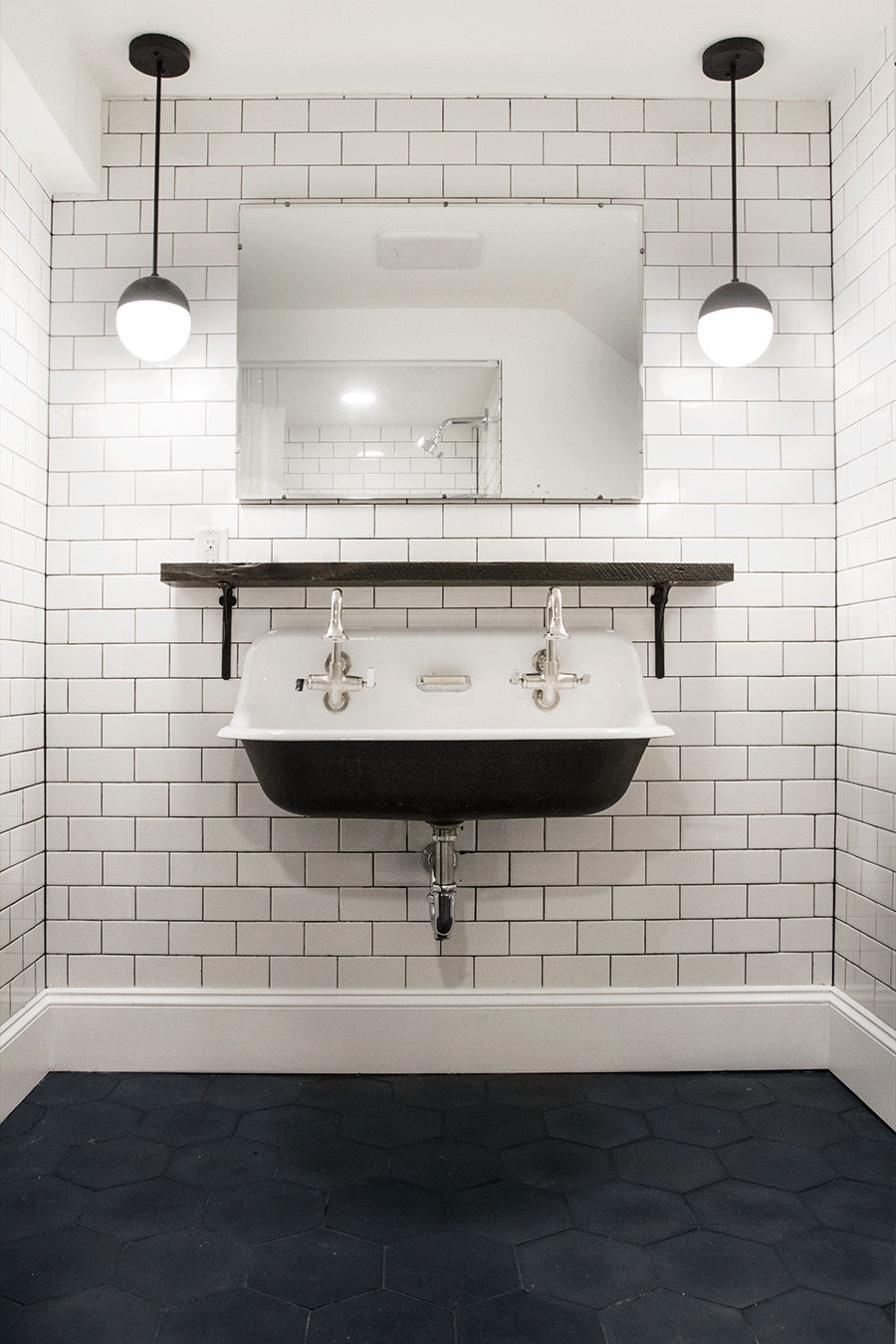 Sorry for disappearing the last two weeks. I had a very thorough and detailed plan to get the bathroom completed, and this post was supposed to be making its debut much much sooner. That was until our house was ravaged by some ungodly disease that made gross stuff happen to your body (aka Norovirus). Let's just say, that new toilet bowl and I have gotten to know each other pretty well, and I'm thankful it was brand new and clean and not grossing me out as much as the old one would have been.
Can I just say that I am so excited to share the final results of this bathroom renovation!
Dudes, this is for sure is the biggest job I have taken on thus far, and it harbored the biggest amount of unknowns. A few years ago I would've only wished and dreamed that I could actually renovate a bathroom myself. But after building my skills along the way this project didn't feel as intimidating as it did a few short years ago.
Let's start at the beginning. In June of 2015 the basement renovation began. We had contractors in our house for eight weeks during the summer and during that time they gutted the basement, installed new electrical, tore up the floor, installed new plumbing, and framed and dry-walled the space. That plan included a rough in for a basement bathroom, however the budget did not allow for completion of that project until a later date. Prior to the basement renovation there had been a bathroom in the basement, but it left a lot to be desired. The shower was inoperable due to a bad tile job on the floor and there were general creepy vibes and disgustingness. The new basement floor plan allowed for a larger area dedicated to a double sink, a much larger shower stall, and a small amount of tucked away storage for linens and such.
Floor Plan
I had basically designed the basement in early 2015, I knew what sink I wanted to install, where the lights would hang, the mirror would go, and the closet shelving would reside. I needed to have the contractors rough in plumbing to the exact places I needed it, electrical so that I could have pendants flank the mirror perfectly, and an accurate description of where framing needed to go for the shower and closet. To accomplish this, I used SketchUp to draw out my plans — it isn't the most intuitive software out there, but it helped me to communicate my plan to the contractors down to the 1/8″ of an inch. There were no surprises when it came time to do all the finishing work.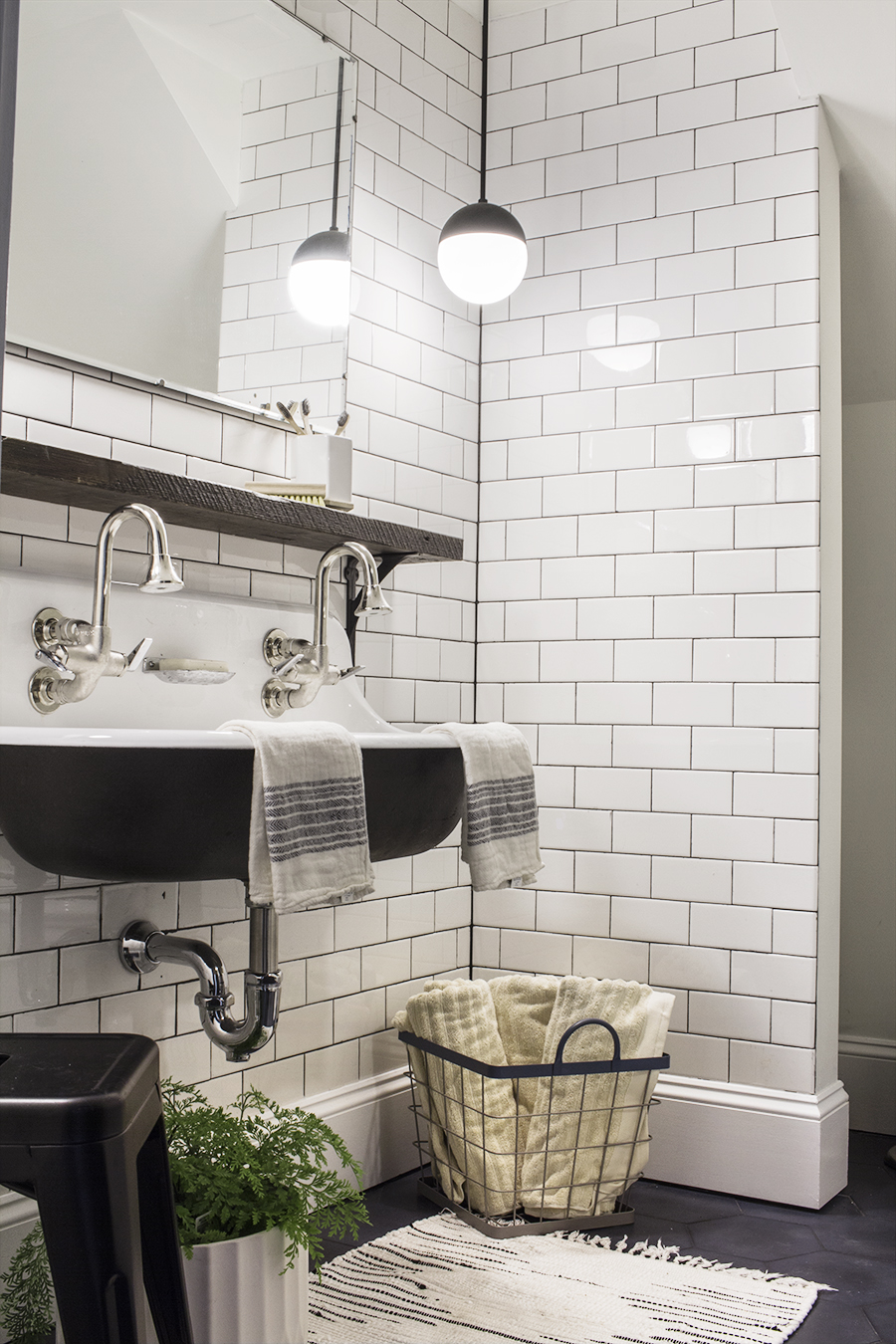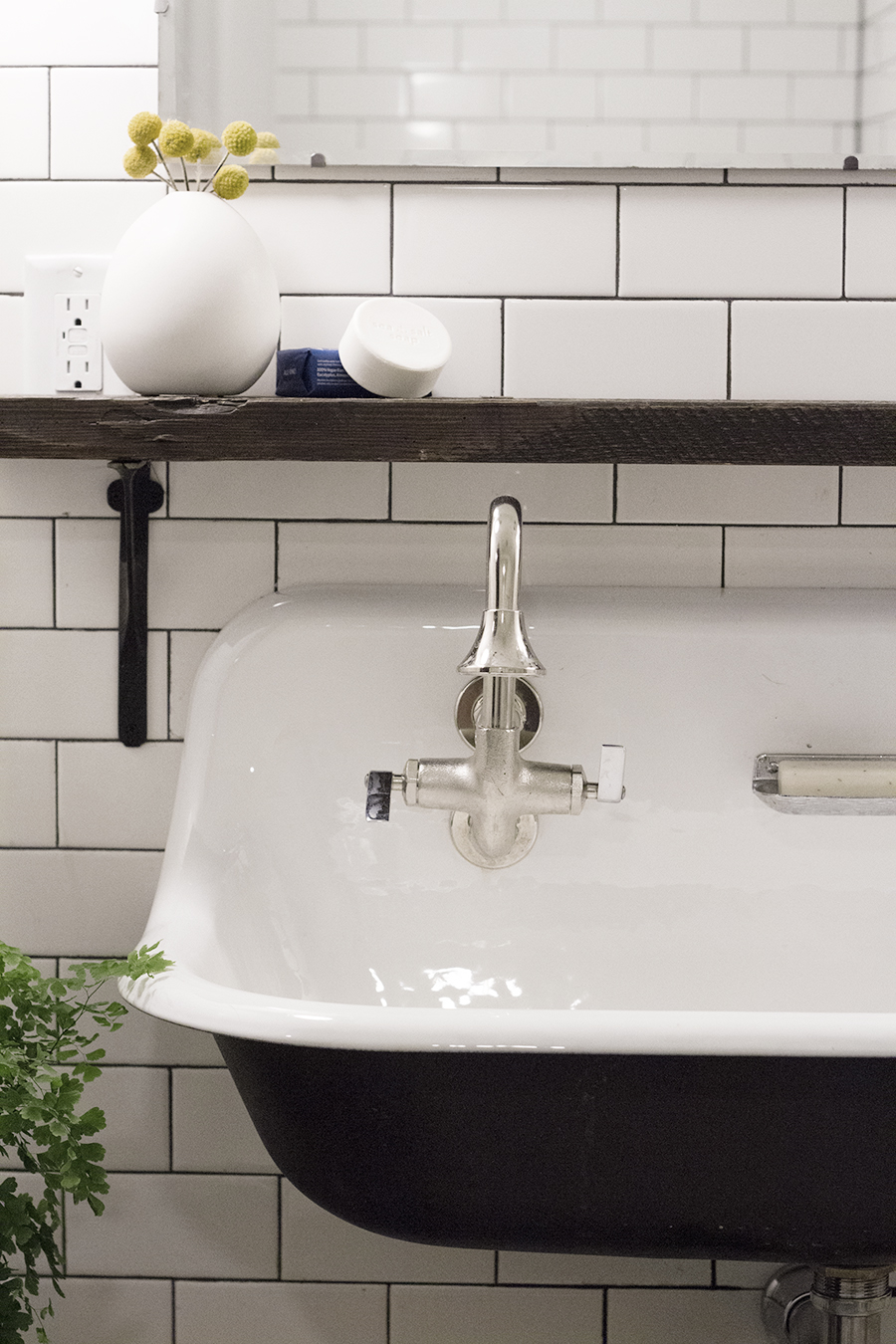 Alright! So let's talk about the space and the stuff that's been happening here! First up is that beautiful sink! The Kohler Brockway sink is the centerpiece to the bathroom. I was first introduced to this sink on Manhattan Nest when Daniel (via a friendly neighbor tip), scored a vintage version of the sink for himself! I basically couldn't get the sink out of mind, and when I began designing the basement bathroom a few short months later, it was a must that I get my own version of that sink! I knew it would provide the right amount of antique vibes to the bathroom. It gives a shout out to the fact that we have an older house while still being able to hold up against some more modern elements such as the pendant lights and tile floor. Kohler provides all the rough-in specs online, so I was able to hand that off to my plumber without having the sink on hand, and he was able to install the plumbing, drain, and bracing in all the right spots behind the wall based on those specs. All I needed to do was find my vintage sink, but alas I came up empty handed again and again. After a summer of hunting at the local salvage shop I found every type of the sink except the double tap version. Frustrated I asked the internet for help, and who comes to my rescue but Daniel! He puts me in touch with the fine folks at Kohler, and they graciously agree to send me a brand new Brockway sink, along with a shower kit, and toilet. It was truly amazing and I am forever thankful.
The sink was my first big challenge right out of the gates. Not only did I have to figure out how to hang a 90lb cast iron sink onto a wall, but I also had to install two faucets. Let's just say it took a lot of dry runs. I did a dry run installing the sink without plumbing, and I did a dry run installing the taps without the sink. When I was feeling like I was headed in the right direction, I was ready to begin tile installation. However, I couldn't tile until I had the baseboard installed, and I couldn't install the baseboard until the floor tile was installed. Since the floor tile would not be delivered for months I used a ledger board in place of the baseboard and started the first row of tile on the wall. After the tile was installed I needed to remount the sink bracket on top of the tile. This involved drilling through my prestine tile which gives me all kinds of anxiety. Thankfully I had a laser level to help me keep track of the exact location of the bracings behind the wall and I didn't went into installing the sink-mounting-brackets on the tile without much worry that I was in the wrong spot. Whew. Are you still with me?
Process Pics
[metaslider id=12511]

Once the sink was installed, I began the very tiring job of installing the Cannock faucets. This was tedious because there was so many variables when it came to plumbing connections. Not only were there four connections that needed to be made with the threaded plumbing pipes inside the wall, but each faucet had four nuts that needed to be tightened. That's a total of 16 potential leaks for both faucets – and believe me they did. I had originally been making the plumbing connections with plumbers tape around the threaded piping, but found out through trial and error that pipe joint compound worked better for this application. In the end I was left with one pesky "leak" that I toiled with off and on for over a week, before I realized that it was actually just condensation from the hot water line.
The trap under the sink was much easier to install. I needed to cut it to size which is intense because the pipe is solid brass. I used the metal bit on my jigsaw after lots of "measure twice" and "you better not screw this up" moments, I quickly and accurately sliced right through the pipe. I was connecting to a black ABS drain pipe within the wall, and found a fitting online that made a solid brass to ABS connection.

Installing the subway tile is monotonous, but it's hard to screw up, especially when there is a laser level (sorry I'm gonna mention that thing about 100 times during this post) to keep you on track. Grouting is the worst, and I hope I never have to do it again any time soon. It's a job I'd consider hiring out, not because it take a lot of skill, but because it's so annoying.
Above the sink I choose to hang a shallow shelf, our intent is this to be used as an everyday bathroom, whether it be for the boys when they are older, or us grown ups now. That being said we're gonna need to have a spot to set tooth brushes and the like. Plus it doesn't hurt to have a spot to set out a simple bouquet of flowers or a small potted plant. I ordered this piece of reclaimed lumber online in a dark walnut, I choose the walnut to mirror the dark brown floors in our basement living room. The beveled mirror hanging above the shelf, was found in our attic and I believe that it's from the 40's. I thought that there were no goodies left up in the attic and then one day while investigating the dark corners I found three mirrors, including this one. It makes me happy to put an old part of the home back to daily use.

The sconces flank the mirror and are the major source of lighting for the bathroom. Because this is a basement bathroom, there is no natural light (which is such a bummer when it comes to taking these pics!). It was important to have adequate lighting in here. These sconces are on a dimmer, which might seem a little extravagant for a bathroom. But I wanted to have super bright light for all that supermodel primping I do (ha), and being able to make it moody in the evenings. It needed to be done. You might remember that I built the sconces myself using lighting pieces found online, and don't you worry, there will be a tutorial on that soon — along with a bunch of other bathroom related posts!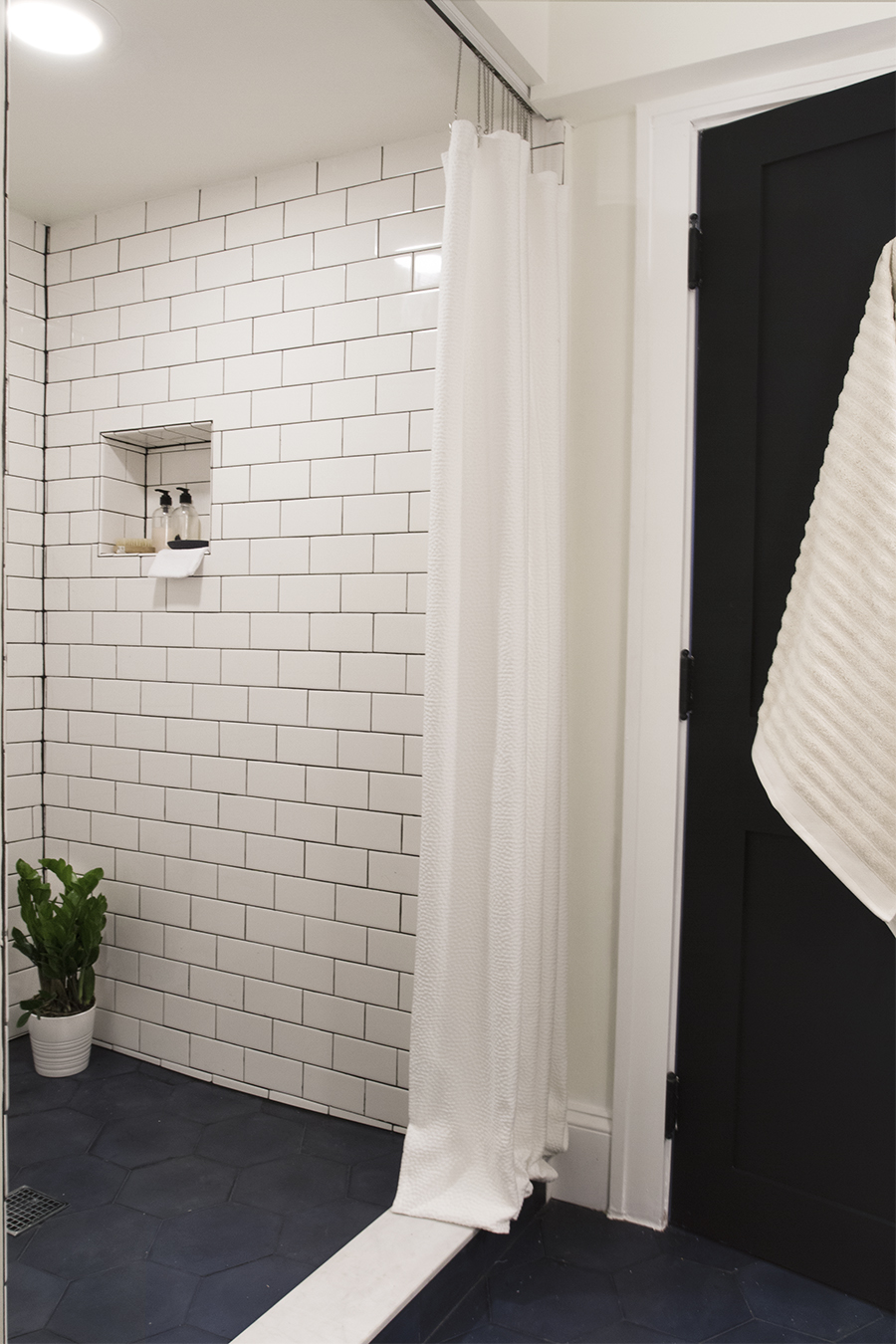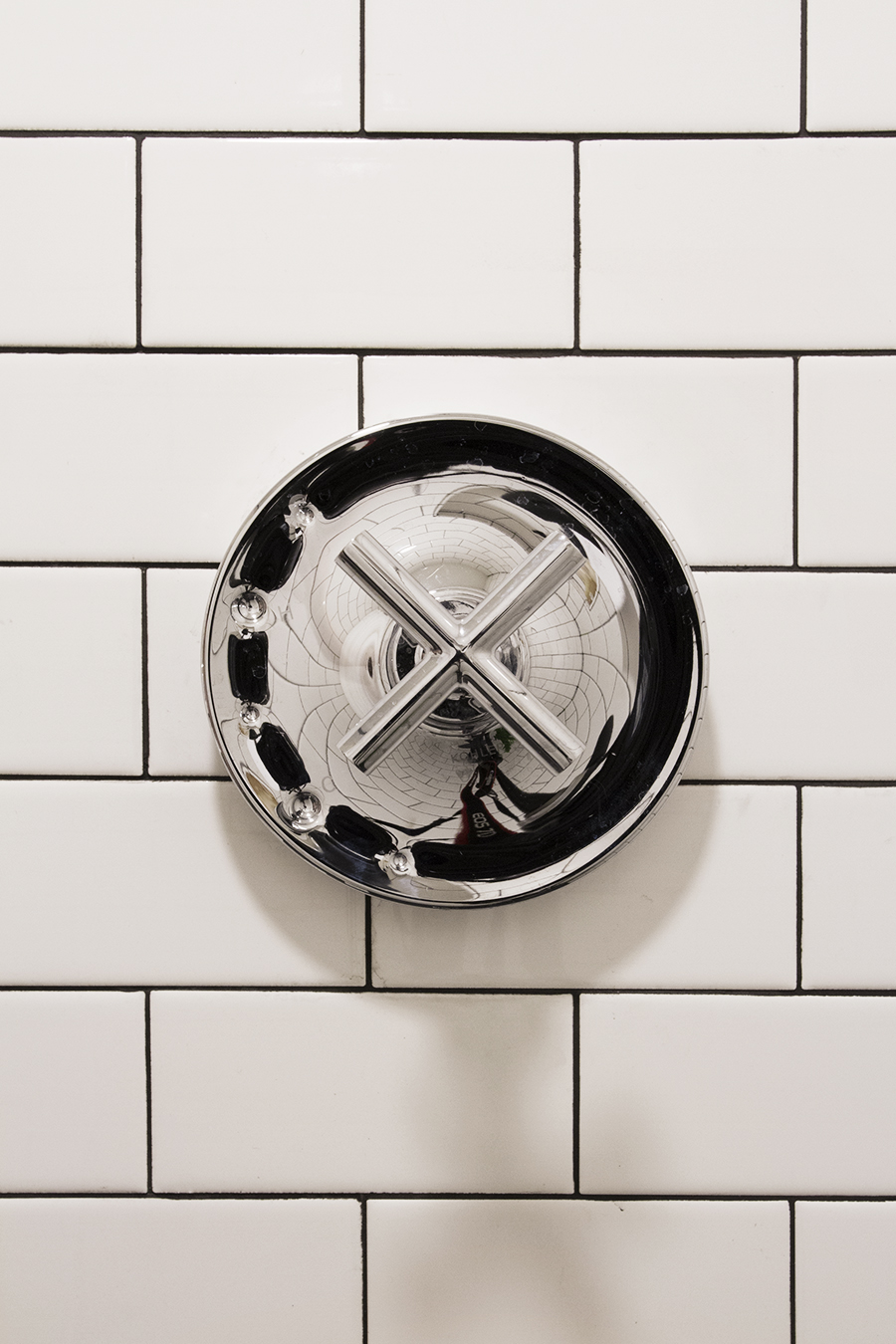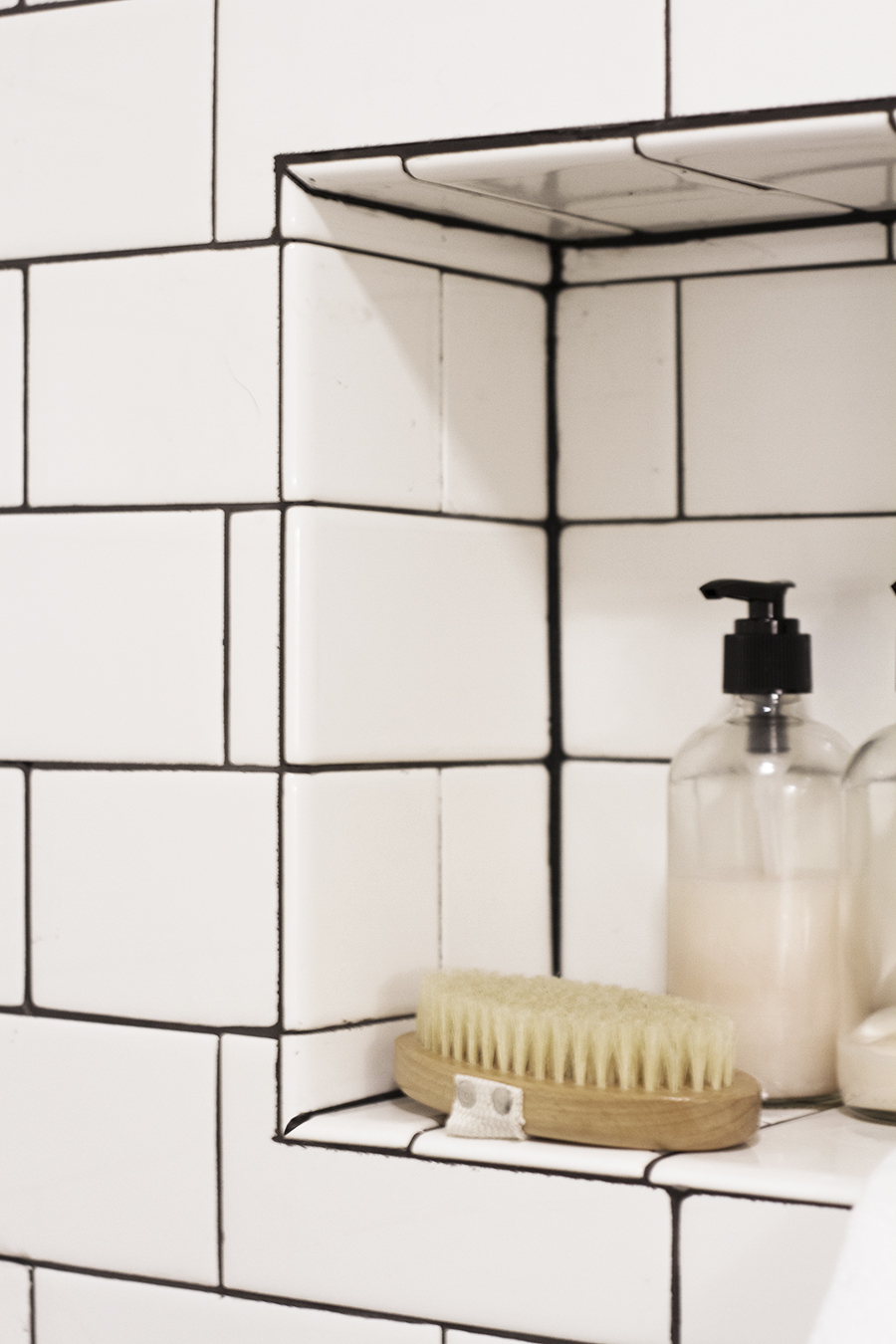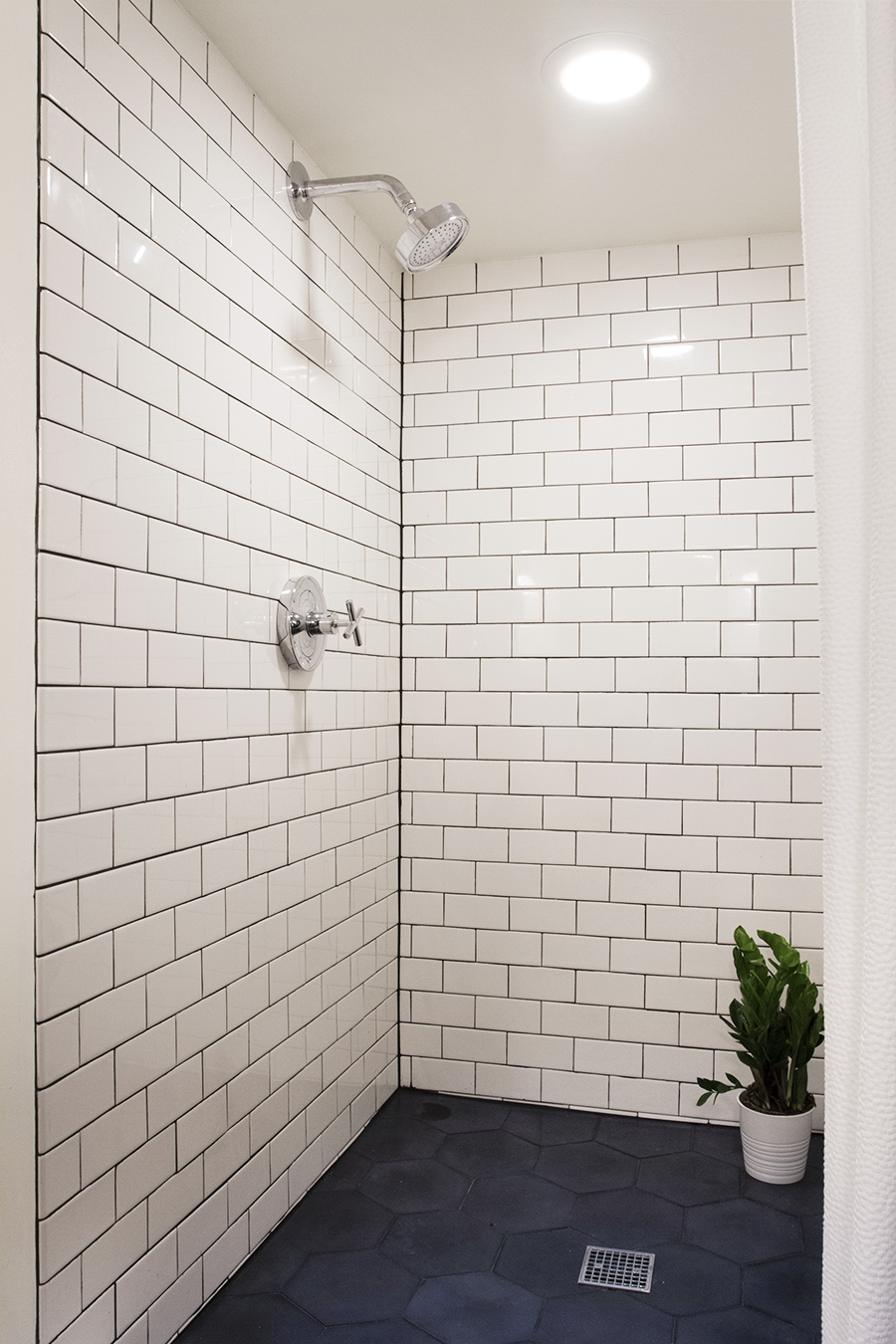 Moving on, let's talk about that shower stall. It mostly consists of tile (duh), but there is still some complex stuff going on behind that. For example, I needed to figure out how to replace the old shower valve with a new Kohler Valve. A few Youtube videos (this ones a real doozy) later I was starting to grasp the general concept of how the nuts and bolts of this whole operation was going to work, but I still didn't know exactly how I was going to plumb it. There was already an existing combination of pex and copper piping. Not wanting to invest in tons of plumbing tools and equipment I found a do-it-yourselfers BFF: Sharkbite. This stuff allows you to connect pex, copper and even brass threaded fittings. With my new friend Sharkbite by my side, I did some measurements and had the new valve connected and braces into place within an afternoon. Because our shower stall is adjacent to our unfinished utility room, it was easy for me to take down sections of drywall to work on, and test the plumbing from the other side.
Once I had the plumbing tackled installing the shower valve trim and shower head was super easy. The Kohler Purist fixtures take a vintage aesthetic and make it modern and new. I am actually turning into a shower person now – that says a lot because I am a die-hard bath girl. I've taken two showers since finishing up the job, and I plan on taking many more. This stuff is good.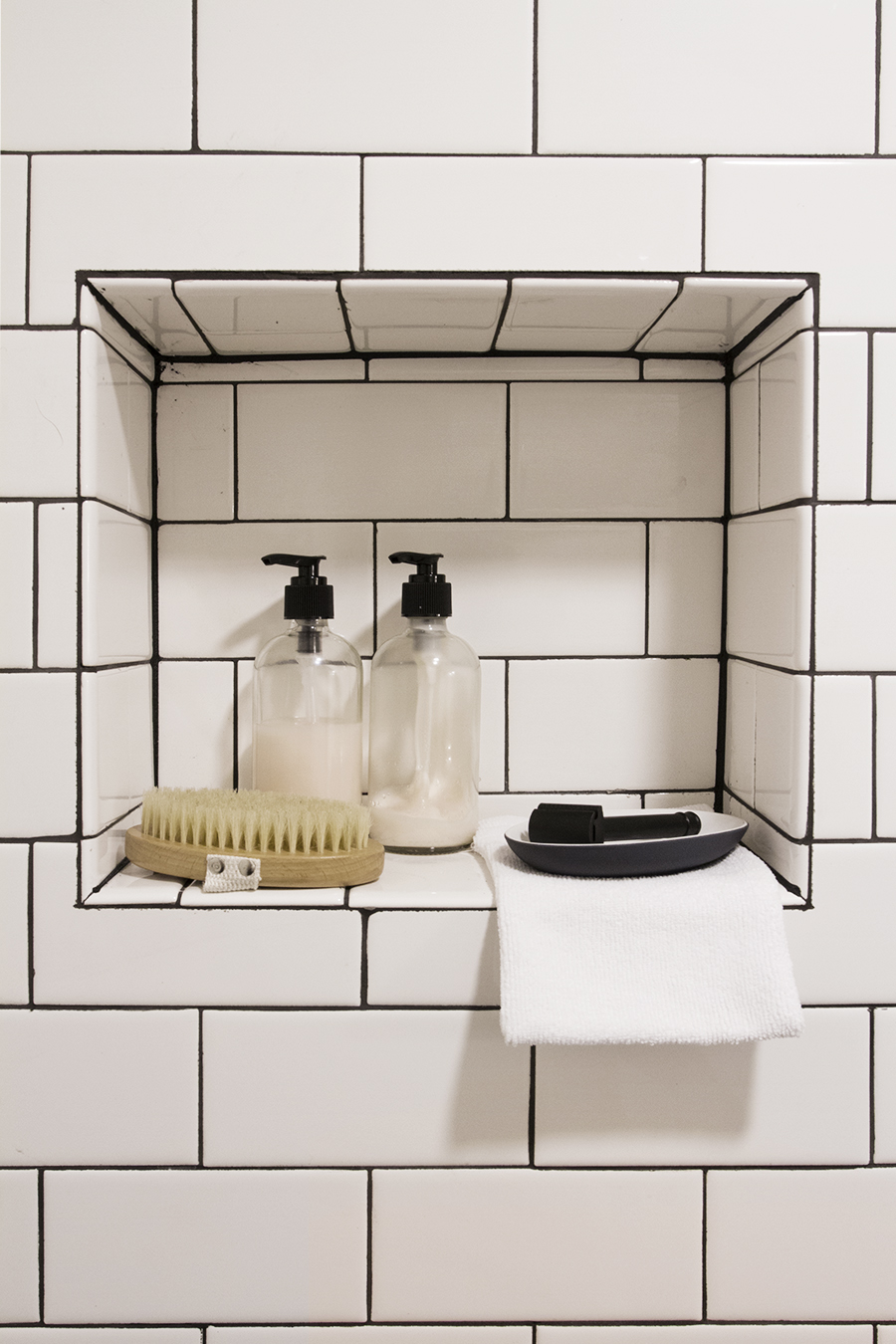 The other big hurdle in the bathroom was that little niche. You wouldn't think much of it, but from a tiling perspective this little thing deserves a lot of consideration. I planned out how the tile would intersect at the niche for the better part of an entire morning. I wanted the tiles around the niche to seem centered, more or less. It would be such a bummer to tile the whole way up the wall only to realize that the tile that abuts the bottom of the niche is nearly full sized and the tile at the top of the niche is only a sliver. I would seriously die if I tiled all the way up to the niche just to find out that the intersected it all wrong! During this whole planning sesh I had also decided that I wanted the tile on the back of the niche wall to continue the pattern and line-up with the tile on the surrounding wall. Around the perimeter of the niche I had used bullnose tile to give it a nice finished edge and I also mitered the corners. Who's da boss?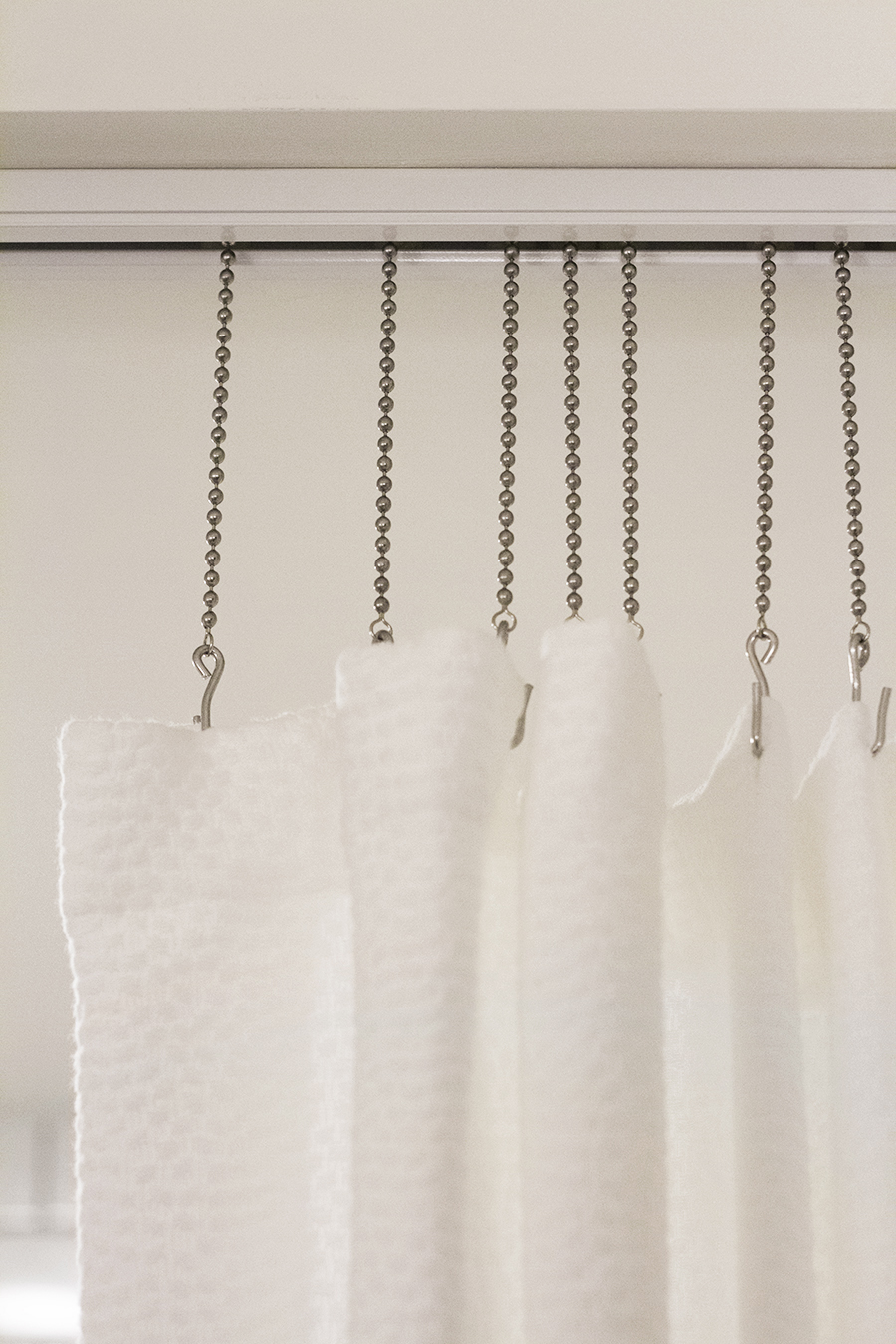 Something that I hadn't planned on being an issue was finding the right shower curtain. Originally I thought, no biggie, I'll just throw a shower curtain rod up and blamo! Done. However, I hadn't taken into consideraysh the fact that my super tall husband would have to duck every time he entered the shower. I needed a new solution and after brainstorming I thought maybe some sort of hospital track system could work. With a hospital track I could mount the track directly to the ceiling forgoing the need to drill holes into the tile while also making it super easy for the old man to get in and out of the shower.

Half way through January my floor tiles finally arrived from Clé Tile, and I was ready for 'em! Again, as it is with all tiles, planning is half the battle. I laid the floor tile out in a few different configurations. I had a few objectives. First, I wanted the tile to run centered under the sink. Second, I preferred it to not intersect the toilet in a strange way. Finally, the drain in the shower needed to be centered as well. I found a layout that would fulfill all these needs and I started tiling like mad. It took the better part of a week to finish, but the results are pretty great.
I had almost pulled the trigger on ordering a matte penny tile when I happened to come across cement encaustic tiles and was smitten. I had to dump the penny tile asap, and with the bucks I was saving on the sink I could be okay with spending some dough on the floor tile. I honed in on this dark blue tile in a large 8″ hex. The hex pattern is a nod to the era of the house where this tile pattern would be commonly found, although in a much smaller size. See, it's like a modern version of an old standard not any different than Brandon Flowers singing Frank Sinatra.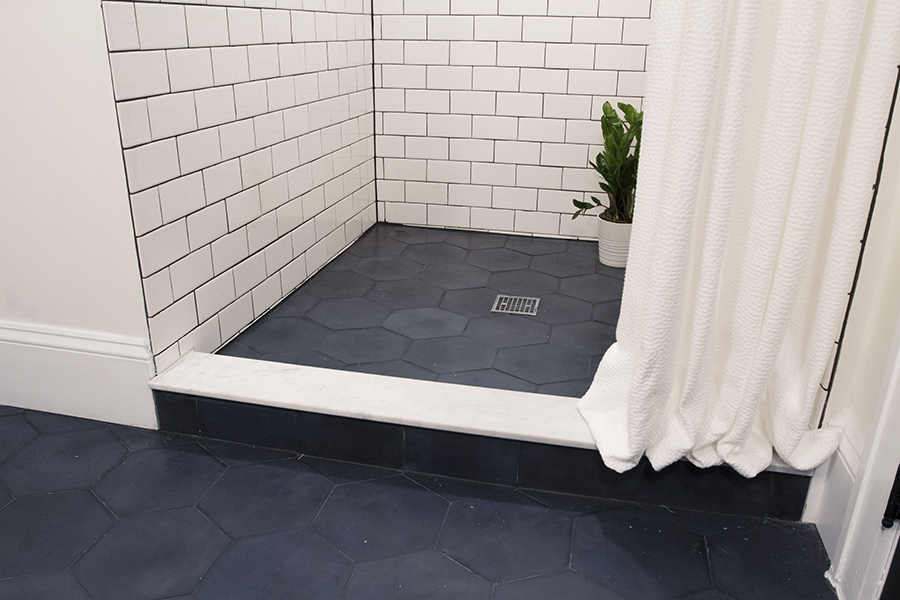 One of the only things I hadn't planned for was the shower curb. I didn't really know the best way to approach it, and I figured I'd either have to do it in subway tile or the blue hex. The subway tile just didn't look right, no matter what configuration or types of bullnose subway tile I tried. I was afraid of doing the hex because I would have to do miter cuts within a pattern to give it a finished look, and that seemed very intense to me. Thankfully I roll with a crew of very smart women (aka The She'Vaughn's) and they suggested to me that I cap it with a piece of marble. I was a little hesitant that it would look strange considering there were no other places in the room that I used marble. They told me to shut up, trust, and stop overthinking it. I found a place online that sells large chunks of marble stuff in all sorts of widths and lengths, and then ships it in absurd amount of packaging to keep it safe. I ordered a 6″ x 48″ hunk of this stuff, and then trimmed the edge down with a wet saw to fit my curb perfectly. It was the right choice.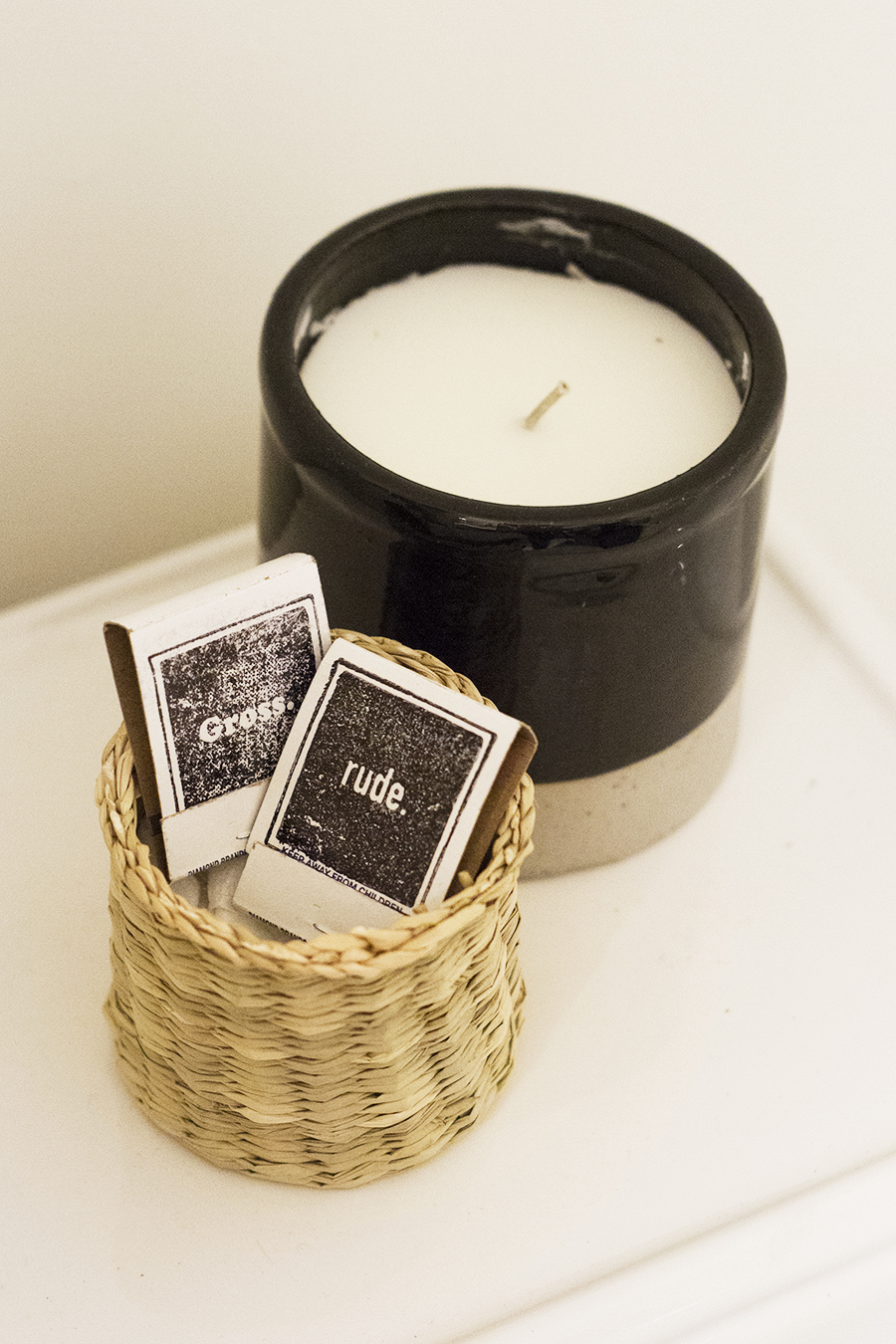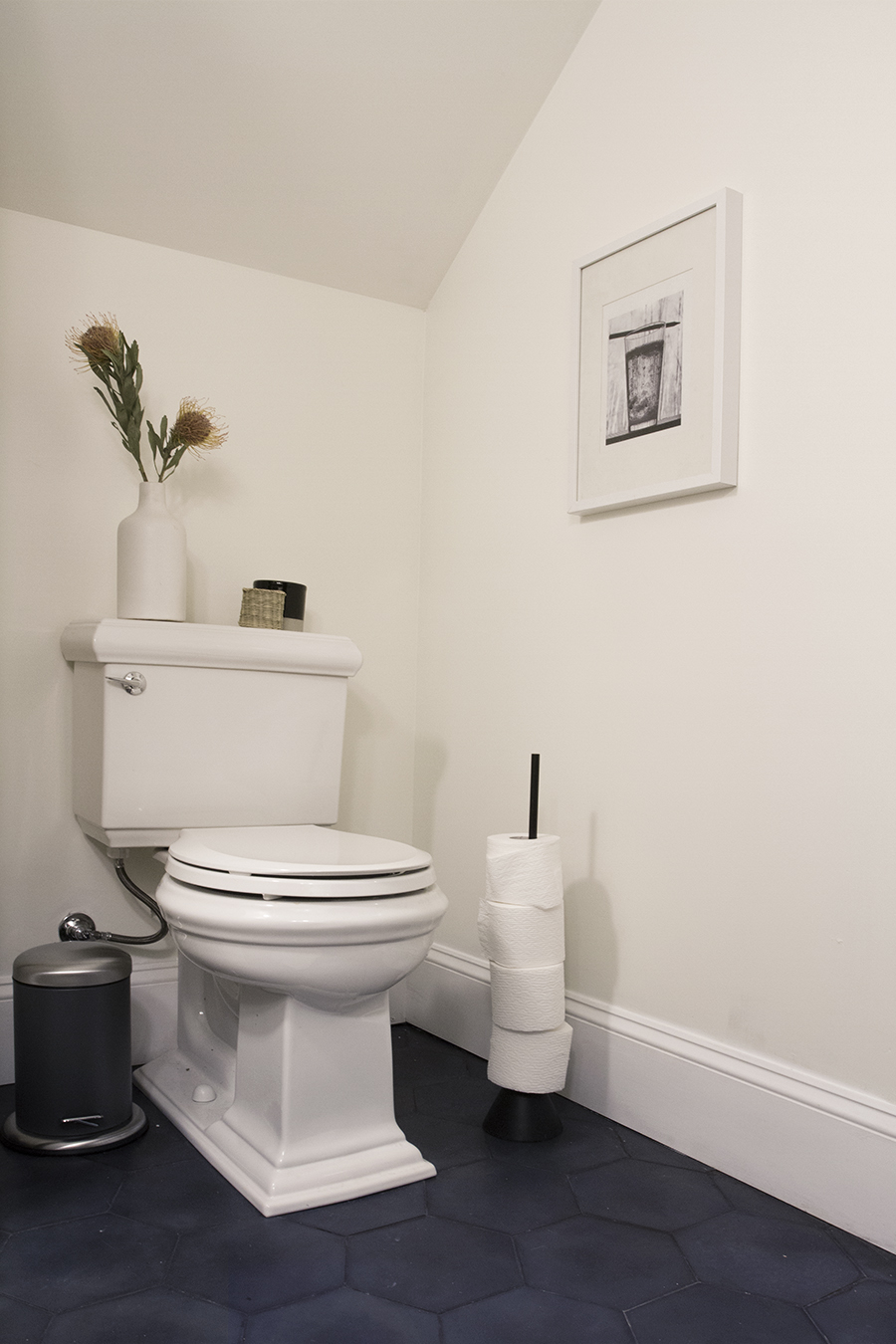 Now comes the easy stuff, the finishing touches. I replaced the old toilet with this new Memoirs jam from Kohler. The Memoirs toilet has a classic skirt reminiscent of the lines repeated in the baseboard molding around our house. I felt that this was a good fit to balance the old with the new. As an added bonus it's high efficiency and has the potentsch to save us up to 16K gallons a year. So tyte.
I had never installed a toilet before, but it became clear quickly that this is a very easy upgrade. It comes down to removing the old toilet, and setting the new one in its place. The only thing you need to do is turn off the water temporarily while doing the change out, and replacing the old wax ring with a new one at the drain connection. It's all very basic plumbing and shouldn't scare anyone off. I had my computer open to an article from This Old House and I didn't even need to read the whole thing, that's how easy it was.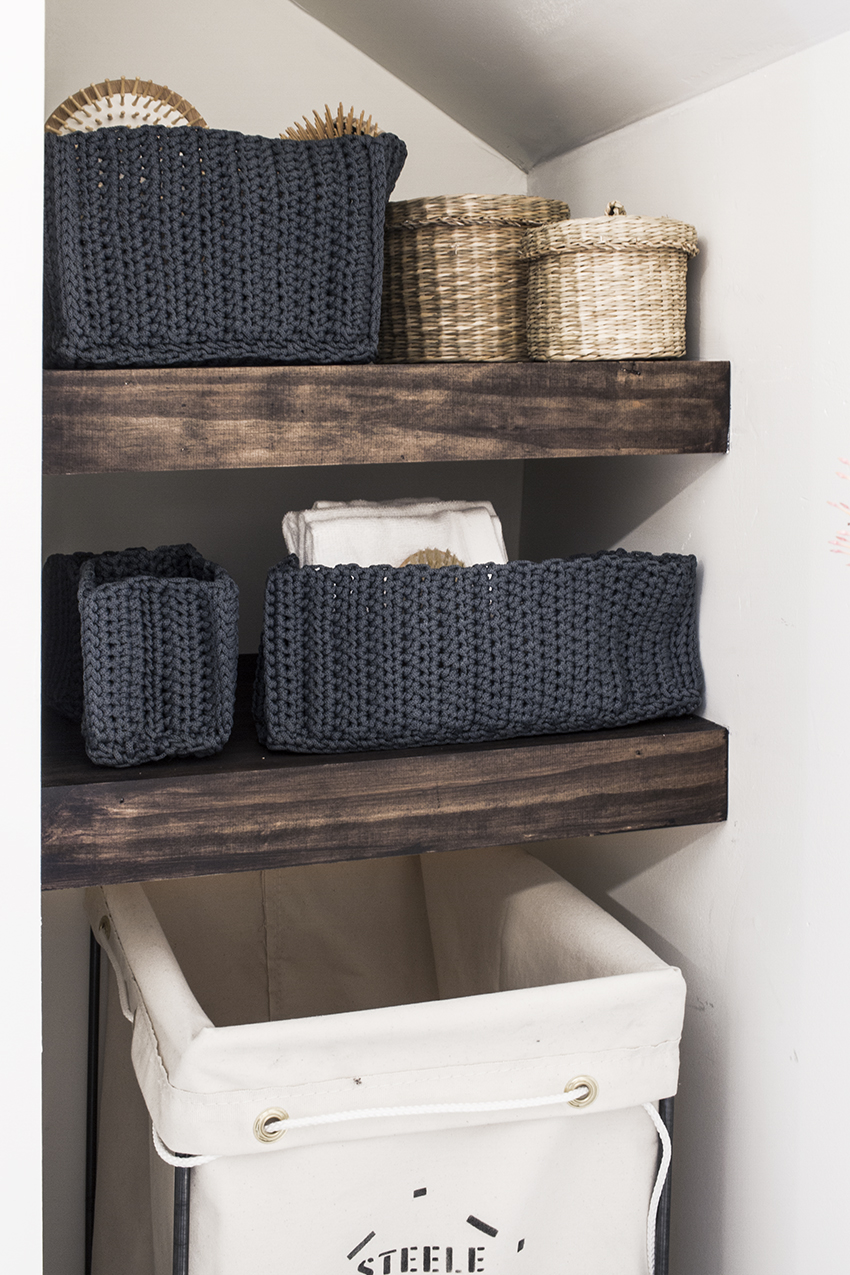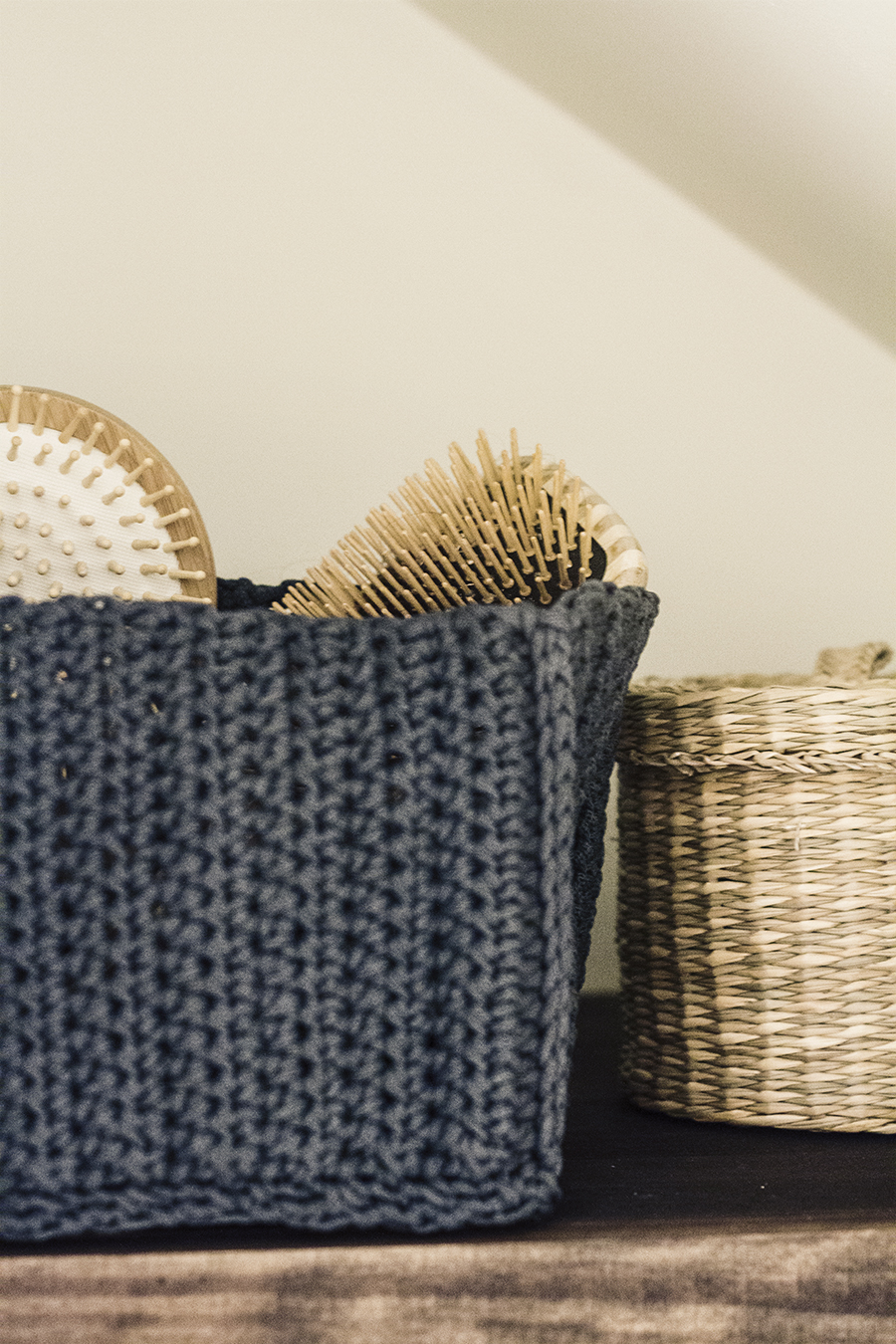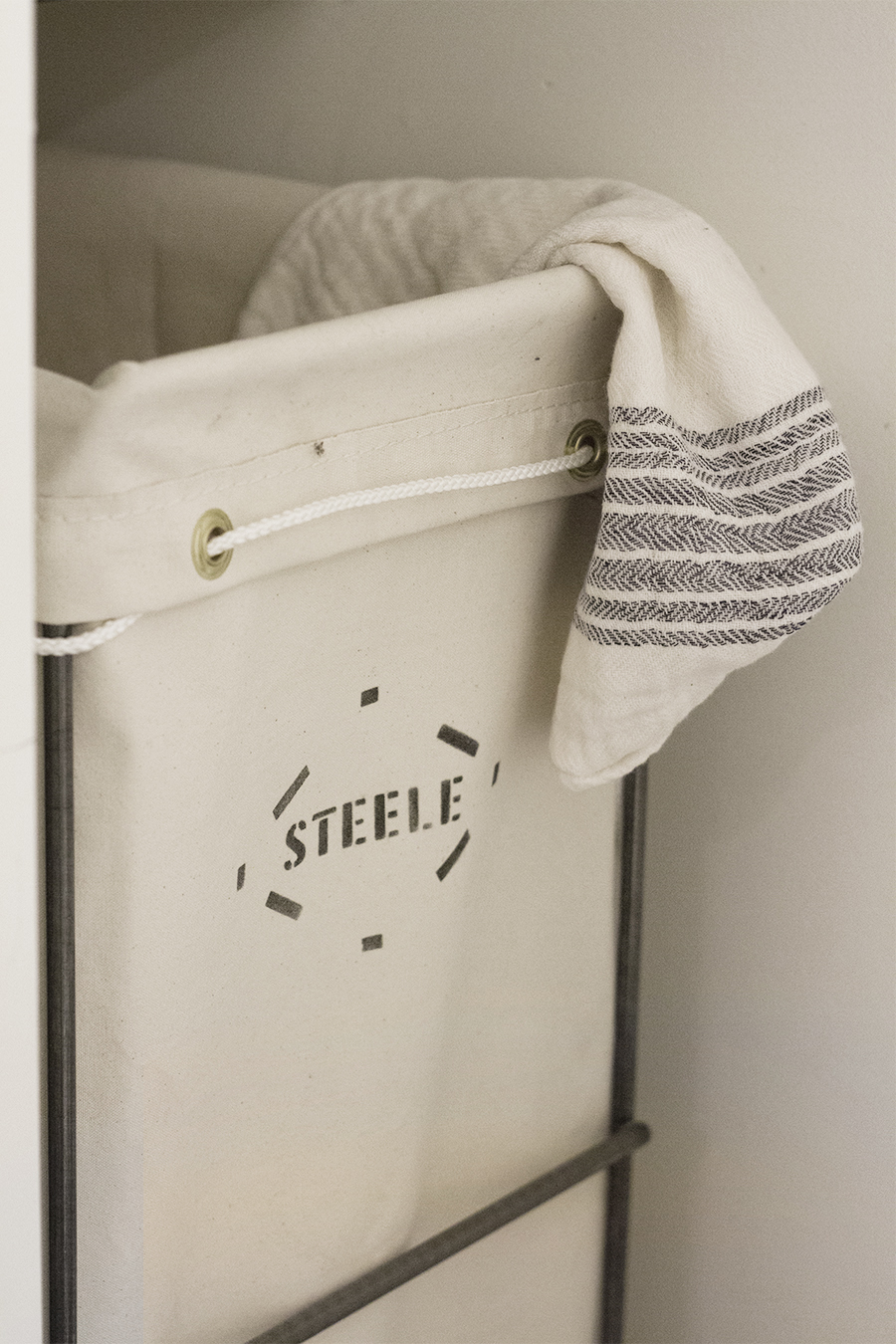 The finishing touches included adding floating shelving to the linen closet nook. After all the labor put into the rest of the bathroom, this job was easy peasy. Installing shelving like this is very simple and I'm going to get more into the details on an upcoming post – stay tuned. Because there is not a lot of room for storage in the space, everything has to have duel purposes. For instance, instead of using the valuable storage space in the shelving area for towels, I instead set a basket on the floor full of towels and also hung a fresh towel on the back of the door with a hook. Since I didn't want to use the shelving for toilet paper storage, I purchased a free standing toilet paper holder that can hold up to four rolls. This is also good because no one changes out the toilet paper at my house (we are the worst). I wanted that valuable shelf space to be used for toiletries so I organized items into small baskets that can be brought out when primping and tucked away when done. There is also a hamper below the shelving that I added casters too. The hamper is a canvas back on a wire rack so it can easily be pulled out from under the shelves when it comes time for laundry-doing. It's like I thought of everything, or something.
Being that there is no natural light, I may have gone over board with the plants, but I think it helps to add life to the space! I used a stool as a plant stand (for now) but anticipate the kids pulling out the stool to get a look at themselves in the mirror or grab a tooth brush, or a place to throw a towel before you hop in the shower.
The last day or two I installed the baseboard, it sits atop the cement tiles, that way the tiles can expand and contract as needed without having to be constrained by the baseboard. The baseboard is the same that we used in the main part of the basement and is reminiscent of the antique baseboard we have in the rest of our home. Everything that wasn't tile got a fresh coat of paint, and it was actually kind of enjoyable to paint knowing that the more I painted, the more I could see the finish line. Not to be forgotten is the door to the bathroom, I painted it flat black and I love the contrast it adds to the space.
In conclusion ma friends: I'm still waiting on a few more hooks to arrive for towels, but I couldn't stand not sharing the B-Room with you any longer. I'm stoked that it's finally done and excited to share a few more details in the coming week(s).
If you'd like to recap, here are links to the week-by-week progress: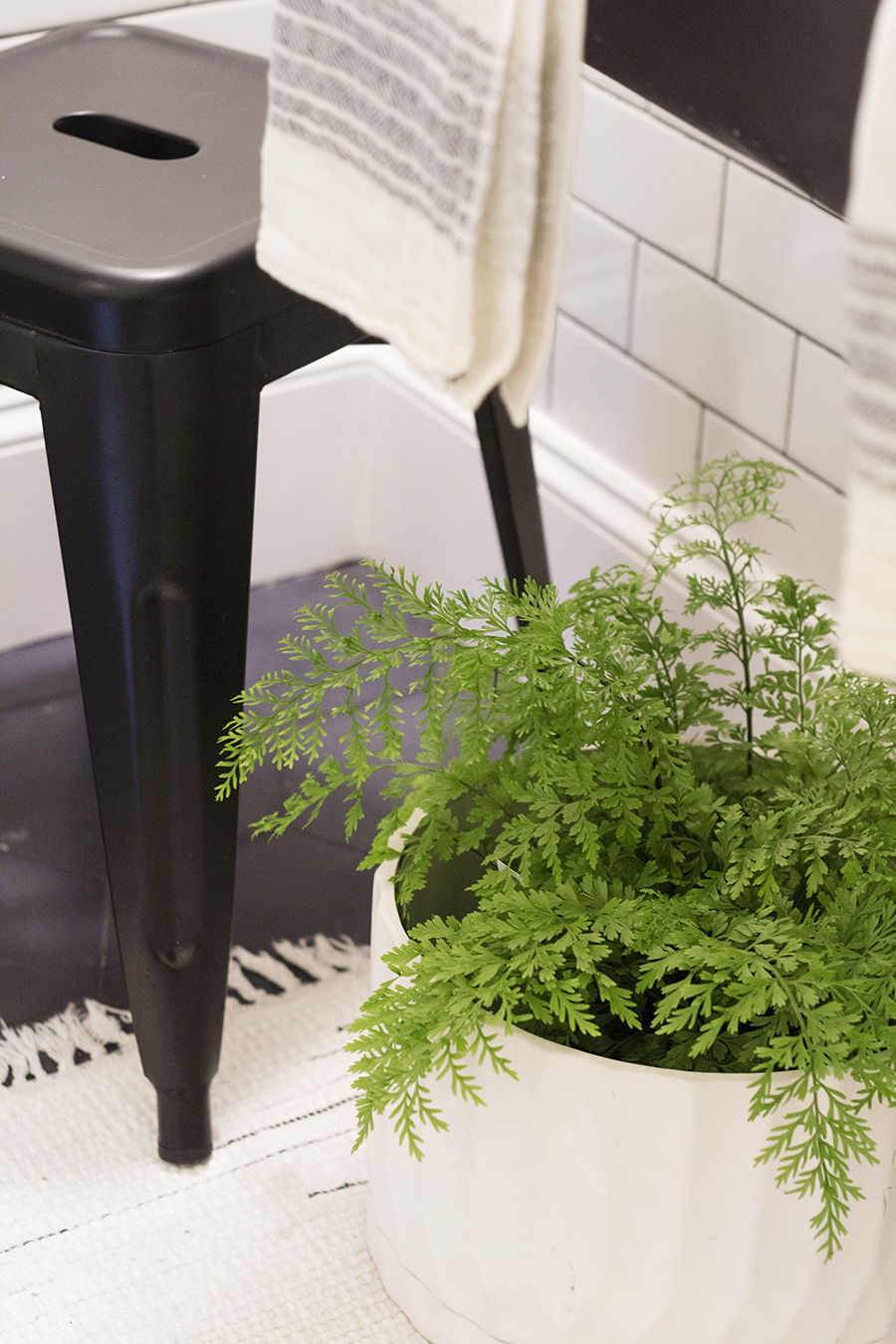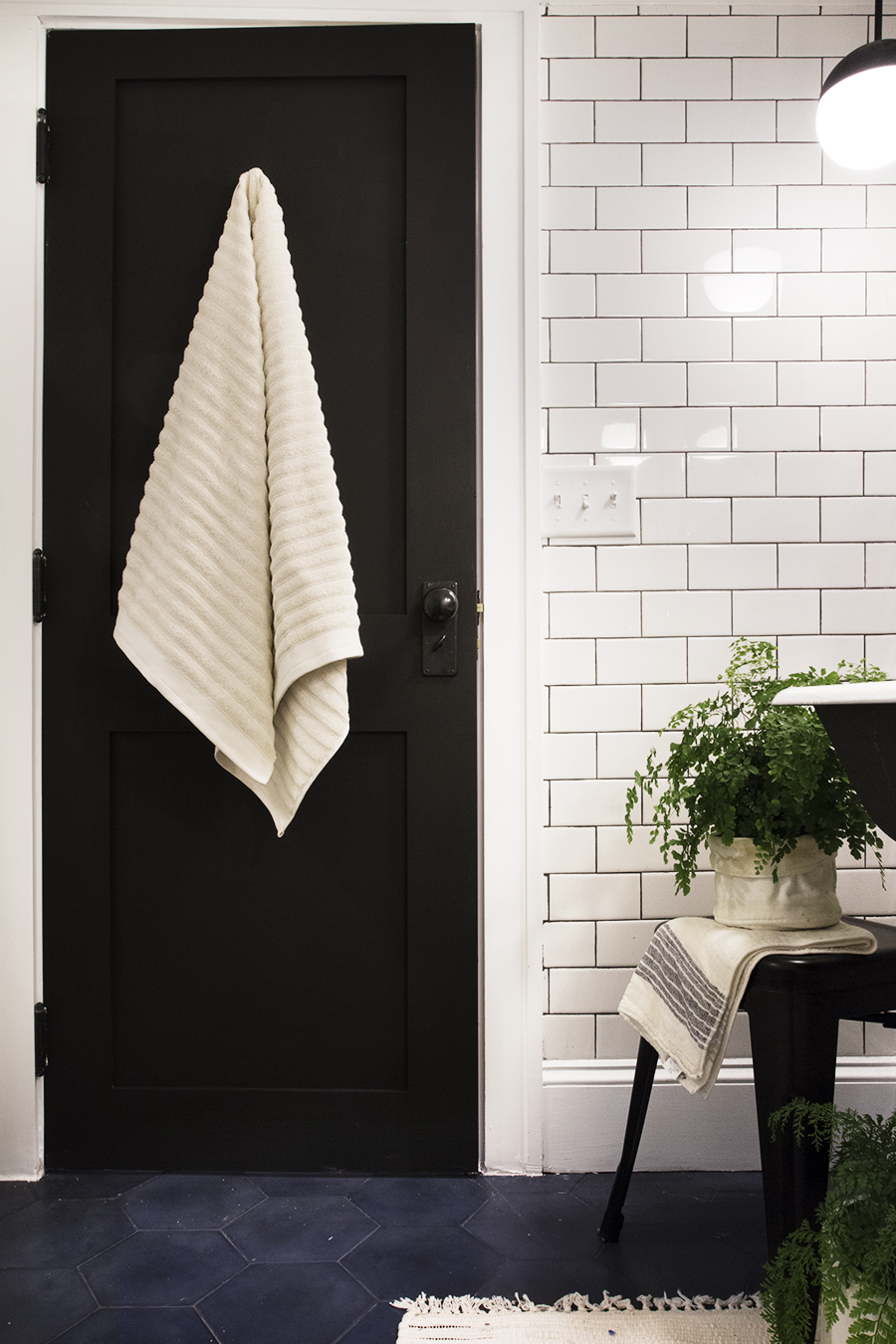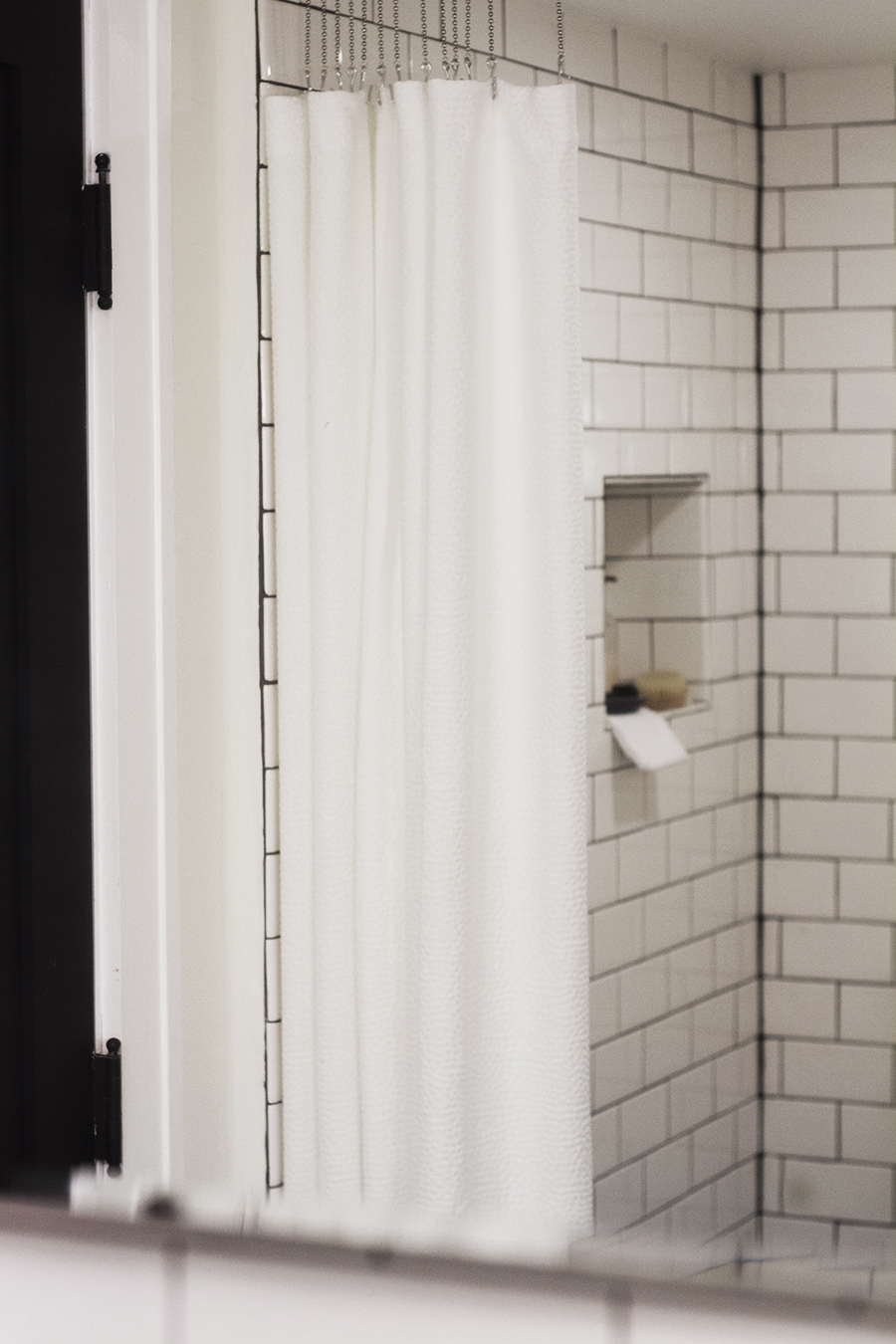 Before & After

Kohler provided me with a sink, shower trim and toilet. All text, opinions, info and photos are my own. Thank you, as always, for supporting those that so graciously support me!