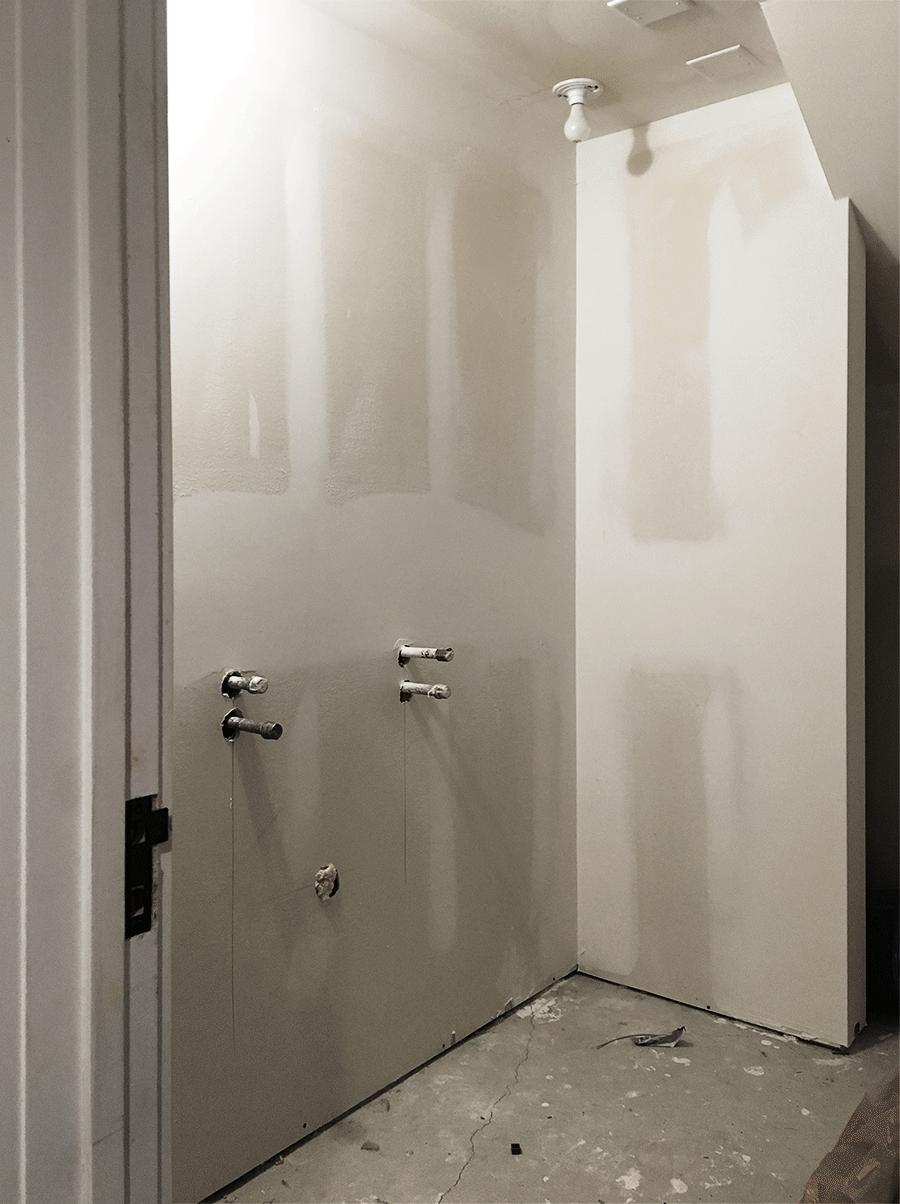 Hi guys. I actually started working on the basement bathroom. I mean how long have I been talking about this dumb bathroom? If you guessed one long stupid year, you're correct! I finally made my to-do list/timeline, purchased some supplies, ordered some tile, stopped being a baby about it, and actually began to do it. Yesterday was my first day of real work, so I guess this title is a little mis-leading, but I haven't talked to you in a week, and I've been doing a lot of prep and research, so it counts.
This is my first time doing any sort of bathroom upgrades. I am a complete novice when it comes to plumbing and cement tile installation – both reasons why this has taken be so long to start. I'm basically winging it. My timeline is a little backwards, normally I believe you'd tile the floor first, but since I'll be waiting another 6-8 weeks for my cement flor tile to be delivered, I'm starting with tiling the walls and shower first. I'll be leaving enough room between the subway tile on the wall and the floor for tile to be installed later on. But before I can really begin, a dry run is in order.
A little background for the 100th time (sorry if this annoying and redund). The bathroom was roughed in for me when we the basement was being remodeled last summer. The bathroom will be a three piece; toilet, sink and shower stall. Being that it is located in the basement, we were thinking it might make the perfect kids bathroom and hopefully do double duty as a guest bathroom (until the day where we get a powder room on the second floor). We need it to be both functional for the kids, and pretty for the friends. I had the floor plan figured out in advance and always had my heart set on installing the Kohler Brockway sink because I like the vintage look of it and I think it suits the age of the house, plus if it was a president it would totally be Baberham Lincoln (SNS). I had the worker dudes include the proper specs for the sink, which focused on the plumbing and bracing behind the dry wall.
I didn't want to get all the way into tiling the wall just to discover that there wasn't proper plumbing or studs in place, so I decided to try a dry run at installing the sink and plumbing prior to tiling, to make sure everything was right where it needed to be. However, I'm doing stuff that I've never done before, like use two pipe wrenches at the same time kind of stuff, so it was all a little overwhelming for me. Thankfully, the mounting of the sink wasn't that big of a deal. I referenced the ungodly amount of photos I have stock piled from the basement construction prior to the dry wall being hung, to double check and make sure all the bracing was where it needed to be. I can't recommend taking insane amounts of photos of the inside of your walls if you ever get the chance to, I referenced them a handful of times over the last year. Anywho, from the photos everything looked like I expected them to, so that was reassuring. I used a fancy laser level and tripod to attach the sink brackets at just the right height and distance. This was my first time using a laser level and it made everything go together so smoothly. I'll also be using it for baseboard install, and tile. The sink was hung dead on the nuts, and I was feeling good.
The plumbing was a little trickier only because I lack no confidence when it comes to this – like plumber already googled and dialed type confidence. After turning off the water, I had to remove the caps and pipe from the main 90º pipe that was behind the drywall. I used an assortment of 1/2″ threaded pipes (ahem, which involved many trips to HWS) in different lengths until I found one that would achieve the proper distance from the drywall. The pipes need to protruded out from the dry wall so that they would account for the distance between the wall and the "backsplash" on the back of the sink. I then attached a 1/2″ coupler to the pipe so that I would be able to thread on the Cannock faucet. After the pipe and coupler were tightened very very well, I attached the faucet per the instructions, and turned on the water. Success my friends! Can I just say that this is not typical for me to have this much good luck at one time, there is usually way more trial and error when it comes to me and projects. I'm hoping that this good luck doesn't mean something horrible will happen to me in the future.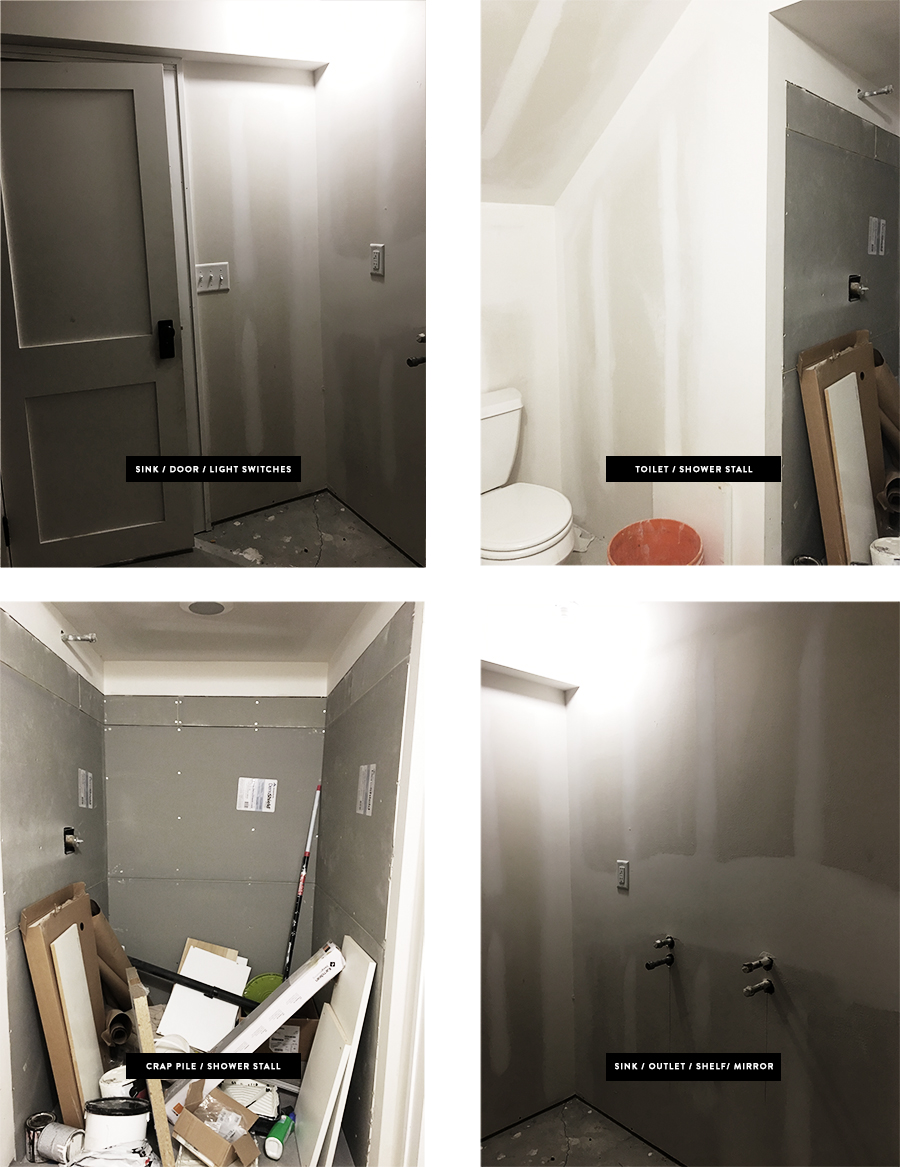 A quick tour around the bathroom — don't worry, I'll explain all about the rest of this space as the weeks go on.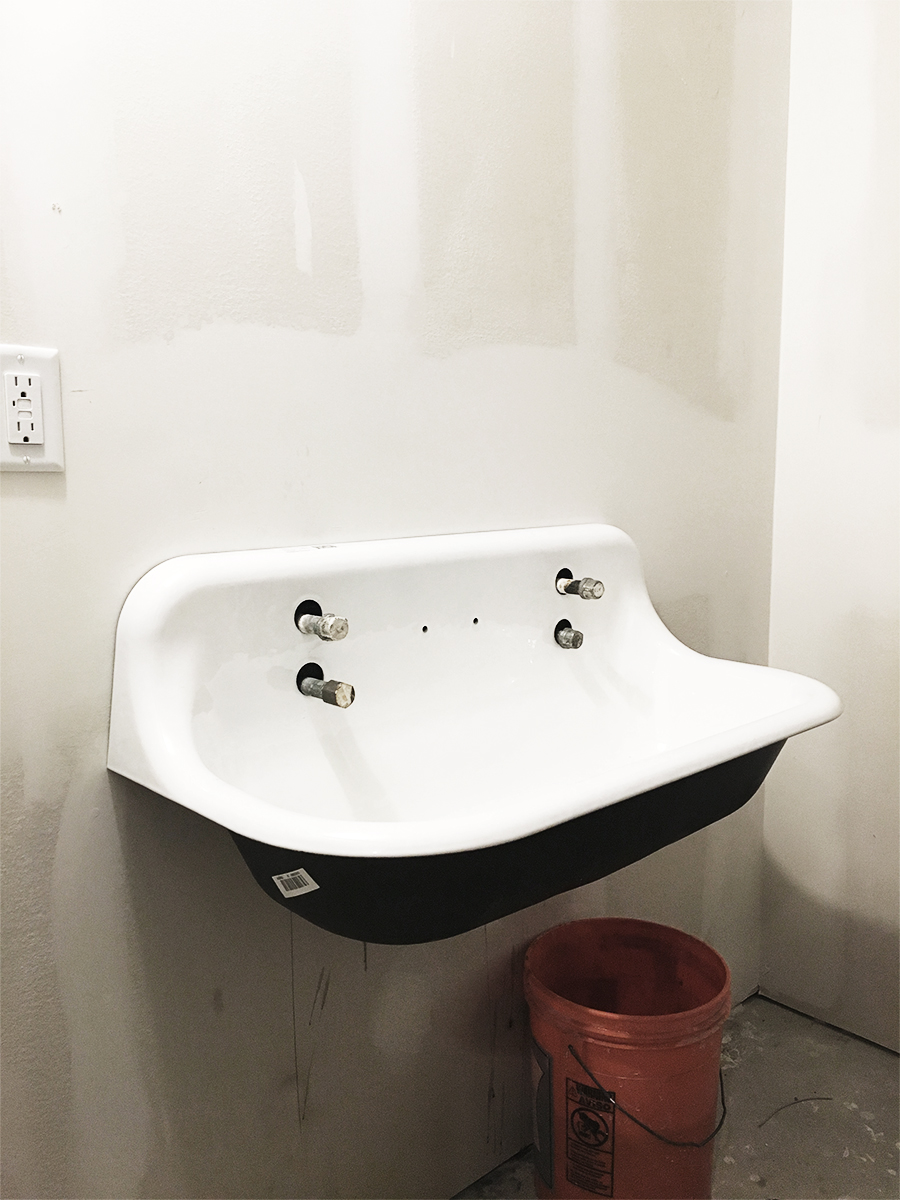 TO-DO
Dry fit of plumbing and sink
Install ledger board for tile
Install tile on sink wall and sides
G
rout is tile
Install Sink & Faucets
Hang Vintage Mirror
Install reclaimed wood shelf
Add Niche in the shower stall
Install shower valve
Tile in shower stall
grout in shower stall
Install shower hardware
Paint walls
Make pendant lights
Install pendants
Install cement floor tile
Grout tile
Seal tile
Install toilet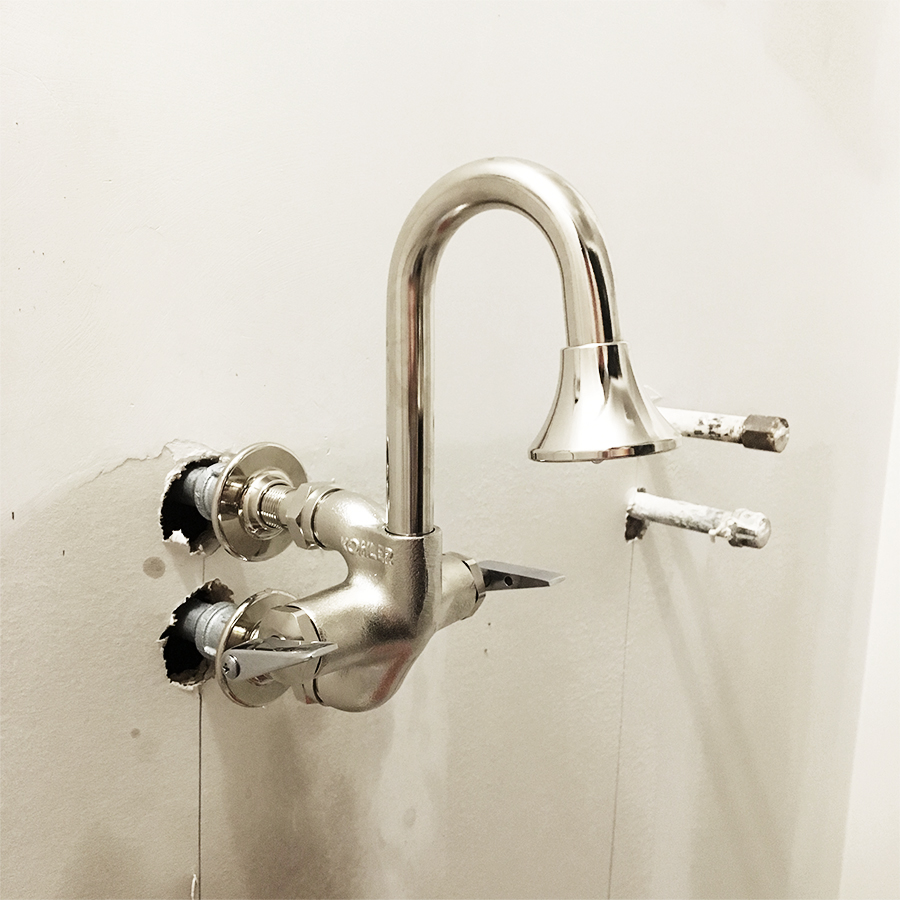 (Jeff thought this was a photo of a shower — god help him.)
Thanks to
Kohler
for the generous support in starting (and hopefully completing) this project :) Thanks to you for supporting the businesses who support me!