Hey guys! Whazzup? Technically this is the start of week four, but I wanted to check in and let you know where I finished off after last week. I've completed all the subway tile around the sink area which consists of one large wall and two more narrow walls. The tiling went up pretty quickly after I got into a grove. I've said it like five times already, but that laser level has made tiling so easy! If only their was a laser level equivalent for grouting! Holy buckets! How easily I forgot how horrible grouting is, my friends! It's such a mess with dark grout and it hurts your entire body. I think my time recovering on a heating pad was nearly half of week three, geez I am getting so old.
I started by grouting the biggest area behind the sink first. That was probably a mistake, and I should have taken it on in smaller more manageable batches. Lesson learned for the rest of the bathroom – I still have the other two shorter walls to do, and then eventually the shower and floors.
You probably noticed that I got that Brockway sink installed. I am completely thrilled with how it looks, I think it's soooo beautiful. I'm really glad I did a dry run prior to installing to mark the perfect location for hanging the brackets. Installing it would have been a big unknown, and I imagine a lot of trial and error had I not done that. The Cannock faucets are on now, woohoo! That being said, there is still a leak somewhere in my plumbing work, the faucet drips from behind the sink about one drop every 24 hours. The good news is that it's not leaking like a sieve, the bad news is that it is leaking. I have taken the whole thing apart countless times, I have solved the mystery of the drip countless times, only to have the drip show up somewhere else. There are sixteen connections made between the two faucets and the plumbing behind them, so many ways it could all go wrong. Anyways, I am trying to take a breather from this faucet situation over the next week and focus on my kids and family and stuff. I still somehow manage to troubleshoot that leak in my dreams every night, talk about torture. I've decided that I will take it all apart again with a pal next weekend, sometimes two heads are better than one. I had been using galvanized pipes to make my connection between the threaded elbow in the wall, and the brass faucet. After rethinking this, I have decided that my next step will be to try again with brass pipes as they are a softer metal and tend to thread together better, thus preventing leaks (or so the internet tells me). I'm also going to try and use a pipe sealant as opposed to the teflon tape I had been using. I'm hopeful that I can get this figured out soon, otherwise I will lose my mind.
I also installed that babe of a chrome trap, that is if things that protrude from under your sink can be classified as a babe. I used a heavy duty brass p-trap from Kohler, it had to look pretty since it was visible, and this trap did the trick. The distance between the connection in the wall and the trap was less than the length of the trap so I cut it down with a metal blade using my jigsaw, and then made sure to file down the rough end to prevent hair or other debris would get caught on it once the drain was in use.

As you can see from the pics I taped out where I wanted to hang a mirror and a narrow shelf. The mirror is one that I found in the attic a few years ago, and is most likely original to the house. It is exactly the width of the sink, (36″) and I think it will be the perfect compliment to the bathroom. For the shelf I have ordered some reclaimed lumber that I will cut down to be 5″ deep – just the right size to set out some hand towels, soap, or hold a cup for tooth brushes. I found some reproduction cast iron shelf brackets, and I'm hoping that they will look awesome paired with the dark wood of the lumber and the cast iron sink.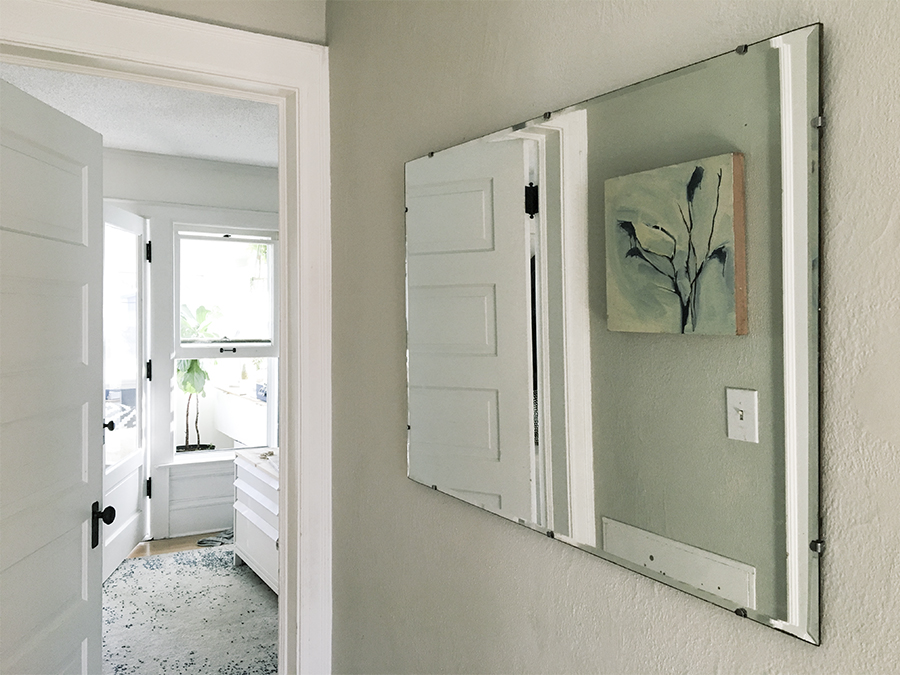 That's the mirror hanging in my upstairs hallway.

This is a pic of the shower stall, decently sized at 4.5 x 4.5 feet. I added a soap niche last week, which involved cutting into the wall, adding framing, and finishing it with the tile backer. Oh yeah, and there's this: I didn't realize that there was fiberglass sandwiched between the DensShield tile backer, good thing I had decided to wear a tank top and shorts that day. I was v itchy, so please learn from me and don't make that mistake, seriously just writing about it makes my skin hurt. I still need to install the shower valve, but I am hopeful that I will be sharing a success story next week. I guess we'll see how well youtube can teach me things I don't already know. Also, there will lots be lots of tiling which most likely will be difficult around the niche area – I'm looking forward to the challenge. Speaking of tiling, it's too cold to set up my tile saw outside anymore, does anyone have good tips for using one inside. I'd like not to make too big a mess! Right now I'm considering using the laundry room as the wet saw area, oh, and lots of plastic tarps.