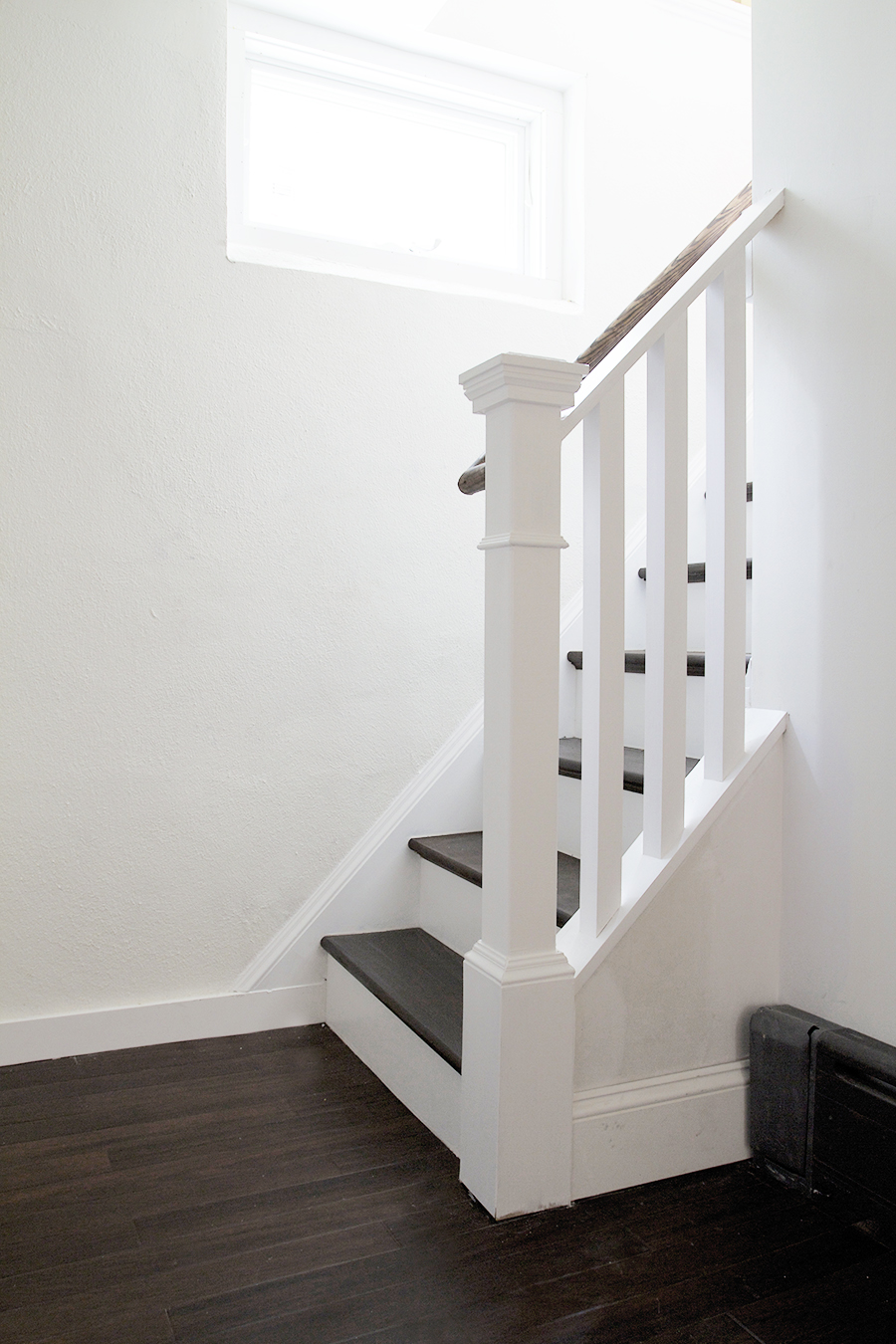 BUDZ! Behold, I built stairs. What started out as a quick and easy refinishing project turned into one of the hardest most satisfying things I've done as a homeowner to date. I honestly thought that I could take the old steps (see below) remove the staples and the construction adhesive, strip the paint and refinish the stairs. However that is not what happened.
Usually before I start a project I spend sometime staring at the project. This is how I make my plan. So I was staring at the stairs (get it? Mad shout outs to my people over at Highly Pun LLC), and I realized that I wanted to add a skirt to the stairs to give them a real nice finished look, thus giving me an excuse to trim them out, which in turn would make them look reminiscent of the main floor stairway in our house. If you're not familiar, a skirt on a stair is that trim piece that runs up alongside the staircase. Making a stair skirt requires a lot of detail and intricate cuts and if I was going to spend all the time doing that, I might as well just replace the treads, and if I was going to replace the treads, well I better replace those beat up cracked risers too. And I'm sure you can get where I'm going with this.
Since I began designing the basement I was determined to have bits of it that I could use to give a nod to the history of the home. I didn't just want a brand spanking new basement (well I did) that looked out of place in a 105 year old home. Okay, so I know it does a little, but that's cause it's new, but it also doesn't, and that my friends is because I tried to add some old stuff to it (dur). I wanted to use baseboard trim, hardware and the stairs to incorporate historic elements into the space. So these stairs were important to the big picture, the grand plan, the whole enchilada!!! Get it?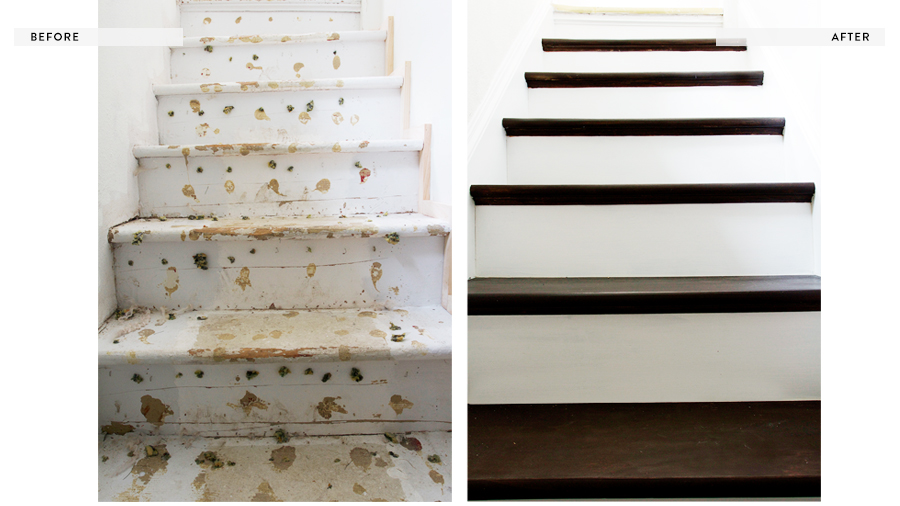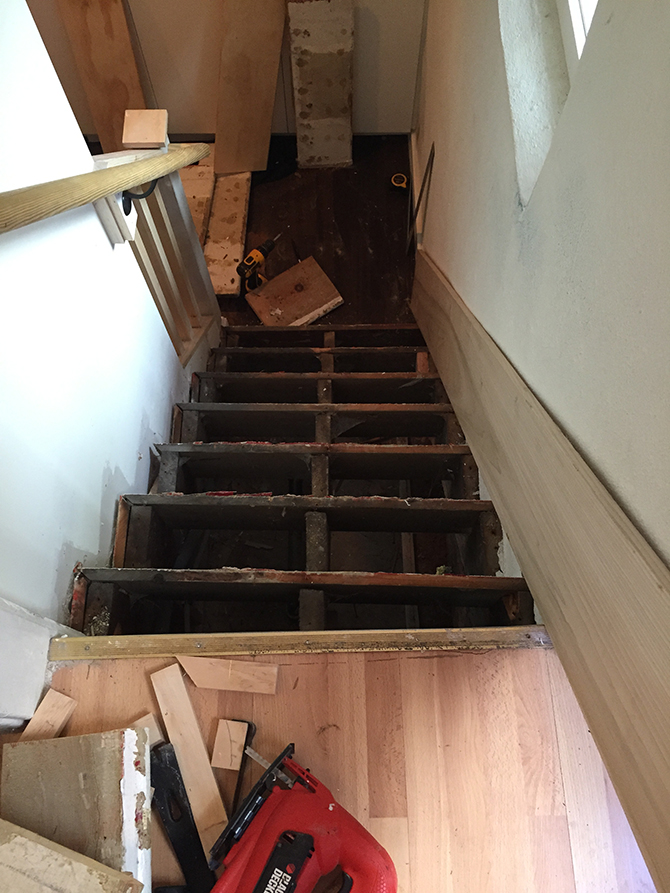 Holy Balls! Look a the mess I discovered when I started taking the stairs apart! First of all, removing stair treads is a total pain, it took me an entire day and it wasn't fun at all. Especially when I discovered that one of the stair case stringers was no longer connected to the stair landing. I guess that explains why they always sloped down quite a bit. I'm surprised that nobody noticed this was a problem during the whole
basement reno thing
.
Anyway, let the nightmares begin, because I had them. All night long after discovering this mess. Somehow my dreams lead me to a solution. I figured that I could hoist the stringer back up using 2×4's as bracing. I notched out a right angle into the underside of the stairs using a jig saw and then wedged the 2×4 into place. I raised the stairs 2.5 inches allowing me to use some heavy duty screws to reattach them to the landing from below. Also, there were a lot of spider webs down there. In addition I added a lot of structural bracing, so that baby should not be going anywhere! I totally had a cocktail and took a nap after accomplishing this heroic feat.
Next step was cutting out the skirt. Typically you would put a skirt on after adding the treads and risers to the stairs, but because our stairs are so old I wanted to be able to easily access the guts if need be. Because of that, I choose to put the skirt on first and then nail on the treads and risers. Sorry to all you woodworker dudes out there who probably can't deal with me admitting that little fact, I cheated.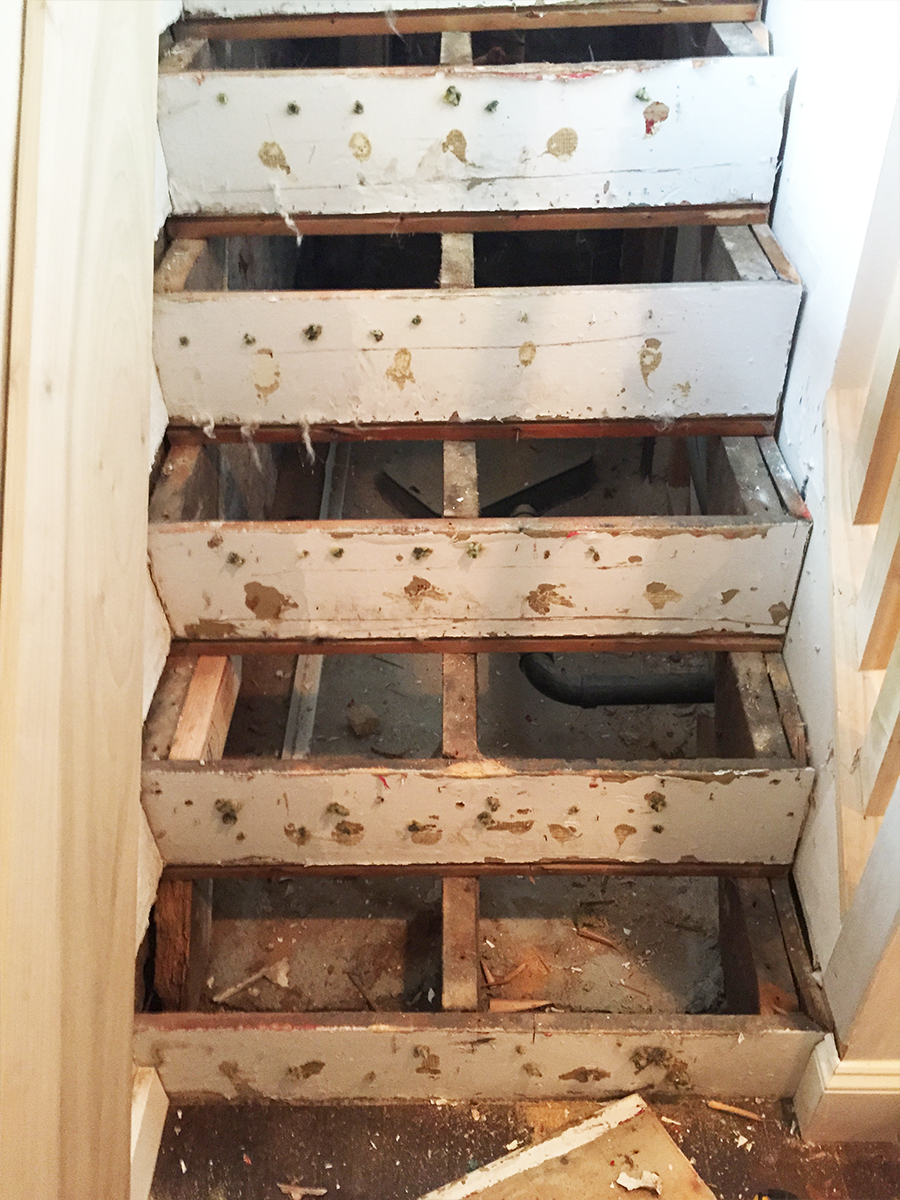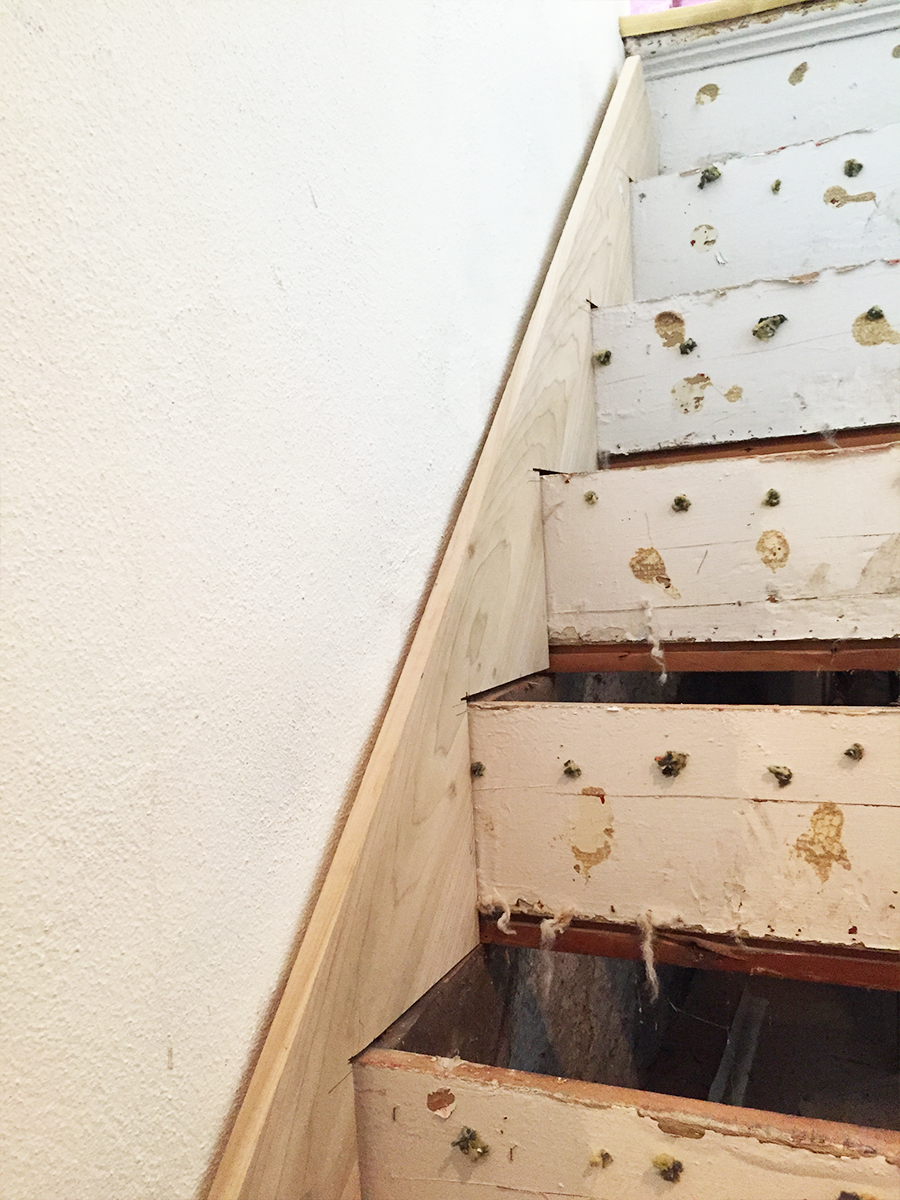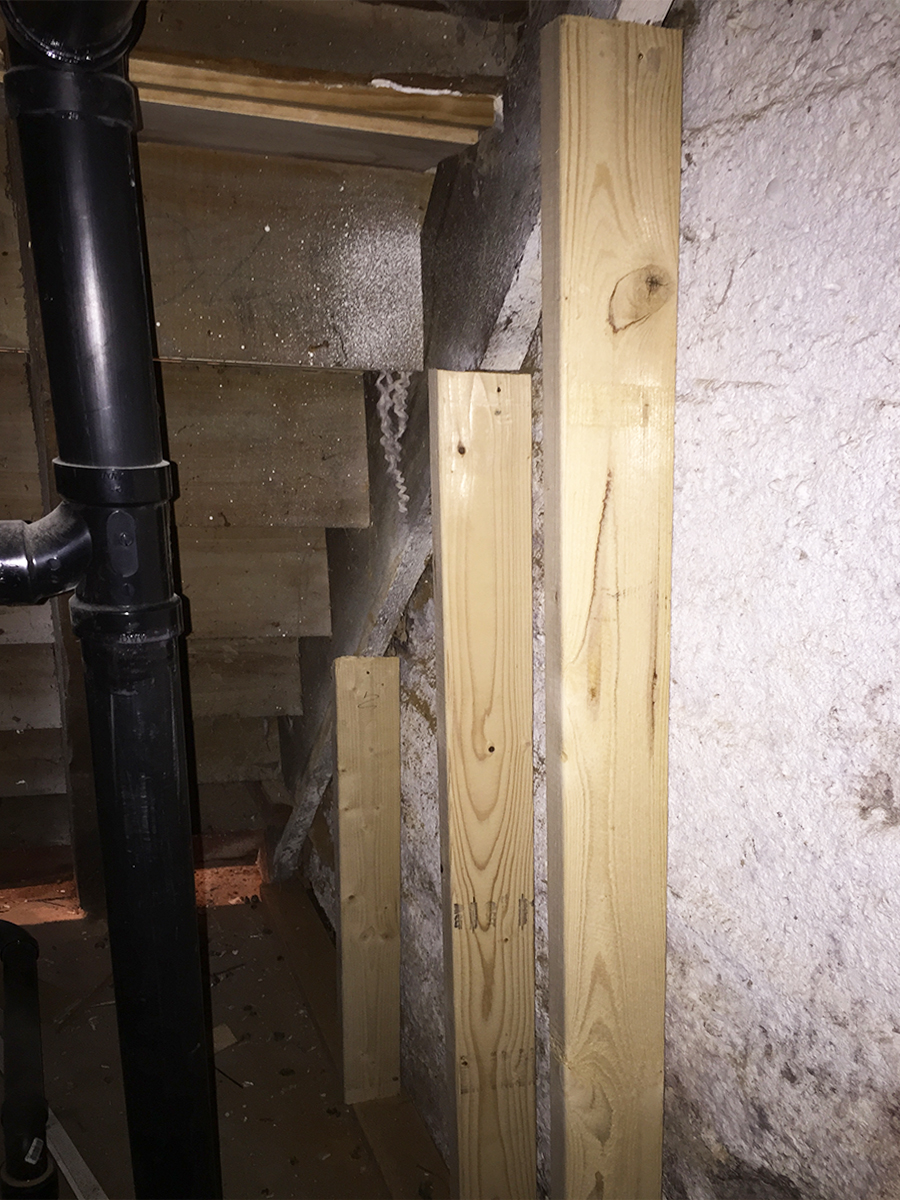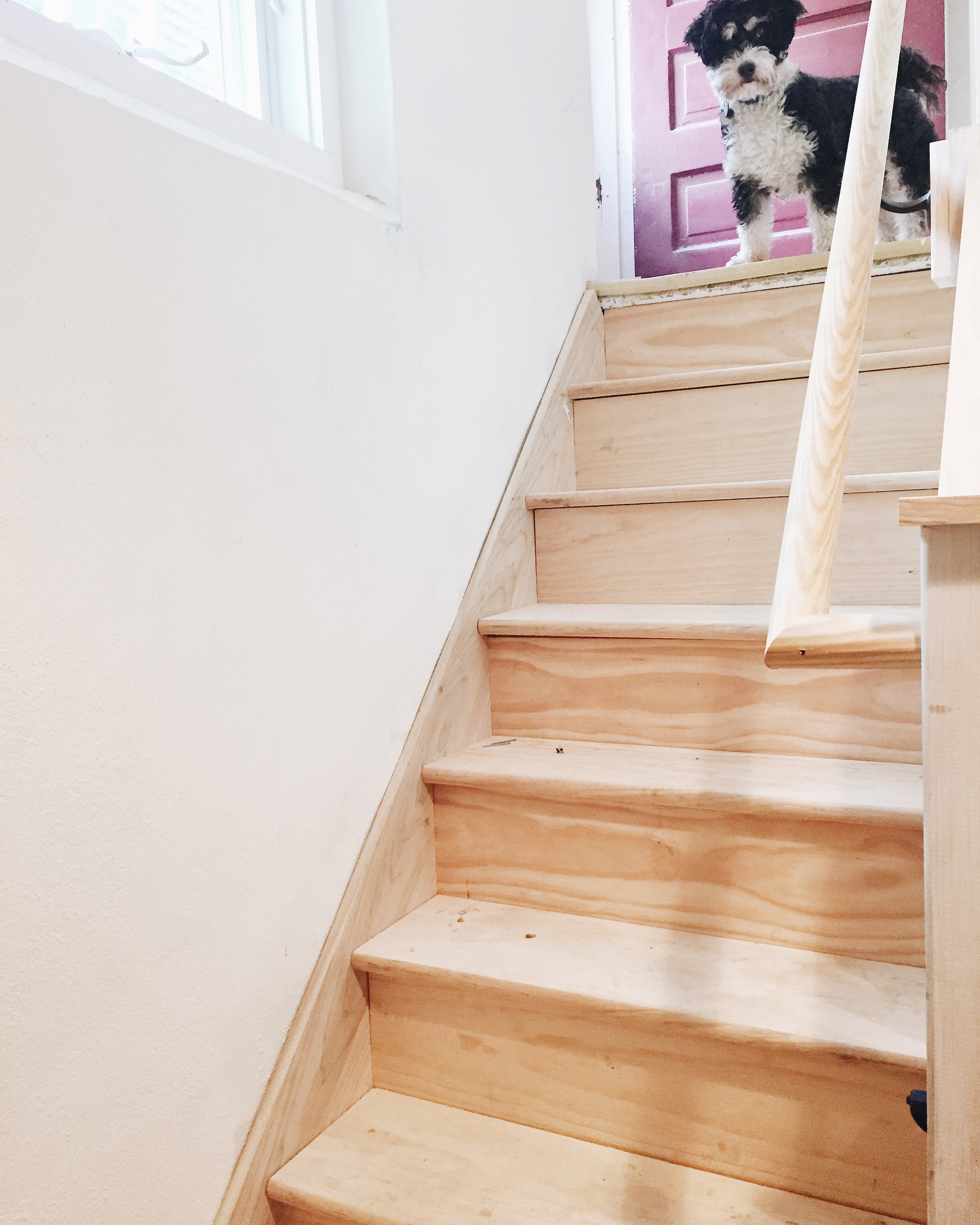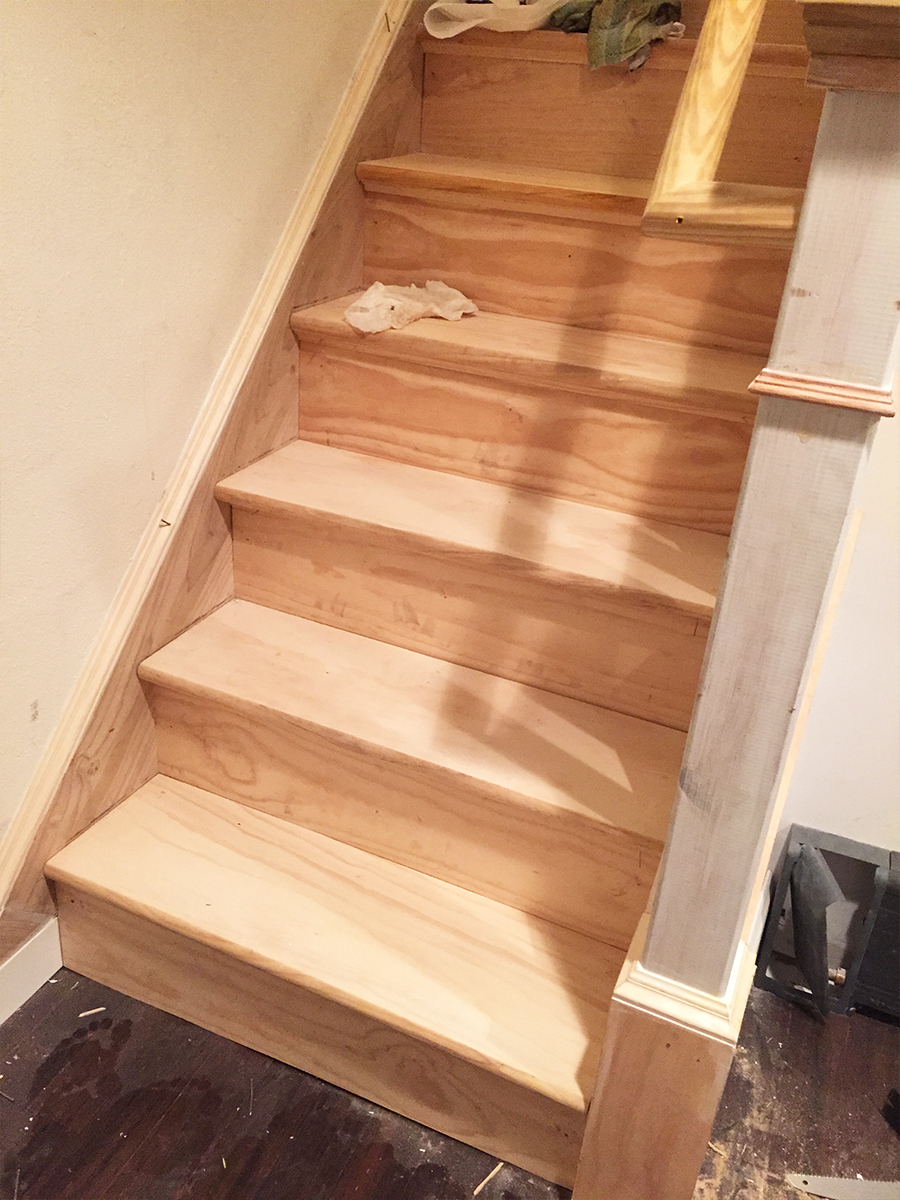 Knowing that my kids wouldn't die from falling through my stairs was a relief. When I started this whole thing I really didn't know if I'd be able to figure out how to stabilize and secure that stringer. Once that dream was realized the rest was down hill, but then it wasn't, because the rest was really tedious and time consuming.
I wanted these stairs to be pretty and that required a lot of trim work. There were many, many, many trips out to my garage to visit my sweet saw. I think I logged 20k on my fit bit during the first day. So many cuts, so much detail, so damn time consuming. I was ready for those steps to be done, but the reality was that I wasn't even close. It took me two days to finish the trim work – granted these are not full days because the husband guy was out of town and I was single mommin' it, but it took a lot of time. I added a cap to the skirt on both sides, a bit of trim on the underside of the treads and beefed up that newel post.
Then came the staining and painting. 'Nough said. First I stained, then I painted, then I added a layer of poly to every other step so I wouldn't trap myself in the basement (still got to do the other stairs this weekend). Lastly I caulked the crap out of those stairs. Now I just got to do a few touch ups and she'll be good to go.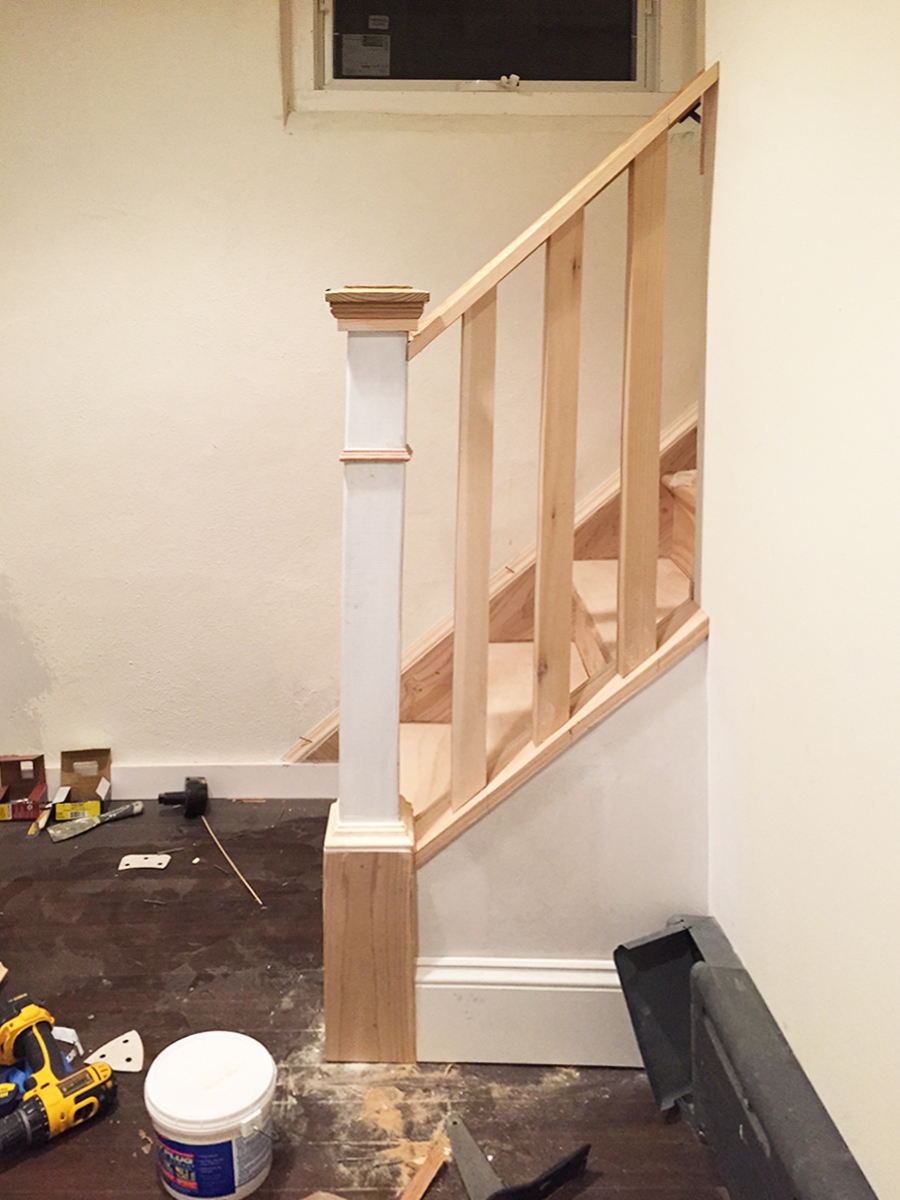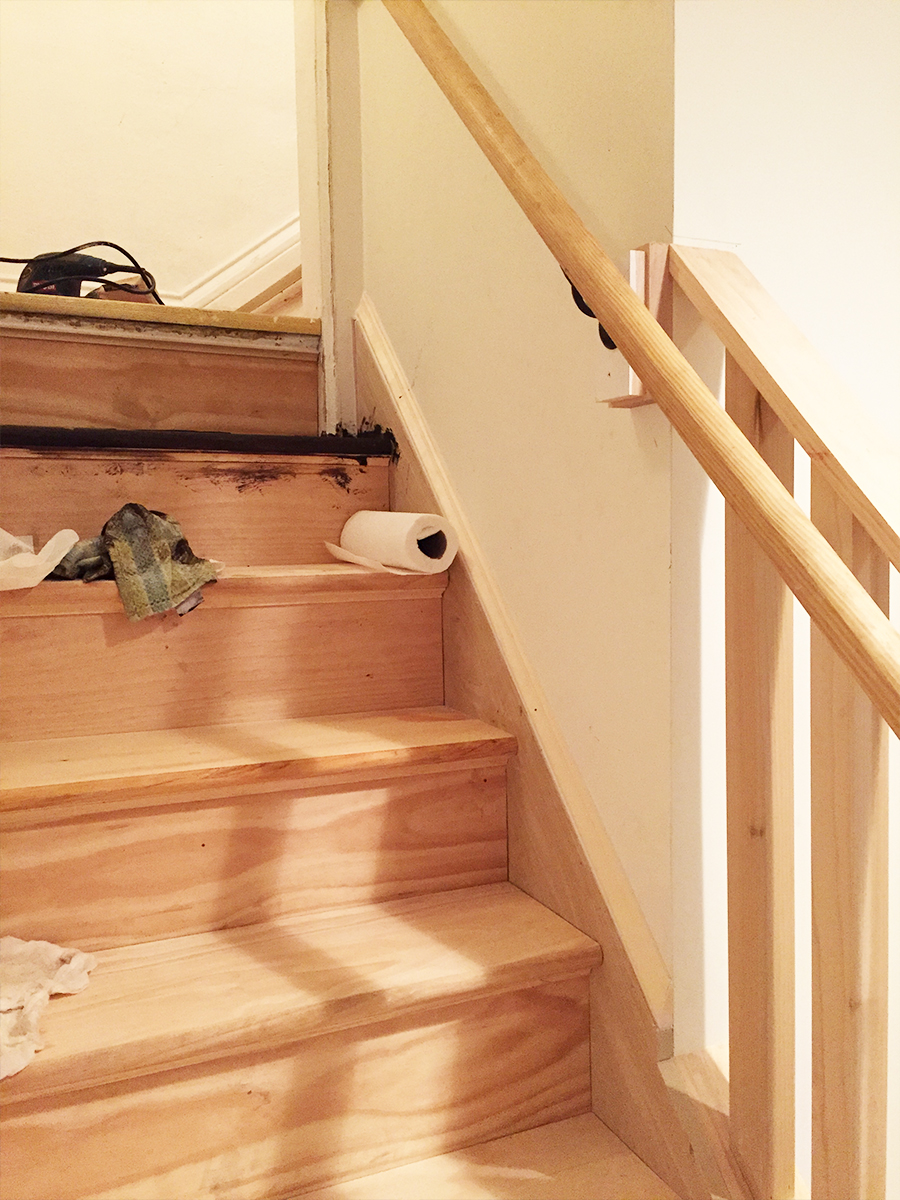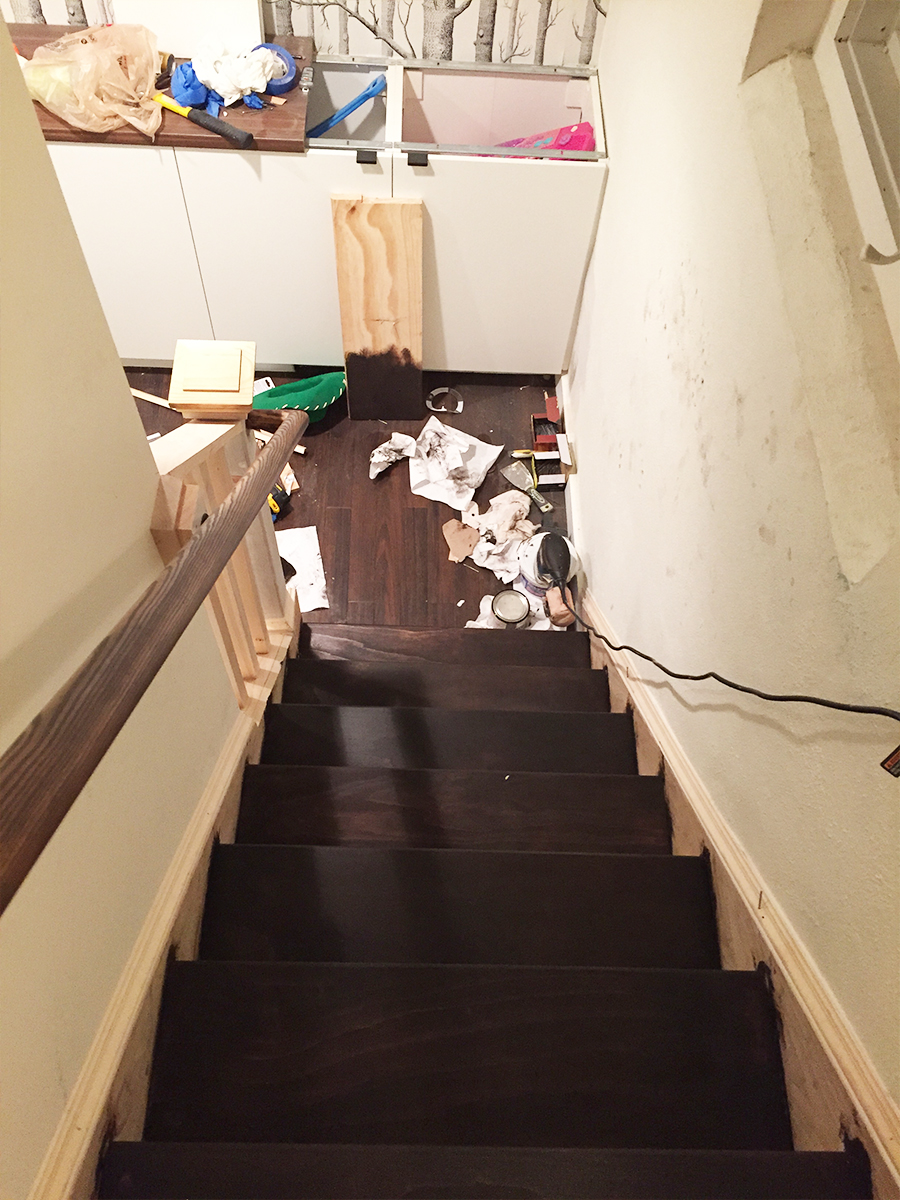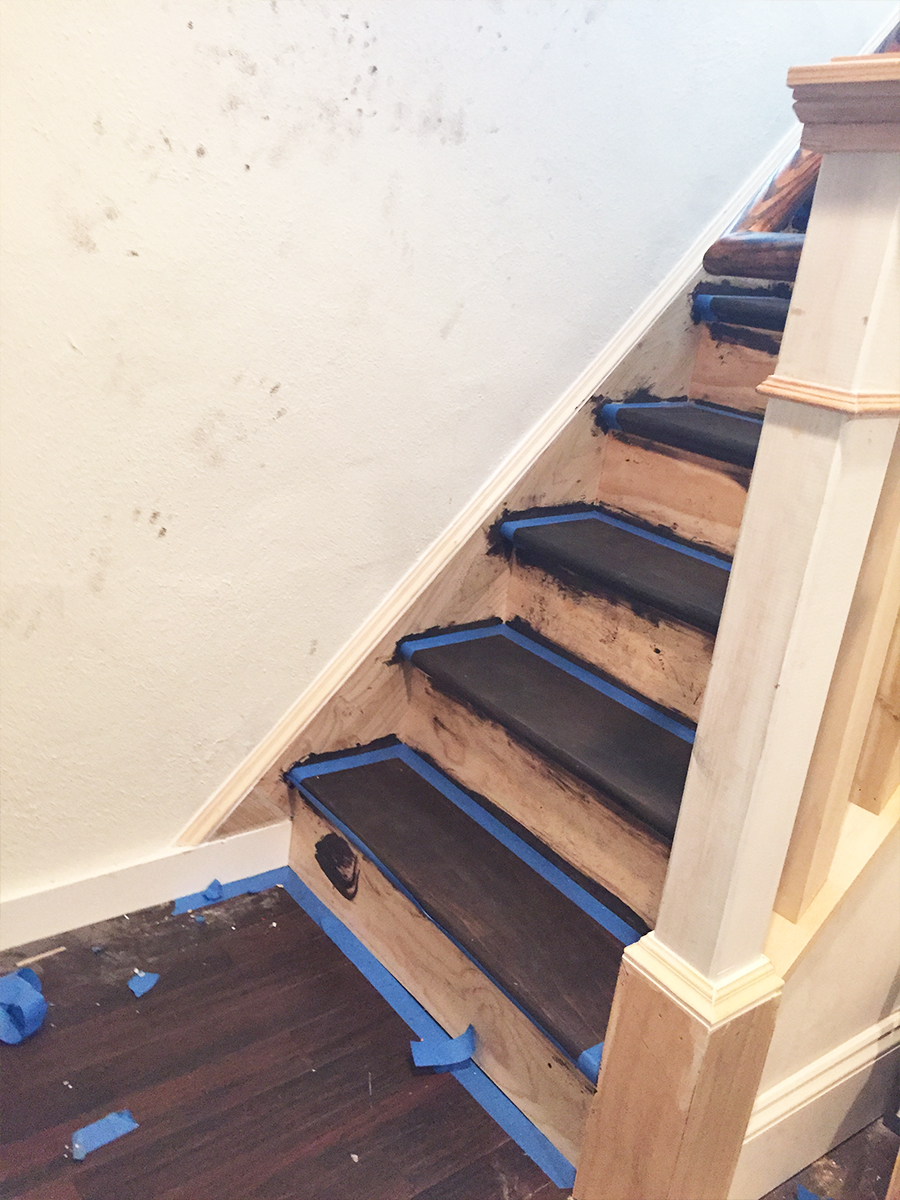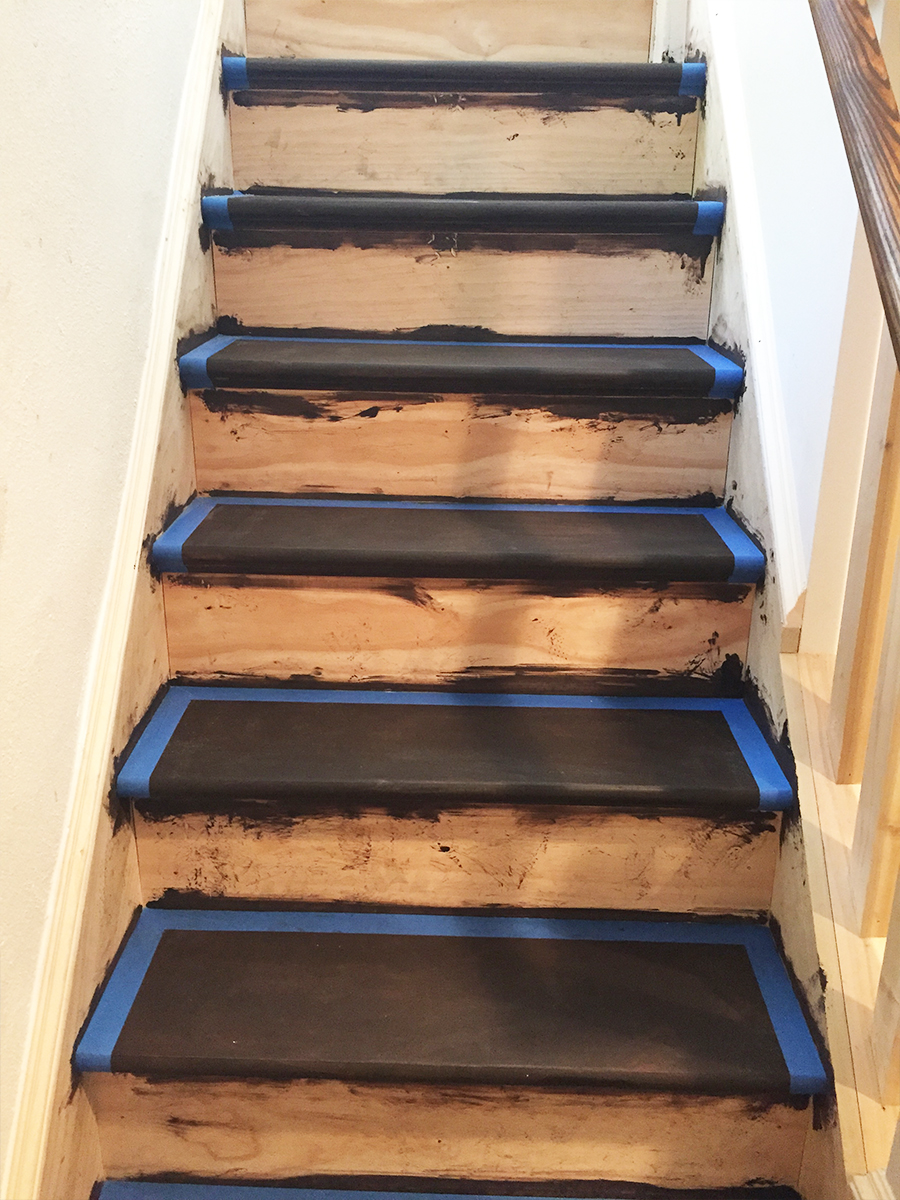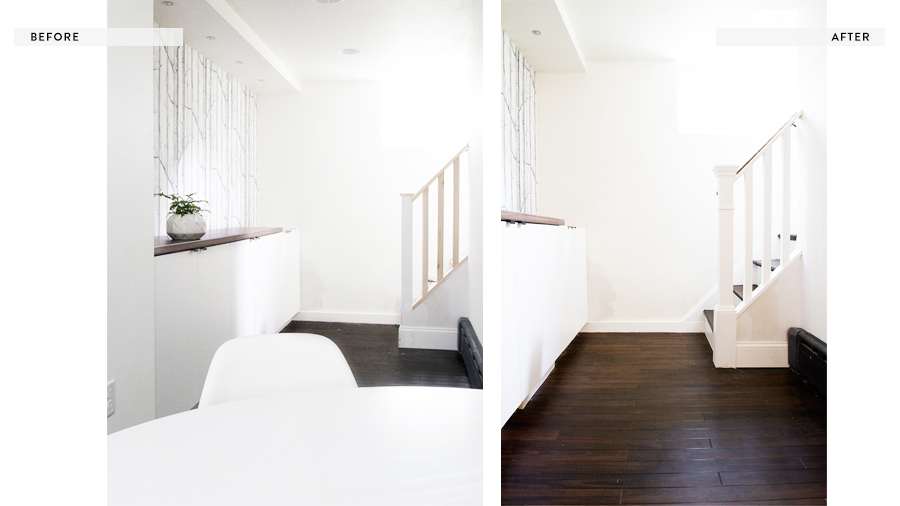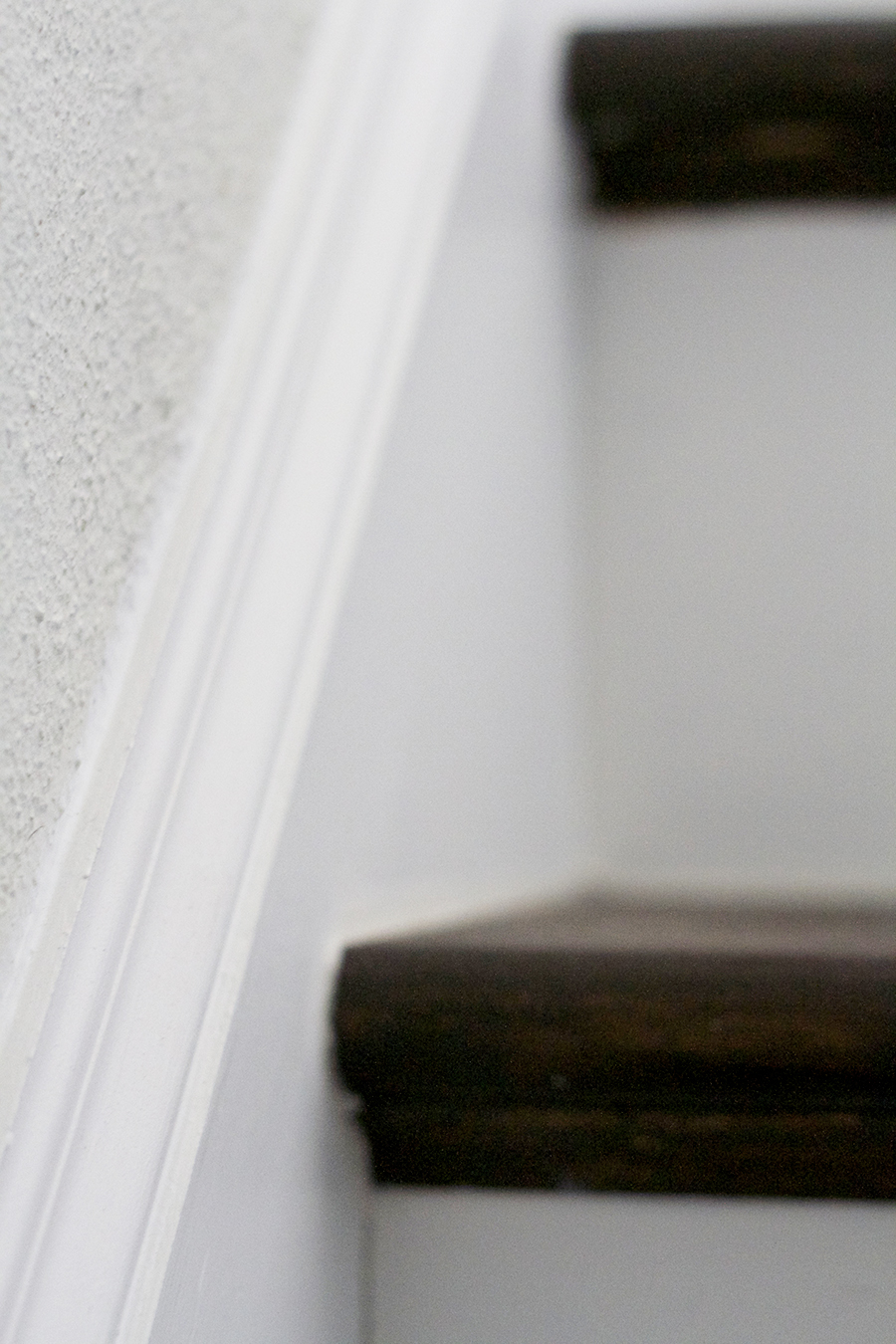 So I'm checking big things off my basement check list. Next it will be time for replacing that one little last piece of counter top, adding two sets of floating shelves above the cabinets, painting the doors black, and upholstering a seat for the bench under the tv. So. Close.