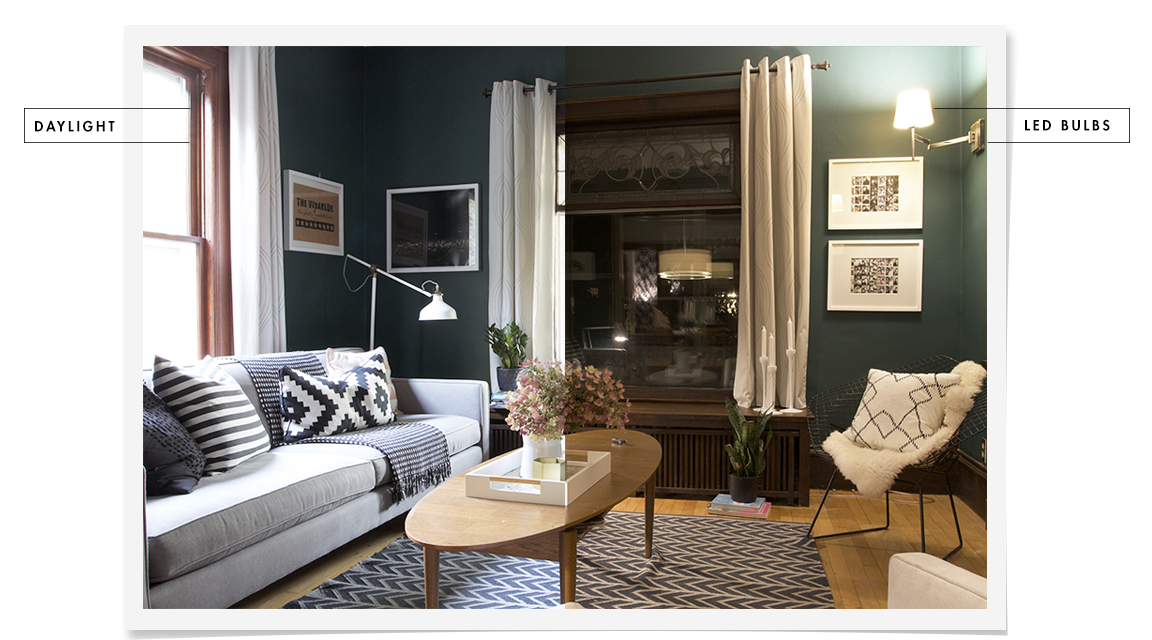 Whazzup! I've got some cool news that I'm excited to share with you today. My good pals over at Ace asked us Ace Bloggers to makeover a room using LED light bulbs, and I was all like "whut?, but I like my old fashioned incandescent bulbs – please, no".
I always liked the warm light that a standard incandescent bulb gave off and I was pessimistic that any sort of new fangled lighting would make a room look anything but blue and clinical. Alright, Ace. Challenge accepted.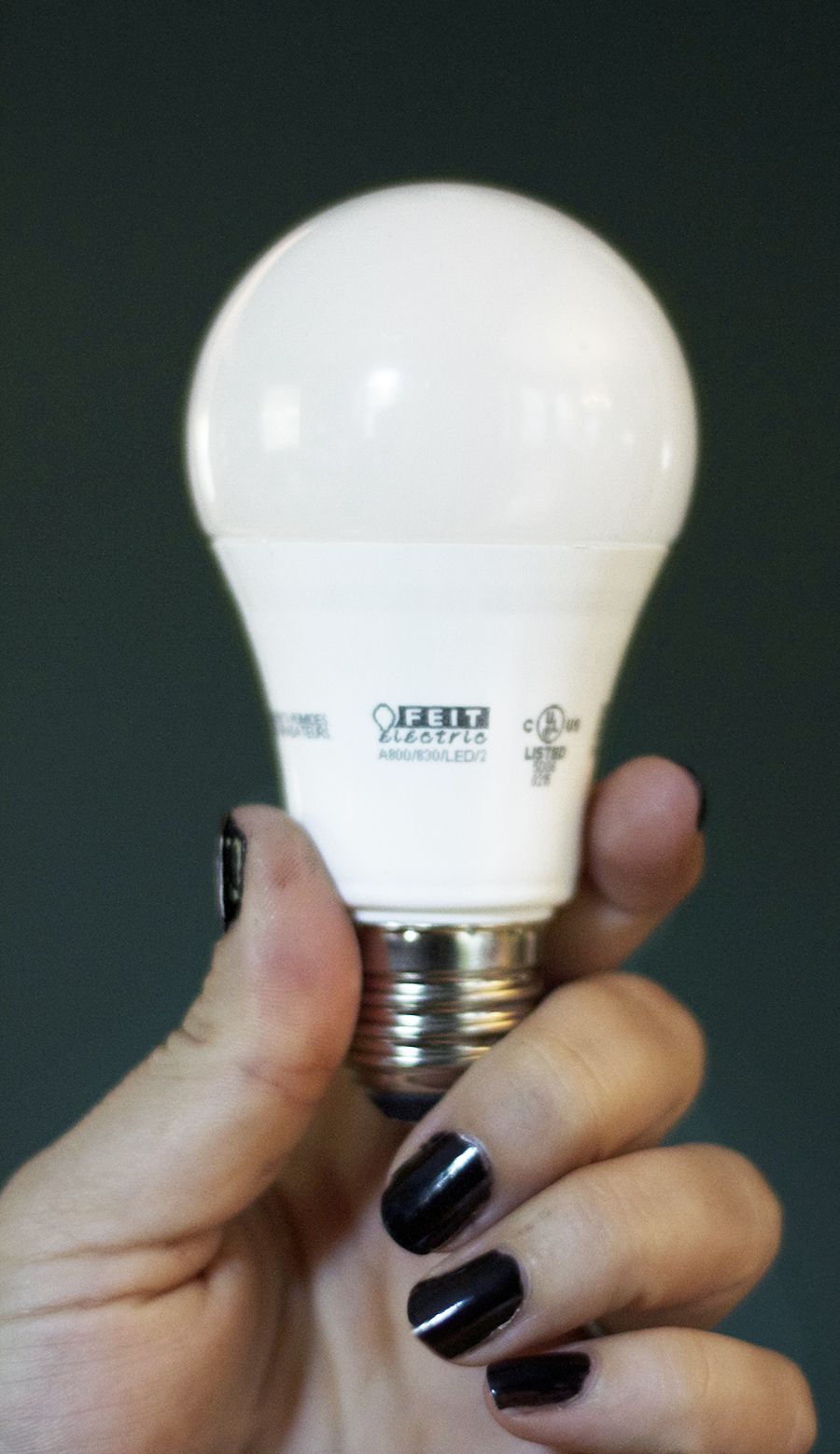 I immediately thought of our living room. I love the deep moody dark blue walls during the daytime, and especially during overcast winter days, but at night when it's lit by incandescent bulbs it looks much different. The warm light from the bulbs makes the wall color look like the inside of an overly-saturated teal gemstone, and unfortunately it doesn't resemble the dark cool blue that I know and love. Not only that, but the woodwork turns from a rich warm brown with lots of texture and patina, to a flat trim that takes on a red-ish hue, I mean eew, I mean, hue. But whatever, I was stuck on those incandescent bulbs.
So, because I always like an excuse to visit the hardware store I happily obliged and headed up there to get schooled by my Ace buddies on the ways of the futuristic LED's.
Here's a few things 'dat I learned:
⊙ LED lighting has the greatest potential impact on energy savings in the United States. It is estimated by the year 2027, use of LEDs could save about 348 TWh (compared to no LED use) of electricity: This is the equivalent annual electrical output of 44 large electric power plants, and a total savings of more than $30 billion at today's electricity prices!
⊙ LEDs can direct light where it is needed. Incandescent and fluorescent bulbs emit light – and heat – in all directions.
⊙ Save over $60 per year on your electric bills when you replace just the 6 most used bulbs in your home with LED options.
⊙ LED bulbs are cool to the touch and use 80% less energy than incandescent bulbs – especially good if you've got little ones who can't help but touch hot things.
⊙ Transitioning to LED lighting not only saves you money in energy bills, but also saves you trips to the store for replacements. LED bulbs last about 22 years, while the average bulb life of an incandescent is only 1.8 years.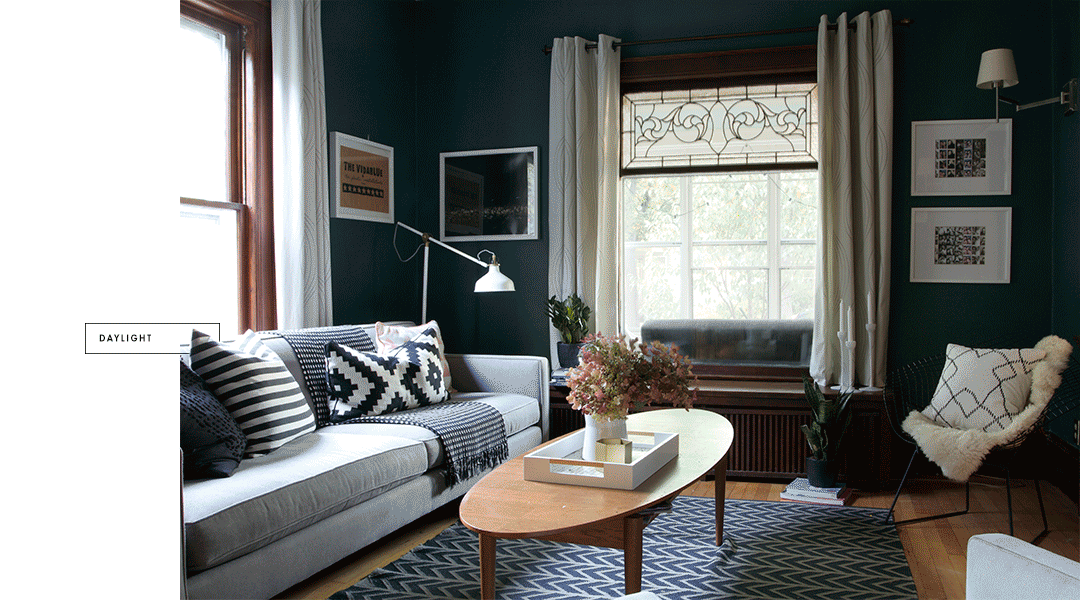 See the difference between daylight and those incandescent bulbs I was using? It's unreal. It was actually hurting my eyes to edit these photos it was so different. What I discovered was that the 3000K 60w comparable LED bulbs do a really good job of staying true to the color of my walls, and they manage to do it without that fluorescent-clinical-look that had me holding out. And those bulbs I was using weren't doing my interiors any favors. So you know what I did? I went out and bought a replacement bulbs for the dining room, entry way and kitchen, fer real. I got three way bulbs for my sconces so that I could control the brightness, dimmable bulbs for the dining room and kitchen pendants and standard bulbs for my table lamps. FYI, I went 800 Lumens (60W equiv) Soft White 3000K bulbs in the living room and kitchen and amped it up to the 100w comparable bulbs for the dining room dimmer. I tried the bluer more daylight-like 5000K bulbs as well, but no, that was not happening in this space.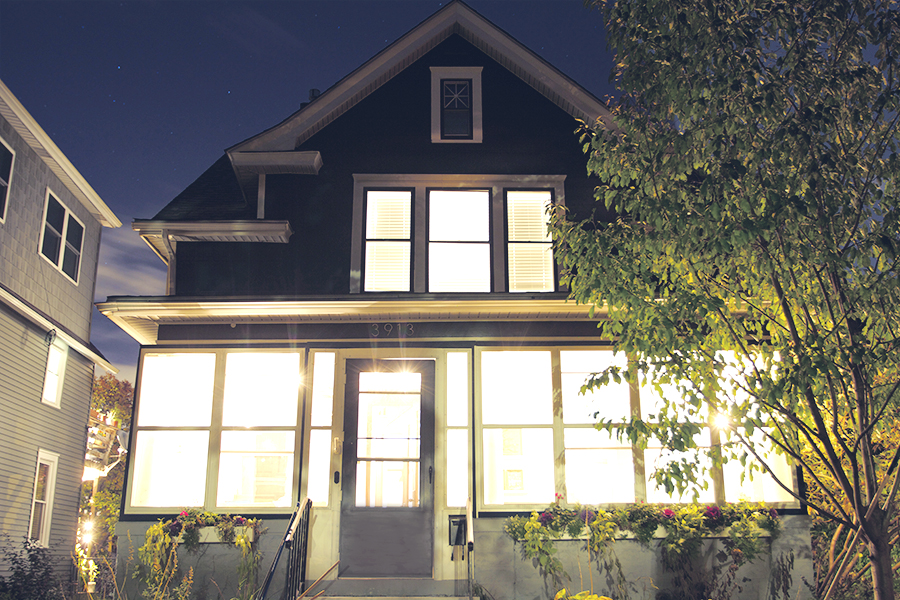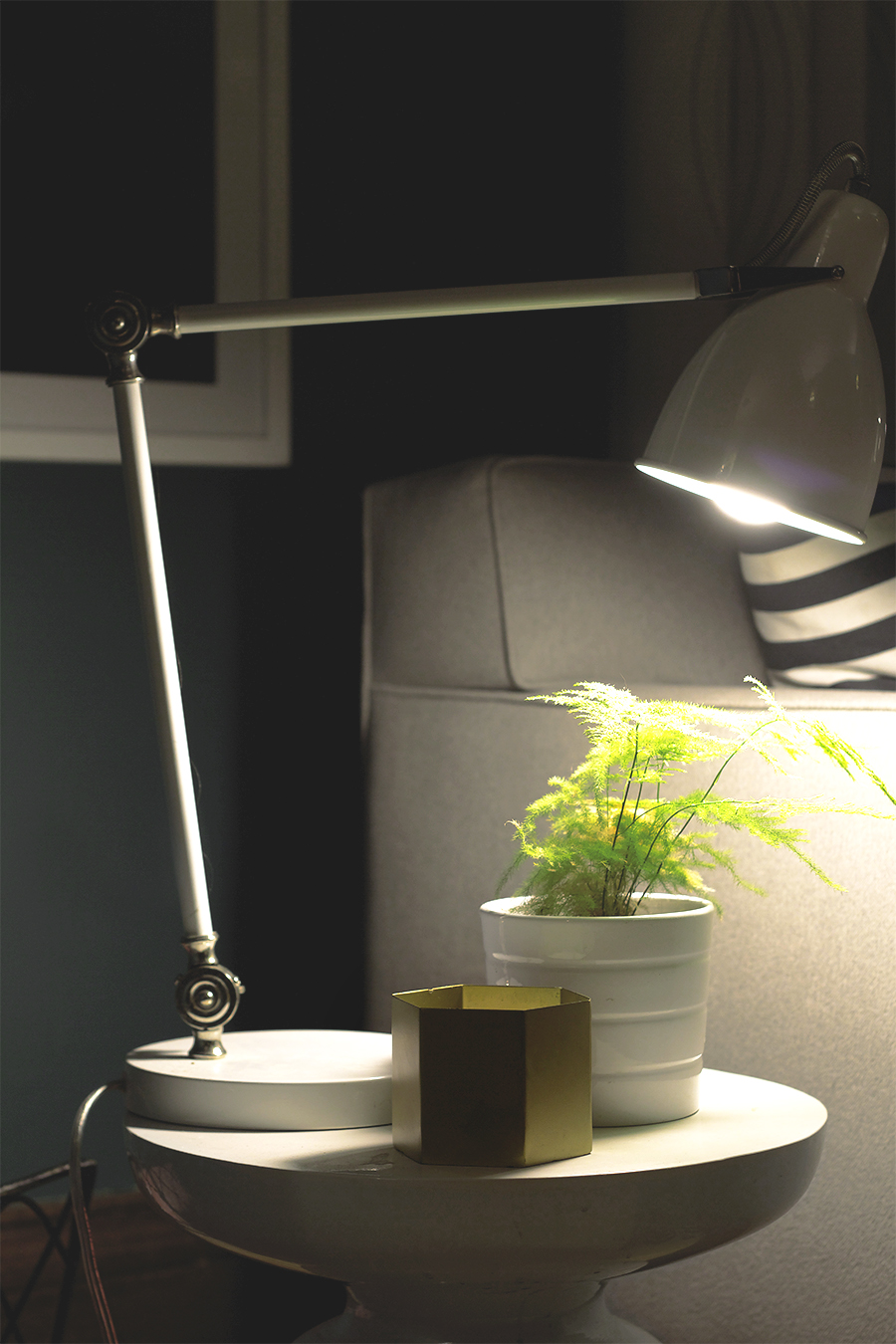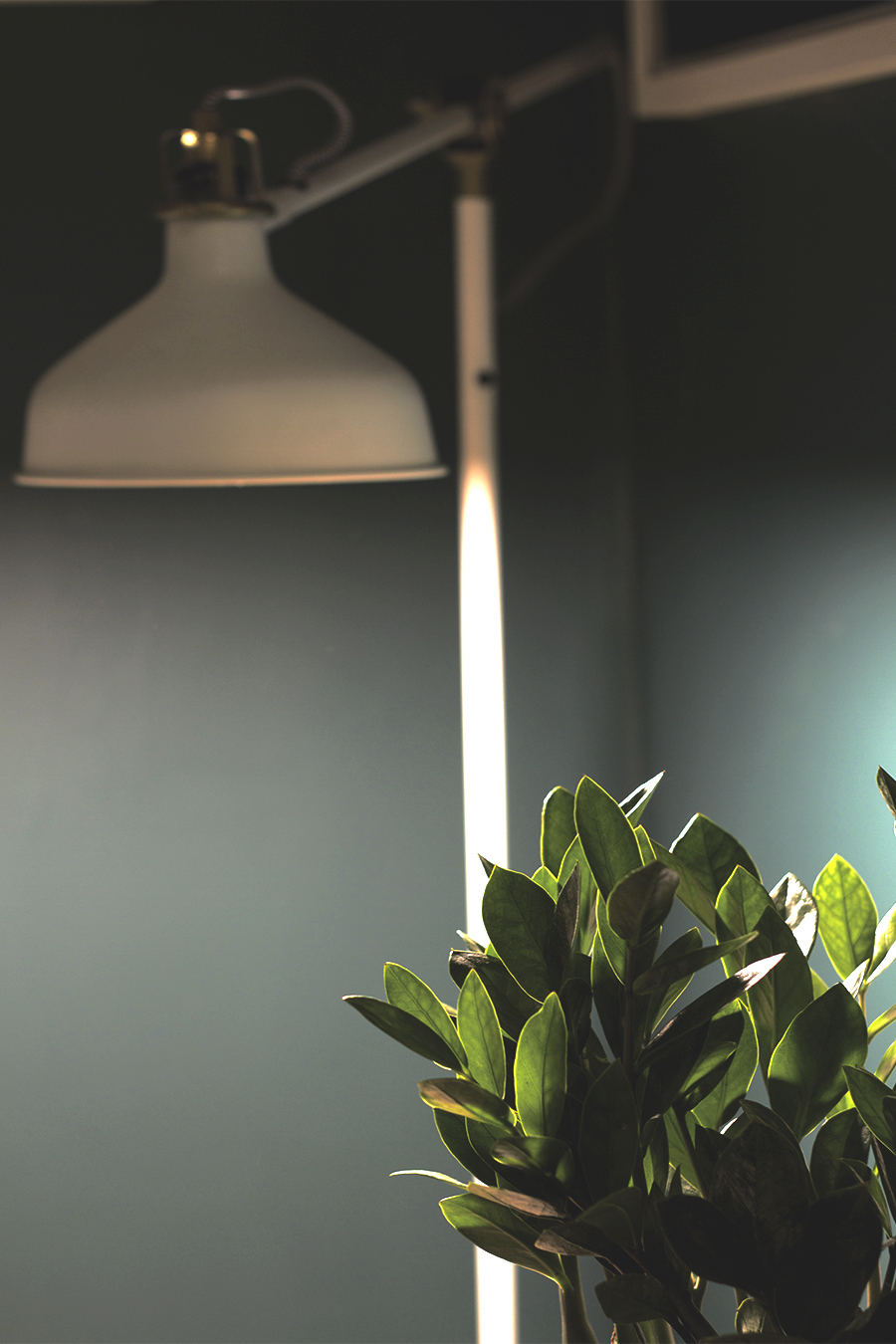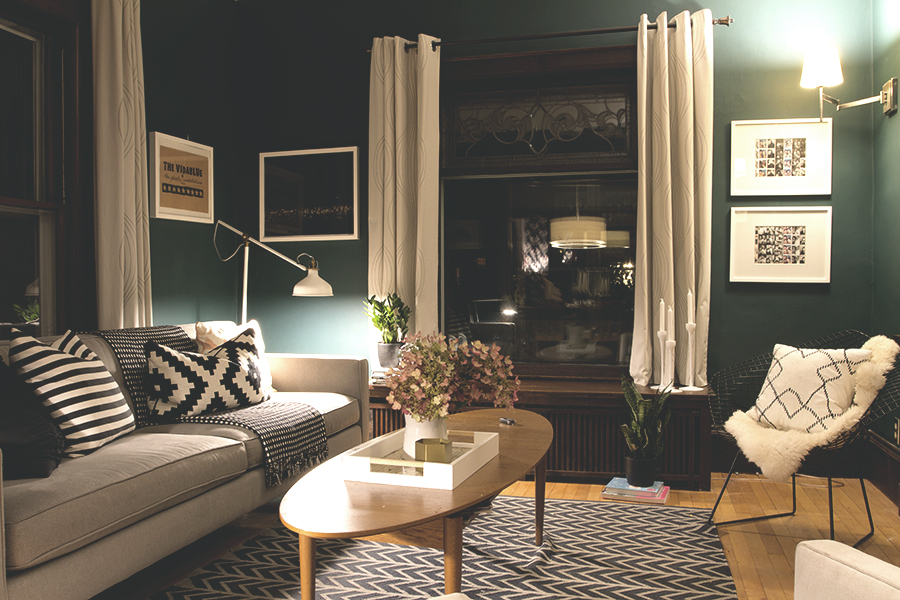 The new bulbs still emphasize the green undertones of our wall paint color, but now it looks much more natural. I am so happy about it. I was actually checking out my living room every time I walked past it.
Facts about Kelvin:
⊙ Light color is measured on a temperature scale referred to as Kelvin (K).
⊙ Lower Kelvin numbers mean the light appears more yellow; higher Kelvin numbers mean the light is whiter or bluer.
⊙ For a warm-yellow light, use bulbs marked 2700-2900K.
⊙ For a whiter light, use bulbs marked 3000-4100K.
⊙ For bluer white light, use bulbs marked 4200-6500K.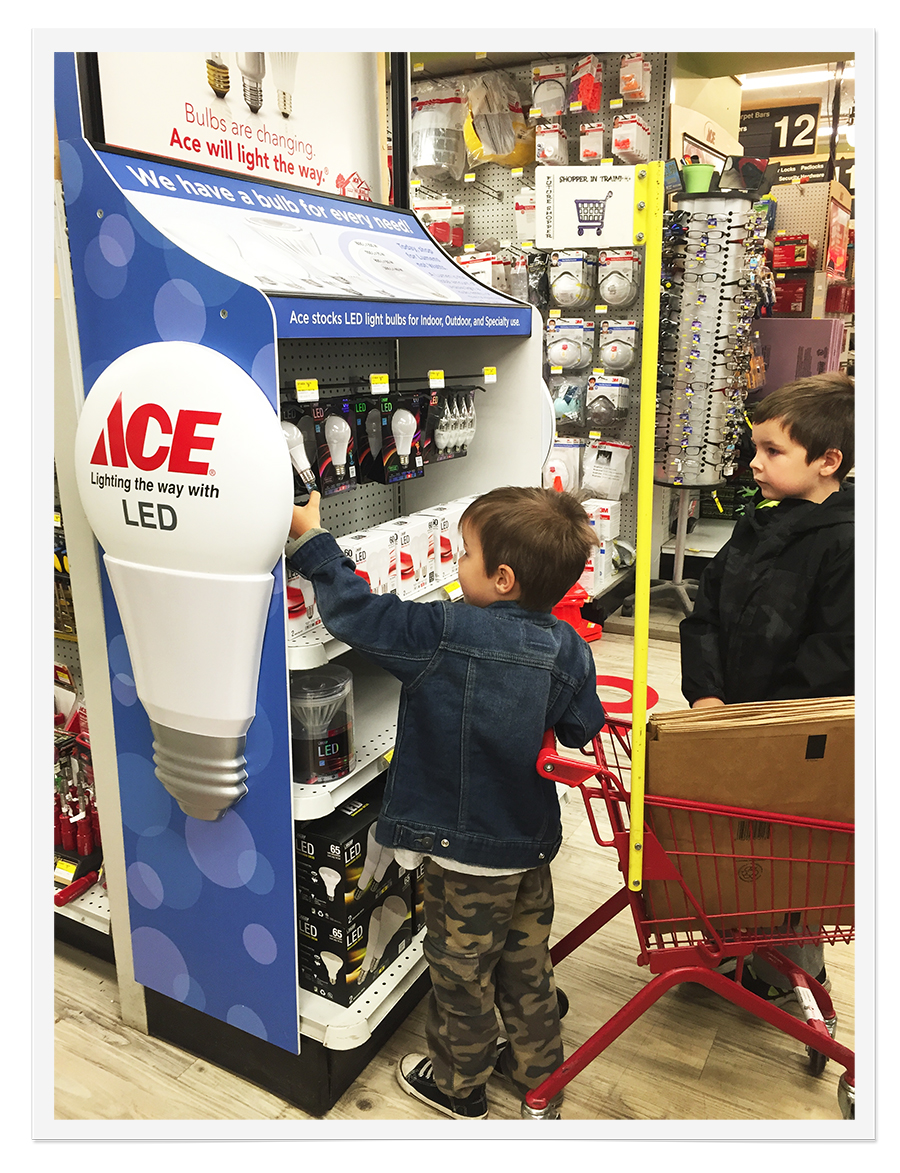 Now's the part where I get to tell you about a sweet deal and get all gushy about my local Ace. You guys know that Ace Hardware sponsors these posts, but I want you to know it is such an honor to work with them. I am so lucky that I get to chat with you about brand that I think is sincerely the greatest! I love my Ace hardware store, my kids love it, and we actually make reasons (aka excuses) to go there. I know a lot of the employees by name, I shoot the shit with them everytime I visit, we don't leave without stopping by to pet the hardware store cat, and I always get greeted by the owners (who live upstairs and have a collection of whirly-gigs). I mean, it's the best. I love the narrow aisles piled to the brim with all of the best stuff you never knew you needed, and I love that I can walk just a few short blocks to be with my handy people!
Anyway, you guys better love up your local hardware stores too! They're seriously the best and they don't even compare to those big-box places.
Alright, gushy stuff is out of the way. Here is the deal!
Visit your participating neighborhood Ace October 16-18 and take advantage of the Buy 2 Get 1 Free LED light bulb sale. You guys realize how good of a deal this is right? The downside to all the benefits of LED lighting is that they are more expensive up front to purchase, but Ace is making this easy for you! Buy two select FEIT LED bulbs and get one of equal or lesser value free. There's no limit, so you can mix and match to get what you need to re-light your whole house – like me!
*While supplies last. Store stock only. See store for details.


I'm excited to be collaborating with
Ace Hardware
as a part of their
Ace Blogger Panel
! Ace has provided me with compensation and some of the materials necessary to complete this project! All opinions are my own. Thanks a biznillion, Ace!