Hi Guys! Woah, what a crazy summer this has been. I am so happy that the basement is finally done. It's been overwhelming to say the least. I thought I was totally prepared for a remodeling project and didn't think that it would affect our typical day-to-day lifestyle too much – I was so totally wrong.
Yes, it wasn't as bad as I'm sure a kitchen remodel would be, and I'm so thankful we have this awesome basement now, but – holy hell – it still was bad. We didn't have access to laundry for 7 weeks, the time spent away from the house trying avoid the construction was hard on the kids (especially Gus), and the three weeks I spent doing painting, wallpapering and cabinet installation took a toll on our family life.
The basement as it sits is about 90% finished. There is still a handful of things that need to be done, but I had to call it quits for my own sanity. Last Friday was the deadline I gave myself and I feel pretty good about where things ended up at that line in the sand. Now I'm going to spend some time with the kids before school starts next week. After they head back and I have a few more free hours in the day, I need to focus on the rest of the house that's not the basement – doing some major purging, organizing, cleaning, and fixing up – before I can even begin to think about getting back to the basement and the remaining bathroom work down there.
So now that I got all that doom and gloom stuff out of the way, let me show you around our new lifestyle-transforming basement.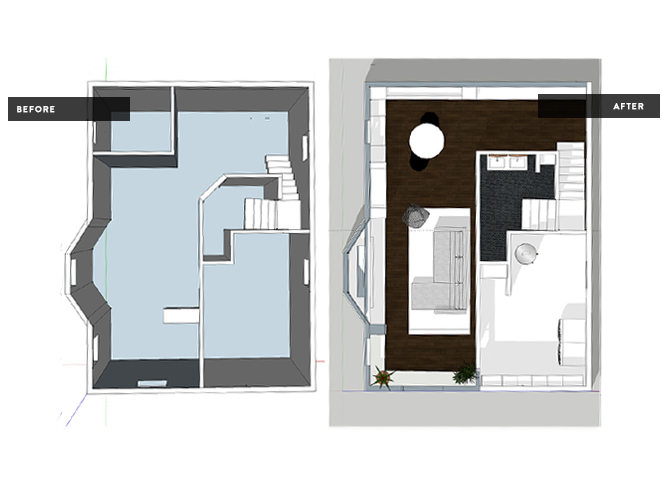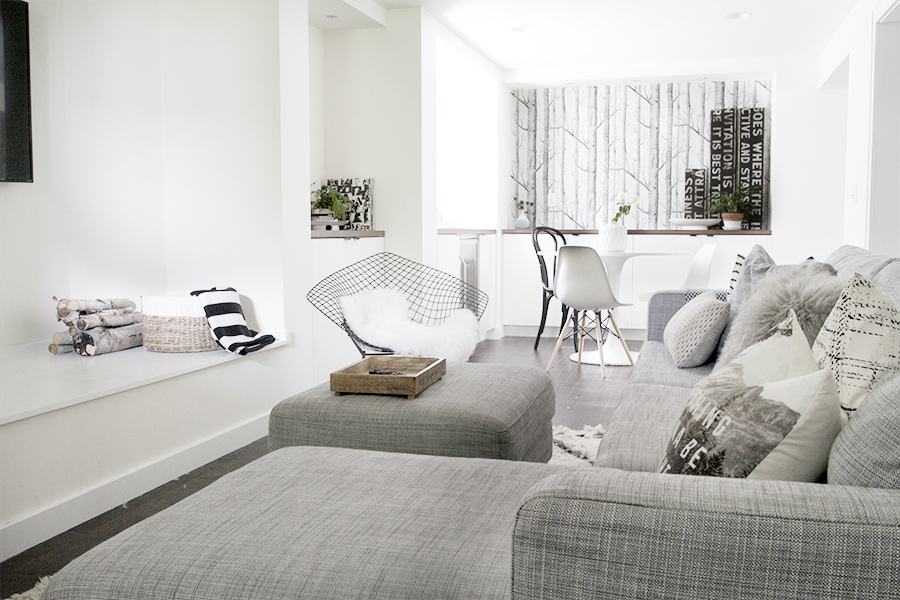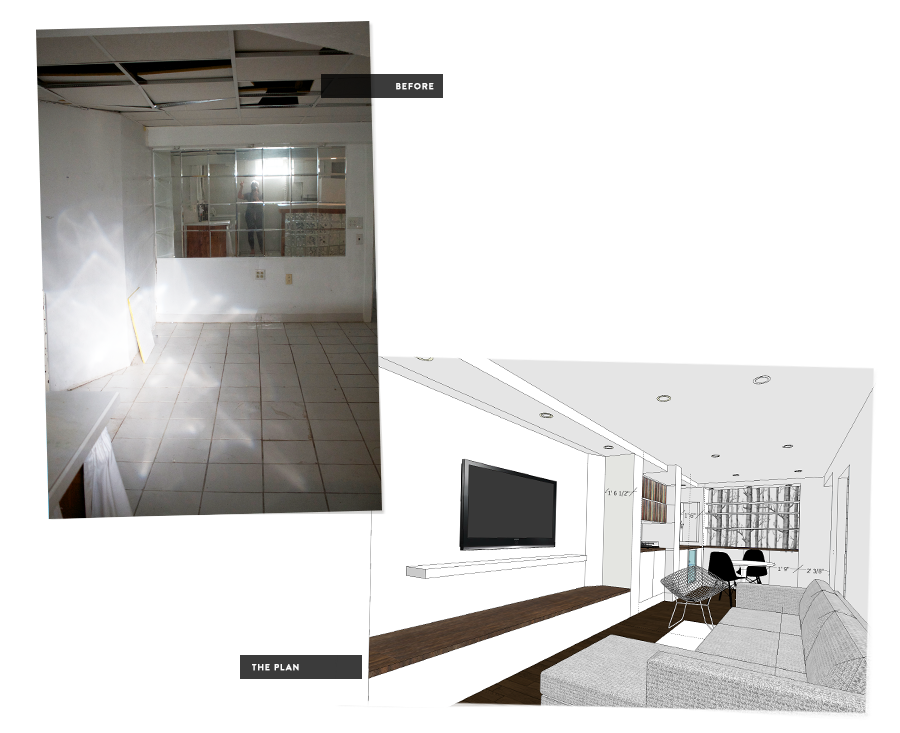 The "Before" shot looks nothing like the "After", and I'm sorry if that's a bit disorienting. The tiled mirrored glass wall no longer exists. It was the wall of our old storage space that we demo'd to create more space.
I can't say enough about our contractor and his team. They were really great to work with, collaborative and respectful. Feel free to send an e-mail my way if you live in the western twin cities area and have more questions about our experience with them.
Early on in the whole process Jeff and I met up with our old buddy J-Tapp (aka Archi-Tapp, aka John), who happens to be an Architect, to help us brainstorm what might be possible for the space. He gave us the great idea of using the pre-existing angled nook as a TV area with built-in seating.
He also told me I had to learn Sketchup, which became an invaluable tool. I can't recommend it enough. It was a little intimidating and took a bit to get used to, but after watching a few YouTube vids I was good to go and able to use it as an effective way to communicate what I envisioned for the basement to prospective contractors.
Having a clear idea of what we wanted the basement to look like going into the whole contractor interviewing process was probably a little off-putting for some of the folks we talked with, but most of them embraced the design and the clear idea. We saw a wide spectrum of contractors from high-end Design-Build types to super affordable handy-man dudes.
After meeting with a few contractors we quickly realized that our original budget wasn't going to hold up if we wanted the bathroom roughed in with plumbing and a shower pan. We weighed our options and decided that we only needed to have the bathroom completed enough for me to come in at a later date and finish tiling, sink install and basic plumbing stuffs. Our dream was also to have a gas fireplace as well, but we nixed that early on in favor of the bathroom rough-in, an egress window and some very realistic faux-wood vinyl flooring. Trying to fit within the budget comes with a few compromises. A few small things pushed our costs up a little beyond where we'd hoped – the new concrete slab we had to have poured in, plumbing for the future sink, and some extra lighting add-ons.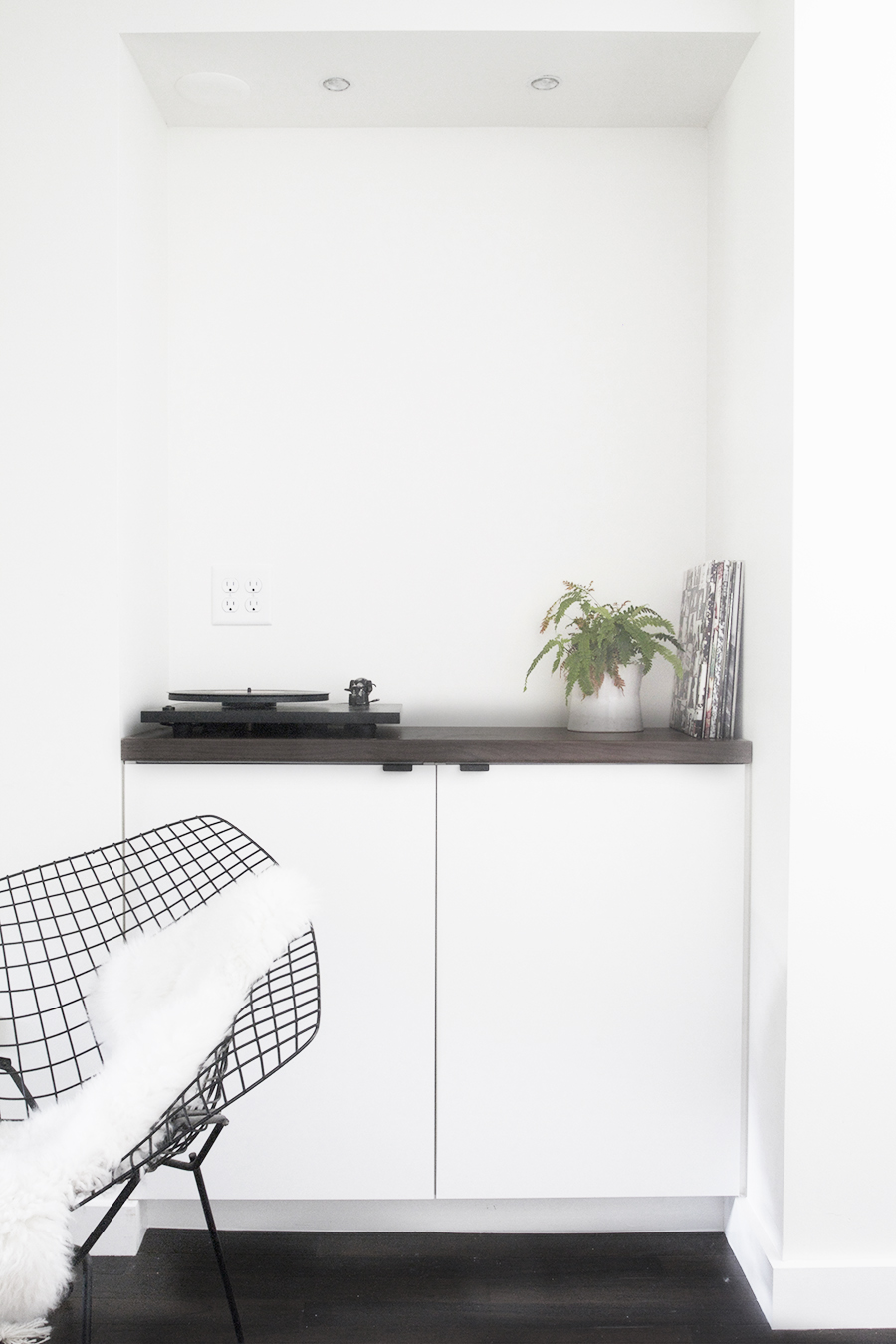 This is the media area, notice that there is shelving missing for record storage? It's just one of those things that still needs to be done and will happen later on. The extra add-ons to the Budg left us without the funds needed for extras such as a new turntable and stereo receiver for the media area, and extra furniture pieces. We'll get to all that stuff in time and for now we're just borrowing from other parts of the house.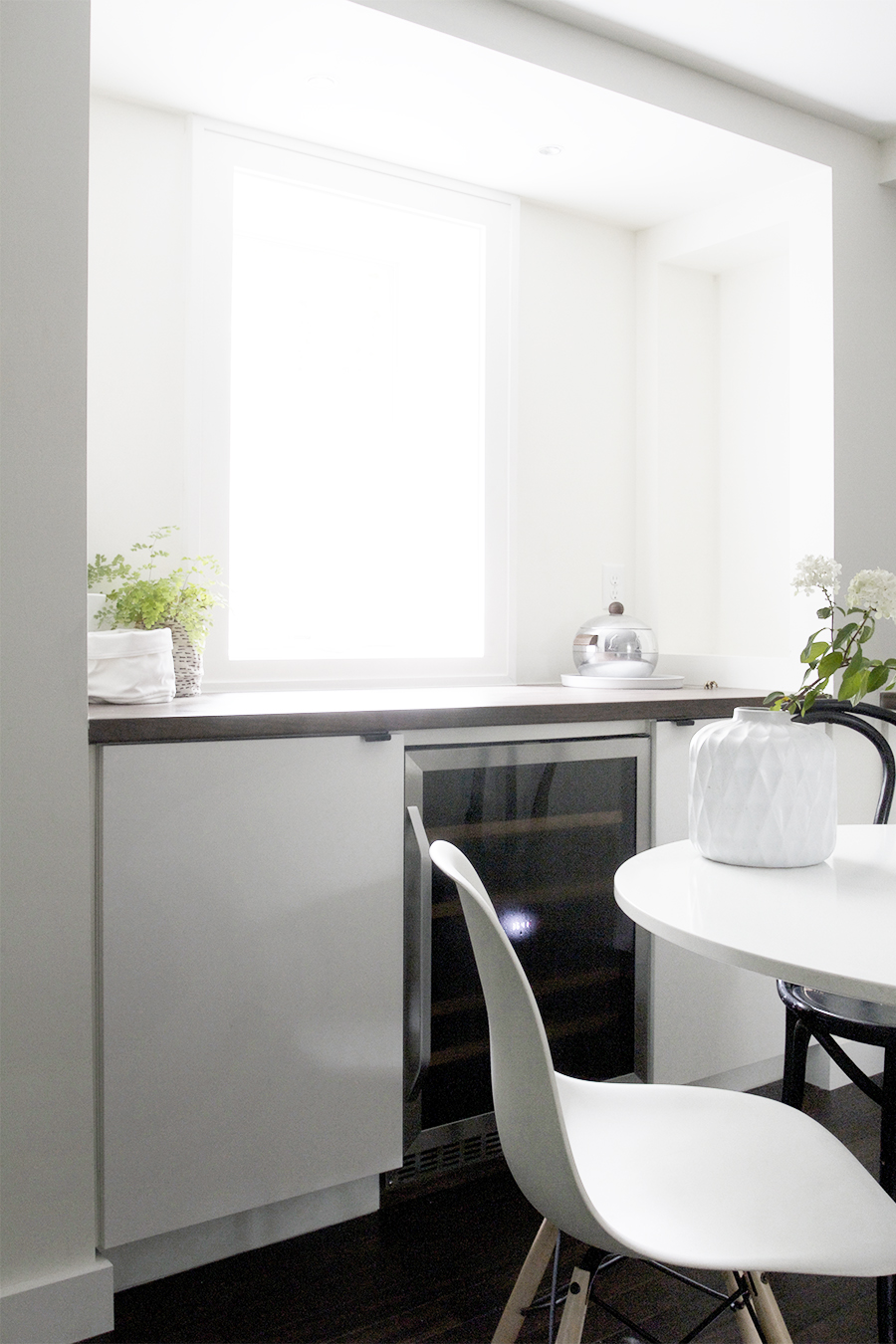 One of those funny dream things that we always wanted for the basement was a beverage cooler for kid and adult beverages alike. It's been kind of dreamy being within arm's reach of nicely chilled beers the last few hot summer days.
Notice the condensation on the 'fridge. It's been comfortable in the basement if you aren't constructing cabinets and installing TV's. This last week of 90º temps and super humidity almost killed me. A dehumidifier will definitely have to be one of those things we purchase before next summer, and it will be so easy to set up with the new drain we had installed back in the utility/laundry room.
Oh, and look! That's the new larger "egress" window we had put in. It's not a true egress; it only opens two feet as opposed to the three required for an egress window in Minneapolis. We don't have a bedroom down here, so code doesn't require a true egress and I didn't want the window well jutting into my veggie garden on the exterior side of the house. The new window lets in so much light that I wish we could have windows this size all over da place. Also, we had all the glass block windows replaced with brand new windows, which has been transformative to say the least! I love being able to actually see outside.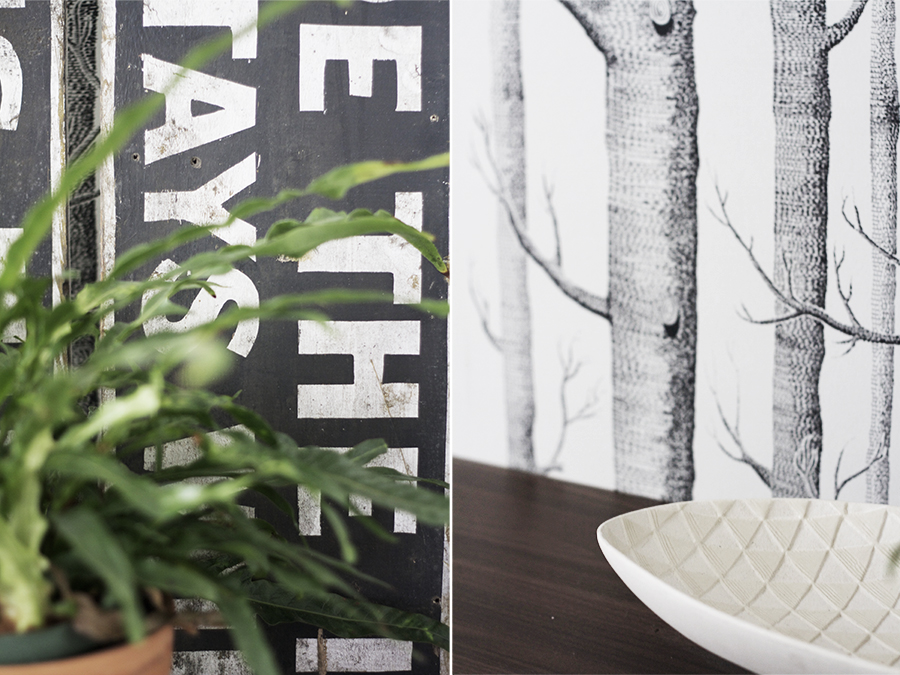 Let's talk about old stuff, k? You guys know I love that this house is old and I'm always wanting to take care of it and restore it and love it up and so on. Of course, in this basement there was nothing original about it, or at least so I thought. There was the original radiator and sewage pipes, but that was nothing I really wanted to keep around. We spent a big chunk of our budget to remove the lion's share of the plumbing (most of it located under the concrete) and radiator pipes that hung low and practically hit old Jeff-y in the head. That stuff was so worth updating, and I'm so glad we did.
Jeff and I reveled in the fact that we (hopefully) won't be experiencing any more gross plumbing back-ups due to all the rust that had built up in our original cast iron pipes. It feels so good to know that stuff behind the scenes is actually brand new!
In our utility area there had been an old work bench that had been scrapped together with wood pieces. I was quite enamored by it, but it had been built into a wall that needed to be removed and I just wasn't going to kill myself trying to save it. I did save the three drawers just in case I could use them for something (and I just may in our garage). When Dan, our main carpenter was doing the demo on the bench he found these three sign pieces that had been used to build the bench. They appeared to be part of an old hand-lettered sign and when I saw it I was so happy that I knew I could actually keep part of the old bench and use it as sentimental decor in the basement, and here it is. The quote isn't that amazing ("Business goes where the innovation is the least attractive and stays where it is best treated"), but the silver lettering is so good.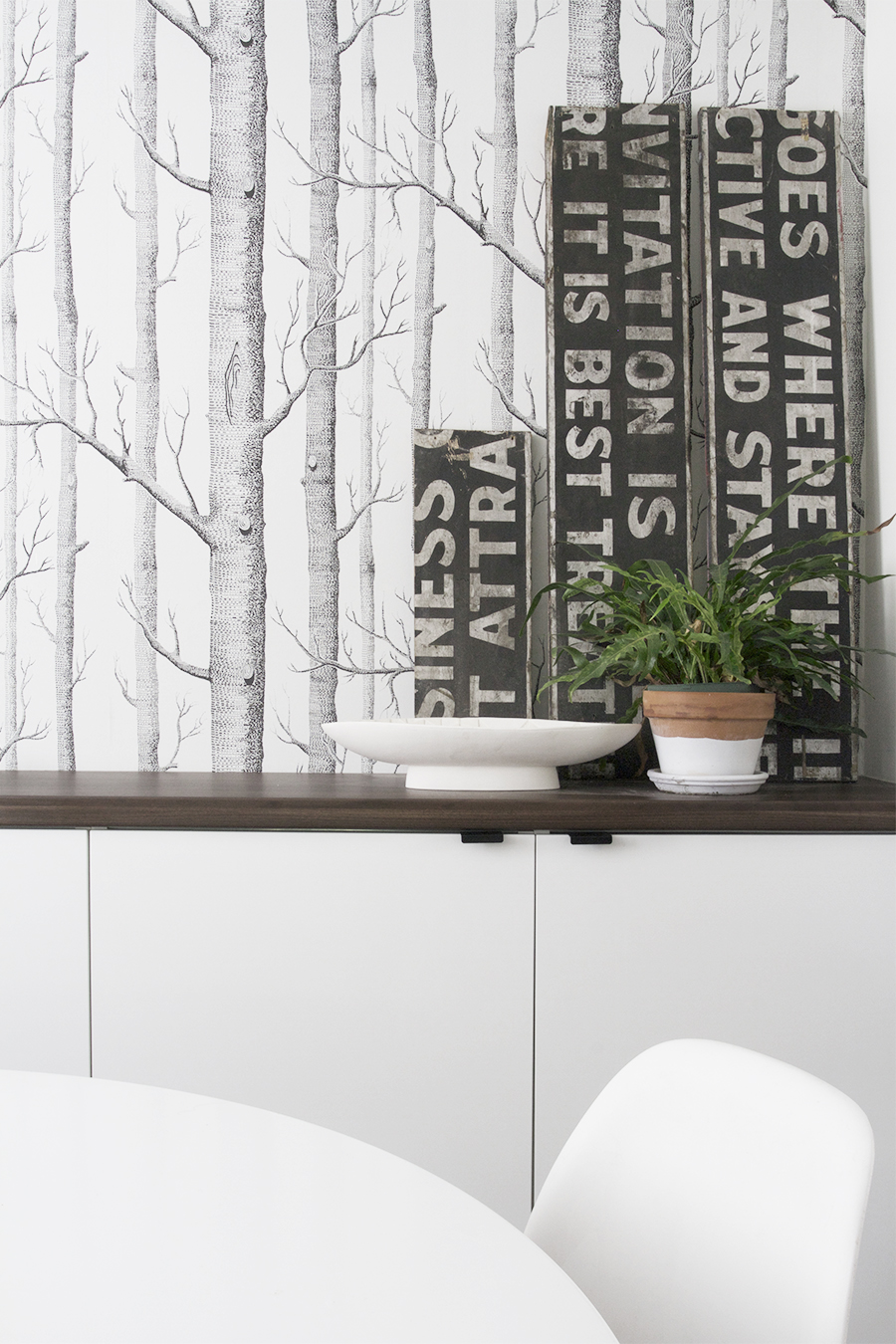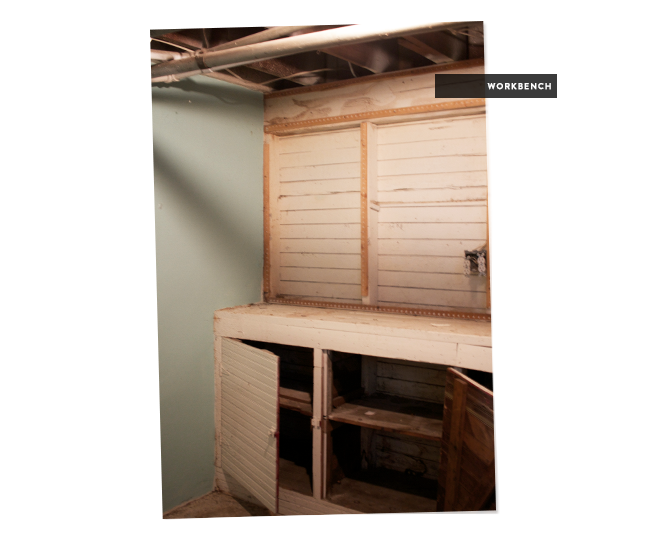 The workbench from the utility room.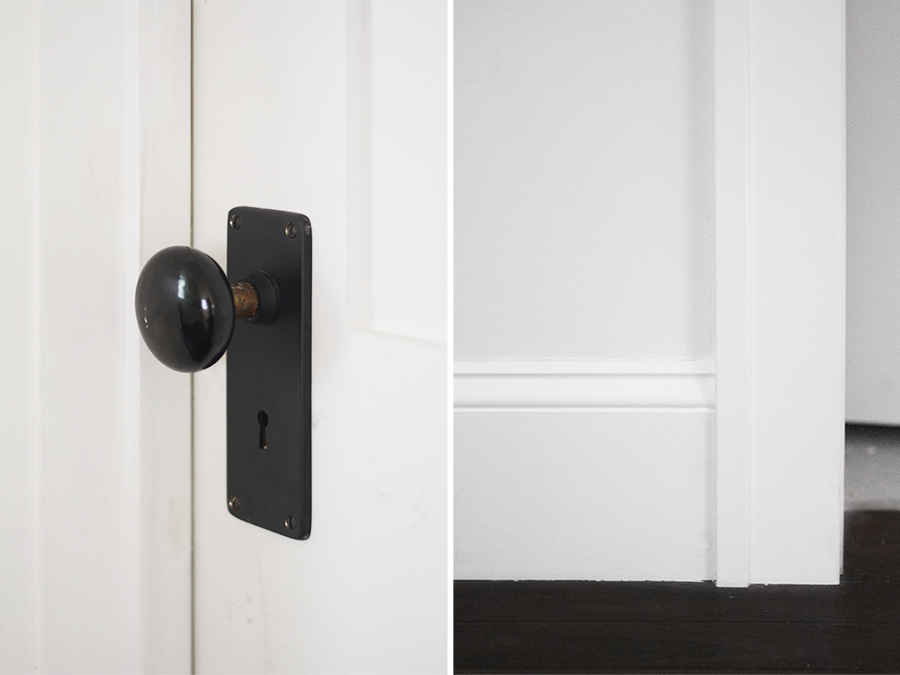 I also grabbed the hardware off of the old storage/coal room before saying goodbye to the old basement. I stripped the hardware the week demo began and ended up finding the most beautiful porcelain door knob. Duh, of course I would use it again on the door in the basement and ordered an exact reproduction from Rejuvenation. Also, the door: it's still not been painted. This is just the primer coat, but I am very much considering painting it black because I think it could look so totally amazing. That's one of those project that will come later, after I finish cleaning the layers of dust off of the rest of my home.
Choosing reproduction trim and baseboard was an easy way for us to give a nod to the historic elements of the house. The trim and baseboard closely resembled the trim on upper levels of the house, and I think giving a thoughtful homage to the age of the home makes the basement fit in.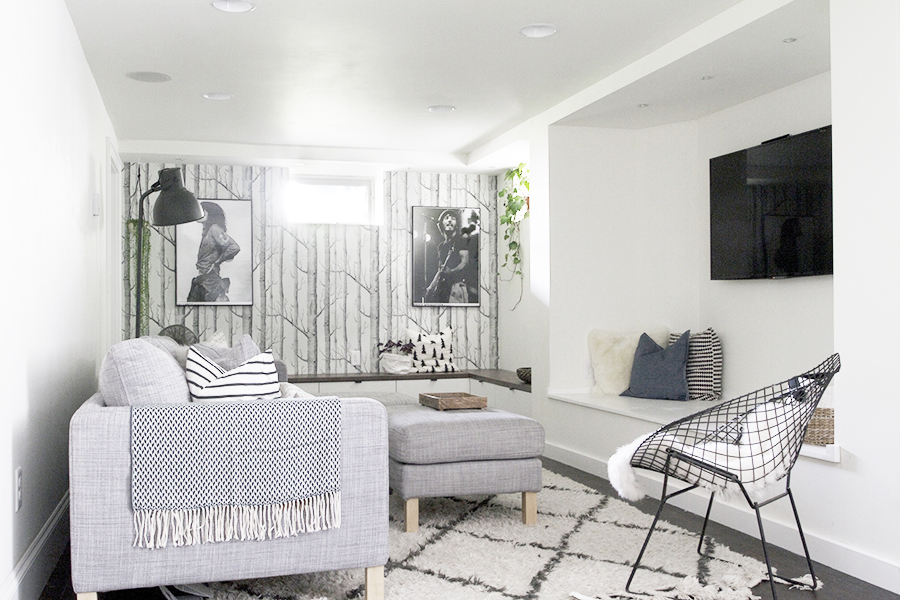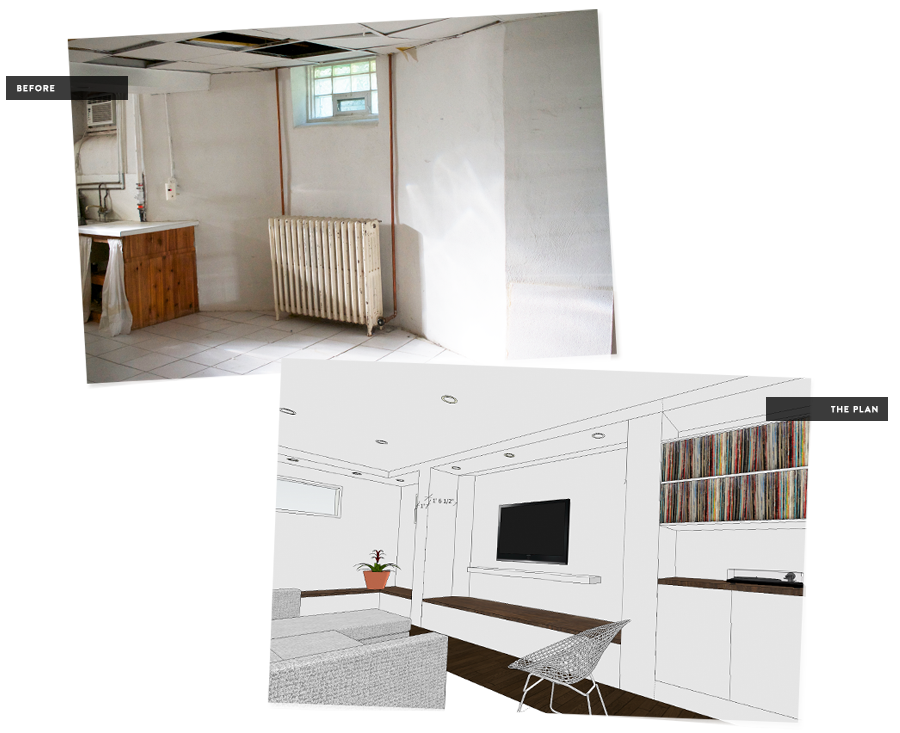 It's no secret that us Allens love us some TV. However, we've always restricted the depth of our screen-love by limiting ourselves to only having the smallest crappiest TV's in existence. Just ask our friends and fam, it's very true. So this was a big deal for us to get a 55″ TV, set it up with some HD cable options and vid games. It's new, so of course we've watched a lot of it, but I'm hopeful we will regain some of our tormented-TV-watching-ways soon enough. That TV is only meant to save us from the winter blues and that stuff.
Let me tell you a few things I learned about media cables. They are the most amazingly huge pain-in-the-butt thing to get right. We have this 2″ tube that runs from behind the TV to the cabinets next to the TV where we store the cable box, Wii, and all that cool stuff. We have to shuttle all of the HDMI cables and whatnots over on this little nylon cord, and something always goes wrong. I just ordered up our third set of cables. The first snapped at the HDMI connector, the second set were just too short and the third will hopefully be long enough. If we can manage to get all of those cords through I will be chugging champagne in jubilant celebration. I had no idea that such a simple system was so terribly inconvenient and stress inducing.

Patti & Bruce might be one of my favorite additions to the basement. Don't touch 'em though or you will discover that they were framed with the most lightweight material ever used in framing. Oh well, that's what you get from ordering from allposters.com. Patti does a nice job of covering up our breaker box, and they both look so nice on the Cole & Son Woods wallpaper. Oh yeah, I did get paper happy and decided to do this wall too at the last minute.
Most of the pillows were from H&M home and if you haven't discovered their Home section yet, you oughta'. Most of the cases were five bucks a piece. Pair that with a six dollar insert from Ikea and you will be living in pillow heaven, my friends. The light and the sofa were the only other new items added to the basement. The sofa is the Karlstad (RIP) from Ikea. I pieced this together before demo even started – it was already being discontinued from stores and the sofa and covers were all hard to find. We will never live without another Ikea sofa in this basement as long as we both shall live as the flat-pack-sofa is the only thing that will fit down the narrow stairs and doorway to our basement. It's amazing that those genius Ikea designers allow me to fit a large sectional sofa into down my dinky little stair way. FYI we didn't have the stairway heightened because it would've affected our main staircase upstairs, which was non-negotiable.
The rug, Bertoia wire chair, and plants are all from our bedroom. When in doubt, shop your house. We have an orange upholstered chair that we plan on some day having reupholstered and using down here in the basement. The Docksta table in the hang out area is from the porch and the chairs are from the kitchen and spare bedroom. We will have to purchase new furniture down the road, but this all works for now.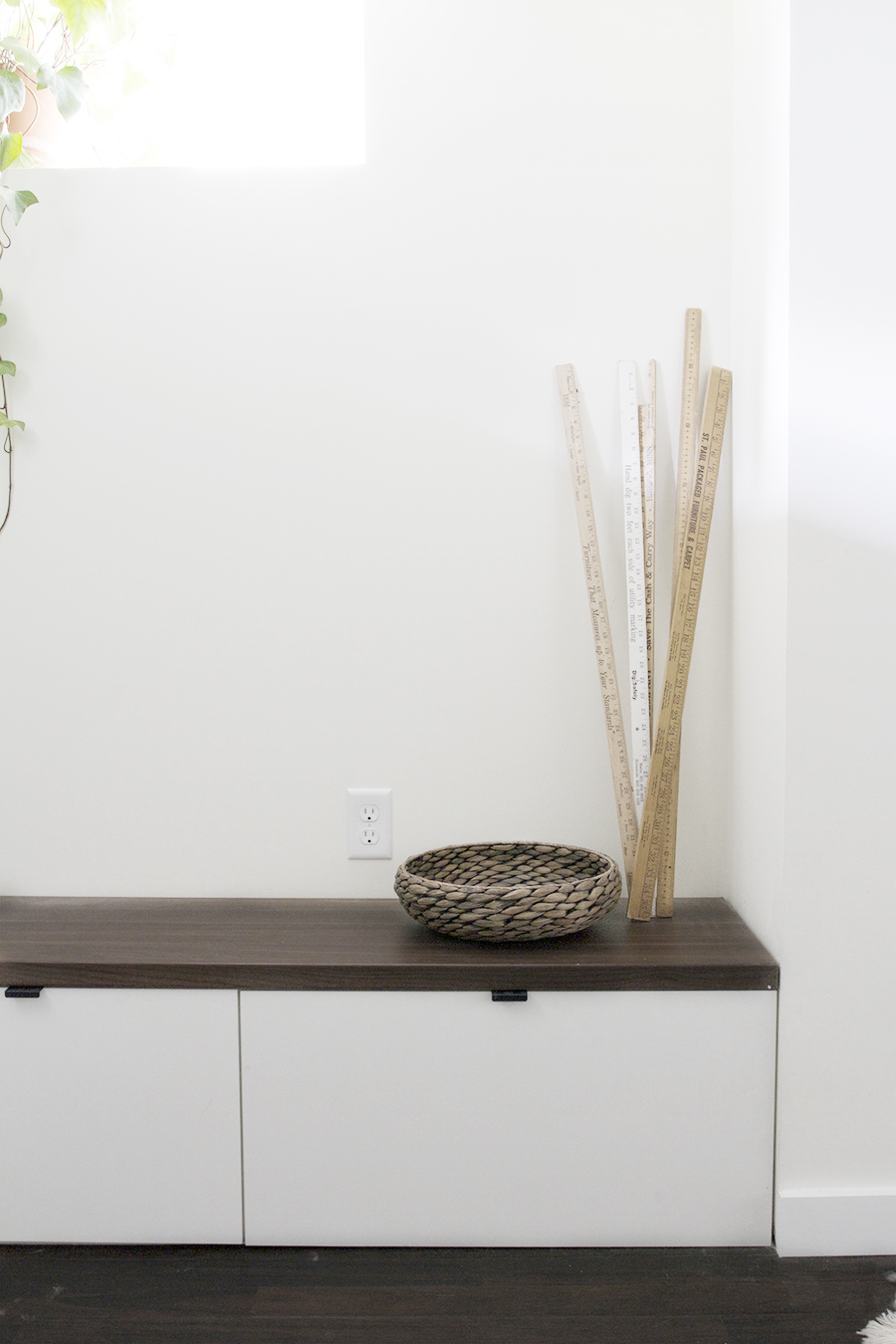 On the far corner of the basement, I firmly installed some more Ikea cabinets to create bench seating with storage below. This will come in handy when we have large groups here for parties. The floor space that it wraps around is a perfect spot for the kids to play too. Gus especially likes to play trains here and we can hide all his train parts away in the shelving. Also, those yardsticks are from Grandpa's ruler collection.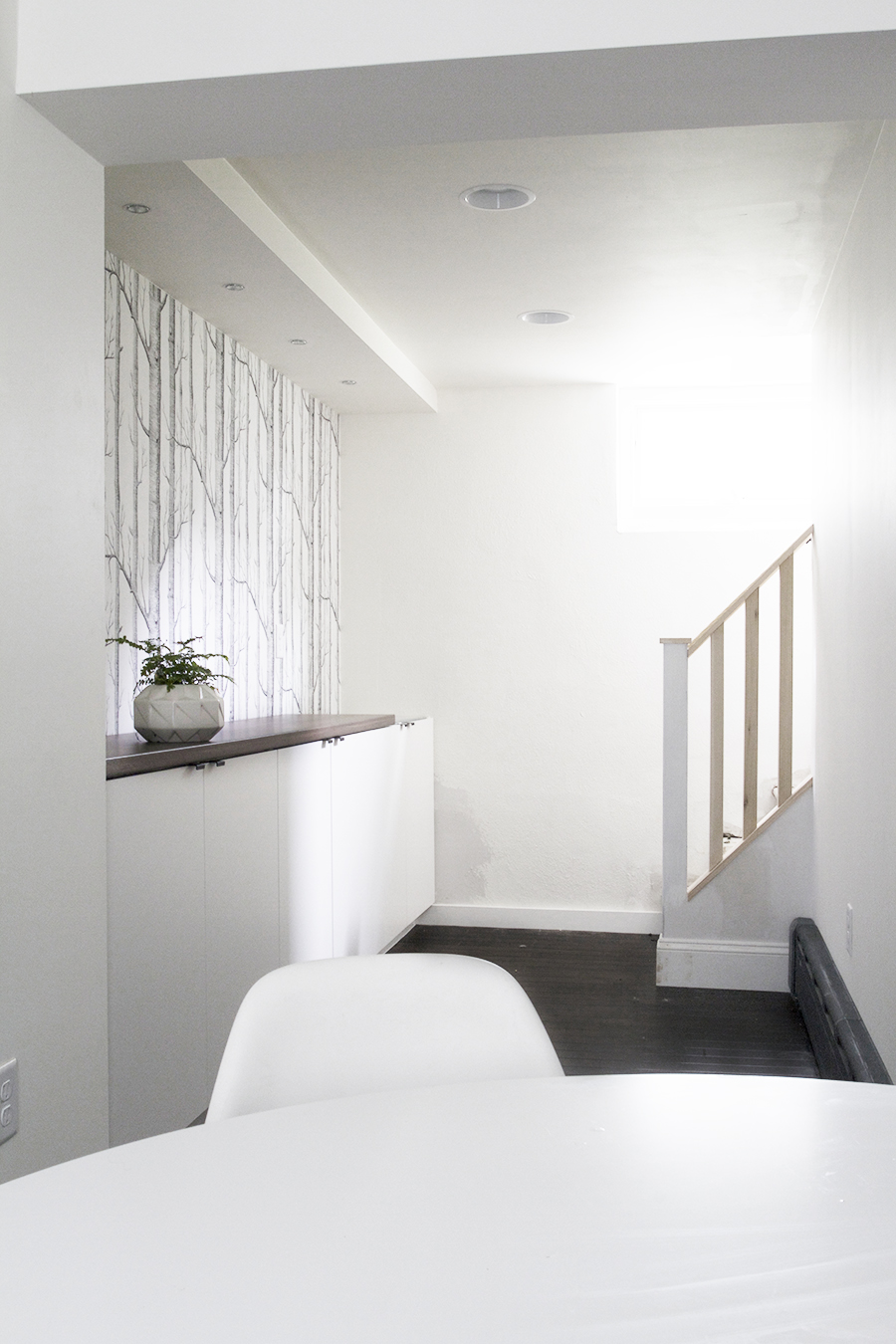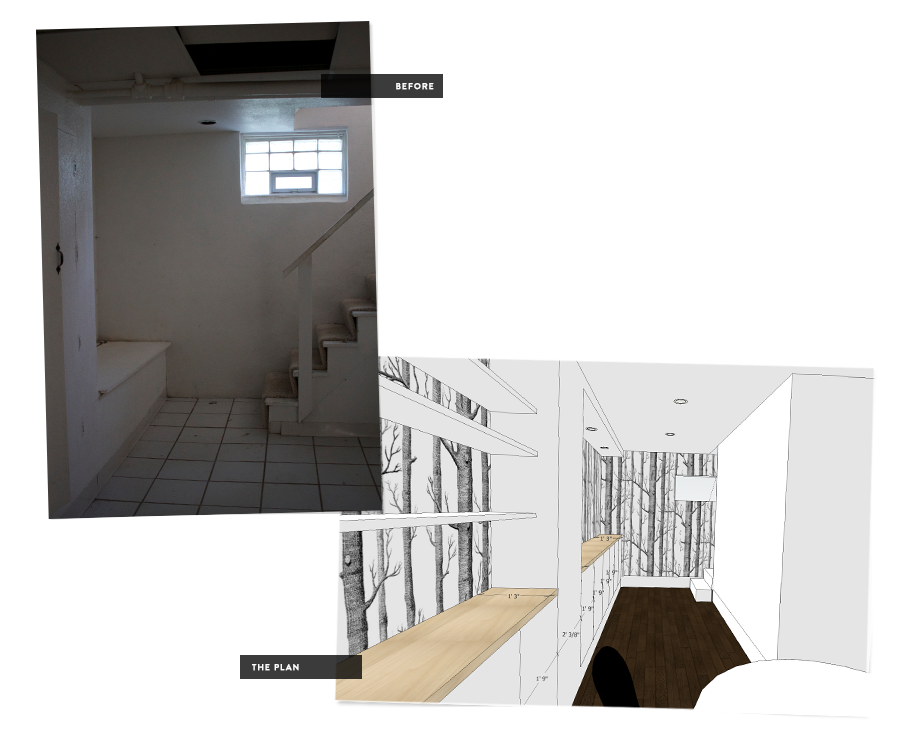 So this is what we've dubbed the "hallway" of the basement. It is the point at which you enter the basement and are "greeted" by a long wall of cabinets. These cabinets are key to the basement. It was the only way we could part with our storage space from before. We'll be using the first set of cabinets as overflow pantry items from the kitchen. The rest will all be storage, games and kids stuff. We are so excited to have this extra space!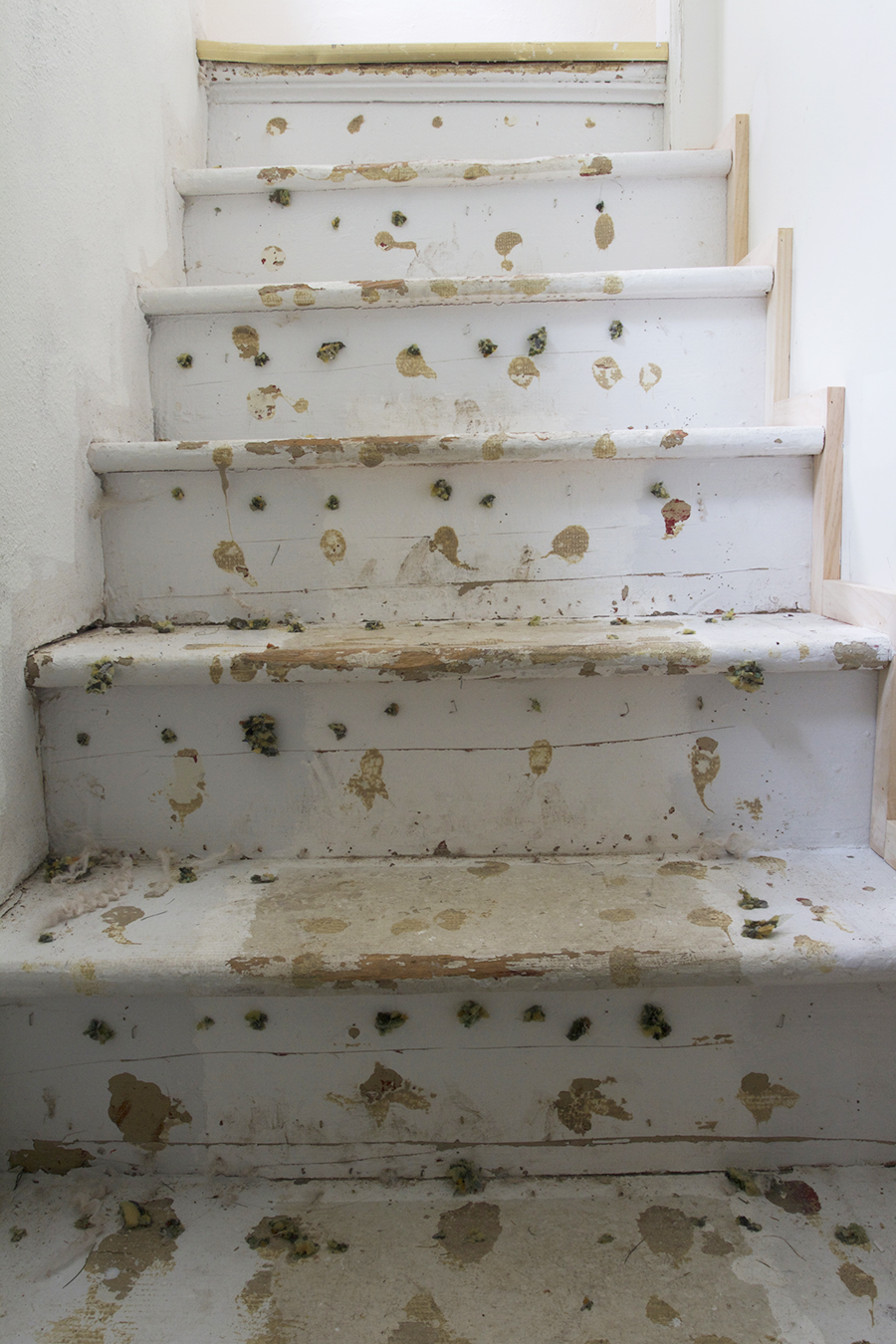 I still have to do something about these stairs. I have big dreams of making 'em pretty with some paint stripper and new stain and paint, but we'll have to see if that's even possible. After removing the carpet I discovered they were in pretty rough shape.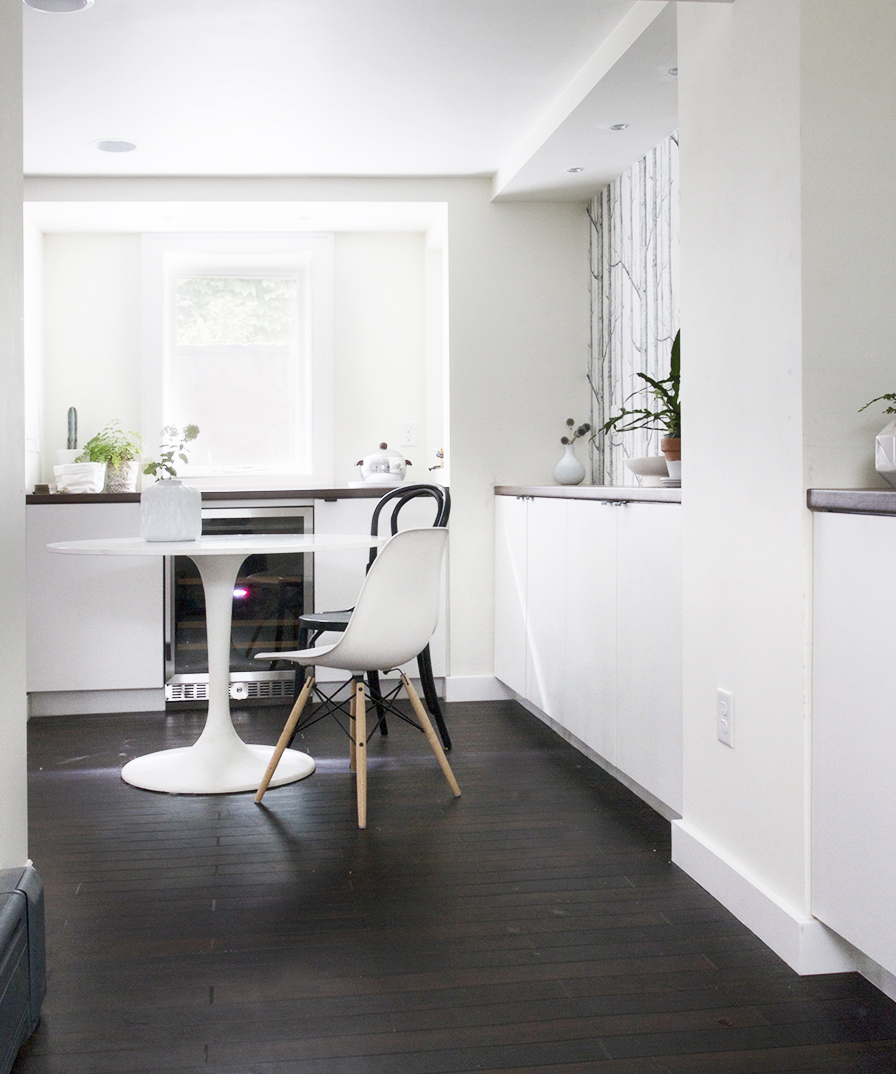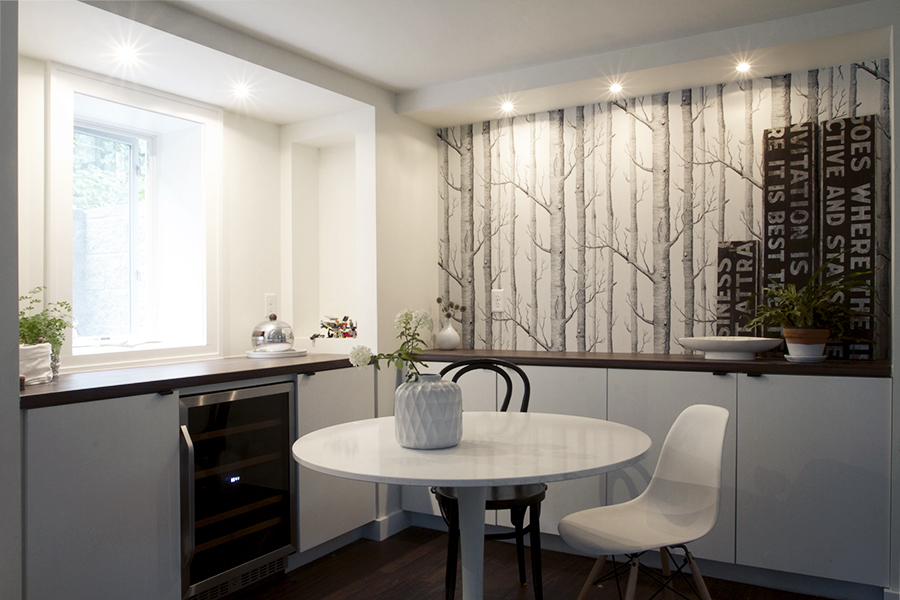 Lighting! It's a thing that is necessary, especially in basements. Our basement is light and airy on sunny days but during overcast afternoons and evenings it needs light. Part of the plan was to add this 4″ high soffit around the entire perimeter of the room. Its purpose is to provide us with this nice downward lighting and we love it. We also have recessed lights on the ceiling, but those are only used when the kids need lots of light to play. Besides that, the recessed main lighting hasn't been the most attractive or moody lighting, but is totally necessary in a basement.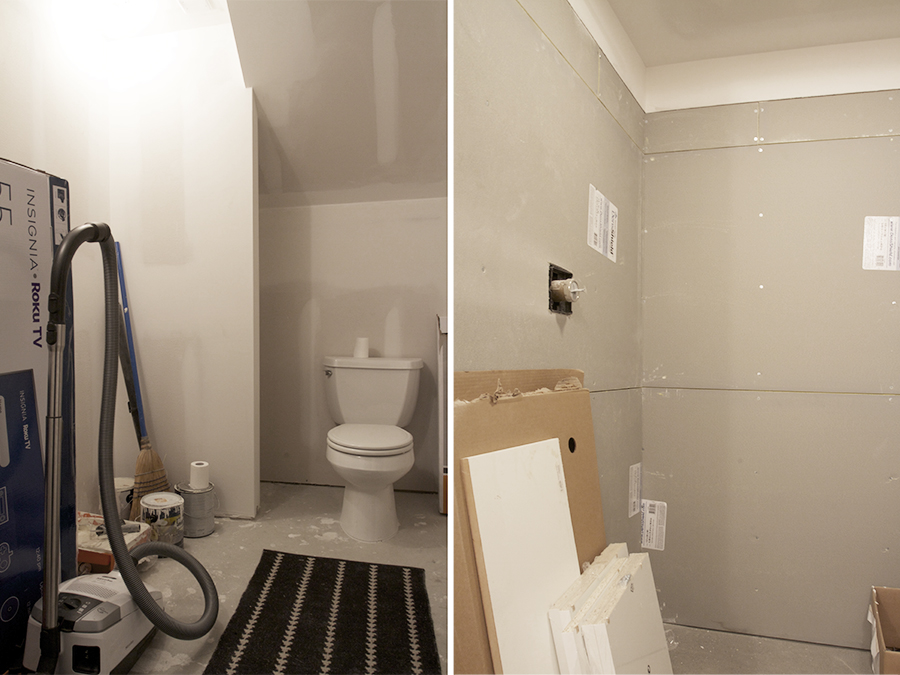 Here's your peak at the basement bathroom. It's all roughed in, we have a huge shower stall ready for tile and all the plumbing is in place and ready for this incredible sink. We'll get to all of that this winter.