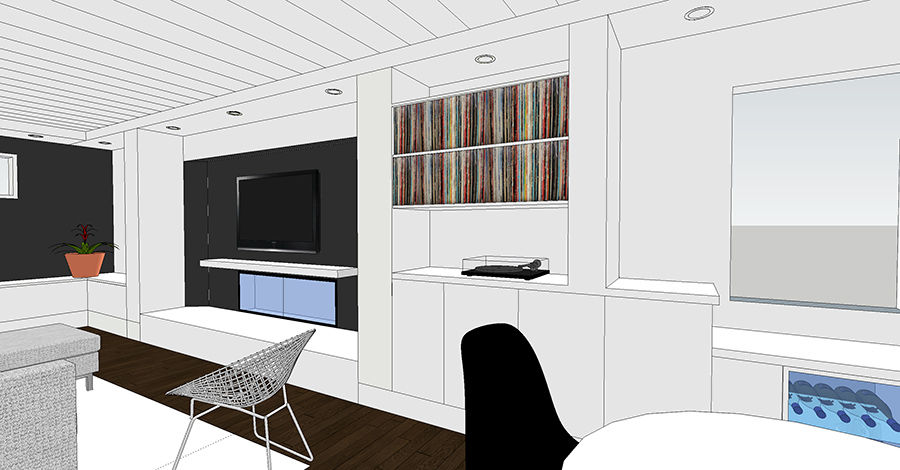 Alright pals, I've got some fun stuff to share today. At least I think it's fun, maybe you will think it's lame and boring, but it's my blog, so whatever ;)
We are in the midst of starting our big basement revamp project. This will be the biggest investment we've put in to the house to date. We've been scrimping, saving and dreaming for years now and are really excited to get this project started.
I've been really getting into planning the space out with sketchup – I've spent hours and hours messing with different designs and plans, and I think we've finally realized on paper (or 'puter as it were) our dream basement situation. Below you'll see a cool animated sketchup movie I provided you with to get the full effect of how awesome this could be.




You may have notice we've included a sweet TV watching area with a big screen TV (we've never had a big TV!) also, under the TV is a gas fireplace, something we always wanted in our dream house and had to compromise on when we bought this crappy place (I kid). Tons of built-ins utilizing ikea cabinetry to make it feel really cozy and nestled in. There is also going to be a hang area for board games and projects and beers and what have you. Also, a mini fridge bros, and an egress window to let the light in. We're going to enlarge the currently unuseable bathroom and have it be the boys' primary bathroom, and we're going to put the washing machine and dryer in their own room, I think when that happens they call it a "Laundry Room".
Now you're probably wondering what this place looked like before. The only time I've ever posted any pics of our basement was right after we moved in because it's basically an embarrassment. Really, it's more like a shame cave then a basement. We hide it from everyone and apologize to guests who might have the unpleasure of encountering it. BUT today I'm sharing it with you, you're so, so lucky! Welcome to what we affectionately call 'The Cocaine Den'. You'll see why we named it that in a sec.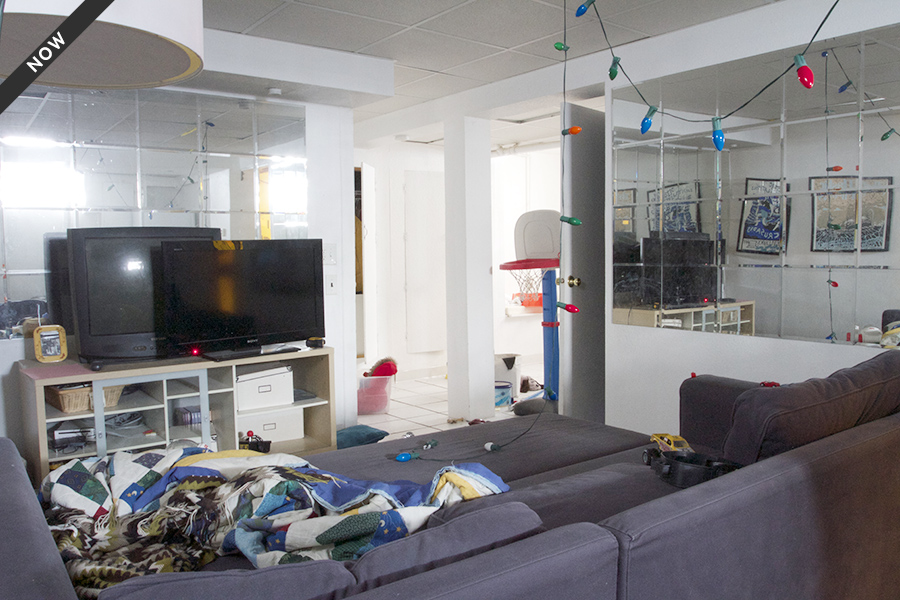 No you're not seeing things, those are beveled glass mirrors all over those walls. Also, why do we have two televisions down here, and Christmas lights hanging haphazardly from the ceiling? Cause we gave up on giving any of the shits a long, long time ago.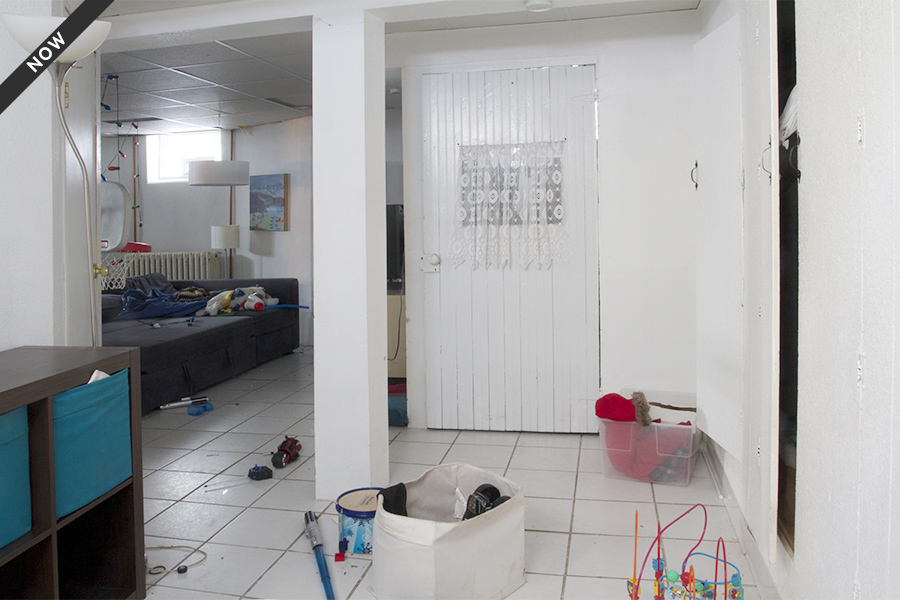 The space is currently overly segmented, the storage space juts out into the main space and is crammed full of boxes that could easily be moved to the attic. The bathroom is small, and the shower is inoperable. There is a "bar" (made of glass blocks) in the back 1/3 of the space – the bartender is our washing machine, dryer and a full sized fridge. The space just doesn't function for us, and I have given up on trying to make-do with what it is.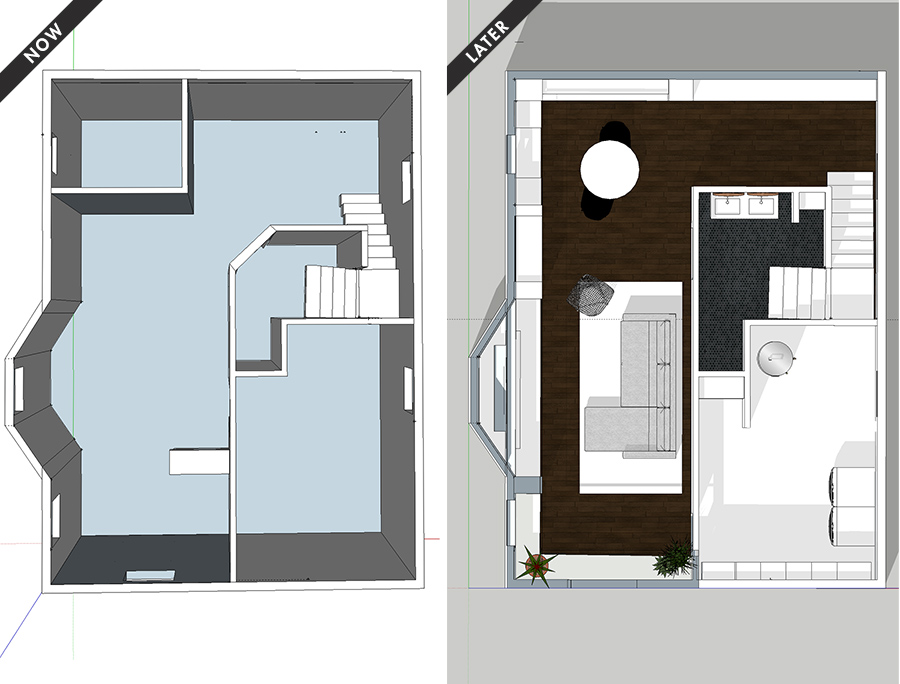 The good news is that we do have a basement space that has been updated at least once in the last 100 years, so we aren't exactly starting for scratch. The bad news is that the "now" version wasn't executed well. The design is poorly planned (like I said) and the materials used are low quality – it shows. The tile needs to be torn up, the ceiling needs to be removed, the lighting is not up to code, the electrical box needs to be moved, and we need to replace some of the plumbing.
I don't have the slightest clue as to how much this crucial behind-the-scenes stuff is going to cost us. We haven't gotten quotes from contractors yet – that will be the next step. We've already established a list of what we will be eliminating first to accommodate the budget. Our intention was to have a detailed plan to share with a contractor (recommendations warmly welcomed), then scale back if the budget dictated.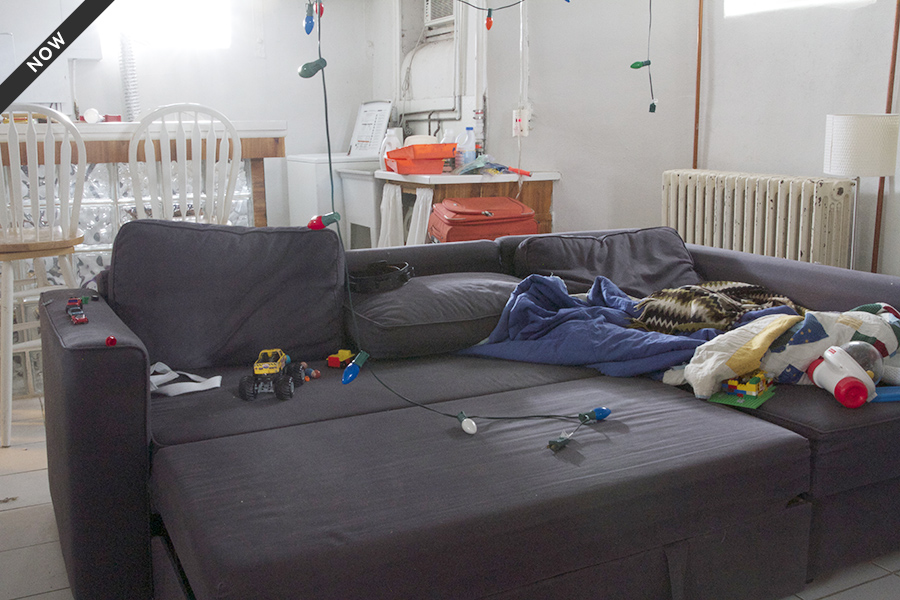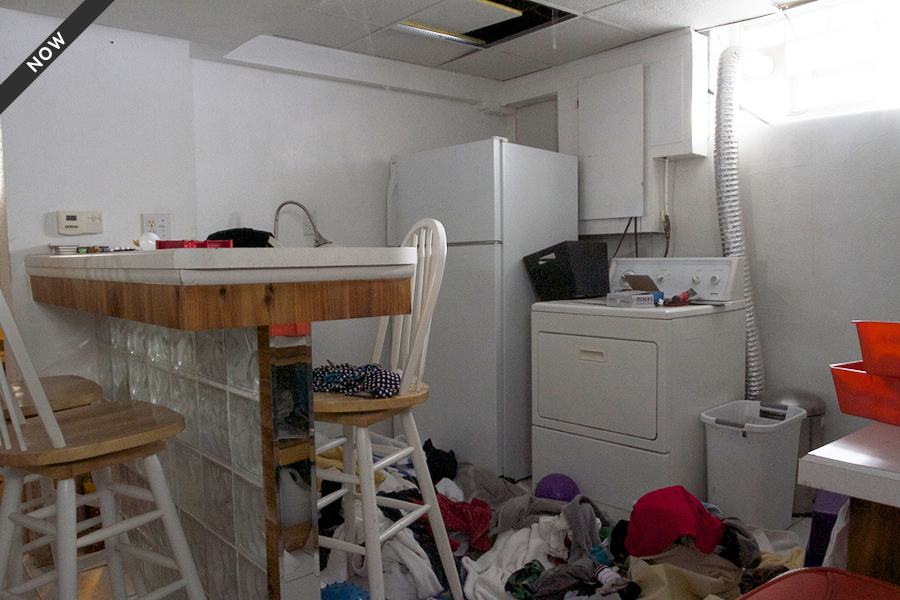 I hope to take on a lot of the finishing work myself, especially in the bathroom. All I want is for someone to come in and put all the walls, electrical, plumbing, and ceiling into place, and then I can take it from there. I'll be sharing the ins and outs of the project here on the blog, in case any of you are curious as to how this whole process works. We've never taken on a project of this scale before, so it will be interesting to see how it goes. I'm looking forward to learning tons of new skills, and I can't wait to spend next winter hanging in our basement! Have you lived through a similar process? I'd love to hear your take on it.