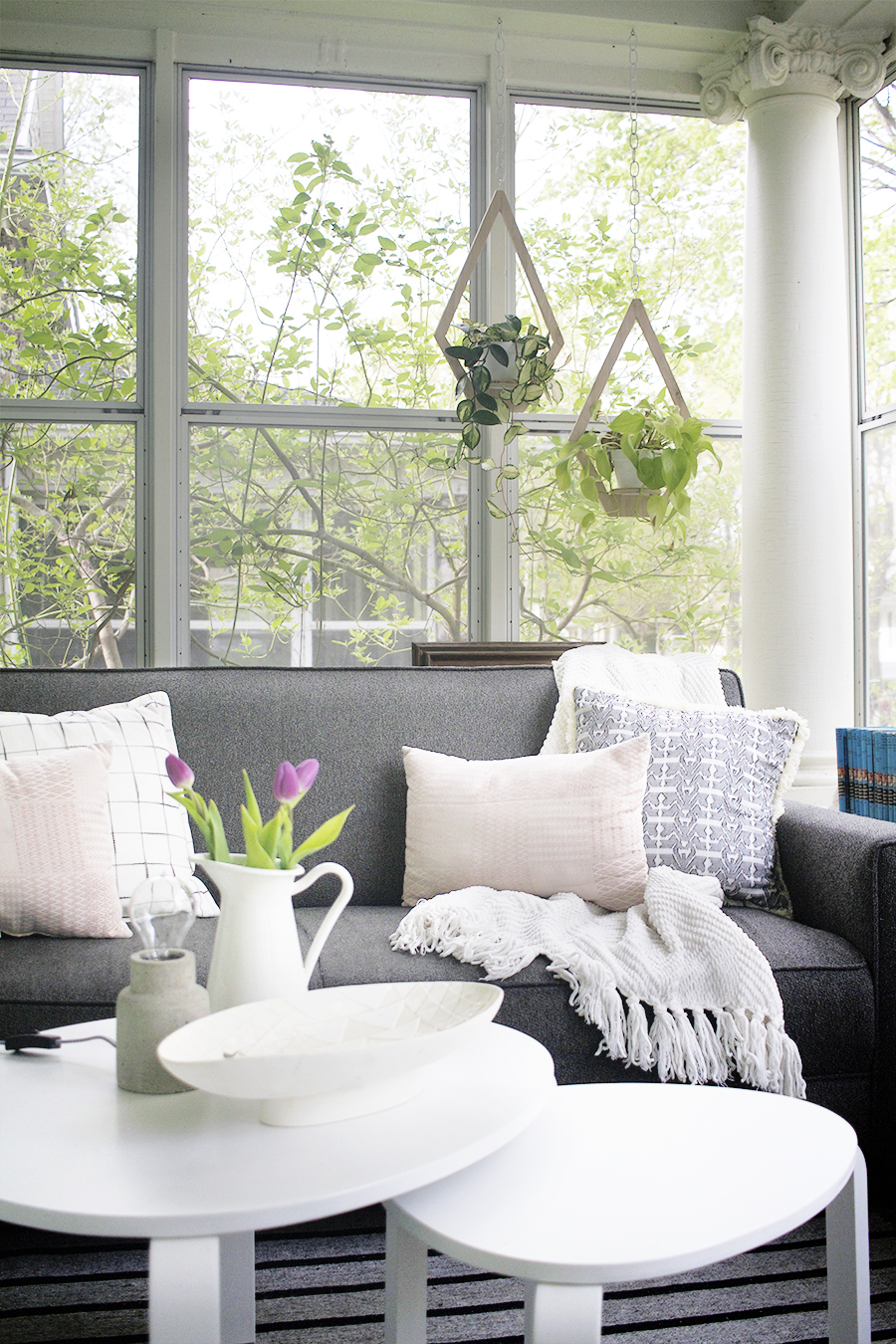 Dudes! My front porch has been kind of magical lately. I should say, it's always been magical, but now it's really magical. If you've followed along, you know that I have always struggled when it comes to designing this space. The biggest challenge of course is the small size, it's a front porch, so it's tiny. It comes off about seven feet from the front of the house and is about 20 feet long, oh, and there is the entry to our house right in the middle of it. It's been a difficult to find away to make the best use of the space.
A few years back we added a round Docksta dining table to the smaller side of the space, which gave that area purpose. Before then, we just threw toys and other junk in large piles in that corner, now we actually eat a lot of meals out here during the summer, and we've been known to play a game or two. Just last night I sat around the table with my girlfriends (aka The She'Vaughns) as we planned for world domination. The table has been a good addition and I'm glad we divided the space into a dining/game zone and a sitting area.
However, the sitting area has never been exactly right. We were struggling to put a lot of hand-me-down furniture into a very small space and what we needed to be doing was finding furniture to fit the space, not fitting furniture into the space. Seems obvious I guess, but as with most folks, there was always this whole budget thing we had to be mindful of, and ours was nonexistent. We had a lot of other projects to complete and budget for, before we could buy anything for a front porch. So we made them most of what we had, and I tied our rag tag group of furniture together with a bunch of accessories I like to call "Urban Cabin". This all worked for a time too, and then it had it's run.
Finally we were ready to invest a little bit of dat cash money into the space. We've had the sofa for-ev-er. We purchased it new back in 2004 form Room and Board, as barely 24 year olds, it was the most expensive thing we had ever purchased. Three years ago we purchased new living room furniture and the sofa made it's way into the porch. A new furniture arrangement was in order too. We moved the sofa ninety degrees nestling it into the entire seven foot width of the porch. In a perfect world I'd love for there to be a little breathing room on either side of the sofa, but this new layout does wonders for da flow. Before people would have to scoot between the coffee table and the sofa, now it's really easy to walk into the space and take a seat.
The coffee table/cocktail table also adds to this aforementioned "flow". This nesting table from Ikea is the perfect solution, I love the organic shape of the table tops and because they nest, they can be pulled out to accommodate massive hang times, divided up so that everyone has a place to set their drink, or tucked under if things start to get crazy. You get what I'm saying though, this a very modular and practical piece of furniture for our space, and it looks nice.
I found the two Bertoia chairs on craigslist for a steal, $100 bucks for the pair. They are perfect in our porch space, light and airy, not taking up too much visual space, but still comfortable and modern. The rug has been a big game changer as well, for now the brownish/pinkish carpet is non-negotiable, so throwing down this black and grey striped rug from Ikea has enhanced the vibe of the space ten fold.
In case you were wonderin', I DIY'd both the beaded macrame planter and the geo-planter. Having plants be hung adds that flora I love, but doesn't take up valuable surface space. I had the same idea when I hacked the Target table lamps and made them into two sconces flanking our entry way. I needed to hang shit up, not set it down, and this was a good way to do it. The lights are on a timer, which is nice for us since they do have to be plugged in. Other than a few throw pillows everything is pretty much the same, but so much better. I am totally smitten, and pretty sure that the porch will stay this way for awhile before it gets touched again.
A few months back I posted a inspiration and mood board. I pretty much followed it to a tee, so if you are looking to "shop da look" head over to this link for more info. Otherwise, shoot any questions my way down in the comms.