It won't be long before I am in full on outdoor and garden mode, I'm warning ya. So with these last few days before the official warm weather sets in I've been shoring up some indoor projects.
One of the pressing projects on my to-do list is to repair the stone wall in our front porch. Its paint has been starting to peel for awhile now and now is constantly shedding all over the floor. The older kids know they are not supposed to touch it, but no matter how many times I tell Gus, he just doesn't get it (stupid baby).
I can only assume that there is lead paint in some of these chipping layers. After much deliberation we decide the best way to handle it is to scrape away the loose paint only. Stripping is way too hard and messy, and sanding is not an option. I want the minimal amount of paint-dust airborne as humanely possible.
So we lightly scrape. Unfortunately, the scraping leaves deep gorges in the surface of the porch, but I don't really mind, I'll just chalk it up to character.
The next step is to prime and paint the porch. Honestly, I really have no idea why I decided primer and paint would be the correct solution to this problem. It just made the most sense to me to prime it, as to protect it from moisture and to seal in the bad stuff. Then finish it off with two coats of paint just like any other project. I had the paint matched at the hardware store, and it's a pretty close, lucky for me. That saves me from painting the pillars and all the other woodwork around the windows.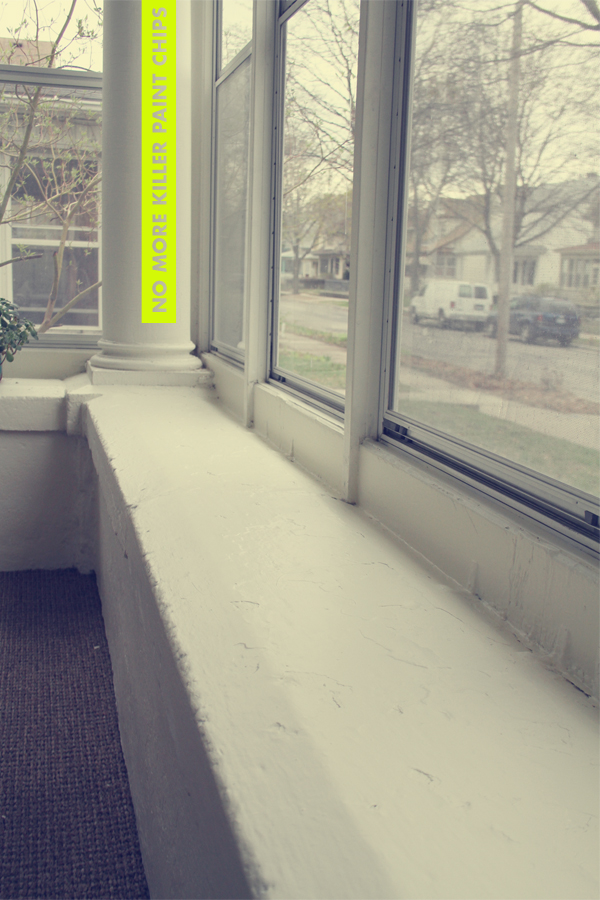 My hope is that now that the old paint is sealed up tight that the chipping paint will cease and I won't have to worry about slowly poisoning my kids. If in another year or so it starts to chip again, I'll just have to repeat the process. I think it's the safest way to go when dealing with this hazardous paint business.
Other projects I'm trying to finish up:
&#9660 Painting the bedroom
&#9660 Repairing marred doors in the bedroom
&#9660 Painting the window sashes in the bedroom
&#9660 Stripping the paint from the door hardware
&#9660 Replacing the sash locks and handles