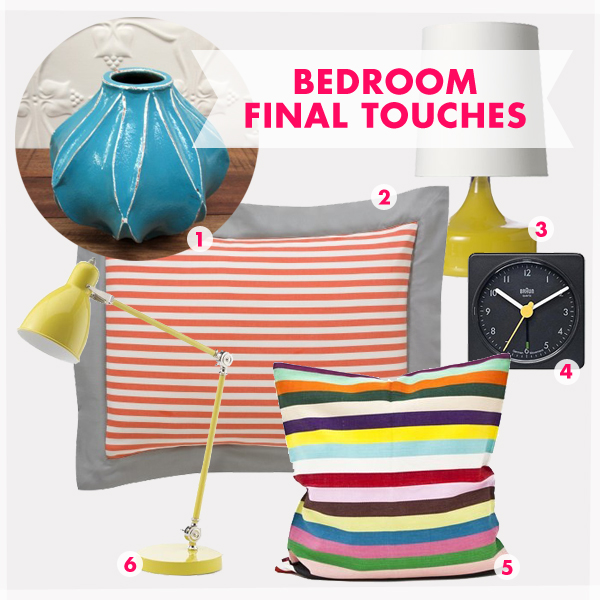 I'm still not done with our master bedroom, but I'm getting there. I've got one wall left to paint, a little trim to touch up and some new hardware to install. Then the painting/updating/fixing/repairing part of the project is done. Next comes the really fun part, shopping!
So if Jeff (wink wink) let me go hog wild, this is what I would buy:
1. Organmi Crease Vase from Have You Met MIss Jones
2. Draper Stripe Shames from Dwell Studio – Just another piece of Dwell Studio linens to add to the bedding. I know that there is a lot of pattern going on already, but why stop there. I'd love to add these in replace of the white shams I currently have on the bed.
3. Perch Glass Lamp from West Elm – Bedside Table Lamp Part I
4. Alarm Clock with Yellow Hands from Braun
5. Ruperta Cushion from Fine Little Day – Total Love Fest
6. Industrial Task Desk Lamp from West Elm – Bedside Table Lamp Part II. I'm totally obsessed with this lamp, I want it, and I love it.

Remember, this is how my room is looking.
We have the bookshelf on the far wall and it brings a lot of color to the room, but the rest of the space is lacking a bit, and I'd like to bring some of those bright pops to other parts of the room with a few of the above accessories.

Photo Credit: SFGIRLBYBAY.com
I've been totally inspired by Victoria's space in the above photo. I'm in love with the black and white and all the color. No matter how much I'd love to be one of those minimal types I just can't go get down with a minimal palette in my own space. I want the bedroom to look grown up, but still not too serious.
Can't wait to get this room done, it will be the first time we've really ever had a nice, put-together bedroom.