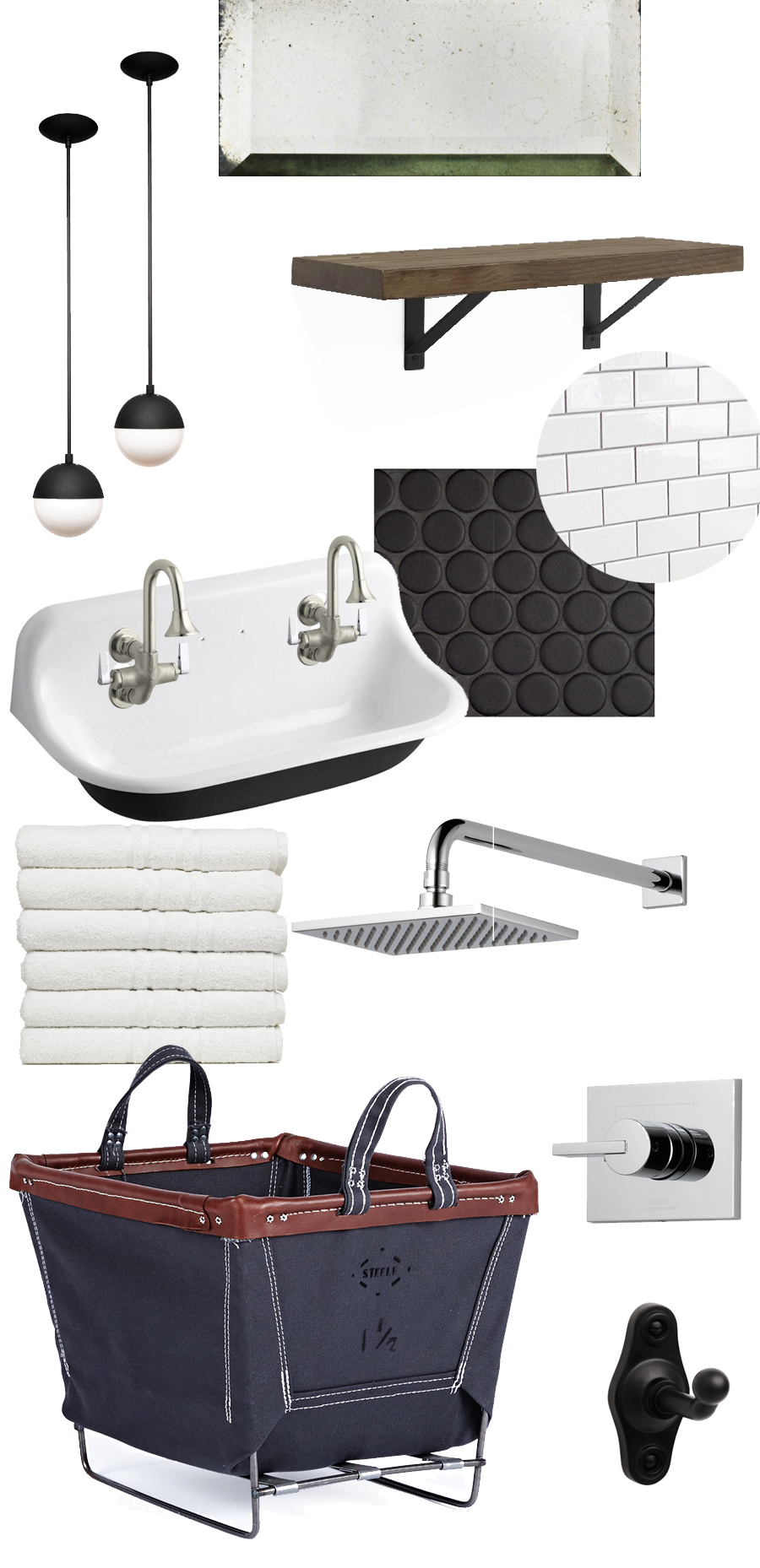 Welp, it's 2016 and as mentioned over and over again, it's time to start the basement bathroom project. As of right now, the basement has roughed in plumbing, cement board, dry wall, a newly poured concrete floor, and rough electrical. It is a blank slate and I'm super stoked to get at it. Before I actually do any of the work though I need a solid plan, and I have been thinking a lot about the design for the bathroom. It has always been our strategy to have the bathroom installation be my winter project. However, as we all probably know, sometimes life happens and things get put on the back burner.
Jeff and I had made it our most recent goal to get Gus (who was diagnosed ASD last year) into some extracurricular therapies. We've succeeded at that, and soon he'll be seeing specialists five times a week as well as be going to preschool five days a week (!!!), and on top of that I still drop-off and pick-up Finn at school every day. So yeah, my life is about to become that of the stereotypical carting-kids-around-in-a-stationwagon-all-day-long mom (although in my version, The Killers will be playing on repeat). No matter the time/stress/craziness it involves, I'm thankful that we have these resources for Gus. Unfortunately (but fortunately) our out of pocket expense for all of Gus' therapy cost us a pretty penny, and I'm so thankful that we have the ability to move the budget around, and accommodate those costs.
So I bet you can see where I am going with this. Well, the basement will have to be done on a tight budget and a loose timeline. My most recent calculations suggest that it will probably take a billion years to be completed. We'll have to purchase tile, fixtures, sinks all very slowly over time as the budget allows. I have to say, a little part of me is happy that I don't have to feel like I must do it all at once, and honestly I'm a bit excited about the challenge of saving and budgeting for a project – trying to make the most of every dollar. I always feel like those projects come together the best in the end.
I always find that the first thing one must do when starting a very budget conscious project is make a solid plan. One of the easiest ways to get off course is to get distracted by cooler and fancier things, because no matter how much money you have, there are always way cooler and fancier things. If you take the time to make a good, solid, beautiful plan from the jump, you're much less likely to spend on fluff.
Today I'm sharing with you my plan as well as a few inspiration pics. I'm still in the air on whether or not to go with traditional 3×6 subway tile or shake it up a bit with the 6×6 square tile instead. The sink and Cedar & Moss pendant lamps are a must as we've already had the wall plumbed for the sink and the electrical boxes put in the ceiling. I'll be scouring craigslist, ebay and local salvage places when it comes time to find the best deal on that Brockway sink. Subway tile is relatively inexpensive, and I can purchase it in batches over time. So, we'll see how this goes, and how it all plays out. I hope that someday we can have a working bathroom in the basement, maybe even by the end of 2016.
For now, here's the plan and inspiration: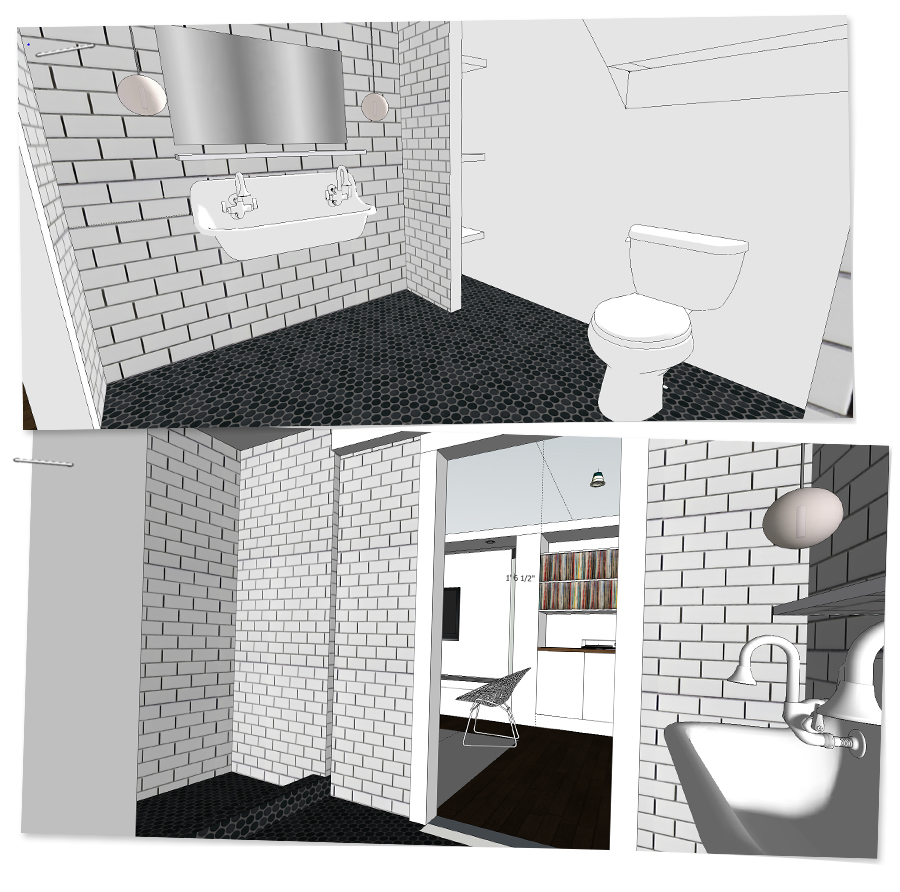 I'm planning on using one of the antique mirrors over the sink, a ledge will work for toothbrushes and stuff, and a nook in the corner will be used for storing a few linens and toiletries. The plan is for this to be the boys' main basement in the future.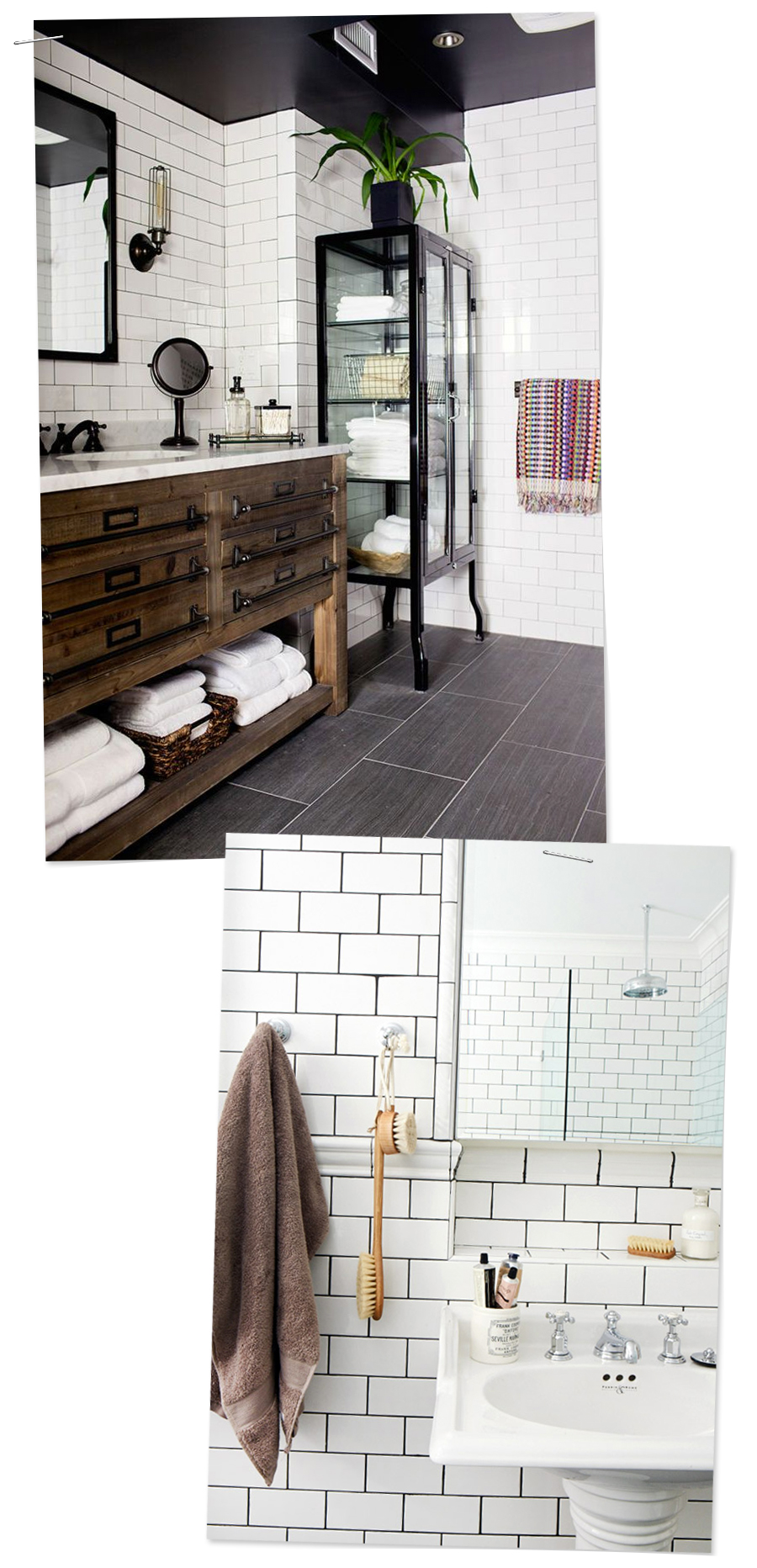 As you can see, a definite pattern emerges. Classic white subway tile, simple modern penny tile, reclaimed wood for texture and a few industrial touches.