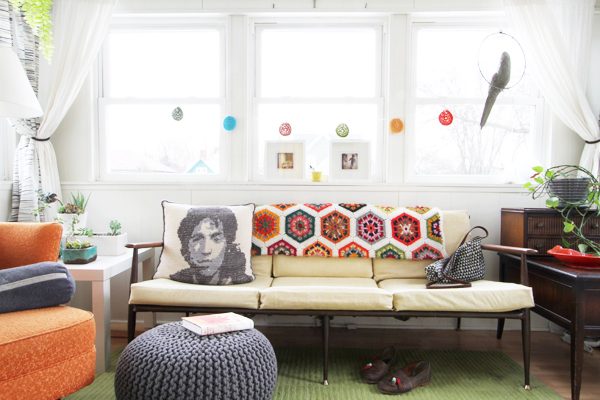 Hello buddies! I have been avoiding something for awhile now. It's one of those things that I know will most likely be simple, it's just the starting that's hard. What can I say? Avoidance is easy. Here's the deal, I want to recover the mid century six-cushioned sofa in our sunroom.
The sunroom is located off the master bedroom upstairs, it's the room that sold us on this house. It seemed like the perfect place for us to hide away from the kids and hang out at the end of the day. Unfortunately this room never became that for us. We furnished it quickly and inexpensively after we moved in, and since then not much has changed. About a year ago we threw an old green rug down on the floor to help insulate it during the colder days, since then it has become a dumping ground for stuff that doesn't have a home. I'd really like to make this room into the room we always hoped it would be, not the room that seems like an afterthought. Also, the above photo was taken when I was trying to make it look good, it does not look like that now.
As always, budget is a big factor for me, I want to update this and make it comfy on the cheap without spending a ton of cash. We have two pieces of furniture currently in the room. The orange upholstered vintage swivel chair has potential to be that fun bit of color in the space. I'd like to play off of it and add a blue graphic rug.
We also have the six cushioned sofa which is the ideal proportion for the space, I don't think I could get a better sized sofa if I tried. The sunroom is small (7′ x 11′) and a big sofa would overtake the room. I'd really like to replace the cushions and recover this sofa – I'm so nervous about it though. As it sits, it is covered in old curtains, underneath that is alternating blue and brown naugahyde cushions. Yah, it's kind of a dog.
When I mentioned doing this all the way back in July, a local reader, Laura of Lahlo Shelter – who also happens to be an upholsterer, offered me some good advice about where to find foam. I also bought this book and have watched a few youtube vids, I think I might stand a chance. I just need to actually go out into the world and buy my supplies, and be brave, and try it out. I'm thinking white, or light gray fabric for the new cushions – it is after all supposed to be a hang room for us grown ups.

So, who has upholstery tips for me? I'm considering making the seat one long cushion and then having three cushions in the back, but I could also just make it easy on myself and do two long cushions similar to the sofa pictured above. I need your guyses help, so leave me tips and encouragement, pa-lease!