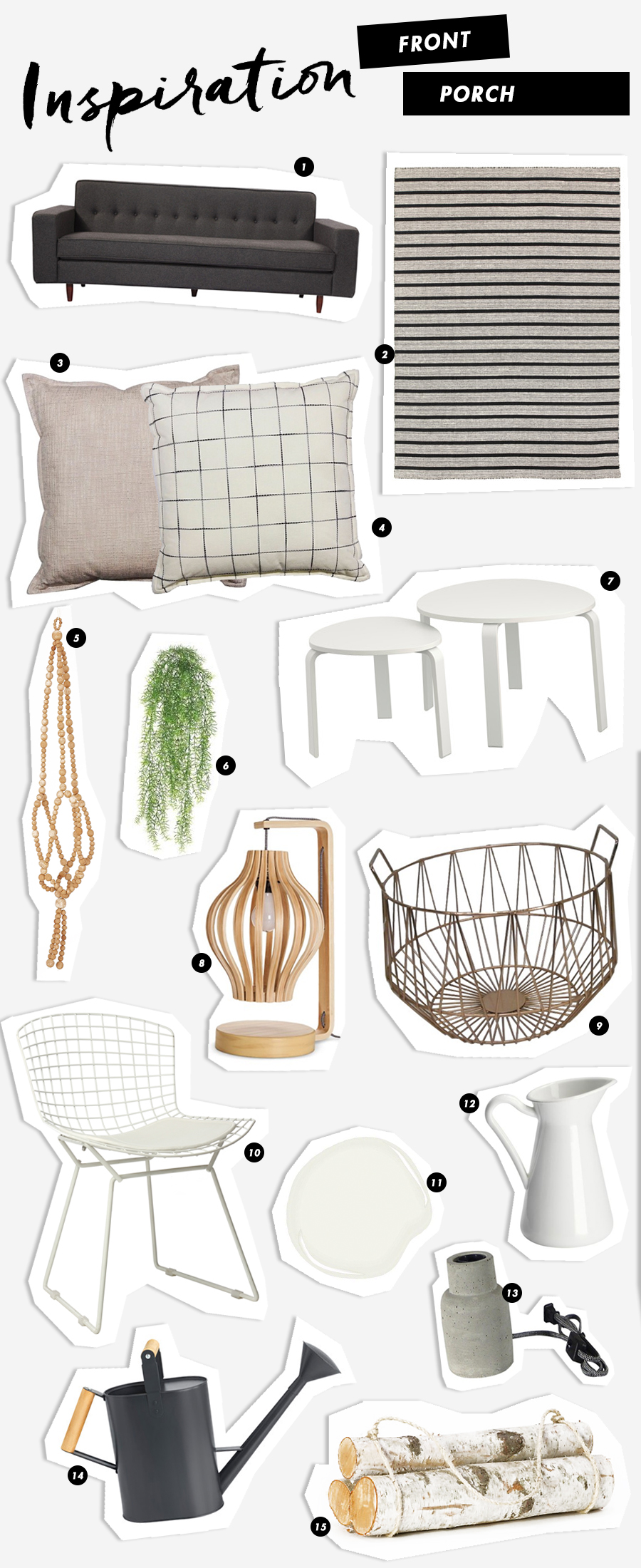 1
Mid Century Sofa
2
3
4
5
6
Hanging Plants
7
8
9
10
11
Fresh White Paint
12
13
14
15
Some Birch Logs!
It's kinda weird how the design evolution of a home happens, it's always changing and maturing. Just a few years ago I was dreaming of our porch as a kitschy "urban cabin" and now I've got new more grown up plans. It's not like I'm super mature or anything, but I feel like I've defined my taste a bit more, and although I still love kitschy vintage stuff, I only can handle it in small doses and used at the right moment. For me, I feel like my style grew up quite a bit during the making of our master bedroom and it just continued with the basement. I think this is also a consequence of home ownership, not too many of us have all the cash to do everything up front, so you have to wait, and during the process of waiting and dreaming you can really figure out what you like in your home. I don't know if you guys feel like that happens to you, but it seems only natural to evolve, and I like to see the process of it. Anyway, I'm definitely feeling more neutral and minimal these days, and it's starting to show.
We've made it to the point where we feel like we've touched every inch of our home and now we are headed back for the second pass, where ideas and personal aesthetic can really start to be defined. Being that it's spring and all I want to do is be outside, I've found myself day dreaming about our front porch quite a bit. You guys all know how I feel about the porch, it's basically the best. However, it comes with so many design challenges. There is ugly tan all-weather carpeting, that for the time being can't be removed because it's covering asbestos tile. Someday I'd like to add a plywood subfloor over the top and then finish that with painted white wood, but for now I'm considering hiding the carpet under a few rugs. Unfortunately there is only one outlet, and one light fixture in the porch, which makes lighting really hard to do without having a bunch of cords and power strips running through the space. I've got some ideas brewing about the best way to solve this problem without calling in the electrician. The biggest problem is that the space is tiny about 8 feet deep and 20 feet across, and it is divided by our front vestibule entrance. It's begging for cohesion and function! Goodbye to the days of the porch being the hand-me-down-random-furniture-and-stuff graveyard, and hello chill vibes plan.
I've got some inspiration and a few ideas for things that could really bring some cohesion to the porch. I think I'll be painting everything a crisp fresh white this summer. We'll be re-using our old mid-century style living room sofa, but I'll be rearranging the furniture to create a more easy to access hang space (right now you have to shimmy around a coffee table). I also think it would be great to get rid of our current coffee table (that we've had with us for 14 years, and it shows) and replace it with a set of small nesting tables, this way it could function as a coffee table but still be modular and easily moved if needed. Number '8' on the list is a really cool bentwood lamp from Target, I love the form of the lamp, but I don't have any tables to set it on. I'm considering chopping the lamp base off and hanging two lamps on either side of the big picture window to act as sconces. Lastly we need lots and lots of hanging plants, sorry Jeff!
So there it is. I'm excited.