Friends and pals! Almost a year ago we started the process of having our basement remodeled. It's been an exciting, stressful, and messy project but we are so happy that it's finally over. We are so glad we decided to move ahead with the renovation because it has totally changed the way we live in our house! Winter has been manageable this year now that we have a sweet in-home-retreat to relax and hang out in. The living and dining room are almost always clean because kids aren't playing with trains, marbles, puzzles, games, blocks, cars or building forts in them. Now they are playing with all that stuff in the basement where we have tons of room to spread out and lots of places to hide those toys away.
For those of you who are new or just need a little reminder (cause it's been like a year), we had a contractor build out the basement as per a design I created. The contractor and I worked closely together and we collaborated about layouts and measurements until we had the whole thing nailed down perfectly. There wasn't one thing that wasn't fully considered before the process started, and I'm so glad I took the time to do so. A solid plan goes a long way.
To start the process our contractor demo'd our existing basement which had been poorly remodeled sometime in the 80's, (glass blocks and mirrored tiles abound). That was followed up with days of jack hammering the foundation as we had nearly all the plumbing replaced. A new slab was poured and a hole was cut for the new egress window. Framing was the next on the list, and after that electric and plumbing (for the bathroom and laundry room) were installed. Dry wall had the biggest impact and was installed, mudded and sanded within a few days. Floors were laid down last, and from that point on all of the finishing was left to me! I installed all of the cabinetry and countertops, finished the trim, painted, wallpapered, repaired and retreaded the stairs, upholstered a cushion, wired media equipment and built custom floating shelves. That brings us right up to just a week ago when I finally called it quits.
This place is supposed to be our urban cabin, a little slice of chill to make us feel like our lives aren't so crazy. I wanted some of that Scandinavian aesthetic in our century old house, and yeah, maybe it's a little different then some of the decor in the rest of home, but it's all fine by me. I know that I kinda went nuts on the cabin-y stuff, but I really don't care. I love it all, and I'll be changing my nickname to Birch Bark Allen.
Let me show you around the place.
Check out that before pic! What you are looking at is the basement bump out which supports the bay window in our main floor dining room located directly above this section of the basement. This awkward area made designing the space difficult. It was always part of our plan to have the radiator moved to a different location (I'll point that out later), but even without the radiator the best solution for the space alluded us. We considered adding floating shelving, and even a fireplace, but then a friend suggested that we do a built-in space for the tv and eliminate the window. Who removes a window from a basement? We do, and I'm really glad we did.
Adding built-ins to our basement was key to make the space feel custom and well thought out. The built-ins and cabinets surround the perimeter of the basement on three sides allowing us tons of storage space for electronics and media, a beverage cooler (or as we refer to it, "the beer fridge"), toy, lego and game storage, and access to our water meter and main line sewer clean out. In the tv-watching-chill-area we used the built-ins to create extra seating, low kid level toy storage, and a recessed nook for our tv to create the illusion of more width in our long and narrow space. Trying to make the most of the space, I upholstered a very large piece of foam and tucked it in under the tv. This give us tons of seating when we're hosting friends and their kids for weekend hang seshes. Creating social zones was a crucial part of making the flow of the basement work.
One of the most important built-ins is directly to the right of the tv. In these cabinets we have all of our media; cable box, modem, video game schtuff, and stereo components. Before the dry wall went up I wired in speaker cable from the ceiling to the cabinet, and added tubing from behind the tv to the interior of the cabinet. This allows us to hide away all that unsightly gear. Hidden IR repeater allows us to access all that stuff with just our remotes! Dealing with the mess of wire and hooking everything up was nearly divorce inducing, but we survived. Above the media storage we have a space for a turntable and storage for basement records. It's been pretty rad to listen to records during late night cribbage tournies.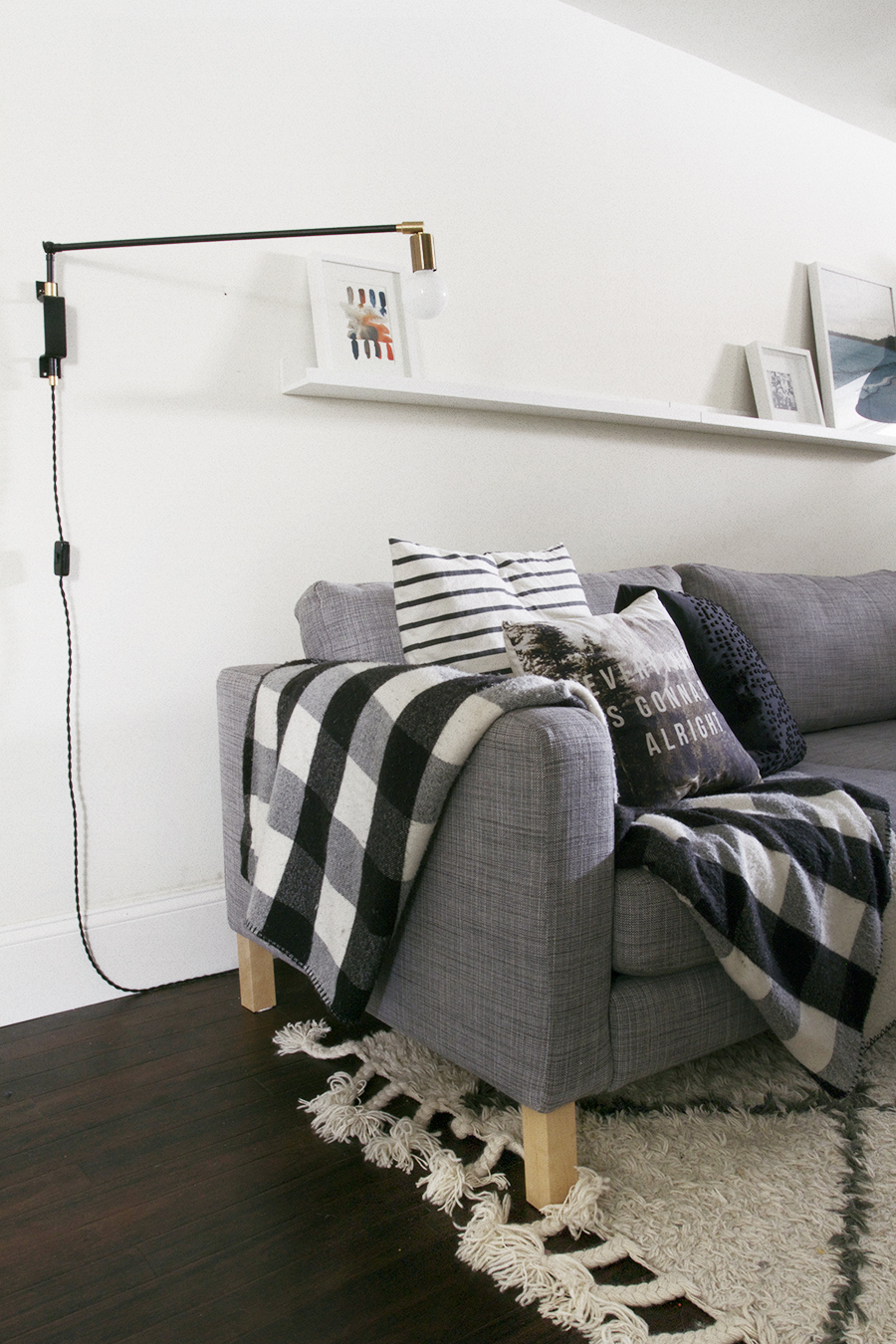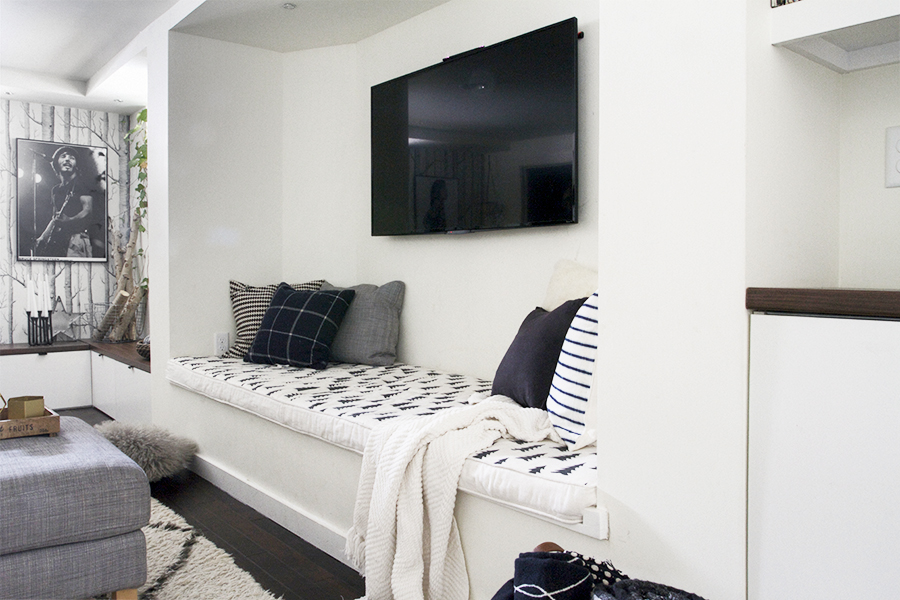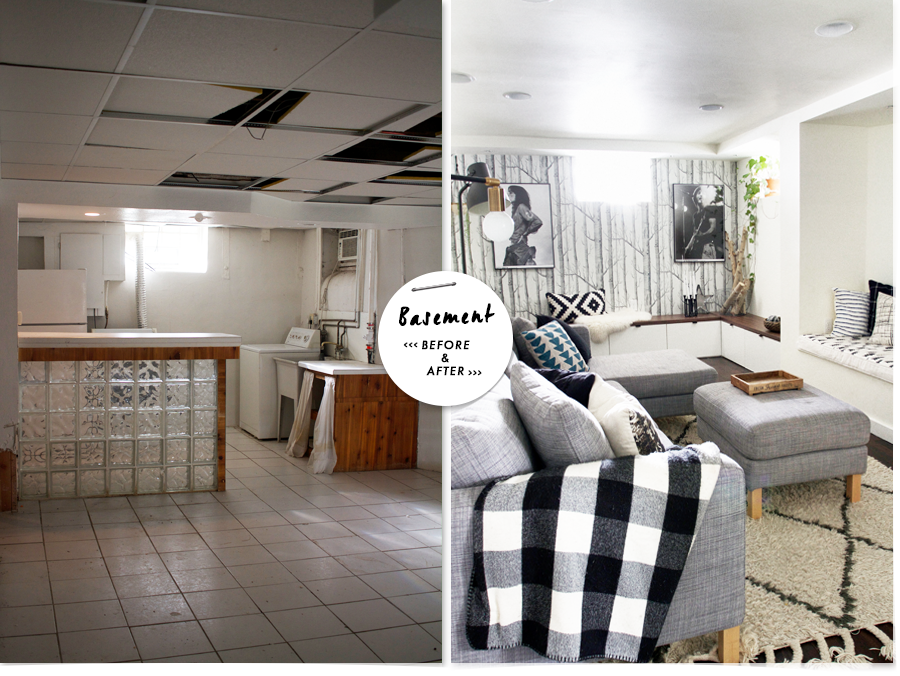 Wow! Even I feel surprised when seeing the before pictures. Our basement was basically the worst. Check out our very cool combination glass block bar and laundry area all trimmed out in plywood and laminate. I bet you wish you had one in your house too!
We purchased our Karlstad sofa (RIP) from Ikea earlier this summer. It was necessary that we purchased something that was flat packed in order to fit it down our narrow basement stairway. We love having the sectional with chaise and after considering a coffee table, I'm really glad we decided on the matching ottoman instead. The tray on the ottoman gives us nice place to set drinks or remotes but also doubles seating and an ottoman, duh. The whole fam can fit easily on the sofa for ultimate maxing and relaxing.
In the far corner of the basement I used "upper" cabinets from Ikea for toy storage. Each cabinet has a drop down door front and that makes it super easy for the kids to pull out their toys and put them away. Not only that, on those days when we have massive basement parties, the cabinets can be used as extra seating.
We now have a laundry/utility/workout room. It's not pretty at all, like I won't show it to you, but it might be my favorite thing about the entire basement. It has been an extreme game changer to have a dedicated room for laundry. The space is also big enough to make a home for our treadmill which we both use daily – gotta tone dem muscles.
Also, Bruce and Patti.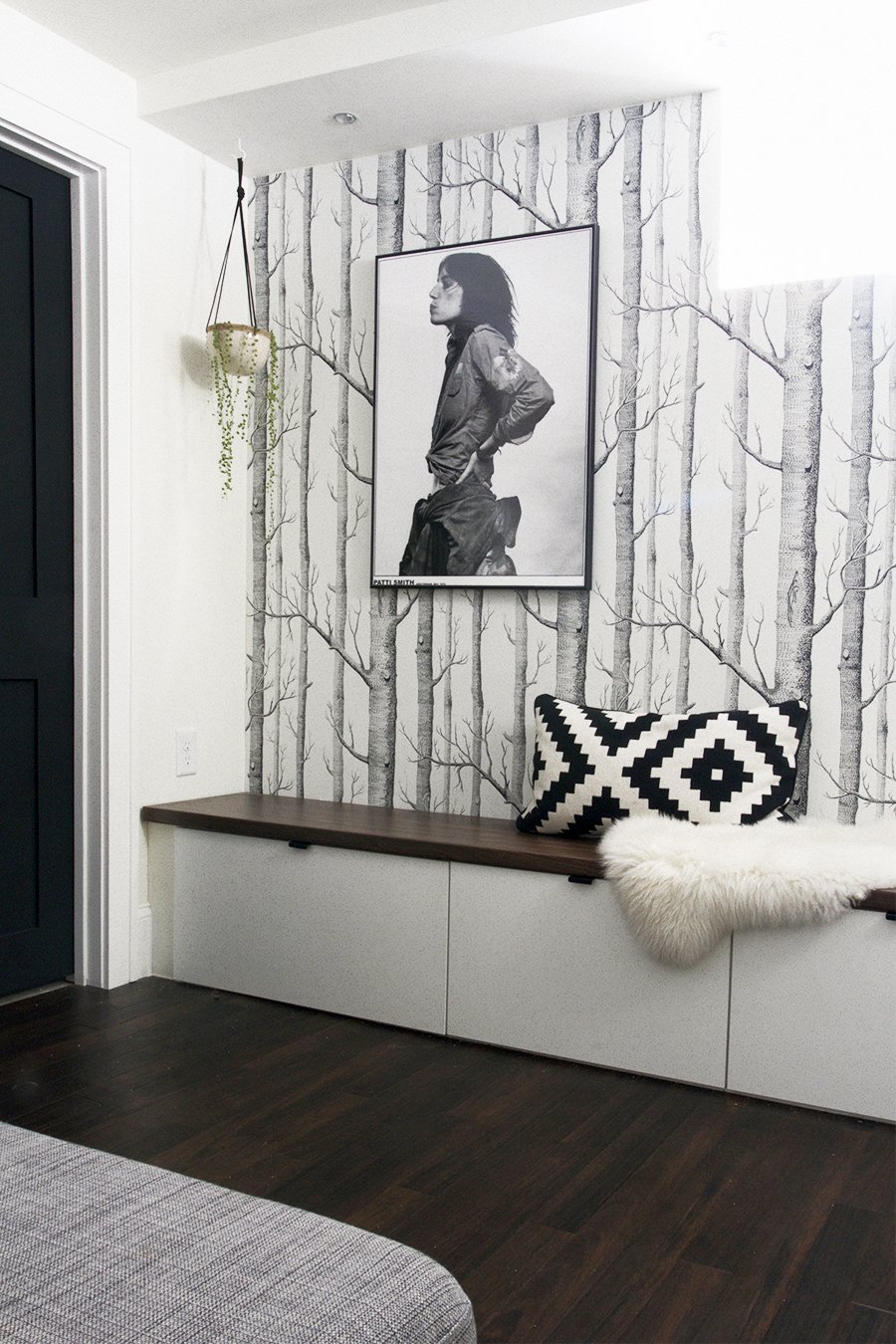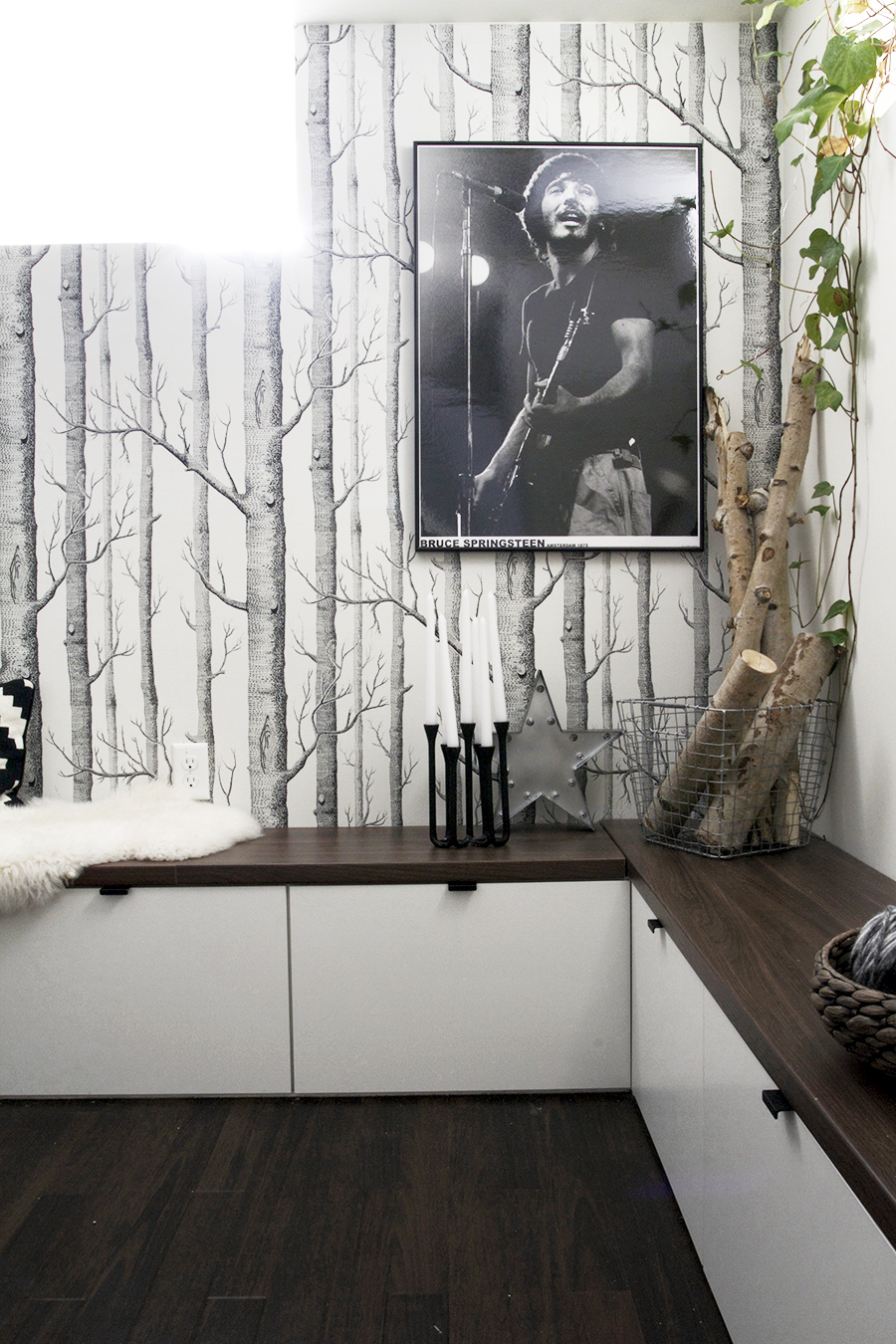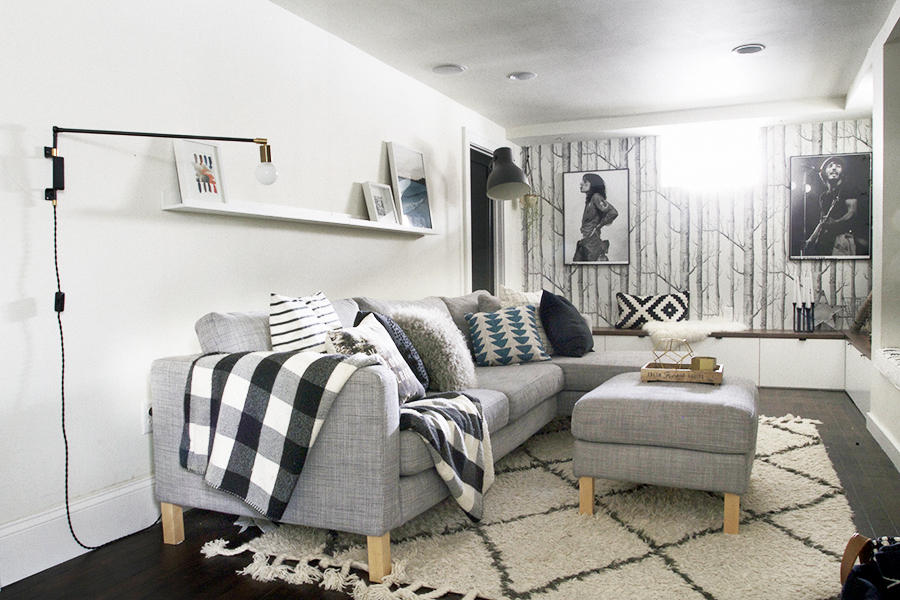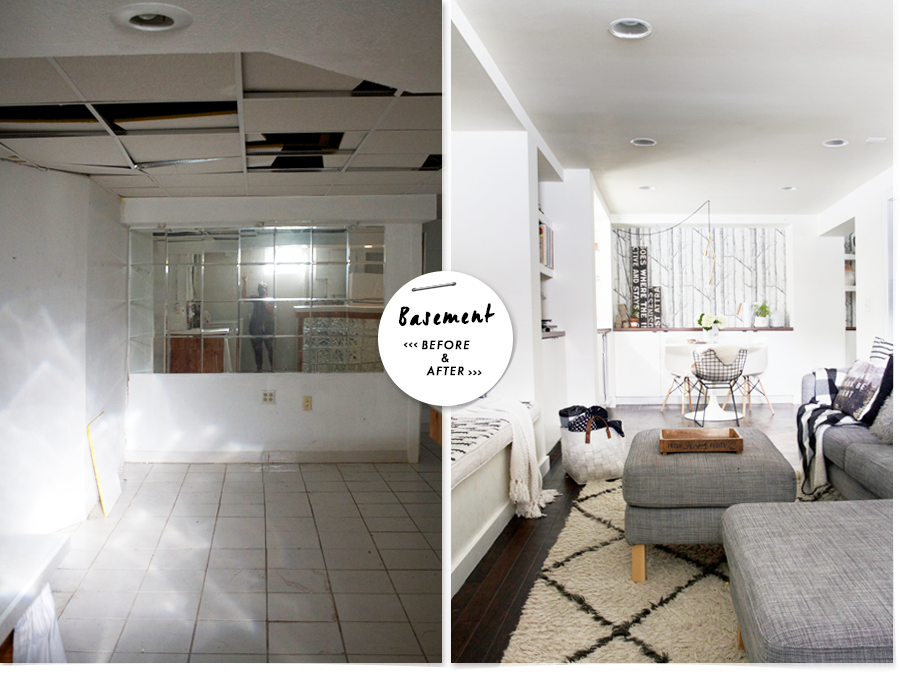 Don't worry! It's not an illusion, the space looks longer in the after picture because it is. We removed a storage space that was eating up a third of the basement before. You might not notice it hiding behind that mirrored tile wall.
We moved all of our Christmas stuff, pictures, and other sentimental crap that we hold on to up to the attic. I purchased some heavy duty wire shelving for the attic and everything is really nice and organized up there. We were worried about losing storage space, but it hasn't been something we regret. Everything that we need on hand is stored in the cabinetry in the basement.
Fortunately for us, there was a window hiding in that storage space – that's the window that became the egress and provides us with lots of light.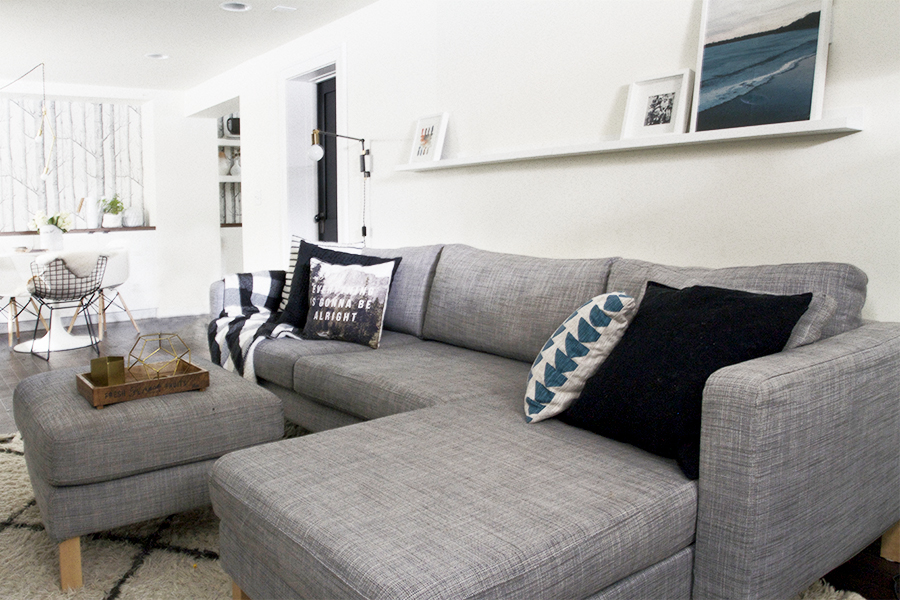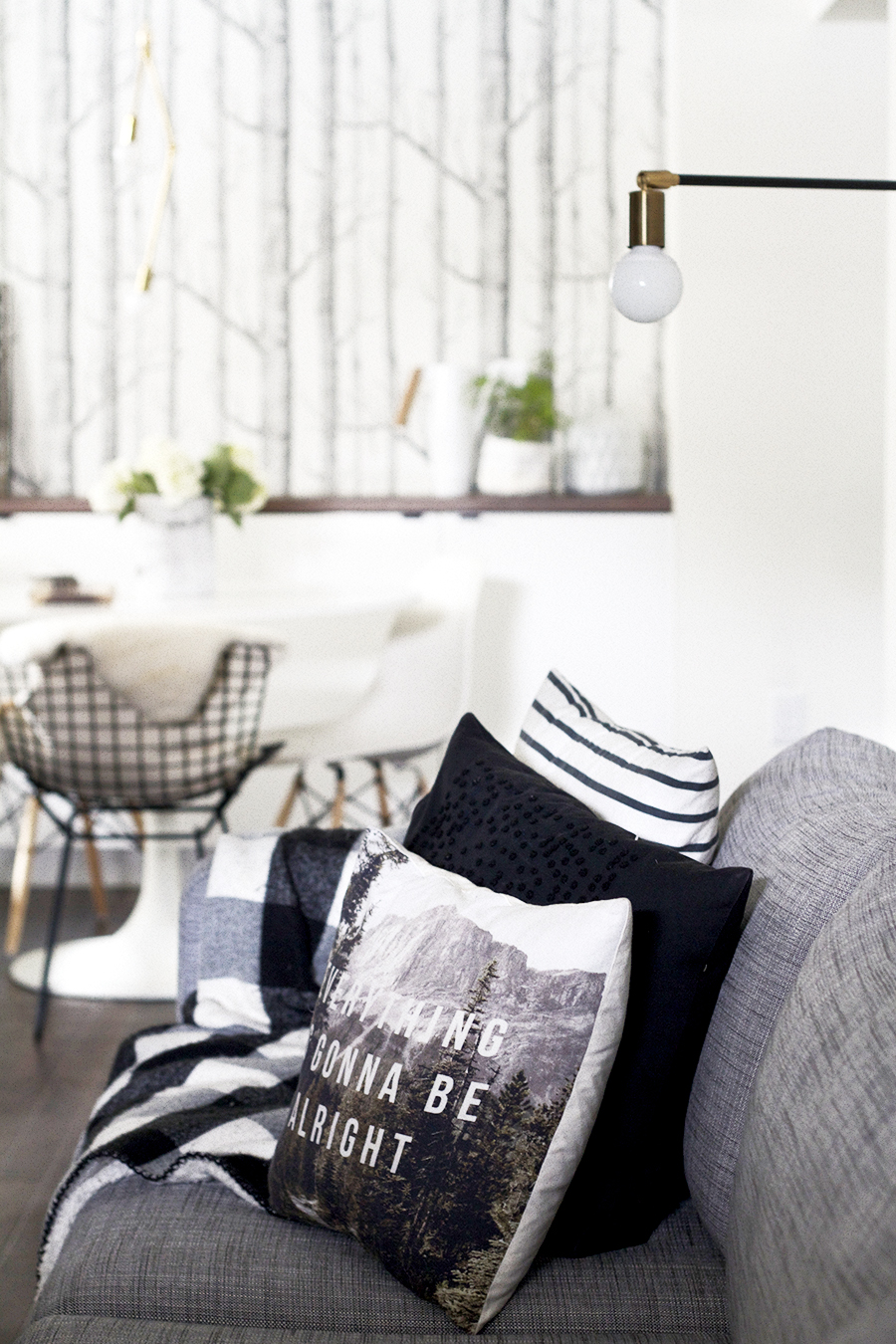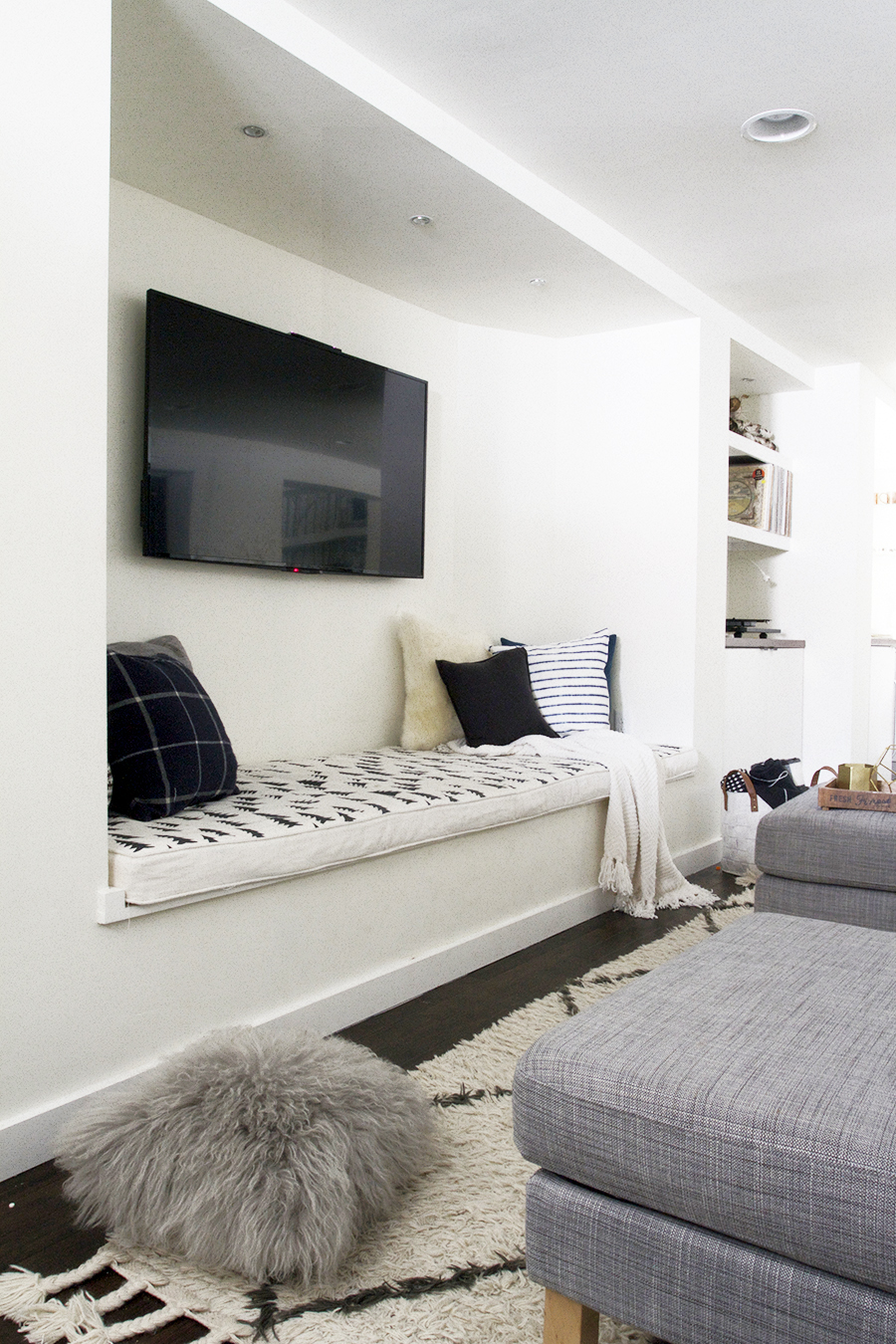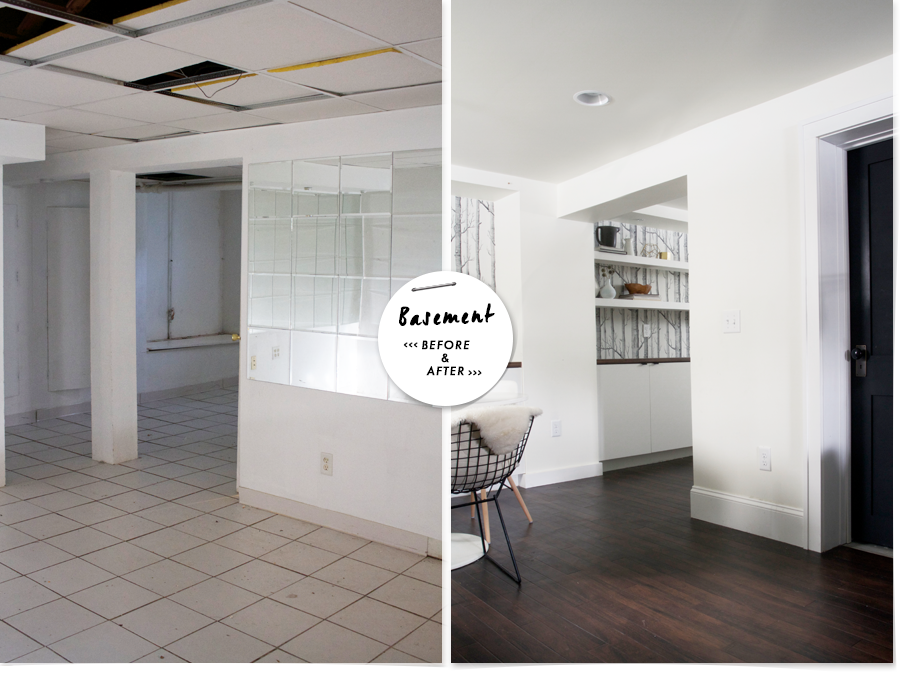 Oh, what? One wall covered in tiled mirror wasn't enough for you? That's cool, cause we have another one. Basically these photos show you how we elongated the load bearing wall and added a door to the bathroom.
A big part of our budget has gone to the basement bathroom. We don't have a main floor bath and only one bathroom upstairs, so this will provide us with both a spot for our guests to use, and a place for our kids to shower when they turn into teens. Like I mentioned above, we had nearly all of the basement plumbing replaced and that cost us a big chunk of change, but it was something that needed to be done. We also increased the size of the bathroom, doubling the size. For now the bathroom remains only roughed in with plumbing, electrical and a shower pan. Eventually I'll get started on finishing that project, but for now, I'm just glad that the bones are there and I don't have to worry about plumbing back ups.
I was able to save the original door knob from the storage space and used it on the bathroom door. It was one of the only original items that was in the space pre demo.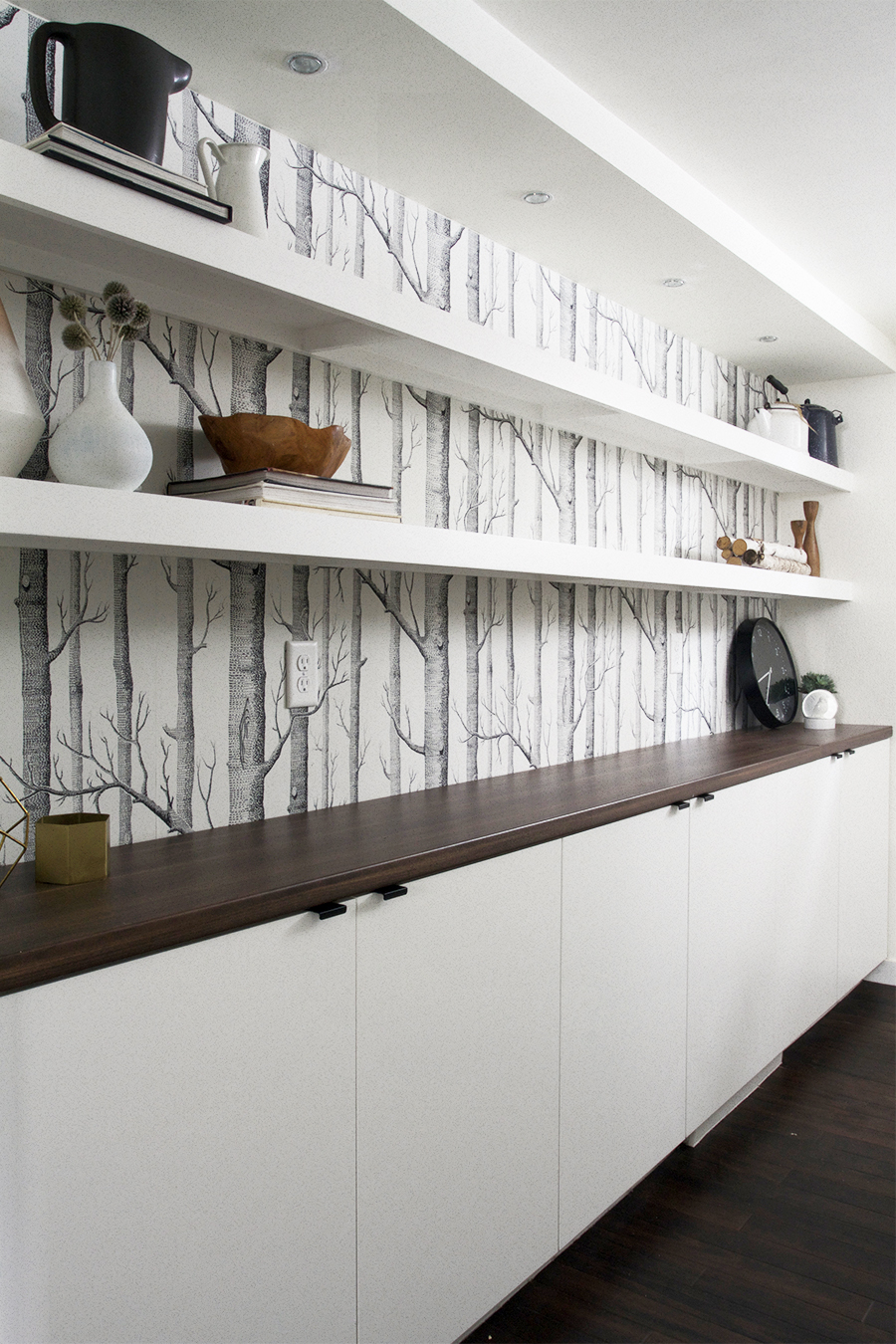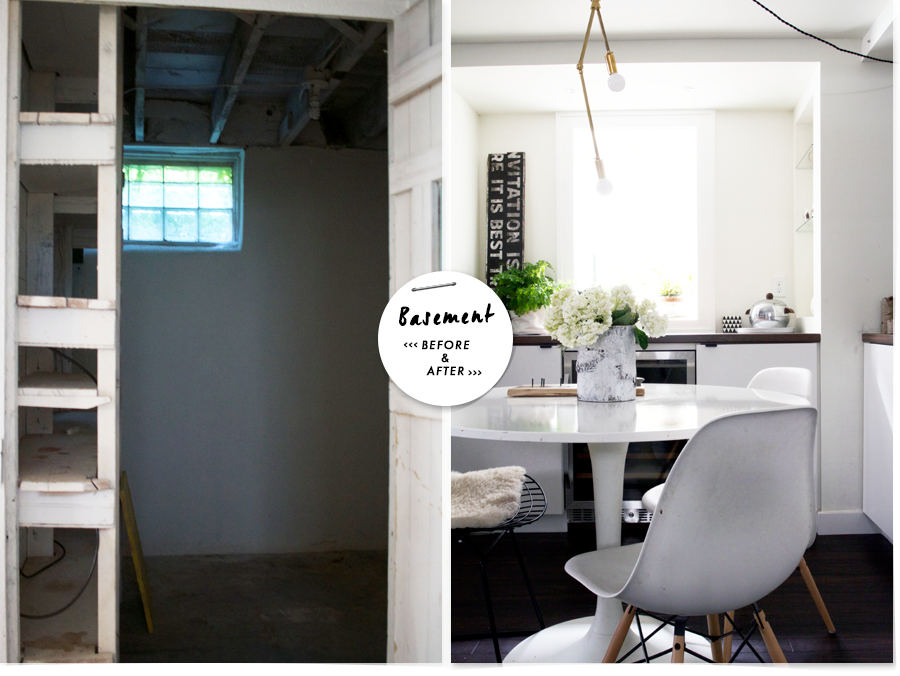 Friends! This was the window that was in the storage area. See! See! We had the window enlarged creating an egress window. All of our windows were replaced and we can now swing them open to let nice summer breezes in.
We built in the space around the window framing it with two columns, cabinetry and the beverage fridge. To create our second main hang space, we added a circular table. We use it all the time to play games, build puzzle or eat frozen pizza. Our next basement purchase will definitely be one of those bar style frozen pizza ovens. It will rule.
We also had all of the walls insulated. This has been great in the winter (the basement radiator barely ever kicks on) and in the summer the basement stays pretty cool.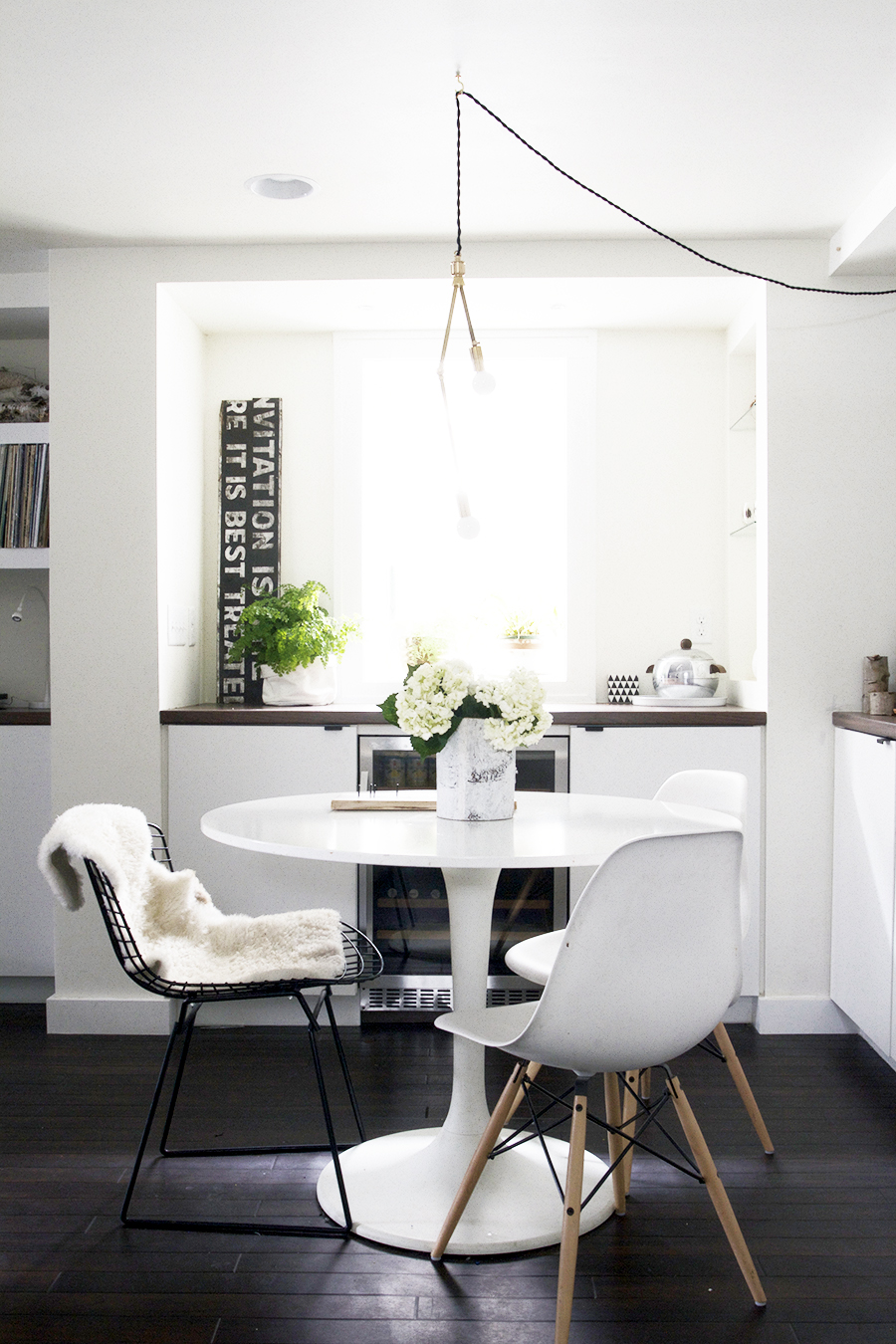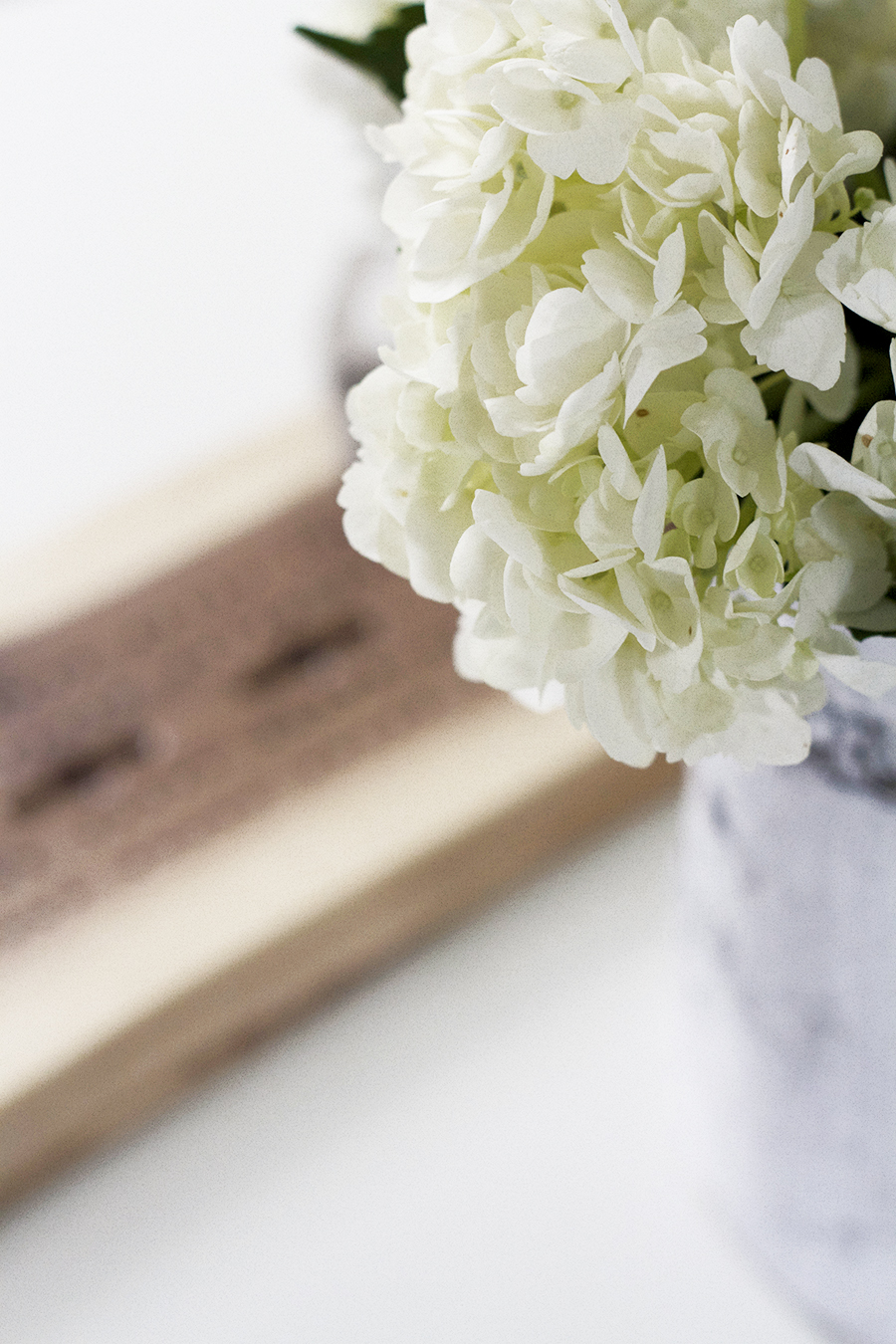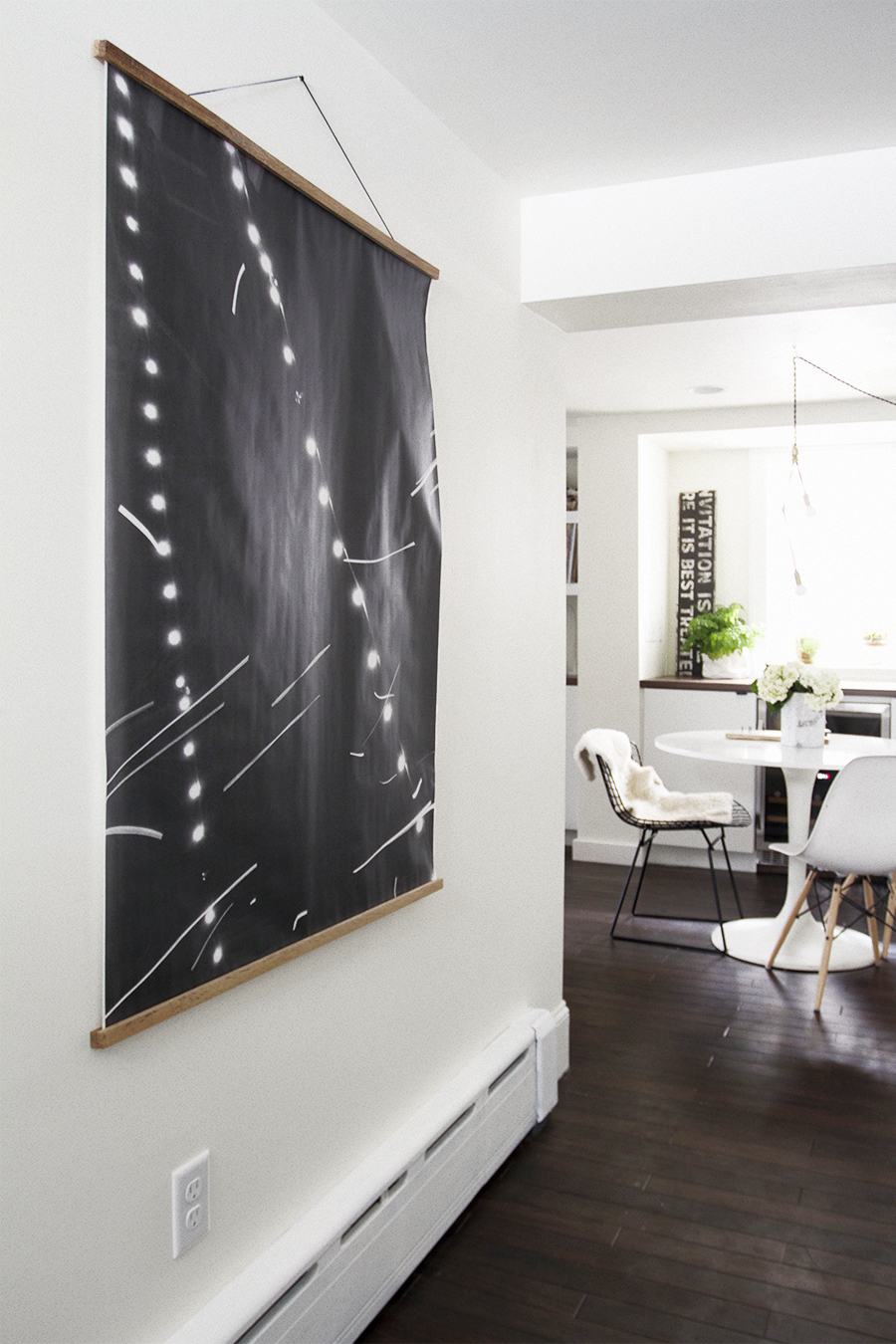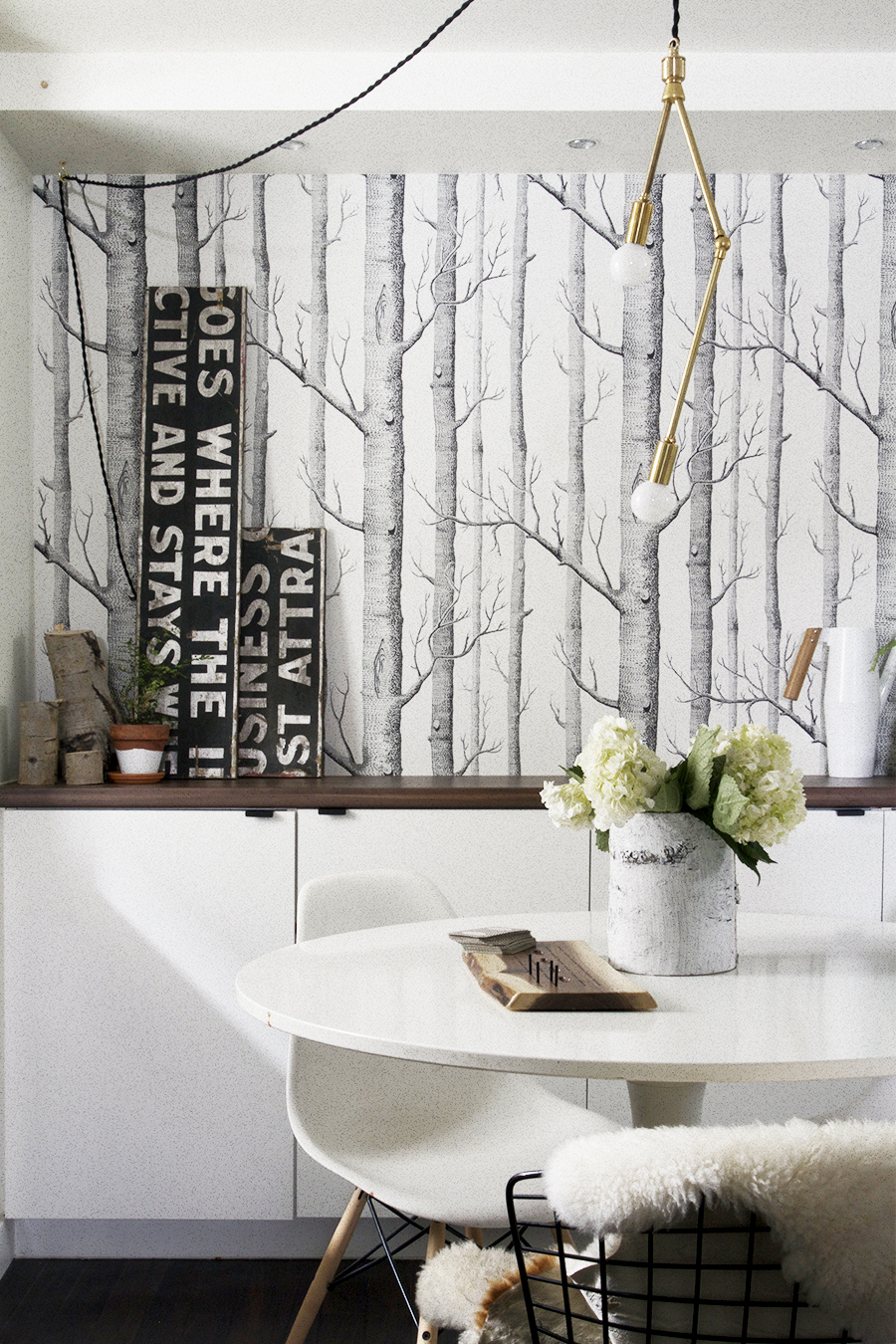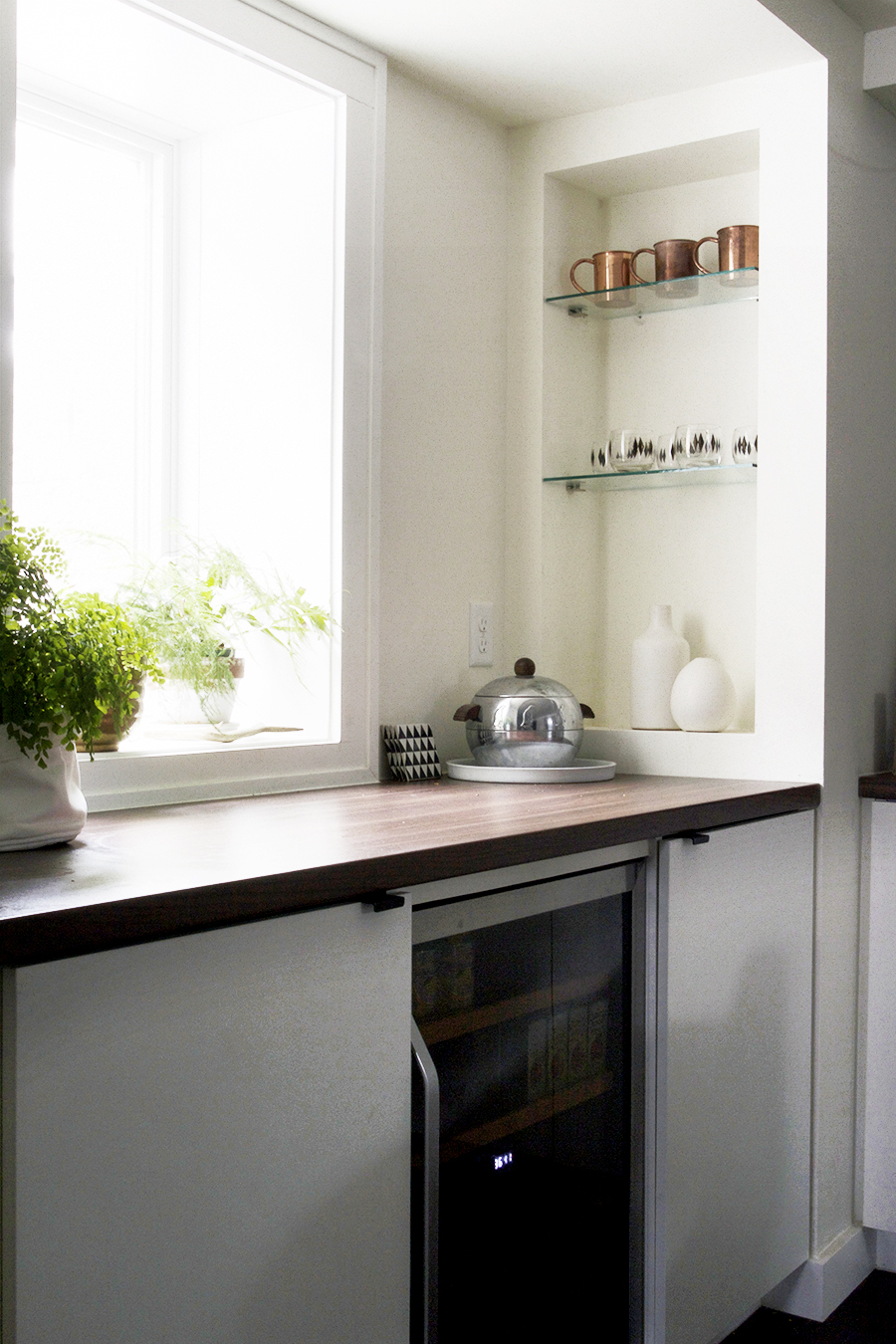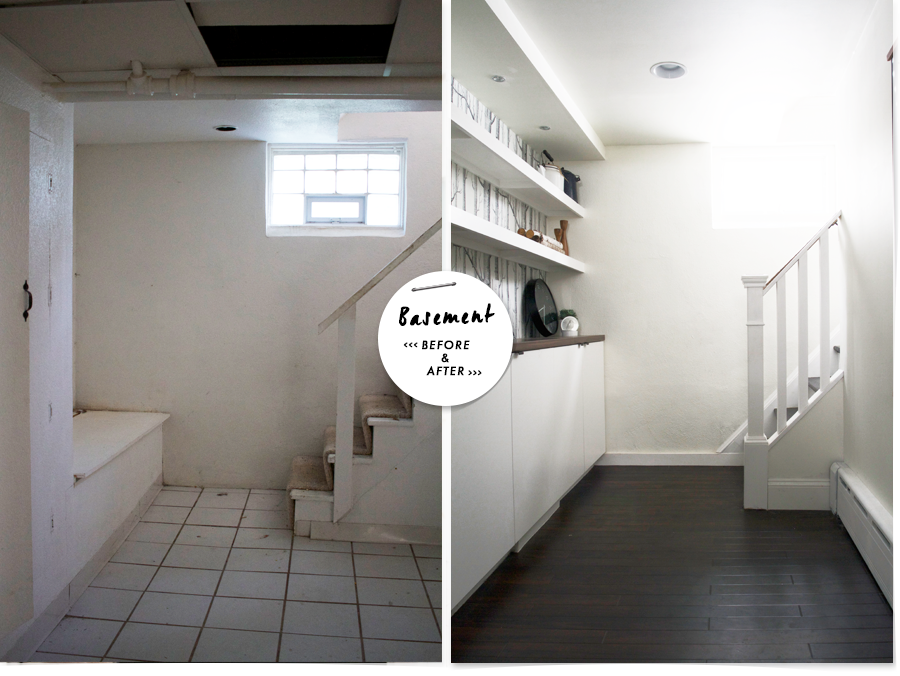 This is the part where I get to talk about those stairs! What an undertaking that was! I am so proud of them, I feel like a real deal handy person after fixing those bad boys. Remember?!?, they were falling apart, like literally falling apart, so I fixed the broken stuff, retreaded them, and added a bunch of trim so they look similar to our main floor staircase.
I also added a bunch of floating shelving. For now they are doing a good job of making pretty objects have a place to sit, but who knows, maybe someday they'll really be used as a bookshelf – we'll see.
Also note, the radiator. I really like this cast iron baseboard heat, and I was able to paint it to match the wall color. We put the radiator on a new thermostat so we could control the temp of the basement independently of the rest of the house.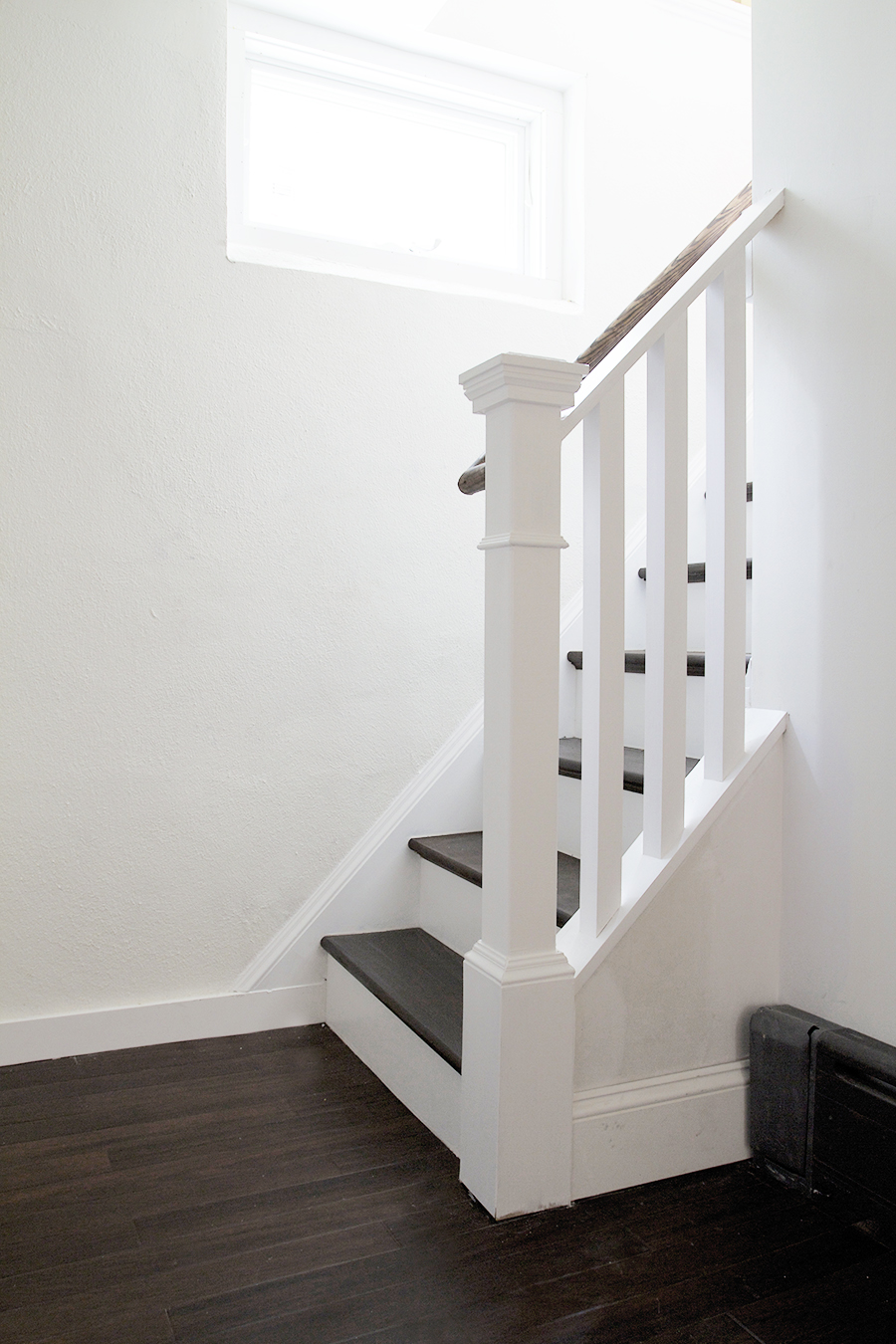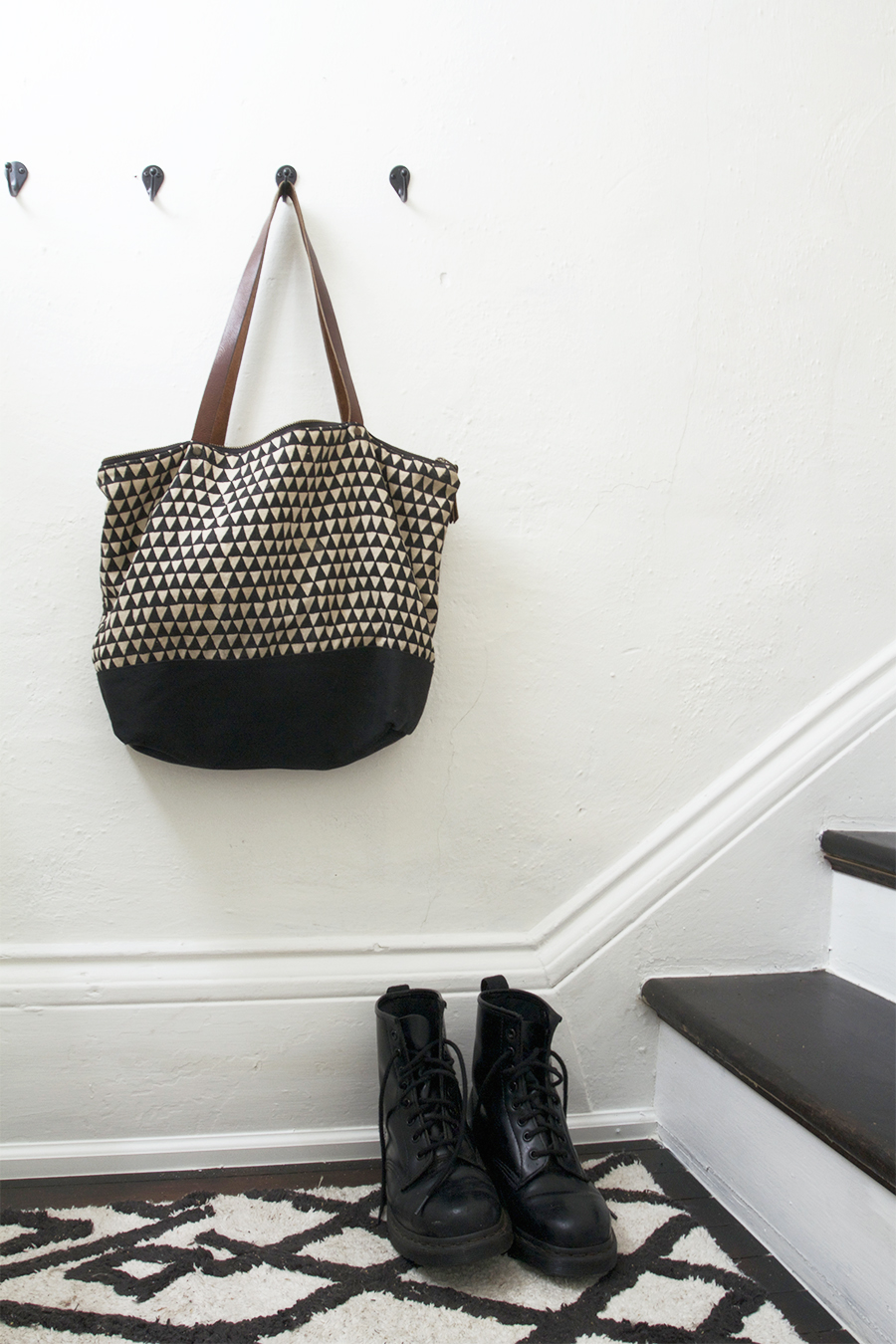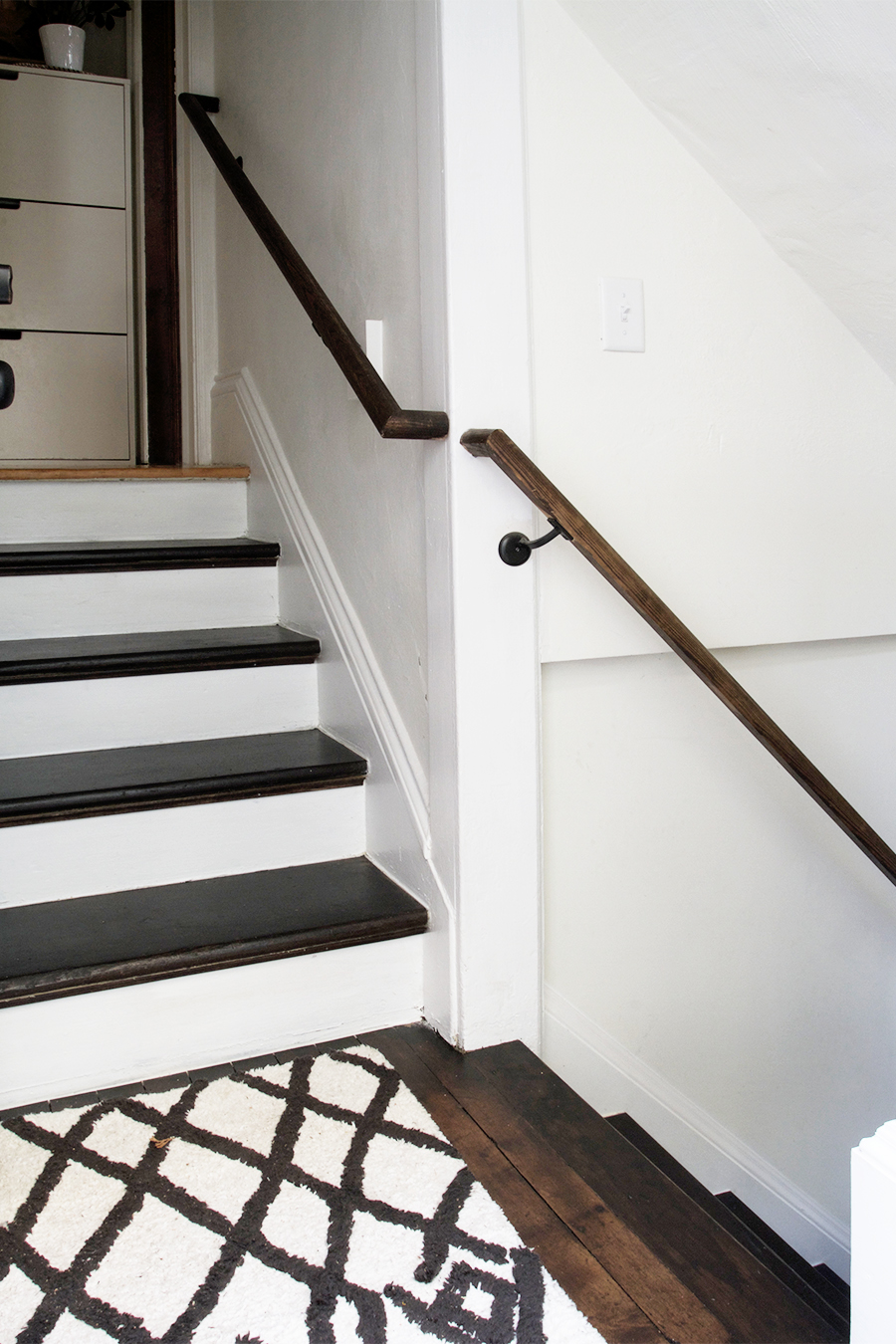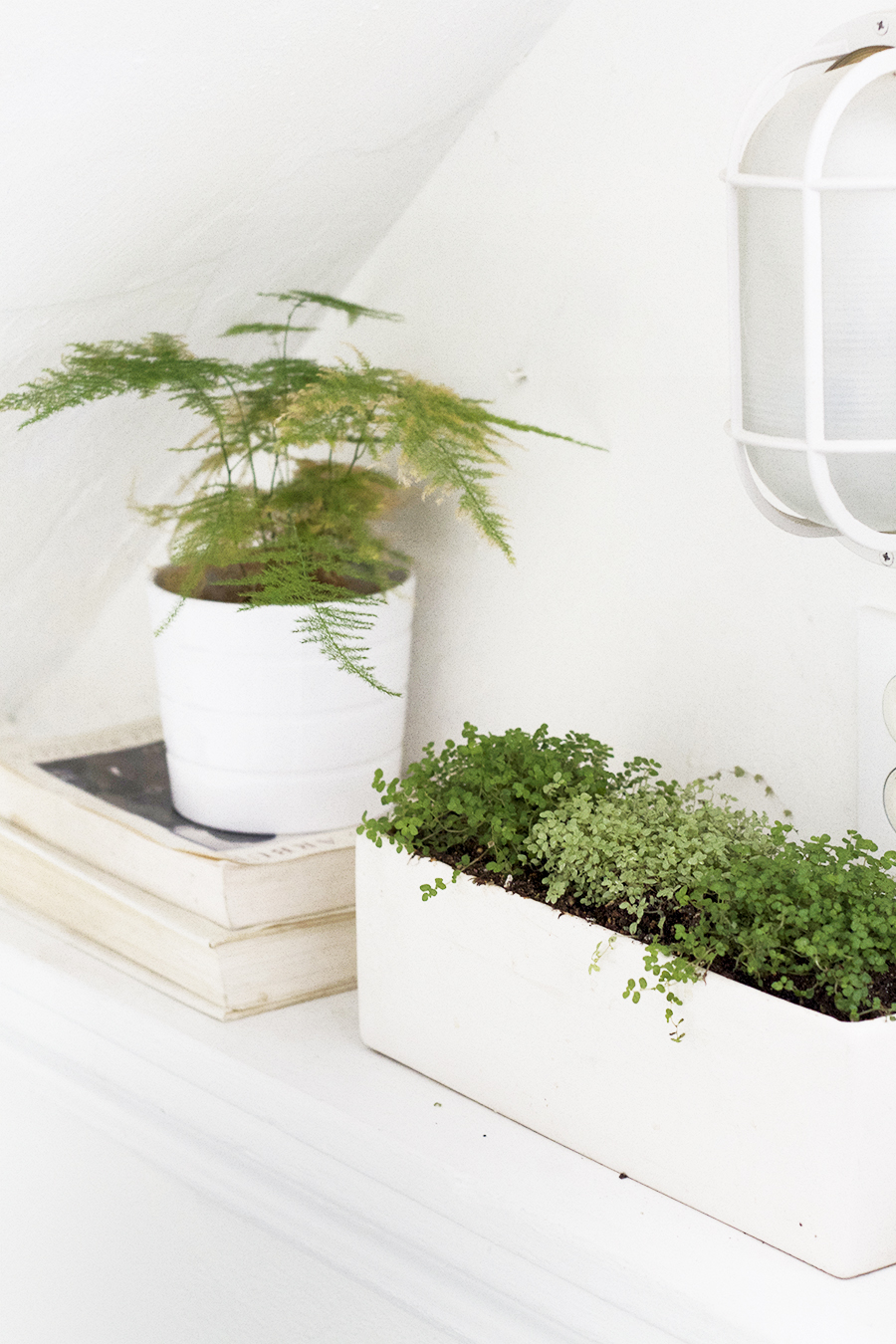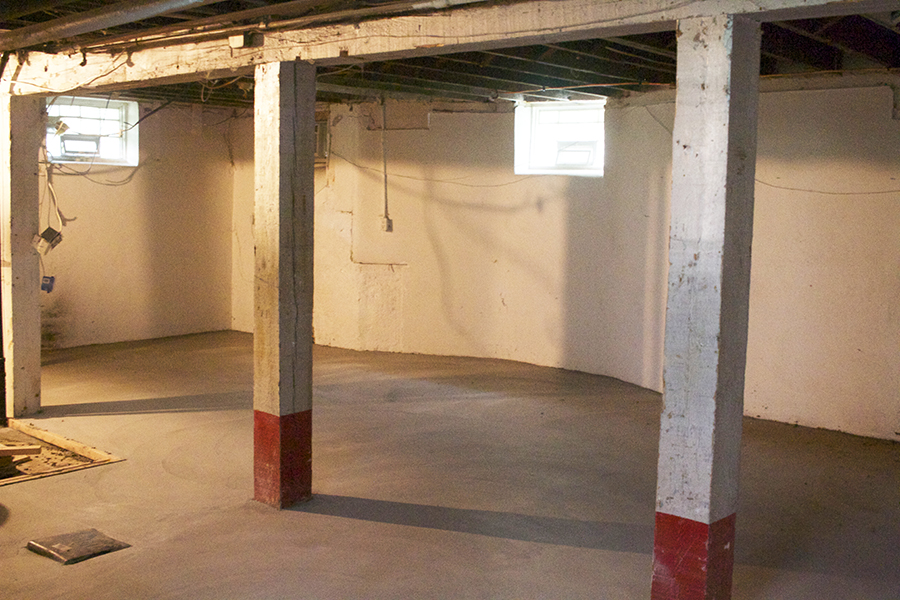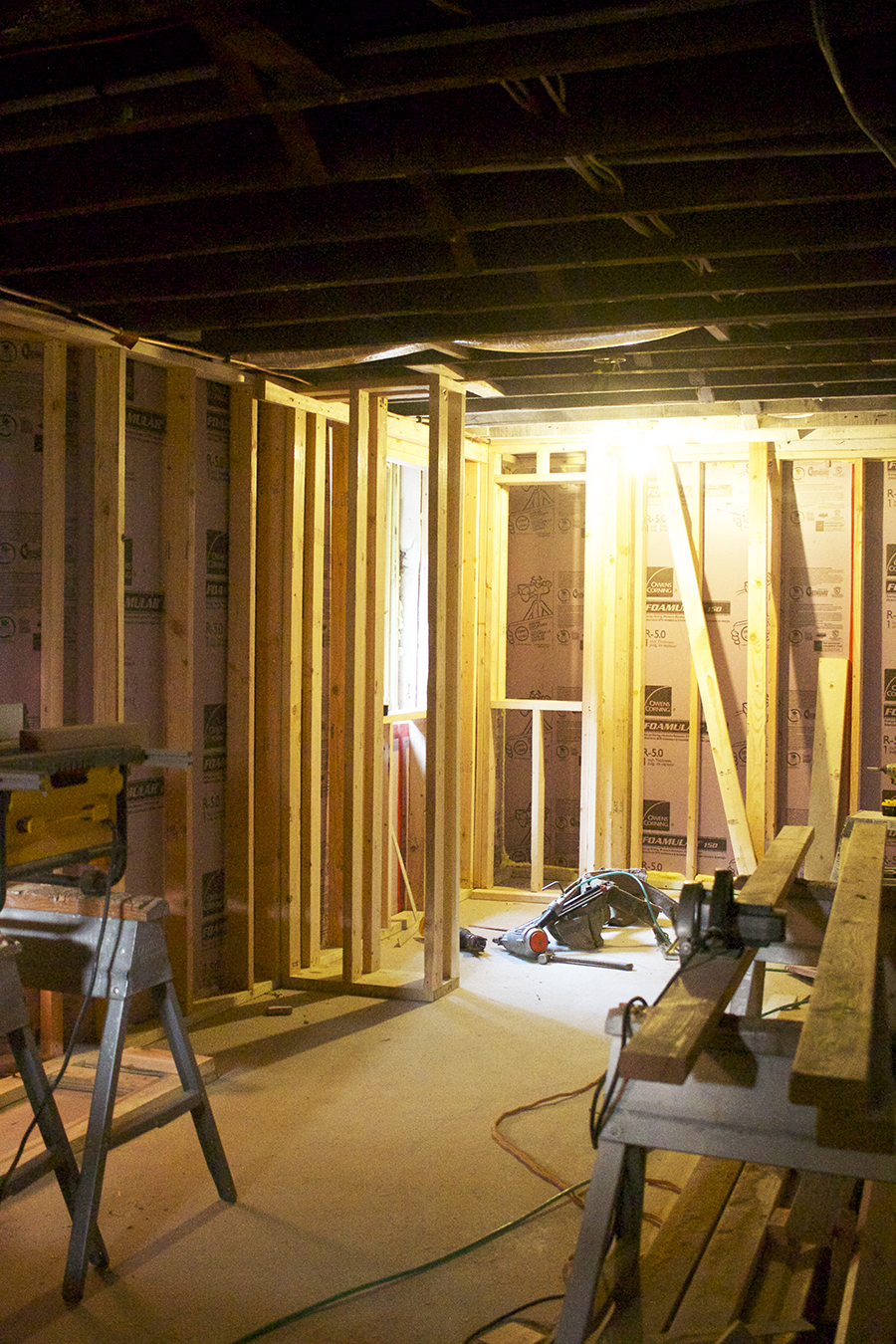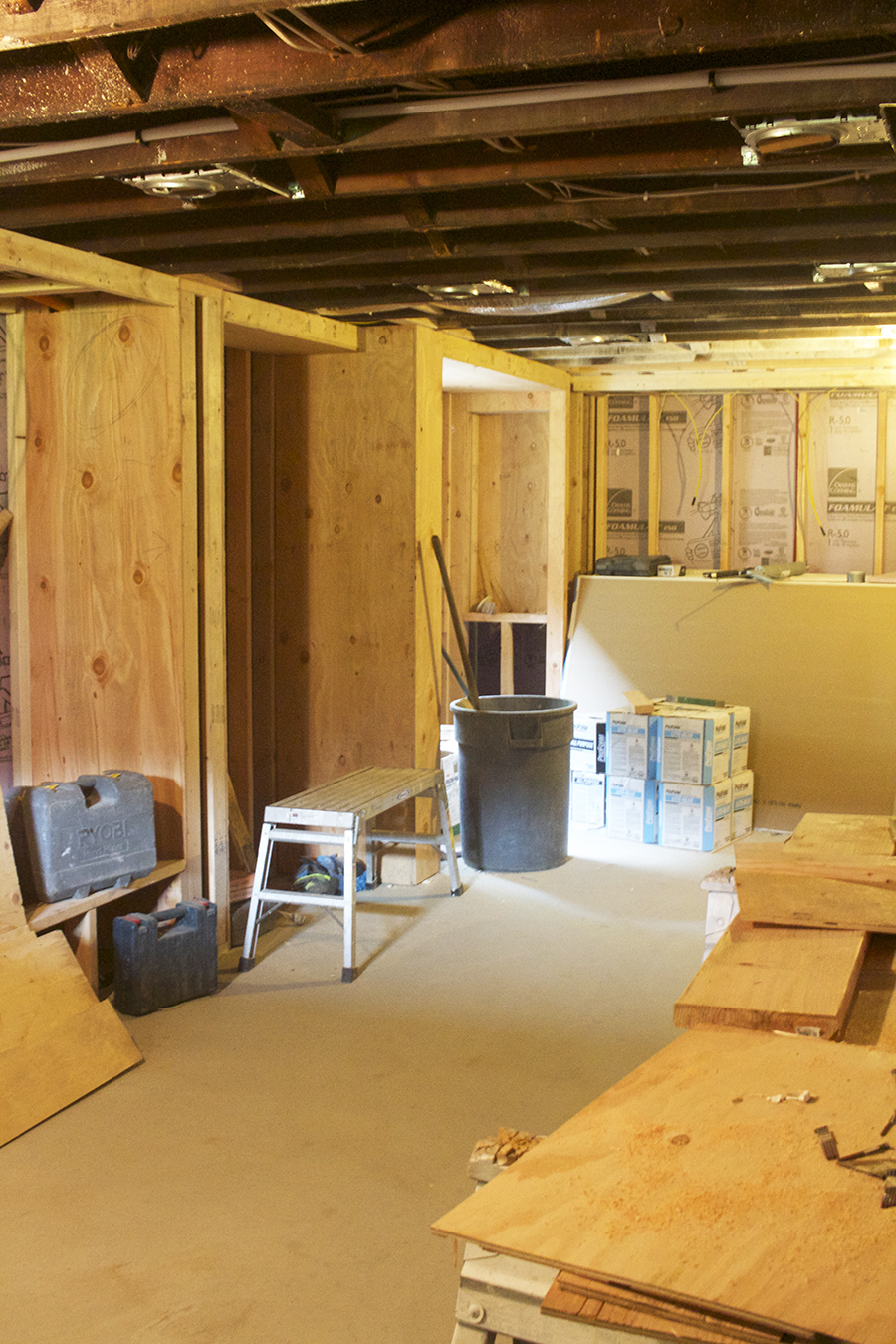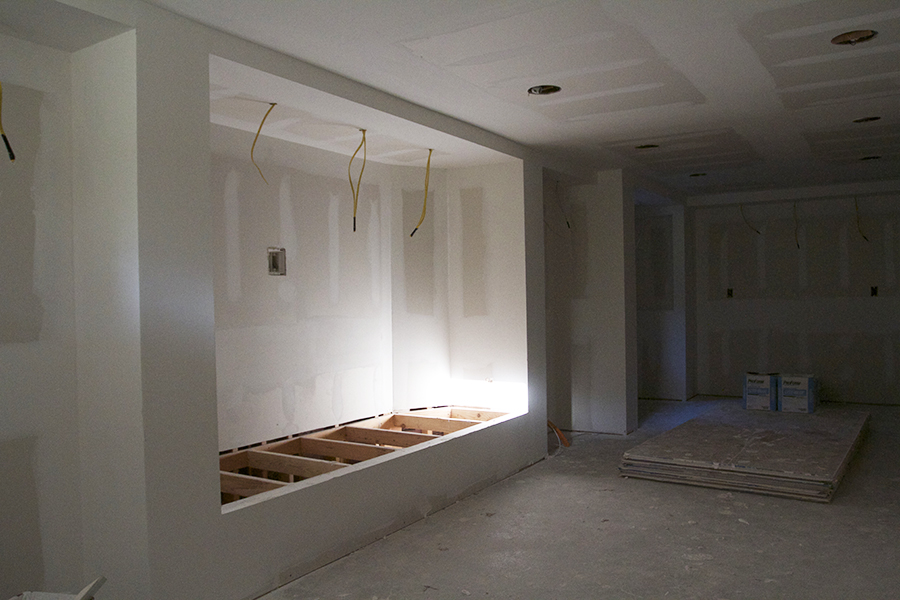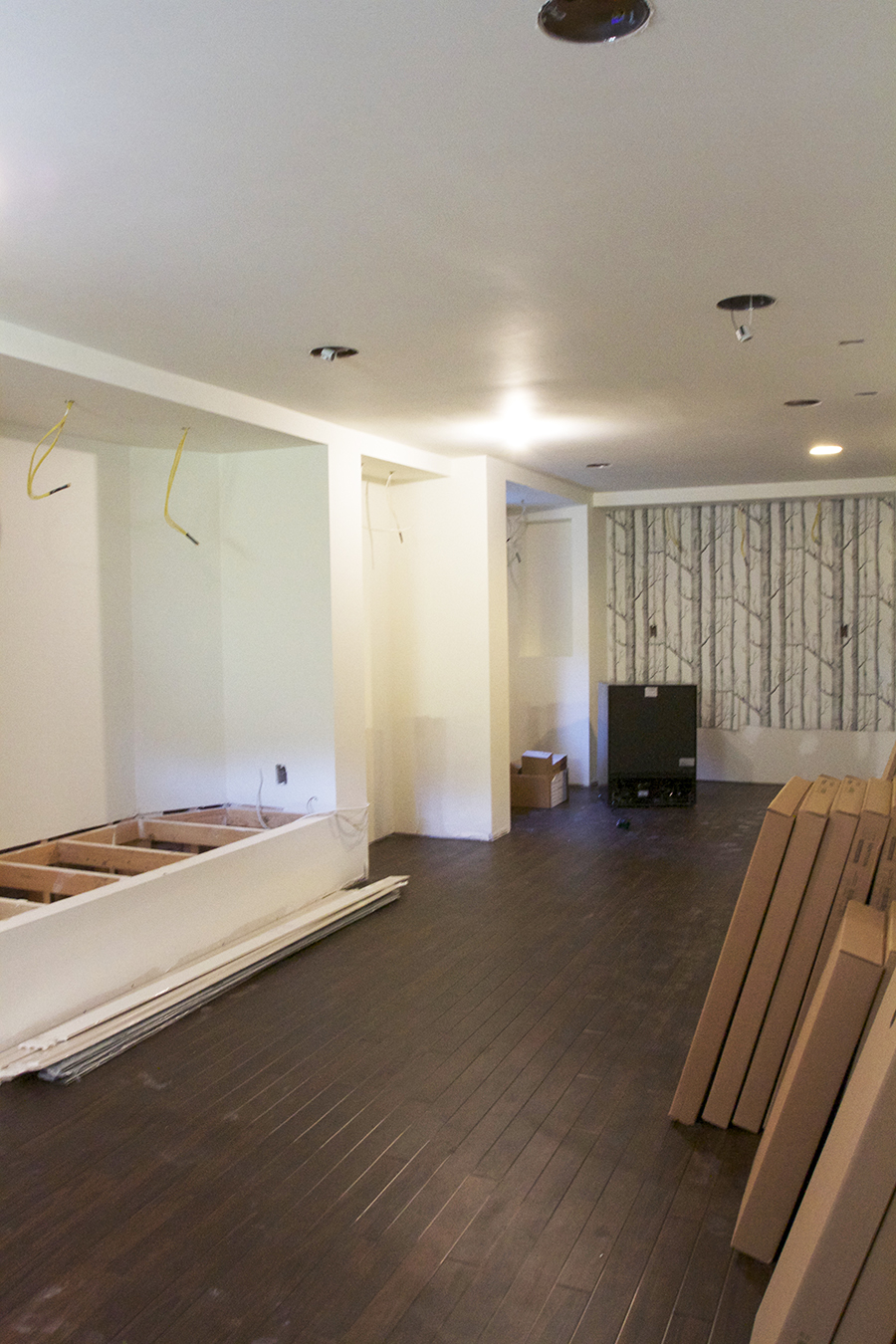 I'll be sharing sources in an upcoming post for those of you who are curious. Thanks for reading and putting up with all the basement posts over the last year.
If you need a re-cap check out any of the following posts.