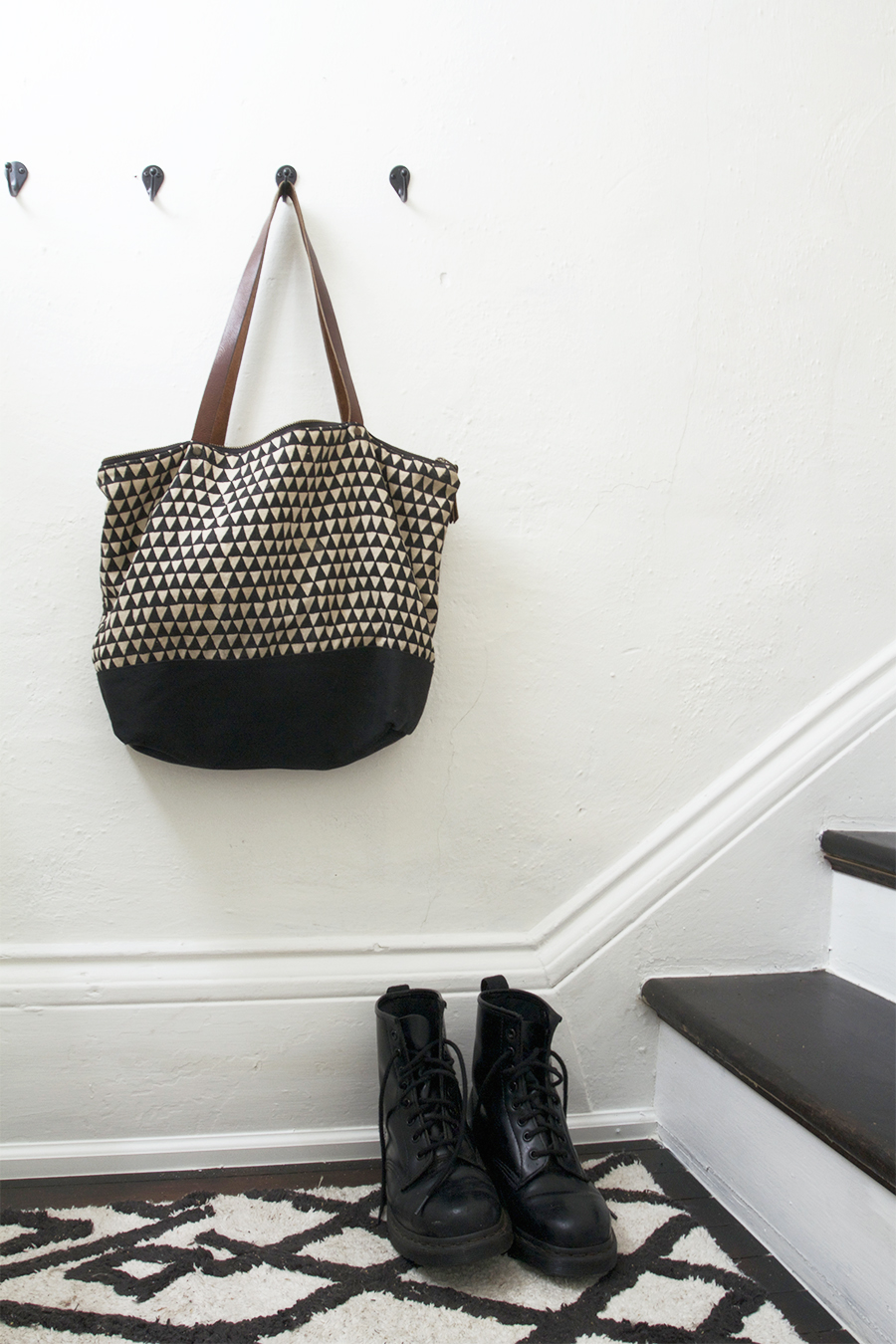 Hi. I know, another stair post, but this is my life, and you get to hear about it. I finished the lower half of the basement stairs almost a month a go to the date. We have been so happy with the new stairs, that I just couldn't live with myself if I didn't refinish the upper section of the stair case and the landing off the side door. I was at the point where we had put so much into this basement remodel, that it would be so dumb to leave the upper staircase the way they had been. Granted, the upper stairs had been the nice part of the staircase pre basement renovation. Someone had made a decent attempt to cover the very dated linoleum with a pergo faux wood tread in the same color as the hardwood floors on the main floor and second story of the house. It was okay.
Because we had finished the basement floors with a dark brown "luxury" vinyl tile that does a pretty decent job of representing itself as wood, and because I think a white stair case with dark treads is just so striking, the basement stair case just had to have dark treads, both upper and lower. Now, if you've been following along you will remember that the lower section of the staircase was a bear. I had to rebuild half the staircase, replace all the treads and risers, and trick it out with a new skirt and trim molding. The upper stairs and landing were in much better structural shape, they just needed a facelift. So instead of doing the whole shebang, I opted to remove the layers of pergo, linoleum, and a thin plywood subfloor and refinish the original pine treads and maple hardwood landing.
Guess what? Equally as hard, maybe even more so if you lack a bit of patience as I seem to.
As you can see from the photos if you look closely, these stairs aren't perfect. There is just no use in trying so hard to make things perfect when you are dealing with 105 year old house parts. Each tread has a rubbed down part from the years and years of going up and down, and the paint along the trim was never kept up well, as these were just utilitarian basement stairs. I had to call a spade a spade, and deal with the cards I was dealt (Brandon Flowers would appreciate these gambling references).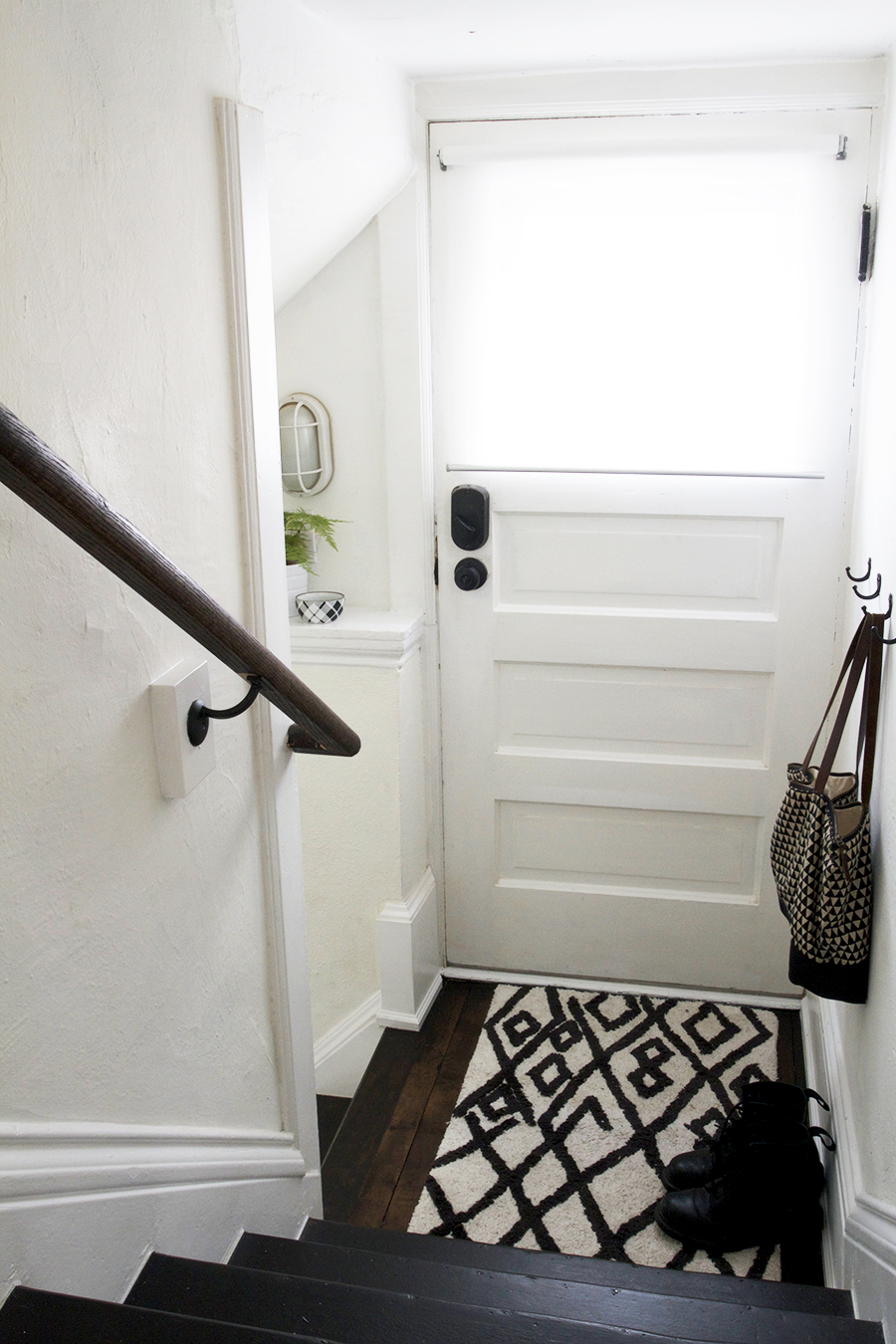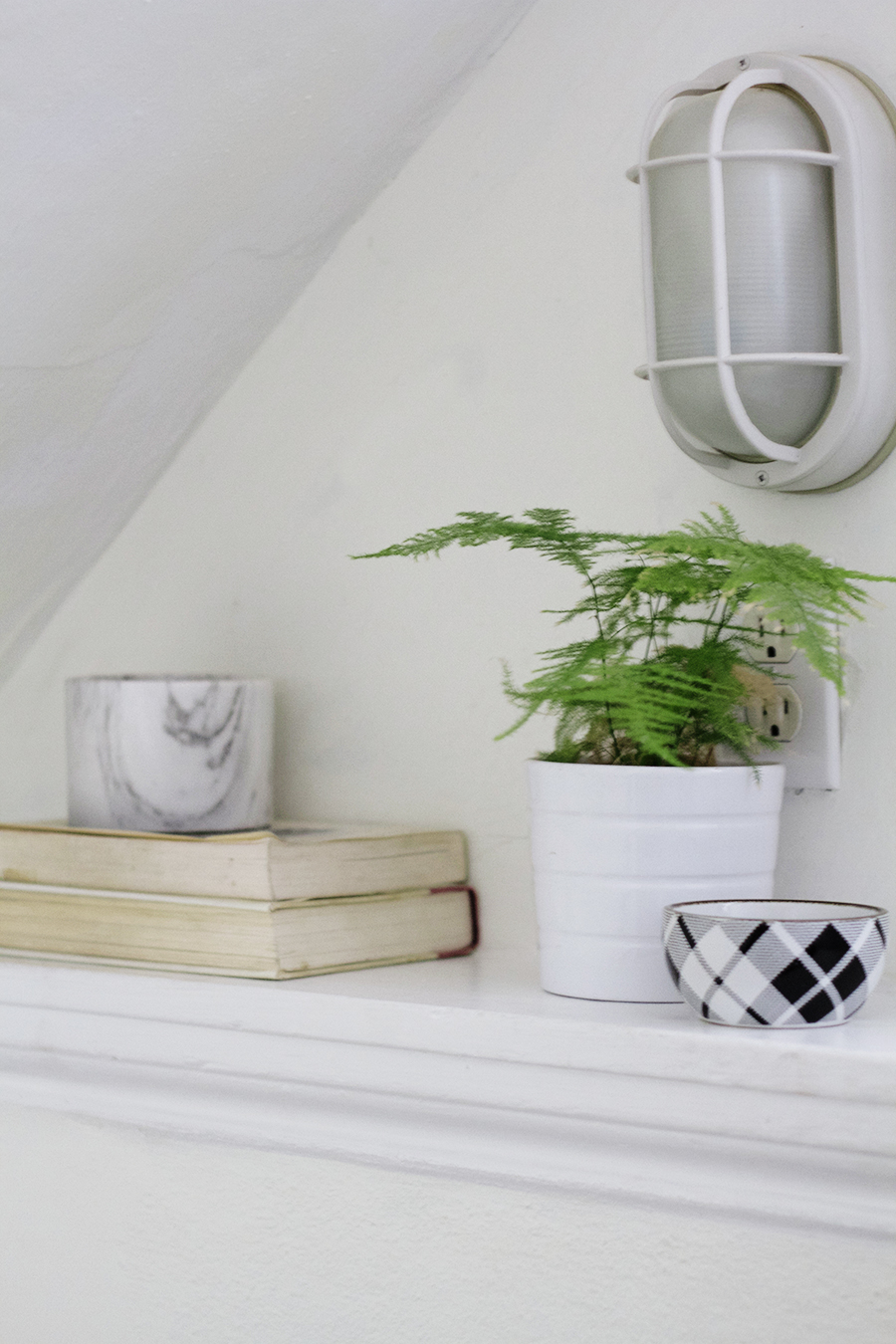 Okay, the before pics. Took me a bit to get to this point, I was just having so much fun sharing the end result. So, as I said, light blonde pergo on top of linoleum on top of plywood, finished with a nice brass edge.
The demo took me less than 2 hours and I was able to do it all in my slippers. I was relieved to see that there weren't any major problems under the layers of stuff. I only had to compete with removing a few layers of paint and glue. I didn't realize that was the hard part. I've seen so many DIY shows were the paint stripper just removes those layers like nobody's business. No one on those shows ever has to add many, many applications of stripper, it always just slides right off. I don't know what I was doing wrong, but this paint was obsessed with staying on these stairs.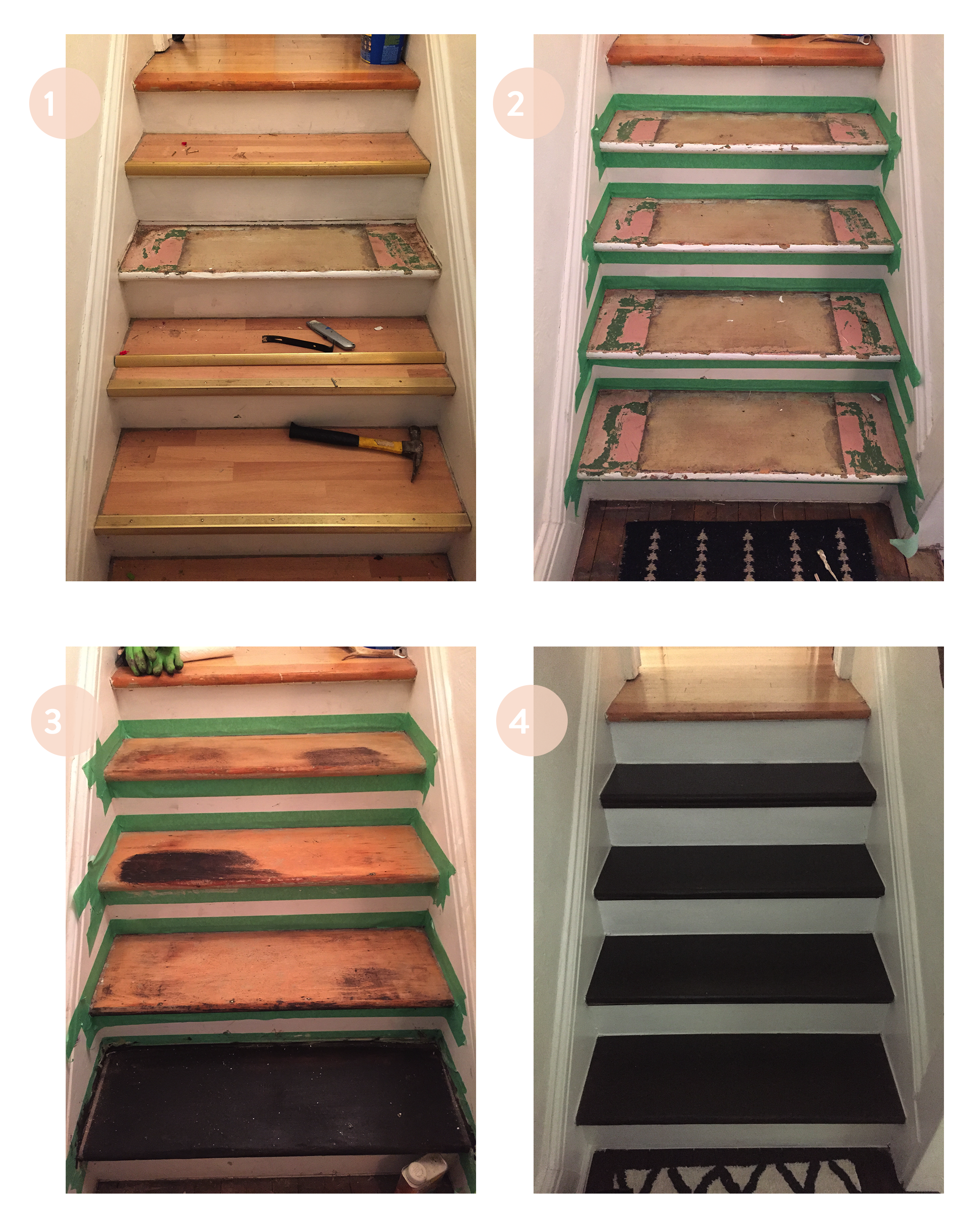 1
Demo existing surfaces. That means have your crow bars (yes, have multiple sizes) and hammer ready. These have been my go to tools when dealing with stair parts.
2
For me, I had to strip the paint and glue that were on the stair treads. To do this I taped off the area, so that I wouldn't expose other surfaces to stripper. I tried all the strippers – this paint was stuck on good. I started with the environmentally friendly orange stripper – that didn't work, even after I let it sit for hours and hours it was barely effective on these materials. Next I went for the Klean Strip, although this worked better it was slow going. After working through that can (yes the entire can on four stairs), I went back to the hardware store yet again and got a giant container of zip strip. This also was not that effective, but at least I had a lot of stripper, so no more trips to the hardware store. Do yourself a favor and buy the stripper clean up product as well.
3
Sand your surfaces to prepare for stain. This was also a pain, I hate sanding. I have no patience for it, like none. Also, not all my paint had been removed by the strippers, so I just sanded it off. Use a low grit sand paper (80 or less). Have a face mask ready so you're not breathing in bad stuff and be prepared to be frustrated by how dusty your house is getting.
4
I added a little trim molding under every riser, to beef them up. Then finally, I made it to staining! This is when all the hard work pays off. My stair treads weren't into accepting a lot of stain. I don't know if it was stripper residue or not enough sanding, or both. But this took lots and lots of coats to get the stain this dark. I used Kona by Varathane (FYI). After the stain was thoroughly dry I added two coats of satin poly.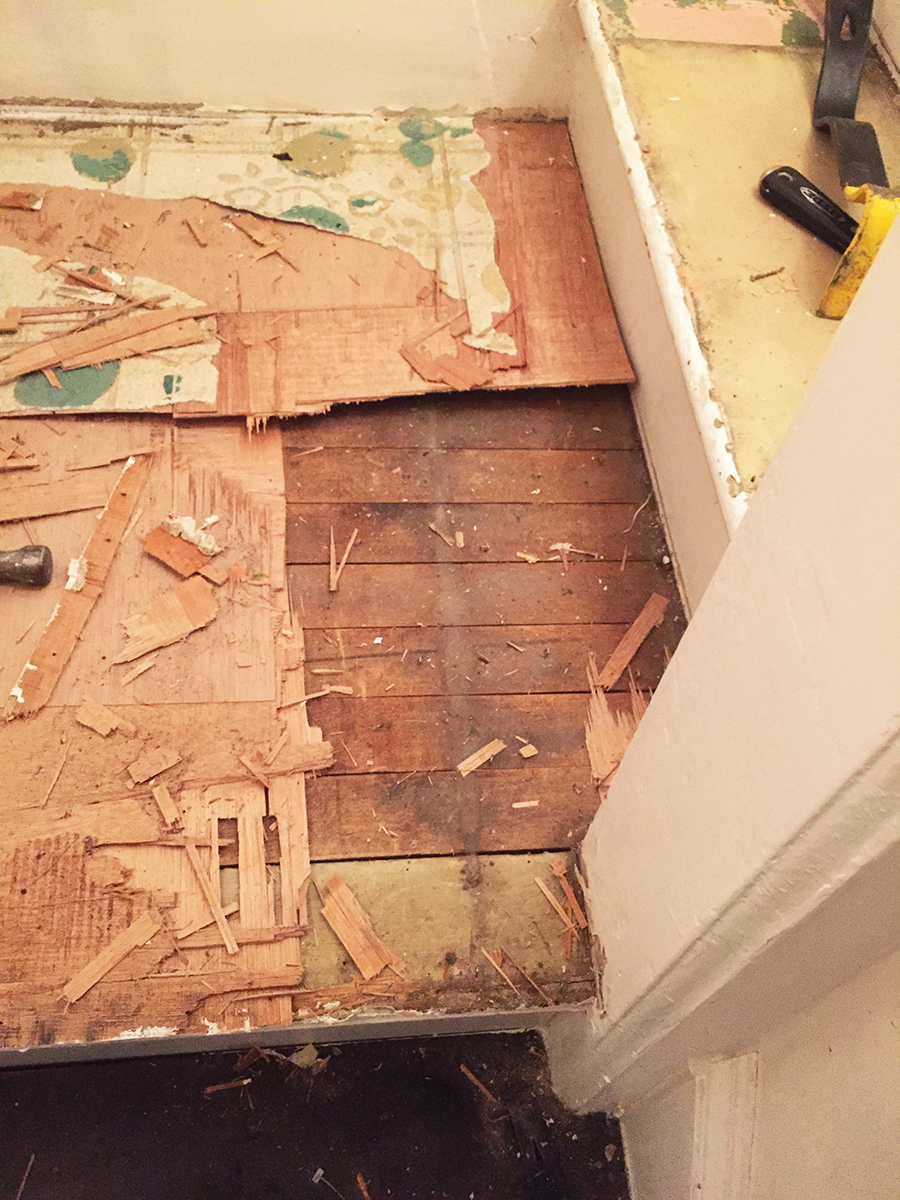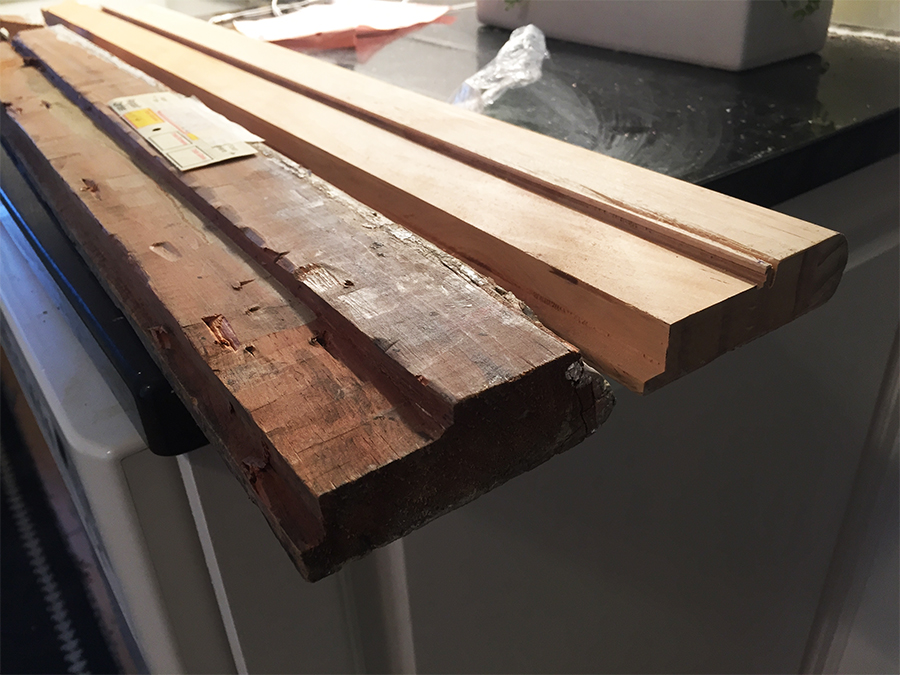 I love the landing! I was happy to discover maple hardwood under all the layers, just like the wood in the rest of the house. I gave it a good sanding and stained it to match the staircase. I really love the age that the stain helps to emphasize, it's really beautiful.
The bullnose edge was just another one of those large cans of worms that I keep running into. They were beyond repair and needed to be replaced. I chopped down a tread with a bullnose to match the shape, but because there was a layer of tongue and grove flooring, sub floor, and the riser edge to the lower staircase it would involve some speciality carpentry to have it fit just perfect underneath. I don't have a table saw, but I do have an Ace Hardware. My guy, Steve was able to cut the piece to match the original edge for a few bucks. The new piece fits like a glove.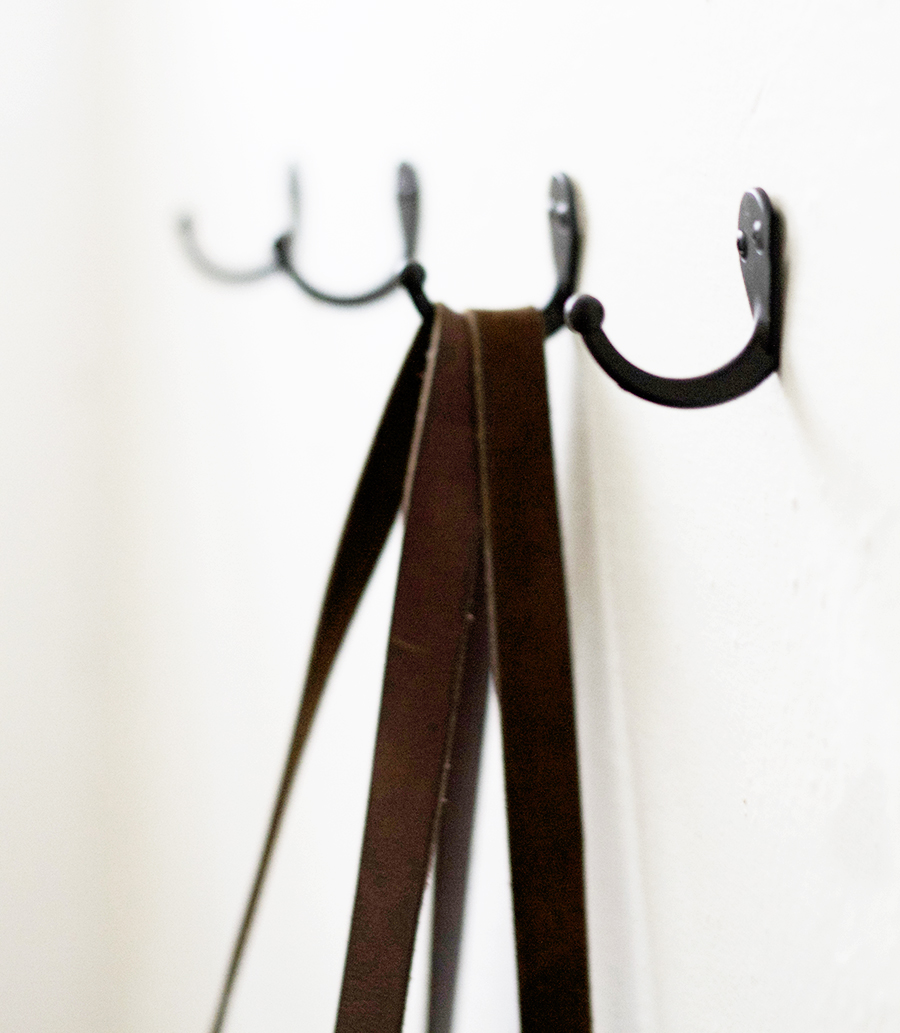 In the end, I would've been happier if I just replaced the treads with new ones. I was trying to save a little cash, but I spent nearly as much on paint strippers as I would have on new treads.
Having the new stairs has changed the way we use the house though. We never, (I mean never!) used the side door before. Now we are using it all the time. I updated the lock with a key pad so the kids can let themselves in and out, as well as be responsible for locking the door when they leave – no key required! The side entrance is located in the middle of the house, and although it won't make a lot of sense to use it in the winter (we'll still primarily use the mudroom entrance on the rear of the house), I did add a few hooks so that coats didn't pile up on the floor. A bonus is that our shoe cabinet was already located in the nook at the top of the stair case.
So glad to be able to cross this one off the list, it's all down hill from here!