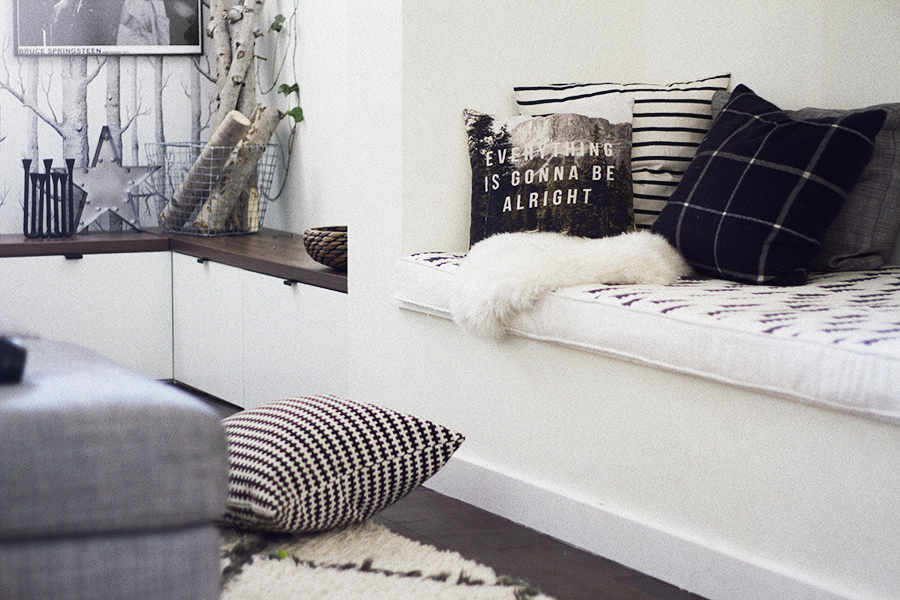 Okay pals! I'm getting so close to finishing up the basement, like almost, nearly, kinda there! I just got to cross a big sucker off the list, which only leaves me with a few easy tasks. I upholstered a piece of peach foam with some of my favorite fabric, and it turned into this very cool bench seat. Not only does this seat offer extra seating when we be hanging in the basement (which is always), but it also subs in as a bed, a stage for kids, and the best new addition to the basement.
Can you even believe that when I designed the basement I hadn't envisioned a cushion going here? Probably because I've had an extreme aversion to sewing ever since I finished the porch sofa two winters ago. I had planned on the bench being a solid piece of paint-grade-wood done up in white. Because that was the plan, that's what I did, I just painted the bench white. Done, or that's what I thought. The bench was so cold, plain, boring, and constantly covered in foot prints and dust. Basement guests didn't know if they should sit there, or if it was a sacred tv worship zone. There was nothing that indicated to them to come, sit, chill, relax. It didn't take long for me to acknowledge that my original plan was not living up to the potential of the space.
A few reasons I decided to upholster my own cushion instead of having it done professionally; box cushions are one of the easiest/beginner upholstery projects you can take on, having a cushion professionally upholstered costs a chunk of change – I'm sure this would've been nearly a thousand bucks because of the custom angles and size, and you can price compare and choose your own fabric. Upholstering large foam objects is a bear of a job no matter what, however when I saw how much I could save doing it myself, it was the obvious choice. Jeff Allen, you can thank me later for being such a bawse and saving you all the money. I am so selfless and brave and very heroic, and I obviously get no satisfaction out of doing these challenging projects.
I would love to share with you guys how to actually sew a box cushion with a zipper, and you in return would probably think I was super cool, but alas, I am not an expert in this field. There are so many other folks on the internet that are professional sewer people that know how to do this sort of stuff! I think you should listen to them.
My Resources
Supplies
I can provide a few tips, like no one ever told me that I should use a heavy duty needles, heavy duty thread, and a decent machine (mine is over ten years old and less than $100 dollars). Maybe if you are well versed in the ways of sewing, having the right tool for the job seems like a no-brainer, but for me figuring that out took me a lot of trial, error and headaches. After upholstering our porch sofa two winters ago, I felt more prepared for this project, I knew what to avoid. I asked nicely, and my mom let me use her way-better-than-my-hunk-of-junk sewing machine. The project was much easier than last time, but still not my favorite thing in the world to do. Just cutting expensive fabric is enough to send me into a full blown panic attack. Minus my frenzied mental state, the whole thing went pretty smoothly when I used the proper tools.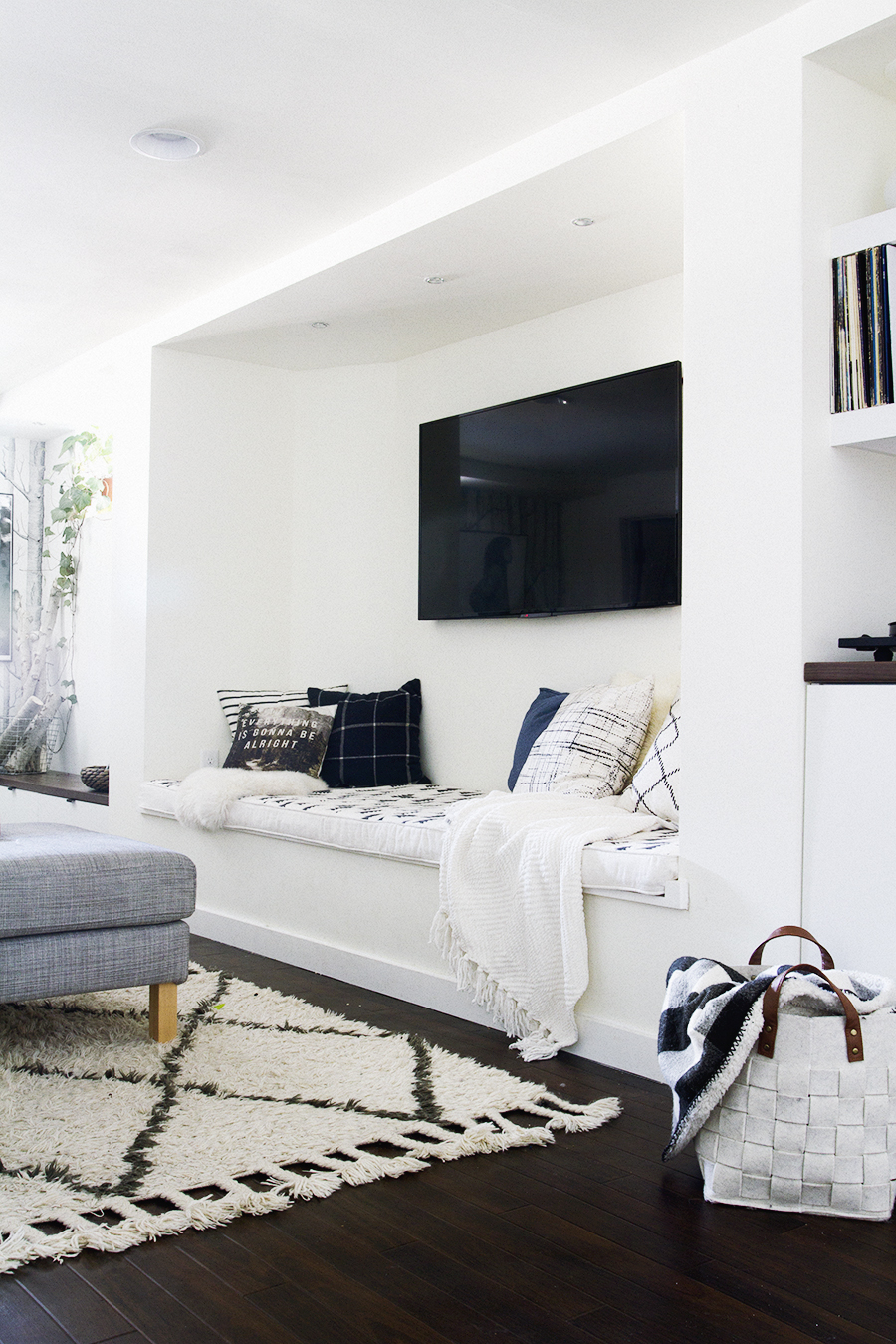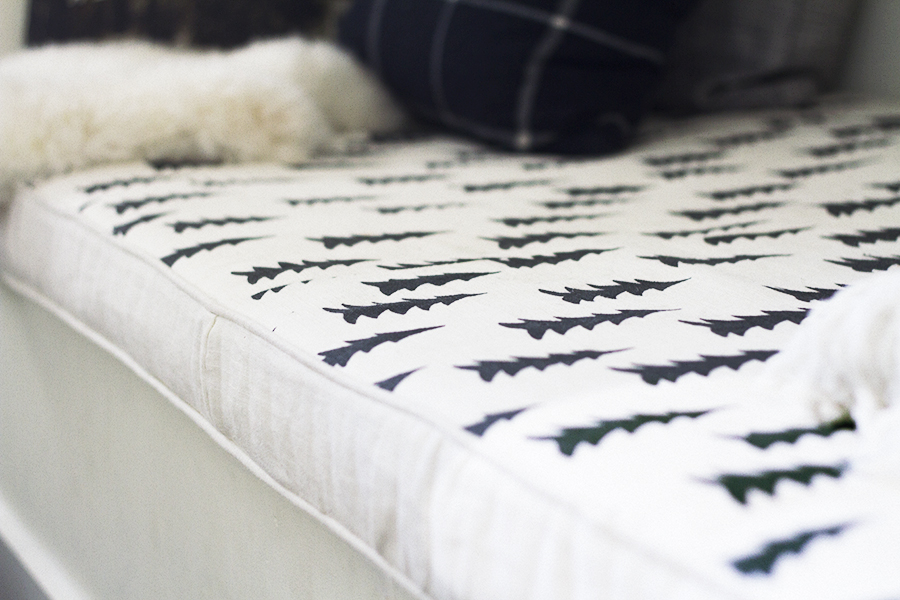 Originally I wanted a taut finish to the surface of the fabric. Upholstery projects can be kind of forgiving in that way, for example: if the fit isn't perfectly snug, it's easy to fill the cushion with layers of batting. I surprised myself and was actually into the look of the slightly loose linen fabric on the sides of the cushion, so for now I'm going to leave it, but if I ever needed to, I could just stuff that bad boy with a little more batting.
Also, if you're working with a tight budget, may I suggest only upholstering the top or sides of your piece in the expensive fabric? That's what I did here, I purchased two yards of the Gran fabric for $150 and found a few more yards of inexpensive linen that matched perfectly for around $15 bucks a yard.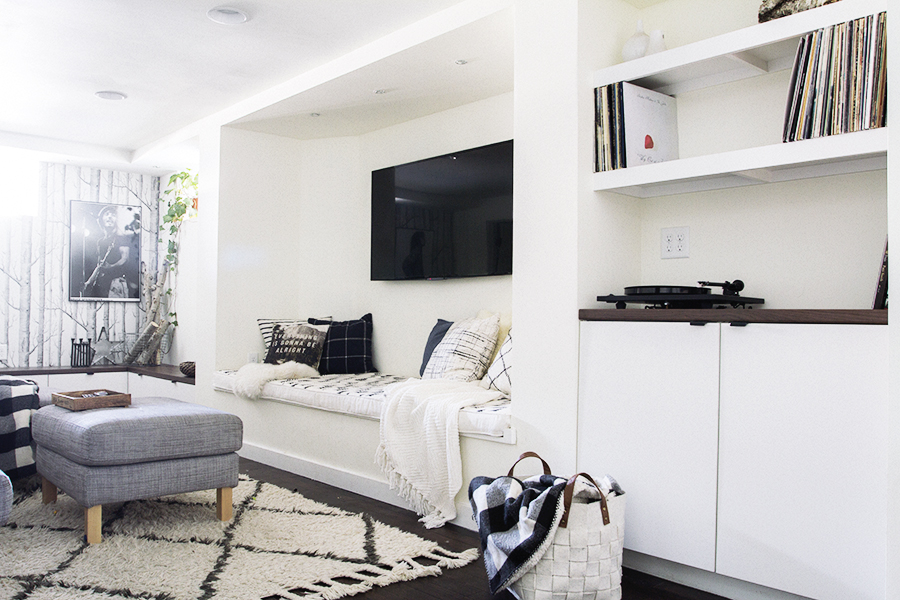 I was pretty pleased with the basement space before I upholstered the cushion, so I was thrilled that adding the cushion actually helped to make the space feel wider and not so long and narrow. I don't know how to properly describe this in English words so I'm just going to say this: the shape of the space that the tv and bench reside in, is influenced by the main floor bay window in our dining room, the bay window is directly atop this space. Having to navigate the odd shape made it tricky when designing the basement, I spent many nights awake and thinking about it. Even having it be a space just for the tv wasn't enough. Adding the cushion opens up the room, and makes it feel like a part of the social space in the basement. Basically, the oddly shaped space is now functional.
Also, about that TV and the kids. I'm pretty confident that it is secure on the wall because it's nearly impossible for Jeff and I to get it off when we are actually trying to! Also, Finn follows rules and makes sure that other kids don't break them, so we're good.
Also, about the white cushion and the kids. Rules. No food except at the table. Wash your hands every once in awhile. Lastly, I have fabric cleaner that works really well on stains and stuff!

The bench is about 36″ deep and has already made a cozy bed to a few imbibed friends over the holiday season. An added bonus!