Hey Guys! Look, I did it! I upholstered the crap out of the sunroom sofa, and it looks so good!
I was pretty intimidated by this project but I am really glad I took a chance and went for it. This was my first ever upholstery project. Sewing does not come naturally for me, and measuring always intimidates me, so I had two good reasons to be nervous about diving into this project. It was something that had to be done though, just look at the sofa before (below) – pretty retro and not in a good way.
For those of you who don't know. I have recently taken on the project of making the porch/sunroom off of our master bedroom a place that we actually want to hang out in. This room sold us on the house, and here we are four years later and it's basically an eye sore that we try and avoid.
The space itself is wonderful – bright, sunny and airy. It's downside is that it's small and has been on the bottom of the priority list when it comes to furnishing it. When we moved we had no design direction for the room, and were in need of furniture. We purchased a few things all willy-nilly-like on craigslist. One of them being this midcentury sofa for $100 – it was the perfect size for the room so I give us credit for that. It is narrow enough to fit nicely in the room without over powering it, the downside was that it was covered in tan and blue faux leather. I always knew that I was going to reupholster it, I just didn't think it would take me four years.
I want to make this room a place we hang out in god damn it! It's so nice, and sunny, and wonderful, and it would probably do me well to enjoy and hour in here during these winter months. I get the winter SAD pretty bad – and they say sunlight is the best medicine for that sort of thing. I need this room in my life!
So I took a deep breath and dove in tackling the biggest project on this porch to-do list. Over the last few days I have spent time measuring and cutting out fabric, assembling, sewing, tearing apart, re-sewing and taking trips to the fabric store (*side note, where I stood in line next to Nicole Curtis!) It wasn't easy, but I was determined to make it great, and I think I did pretty alright.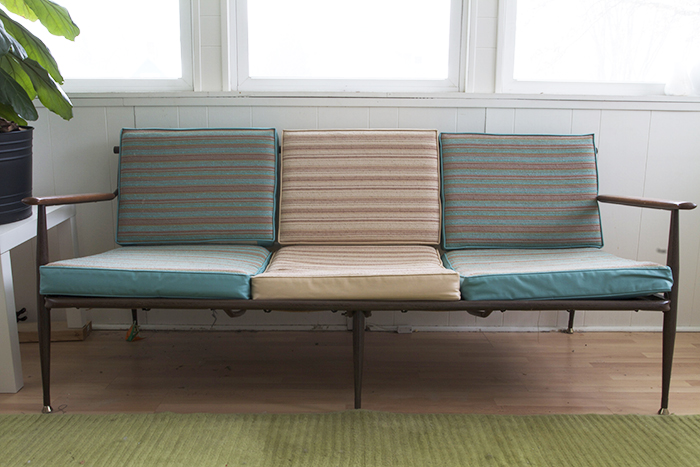 Here's that before pic I was telling you about. This is with the faux leather and striped alternating cushions. They are so gross! In lame attempt to make them a titch better, I covered these cushions in old curtains attaching them with sewing pins – that was three years ago. The kids wouldn't even come close to the sofa because they were afraid of getting poked.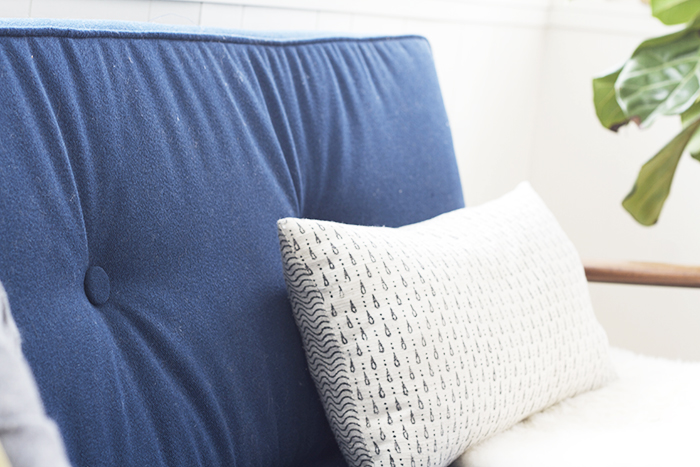 Here's a close up – I tufted the back with three covered buttons. I love the look and I did the front and back so that we can flip and rotate the cushions to keep them happy.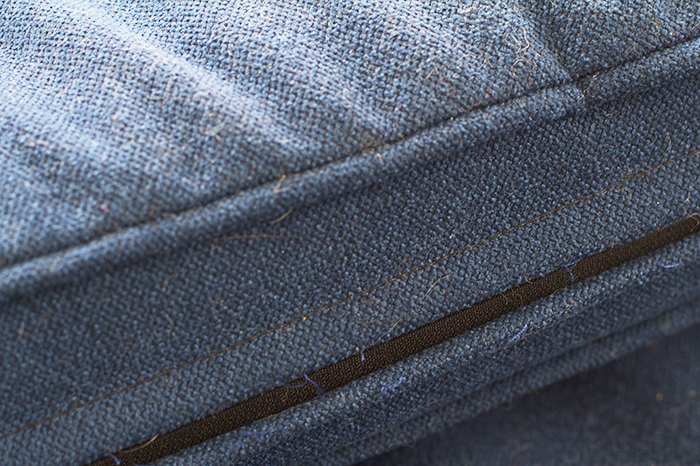 Holy crap, it's my first ever zipper, you guys! So proud of it – I had to resist the urge to make instagram videos of me zipping and unzipping it. You can thank me for being strong and not doing that.
Since I had no idea what I was doing I studied the Spruce Upholstery book, supplementing that info with these two videos (here and here). I took a little knowledge from each source and was able to apply that to my box cushion making.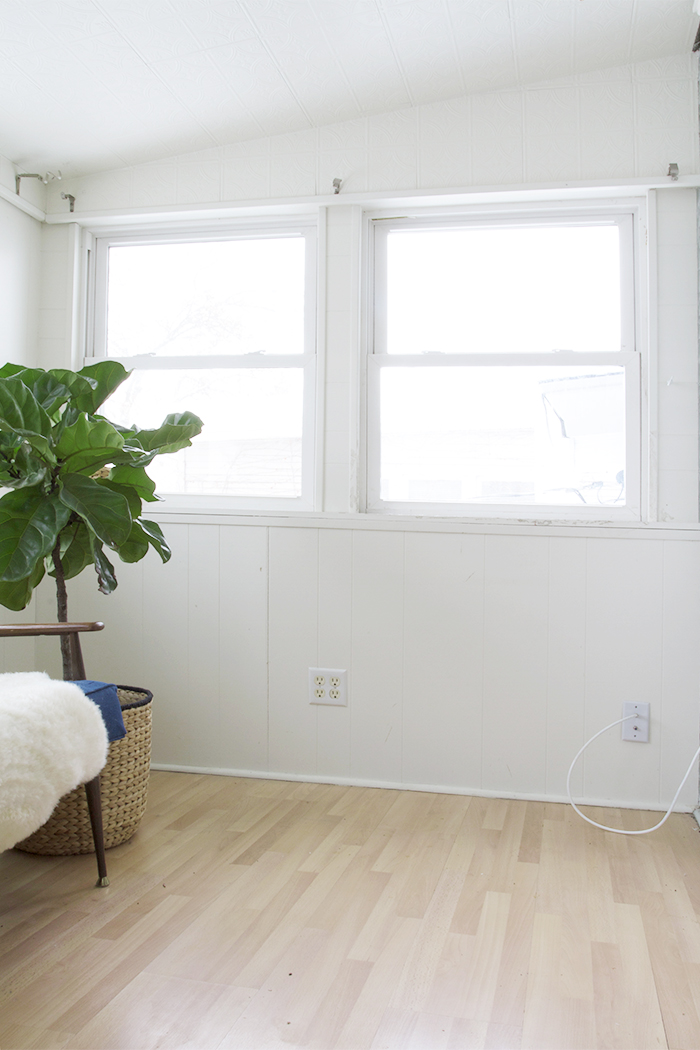 This is the far wall where I will be building the future fauxdenza. The sunroom floor is slanted for drainage as this used to be an open-air porch many years ago. A regular footed credenza or side table would slope with the floor. A floating fauxdenza would easiy solve this problem. I'm planning and Ikea trip this evening and hope to get started on that in the coming days. I can't wait! I think the function of a few cabinets combined with a ledge to add a few plants, a portable radio, and maybe even a small TV will be so great.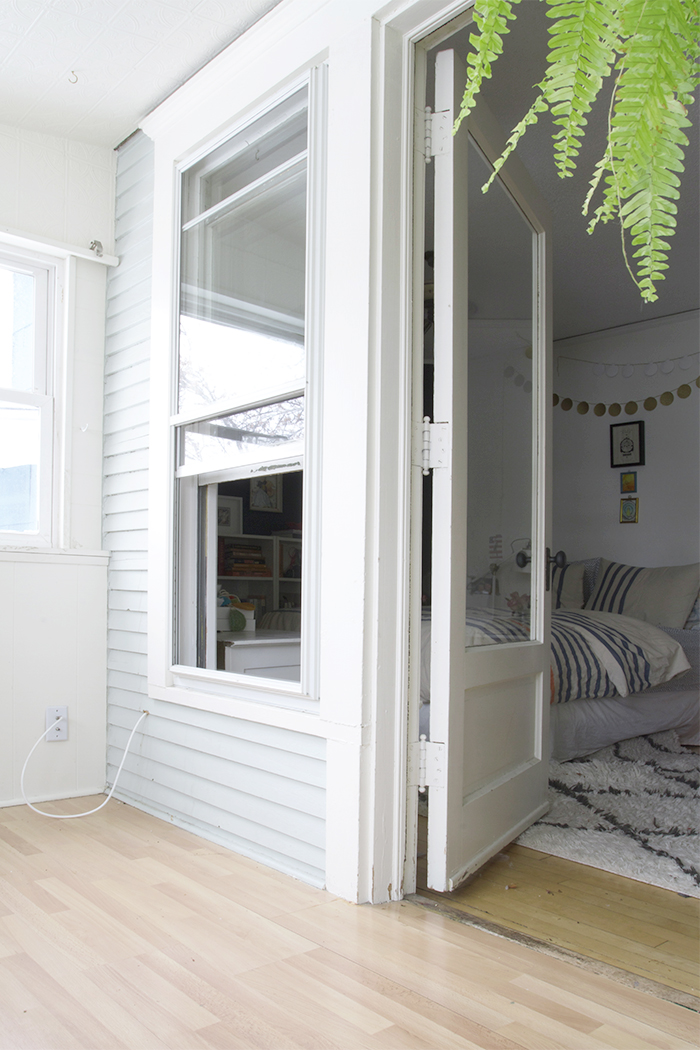 The entire room is in desperate need of a fresh coat of paint – as you can see this four season porch/sunroom still has the original clapboard siding in light blue. Fresh white paint on the trim and siding will do a world of good in here. The painting never ends, but at least this room is small.
I also wanted you guys to see where my bedroom is in relation to this porch, can you see it back there right through the doors and windows?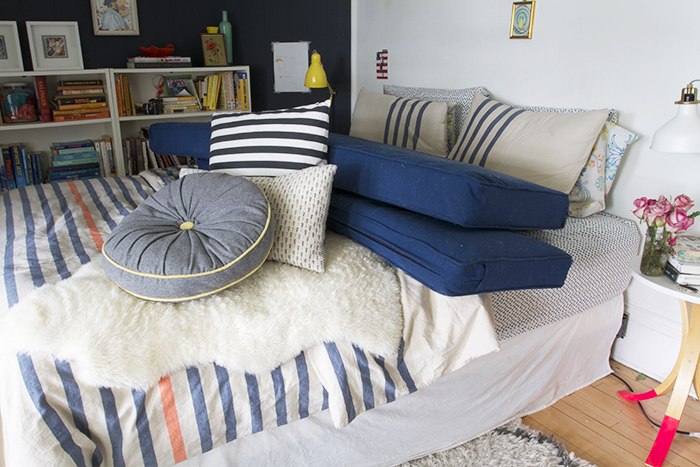 Being that the porch is part of the bedroom I wanted the color story to stay the same. Originally I was considering white fabric for the new sofa cushions but in the end opted for dark blue as it tied in with the linens and bedding and I've had a thing for blue sofas for the last few months – I think a little Emily Henderson is rubbing off on me – see below.

Emily Henderson
Now that I've tackled the biggest project (reupholstering the sofa) I'm on to the fun stuff. Building that fauxdenza, painting, adding lighting, pillows (the pillows pictured are from the living room), a rug and new curtains. I'm so excited to get this room whipped into shape, you guys!
Psst: PLEASE VOTE FOR ME AT THE HOMIES – THANKS IN ADVANCE!
The Budget
Foam and Fabric
▽ Foam – $89.22
▽ Fabric – Joann (Charlotte Navy) – $137.45
Total = $226.67
Supplies
▽ Welt Cord – $9.98
▽ Zipper Kit – $10.99
▽ Chalk $2.49
▽ Heavy Duty Thread – $7.96
▽ Button Covers – $3.99
▽ Batting – $11.99
▽ Upholstery Needle – $4.49
▽ Heavy Duty Sewing Machine Needles – $3.49
Total = $55.38
Grand Total = $282.05