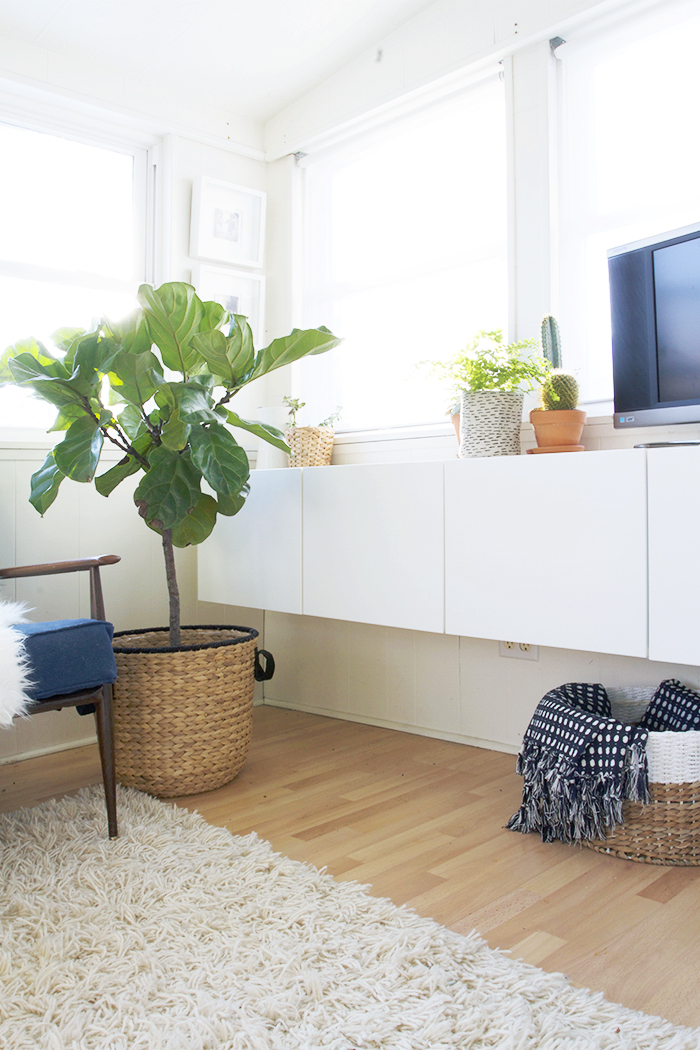 Yo, Dawgz! Just wanted to check in and give you guys an update on the sunroom project. First of all, I am totally stoked about the progress on this little room, so forgive me, I'm pretty eager to share the tiniest changes with you.
I told you guys a few weeks ago, that along with upholstering the little sofa, that I also wanted to add a "Fauxdenza" to the narrow wall in the sunroom. The floor is sloped (the sunroom used to be an open air porch, and the sloped floor allowed for drainage) and I needed to add a very functional piece of furniture that didn't take up a lot of visual weight. Duh, Fauxdenza = the ideal solution.
In case you haven't been getting the play-by-play over on Instagram here is the story. On Monday night I took a trip to Ikea, purchasing a handful of things including; 2 of the Akurum 36″ x 15″ cabinet boxes and 4 of the Applåd cabinet doors. This is my 3rd time installing Ikea cabinets, so the whole process comes pretty easily to me, and you know I ruled it like a bawse. Ikea really does make it simple. Finn (my 5 year old) and I started assembling the two box cabinets around 9am, we had the rail mounting system installed by 9:45 and the cabinet doors were on by 10:30! Talk about a big transformation in a little bit of time, at least I think so.
If you want to get your fauxdenza on, and need a few more details, check out Morgan's process over at The Brick House.
This little room is quickly becoming one of my favorite rooms in the house and I think I'm going to try and make a habit out of spending at least an hour a day in this sunny space. It makes me super happy to sit in the sun and enjoy all of my green things – hopefully it won't be long before I can crack the windows too.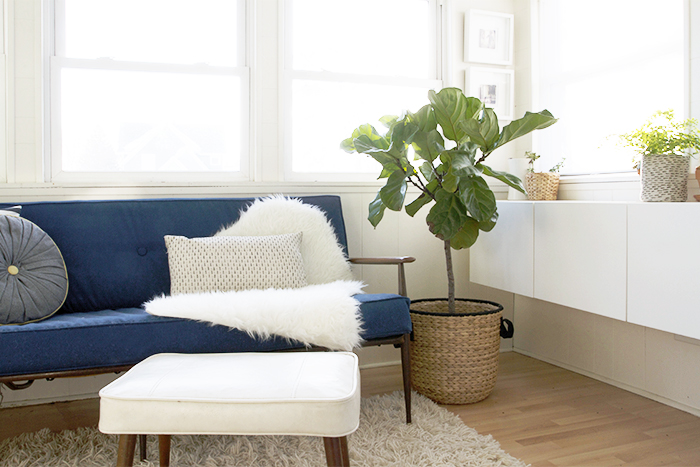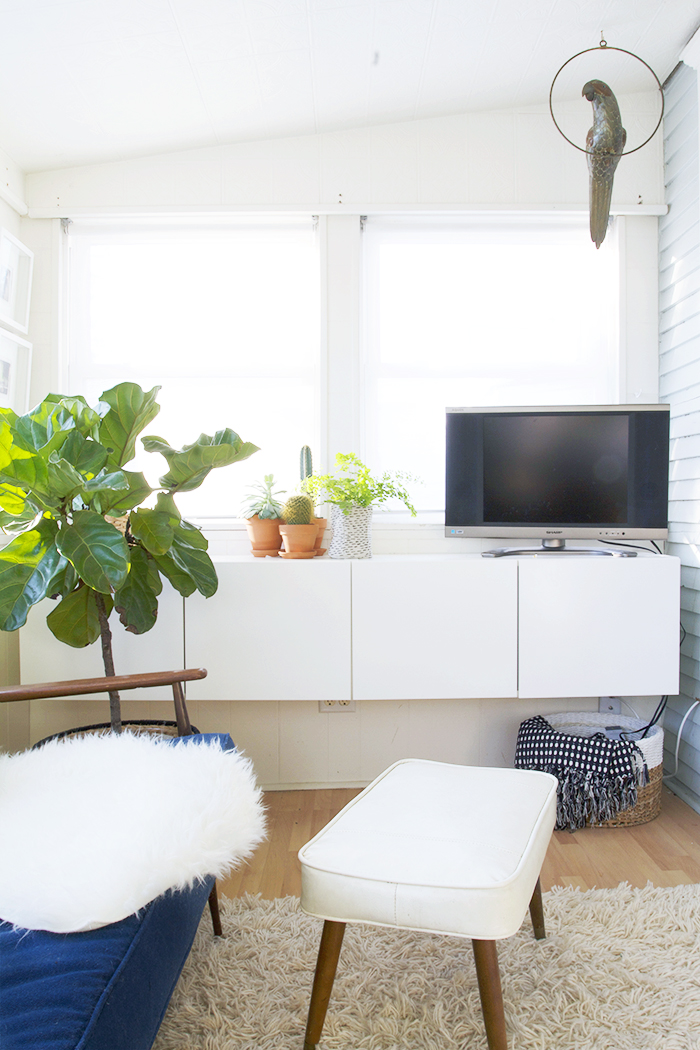 We have a small TV that my parents borrowed to me a year ago (whoops) that I put in the sunroom, I connected it to a Roku and an attena and now I can watch Kathie Lee and Hoda to my hearts content – what who doesn't need a little KLG and Hoda in the morning? We also have plans of purchasing a portable turntable or radio so we can listen to jamz during the spring nights when we are hiding from the kids. Seriously friends, it all feels so great in here!
Everything is looking really good but now is where all the unfun detail work comes into play. Anyone wanna start taking bets as to how long this whole process will take me? It's easy for me to avoid painting projects, and this one is especially daunting.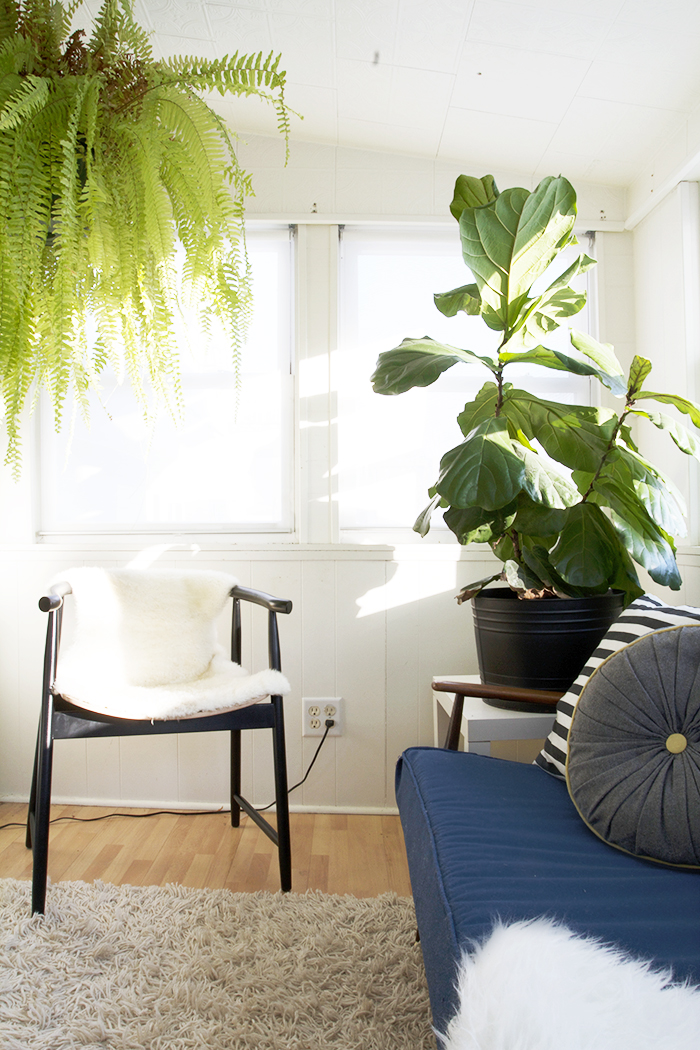 Yes, I have been hiding the other side of the porch from you. I just got rid of some ugly old curtains replacing them with the Enje roller blinds. I really adore the diffused light coming through the shades and it adds a bit of privacy too.
I also replaced the orange chair (which I still love but needs an upholstery job) with this Trendig chair from Ikea. You guys, I love this chair but am so totally disappointed with the quality. First of all, I am the queen of Ikea assemblage, and this was by far the most difficult piece of Ikea anything I've ever had the displeasure of putting together. Let's just say if Finn didn't know the "eff bomb" before, he knows it now. Secondly, the last step was to screw the chair together using pre-drilled holes, and guess what? The screws spit the wood on both sides of the arm rests, and they weren't even tightened all the way! I'm going to take it back, and am on the fence as to whether or not I will replace it with a new one. I love the look of the chair and most of the Trendig collection, so I'm sure I'll probably give it another go, be come on Ikea, seriously? I only hope Ikea refunds me on this thing – I've never had to return anything to Ikea because of subpar quality.
Anyway, this total depth of this sunroom is about 6.5′! I know, small! The new fauxdenza situation sits opposite this side of the room and because of that, I just need to keep it simple over here. I think a small arm chair like this is the way to go.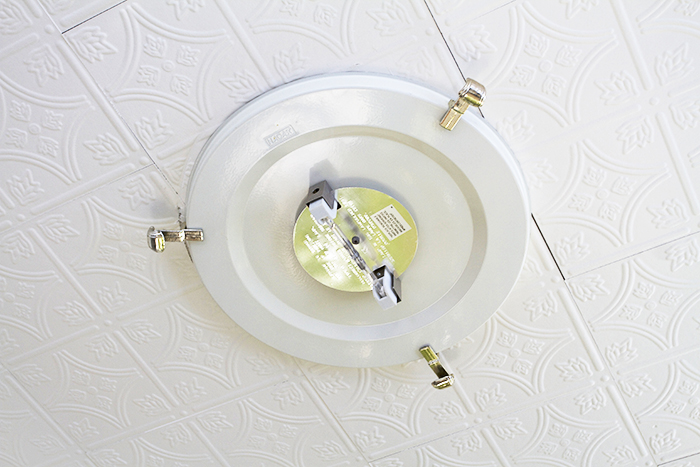 Now that I've share the good stuff, on to all the bad stuff, you know what I'm talking about… the ever mounting the to-do list.
The Fauxdenza needs a top, I need to get to the hardware store this weekend, get a piece of lumber and stain it. Easy. I also need to wrangle all the cords and hide them away somewhere inside that fauxdenza.
The light fixture needs to be replaced which I have a feeling will be a little tricky. Right now there is one of those gross flush mounted fixtures in the room. The room isn't super tall, and anything but a flush mounted fixture wouldn't work. I also need to navigate that acoustic tile with the tin-ceiling look. I can't be mad at the tile, it actually doesn't look half bad in real life. I am worried however, that there is a gaping hole in the tile behind this light fixture and I need to replace it with a fixture that will cover it. I'm thinking this Vanadin fixture from Ikea would do the job nicely.
I need to purchase and install three more Enje roller shades – my budget only allowed me to grab four during my last Ikea trip.
I need some lighting besides the ceiling fixture. All I want to do is keep buying anything from the Ranarp line. Must. Resist. Ranarp.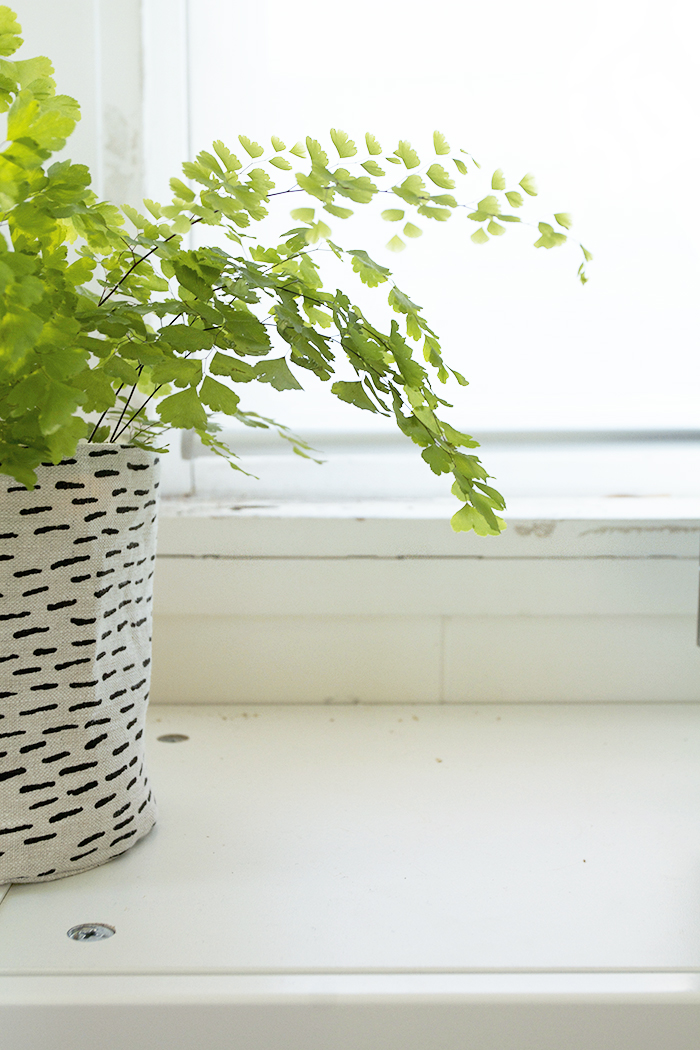 The biggest job by far though is the painting and the caulking. This room has been neglected for awhile, possibly even since it was turned into a sunroom way before my time. There are lots of cracks around the window casings that would appreciate a good caulking. Also, all the paneling seams around the bottom third of the room needs to be caulked. The caulking will lead to painting, which will lead to painting clapboard siding with a brush, which will lead to painting nine windows and a door, which will lead to panting the paneling. There is not a lot of roller work here, and I'm afraid this job will not go quickly.
Gotta keep my eye on the prize.
Psst: PLEASE VOTE FOR ME AT THE HOMIES – THANKS FOR ALL THE SUPPORT!