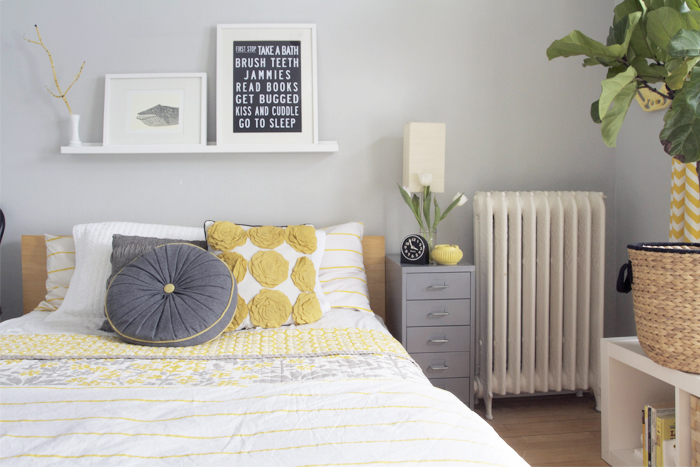 Hey Buddiez! Recently we have moved our boys, Finn (5) and Gus (2) into the same bedroom. They now sleep in a super cool and cozy bunk bed together every night, Finn on the top and Gus on the bottom. We have been working on combining all of their crap, uh, I mean things, into one space. It's been a huge undertaking, but ultimately it's been great to sort through all their clothing and toys and purge and pass on a lot of extra stuff.
Our plan was to have the boys share a room together for as long as they were comfortable doing so, I am hoping that they are happy together for the next 5 years or so. Gus is always welcome to have his old room back when the time comes. In the meantime we have an entire bedroom (Gus' old nursery) that is not being used. We have decided to make the room into a guest room, especially since we've had a lot of friends stay with us over the last year, and feel pretty bad about throwing them down on the pullout in the basement.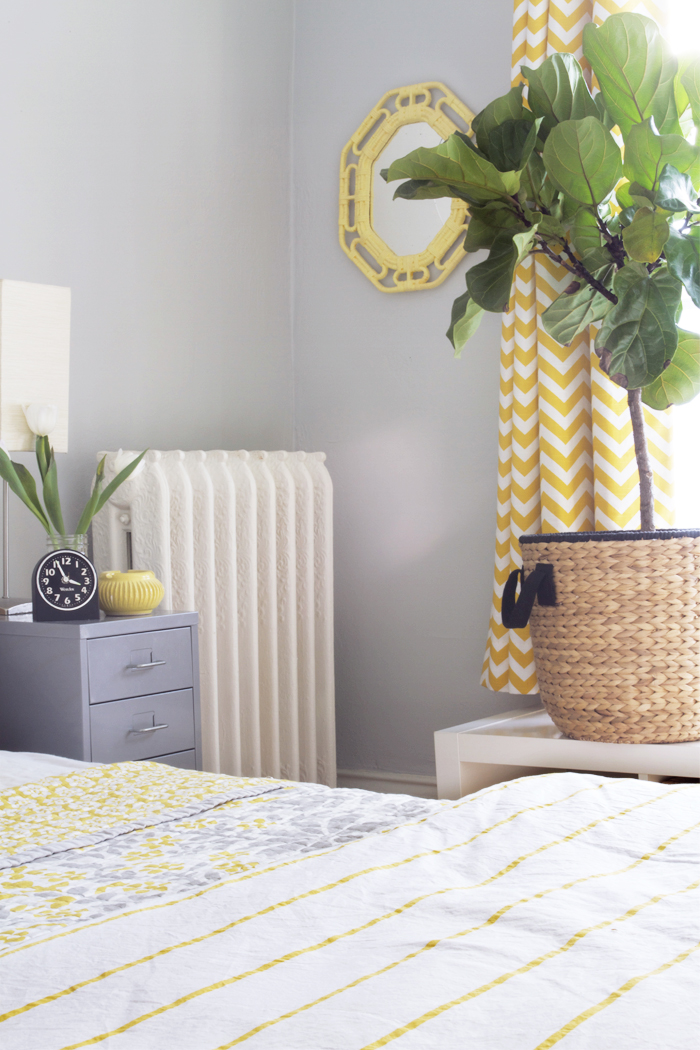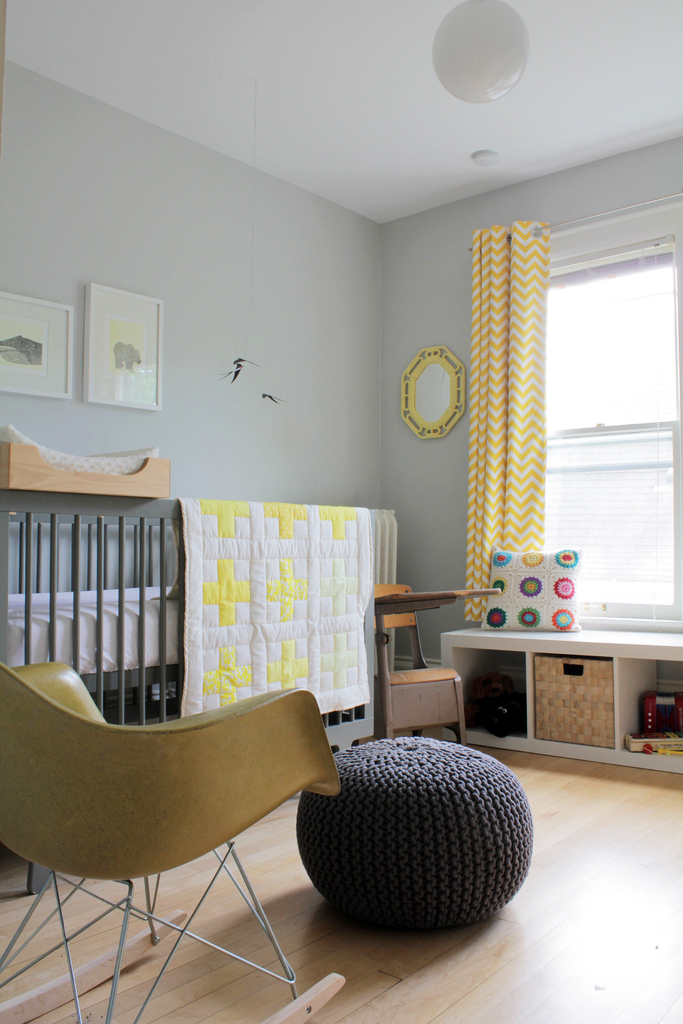 Before – when it was a nursery
The challenge was to turn a boys nursery into a grownup guest room on a zero dollar budget. Since we first decorated Gus' nursery back before he was even born, I wanted it to be neutral so it could grow with him over time. We painted the walls a soft grey and covered the room with yellow accents. I sewed some lined black-out curtains in yellow chevron and accessorized with vintage toys. Nothing was super permanent. Having that neutral grey backdrop made it really easy to repurpose the nursery for the new guest room.
Because I wasn't wanting to invest in new curtains, and because the yellow chevron wasn't totally outdated, yet (sorry chevron lovers, but I don't think it's gonna last forever), I decided to stick with yellow as the accent color. I had tons of yellow to borrow from other parts of the house, and I knew I could pull it off. We moved Finn's old double bed into the new guest room, and added his striped yellows and white duvet cover. I also dug out a yellow and grey quilt that we had been storing in a dresser. I went around the house pulling grey and yellow pillows together and before you know it, I was standing in front of a pretty yellow and grey bed.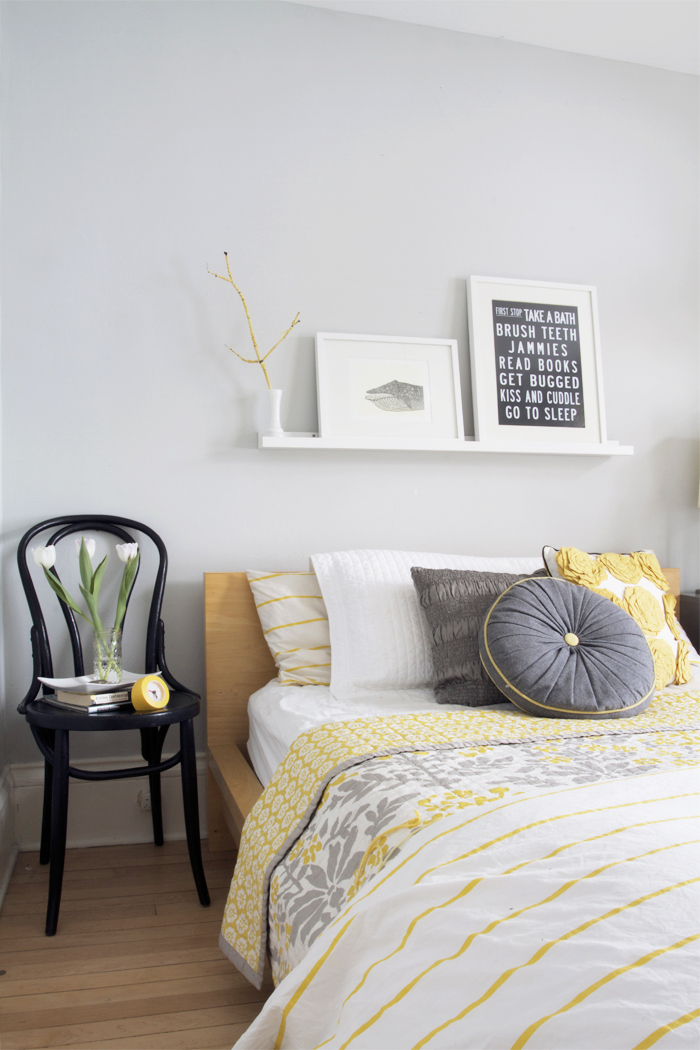 I needed side tables too, and didn't have a lot of extras lying around. I was able to use a previously unused black bentwood chair from the music room and a metal storage cabinet that wasn't needed anymore from Gus' nursery. I added small clocks to both, the black and white one found in a toy box, and the yellow was from the kids room (they can't tell time anyways). I added tulips to a few jelly jars, and voila, instant side tables.
The artwork sits on a ledge that I had removed from Finn's room during the "kid-combining", we had previously been using it to display his books on the wall. Since I wasn't committed to any specific artwork I thought this would make it easy to switch it up as time went on. Okay, so maybe the artwork that I have in the guest room now isn't super grown up, but the colors work, and the message "Go to Sleep" is appropriate for my friends, I'm fine with it.
I accessorized throughout the room with stacks of books, all with yellow, grey and black & white spines. I added some white towels, because I am an awesome host, duh. Greenery goes a long way, and the fiddle leaf fig loves hanging out in this sunny room during the winter months. Also guys, those black out curtains will work well for my hungover guests that will definitely be needing a little extra sleep.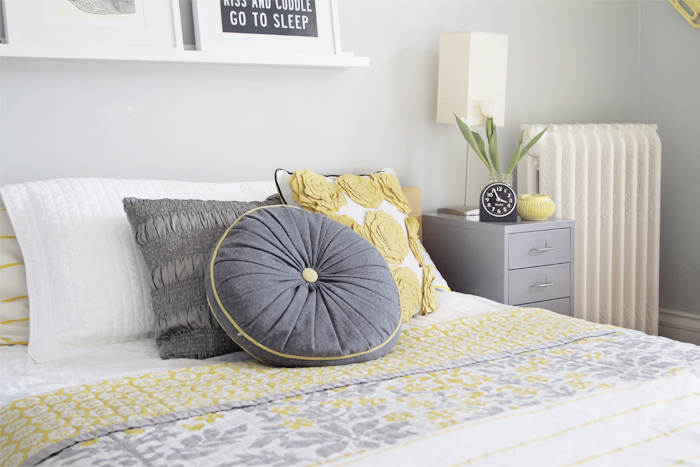 It's not rocket science, but I thought I'd add a few rules that I live by when it comes to buying things with longevity.
Purchase decor you genuinely like – I love a lot of things, I crush and obsess over so many items on the internet and at local stores. It's easy to do, but I try and live by a general rule. I can't buy things off the cuff, I need to wait it out a month or two and to see if I still think the item is as cool as it was when I first saw it. If my heart grows fonder over time and it's within my budget, it was meant to me. Usually I am very, very happy with those purchases and I love most decor for a really long time. On the occasions when I spend all willy nilly like I often outgrow that item or regret the purchase soon after.
Use repetitive colors throughout your home – Buying accessories in the same repetitive and consistent colors is key to being able to repurpose said items down the road. Color-wise my house is separated into two different sections. The main floor is chalked full of black, white and grey accents, and many shades of blue, while the 2nd level is infused with a lot more color, specifically; yellow, pink, coral, green and orange. I am consistent in accenting the upstairs again and again with these colors, and it's easy to mix and match when I want to redecorate.
When in doubt go neutral – You can't go wrong with neutral when it comes to repurposing. I probably use this method to a fault sometimes, but that's because it's safe and it always works. Usually, when we have purchased big ticket items like furniture I tend to stick to a grey and white palette, not knowing where the pieces will end up down the road. I also have painted most of the walls in the house in shades of grey or white.
Borrow from what you have – My home is one my favorite (and most free) places to shop. All winter long I am constantly moving things around and borrowing from what I already have. Not only is it affordable, but it brings a lot of new life to a space. If you follow the rules from above, it will be easy for you to borrow from what you have too.