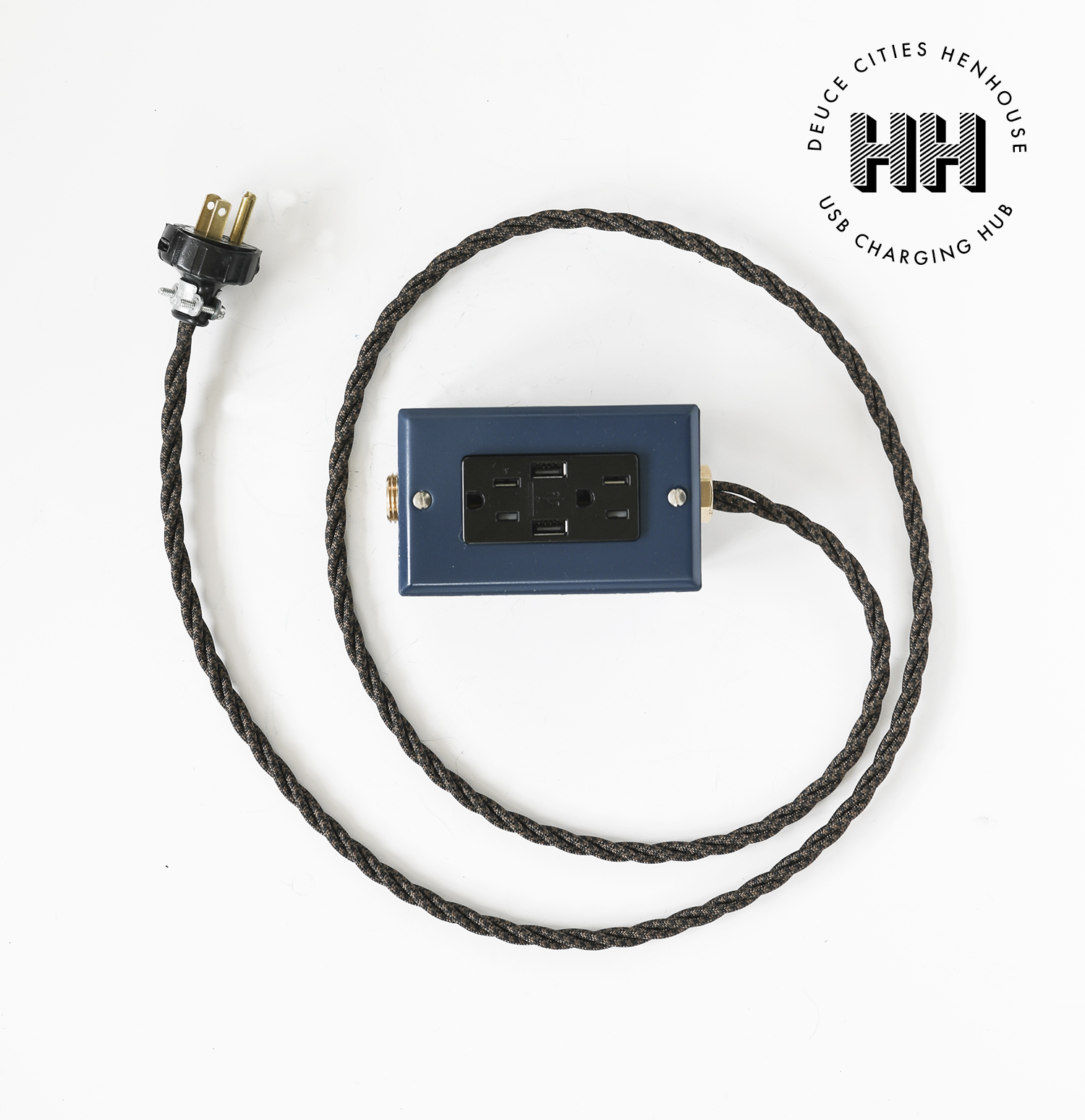 Hey budz! I've been busy
reorganizing the DCHH headquarters
(aka as my sunroom office). I'm obsessed with cord coralling and maintenance because it can have such a big impact on a space. Cords just look bad, there's no two ways about it. To combat ugly cord scenes that we all live with on the daily, I devised a plan to make myself (and now all of us) a pretty USB charging hub. I have made three of these USB outlets in my lifetime. I have
two set out at the cabin
, and now one in my office – so I think at this point, I can pretty much call myself an expert. If you've ever looked into
purchasing something similar
, you may have noticed that they cost up words of $150 bucks!. Screw that malarky! How about a down and dirty DIY for a fraction of the cost? I'm in, you in? Alright, here goes nothing.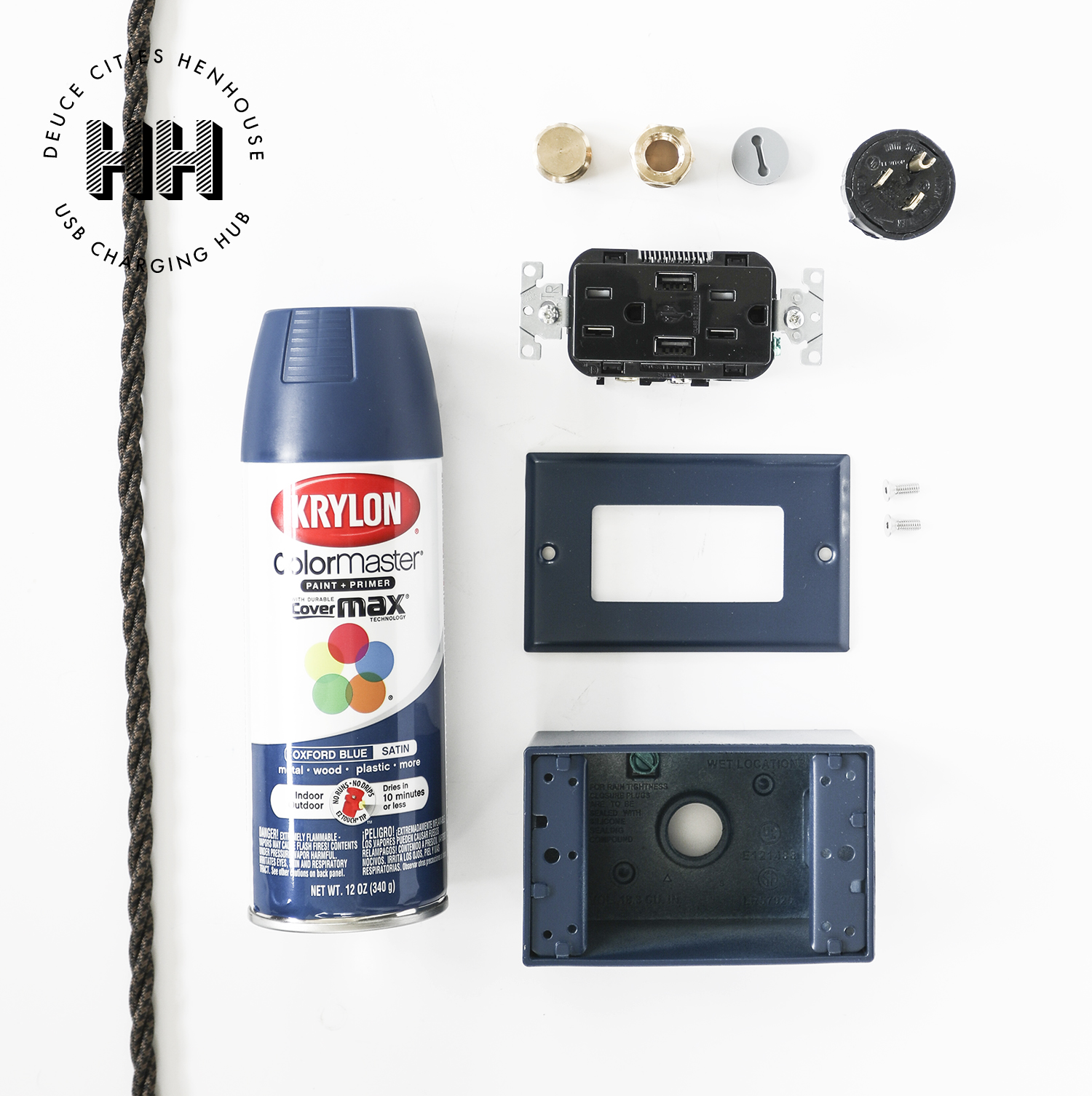 Tips for spray painting: use brief bursts of paint, do multiple thin layers and give it adequate time to dry between layers.
Plug the hole of the bottom of the outlet box with the grey plastic plug – feel free to paint this plug if you prefer.
On one side of the outlet box insert the brass plug until it's tight.
On the opposite side of the outlet box screw in the brass hex nozzle.
Thread one end of the braided cord through the hex-nozzle at the end of the outlet box. Strip 5/8″ of the end of each wire (black, white & green) using a wire stripper. The green casing with the copper wire is the GROUND wire. The wire inside the white casing is the NEUTRAL wire. The wire inside the black plastic casing is HOT.
On the USB outlet, the Green screw is for the GROUND wire, the silver screw is for the white NEUTRAL wire and the gold screw is for the black HOT wire.
Attach the Ground, Neutral and Hot wires to the USB outlet screws. To attach the wires loosen the screw on the USB, slip the end of the copper wire into the terminal below each screw, and then complete the connection by tightening the screws.
Gently tuck the wires inside the box, below the USB outlet. Attach the USB outlet to the painted electric box using the two screws (attached to the USB outlet).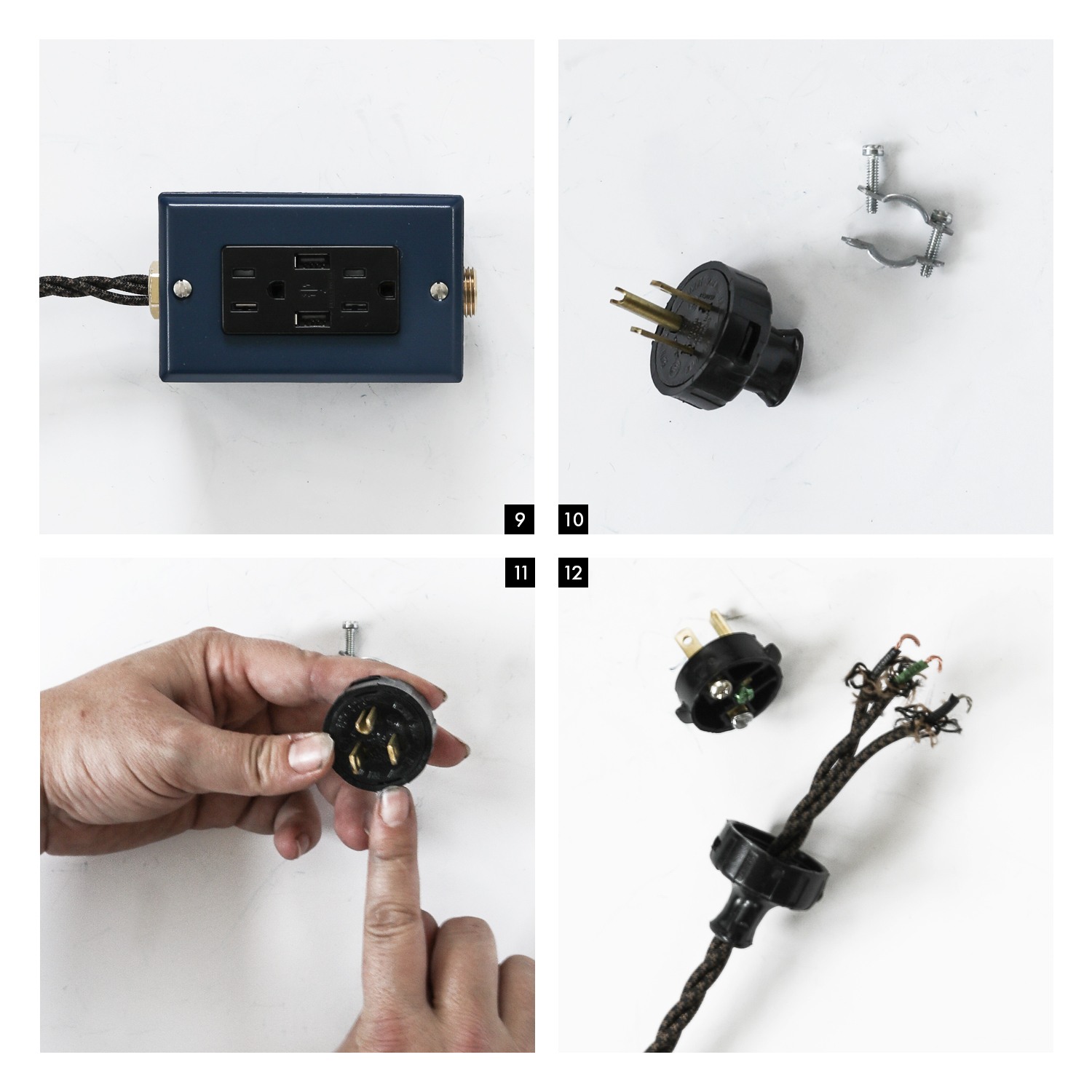 Attach the outlet cover the outlet box using the two screws that were included with the electric box.
Move on to the Plug. Using a screwdriver remove the metal clamp from the rubber plug.
Using a flathead screwdriver gently use the screwdriver to pry back the sheath of the plug. On the plug you will find two thin slots to insert the flathead of the screwdriver. You can be a little aggressive here, the cover is made of rubber, and will easily reshape after it's removed from the plug.
Take the end of the braided wire (the end not attached to the outlet) and thread the wire through the plugs outer shell (as seen above). Use a wire stripper to remove 5/8″ at the end of each wire. Reshape the exposed wire into a half-moon hook.`
Loosen all three screws on the plug. Identify the: Green Casing – Grounded Wire, Black Casing – Hot Wire and White Casing – Neutral Wire. Hook the ends of each wire around the corresponding screw as describe in step 6.
Recover the plug with the rubber shell. You may need to use the flathead screwdriver to shimmy the shell into place. Once you have completed resetting the cover you can go ahead and attach the metal clamp that you removed in step 10.
DIY Lighting Posts