Okay, guys, I've been wanting to share with you some light fixtures I made with my girl gang (aka The She'Vaughns) earlier this summer. Both of my girls wanted new light fixtures for their homes, and both had been drooling over stuff they had been seeing on their internets. After my recent exploration into DIY lighting I had to intervene and stop them before they spent tons on fancy fixtures. I insisted we make our own! So, we spent a night designing and planning. We ordered parts from Grand Brass, waited a week and then spent another night assembling and wiring our new fixtures. Seriously, this is as close as I get to a craft party.
We made a pair of these really awesome black and brass sconces for my pal Cam. Her family had just purchased a new house earlier this spring, and they've been working like mad to turn their 70's split level, into a Scandinavian-crystal-lovers paradise. Check out the below photos to see if you can spy the herringbone floors they had installed. Amazing, right? Someday I'm gonna share that whole space with you guys, you'll love it.
Anyways, we made these really awesome black and brass sconces for her living room. I think they turned out pretty damn good, don't you? I need an excuse to copy this design for my own space, I might modify it a bit and make a pendant for my upstairs hallway light. I think the contrast between the black and brass is pretty fantastic.
FYI: To paint the shade and canopy black we used Rustoleum flat black spray paint and left the rest untouched brass.
See below for instructions and a shopping list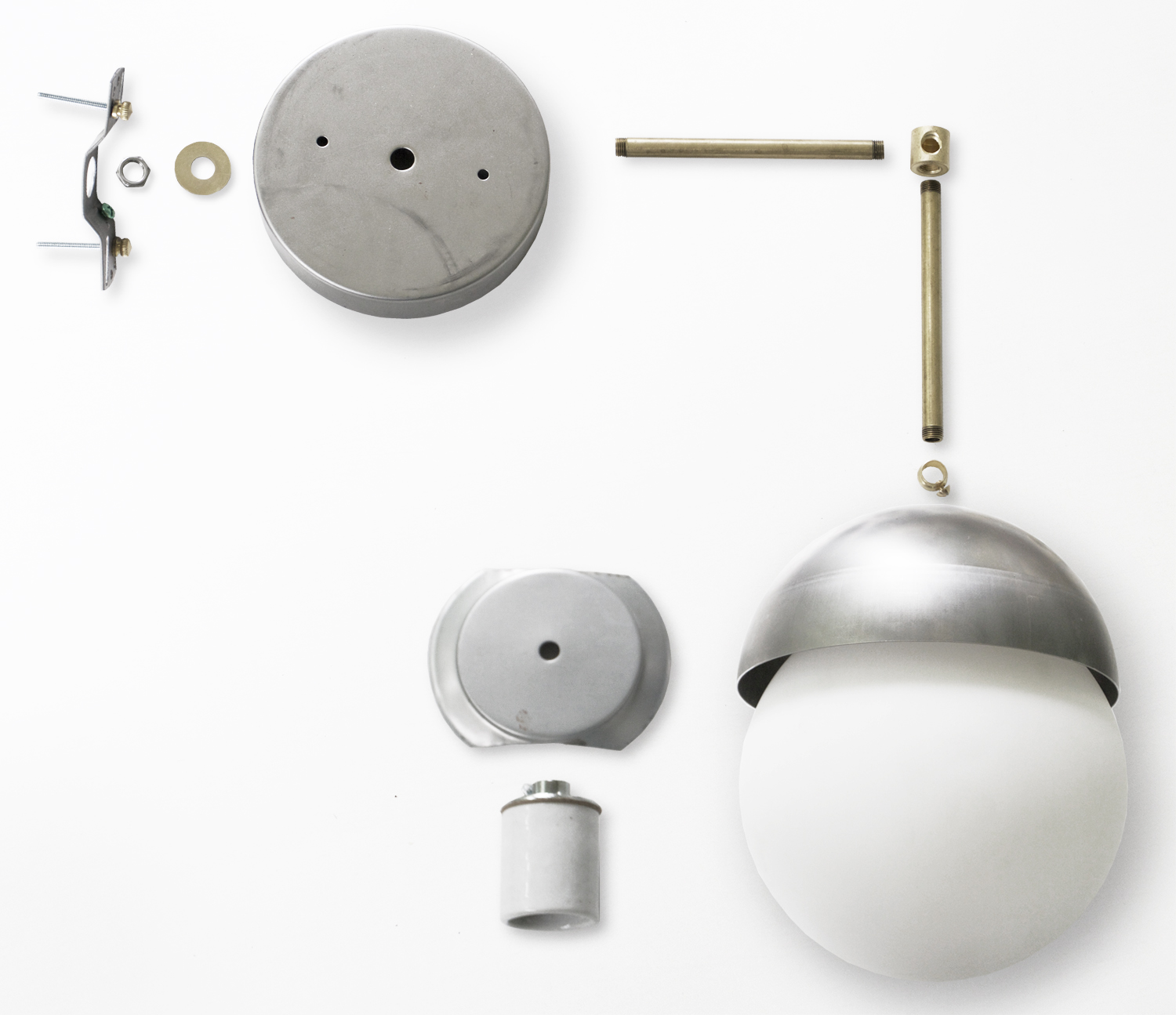 Please if you're not familiar with electrical wiring contact an electrician
Disassemble the socket and attach the wires
Reassemble the socket with the wires feeding out the end
Thread the wire through the dome shade and neckless holder
Thread the wire through a 5″ piece of brass tubing
Sandwich the dome shade and neckless holder between the socket and brass pipe
Screw the brass pipe into the top of the socket
Slide the slip ring onto the brass pipe (leave it loose)
Thread the wire through the armback
Attach the armback to the brass pipe
Thread the wire through the other piece of brass pipe
Screw the brass pipe into the other end of the armback
Slide the modern slip ring onto the brass pipe
Send the wires through the center hole on the canopy, slide on the grounding wire and attach to the brass pipe with a washer and hex nut
Tighten the modern slip ring while holding it firm to the canopy
Connect the wires from the sconce to the wires in the wall box. Again, if you're not sure how to do this, contact an electrician
Use the mounting bracket and acorn nuts to attach the fixture to the wall
Slide up the dome shade and attach the dome to the neckless holder
Tighten slip ring firmly to the dome shade