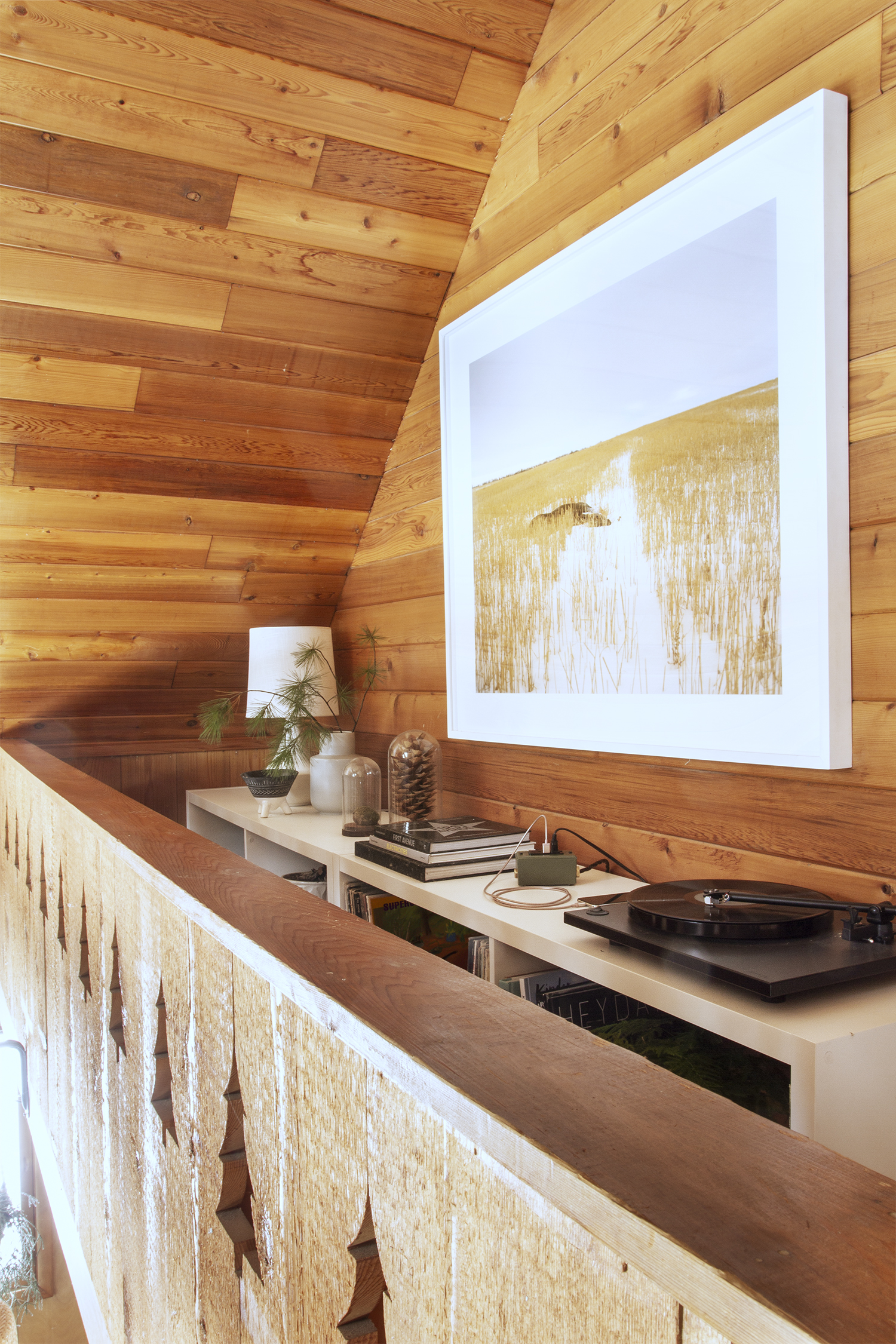 Hey Guys! I'm stoked to be sharing this post – its been a long time in the making, and I just recently got to put the official stamp of "DONE" on this project. Lots of times I think of what I would want something to be, or how I would like it to function and then I work backwards trying to make that vision come to life in the best way possible. This project is the perfect example of that method.
At the cabin we have a small lofted area at the top of the stairs. The space is really cute and very charming, but it's narrow (apprx 3′ x 10′), and we really didn't know how to use the space. At first glance my original thoughts were to create a custom built bookshelf system (some people might call that a library) so that either ourselves or guests could come pick out a book, lounge, relax and read. A bookshelf would've been a great solution. Not only would it add a layer of cabin coziness to the space, but would also have added a ton of visual interest to the oddly shaped area. After much consideration I decided that it was a good idea, but just not the right solution I was looking for. I wasn't sure how much use it might get, and there are a few other smaller spaces I could think to put shelves for a small reading area.
The second idea that popped into my head was creating a place where we could play records.
We love music and have a rather large and growing collection of vinyl. At home, we listen to records daily, and on the weekends we spend a decent chunk of the mornings playing records, sipping coffee, and flipping vinyl. We absolutely love the ritual of it. It seemed like entertaining the idea of a place to practice our morning tradition at the cabin wouldn't be a bad idea, and the lofted area might be the perfect spot to fulfill our vinyl needs.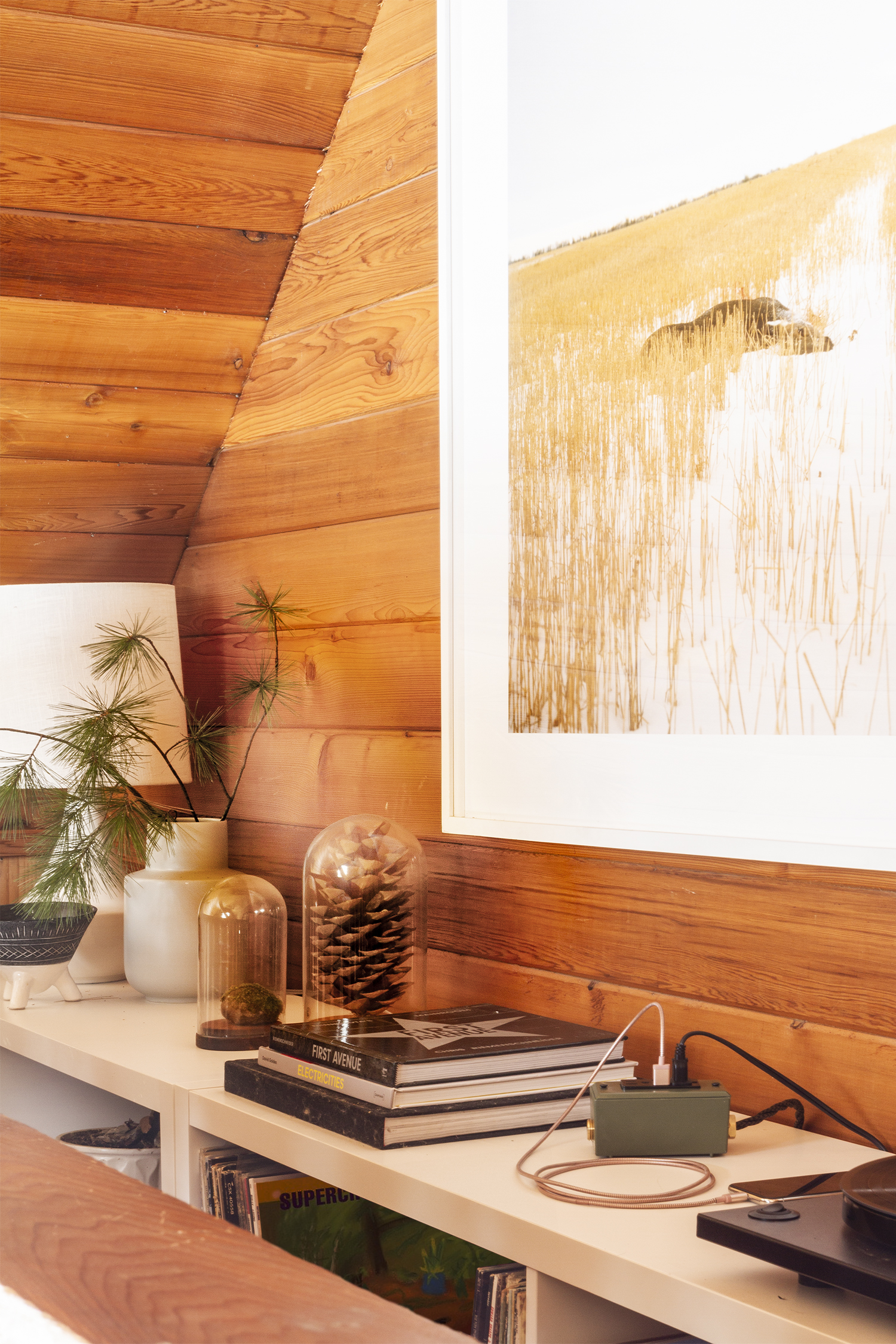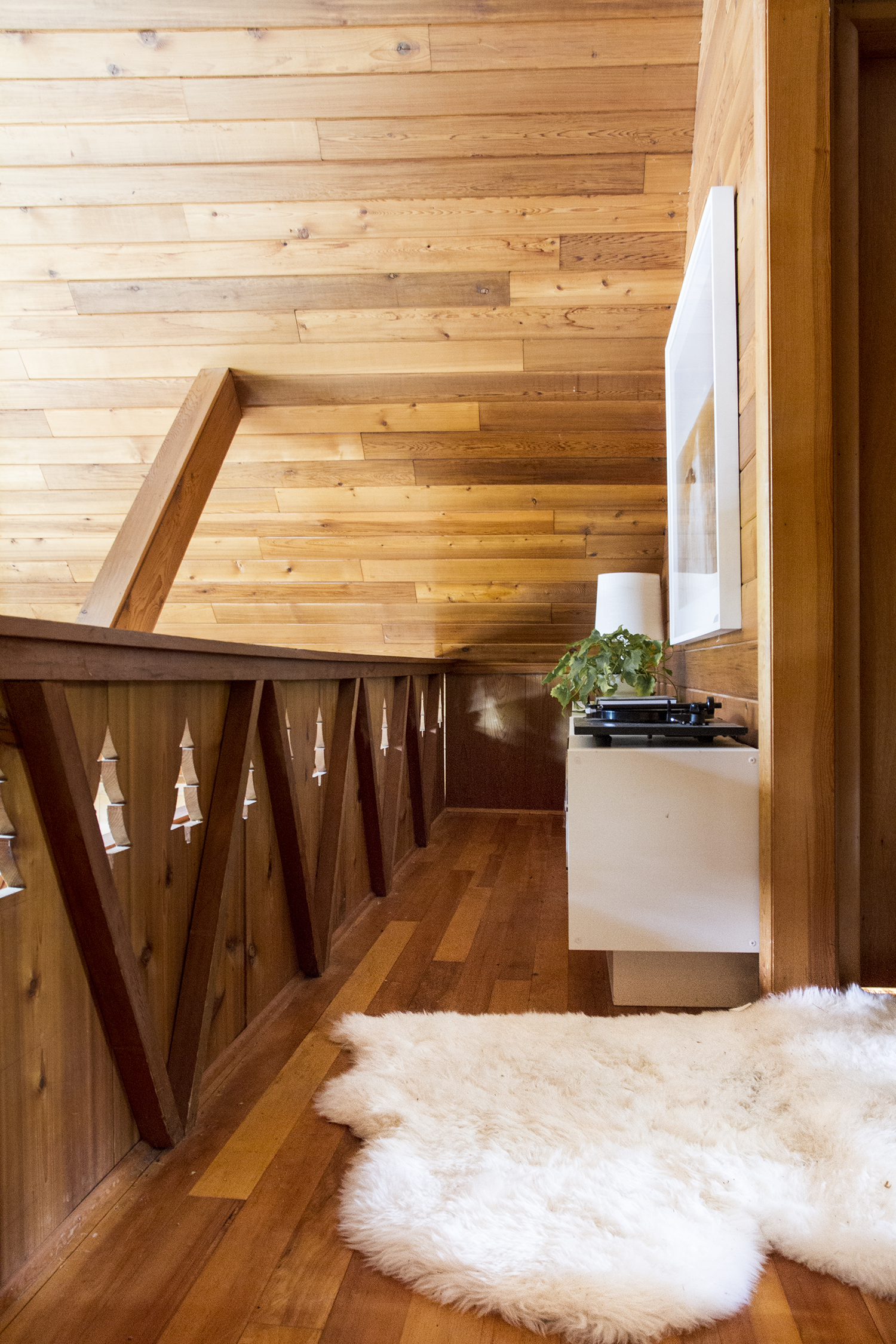 The Problem
The problem with my plan was wiring. The last thing we wanted was for there to be speaker wires running all over the place. Can you imagine? Wires hanging from the loft, running along the ceiling and corners of the cabin just to play music? It didn't seem like it was going to have an easy answer. To start, I considered having speakers in the loft, projecting sound out to the main living area. I'm not sure that guests would appreciate it though, being that both upstairs bedrooms share the second floor with the lofted area.
The next idea to pop into my brain is controversial to some. So listen up, all you audiophiles can cover your eyes, stop reading and skip to the end. I understand that it goes against the very essence of what a Hi-Fi stereo system IS when I consider having a turntable be broadcasted wirelessly to digital speakers. Believe me, my Dad is a gold-speaker-cable, special-vacuum-for-cleaning-vinyl, don't-even-breath-on-my-turtable-or-else sort of a guy. He did not understand how or why I would want to do such a thing. I think he even said "What's the point"? when I presented him with the idea. However this was more about the ritual of listening, flipping and sipping and not so much the intensive, attentive wave length absorption via yer ear drum sort of (ah hem) obsession.
The Solution
After a bunch of research, I found out that it is actually possible to incorporate a turntable with a Sonos stereo system. Great news! Sonos makes a component called the Connect 1 which allows a human to stream music to Sonos speakers through the audio components you already own! So smart, and just what I needed. The turntable also requires a phono preamp for power, so I added that to my stereo shopping list. I should also note that Sonos also makes a Connect:Amp component comes with an amplifier which would would allow a person to power existing regular old speakers into their Sonos system. The speakers wouldn't be wireless, but they could stream music via the app as well as pair with other wireless speakers in the Sonos family.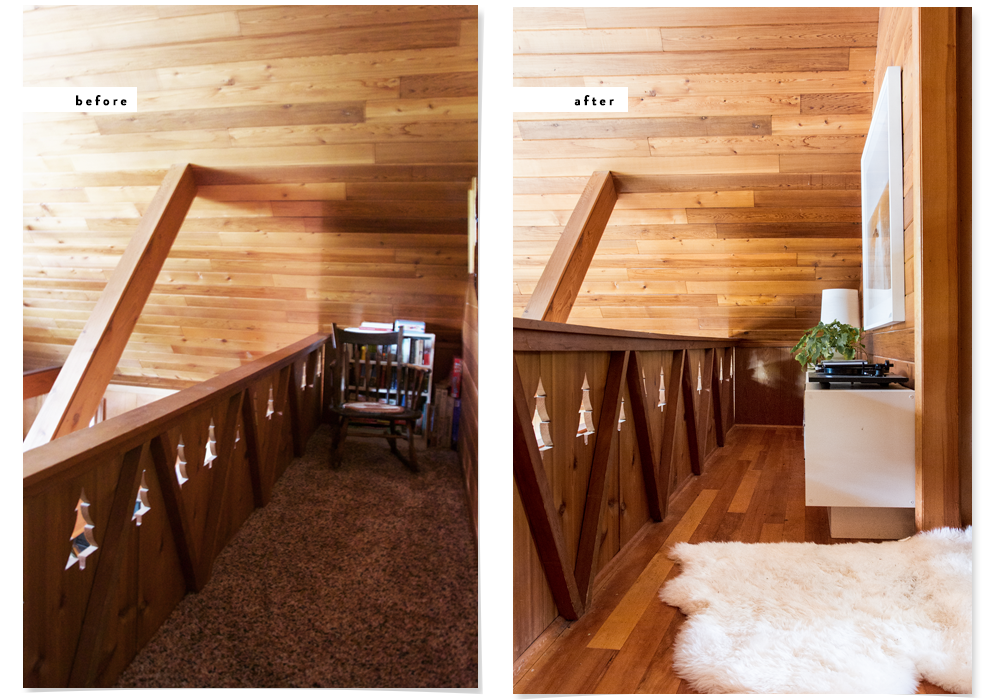 Before & After
Take a look at that before. You can see how the previous owners also had trouble with the space. I see what they were trying to do with the chair and the tiny bookshelf, but they weren't really maximizing its potential. It needs function! We decided to remove the 40-year-old (!!!) carpet for one! With our heart set on a making a home for our turntable I went ahead designing a space that would incorporate our love of vinyl while also emphasizing the uniqueness of the space.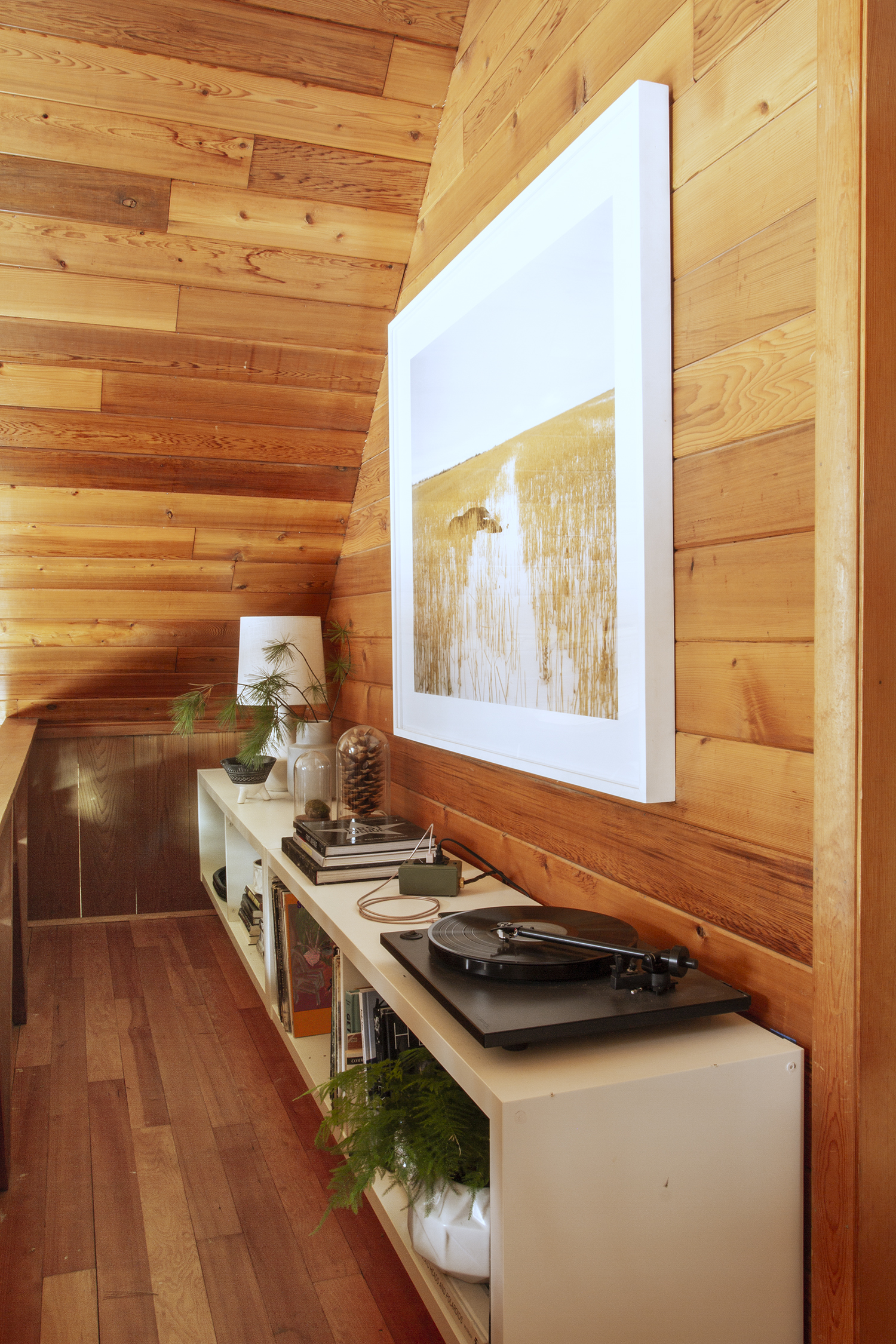 The Artwork
Besides being super quaint, the thing that makes this space really distinctive and special isn't the turntable though. It's the piece of artwork that we purchased last January from our very talented long-time friend, Brian Lesteberg. I had gone to school with Brian, and I was always drawn to, and inspired by the work he did in the early aughts. The project is called "Raised to Hunt" and is beautiful and thoughtful documentation depicting the hunting ritual his family repeated annually during the fall and early winter months in rural North Dakota. Needless to say, I was thrilled when I asked Brian if I could purchase one of his large framed pieces, and he agreed that we could. I think it's absolutely perfect here at the cabin, and I love that we're beginning to collect some very special artwork.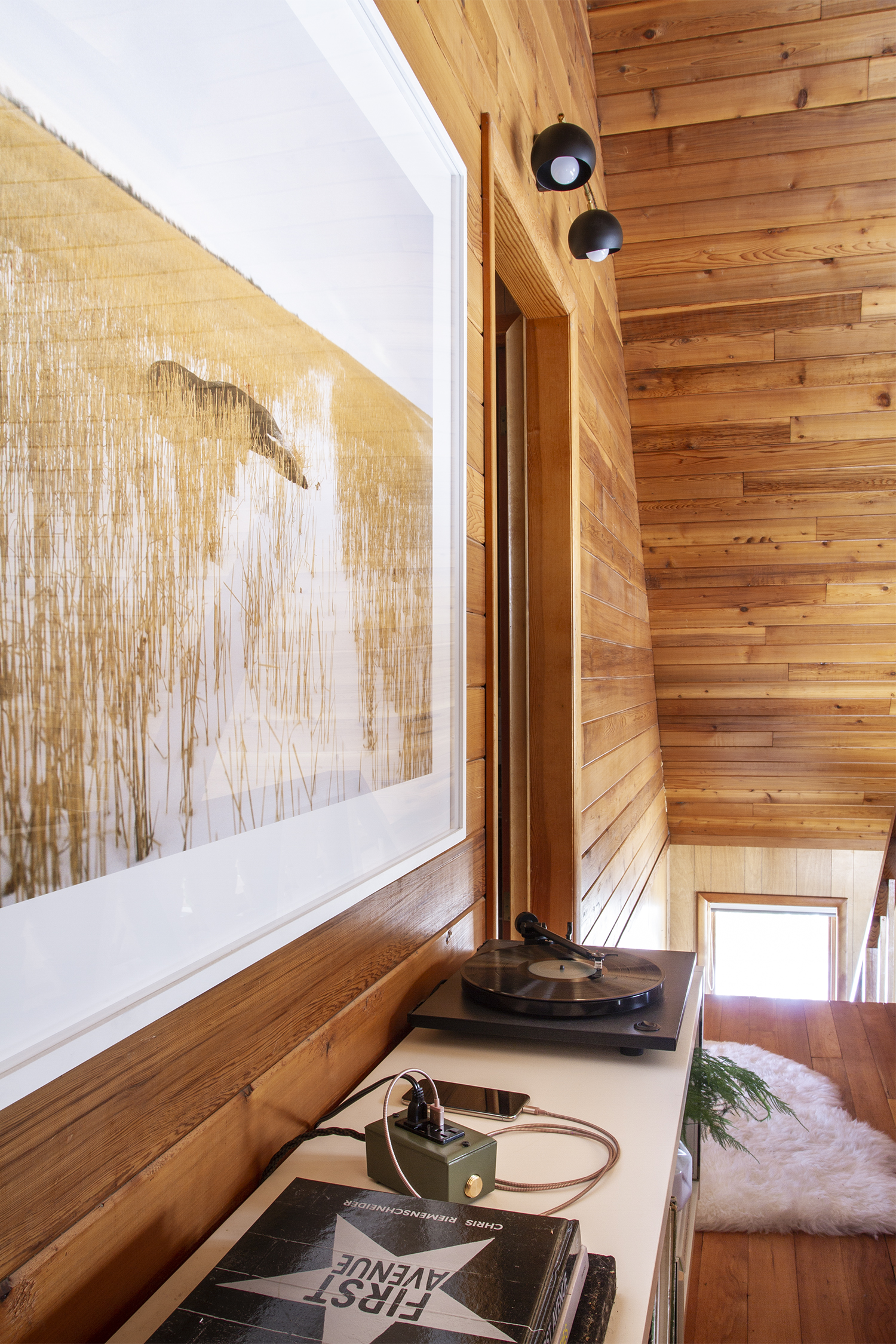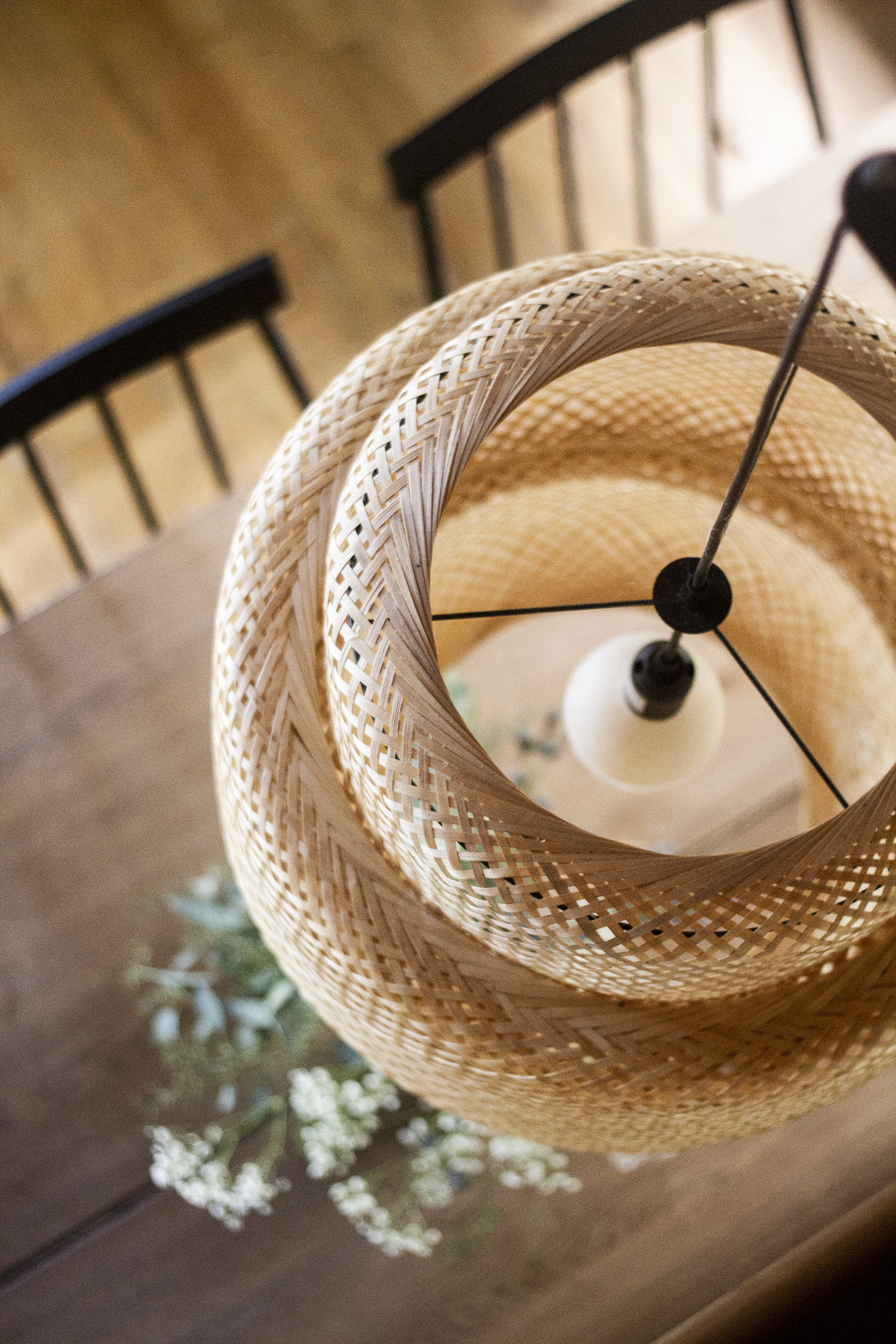 The Build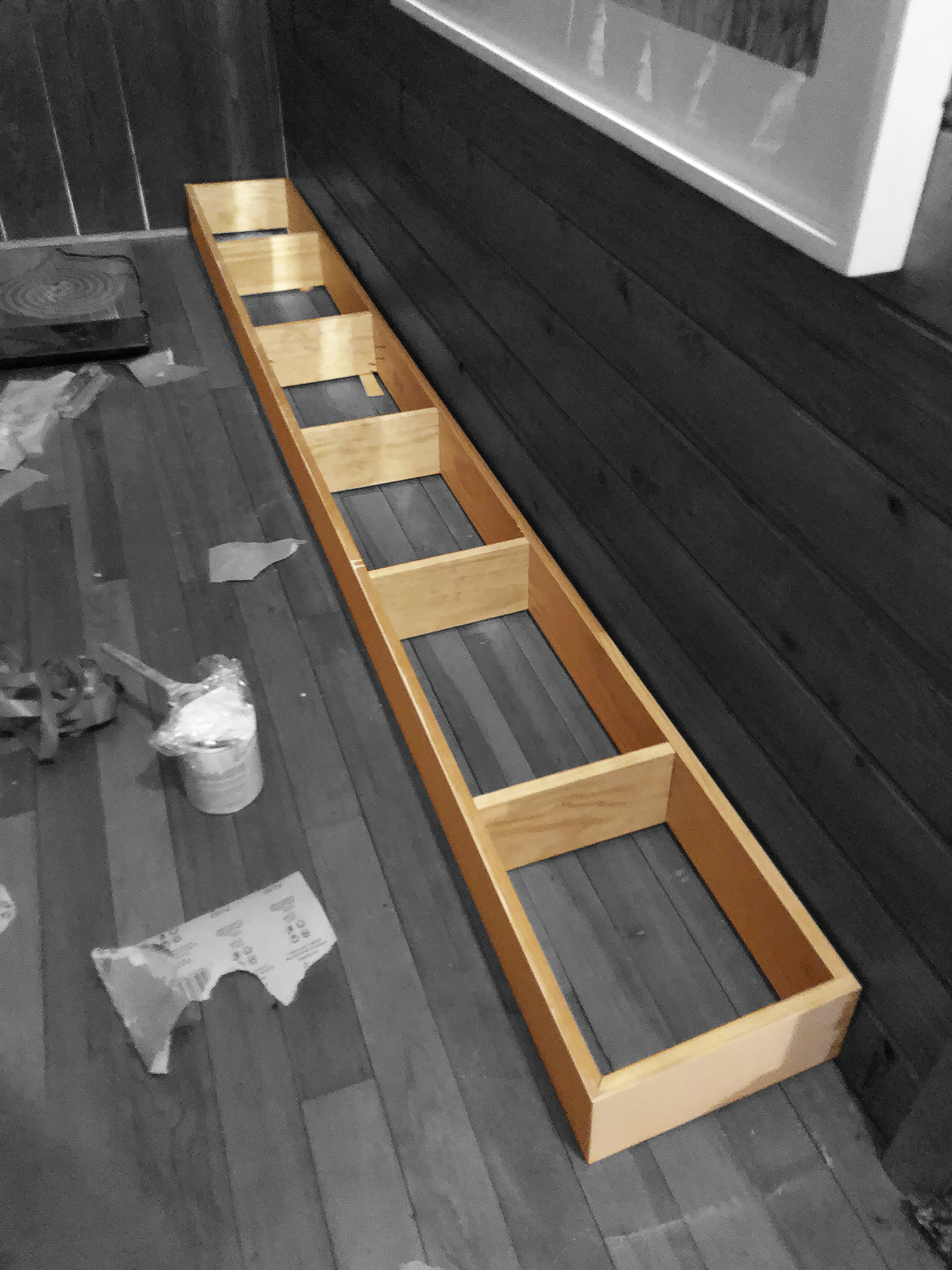 The vinyl loft needed to feel special, I wanted it to be more than just a piece of furniture with a turntable set on top. Having a custom built-in piece would make this pine-tree-studded catwalk feel even more charming than it already was. As luck may have it, two
Ikea Kallax shelves
placed horizontally fit like a glove along the length of the loft. To customize them I went ahead and added a 6″ riser that I constructed from 1×6″s for the store-bought shelving to sit on. I recessed the riser a few inches on each end to make the cabinet look even more custom and built-in. Once the riser was cut to length, I screwed it together, and followed that up with hole filling, sanding, caulking and then painting it white to match the Kallax. I attached the riser to the wall for stability, and leveled it using shims. The Kallax shelves sit on top the riser creating a cool piece of furniture for the loft. I love using modern white elements to break up and juxtapose the redundancy of ALL the wood in the cabin. It helps to neutralize the abrasive and sometimes overwhelming paneling.
The Components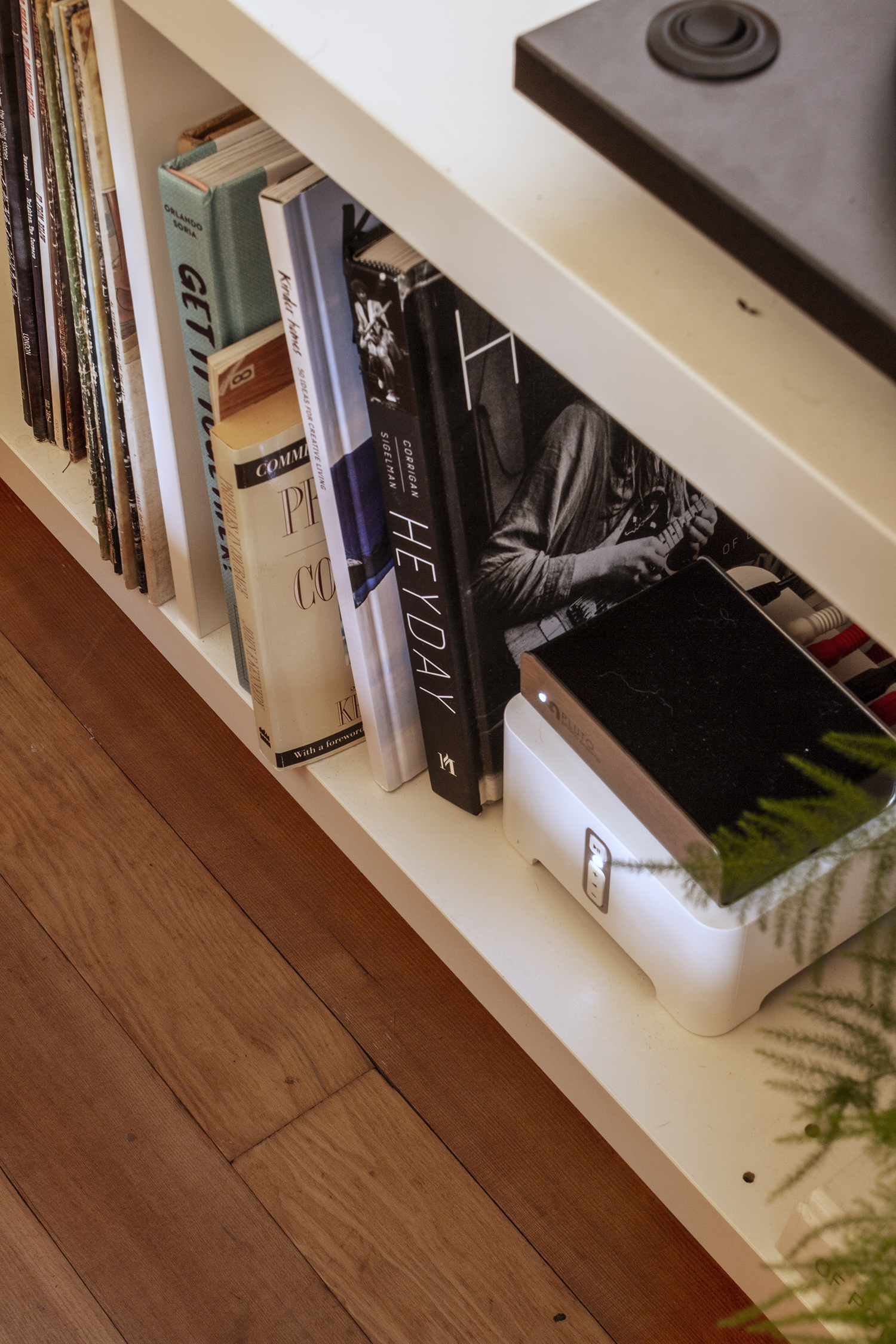 When I figured out that it was actually possible to have a vinyl loft without having speaker wires invading the space, it all came down to saving dem billz. We already had one Sonos Play 1 speaker, and a turntable that we had been using in our home basement. Honestly, since we had purchased the cabin, our basement vinyl set-up was getting little use, and it seemed like it we be more utilized at the cabin. I should mention, the turntable is a Rega Planar P1 and we have a similar version at home for our daily record listening. We highly recco – it's great equipment, and the p1 comes at an entry level price. Having both the speaker and the turntable already helped a lot when it came down to affordability. We still needed to purchase the Sonos Connect, the Pre Amp and one more Play 1 speaker, which added up to a little less that $600.
With all the components purchased, the whole set-up didn't take long to get up and running. I used one of The Kit Shop's USB extension outlets to help with cord management. After everything was powered up, I connected the phono-line-in RCA cable to the back of the preamp, and then used a set of RCA cables to connect the preamp to the Sonos Connect 1. All I had to do was configure my system within the Sonos app, tune our new set of Sonos speakers for optimal stereo sound (all done via the app), and pick out a record!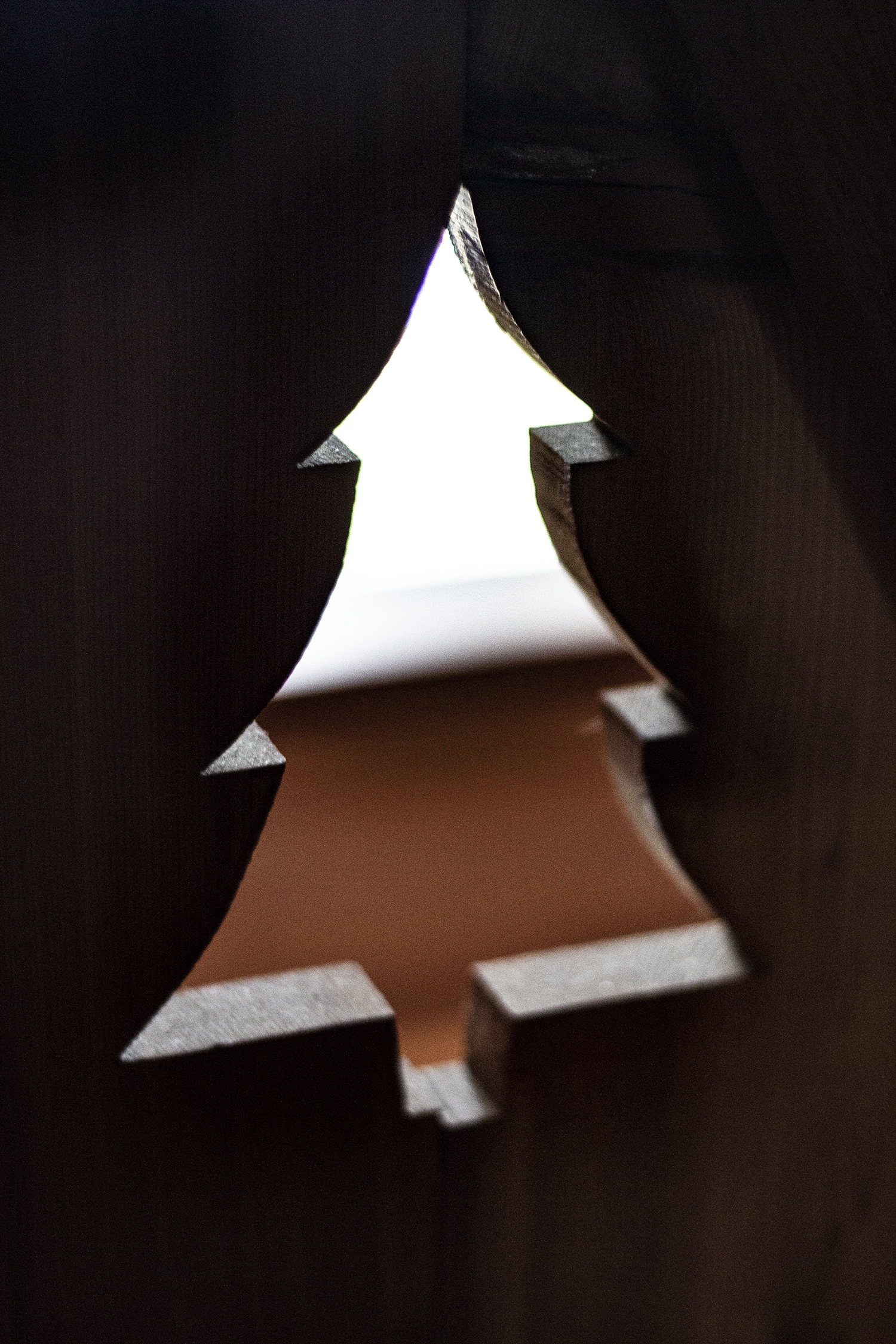 Shop The Post